Easy Smoked Campfire Queso Fresco
Smoked Campfire Queso Fresco is a summer dish you can take on the road! See this camping-friendly recipe!
This post may contain affiliate links. Click to read our Disclosure Policy . Click to read our Privacy Policy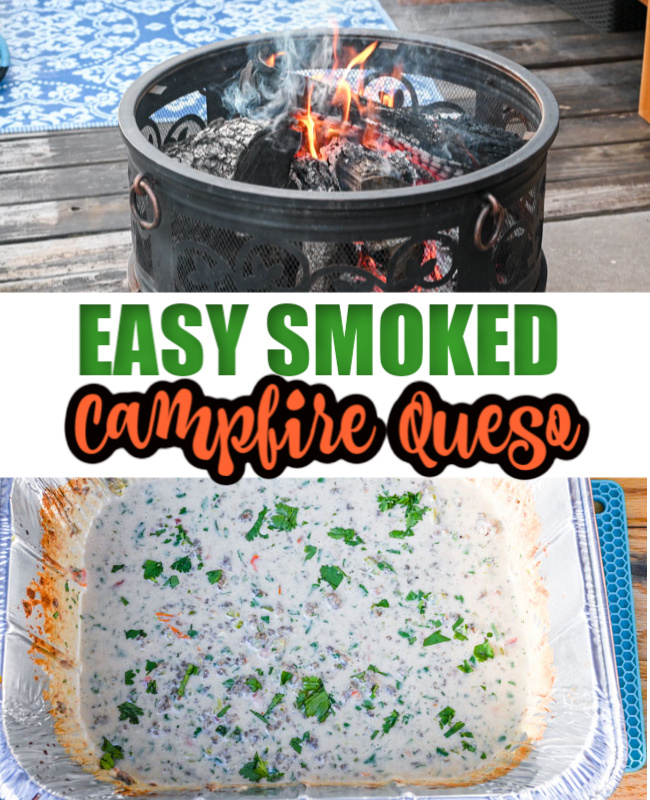 Smoked Queso Recipe
There's something about eating outdoors that makes food so much more fun. Whether you're camping in the RV, in tents with the family, or just camping in your back yard, food is an essential!
We love homemade queso, but taking it along on a camping trip isn't necessarily ideal. After many years of camping trips we've learned which foods are and are not easy to prepare with limited supplies, and outdoor cooking options. If it needs a lot of ingredients or prep, chances are we won't be making it on a camping trip!
The nice thing about this Campfire Queso Fresco recipe is that you can throw all these fresh ingredients together, and it melts into a delicious dish right over the campfire or on the grill! And it's SO tasty!
No shortcuts like Velveeta and canned veggies here– this Campfire Queso Fresco is the real deal. Check out this easy recipe below.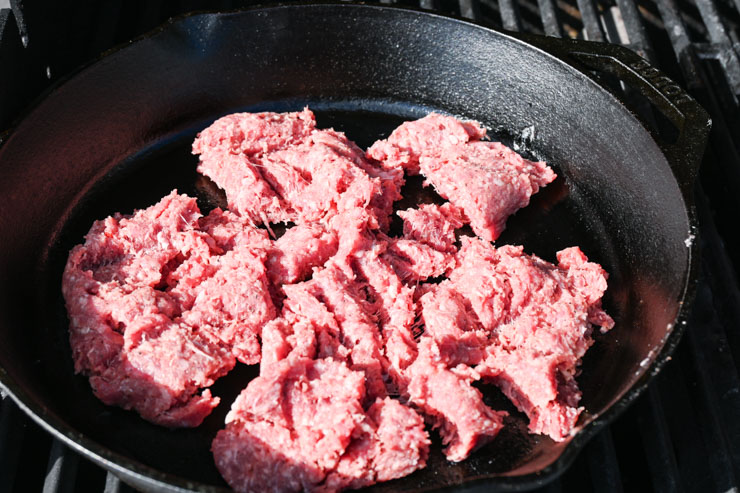 What You Need:
Here are a few must haves for this recipe:
How to Make It:
First, prepare your meat. This recipe calls for pork sausage since it complements the American Cheese very well. However, if you don't eat pork sausage or it's just not something you prefer, you can always use ground beef, ground turkey, or a plant based ground sausage substitute. Anything you want to use.
Flavors will always vary with substitutions, of course. 🙂
Brown the meat in a skillet either on the grill, or ahead of time on the stove.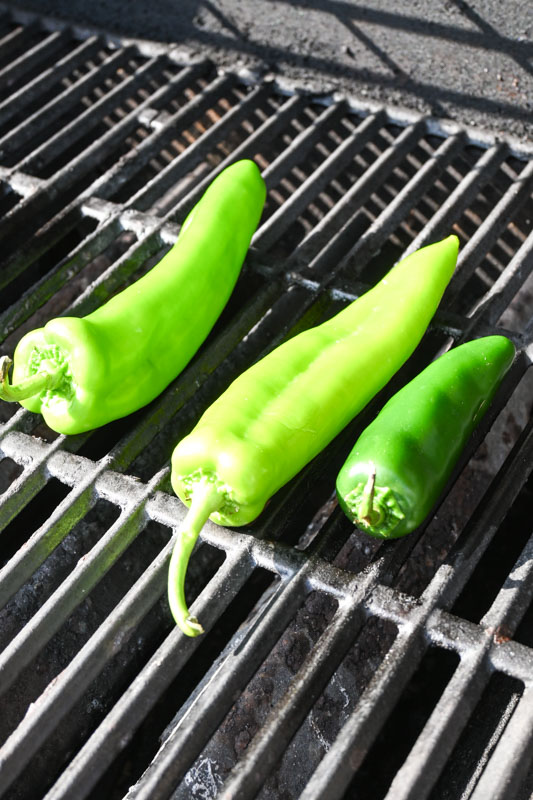 Next, grill your peppers. Prepping the veggies can be done at your campsite, or if you prefer to have these done ahead of time, that works too.
Grill your Anaheim Peppers and jalapeno until they are soft and start to turn charred. Don't worry you will be peeling that burnt skin off. When they are done put them in a bowl and cover with plastic wrap. Leave covered for 3-5 minutes.
Then, on a cutting board, peel the charred skin off your pepper. Next you need to dice your peppers along with 2 fresh tomatoes.
For a backyard cookout, we just do this prep-work outside, and then toss the non-usable parts of the veggies right into our compost bin. The fresh flavors of the veggies are part of what makes the Queso Fresco so good. So, try not to substitute with canned ingredients on this recipe!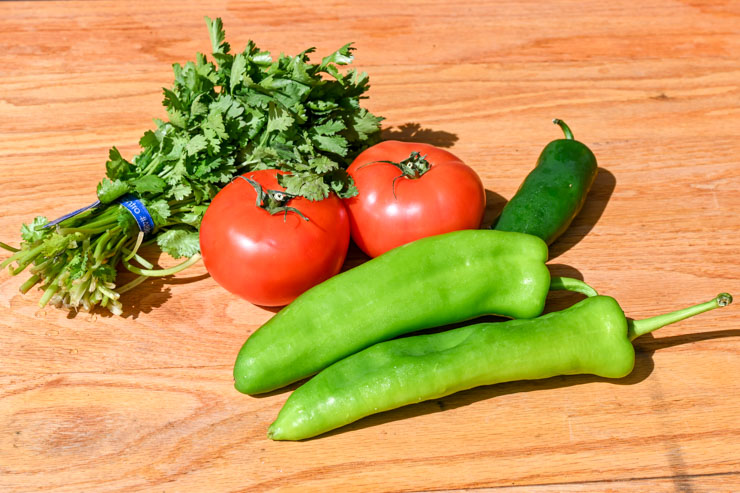 Add Dairy:
To melt all these delicious ingredients together, you will need a block of the white American Cheese and milk.
The American Cheese should be an actual block of cheese so look for this in your grocer's Deli area. They can cut any size chunk, or if they only offer pre-sliced you can get that too.
Try to avoid using the cheese "singles" on this recipe. Since they are packaged with longer expiration dates, they have additives that might keep the cheese from melting as well as the larger block.
For the milk, use whatever you have in the fridge. 2%, skim, or whole milk will work. The milk helps thin out the queso, and is a good hack to remember any time you're making queso in general!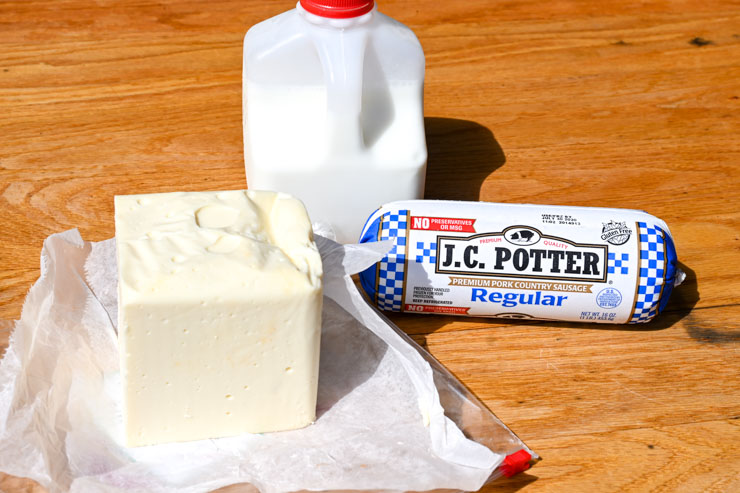 Add the spices right on top of your dairy ingredients. No need to stand there and wait until it melts– it will mix together slowly on it's own!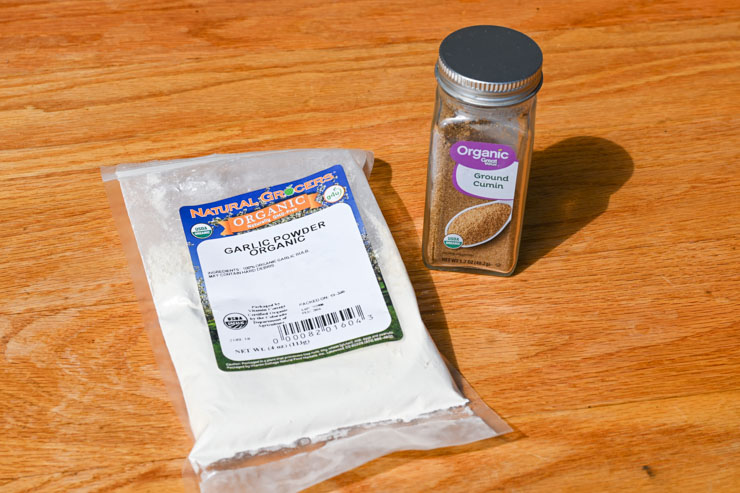 Queso Fresco is Ready to Grill:
After all your ingredients are together, they should look like this. You can actually transport this dish with a well-secured lid and plastic wrap over it, if you're prepping to take to your campsite.
Just remove the plastic and lid prior to setting it on the grill.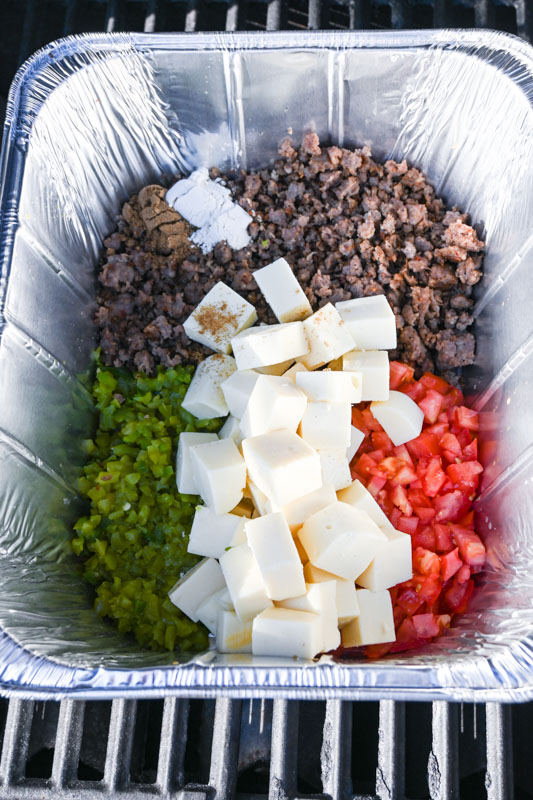 Do not stir, until the cheese is well on it's way to melting and the other ingredients are hot.
You should be able to give it a few good stirs over the course of the grilling time, and once it's done it should be fully melted together.
Serve: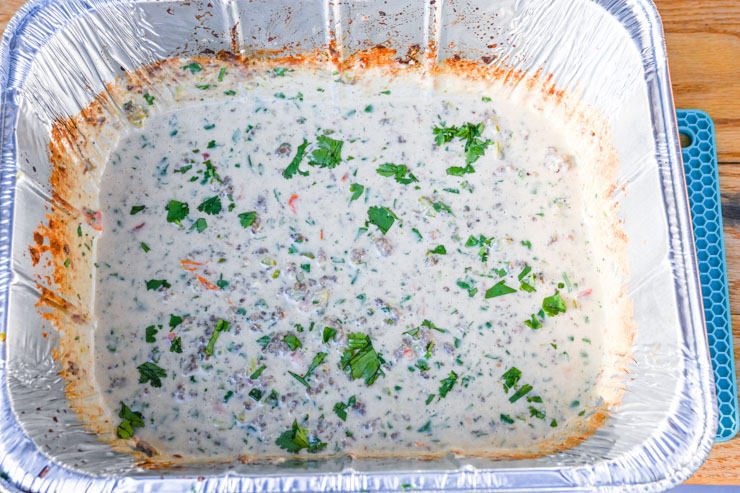 Just top with a little cilantro, and you're done!
Smoked Queso Fresco works for dinner with nachos, a side dish for hot dogs and hamburgers, or to serve along with tacos.
See your recipe below, and be sure to let us know if you got a chance to make this delicious Queso! Enjoy!
Yield: 6
Easy Smoked Campfire Queso Fresco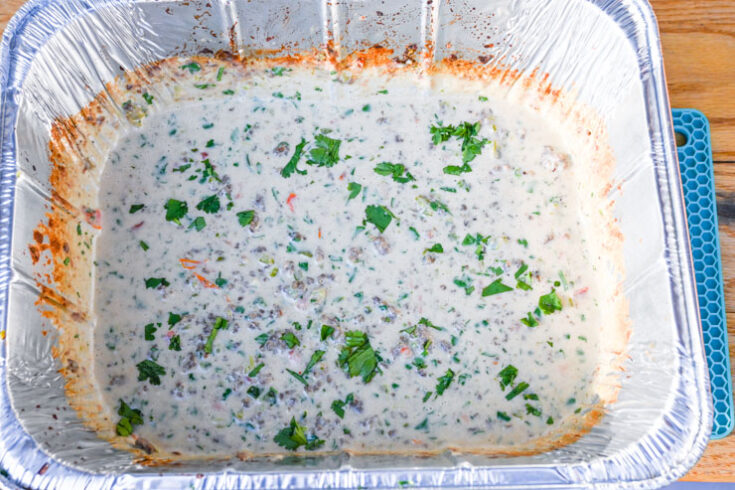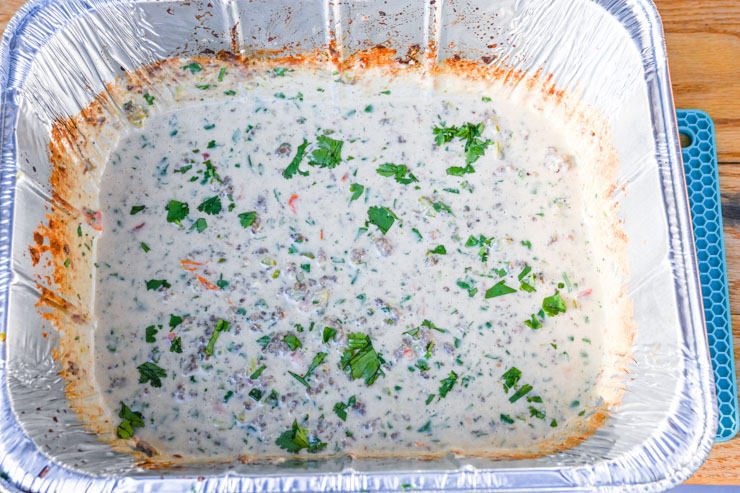 This Smoked Queso is our most requested campfire recipe.
Additional Time
25 minutes
Ingredients
1 lb of white American Cheese (block)
1/2 - 1 cup of milk (depending on how thick you want your queso)
2 Anaheim peppers
1 jalapeno pepper
1 pound sausage
2 tomatoes
1 bunch Cilantro
1 tsp cumin
1 tsp garlic powder
1 tsp onion powder
Instructions
Brown sausage in a separate pan. You can do this ahead of time and refrigerate until use.

Roast peppers on grill prior to adding to Queso, for best flavor. Alternately, you can also cook ahead of time. 

On cutting board, peel and seed peppers, dice.  Dice tomatoes into similar sized chunks.

Cut cheese into small squares, about 1"-2" each.

Add vegetables and pork sausage and cheese into Foil Casserole Pan.  Remember, the pan will be heavy! If you are concerned the pan won't hold up, double the pans or use a small sheet pan under your foil pan for support.

Add spices and milk and cook on med/low until melted, about 1 hour. Stir as needed as cheese melts. (you can start with a 1/2 cup of milk and add more if it's too thick)

After Queso has melted, add fresh cilantro for garnish -- optional.

Add chips and Enjoy!





Notes: For camping prep, add all ingredients to foil pan ahead of time. Cover well and refrigerate until ready to grill! As long as the lid is secure, this dish should travel well.
Enjoy this Queso Fresco Recipe? See More Here:
Take Our Camping & RVing Like a Boss Course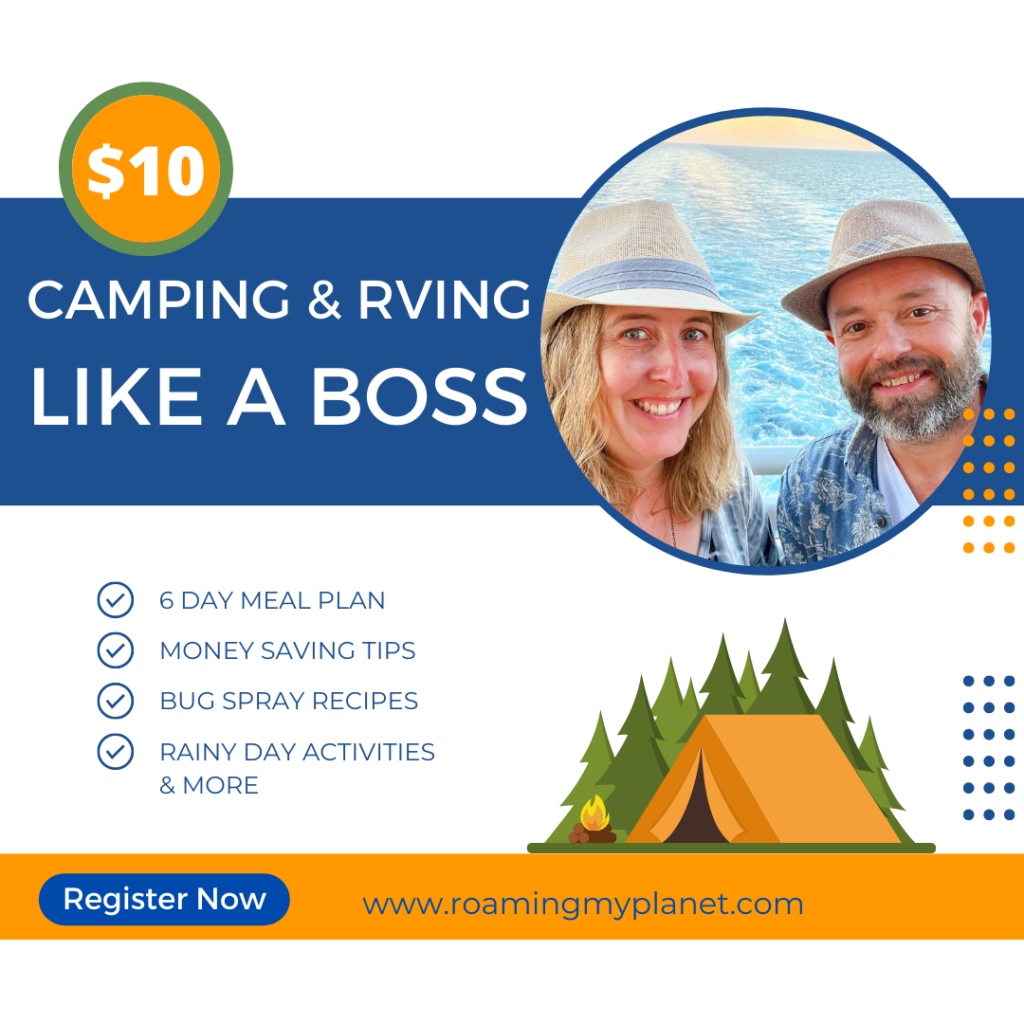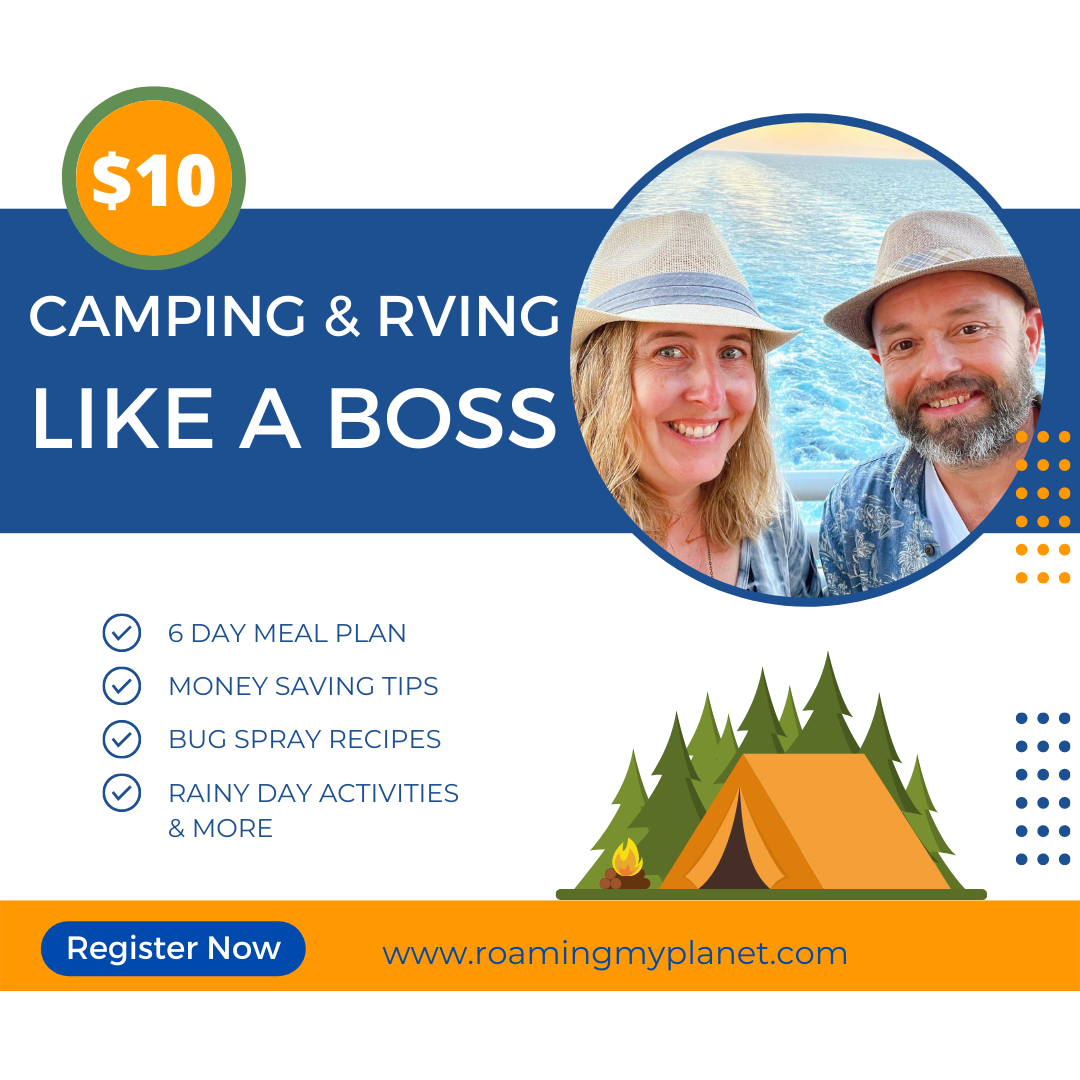 Looking to get the most out of your camping or RVing experience? Then this course is for you! Camping & Rving Like a Boss offers tips and tricks that will help you save time and money, so that you can enjoy your trip to the fullest. Join our Course.
My Favorite camping Supplies
Awesome Camping Articles You Should Check Out
FOLLOW US ON SOCIAL MEDIA
Don't forget to invite your friend's to our Facebook groups! We would also love to see your vacation pictures!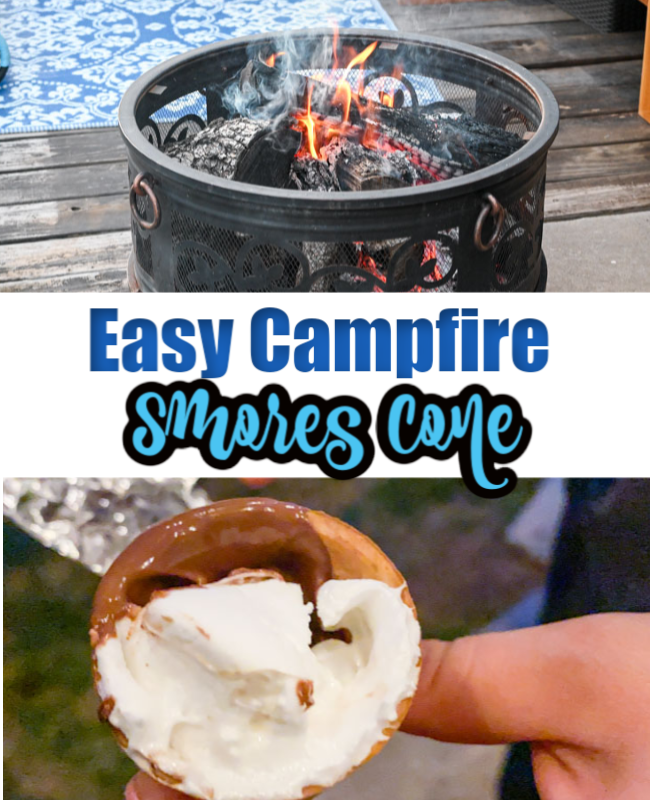 See my Easy Campfire Smores Cone Recipe— so fun for the kids!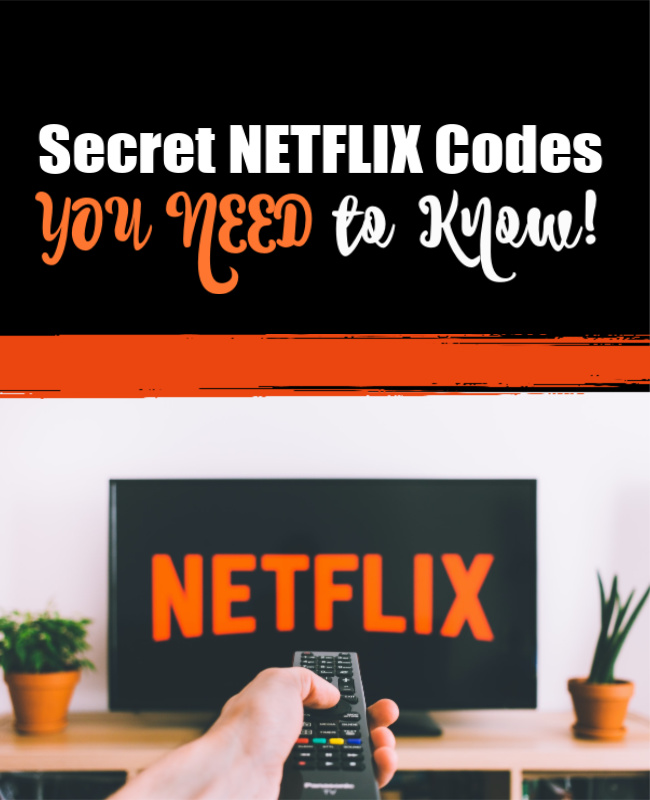 Netflix is a lifesaver for those long road trips or layovers between flights. See this Netflix Hack for finding more shows you want to see: Secret Netflix Codes
Travel Georgia: Our Trip RVing with Pets!
MY FAVORITE CAMPING ACCESSORIES :