Canned Green Beans Recipe with Bacon
Anyone who loves to cook knows that there are times when you just don't have the time or energy to spend hours in the kitchen. That's when your slow cooker comes in handy! This canned green beans recipe with bacon is perfect for a quick and easy meal. Plus, it's perfect for those days when you're traveling and need a home-cooked meal. So, grab your slow cooker and let's get cooking!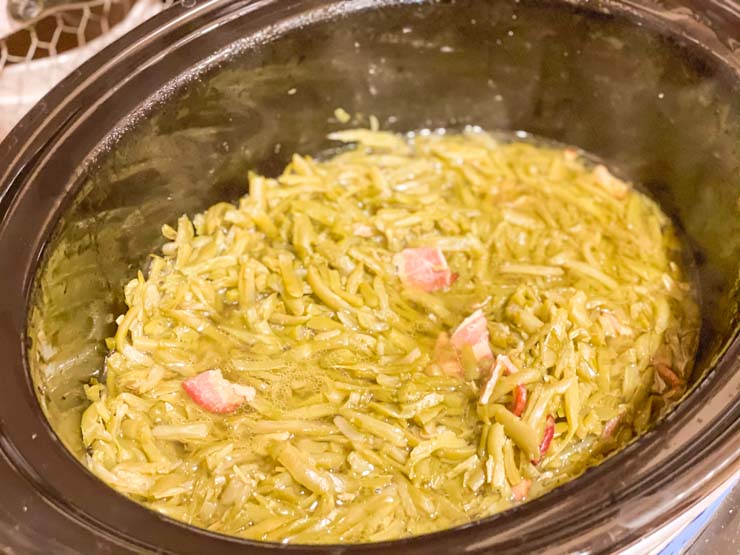 Wether you're in a small pop up or a large RV , you can find a slow cooker that is the right size to fit your needs. Traveling with your slow cooker can help you spend more time exploring and less time worrying about what's for dinner. I love this dump and go recipe because canned green beans are easy to travel with and you can make a lot of things with them. Canned green beans are great for recipes – more so than fresh green beans, in my opinion. Canned green beans come pre-chopped and you don't have to worry about how to store those fresh veggies. The next time you're at the grocery store pick an extra can of green beans to keep on hand in your pantry.
Bacon grease is going to be the star of this canned green beans recipe. When I cook bacon, I never throw it away. I store it in a bacon grease container on the cabinet. You can use it for lots of recipes. I start with cooking 3 slices of bacon in the oven 400 degrees for 20-25 minutes depending on how done you want it. You are probably thinking why do you cook it in the oven? Honestly it's less mess. You don't have grease popping all over the stove, it comes out great and you can easily catch all the grease. We just line our baking sheet with parchment paper. Let the bacon cool down and then break up into pieces and set aside along with the bacon grease. If you still prefer to cook your bacon on the stove top just make sure you have a good slotted spoon and a saute pan or large skillet. If you don't have bacon on hand you might try adding beef bouillon or a beef bullion cube.
Next comes the green beans. You can use whole green beans but we prefer french style green beans for this recipe. Depending on how many people you are feeding will determine how many cans of green beans you will need. We usually make this recipe for family gatherings so we use about 3 of the family size can of beans. Open up your can of green beans and pour them in your slow cooker. No need to drain them. If you feel like there is to much liquid you can drain one of the cans. Next add your crumbled bacon and 2-3 tbsp of bacon grease. add salt and black pepper to taste. Heat on low for 4 hours.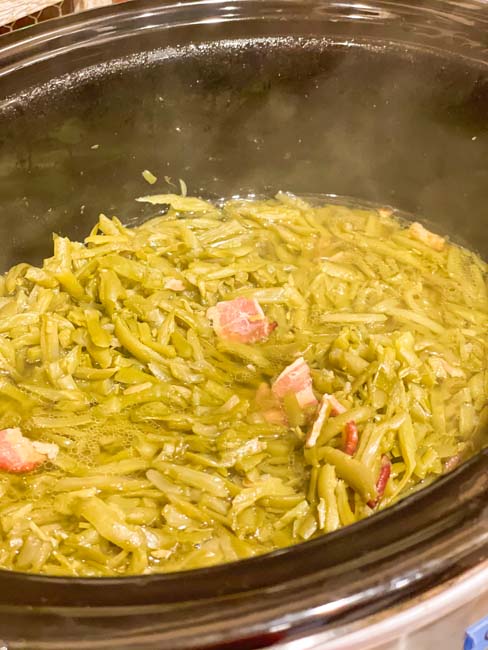 Some people like to get fancy with this recipe. they add all kind of different ingredients according to their taste preference like olive oil, soy sauce, onion powder, garlic powder, brown sugar, worcestershire sauce, feta cheese, parmesan cheese, or chicken broth. I prefer the original recipe. It's an easy recipe that whole family can enjoy. This canned green beans recipe is such a flavorful dish that even green bean haters will be willing to give it a try.
It's a delicious side dish that with simple ingredients that a lot of folks make during a holiday meal or special occasions but we also love making as a great side dish for a weeknight dinner. This green bean recipe was one of those classic dishes that my great grandma used to make for us all the time. these easy green beans could also probably made in a pressure cooker or instant pot as well. This has become a family favorite and gets everyone to the dinner table every time.
If you're looking for another recipe for canned beans you can also make green bean casserole , slow cooker green beans and potatoes or green bean salad. Let us know in the comment section what your favorite way to use canned green beans is? We've also included some our other favorite side dishes that you may want to add to your meal plan. This recipe goes great with our Beer Pot Roast Slow Cooker Recipe , Campfire Recipes: Dutch Oven Pot Roast or Dutch Oven Chicken.
This post contains affiliate links in which we make a commission off purchases.
Check out these amazing side dishes:
FOLLOW US ON SOCIAL MEDIA
Don't forget to invite your friend's to our Facebook groups! We would also love to see your vacation pictures!