40 Easy RV Camping Meals for Your Next RV Trip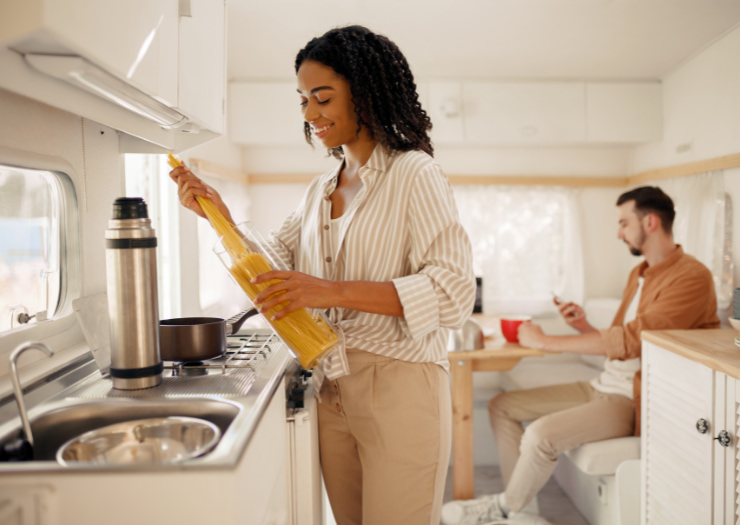 Are you looking for easy and delicious meals to make while on your next camping trip? Whether you're in an RV, a tent, or just at a campsite, we have the perfect meal ideas for you! From hearty breakfasts to easy dinners, check out our list of RV camping meals that will be sure to satisfy any appetite.
When it comes to camping in an RV, meal planning can be a bit of a challenge. But with a little bit of preparation and creativity, you can enjoy delicious meals while on the road. Before you embark on your RV journey, take some time to plan out your meals. Think about what food you'll need to bring and how you'll be cooking it. If you're able to bring along a slow cooker or Instant Pot, that can be a great way to cook up some delicious meals without having to do too much work. For more tips on RV cooking you can subscribe to our blog and follow us on social media.
Can I use a crockpot or instant pot in my RV
Yes, you can! Using a crockpot or instant pot in your RV is a great way to make delicious meals with minimal effort and clean up.( I personally think it's the best way) This type of kitchen appliance is ideal for RV trips as it allows you to cook without taking up too much counter space and without having to use a large number of pots and pans. Especially if you don't have a full kitchen in your RV. You can use it to make anything from hearty stews to quick and easy one-pot meals that require minimal preparation and cooking time. With an Instant Pot, you can even make meals like rice, soup, oatmeal, and more with just the press of a button! And since both appliances can be used while camping, they are perfect for RV trips – no matter how long or short. This is such a good idea for not having to heat up your RV's oven in the hot summer months. Don't forget to also take advantage of the outdoor grill at your campsite where you can grill up some hamburgers and hot dogs and eat on the picnic table.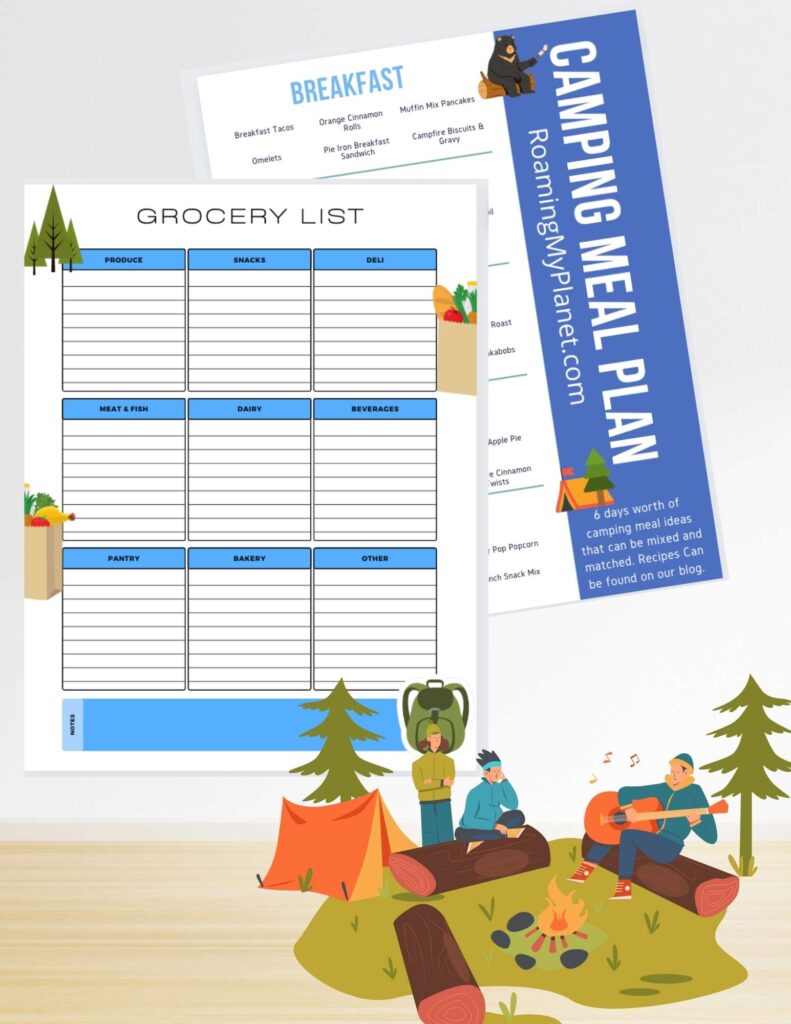 How do I plan a meal for an RV trip?
Planning a delicious meal for an RV trip doesn't have to be complicated. Start with the pantry. Dry goods, canned foods, grains, beans, starches like bread, potatoes, and pasta all travel well and withstand a variety of temperatures. Instant Pot Shredded Chicken, boil in the bag meals like omelets and rotisserie chicken ranch wraps are easy to prepare in an RV kitchen. Make homemade pita "chips", crackers or tortilla crisps with hummus for snacking. For quick snacks, pack nuts and fruits that don't need to be refrigerated. Also, bring plenty of water for drinking and cooking. With a little planning, you can create delicious meals for your RV trip that are both healthy and satisfying. The last thing you want to to have to do is run to a local grocery store after setting up camp.
I recommend doing a meal plan so you can see what coupons you have before you go. If you are not sure how to meal plan, we have an awesome solution for you. We have already created 6 days worth of meals in our printable camping meal plan. It's on sale for a limited time! The meal plan includes breakfast, lunch, and dinner ideas, as well as a few snacks. You'll also get a printable grocery list as well to help you shop. If you have picky eaters you won't have to follow our meal plan to an exact T, feel free to substitute anything you need to, but this will give you a good start. We also have some links to some our favorite easy RV meals below. Which one is your favorite easy RV dinner idea?
What food should I bring on an RV trip?
When planning a trip in an RV, it's important to think ahead and plan meals that are easy to prepare and won't take up too much space. Homemade pita chips, crackers, or tortilla crisps with hummus are a great way to start off any meal, while Instant Pot Shredded Chicken is a delicious and nutritious main course. Biltong and Jerky make for delicious snacks, while country-style barbecue can be cooked up quickly at the campsite. Pre-prepping purees in advance will help save time and space. With some careful planning, you can enjoy delicious meals during your RV adventure! If you plan on cooking on an open flame make sure you bring a cast iron pan or dutch oven for the hot coals.
We also like to prep our veggies ahead of time. Ones we know will use like green onion, bell peppers, onions, tomatoes. You can even prep your ground beef ahead of time, or purchase a rotisserie chicken and pre shred it. Check out our Camping Hack: Reuse Old Creamer Bottles . While we love to eat a good meal, we don't want to spend a lot of time cooking, but spend more time enjoying our vacation. So we try to meal prep and plan easy delicious meals with simple simple ingredients. I also try to keep things like peanut butter, cans of black beans and tomato sauce that are sorta shelf stable and can be used for a lot of things.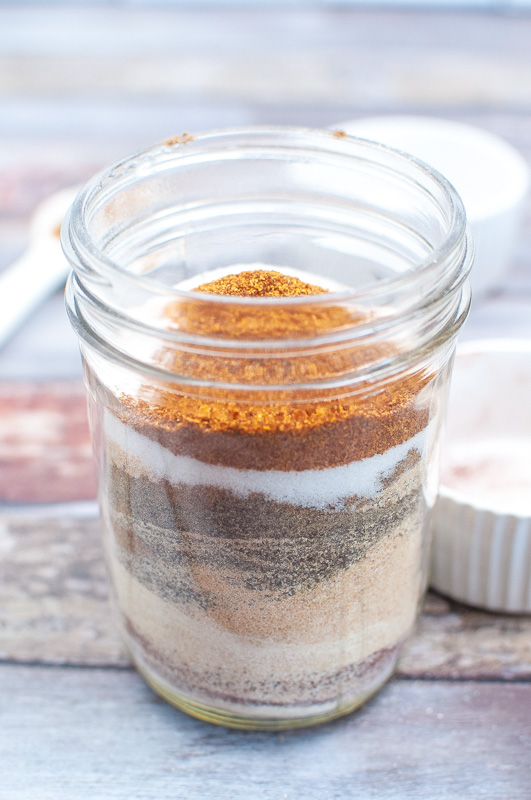 We also like to keep the following in our RV:
What can you cook on at a campsite?
Cooking outdoors at a campsite can be an enjoyable and delicious experience. RVers have many options for preparing meals when camping, such as cooking on a portable stove, grilling on a barbecue, using a pressure cooker or slow cooker, and Dutch oven cooking. With these methods, you can create a variety of easy and delicious meals such as Instant Pot Shredded Chicken, Egg and Sausage Breakfast Roll-ups, and Country-Style Barbecue. Planning ahead is important to ensure that you have all the ingredients and supplies needed. And don't forget to bring along some healthy snacks like trail mix or fresh fruit to munch on throughout your trip!
How do you eat healthy when camping in an RV?
When camping in an RV, it's important to make sure you're eating healthy. You can still enjoy delicious and nutritious meals while on the road. To ensure you get all the nutrients and vitamins you need, try to incorporate plenty of fresh produce and lean proteins into your meals. You can also opt for one-skillet meals to help save on time and washing up. Other easy, healthy options include yogurt, fruit, oatmeal, tacos, cheese, whole grain crackers, slow-cooker one-pot meals, and grilled meats and vegetables. Muesli is also a great breakfast on the go as you can make your own combination of grains, seeds, nuts and dried fruit before setting off. Don't forget breakfast is the most important meal of the day. Finally, don't forget to pack plenty of healthy snacks for when hunger strikes. With a little planning and creativity, you can easily eat healthy during your RV camping trip.
Check out these 45 Easy Camping Meals for Your Next RV Trip. Cooking in small spaces on the go can be delicious! (Yes we have updated this post to include 45)
My husband and I love to road trip. We recently got to experience what it was like to vacation in an RV after purchasing a pop up camper which we soon upgraded to a travel trailer. One of the best things about vacationing in an RV is you can save money by cooking your own meals. Plus you are getting the benefits of a home cooked meal and fresh ingredients.
I thought I'd put together some easy meal ideas for you, to make planning a little easier. Don't forget you can even bring your slow cooker or instant pot along. My favorite is the Ninja Foodi because it's a pressure cooker, slow cooker and air fryer all in one. It will totally save space. I also love to bring my cast iron skillet. Trust me, you CAN eat GOOD when you are camping in an RV. We hope you enjoy these easy recipes.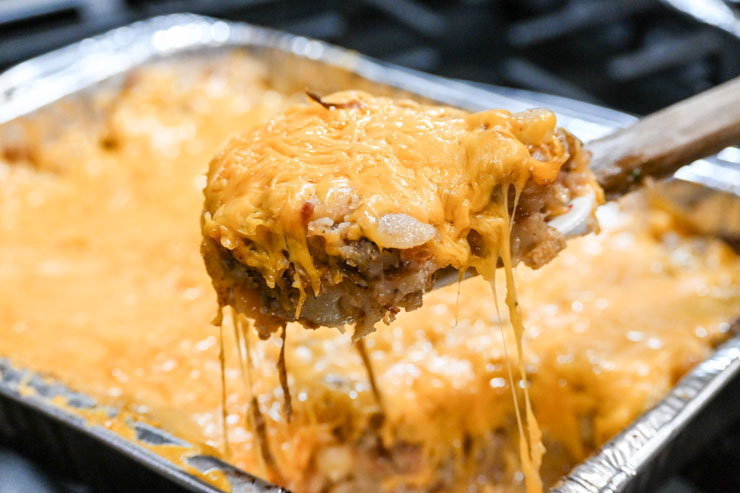 45 Easy Camping Meals for Your Next RV Trip. Save Time with RV Meal Planning:
You can also check out our instant pot recipes, slow cooker recipes and air fryer recipes for easy RV recipes.
RV Camping Breakfast Meals
Campfire Desserts
In conclusion, planning ahead is essential for RV camping meals. Not only will this help you stay organized and save money, but RV meals don't need to be complicated. A slow cooker can be a great way to make meals that last for days. Additionally, better food buying choices, like avoiding produce in wasteful plastic containers, can help ensure you are eating healthy and responsibly. Finally, keeping it simple with yogurt, fruit, oatmeal, tacos, wraps, and cheese can be quick and easy meals on the go. With these tips in mind, you can plan delicious RV camping meals that your whole family will enjoy.
Have you had any experience cooking in an RV? What is your favorite meal idea? We would love to hear about them! If you are viewing this check out our blog as we've added a ton of new recipes since we've written this. JOIN OUR FACEBOOK GROUP!
If you are thinking about RVing with Your Pets, Georgia is a very pet friendly state. Check out all of our tips.
Take Our Camping & RVing Like a Boss Course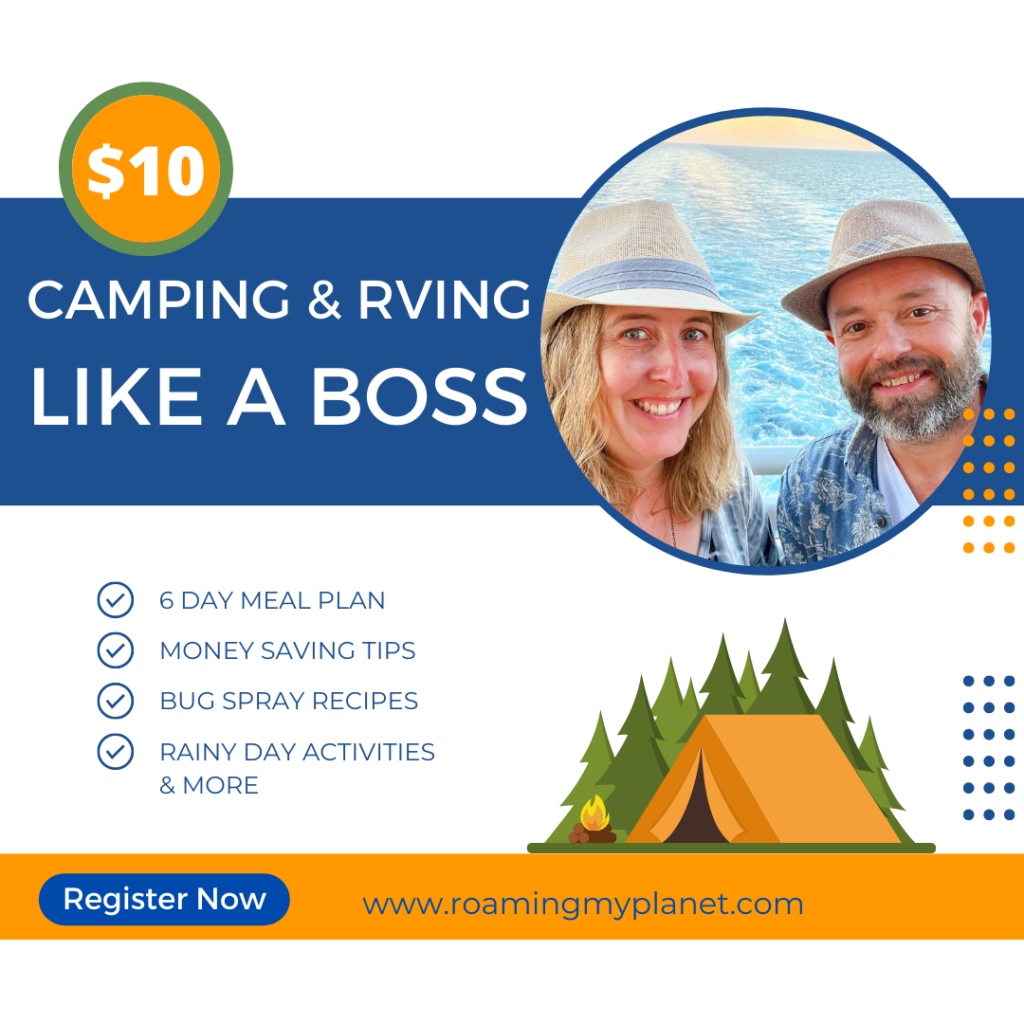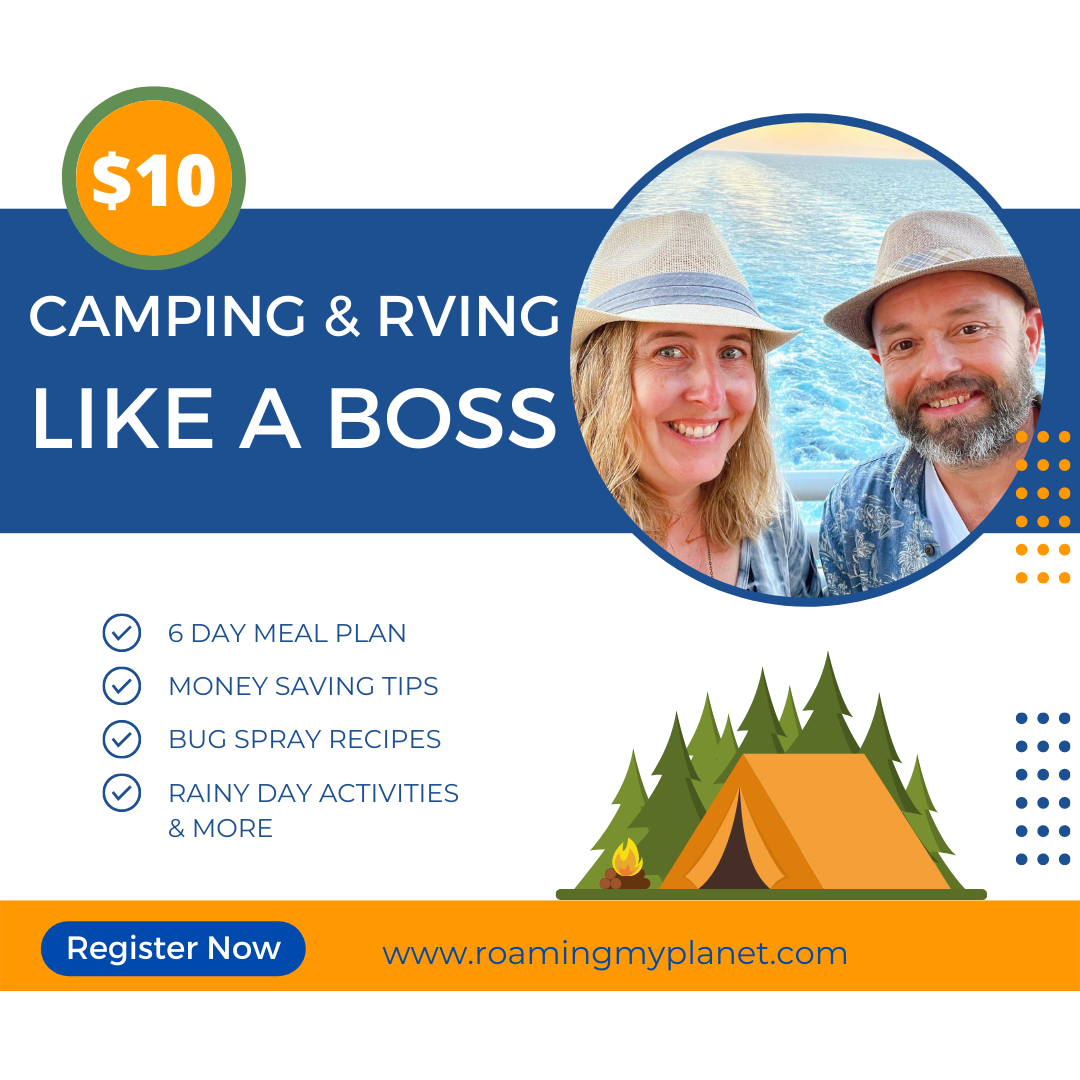 Looking to get the most out of your camping or RVing experience? Then this course is for you! Camping & Rving Like a Boss offers tips and tricks that will help you save time and money, so that you can enjoy your trip to the fullest. Join our Course.
My Favorite camping Supplies
FOLLOW US ON SOCIAL MEDIA