The Ultimate Checklist for Camping Supplies
Whether you're a camping enthusiast or a beginner camper, you know that having the best camping gear is a must. Check out this Ultimate Checklist for Camping Supplies.
CAMPING GEAR: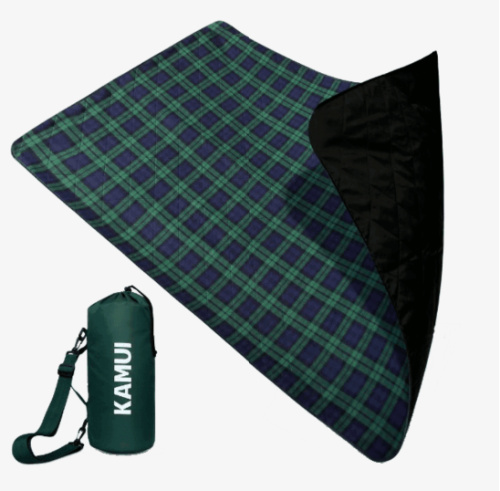 A great partner that you can carry to any of your family picnic adventure. This waterproof fleece blanket will provide comfort while you are enjoying the outdoors with your loved ones. Designed to provide comfort for your family picnic and warm as wrap around blanket. Grab this outdoor blanket and plan your next picnic or camping adventure. Add this one to your camping supplies list!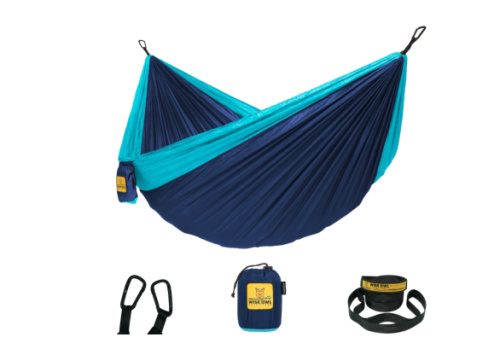 Everyone loves a good camping hammock but we especially love this DoubleOwl Hammock from Wise Owl Outfitters because it's big enough for 2 people to snuggle in. Hanging in a modern-day Wise Owl hammock is one of the best and most convenient ways to be in the outdoors to relax and unwind. You can take a Wise Owl hammock just about anywhere and in minutes you're kicking back and enjoying life. Our affordable, premium-made hammocks come as a complete package with everything you need to get that perfect hang. We also recommend pairing with the SnugNet Bug Net and Talon XL Hammock Tree Stats.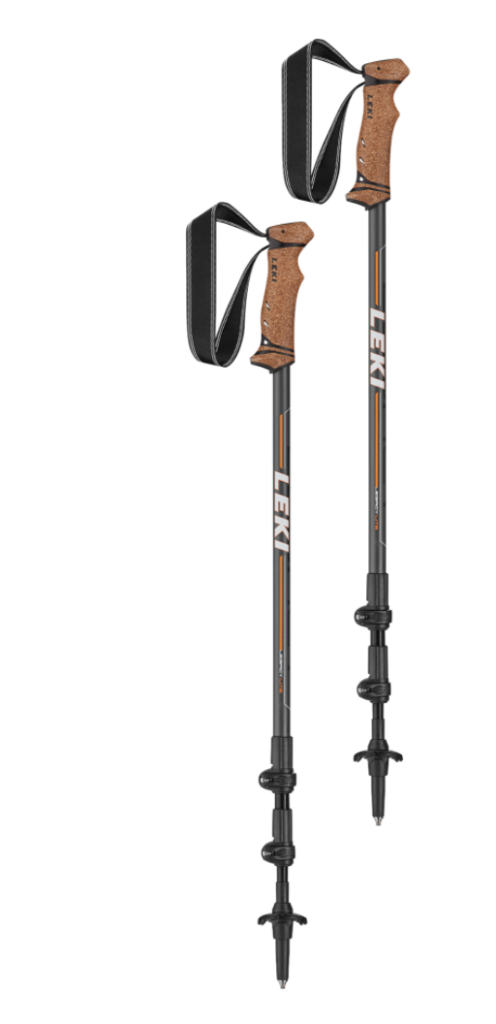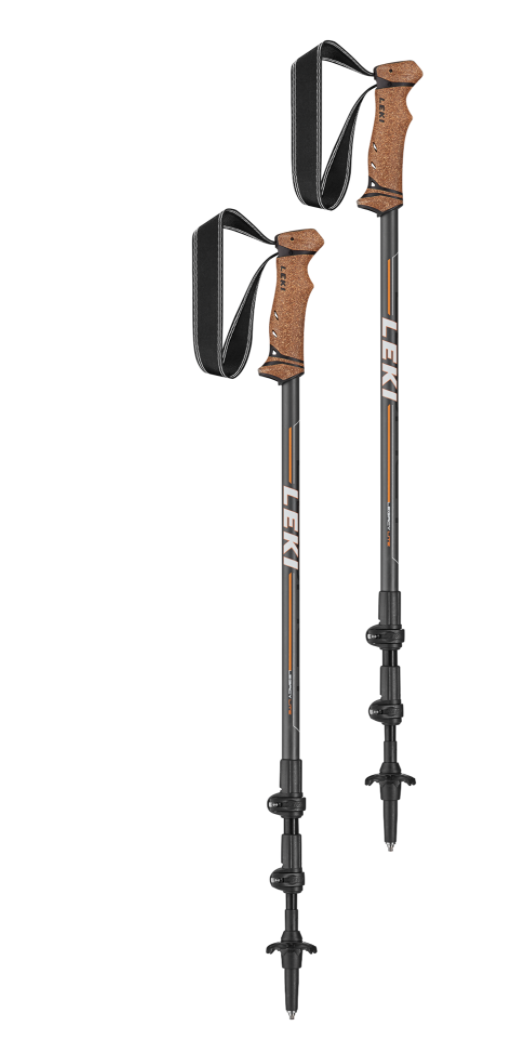 Legacy is the culmination of LEKI's 60+ years experience in designing and producing their own trekking poles. Featuring Ultralite, high-tensile strength Aluminum shafts and innovative Evocon COR-TEC grips. Legacy also includes the next generation SpeedLock Plus which is not only smaller and stronger than our previous design, but further reduces overall weight and enhances the swingweight on the trail. Quite possibly the best value on the market as the perfect pole for any hiker anywhere in the world.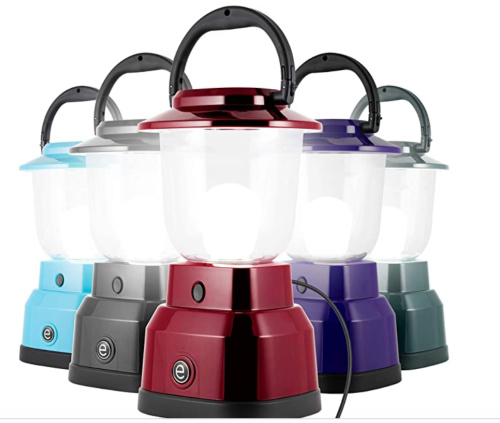 Enbrighten LED Camping Lantern: This lantern is a staple for any camping trip with 360 illumination and three light level settings. The LEDs last a lifetime and there is even a USB port for your phone charger. The lantern is $29.99 on Amazon.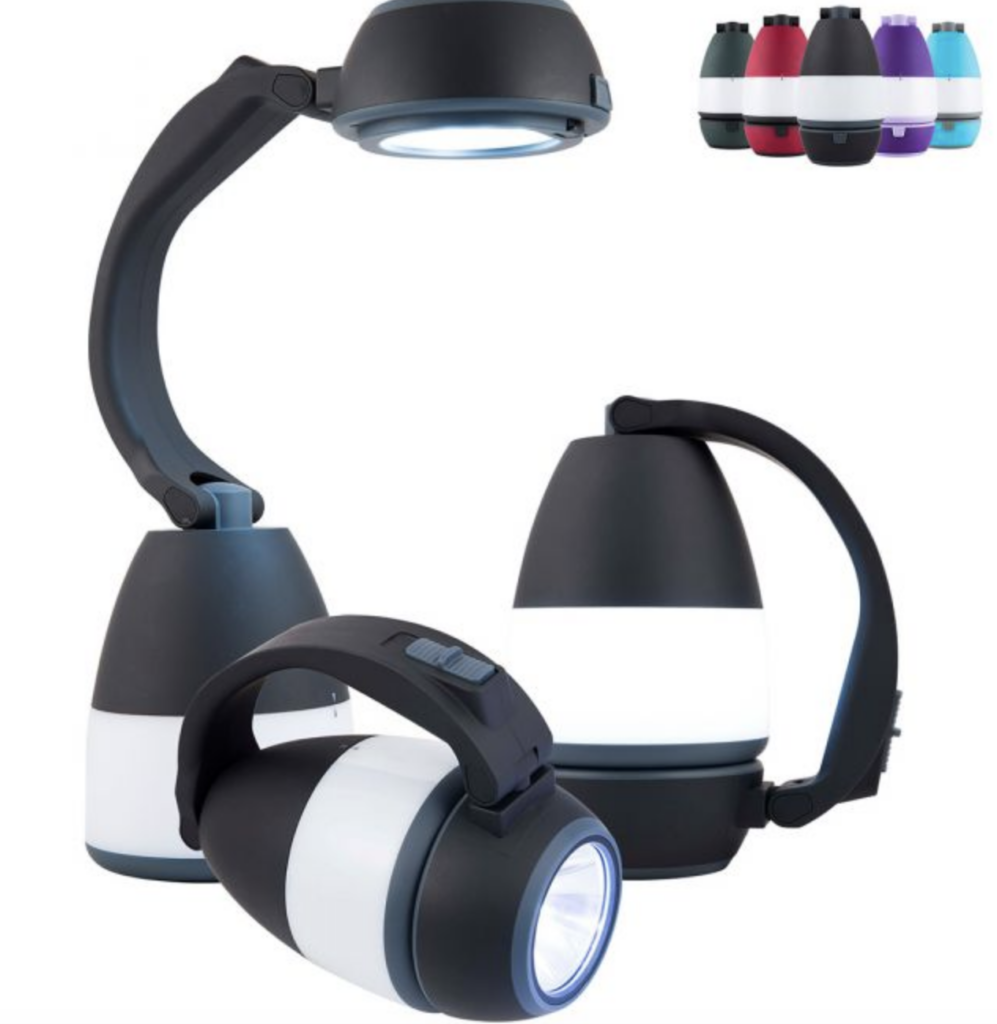 Jasco's Enbrighten 3-in-1 LED lantern: This compact lantern is the ultimate camping accessory! It functions as a work light, lantern, spotlight and flashlight. Whenever you need it most, the 3-in-1 LED lantern is easily transformed to fit the situation. At only $12.99, it's a steal for its functionality. We kept this on our camping supplies list and we used it a ton going back and forth to the restroom at night.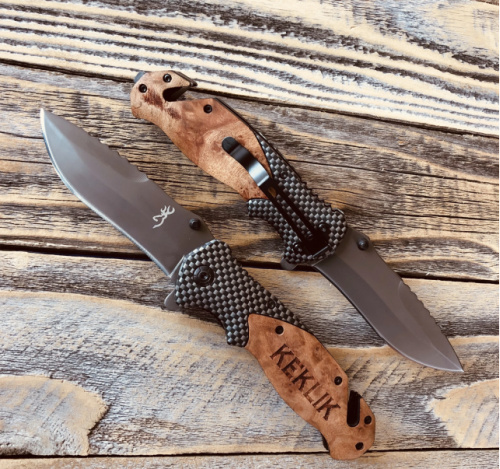 One thing that comes in handy while camping is a good pocket knife! This pocket knife from Groovy Guy Gifts comes with a spring-assisted blade and attached belt clip.  The handle of the knife also comes with a seat belt cutter. The knife fits in your man's pocket and is has durable but light carbon fiber for lasting use.  There is no better combination then carbon fiber and high quality wood! I love that you can also get it engraved!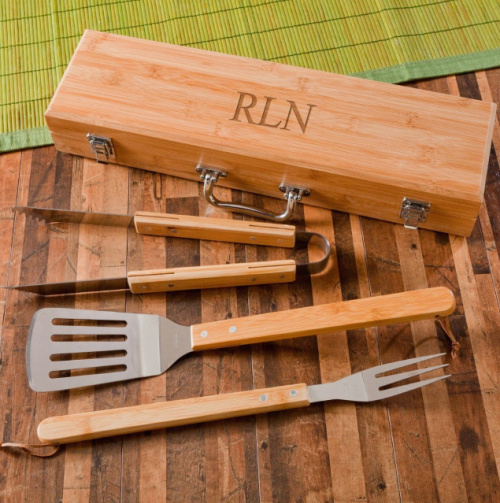 Prime your guy to maximize his primitive instincts of charring meat with a barbecue set that will provide sophistication.  Your man will be stabbing, flipping and skewering fine cuts like a magician when he opens up this fantastic case of BBQ tools. This personalized barbecue set will make any butcher proud.  
The Grill Master Set set and case is made of high quality bamboo, coming with a spatula, fork and tongs. The case is extra tough, with secure latches and rugged handle. It measure  19 5/8″ x 5 1/2″.
To make this gift extra special for your guy, we laser engrave the case of this personalized grill set with 2 lines of custom text. The personalization goes on the case, as shown in the pictures. This is a fun item to keep on your camping supplies list.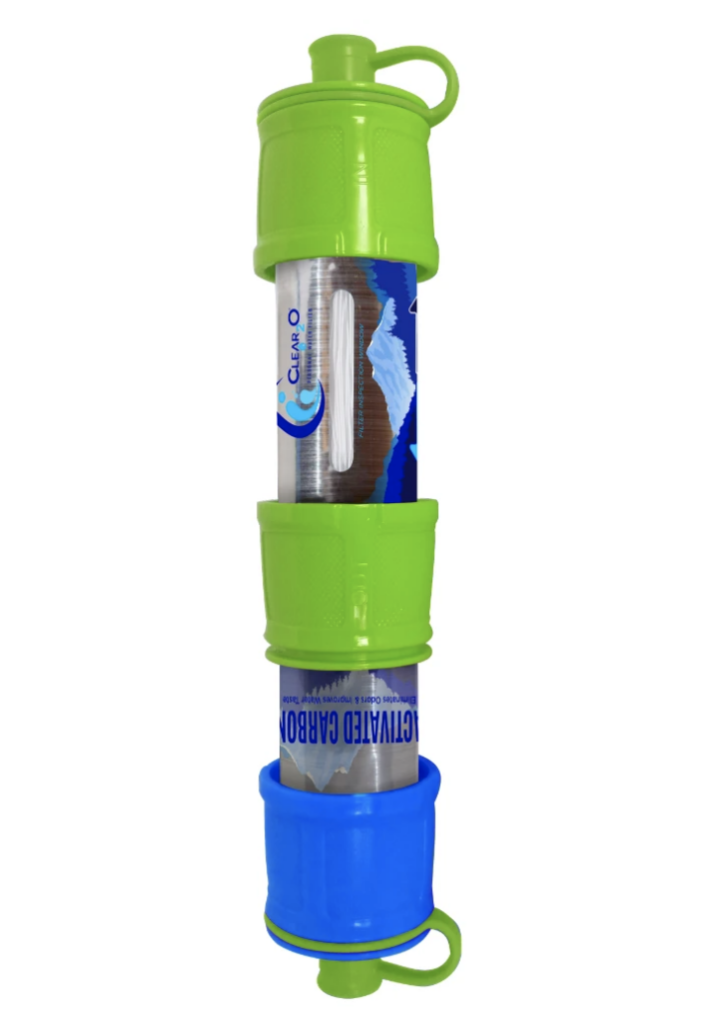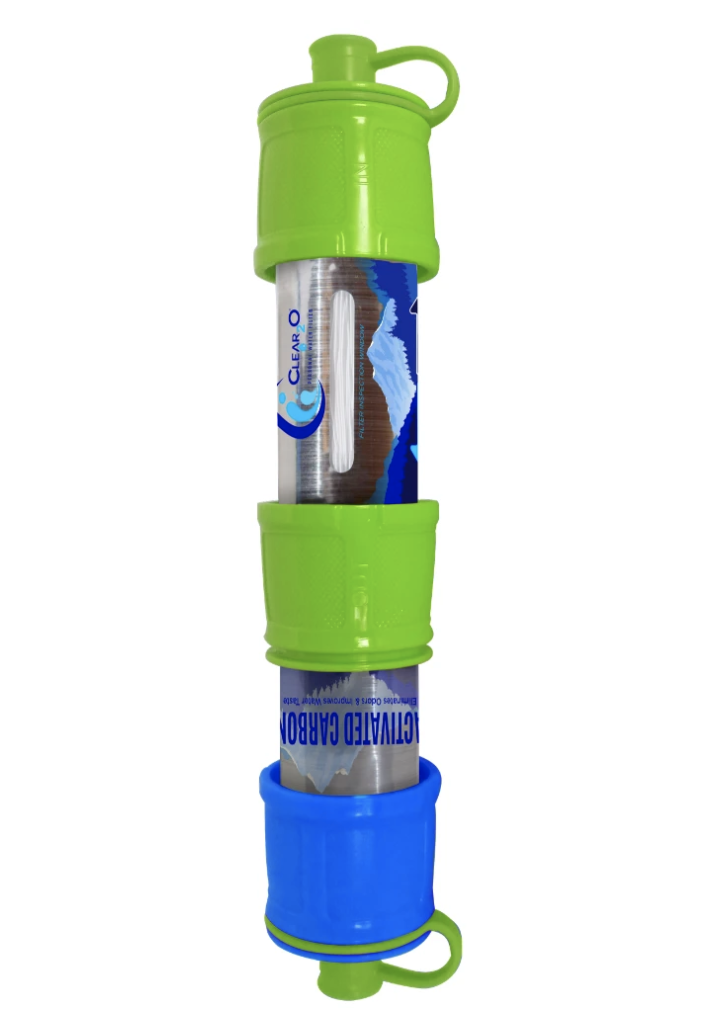 If your out on the trail and realize the trail is longer than you thought, you may realize your going to quickly run out of water like on a recent trip of ours.
CLEAR2O® Personal Water Filter Dual Filtration transforms open water sources by removing bacteria and parasites, preventing waterborne disease.  Easy to use and drink directly from streams and lakes, or fill up a container and enjoy clean water on the go.
Drink water from any fresh water source.
Stage 1 filtration will reduce bacteria at the 0.1 micron level and Stage 2 eliminates unpleasant taste and odors.
Reduces 99.9% bacteria and microplastics from your water.
Eliminate unpleasant odors, bad taste and discoloration.
Fiber membrane can filter to 0.1 Micron.
Peace of mind when abroad and want filter water from any fresh water source.
Great for travel, backpacking, camping, and emergency kits.
Ultralight backpack & travel-friendly.

Silicone caps makes to easy to keep clean spout.
1 Liter collapsible durable 3-ply reusable water bottle with sport cap and carabiner included.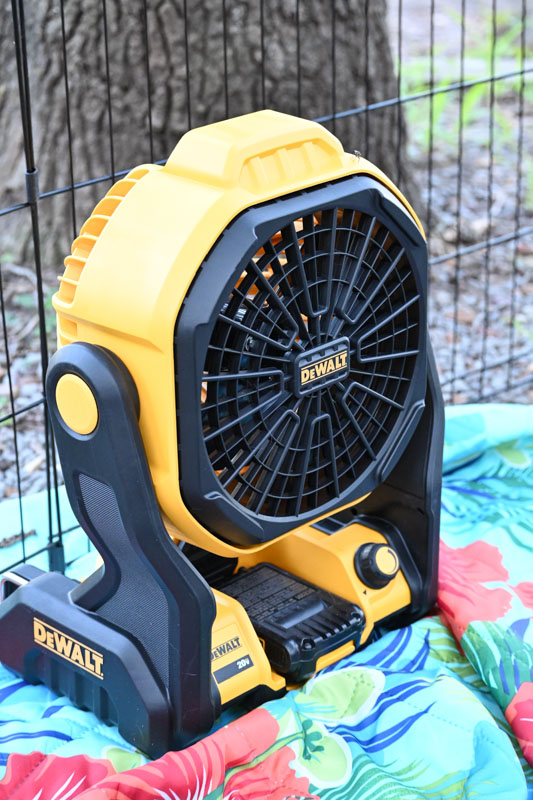 I absolutely LOVE this Dewalt Cordless Rechargeable Fan. It was a life saver on this last camping trip. Totally helped us beat the Summer heat and even kept our dogs cool! This is something we will take to every camping trip we take and I love that it uses the same battery as our Dewalt tools. BUY IT!
Corded or cordless operation (extension cord sold separately)
Multiple hanging options: Freestanding, hang hooks, and wall mount
Variable speed control: Wide range so you control the speed you want; Airflow 500
Testing to IP54 (Batteries are not included)
Battery & charger sold separately. Blade diameter:7 inch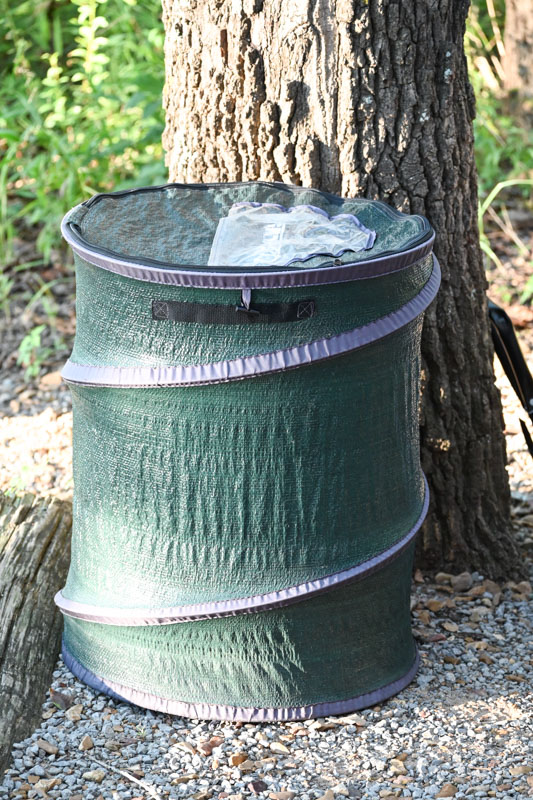 The Coghlan's Pop-Up Trash Can is definitely a must. when camping. I love that this folds completely flat for travel and that it completely zips to keep the critters out. Please note that the trash bag does not stay in place when closed and you'll need to lift it off the rim but we didn't mind because we use the drawstring bags for this. It's super easy to clean as well. It also has a clear pocket on the top to store extra bags. BUY IT. Don't leave this off your camping supplies list.
Spring loaded for easy pop-up camp trash can is lightweight and easy to carry; helps keep campsite, recreational and other use areas clean
Portable and easy to carry container is made of durable and easy to clean polyethylene material
Bin features fully zippered top; easily collapses to store with the two Velcro straps
Fits 30 gallon trash bags
19.5 x 24 inches (WxH); empty weight of 1.6 pounds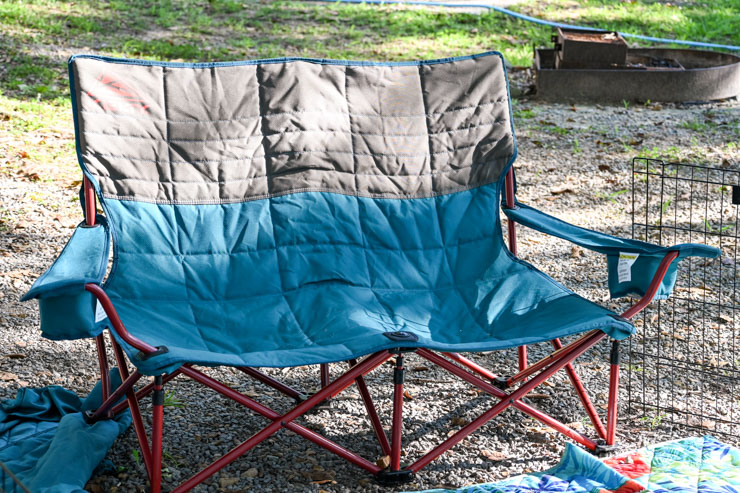 No camping trip would be complete with out the comforts of this Kelty Loveseat. Folds up easy for travel and is super easy to wipe clean. I love that it also offers cup holders on each side. Our dogs love sitting on this couch with us and makes for a more romantic copy time by the campfire. BUT IT!
Camping friendly cuddle couch: low base 13. 5 inches off the ground; relaxed, slightly reclining design with room for two (plus the family dog). 42 inches of seating space on Cushioned, insulated, nearly indestructible 600D weight polyester fabric.
The beach chair standard: you don't have to be at the beach to enjoy, but if you are, the low loveseat is the perfect way to chill in the surf without getting wet. Sturdy and durable steel frame makes this chair an outdoor chilling staple.
Insulated beverage holders: Each adjustable armrest includes an insulated beverage holder, with enough space left over for munchies, Marshmallows, or the drink on deck.
Made to last: quality materials and thoughtful Kelty craftmanship will keep your buns and back warm on cool nights for years to come. Steel framed construction, puppy-proof fabric, and a weight capacity of 500 lbs.
Padded roll tote storage: no need to labor over lugging this thing around, the low loveseat folds neatly into the included roll tote and can be tossed over the shoulder for simple Transport at 15 lbs Total weight.
Obviously a good tent is a must when camping. The type of tent you want , really depends on personal preference but we definitely think one that is easy to set up and take down and has good ventilation is a must. There are a ton of them out there so we say use your best judgment and check the reviews but here is a good place to start if your need to add one to your camping supplies list.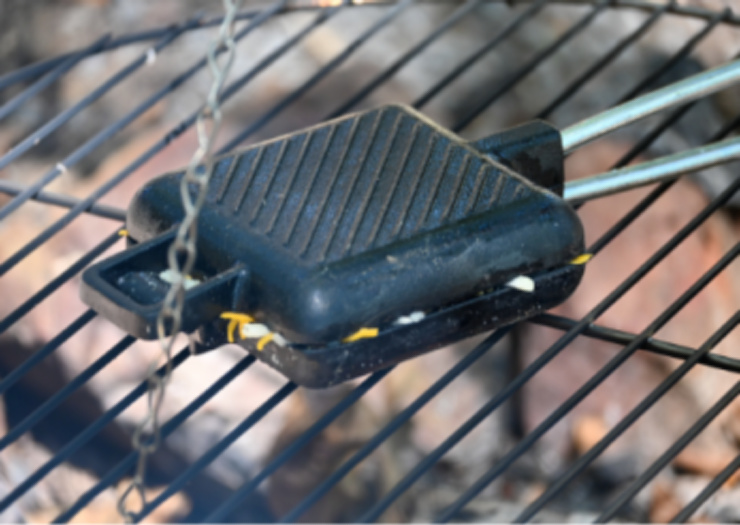 Pie irons are a fun way to cook while camping. You can make all kinds of food wether it be pizza pockets, apple pie, breakfast sandwiches and more. We had so much fun playing with our pie iron at our last camping trip and we recommend getting at least two of them so that you don't have to wait for them to heat back up in between item you are cooking. Buy IT!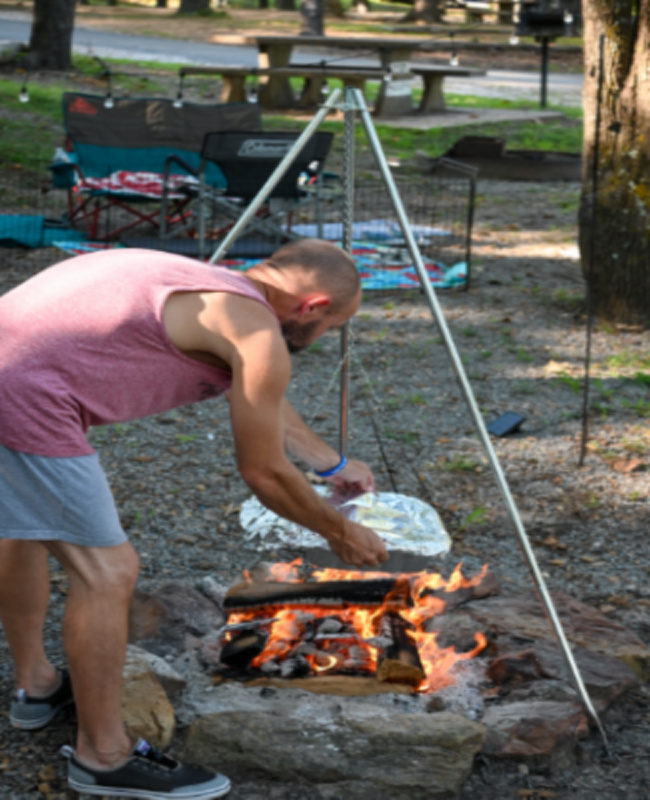 If you love a good hearty meal at the campgrounds then you will want to invest in a camping tripod with grate. This will allow to easily cook over a campfire. You will want one that easily collapses down and its sturdy. There are quite a few good brands out there like Coleman, Grill up dinner over the campfire and then tell stories by lantern light with help from the Coleman Tripod Grill and Lantern Hanger. Easily adjust the 17-in. diameter grill grate so it hangs over the fire at the perfect height for just the right amount of heat. When the meal is done, use the tripod to hang a lantern for just enough campsite light. When the fun is done, the shock-corded, durable galvanized steel legs collapse for convenient storage. BUY IT! We also recommend this dutch oven!
CAMPING ESSENTIALS: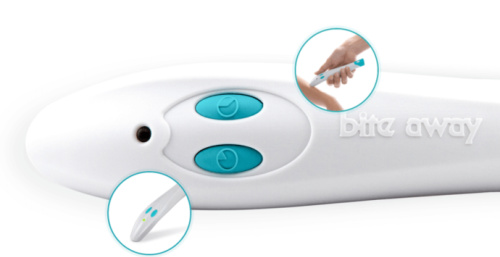 For the majority of Americans, mosquito season means prevention and preparing to treat pesky bites if you spend time outdoors. MibeTec a leading medical device company for local thermotherapy based in Berlin, Germany, recently announced the U.S. launch of Bite Away®, an FDA cleared medical device that relieves symptomatic itching, swelling, and pain associated with insect bites and stings after only a three or five second application.
Camping is often not complete without bug bites, but it doesn't have to be any more. Ranger Ready Repellents uses the better bug spray active ingredient calledPicaridin 20%. It's equally as effective as DEET, but without the same health risks. Ranger Ready with picaridin is safe to apply to skin every day for adults, children over age-1, and during pregnancy. Plus, picaridin is non-corrosive so it won't damage any camping gear, and Ranger Ready is made in the USA. And because most campers are dedicated to protecting the earth, so our bottles are 100% recyclable and are non-aerosol. This always stays in our camping supplies box.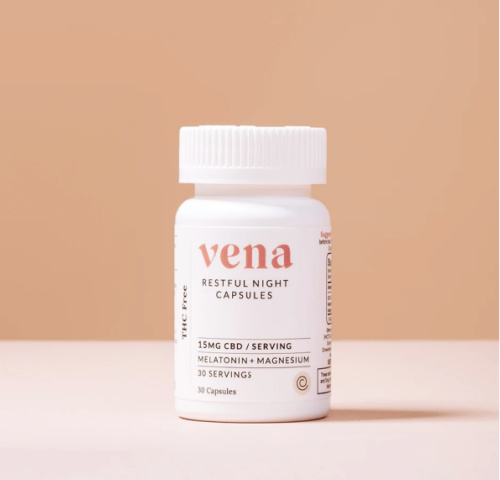 Vena CBD Restful Night capsules are a simple sleep aid that increase the quality and quantity of your sleep. By artfully blending the most impactful traits of CBD, melatonin, and magnesium, this unique triad helps you achieve the elusive promise of a productive morning. 
We created this product for you because we were tired of other sleep solutions that left us feeling groggy the next morning. You deserve to set your alarm and intentions for the next day knowing that closing your eyes promises uninterrupted, rewarding, and balanced rest.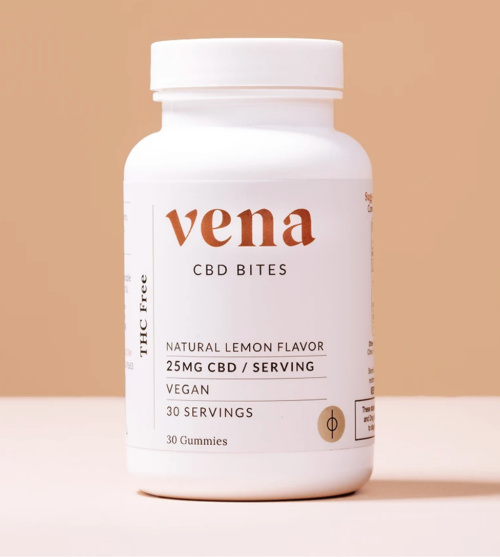 Vena CBD mouthwatering, lemon-flavored Gummies are our most delicious, fun method to consume CBD throughout your day. These tasty bites—which contain 25 mg of CBD each—can be taken with our other core products or on their own as anytime, anywhere delight. 
These Gummies are a great way for those who are new to CBD to get a taste of its benefits and a flavorful method for seasoned CBD enthusiasts to consume additional daily balance. Whether you keep them on your desk or in your pantry, they're only ever a bite away.
CAMPING APPAREL: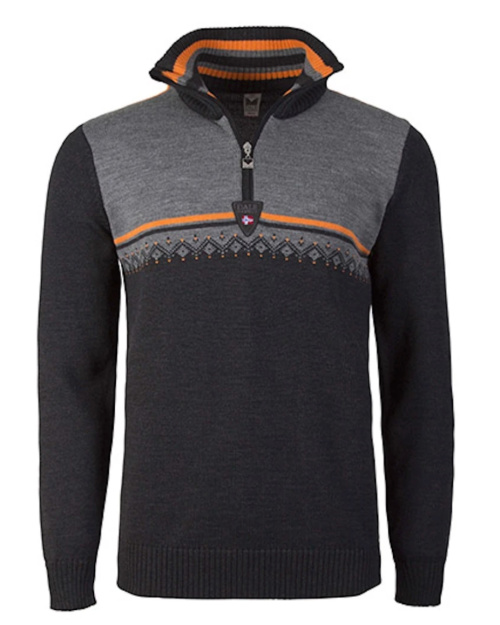 Lahti Mens Sweater -Perfect for those chilly days at the campsite. The Official team sweater for the Norwegian National Cross-Country Ski Team for 2016 and 2017. The design features the stripes from the Norwegian flag. Made with 100% merino wool for a naturally soft feel and comfortable fit. Dale is made from wool, which is anti-microbial and anti-fungal, so unless you spill your lunch on your sweater you should only wash it sparingly. When you do, use the wool cycle.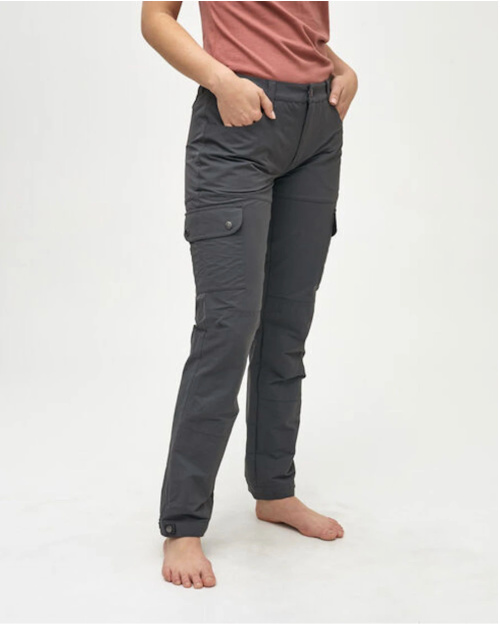 Get AKTIV and get out there with these fantastic pants by Kari Traa. Built for the hike but stylish enough for everyday use. Are you a bit of a shorty? The hem on these pants adjusts with snaps!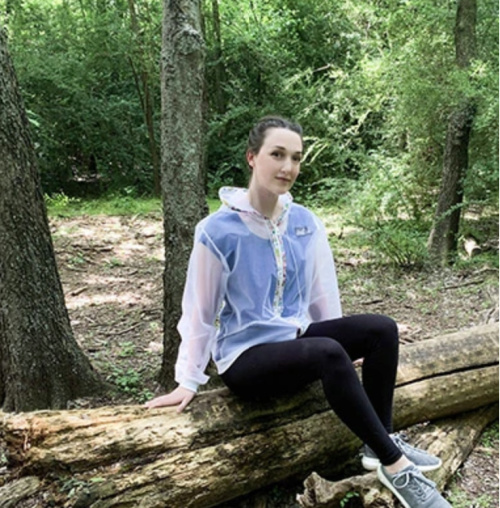 The Mozzie Jacket is an attractive bug jacket that blocks mosquitoes, ticks, black flies and biting gnats. It's designed like a zip up hoodie (pockets and all). They are made with a sheer and super lightweight material that is comfortable even when it's hot and sticky outside. The machine washable material gets even softer after the first wash. Insecticide-free so you aren't walking around killing the good insects (like bees). They are great for camping, golfing, mowing the lawn, etc. Since they are so lightweight, they don't take up any room in the closet! I keep this in our camping supplies box.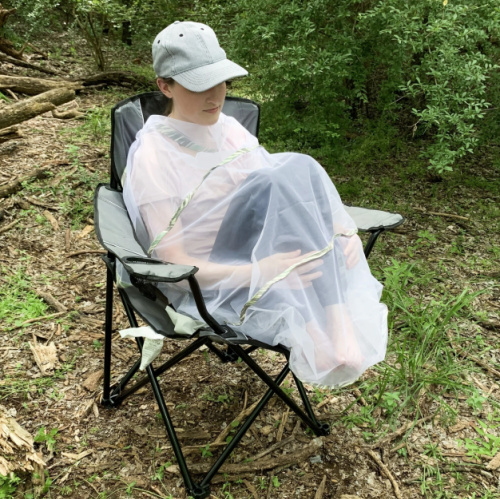 Bug-Out Blanket. It folds up into a small portable water resistant pouch that can easily fit into the RV or in a backpack. This is a favorite item for evening campfires. Easy and convenient to carry and use anywhere there may be mosquitoes or black flies. Use it where you need it, around the shoulders, over the legs or curl up your whole body under it! The built in wiring helps you arrange it so the mesh is off your skin to create a protective bubble just for you.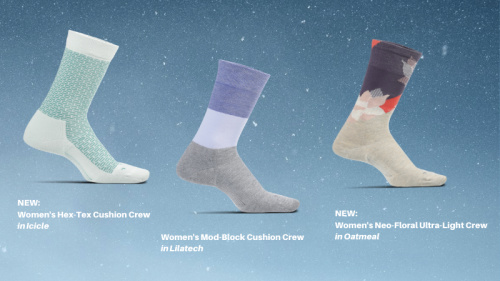 Good Hiking socks are a must to add to your camping supplies list! Feetures'  Everyday Crew socks take the best of their high-performance running socks and add stylish designs that are perfect for round-the-clock comfort. New for this fall, the Everyday Crew is made with Repreve, a blend of recycled fibers! All Feetures socks include moisture-wicking fibers and a seamless toe to help prevent blisters. With targeted compression and an anatomical design (left/right specific), these Everyday Crew socks keep your feet fully supported, cozy, and warm. MSRP $19.99
MORE GREAT CAMPING ITEMS: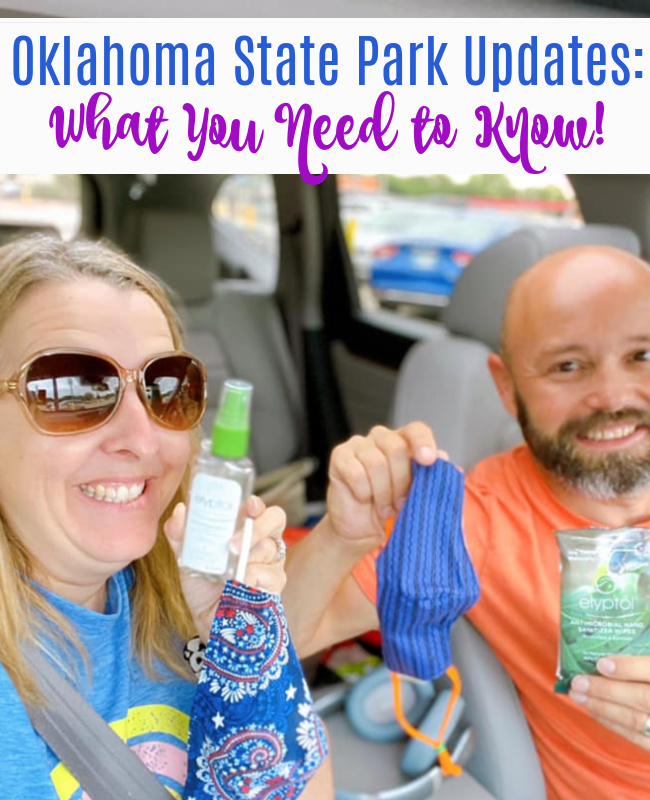 State Parks in Oklahoma– changes and new things happening!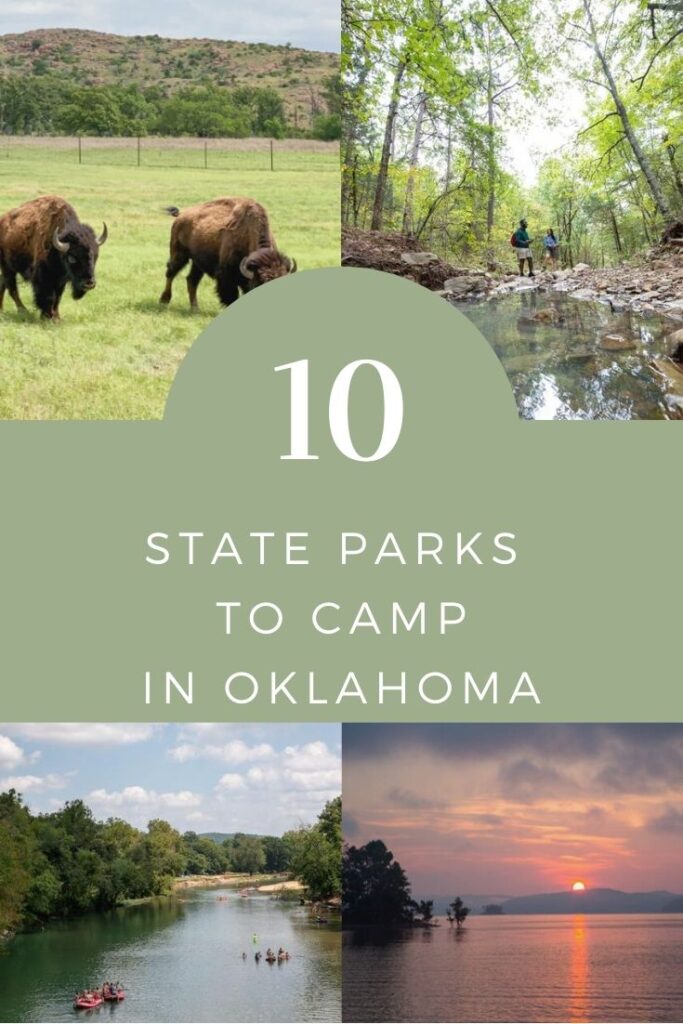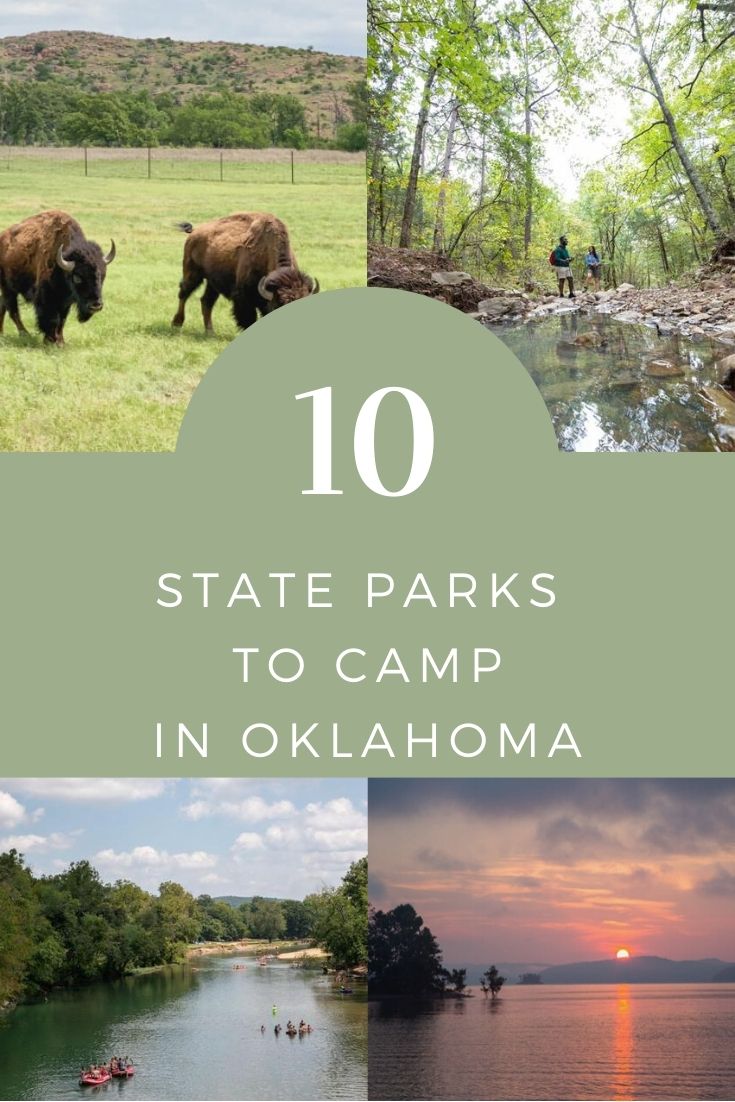 If you're planning on Camping In Oklahoma State Parks, check out our Top 10 places to camp below.