Best Yosemite Campground – Yosemite National Park Complete Guide
Yosemite National Park in Mariposa County is a destination for all four seasons. From awe-inspiring vistas and granite icons to breath taking waterfalls, there are countless things in this park that you can't help but fall in love with. Looking for the best Yosemite campground can be a daunting task. We loved our visit to Yosemite and want to share with you what we learned.
Staying in Mariposa County – Best Yosemite Campgrounds
When planning your trip to Yosemite the 1st order of business is to find a place to stay. Whether you plan on camping, looking for RV sites, or renting a room. Mariposa County has you covered. If you are staying in Mariposa make sure you allow yourself enough time to explore the area. There is a lot history that is just waiting for you to discover. Of course if you are staying in Yosemite, Mariposa is only a short drive away. Here are some of the more popular campgrounds.
Bridalveil Creek Campground –
The Bridalveil Creek Campground is a popular tent camping location for those looking to escape from Yosemite Valley. The Bridalveil Creek Campground is located along the Glacier Point Road near Bridalveil Creek and surrounded by a beautiful forest. At an elevation of 7,200 feet (2,000 meters) up in high country you'll find this serene camp site just off Highway 41 west. But beware if it's wintertime because there are no services nearby. So be sure to pack accordingly. Bridalveil is typically a first come first served campground. They also have group sites available. There are food lockers available as well. Click here for more information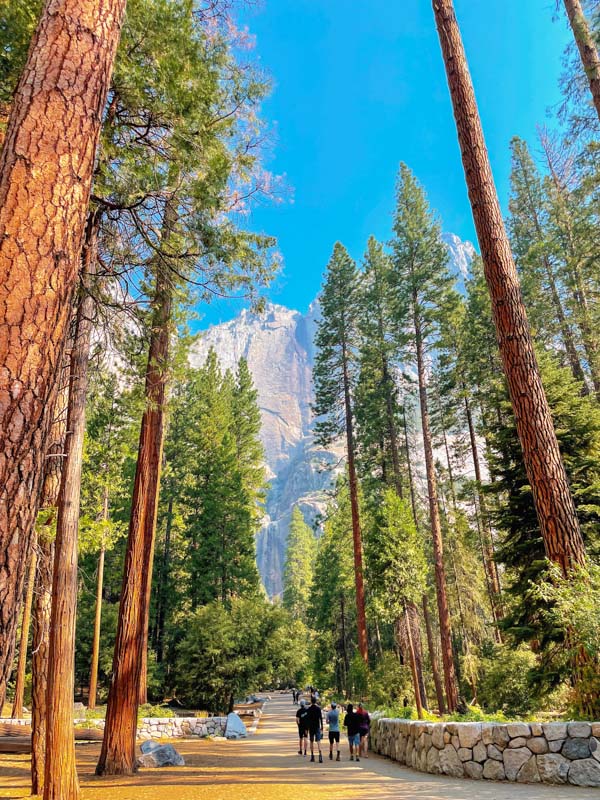 Yosemite Creek Campground –
Yosemite Creek Campground is located in the beautiful Yosemite National Park. The campgrounds are located along Tioga Road about 1 hour north of Yosemite Valley. 7,700 feet (2,300 m) elevation means it's cooler and can get cold at night time! They have vault toilets that are located near the campgrounds, but be prepared to carry your own drinking water. There is a fire ring and picnic tables for you use as well! Tent camping is only allowed here and is on a first come first served basis. Click here for more information.
Upper Pines Campgrounds-
Upper Pines Campground is located near the Merced River in Yosemite Valley. It's a large campground at 4500 ft (1419 m) elevation and can be accessed from all park roads – it even has its own shuttle service! If you're looking for groceries or food services nearby while staying here then look no further than Curry Village on Highway 41-north of Big Oak Flat Rd. Just 10 minutes away by car. Upper Pines Campgrounds has RV and tent sites available. They also have a dump station on site that is open year-round.
Reservations are required all year for Upper Pines. Campground. Reservations are available in blocks of one month at a time, up to five months in advance, on the 15th of each month at 7 am Pacific time. Be aware that nearly all campground reservations in Yosemite for the months of May through September and for some other weekends are filled the first day they become available, usually within seconds or minutes after 7 am Pacific time. Click here for more information.
White wolf campground –
White Wolf Campground is located in breathtaking Yosemite National Park in Central California's rugged Sierra Nevada Mountain Range. The campground is along Tioga Road, about 1 hour northeast of Yosemite Valley, at 8,000 feet (2,400 m) elevation. Within Yosemite, visitors can gaze upon waterfalls, sheer granite cliffs, deep valleys, grand meadows, ancient giant sequoias, vast wilderness areas and much more. They have standard RV and tent sites. Click here for more information.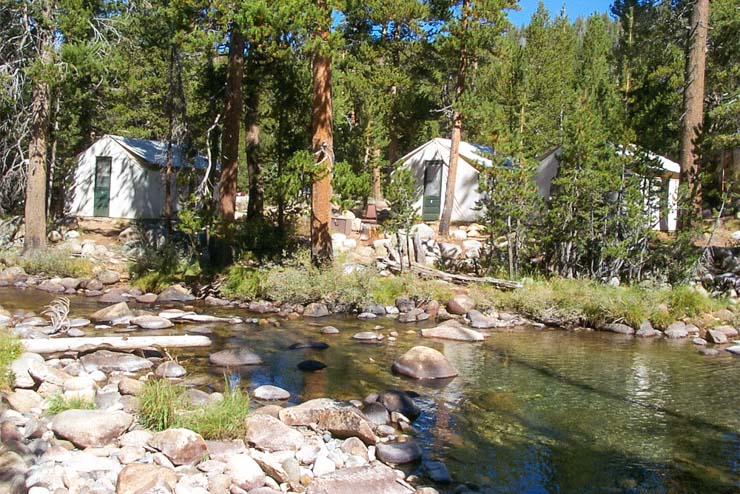 Tuolumne Meadows campground –
At the time of publication Tuolumne Meadows campground was closed for renovation. It is scheduled to reopen in 2024 or 2025. Click here for more information.
Wawona campground –
The Wawona Campground is located along the South Fork Merced River close to historic Wawona. At an elevation of 4,000 feet (1,219 m), this campground in Yosemite National Park offers visitors stunning views and plenty for them to do all year long! The majestic Mariposa Grove of Giant Sequoias can be found just a short drive away. As well as Pioneer History Center where you'll see some amazing old structures dating back over 100 years ago when people first began coming into California's Gold Rush territory. They offer tent, RV, group, and horse sites. You will need reservations. Click here for more information.
North Pines Campground –
North Pines campground is located at 4,000 feet (1,219 m) elevation and can be accessed from all park roads. Just north of this site are many services such as groceries stores for your convenience while out on the trails or near Yosemite Village. They offer RV sites and require reservations. Click here for more information.
Hodgdon Meadow Campground –
Hodgdon Meadow Campground is conveniently located along the Big Oak Flat Road at Hodgdon Meadows Entrance. At an elevation of 4,900 feet (1,219 m), it can be found 25 miles and approximately 45 minutes from Yosemite Valley in a serene setting with gorgeous views that extend into nearby Sequoia National Park! There's also minimal convenience items close by.
Reservations are required from early April to early October for Hodgdon Meadow. During the rest of the year, the entire campground (other than the group sites) are available on a first-come, first-served basis. Campground reservations are available in blocks of one month at a time, up to five months in advance, on the 15th of each month at 7 am Pacific time. Be aware that nearly all reservations for the months of May through September and for some other weekends are filled the first day they become available, usually within seconds or minutes after 7 am! Click here for more information.
Lower Pines Campground –
Lower Pines is located at the base of El Capitan, just outside Yosemite Valley. This campground offers guests access to some of this park's most iconic features such as Half Dome and Inspiration Point – which provide stunning views from high atop their cliffs! It also lies along plenty hiking trails so you'll never be short on fresh air while exploring these natural wonders found only in California's Sierra Nevada Mountains.
The elevation here ranges between 4200 ft (1301 m) up until 7300 feet where there are breathtaking vistas that will make your heart sing after a day spent exploring. You will need reservations for the Lower Pines Campground. Click here for more information.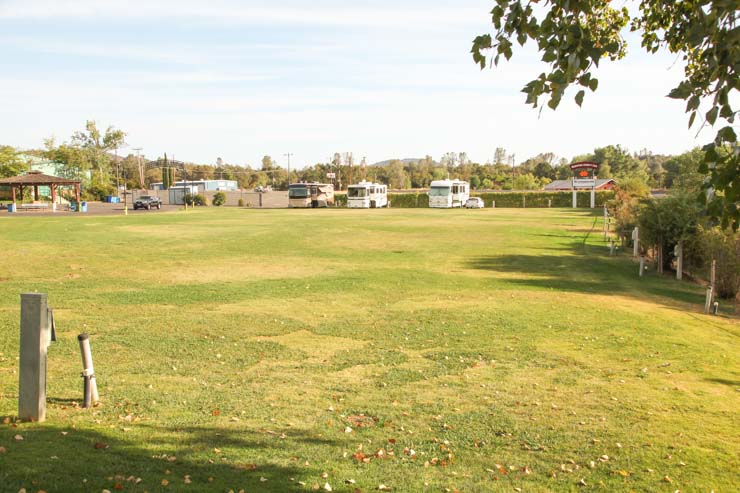 Mariposa Fairgrounds RV Park
This was where we stayed and we loved it. It is a short drive away from Yosemite Valley and Yosemite Falls. It's a 5 minute drive to Mariposa so you can enjoy everything there is to do there as well. We really enjoyed to peace and quiet that Mariposa Fairgrounds RV Park offered. It was so relaxing sitting outside our camper and just stargazing. Sites include electric and water hookups, restrooms and showers. Dump stations are located in easy access areas. During inclement weather, paved, graveled and sheltered areas are available. Click here for more information.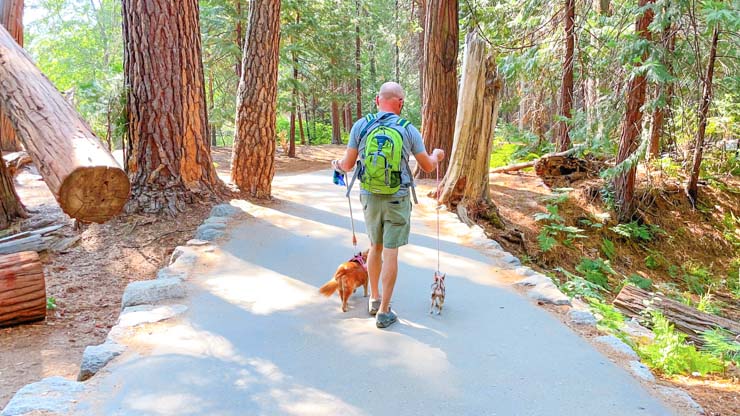 Is Yosemite Dog Friendly – Where to Hike and What to Do
Yosemite National Park is dog friendly National Park. When we asked the Park Ranger at the Entrance where the dogs were allowed to go and she said "Paws on pavement.". That's the simplest thing to remember! Basically you can take your dogs into developed areas. Most of the trails we stopped at were developed. So get your fur babies out and enjoy nature! Of course do it responsibly and respectfully.
Pets are also allowed in all campgrounds except walk-in campgrounds and group sites. Make sure to pay attention to the weather conditions. You and your pet can get dehydrated easily with the heat and the altitude. Also remember the asphalt on the parking lot can be hot for your pets paws even for a short walk.
Here is the Yosemite pet policy
Beautiful Views & Hiking Trails: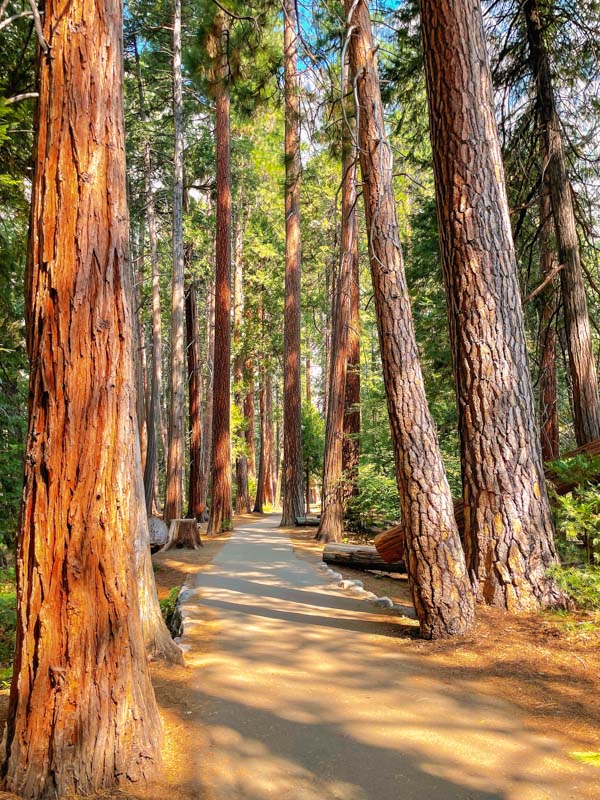 There are so many hiking trails in Yosemite Valley that it's pretty easy to find one to for your skill level. We are novice hikers and just like being out in nature. There were no shortage of trails for us hike. One of our favorites was Lower Yosemite Falls Trail. It's a developed trail so pets are allowed. It winds its way through the pines and you gives you some amazing views along the way.
El Capitan
We didn't hike along any trails around El Capitan when we visited. But just hiking in the meadows around El Capitan is amazing. If you have a spotter scope make sure you bring it with you. If not some good binoculars will work as well. We loved watching climbers make their way up El Cap. In the picture of El Cap above there are 5 climbers. Yeah it's kinda big. On our way home from Glacier Point at night we even saw climbers that were "camping" on El Cap! It was crazy to see lights on El Cap at night.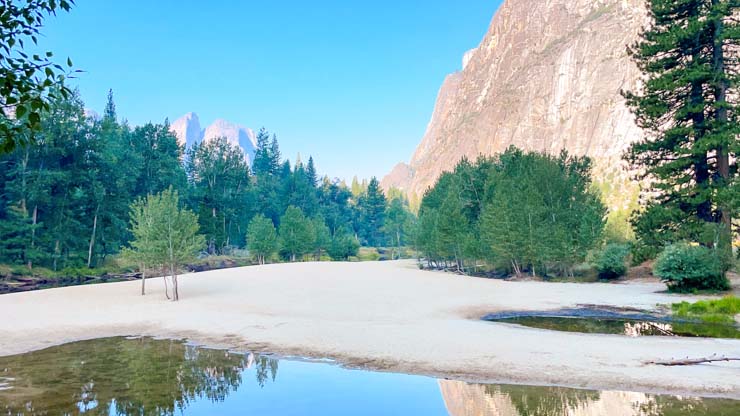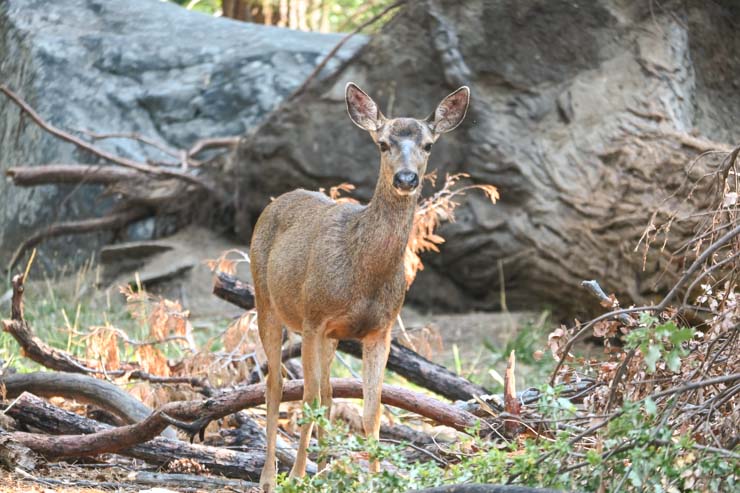 No matter where you choose to hike, make sure to take some time and look around. We saw wildlife everywhere. Deer were just walking along the hiking trails. Make sure you aren't just looking for the "big" wildlife. There are all kinds of beautiful animals in Yosemite. We loved seeing all the different species of birds as well!
Picnic at Glacier Point
This is a must do in my opinion. It's really hard to describe how beautiful it is to watch the sunset at Glacier Point. We decided to bring a blanket and had a picnic while waiting for the sun to go down. We got there about an hour before sunset and didn't have any problems finding a spot.
If you wanted to get to Glacier Point early you could explore the area. There are plenty of viewing areas that give you a great view of Half Dome. So make sure you take the time to explore! It's a good idea to check road closures here. There are construction projects planned that may affect your route.
Yosemite Trails Horseback Adventure
The perfect way to experience Yosemite is by horseback. Take a one hour or two-hour ride around the beautiful park, and learn about its history from your guides. Or you can join them for an exclusive trail ride to Grizzly Giant, one of the largest giant sequoias in the world. The 2 hour ride was perfect for us. It was amazing riding a horse through the giant pines. We even got to cross a couple of creeks on our horses! The staff is amazing and goes above and beyond to make sure your experience is the best it can be. Click here for more information.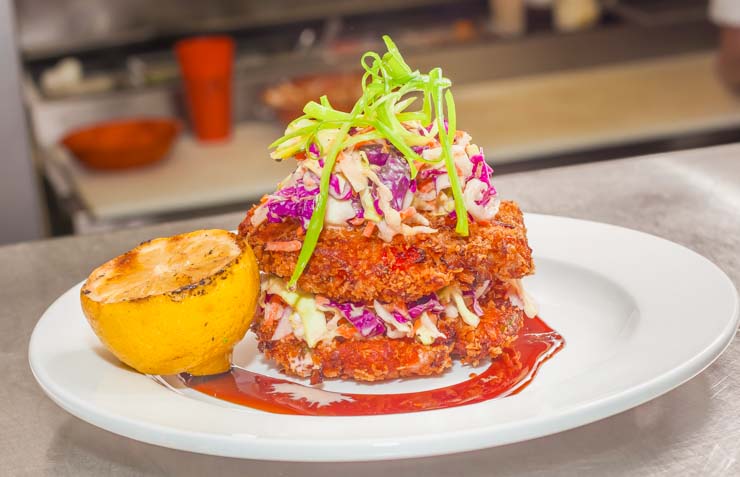 Yosemite Restaurants – Where to Eat
Savoury's –
Savoury's Restaurant is the perfect destination for a cozy getaway with friends or when you just want to relax and enjoy yourself. The menu has a broad range of choices that will suit any palate including great steak options as well seafood pasta dishes & signature cocktails! Plus they are conveniently located right off State HWY 140 in Mariposa! Click here for their menu.
Sierra Cider –
This is a great place to hang out and relax. You can take a tour of their 800 apple trees while you learn a little bit about the history and cider-making process. Then you can enjoy their tasting camp in the middle of the orchard! Of course you are invited to stay and enjoy the beautiful scenery while playing games like giant Jenga, corn hole, and many more. Click here for more information.
1850 Restaurant & Brewery –
This restaurant is truly amazing. Have you ever had something while you are on vacation and can't stop thinking about it? This place did it to me! I had a pork chop with a bacon apple onion jam that was life changing. So much so that when I got back home I went on a mission to figure out how to make it! Enjoy their spin on burgers and salads at lunch and at night 1850 has more of a steakhouse vibe. Make sure to enjoy some of their local wines and spirits that they offer! They also have patio dining so you can bring your pet if you want! Click here for their menu.
Deli Delicious –
If you are looking a good deli sandwich to grab on your way to Yosemite, Deli Delicious is a perfect place. We got our sandwiches to go and had a picnic in Yosemite National Park! They have premium hot and cold deli sandwiches, salads, wraps, French fries, hot and cold beverages. Vegan, Vegetarian and Gluten Free Options available. Click here for their menu.
Check out some of our other articles: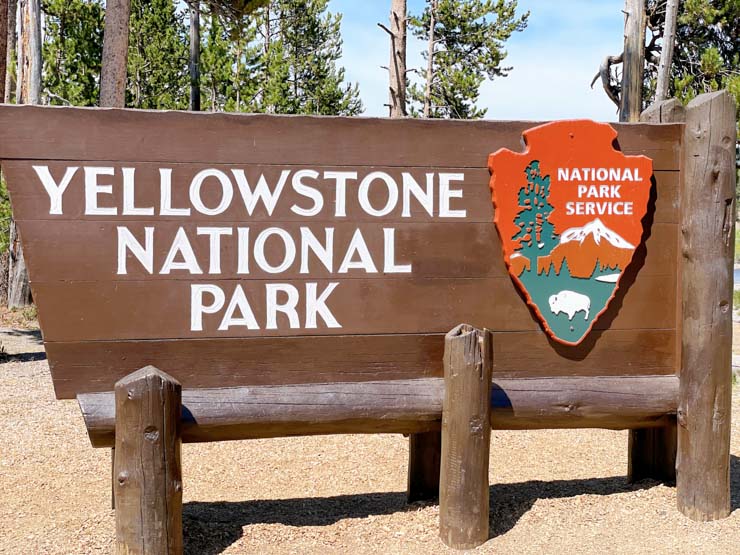 The Ultimate Guide to Yellowstone National Park
Awesome Camping Articles You Should Check Out
FOLLOW US ON SOCIAL MEDIA
Don't forget to invite your friend's to our Facebook groups! We would also love to see your vacation pictures!