The Ultimate Guide to Yellowstone National Park
Planning a trip or trying to find where Yellowstone is located? We've got your complete guide to Yellowstone National Park complete with tips.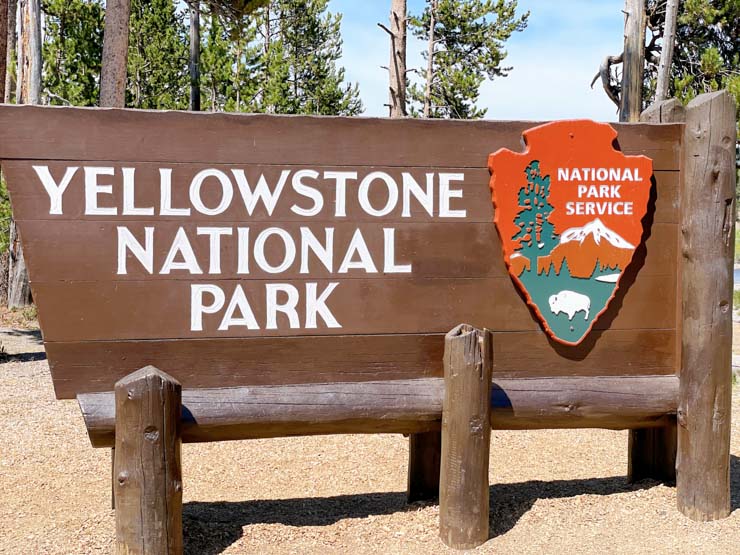 Welcome to Yellowstone National Park! This national park is a must see! With so much to see and do, it can be hard to know where to start. In this guide, we will provide you with information on how you can plan your perfect trip. Where should I stay? What are some of the best places in Yellowstone? Where can I find wildlife? We have all those answers and more!
Where is Yellowstone National Park Located?
Yellowstone National park is located in the state of Wyoming , Idaho, and Montana. It was established by Congress on March 1872. The park covers a total area of about 2.2 million acres. There are more than 20 major geysers within Yellowstone including Old Faithful Geyser which erupts about every 90 minutes with a height of 180 feet and duration of six to eight minutes.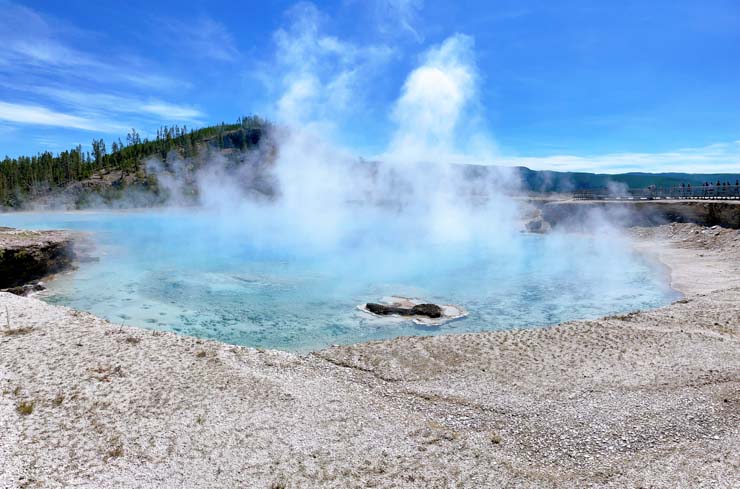 What to See and Do at Yellowstone National Park:
If you are wondering what to do in Yellowstone, we are going to try to cover all the highlights. One thing to keep in mind is many visitors try to cram pack one day to see everything. People definitely have been able to do this. But with the rising crowds, traffic jams and the chances of wildlife stopping traffic, it's better to plan a few days in our experience.
In the past it was popular to start at Yellowstone's entrance and work your way around clockwise, but recent construction of new roads and changes in traffic patterns has changed this. The easiest route (and one that is not recommended because you miss a lot of beautiful scenery) is going straight through Old Faithful before continuing on the loop road. If you want a more scenic drive though, take the smaller circuit for some beautiful views.
There are three main loops covering most of the park attractions including the Grand Loop, Lower Loop and Upper Loop. The route to take is dependent on how much time you have available and which attractions are your priority. If you plan to stay for more than one day then I would recommend doing all three while keeping an eye out for wildlife as they roam freely throughout the park. Wherever there is water or geothermal activity you will likely see many different animals coming close by including bison, elk, and deer just to name a few! There's also plenty of history at every stop so keep that in mind as you are planning.
Visiting the Lower Loop at Yellowstone National Park:
The Lower Loop seems to be the most popular so if you are limited on time I definitely recommend starting here. Here are some of the highlights on the Lower Loop.
Old Faithful: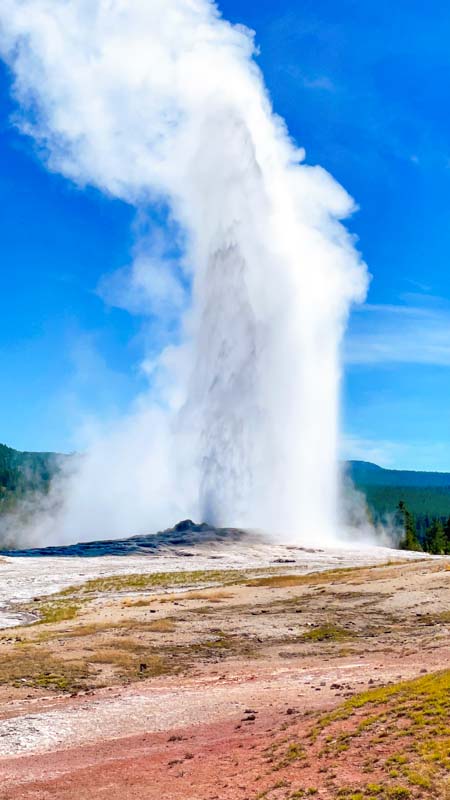 This is just a must see and it's located right in the heart of Yellowstone! Old Faithful is extremely predictable so if you don't happen to be there at the time it goes off, don't get too discouraged. The geyser erupts every 90 to 120 minutes giving you plenty of time for some lunch before heading back out. For a great view of the geyser erupting, head over to Geyser Hill and find a seat on one of the benches.
If you want to beat the crowds, park in the Old Faithful Inn parking lot. Most of the crowds will be closer to the Old Faithful Lodge. Don't worry… The view is same and you won't have to deal with the big crowds that can gather. Make sure to save some time to look around the Old Faithful Inn. The Old Faithful Inn is a National Historic Landmark. It was built in 1903-1904 with local logs and stone, the Inn is considered the largest log structure in the world. The towering lobby features a massive stone fireplace and a hand-crafted clock made of copper, wood and wrought iron serving as focal points.  
Here is a link to the current Geyser activity
Grand Prismatic Spring:
Old Faithful may be more famous but Grand Prismatic definitely has its picture taken a lot more! This hot spring gets its color from different species of thermophile bacteria living in the cooler waters around the spring.
There is a trail you can take to get a view of the springs from above. The Fairy Falls Trail is about a half mile long and will get you a nice look from above. Now we didn't take this trail when we visited Yellowstone. We just walked to Grand Prismatic and followed the walkway around the spring. We were able to get great pics and see everything. The famous view from overhead was shot with a drone. So you won't be able to get that view. Plus the overlook can get extremely crowded with lines of cars backed up for miles so don't feel bad if you have to skip it.
West Thumb Geyser Basin: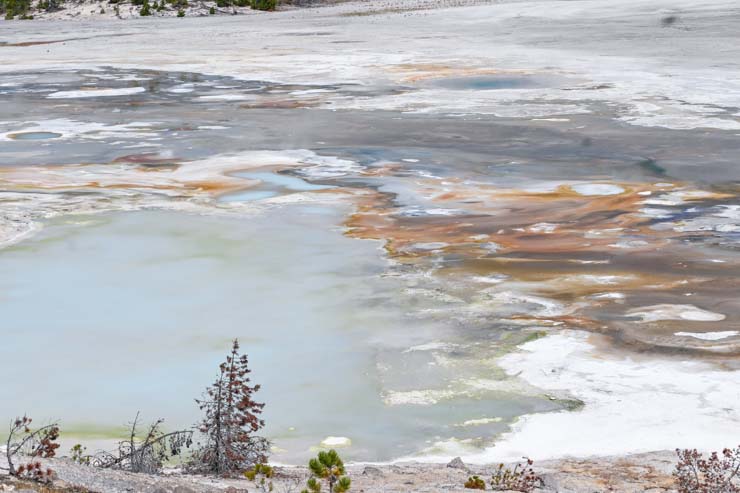 West Thumb Geyser Basin in Yellowstone National Park is a must see. Located along the shores of Yellowstone Lake, this basin stands as a quiet and clean counterpart to its more popular eastern neighbor – Fountain Paint Pots or The Upper Geyser Basin. West Thumb Basin has no major thermal features but still is still a must see for travelers looking for something different than what they usually see when driving around the park's loop from east-west direction (sounds so fancy). The way the colors mix and swirl together is just beautiful.
Grand Canyon of Yellowstone:
The Grand Canyon of Yellowstone must be on your list of stops. The falls of the Yellowstone River provides the perfect backdrop for pictures. If you take the south rim loop to Artist Point you won't be disappointed! It's not that far off the road and the view is breathtaking! It's only a 0.2 mile hike from the parking lot to Artist Point. Make sure to bring your camera.
The Best Places to Spot Wildlife in Yellowstone National Park:
There is wildlife everywhere in Yellowstone! You really never know when 2 elk will just walk across the road right in front of you! So always be on the lookout for animals. As a general rule… if people are pulled over on the shoulder they are looking at wildlife! We saw our 1st bears at Yellowstone because we pulled over where everyone was! If you can safely pull onto the shoulder you should. Please don't stop on the road though. Not only is it annoying to the people behind you, it's not safe.
Lamar Valley
If you are looking to see wolves your best chance is in Lamar Valley. The best time to see wildlife in the valley is at dawn or dusk. A good spotting scope will help you scan the mountainside for them. A good pair of binoculars is must have too. While they can't zoom as well as a spotting scope the ease of use is perfect for those quick moments. On our trip the wolves were stalking some elk on the mountain! It was pretty amazing to watch. I will tell you there were tons of people with spotting scopes in Lamar Valley and we wish we would have known about getting one before hand. When it comes to spotting scopes they can get expensive but we bought the Athlon Optics Argo which has worked great on our other trips. You will also want to get a Phone Scope attachment for your phone for easy viewing on your cell phone.
There are also herds of bison, pronghorn, badgers, grizzly bears, bald eagles, osprey, deer, and coyotes hanging out in Lamar Valley. So make sure you keep your eyes open!
Hayden Valley
This broad valley just north of the Lake area and Mud Volcano thermal area is a great place to spot bison. Visitors often see herds grazing along the Yellowstone River that runs through it. There are plenty of great view points from which you can watch all these animals go about their business; there's plenty going on here!

A popular hiking trail leads up into Mary Mountain terrain where visitors can see scenic views like none other found elsewhere within Yellowstone Park.
Great place to see bears: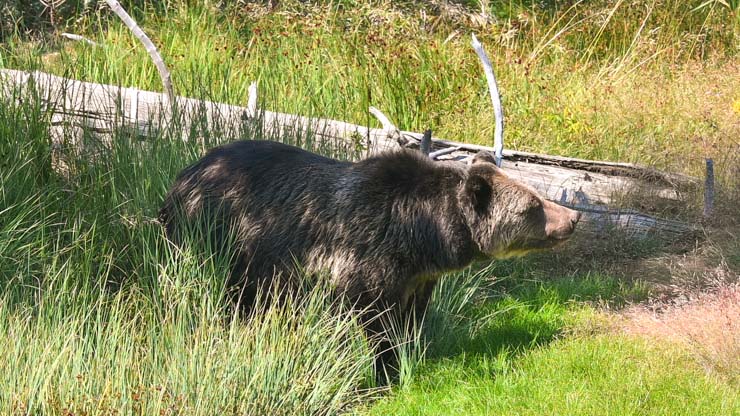 Now this is not technically in Yellowstone but it's a great spot to see bears. It's about a 45 minute drive from the Yellowstone North Entrance. But if you are looking for a fun day trip that will allow you see bears, this is the place. The coordinates 45°09'08.4″N 110°59'46.7″W should put you within about 1/2 mile of a good viewing area! You will go north on Gardiner Road until it meets up with Tom Minor road. Drive about 5 or 6 miles on this road. Don't turn off of it. You will see a farm with a windmill. The pull off area is before the farm. They bears like to hang out along the treelines. Best time to see them is early morning or early evening.
Getting a guide:
Now you can see Yellowstone without a guide. There is nothing that the guide can do that you can not. BUT… Your guide will know the habits of the wildlife in the park. Where they were yesterday… Where they usually hang out… Your guide will have the local knowledge that can save you time. These were a couple of the reasons we hired Globe Trekkers Tour Company.
Globe Trekkers:
Globe Trekkers specialize in small boutique style private tours that focus on giving an in depth tour with first class attention and service. We spent the day riding around with Dennis (our tour guide) and when it was over it felt as if we were old friends. He took the time to get to know us and what we wanted to see on our tour. This made the experience more enjoyable for everyone. Globe Trekkers guides are extremely knowledgeable and answered all our questions that we had. Another big plus for us is that Globe Trekkers is a locally owned small business. It's always a plus when you support the local economy.
One of the things I loved was Dennis knew the shortcuts and how to navigate around the traffic so that we could see more of Yellowstone that we would have on our own. He also knew about the road closures and what places to stay away from. It's definitely worth it!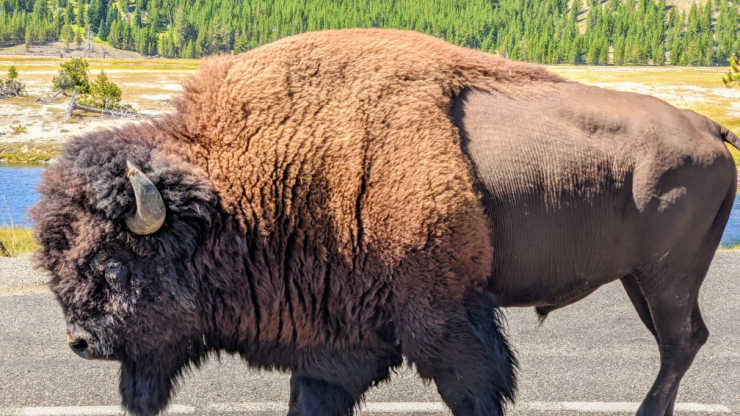 They offer tours in Yellowstone (MT, WY, ID), Rapid City, SD or south Florida. If you book via email or phone only (not through online booking form) from now until January 31st 2022 you will get 10% off your trip. You will also have the option to pay it out over time. ( Must be paid in full by March 1) with a 10% down payment. You must mention in your email or phone call ROAMINGMYPLANET to get the discount. The email address to use is:  [email protected]
Pets in Yellowstone:
Yellowstone allows pets in the National Park but they are limited on where they can go. This is not only for their protection but the protection of the wildlife that call Yellowstone home. We actually left our furbabies at home during our trip. Here is Yellowstone's pet policy per their website:
There are NO EXCEPTIONS to the regulations for carried pets (in arms, carriers, strollers, backpacks, and so forth) in restricted parts of the park.
These policies exist to protect pets from being killed by predators like bears and coyotes, to protect them from being burned or killed in hot springs, to prevent the exchange of diseases between domestic animals and park wildlife, and to allow others to enjoy the park without the disruption of pets.
Service animals are allowed in the park but must be leashed.
So now that you know where Yellowstone is located…
It's time to get out and enjoy nature! You won't be disappointed if you decided to Yellowstone the destination for your next vacation! Also where Yellowstone is located makes it perfect if you want to head over to the Grand Tetons for a couple of days. Stay tuned for more information about the Grand Tetons.
How I Earn Free Camping Gear:
Your're probably thinking yeah right, there is no way I can earn free camping gear. That's ok I was skeptic too, til my mom was like no this works! I mean who is going to tell mom she is wrong? So While you're looking at Oklahoma Waterfalls check this out too.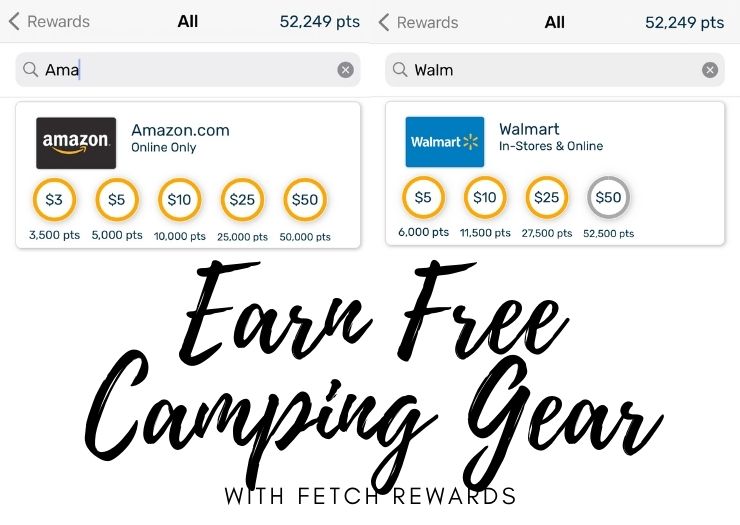 So basically all you need to do is download the Fetch Rewards app and enter the code: EF9PC and scan any grocery, hardware store, pet store or gas receipt within 7 days and you will get a bonus of 2,000 points. Grocery receipts can be up to 14 days old. You will get points for every receipt you scan and bonus points for certain brands. Then you can redeem those points for FREE gift cards like Amazon, Walmart, Cabelas and many more! As you can see I have enough points in my account right now to redeem for a FREE $50 gift card!
Check out these other great articles: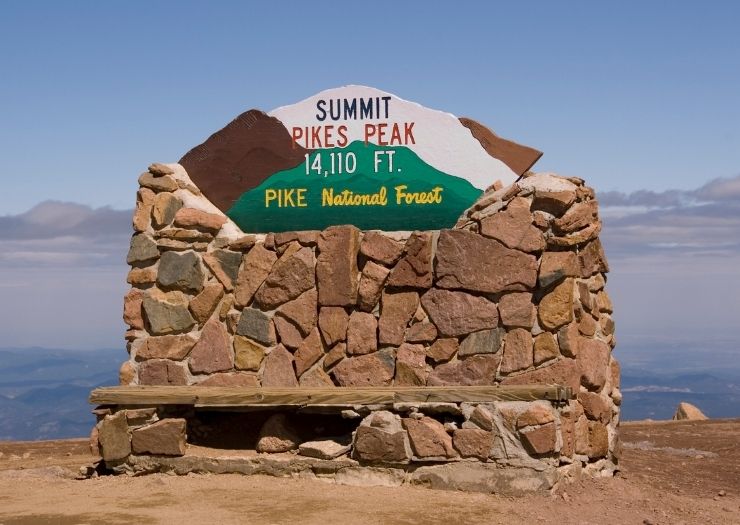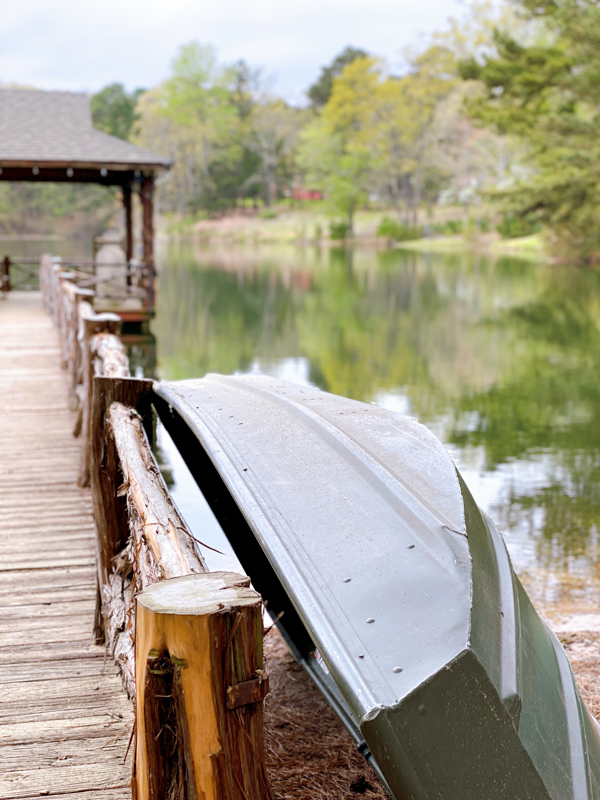 Take Our Camping & RVing Like a Boss Course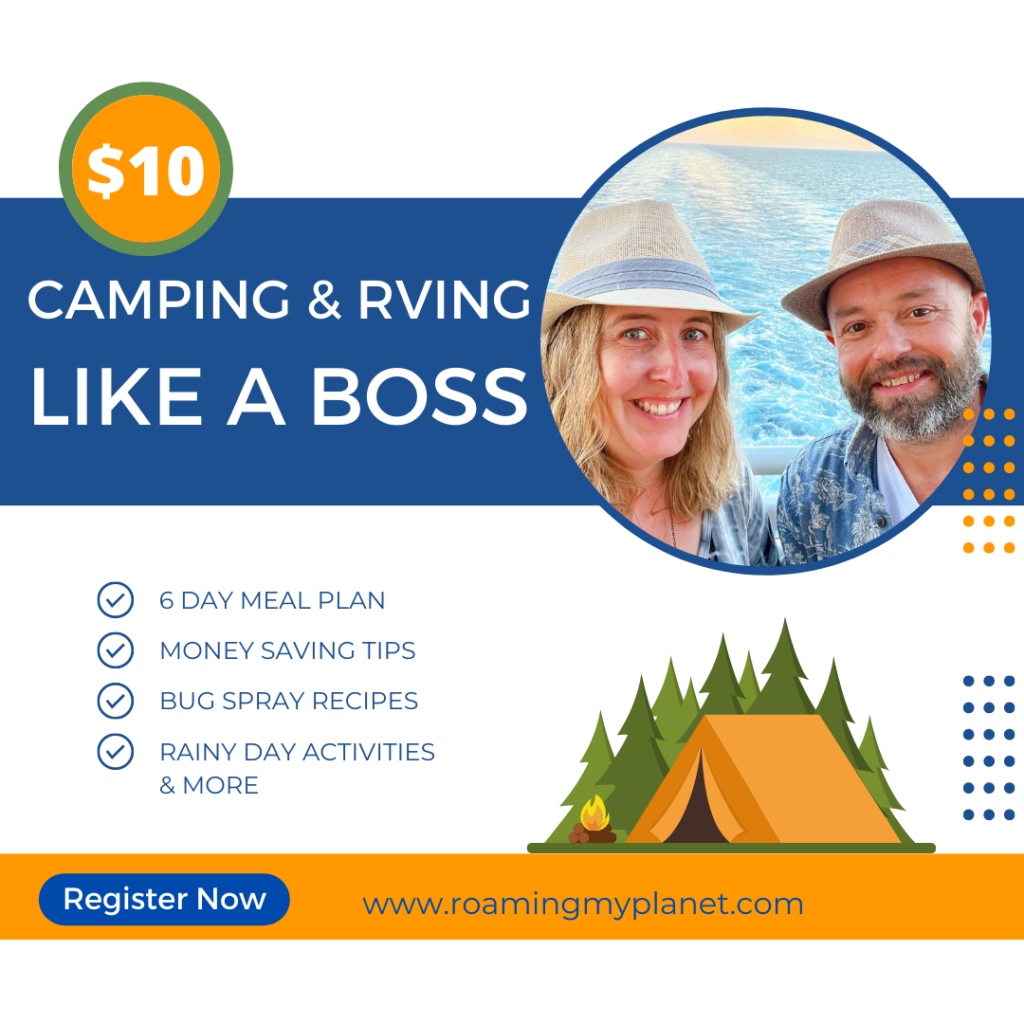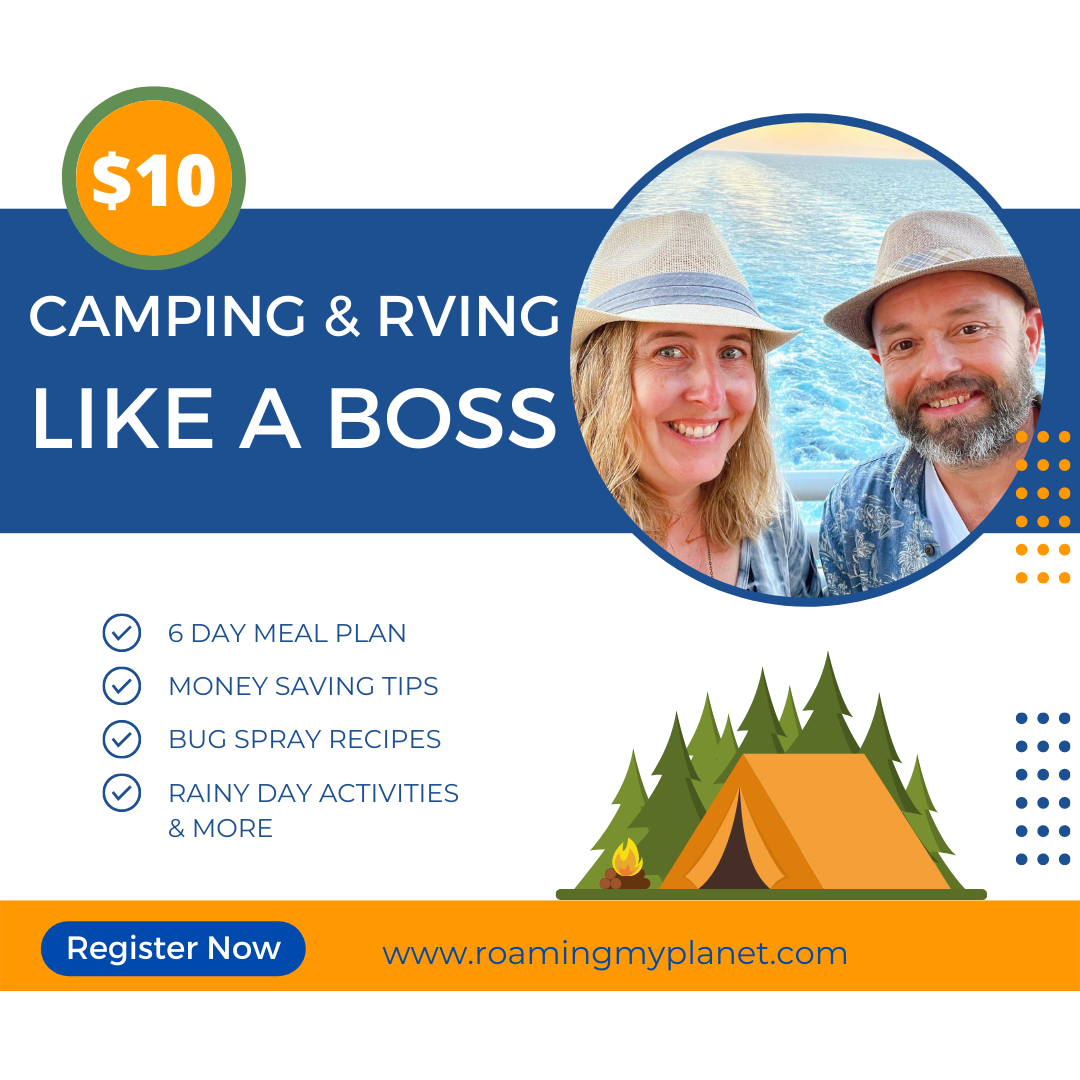 Looking to get the most out of your camping or RVing experience? Then this course is for you! Camping & Rving Like a Boss offers tips and tricks that will help you save time and money, so that you can enjoy your trip to the fullest. Join our Course.
My Favorite camping Supplies
Awesome Camping Articles You Should Check Out
FOLLOW US ON SOCIAL MEDIA