Camping Near Yellowstone: Cody Ponderosa Campground
When you are camping near Yellowstone, it is important to choose the right campsite. It takes a lot of research to decide on a fun and comfortable campsite, so we are excited to spread the word on the Cody Ponderosa Campground and why Camping in Cody can be a fun experience!
Disclaimer: We were hosted by Ponderosa campground during our stay. Any opinions in this post are my own!
Located just outside of Yellowstone national park, this campground offers all kinds of amenities and a lot of space for tents and RV's alike. Camping in Cody can be a fun experience for the whole family. Read on to find out more about these amazing accommodations. You can View their website for more info.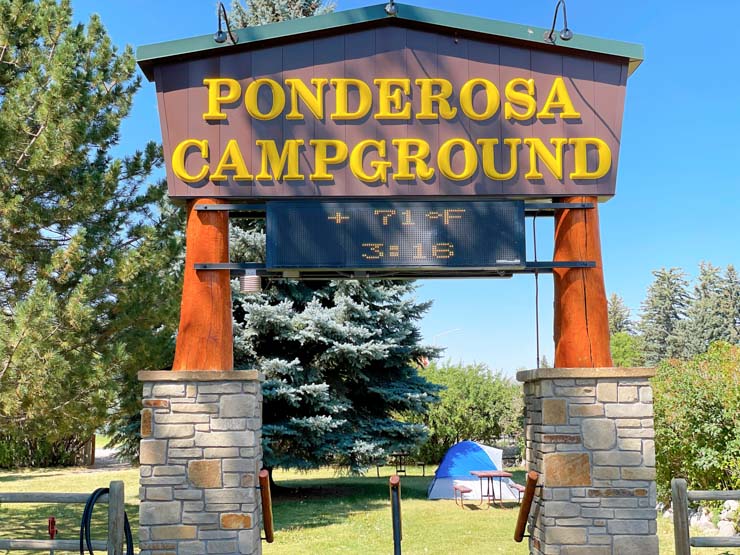 About Cody Ponderosa Campground
The town of Cody was founded by Buffalo Bill himself. It is known for its Western heritage and it has had a large impact on the area.
If you're camping with a family, the Cody Ponderosa Campground has a lot to offer for various ages, and there is plenty of space. With over 500 camping sites available for tents and RV's alike, there are enough spots to accommodate even big groups.
The family won't be bored at this campground because it has too many amenities! For instance, there's a pool where kids can swim until they turn into prunes (a little exaggeration but still). It's so nice to relax in the pool after a long afternoon of hiking.
Traveler Tip: Please note they only take cash, travelers checks or personal checks, no cards. We recommend calling and letting them know that you are on your way if you are not going to make it by the 1:00pm check in.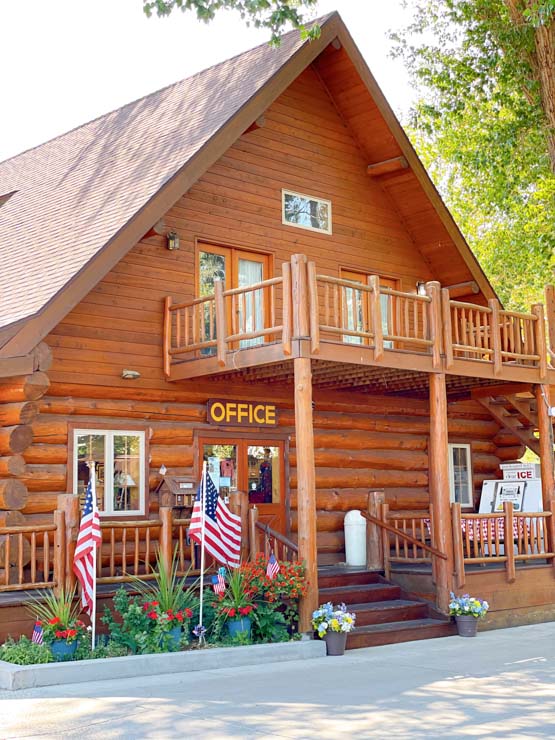 The camping resort is located just outside the Yellowstone National Park and can be found about 45 minutes away from geyser valley. This location means that guests have access to all the many great sites in this area. A few places which are worth visiting include Grand Teton, Yellowstone National Park as well as some other more privately owned attractions such as Bear World or Bozeman hot springs.
Although the Ponderosa was centralized to these sites, please note that if you are staying in Cody , Yellowstone is a bit of a drive. Plan a day trip from Cody to your sites and be sure to route on a good map or atlas. For us, the drive and the scenery was worth it! We saw 3 grizzly bears on one drive!
Important Traveler Tips for Yellowstone: Be sure to map out your route on paper prior to heading out on a day trip — this will ensure you are able to find your destination and your way back to the campground. Cell batteries can drain faster away from home, and cell service can be spotty depending on your carrier. Take snacks and water and of course an emergency car kit with an air compressor. An extra battery pack for your cell is always a good idea if you will use a lot of battery life taking pictures of scenery– and you will! You should also know that Cody is a little bit farther from the main part of the park. So you could plan to stay a few days in Cody to explore and then a few days in Bozeman which is a great spot. We did love the scenic drive from Cody to Yellowstone and we did see some bears on that loop. We did find the Cody was a lot less crowded than Jackson Hole.
Site Amenities
There are also 100 campsites at Ponderosa that offer electric hookups– a must for campers and RVs.
The Cody Ponderosa camping resort has plenty of camping amenities for guests to enjoy. The campground includes all the things you would need when camping including electric hookups, water and sewer access, restroom facilities with showers and flush toilets as well as just about anything else you could think of! The restrooms were really nice which is a plus. Here is a full list of the site amenities:
Large, level gravel sites
Some concrete sites available
Long pull-throughs & back-ins
Full hook-ups at every site
Free cable TV
Concrete & grassy patios
20, 30 & 50-amp electric
Grassy tenting areas
Heated cabins with porch swing
Six teepees available too!
Picnic tables at every site
Room for the largest "Big Rigs"
Space for multiple slide-outs
Plenty of room for large groups
Lots of shaded & open sites
No rig too big or too small
Satellite dish friendly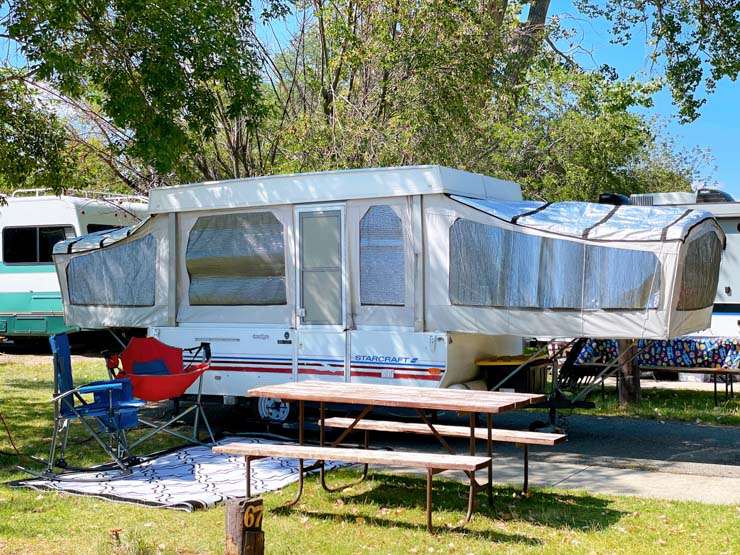 Park Facilities:
Camping Cody at the Ponderosa is awesome because it's within walking distance of downtown Cody. The cross street can get a little busy so you will to be aware of all the traffic when walking. There is a Walmart just 0.7 miles away and the rodeo is only 2 miles away so both are easily within walking distance.
We enjoyed the Dairy Queen within walking distance along with making our own meals at our campsite. If you are planning on cooking over a fire make sure you check the fire ban notices first. Fire safety is extremely important and the campsite takes this seriously. If you do get caught in a no-burn notice, don't worry. There are plenty of places to eat nearby.
The park itself offers a ton of perks. Below is a full list of the park facilities.
Free WiFi!
Live entertainment
Extensive gift shop
Well-stocked convenience store
Cowboy cappucino bar
Beautiful mountain views
Walk to shops & restaurants
Rodeo shuttle bus stop ****
ATM right in the office
Cody Trolley Tours pick-up ****
River rafting pick-up
Great playground
Billiard table
Immaculate restrooms
Free private showers
Clean, modern laundry
Sanitary dump station
Well-maintained gravel roads
Public telephone
Friendly, helpful staff
Groups & family reunions welcome
Traveler Tip: Download the Gypsy app before you get to the park to help you navigate through the area and for a guided tour.
Dog Friendly- What Would We Recommend for Pets?
If your like us and you love camping with your dogs, you're probably wondering if the Cody ponderosa is dog friendly? They are!
We found camping in Cody to be a fantastic option for campers who have four-legged friends. They offer a dog run for pups to roam and play. But something you should know is that Yellowstone itself is not as dog-friendly. You definitely need to look up to see where you and your four legged companion can visit. When you think about it, the terrain, elevation, and of course wild animals you may spot on your travels may be a difficult experience for a dog. We actually opted out of bringing our dogs on this trip.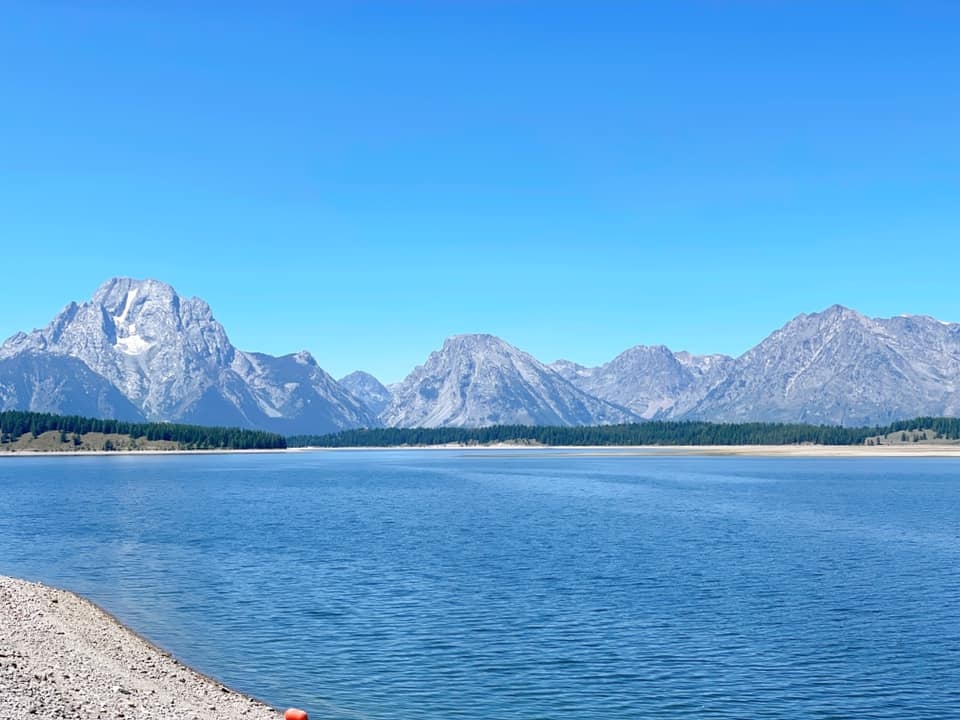 Thanks for Reading!
We loved the Cody Ponderosa and were excited to spread the word for other families traveling to Yellowstone. If camping near Yellowstone sounds like fun to your family then check out the Cody Ponderosa Campgrounds now! Follow along for all our adventures and travel info at RoamingMyPlanet Facebook!
More from Roaming My Planet:
How I Earn Free Camping Gear:
Your're probably thinking yeah right, there is no way I can earn free camping gear. That's ok I was skeptic too, til my mom was like no this works! I mean who is going to tell mom she is wrong? So While you're looking at Oklahoma Waterfalls check this out too.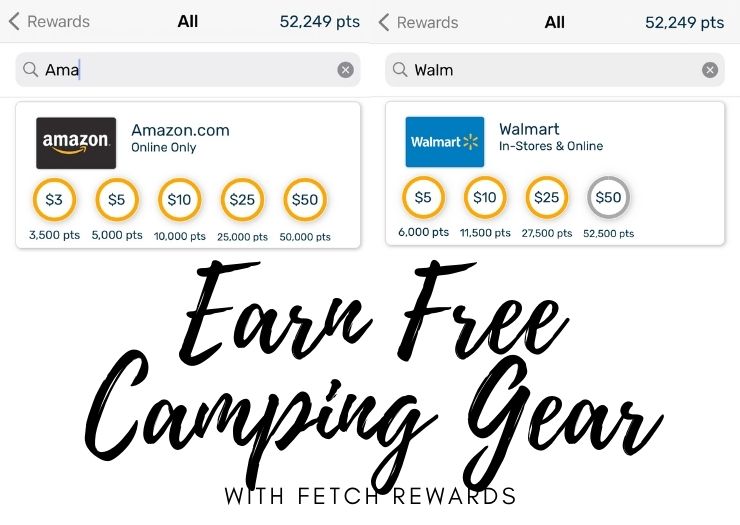 So basically all you need to do is download the Fetch Rewards app and enter the code: EF9PC and scan any grocery, hardware store, pet store or gas receipt within 7 days and you will get a bonus of 2,000 points. Grocery receipts can be up to 14 days old. You will get points for every receipt you scan and bonus points for certain brands. Then you can redeem those points for FREE gift cards like Amazon, Walmart, Cabelas and many more! As you can see I have enough points in my account right now to redeem for a FREE $50 gift card!
Must Have Camping Supplies:
Awesome Camping Articles You Should Check Out
FOLLOW US ON SOCIAL MEDIA
Don't forget to invite your friend's to our Facebook groups! We would also love to see your vacation pictures!