9 Best RV Camping Sites in Oklahoma
Oklahoma is one of the best places for RV camping because of all the beautiful and scenic locations to choose from. There are a variety of different activities and attractions to enjoy while you're there. Whether you're looking to explore the great outdoors or just relax and enjoy the scenery. Oklahoma is a wonderful choice for RV camping.
Note: yes we know there are a lot of other beautiful places but for this post we just chose 9 as we have several other articles with Oklahoma Campgrounds listed.
Best State Park RV Camping in Oklahoma
Check out these amazing RV Camping spots in Oklahoma and let us know which one is your favorite. Oklahoma has to many to list in today's article.
Beavers Bend State Park
Beavers Bend State Park sits on the shores of Broken Bow Lake and the Mountain Fork River in Broken Bow, Oklahoma. It is a sprawling 3,482 acres of forest and mountainous terrain that offers visitors a host of outdoor activities and camping options.
Tucked away in the trees beside Mountain Fork River are eight different camping areas. They offer cabins, tent camping, and RV sites. In the Cypress and Fern campgrounds, there are semi-modern RV hookups with water and electricity, but no sewer. They both offer 30-amp electricity. For more wattage, check out the Acorn campground that offers 50-amp hookups. There is also a dump station for RV campers. Fern campground is close to the Beavers Bend Depot, where guests take guided horseback tours or ride the miniature train around the Riverbend area.
When you're not camping, there's plenty to do at Beavers Bend such as golfing, hiking, fishing, and swimming. Broken Bow Lake is a great spot for fishing and boating. The clear water makes it perfect for scuba diving too.
Beavers Bend State Park is a great place for RV camping.There is a grocery store, restaurant, amphitheater, the Forest Heritage Center, and gift shop on site. If you want to get away from it all, go for a hike on one of the many trails or take a scenic drive down winding forest roads.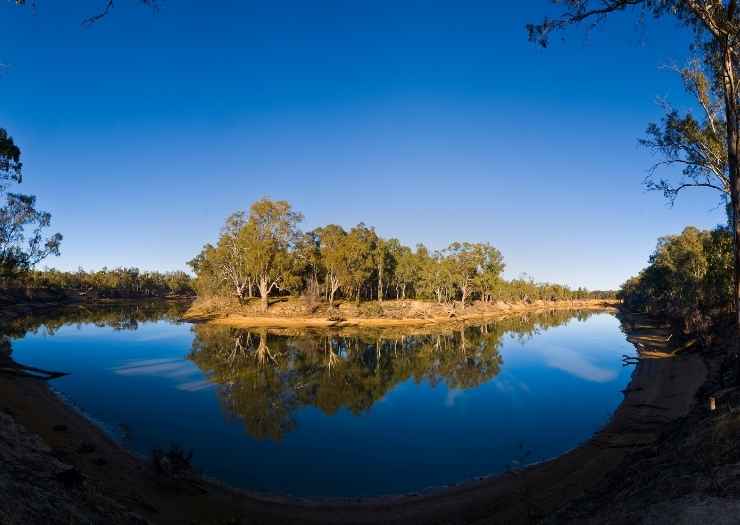 Lake Murray State Park
One of Oklahoma's most popular places for RV camping is Lake Murray State Park, located in Ardmore. With an impressive 12,500 acres, the park is both the oldest and the largest in the state, which means nature has had plenty of time to create something spectacular. 
There are over 1,000 acres of trails to explore, so whether you're on foot, bike or horseback, there's something for everyone. With such a variety of terrain, you're bound to find a spot that suits your style. If you want to take a break from the great outdoors, the park also has an 18-hole golf course, tennis courts, and a swimming pool for guest enjoyment.
Lake Murray has nine RV-friendly campgrounds to choose from, each with its own advantages. Most of them have either modern or semi-modern hookups, RV dump stations, restrooms, and scenic lake views. Some campgrounds offer access to trailheads, beaches for swimming, playgrounds, a fishing pier, and hot showers. 
Whether you're looking for a weekend of peace and quiet or an action-packed getaway, Lake Murray State Park is a great choice.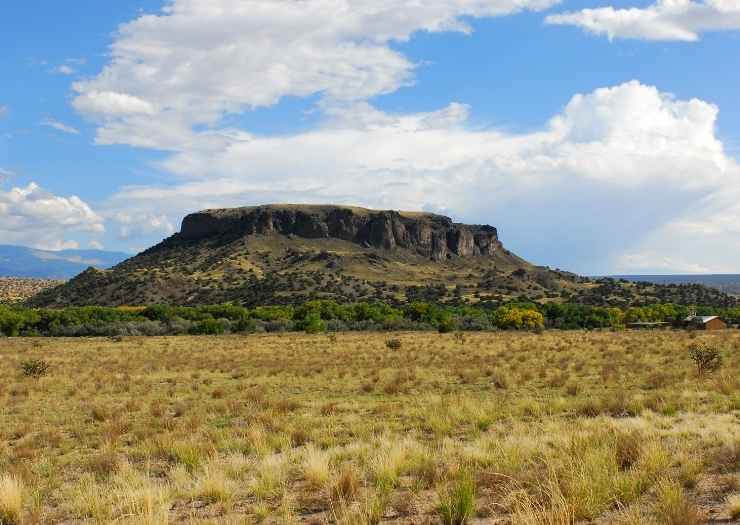 Black Mesa State Park 
Black Mesa State Park is a great place to go camping if you are looking for a quiet and scenic location. The park is just 15 miles from the Black Mesa Nature Preserve, which is home to the historic Black Mesa plateau, which was covered in layers of black lava rock after a volcanic eruption and is the highest point in the entire state of Oklahoma.
While camping isn't allowed in the nature preserve, visitors can reserve RV sites at the campground within the state park, near Lake Carl Etling. Here, you'll have access to water and electric hookups, pull-through sites, a dump station, picnic areas, boat ramps, and bathrooms with showers. Free wi-fi is also available on-site. 
Black Mesa State Park has some of the darkest night skies, which makes it the perfect place to witness breathtaking views of the stars. This park is right along the tri-state border of New Mexico, Colorado, and Oklahoma so if you're looking to explore more than one state during your camping trip, this is the place to do it!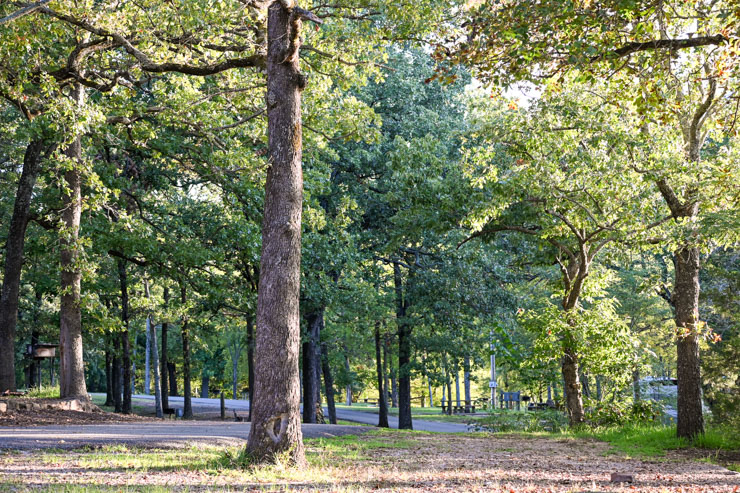 Greenleaf State Park
Greenleaf State Park is nestled in the lush hills of Eastern Oklahoma and is one of the most family-friendly state parks in the state. It offers a variety of activities for visitors to enjoy, including hiking, biking, fishing, and swimming. There are also a variety of lodging options available, including 16 cabin rentals and sites for tent camping and RVs.
Some of the RV campsites have 50 amp electricity, and full hook-ups are only available in the Deer Run Campground. There aren't any pull-through sites, but there is big rig access and a dump station. There are also restrooms, showers, and a camp store. All sites must be reserved online.
The park also has a splash pad, 18-hole miniature golf course, and a discovery center which makes this an ideal location for families with children. They also have a fishing pond just for kids. For those without little ones, there is an 18-mile trail system, a heated fishing dock, and a marina that offers boat rentals. With plenty of activities and amenities available, Greenleaf State Park is sure to impress and leave you feeling refreshed. It's one of the best rv camping in oklahoma sites we have been to "so far".
Lake Thunderbird State Park
Lake Thunderbird State Park is located in Norman, Oklahoma. It is a popular destination for camping, hiking, and recreational water activities along 86 miles of stunning shoreline. With two marinas and two swim beaches, there are plenty of opportunities to enjoy the water.
The park is also home to the Clear Bay Discovery Cove Nature Center, which offers visitors a chance to explore the area's wildlife and ecology. The nature center is open Wednesday through Sunday, and visitors can enjoy 12 obstacles on the hiking trails. Fishing is also popular at the lake, with largemouth bass, catfish, crappie, sockeye, and white bass all present in the waters.
Lake Thunderbird offers over 200 RV campsites with 30 full hookups, as well as restroom facilities and primitive campsites. The campground has paved pull-throughs, picnic tables, fire pits, good cell service, and serene views of the lake. 
Whether you're looking to enjoy the water or explore the nature trails, Lake Thunderbird State Park is a great destination for a camping trip. With plenty of amenities and activities to keep you busy, the park is a perfect place to relax and enjoy the outdoors.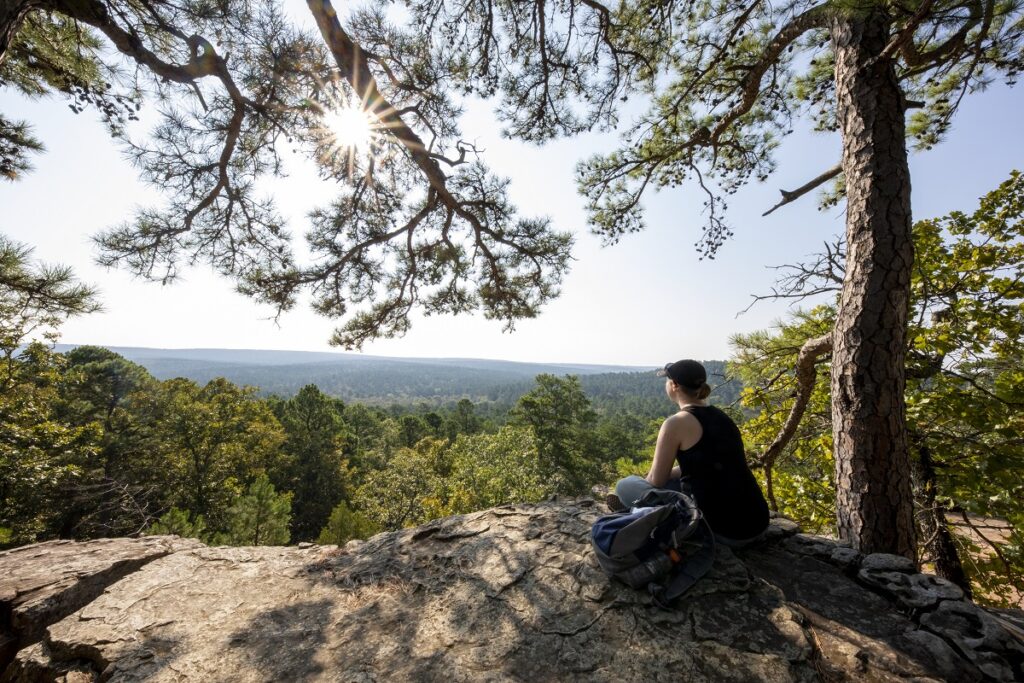 Robbers Cave State Park
In Southeast Oklahoma, tucked into the San Bois Mountains is Robbers Cave State Park where the infamous Jesse James and Belle Starr once hid out. The park is over 8,000 acres of forest with three lakes that offer plenty of outdoor activities to keep you busy.
The park has two different campgrounds, offering a total of 40 modern and semi-modern sites with comfort stations and dumpsites. It also has primitive and equestrian campsites available.
Whispering Pines Campground is right across from the park office and has seventeen campsites. You'll find full hookups with water, sewer, and electric at twelve sites, and the other five only have water and electric. This campground is located near a picnic pavilion and the Coon Ridge Trail is easily accessible for hiking.
Old Circle Campground is located just past Whispering Pines, through a gate, and offers 23 sites for camping. Modern hookups can be found at eight of these and the rest are semi-modern. Depending on the site, electric will be either 30 or 50 amp. Old Circle is close to the Lake Carlton Nature Center and Gift Shop.
There is no shortage of fun things to do during your stay at Robbers Cave. It is home to a swimming beach, a nature center, indoor community rooms, a seasonal swimming pool with a bathhouse. It even has a miniature golf course. Visitors can rent a paddleboat, learn how to rappel from the rugged cliffs. There is also an in-park grocery store for essentials. Don't forget to check out the cave where outlaws used to lay low and hide out.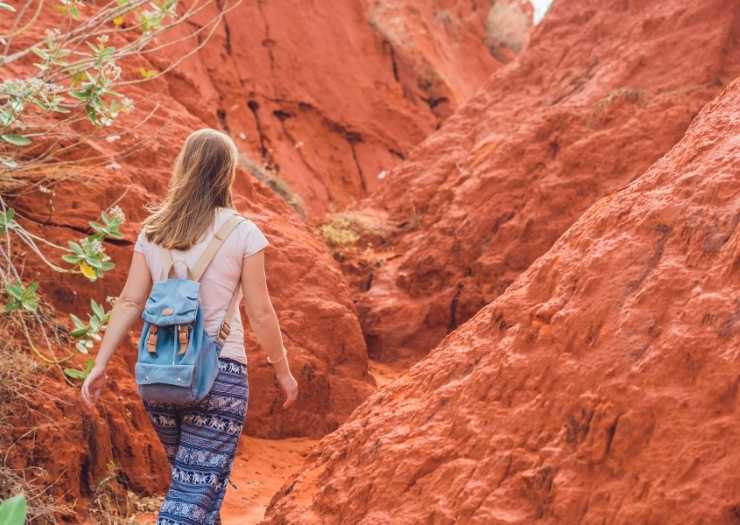 Red Rock Canyon Adventure Park
Red Rock Canyon Adventure Park is a stunning display of nature's power and beauty. With over 100 campsites, this is one of Oklahoma's most popular camping destinations because it's like luxury in nature. It's located in Hinton, which is an hour's drive from downtown Oklahoma City. The park offers hiking, swimming, fishing, and even glamping options during certain times of the year.
The park offers three campgrounds with both RV and tent sites surrounded by beautiful scenery. The Canyon and California Road campgrounds both have modern comfort stations with hot pay showers and waste dump stations. During the summer, two older comfort stations without showers are available.
Red Rock Canyon has a total of 52 RV campsites that offer modern and semi-modern hookups. Reservations are required.
Canyon Campground has 9 sites with electrical and water hookups.
Walnut Grove Campground also offers 9 sites with semi-modern hookups and 3 full hookup sites.
California Road Campground has 26 semi-modern sites, five of these are pull-through sites with 50 amp electrical.
The Adventure Park also has an outdoor swimming pool with on-duty lifeguards and a camp store with snacks and beverages. It features a small splash pad, rocking climbing wall, and tunnel slides. It's a great place to cool off during the hot summer months. If you are looking for an unforgettable experience, look no further than Red Rock Canyon Adventure Park.
Wichita Mountains Wildlife Refuge Camping/RV Site
The Wichita Mountains Wildlife Refuge is the largest free-ranging buffalo refuge in the United States. It is also home to Texas longhorn cattle, prairie dogs, elk, and deer. The Wichita Mountains offer some of the best hiking, camping, and fishing in Oklahoma.
Doris Campground
Doris Campground is situated on the shoreline of Quanah Parker Lake. It offers over 90 campsites with picnic tables, fire pits, and grills. None of the sites have water hookups, but 23 have electricity and 47 do not. 20 semi-primitive tent sites are also available. There are flush toilets, showers, and water is available at hydrants throughout the grounds (it is recommended to boil before drinking). There is also a dump station.
During your stay, be sure to check out the Quanah Parker Nature and Visitor Center. The Quanah Parker Nature and Visitor Center offers interactive displays and wildlife tours. The Parallel Forest is another must-visit location that features cedar trees that are planted exactly six feet and go as far as the eye can see. There are also plenty of areas for hiking, rock climbing, hiking, and fishing. For a more relaxed experience, take a drive through the scenic park roads. add this to your best rv camping in oklahoma list because there is so much to explore.
Whether you're looking for stunning lakeside views, adventure-packed parks, or a serene stay among the trees. Oklahoma has plenty of great options for RV camping. Head to one of these great camping spots for an unforgettable experience. With plenty of activities and beautiful scenery, there is no shortage of incredible things to do and see. The Wichita Mountains Wildlife Refuge is a wonderful place to camp. So whether you're looking for a weekend getaway or something a little longer the Wichita Mountains is a great place to visit.
Best RV Camping Sites in National Parks in Oklahoma
write a bIf you're an RV enthusiast, there's no question that Oklahoma is a great state to explore. With its mix of grasslands, mountains, and lakes, there are plenty of opportunities for outdoor fun. And what could be better than combining camping with sightseeing in some of the most beautiful areas in the country? In this blog post we'll take a look at some of the best RV camping sites in National Parks located in Oklahoma. So pack up your rig and get ready for some great adventures!
Chickasaw National Recreation Area
Are you looking for National Parks in Oklahoma with Camping? There are many great places to camp in Oklahoma, but one of the best is Chickasaw National Recreation Area, located in Sulphur. Established in 1902, it is the oldest national park in the state and has been a favorite destination for outdoor enthusiasts for over a century. That's right the Chickasaw National Recreation Area is part of the National Parks Service. With over 400 campsites available, Chickasaw is the perfect place to enjoy nature and all that Oklahoma has to offer.
Six different campgrounds provide ample space for tents, RVs, and trailers of all sizes. We put this on our best rv camping in oklahoma list because there is so much to do in the area.
Buckhorn Campground is at Arbuckle lake and is open year-round and has 41 RV sites with electric and water hookups, 3 of which are accessible. This campground is more quiet and less busy that the normal campgrounds.
The Point Campground is open year-round and has 17 sites with electric and water hookups.
Rock Point Campground is open year-round and has 99 campsites, some of which can accommodate RVs under 25′. There are no electrical sites available.
Cold Springs Campground is open seasonally with 63 non-electrical camping sites. It is ideal for tent camping but can fit smaller RVs and pop-up trailers (20′ or less).
Central Campground is open seasonally and has ten group sites. There are no RV sites in this campground.
Guy Sandy Campground is a cash-only campground with 40 campsites and is best suited for tent camping. It may be able to accommodate smaller RVs and trailers.
The Platt National Park Historic District and Lake of the Arbuckles were once two distinct parks that merged to become Chickasaw National Recreation Area. It is one of only three parks associated with the National Park Service and offers a range of activities like hiking, swimming, boating, and fishing. For a more hands-on experience, the Travertine Nature Center allows guests to explore interactive and informational exhibits. It also has guided hikes and educational tours led by Rangers.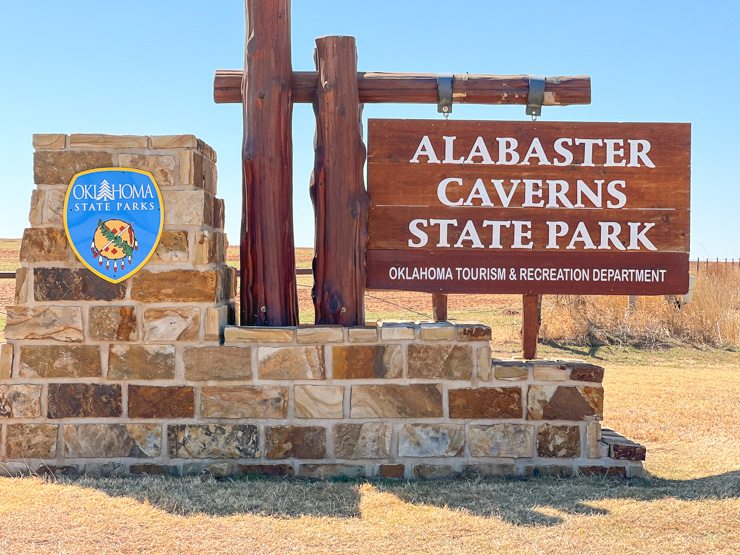 Honorable Mention For Best RV Camping in Oklahoma
Western Oklahoma has a quite a few Oklahoma state parks that have full hookup rv sites. We have used Alabaster Caverns State Park as a "home base" on some of camping trips. There are 4 Oklahoma state parks all within a short drive. We spent 5 days just exploring this park of the state.
More Places to Visit in Oklahoma
FOLLOW US ON SOCIAL MEDIA
Don't forget to invite your friend's to our Facebook groups! We would also love to see your vacation pictures!