Campfire Foil Pack Potatoes
These Campfire Foil Pack Potatoes on the grill make a great side dish for your next camping trip, or just for cooking out at home! See this quick and easy recipe!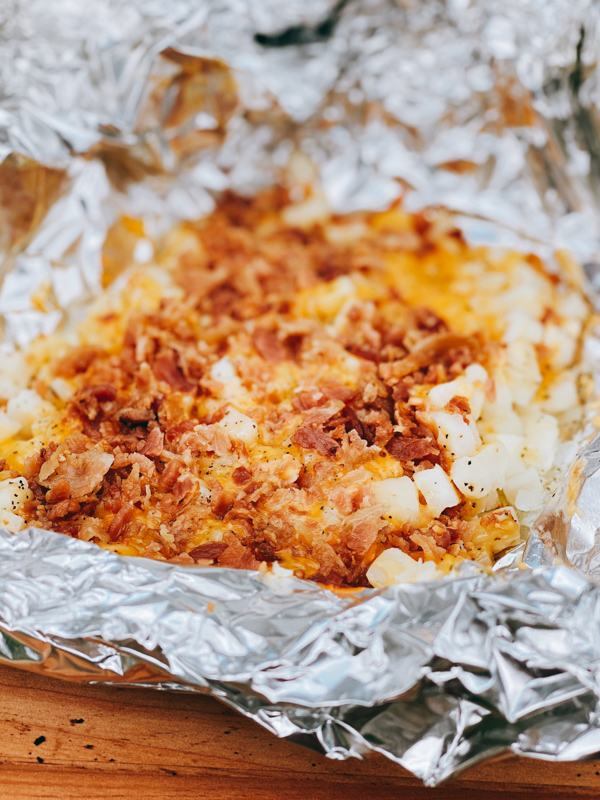 Campfire Foil Pack Potatoes
If you love camping like we do, you have probably made a few dinners and side dishes in foil packs already. Not only do they cook well on the grill, but foil packs can be prepared ahead of time. They also serve as a "plate" and eliminate extra serving dishes.
Plus it's kind of fun to eat out of a foil packet! I know the kids think so.
This recipe comes together with frozen, fully cooked potatoes. So if you're thinking this may be one of those recipes that takes up all the grill space– think again! They cook quickly and you won't be worried about finding a bite of uncooked potato.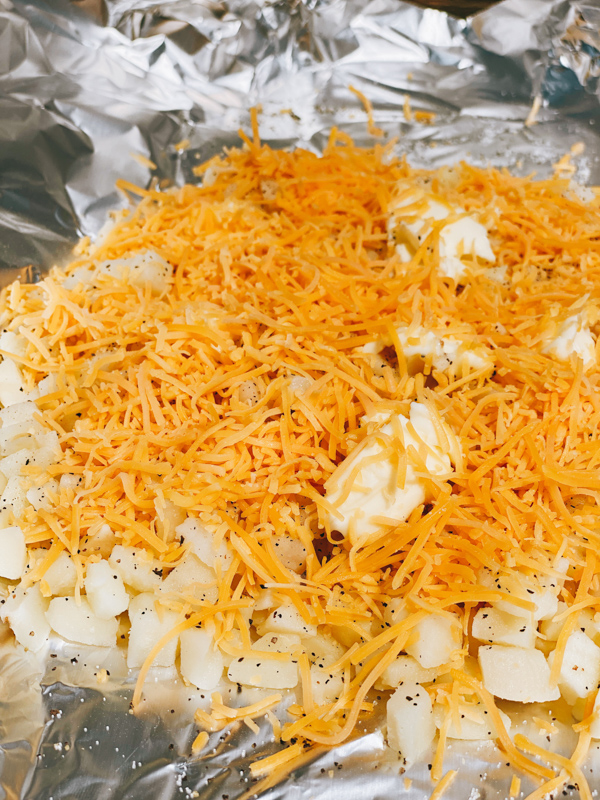 Prepare Your Foil Packets:
To make your foil packets you will actually double layer your aluminum foil. We took a total of about 2 feet of foil for this packet, and doubled it back up on themselves so there would be two layers.
If you buy very heavy duty, high quality foil you may be able to get away with one layer. However, I did want to make sure they would hold up well and also cook the potatoes evenly. For most brands of foil I would go ahead and double up the layers!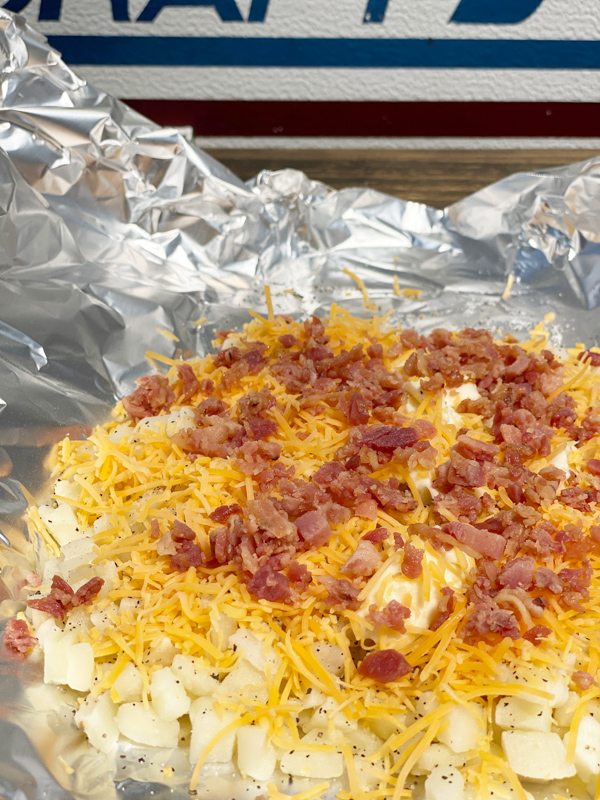 Next, add all ingredients starting with your frozen dized potatoes. We added cheese, butter and bacon bits to ours.
The toppings are always optional, of course! Just add any hot toppings you wish prior to grilling. If you need meatless options, choose vegetarian beans, lentils, or diced bell peppers. With Hatch Green Chile season starting in the late summer, some roasted Hatch Chiles sound amazing along with regular toppings!
Foil Potatoes on the Grill- Choose Your Serving Sizes!
For 1/2 the bag of frozen diced potatoes we did one pack. I mentioned this in the recipe notes as well, but if you're making more than this I would recommend doing several foil packs to keep the cooking time close to 30 minutes.
If you have several kids you're making dinner for, you can also reduce the amount of potatoes and add a small amount to each pack. You can easily double this recipe and use the entire bag of frozen diced potatoes– so just divide the bag up evenly!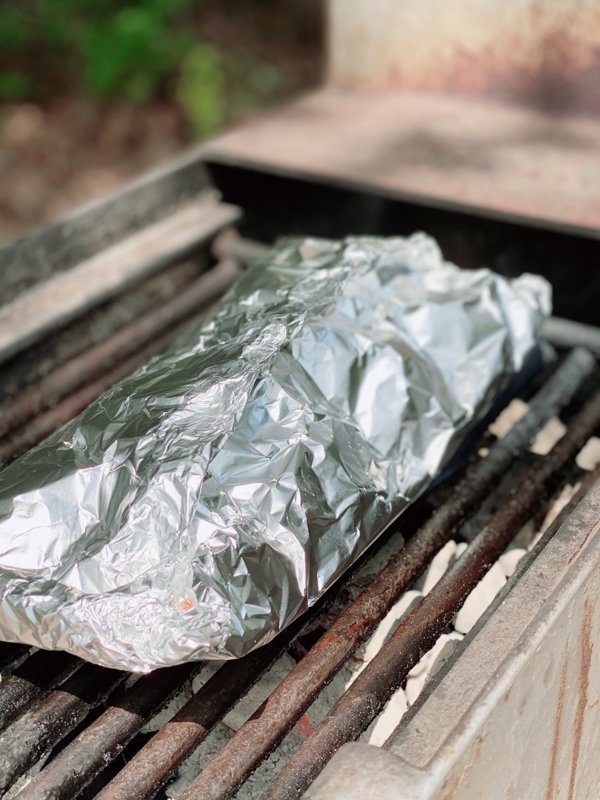 We love our meat and potatoes meals, so our foil pack cooked right along side our main dish on the grill for the evening. These are great with steak, BBQ chicken or pork, or even grilled veggies if you are staying meat-free.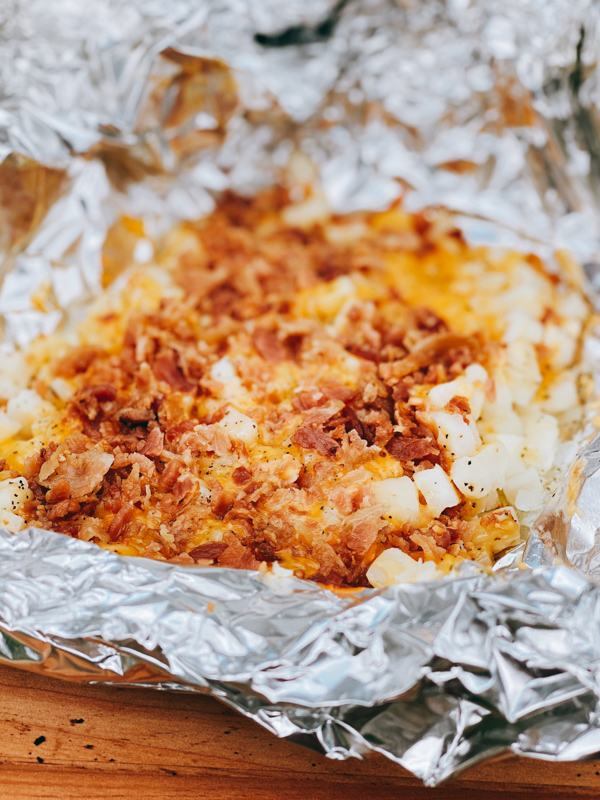 Save this recipe for foil potatoes on the grill to your camping recipes collection! You can print the recipe here or Pin for later!
Yield: 2
Campfire Foil Pack Potatoes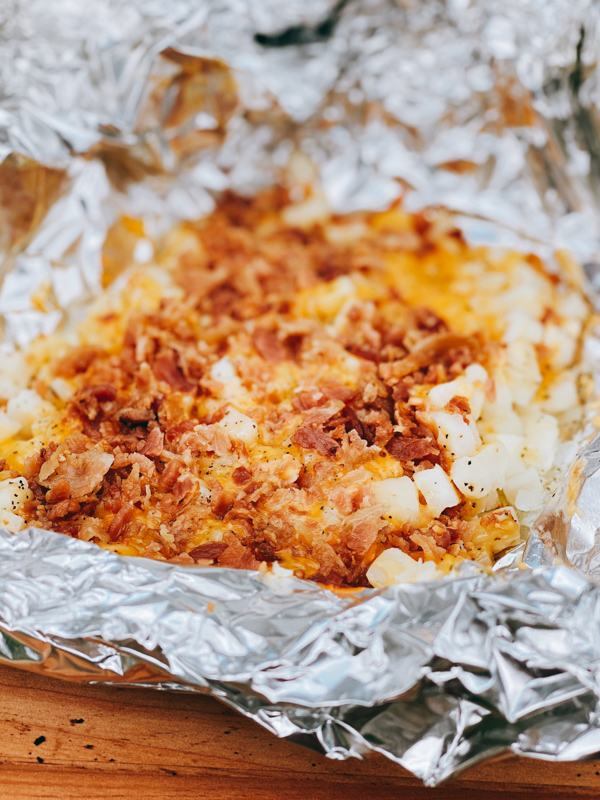 Foil Potatoes on the grill is a classic camping side dish! Pair it along with grilled chicken, steak or BBQ!
Ingredients
1/2 bag of frozen diced potatoes
4 tbsp. butter
1/4 cup of cheddar cheese (more If you like cheese like I do!)
4 tbsp. sour cream
Salt and pepper to taste
1/4 cup of bacon bits
Instructions
Preheat Grill to medium heat (about 350-400 degrees).
Take about 2 ft. of foil and fold it in half.
Fold up the sides a little so the food won't fall off the foil.
Add frozen potatoes to center of packet and add 1 tbsp. of butter in each corner on top of the potatoes.
Add salt and pepper (to taste), and add cheese and bacon bits. Add any other optional toppings such as peppers.
Grill at medium heat for about 30 minutes.
Add sour cream before serving.
Enjoy!
Notes
Easily double ingredients for the full pack of potatoes. We recommend doing at least one pack per half bag, to ensure potatoes are thoroughly cooked in 30 minutes.
Nutrition Information
Yield
2
Serving Size
1
Amount Per Serving
Calories

460
Total Fat

37g
Saturated Fat

21g
Trans Fat

1g
Unsaturated Fat

13g
Cholesterol

90mg
Sodium

694mg
Carbohydrates

24g
Fiber

3g
Sugar

2g
Protein

11g
Need a main dish for this recipe? See my Dutch Oven Chicken here!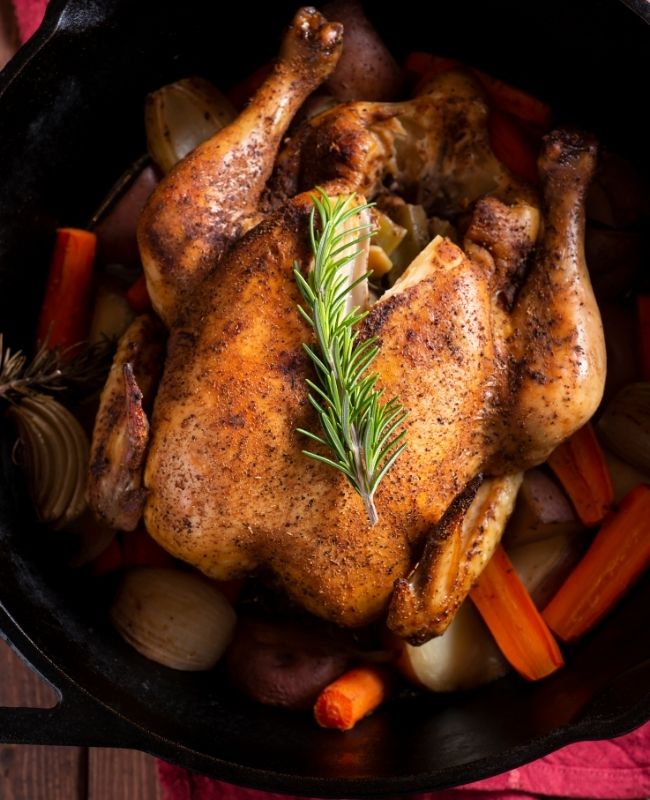 FOLLOW US ON SOCIAL MEDIA
Don't forget to invite your friend's to our Facebook groups! We would also love to see your vacation pictures!
More Great Travel Posts