Ultimate Camping List – Must Haves for Camping and Glamping!
Whether you have been camping for your entire life or you are just starting your adventures. It's usually more enjoyable with the right gear. So we have put together a camping list of items that will surely make your next outing a great adventure!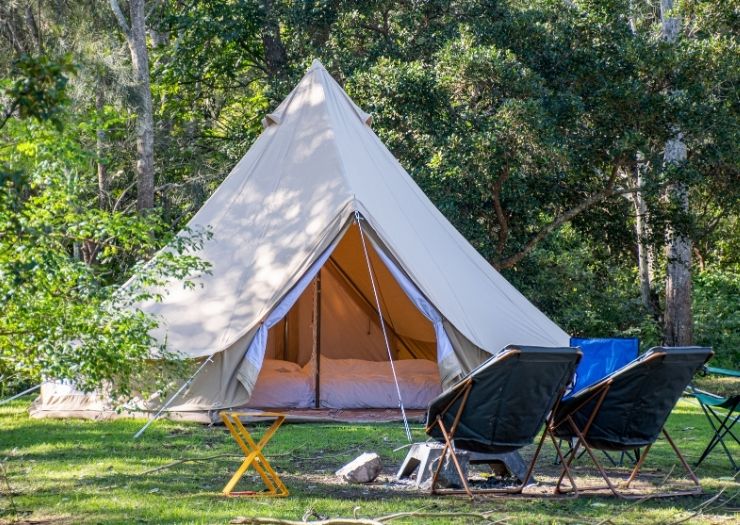 Please note that we did receive some of the items for free in exchange for our honest opinion and we never include products we don't actually use or like. Some items also include affiliate links. Thanks for reading our camping list article.
SAFETY FIRST:
One of the most basic needs when you are camping or glamping is water. When you hook up to the water spicket at the campgrounds you never know what the water quality is. Not only can hard water taste bad, it is also damage your water system in your RV.
CLEAR2O®, one of the leading producers of water filtration products for RVs, just introduced DirtGUARD™, the first-ever inline sediment prefilter for RVs. As you probably know, sediment is an  RV "filter killer," severely shortening an inline filter's life. DirtGUARD creates a cost-effective, dual filtration system, taking out the sediment and other large particulates, and allowing the inline filter to concentrate on the smaller contaminants it was meant for. No other product in the RV industry does this. 
The CLEAR2O® RV and Marine Inline Filter dramatically reduces contaminants, bad taste, sulfur odor (a big problem for RVers at campgrounds), and chlorine in campground water so that users can enjoy clean, delicious water in the comfort of their RV or boat. The CLEAR2O® RV Filter works at the one-micron filtration level for superior water filtration. What's more, it's the only one that uses sold carbon block, which reduces contaminants far more efficiently than traditional granulated carbon. This technology also reduces herbicides, pesticides, pharmaceuticals, industrial wastes, and perfluorooctanoic acids (PFOA's) from water.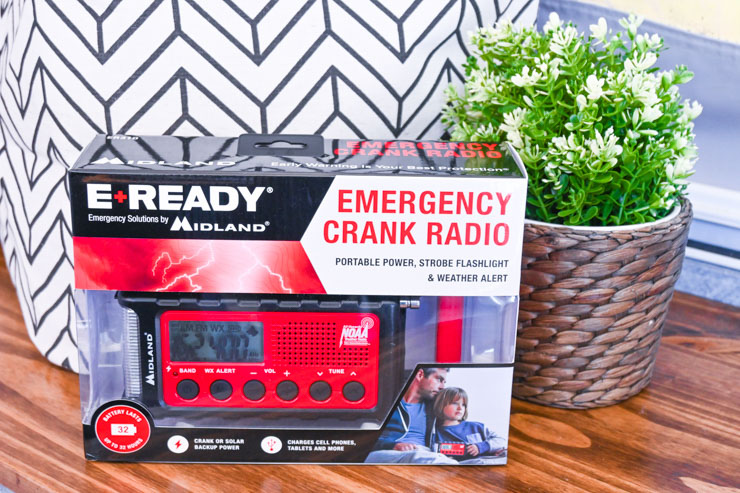 A must for emergency preparedness, the Midland ER310 emergency weather alert crank radio keeps you informed in case of severe weather or civil emergency with multiple sustainable power options. Recharge your USB compatible devices, use the Cree LED flashlight for power outages or navigating low-light areas, be found in an emergency with the high frequency dog whistle. This is a must have for you camping list.
For the Camp Kitchen
In our kitchen box we have a variety of items that we store to take with us on our pop up camping travels. Sometimes I feel like it's our biggest box. Here is a list of some of our favorite items.
If you have followed us for very long you know that using natural and organic products is something we have started incorporating into our life. Dr. Bronner's products are made with both organic and fair trade ingredients. We use their Citrus Dish Soap, Hand Soap and Hand Sanitizer. We also love their Peppermint Toothpaste and Orange & Lavender hand cream.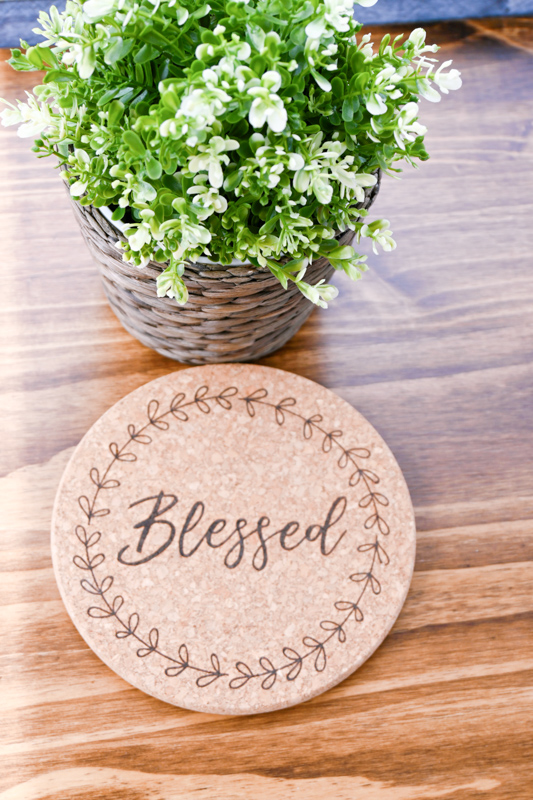 This cork trivet from Current features their original happy design in deep black; at 7″ across, heat resistant, and non-slip, it's big enough tough enough to protect countertops and furniture finishes, too. This was so adorable and I love that it is lightweight for the camper. They really do have a lot of cute camping stuff on their site and I love that you can personalize it.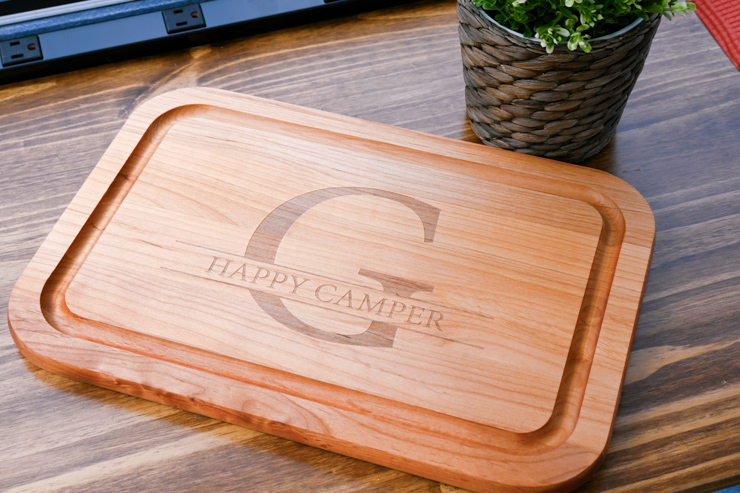 Choose a thoughtful gift exclusively etched with the recipient's initial and surname. Naturally lustrous and eco-friendly red alder wood cutting board is crafted of sustainable bacteria-resistant hardwood. Will not nick or dull cutlery, can be used on both sides. We just love our Happy Camper cutting board from Lillian Vernon.
Take cleaning and processing to another level with our convenient Bass Pro Shops® Deluxe Fish Table. This sturdy, high-efficiency outdoor essential offers innovative extras that make handling your fishing and hunting chores quicker and easier than ever. Tough enough for filleting both fresh- and saltwater fish (and processing a wide range of small game), it's equipped with a handy stainless steel directional spray faucet for perfect rinsing, a cone-shaped sink that drains exceptionally well, and a full-sized lower shelf made of strong steel mesh.
This Bass Pro Shop Deluxe Fish Table sports an extra-large 49-1/2″L x 25-1/2″W HDPE surface with a 4-1/2″D apron, a sloped drainage gutter, molded inserts for bowls, fillet board, and tools (included), and an integrated ruler. Stands a full 37″ off the ground for easy-on-the-back comfort. Just set on level ground, hook up your garden hose, add a trash bag and bucket (not included), and make quick work of your limit. When you're done, the faucet assembly simply nests down as the entire table folds flat, for easy storage. Great for backyard, camping, or RV site. Comes complete with 2 prep bowls, cutting board, 6″ fillet knife and sheath, and a metal odor bar for your hands.
We use this as our cooking/prep table. Just hook up your water hose to the faucet and put a 5 gallon bucket for your drain water. This is the perfect table for camping as it doesn't take up a lot space when it's folded up.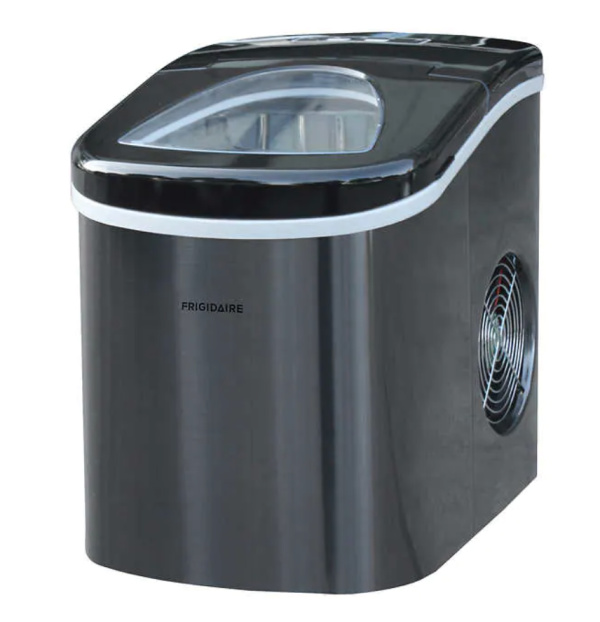 You will always have enough ice for celebrations and get-togethers with the sleek and compact ice maker.  Setting it apart from most other ice makers on the market, this ice maker features automatic self-cleaning!  It also features super quiet operation and uses an internal compressor to keep ice chilled.  It showcases LED-backlit controls that are easy to read any time of day.  This Frigidaire stainless steel ice maker has a 2 pound ice basket capacity and can make nine ice bullets in six minutes.  Simply fill the reservoir with water and select the desired cube size.  It makes a whopping 26 pounds of ice in a 24 hour period. Get it at Costco.
This is great to keep your ice chest filled without having to go buy ice everyday! Or if you just want ice in your favorite drink and don't want to use the ice in the ice chest that everyone puts their hands in!
More of our favorite kitchen items to add to your camping list: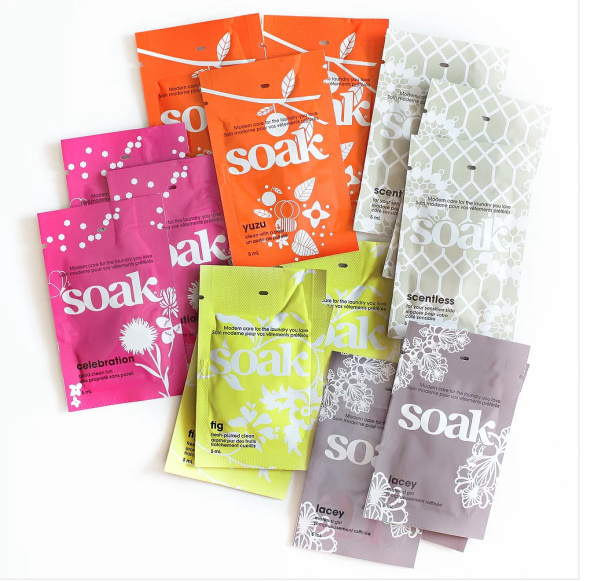 You'll feel good knowing you're doing your part to keep the environment safe. This Sun Vixen swimwear cleaner is incredibly effective at deep cleaning your favorite designer clothes and swimsuits. Plus, it will keep them looking vibrant and new so you'll look like you're wearing a new designer outfit every day.
CAMPING TECH:
This is where the Glamper in me comes in. Who says you can't go camping and still have the luxury of a few electronics.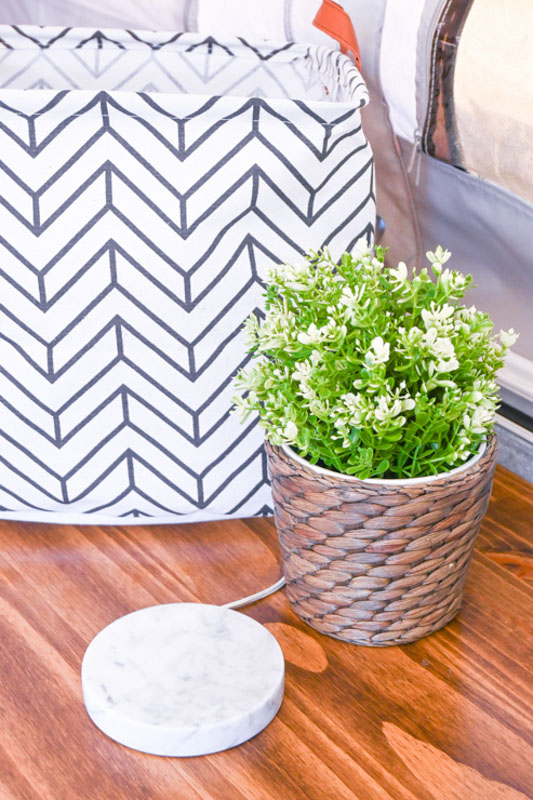 Eggtronic's Wireless Charging Stones is one of my must have luxury camping items. They are powerful and elegant wireless chargers for both Android and Apple Qi-enabled smartphones/devices. Their attractive, real marble finish provides a stylish, simple way to keep your phone charged and stay connected with your significant other with 10W of charge for even wireless headphones. We bought two of these for our camper and we love them!
What glamping experience would be complete without a TV? We found this TV mount that attaches to your cabinet top. We have a 32″ tv mounted on it and it holds it exactly where we want it. It's super easy to mount and can be removed for storage or transport!
You can't call it glamping if your sweating all the time. This Black and Decker Portable A/C will keep you cool while it's hot outside. This is a must for us. We camp with our fur babies and of course we want them to have a spot to go to cool down. Plus it's a lot easier to sleep when your not sweating.
FOR THE CAMPSITE:
When we go camping we don't want to spend a lot of time setting up. That's why we love these products from EZ UP and added them to our camping list.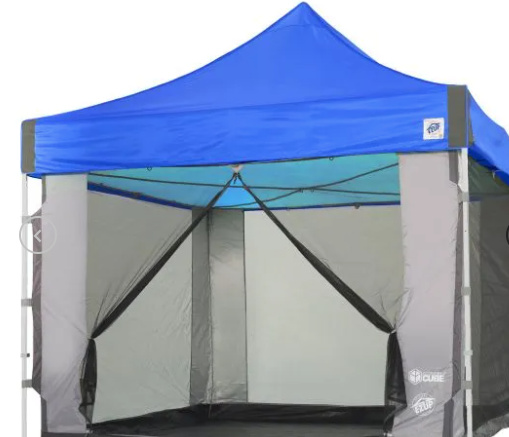 The Screen Cube™ tent is the ideal family retreat for your next beach or camping outing. 100% BUG PROOF – we've added an extra level of insect protection to the Screen Cube™ and features a fully enclosed insect-proof floor, ceiling and walls. Letting you decide who you want in and out!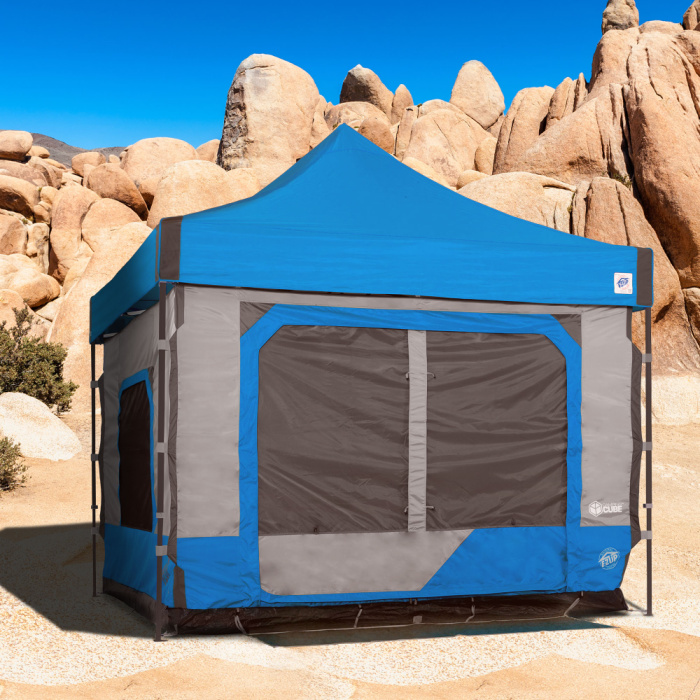 The Camping Cube™ tent is a spacious and easy-to-set-up camping accessory product for you, your family, and your next fun trip. Turn your existing E-Z UP® shelter into a camping haven, or build your own custom camping E-Z UP Shelter and Camping Cube set-up from scratch.
Keep your E-Z UP® Instant Shelter® grounded and secure with a set of four weight bags. Each bag holds 25 lbs (11.3 kg) of sand and attaches securely to each shelter leg with unique quick attachment straps.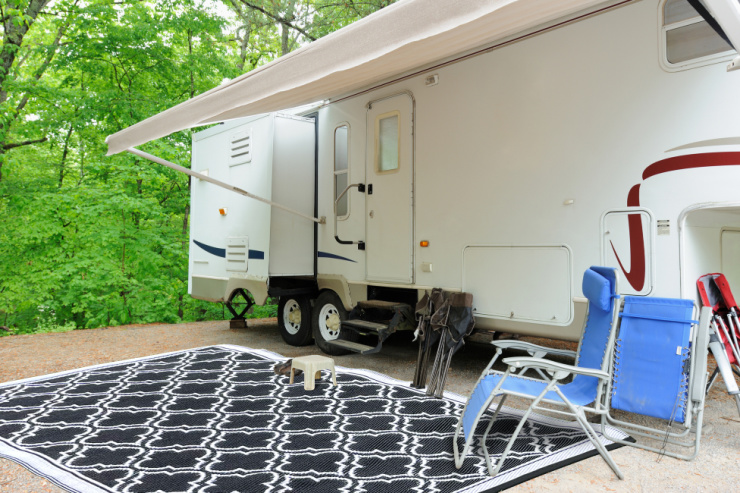 Recycled Plastic Outdoor Rug (4'x 6′) – Camping Rugs for Outside Your RV – Outdoor Camping Mat in Black & White Trellis Design by Funky Strokes – Versatile for Patio, Porch, Deck or Picnic.
Outside Rugs Patio Waterproof – For a quick clean, just hose off with water or wipe with a damp cloth. Made from a stain resistant material, this mat can withstand all outdoor elements or spills.Design & Elegance. Versatile Outdoor Accessory – If you're looking for a plastic straw rug for patio or for under awning while camping , this is the perfect choice! Made in the popular 4×6 and 6×9 sizes, it can be used for the porch, on the deck, for the camper van or even on the beach. Premium Quality Craftsmanship – This polypropylene outdoor rug is ecofriendly, and has a special sun protection layer because of which the black and white colors are long lasting and will not fade in sun or rain. The breathable material is soft and will not damage grass or scratch your deck.
Reversible Design – Show off your personal style with this trendy reversible design, to match your outdoor décor and furniture. We also love that in came with a portable carry bag.
The Flybuster Compact trap is the perfect addition to add to any outdoor space, like a patio, deck, picnic space, and more. Designed to catch as many as 10,000 flies and can last up to 30 days or until full, Flybuster's clear plastic container is made with a unique, one-way patented lid ensuring flies can easily enter but not escape. The eco-friendly bait inside the Flybuster Compact trap is created with raw, natural materials, like fermented yeast, approved for use by the food industry. To get started, just pop the lid, add water as directed, and close, allowing 48 hours for the bait to activate. After 48 hours, remove the lid to use!
Comfort:
Not every place has bathrooms that available. Never fear… these products will make camping a little easier!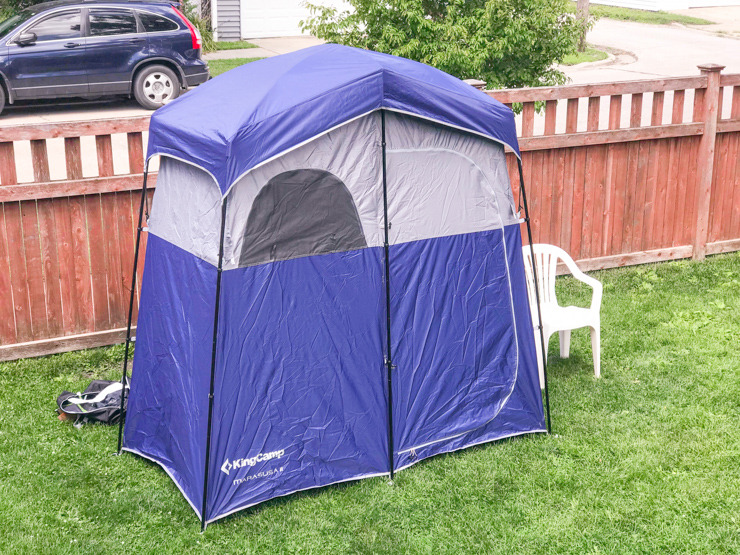 This 2 room shower tent is perfect to use for your shower and your "bathroom". You can hang your camping shower up on one side and you can use the other side as your "bathroom" by put a cassette camping toilet in there.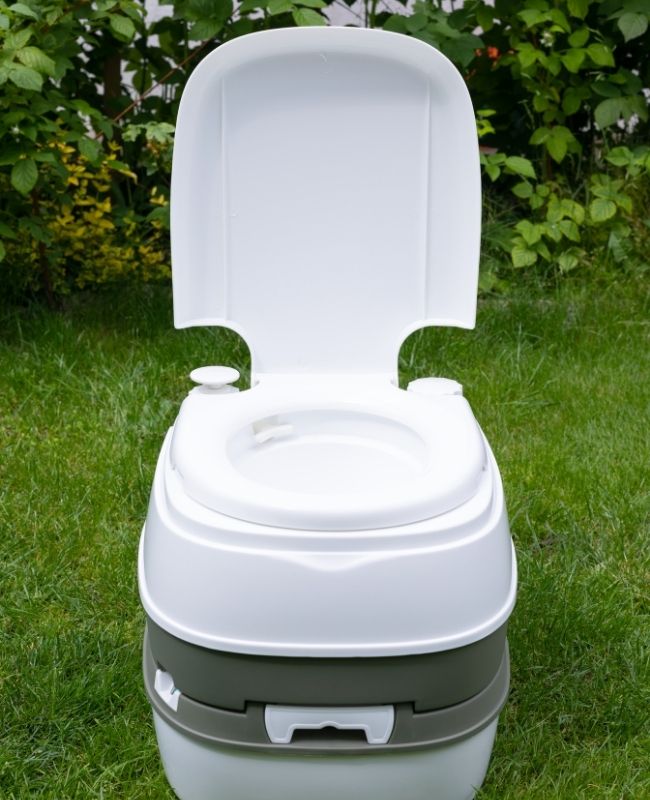 Nothing worse than having to walk to a campground bathroom and finding out it's hadn't been cleaned in a long time. Or better yet…. It's closed. This cassette camping toilet will save you all that grief. You can either keep it in your camper or in a tent like the shower tent above. It's must have on your camping list.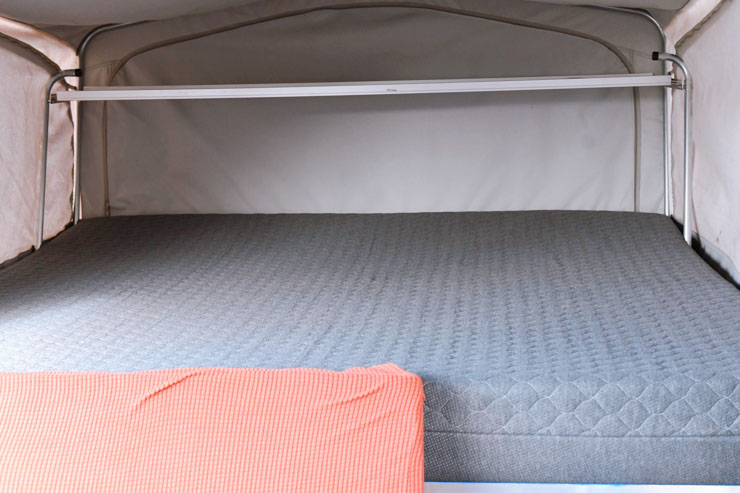 Sure you can sleep on the thin mattress that comes with most campers. Or you can get a good night sleep on a SleepDog Mattress. You will wake up refreshed and ready to go exploring!
DOT approved, dual layer 7″ memory foam
construction with enhanced medium-firm fee.
Plush CoolRest® memory foam that contours
to your body and minimizes motion transfer.
Designed to support & align your spine
in any sleep position.
Smooth quilted cover to provide an
even softer feel.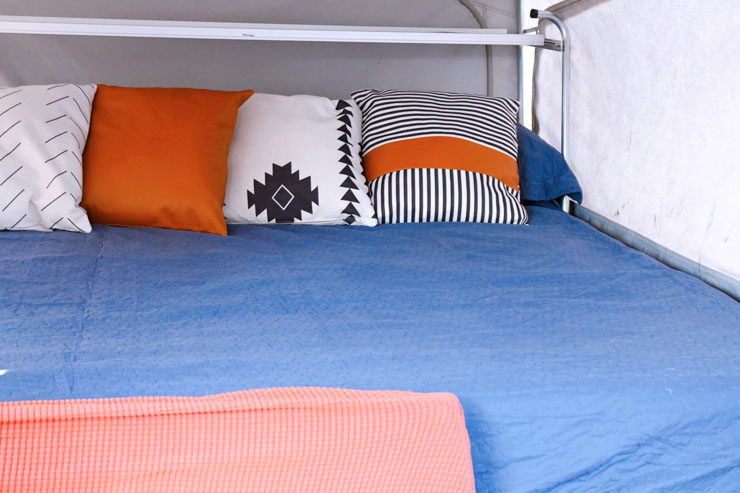 You're probably thinking. Don't you have a pop up camper? How in the world did you make this size of a mattress fit? Well… where there is a will there is a way. Add this Sleep Dawg mattress to your camping list. You won't be sorry.
We put this awesome mattress in our pop up camper. When we closed up the camper for the 1st time it didn't close all the way. The door (which attaches to the ceiling when closed) wouldn't let the camper close all the way. But it was an easy fix. All we had to do is adjust the latches a little and it will close right up! Ours closed with minimal pressure applied. This mattress made a HUGE difference in the comfort of being in a pop up camper. We could not believe how comfortable it was. Plus the quality is outstanding. We know this is going to be HUGE for the pop up community because this is one of the biggest hurdles everyone talks about in the camper groups on Facebook! Let us know if you give it a try!
The Generark Solar Generator is the most reliable, versatile, and portable emergency power supply for your home. It includes the HomePower ONE backup battery power station and the SolarPower ONE portable solar panels.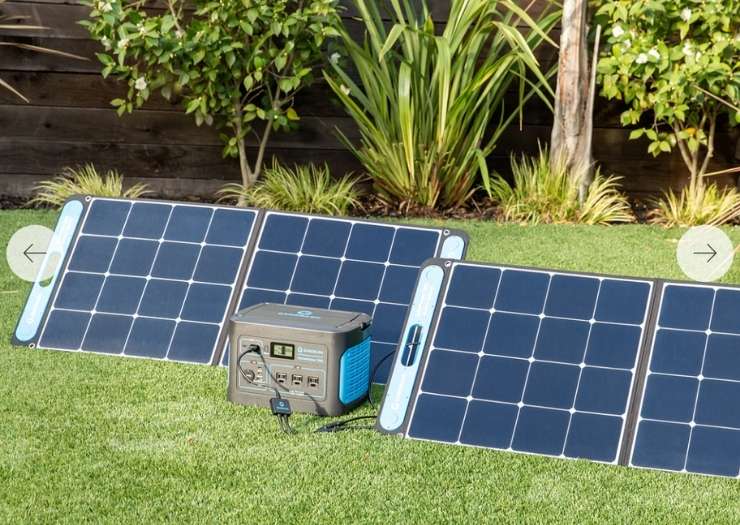 It provides a continual emergency power supply to charge your electronic devices and operate your home appliances in any emergency situation. It enables your family to overcome any disasters and accidents by staying fully charged and connected in the safety of your home. Not only do we use that at home but we love to take it camping with us. It makes outdoor adventures more enjoyable. We can use it to charge our phones, hang up string lights for camp ambiance, and more. It can also be used to power your air pump if you have air mattresses. This definitely a must-have on your Camping Gear List For Family.