Best Breakfast in Branson
One of my favorite things about vacation is sleeping in and not having to cook! A delicious breakfast is the perfect way to start your day while on vacation. Our Branson vacations are usually full of lots of places to go and things to see. We will go to shows, live entertainment and tours and most days we stay out late at night. I definitely love to take it easy in the morning. Luckily, there are many great breakfast places in Branson! Keep reading to learn about some of the best restaurants for breakfast in Branson, Missouri.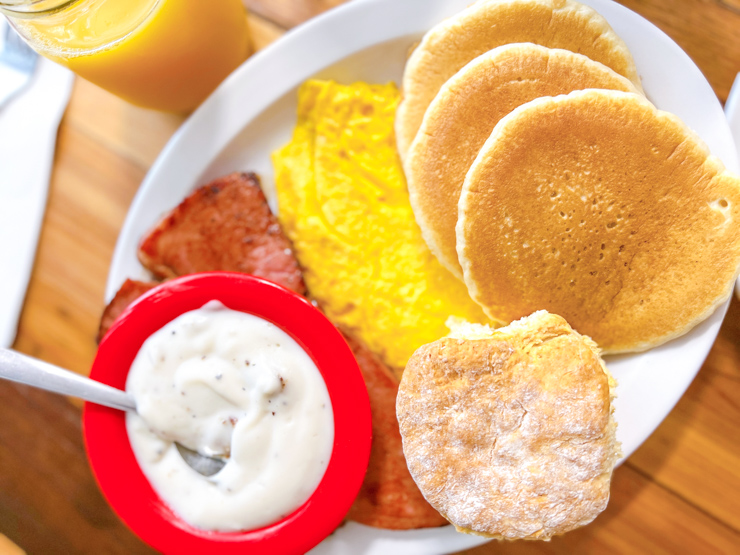 Farmhouse Restaurant
Ranked as #4 on Tripadvisor's list of the best breakfast restaurants in Branson, MO, Farmhouse Restaurant is a must-try! Located in the heart of historic downtown Branson, this American-style restaurant is known for their delicious biscuits and gravy, pancakes, and omelets. Be sure to try their famous house specialties like the chicken fried steak and eggs special. This family-style restaurant is a local favorite for good reason. The food is delicious and the portions are huge. They have all of your classic breakfast staples like eggs, bacon, sausage, pancakes, and French toast, but they also have some unique items like omelets stuffed with onions, peppers, ham, and cheese. If you don't like a big breakfast you can choose a few sides like oatmeal or their amazing cinnamon roll (or add those to a meal, we won't tell anyone). No matter what you order here, you're sure to leave satisfied. 
119 W Main St, Branson, MO 65616 (417) 334-9701 Open Daily 7am-8pm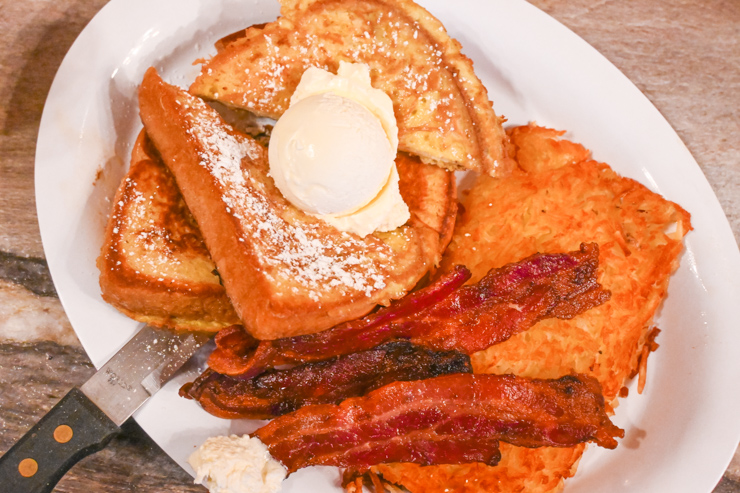 Billy Gail's Café on 265
If you're looking for a more casual dining experience, Billy Gail's Café is the place for you! Great news for folks who love breakfast but not morning, here, breakfast is served all day! This local favorite is known for their hearty portions and friendly service. The menu features all of your breakfast classics like pancakes, eggs, bacon, sausage, and more. You have not lived until you try their stuffed French Toast or the South of the Border breakfast burrito. The sloppy chicken and biscuit is also a great choice. If you like chicken and waffles you have got to try the chicken and pancakes here, if you really want a treat make it the chicken and French cakes. Imagine turning pancakes into French toast and topping it with crispy breaded chicken and syrup with whipped butter. They do have lighter options like fresh fruits or even the veggie omelet as well. You can't go wrong with anything on the menu at Billy Gail's Café! They also have the biggest pancakes in town. This one is our personal favorite.
Sunday-Thursday 7am-3pm
Friday-Saturday 7am-9pm
5291 State Highway 265, Branson, MO 65616
(417) 338-8883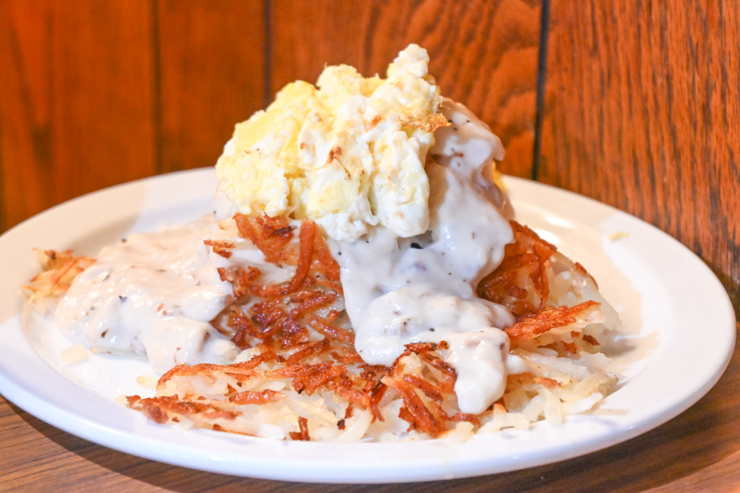 Clocker's Café
Clocker's Café is the perfect place to go for a late-night or early morning breakfast. This diner-style restaurant has a wide variety of breakfast items to choose from, including omelets, pancakes, waffles, and French toast. They also have a great selection of lunch and dinner items if you get hungry later in the day, but breakfast is served all day. We love the hash brown haystacks and croissant breakfast sandwich with sausage. They also have delicious omelets. They have options for pancakes, waffles and French toast where you can choose from their delicious toppings like Bananas, Blueberries, Peaches, Pecans, Chocolate Chips, Cinnamon Chips or Peanut Butter. It's located in Branson's historic downtown. Make sure to check them out for breakfast anytime!
103 S Commercial St
Branson, MO 65616
417-335-2328
Mon – Sun: 6 AM – 3 PM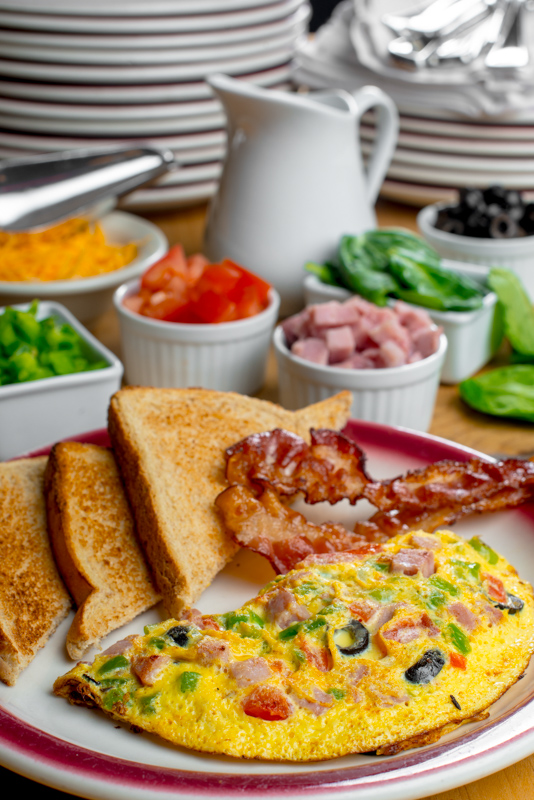 Grand Country Buffet
For a buffet-style breakfast experience, Grand Country Buffet is the place to go! They offer all-you-can-eat pancakes, eggs, bacon, sausage, biscuits & gravy, oatmeal, cereal, fruit, pastries, and more. They also have a lunch and dinner buffet if you get hungry later in the day. This buffet is located within the Grand Country resort that has a water park and shows as well as this great place to eat. Breakfast is the lowest priced buffet meal. This resort also has other places to eat, but this one is our favorite restaurant here and they offer great package options if an all inclusive stay and welcoming atmosphere is something you look for in a vacation destination. We chose our top 5 for best breakfast in Branson, we love this location for the options you get. Some days I want just a good stack of pancakes while other days I want just a little bit of everything. Why should I have to choose between country potatoes or hash browns? In a perfect world, you can have both. Or at least at a breakfast buffet, which some days you just need. This is a great stop to get your day started and especially convenient if you are staying at their resort and don't want to travel far in the morning hours.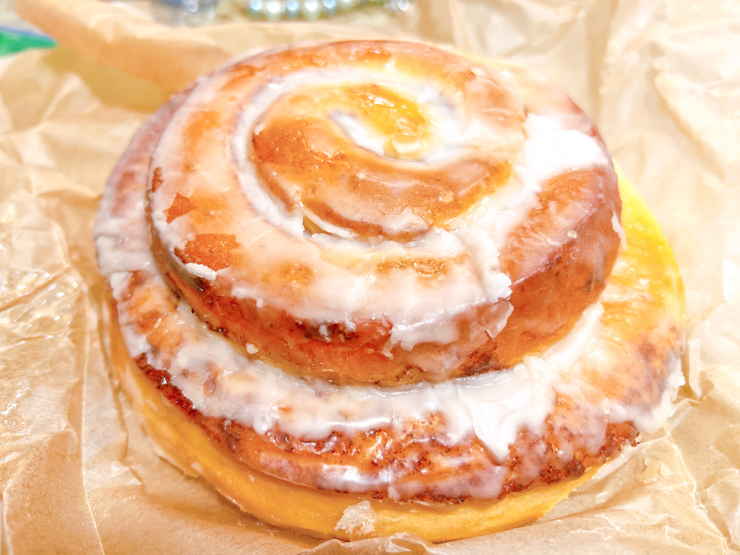 Silver Dollar City
A lot of people believe that breakfast is the most important meal of the day. And while we can see the importance of starting the day off with a good meal, we also know that not everyone has the time to sit down for a leisurely breakfast. That's why we're excited to tell you about a delicious breakfast option at Silver Dollar City: grab-and-go cinnamon rolls! These delicious cinnamon rolls are made fresh every morning and are the perfect way to start your day at the park. And because they're grab-and-go, you can enjoy them on the go! Did I mention they are HUGE? If you're not a cinnamon roll person they have a ton of delicious pastries to choose from Eva & Delilah's Bakery. So whether you're catching a show or riding a roller coaster, you can have a delicious breakfast with you every step of the way. So come on down to Silver Dollar City and start your day off right with a delicious cinnamon roll!. They're so good, you'll want to order a whole parade of them! You can also place an order to go and pick it up as you leave the park. If you want anything from this bakery you need to order first thing, because by the end of the day they will run out! If you are looking for more breakfast options in the park head over to Molly's Mill, it's the oldest restaurant in the park and a favorite spot for a sit down meal if your schedule allows.
Check out the Ozark Mountain Breakfast Buffet
Served 8:30a.m. to 11a.m. March through October
Hickory-Smoked Bacon, Pork Sausage Links, Fluffy Scrambled Eggs, Home-Fried Potatoes, Southern-Style Biscuits, Sausage Gravy, Silver Dollar Pancakes, Fresh Fruit, Apple & Cherry Strudel Bites, Apple Butter, Yogurt and Granola.
You can also visit later in the day for some non-breakfast options. Molly's Chicken Buffet has Southern-style Fried Chicken, Fried Catfish, Homemade Meatloaf, Smoked Pulled Pork, Au Gratin Potatoes, Green Beans with Garlic & Bacon, Buttered Sweet Corn, Golden Macaroni & Cheese, Broccoli Cheese Casserole, Zucchini and Tomatoes, Cheesy Au Gratin Potatoes, Salad Bar, Dinner Rolls, and Dessert.
Subject to change without notice.
McFarlain's Family Restaurant
Last but not least on our list of the best places for breakfast in Branson is McFarlain's Family Restaurant. This themed restaurant is located inside of IMAX Entertainment Complex and is known for their made-from-scratch biscuits. The menu features all of your hearty breakfast classics like pancakes, their classic Belgian waffle, eggs Benedict, French toast casserole, the Ozark Mountain skillet and more. They have classic Ozark cuisine and pies, amazing dishes you won't find in chain restaurants. Be sure to try one of their famous homemade cinnamon rolls! You may want to grab some pie for later too. This stop is so much fun, you don't want to miss it. The Branson IMAX Entertainment complex is in such a convenient location on Shepherd of the Hills, you can enjoy this stop on your way to lots of fun for your day. We also love to stop at this great restaurant later in the day for some pot roast, fried chicken or a burger and French fries, the cinnamon rolls and pie are good after a meal any time of day.
3562 Shepherd of the Hills, Branson MO 417-335-4832
Monday-Sunday 9am-8pm Brunch served daily until 1 pm
Conclusion: BRANSON IS THE BREAKFAST CAPITAL OF MISSOURI! With so many great options to choose from, it was hard to narrow it down to just 5 restaurants. We love Cracker Barrel any day but we have one back home, if you don't live near one and want to check them out on vacation it is also a great option as well. You may also want to check out Mel's Hard luck Diner (for lunch or dinner), Hungry Hunter Restaurant (closed on Tuesday and Wednesday) or Branson Cafe (amazing sweet potato fries). It is just so hard to narrow them all down to a small list because each of these places has at least one thing we just love! Whether you're looking for a casual dining experience or an all-you-can-eat buffet style meal, Branson has something for everyone! So what are you waiting for? Get out there and explore all that Branson has to offer! Check out one of our other posts on visiting and eating Branson to help you plan your next vacation to Live Entertainment Capital of the World. Use the comment section to tell us who you think has the best breakfast in Branson.
FOLLOW US ON SOCIAL MEDIA
Don't forget to invite your friend's to our Facebook groups! We would also love to see your vacation pictures!