Campfire Desserts are always a hit in the summer! Check out this fun and different recipe!
We love camping, I don't know whether it's because it's something we've always done, or just because if you live in Oklahoma, you don't necessarily have all the beaches and coastal destinations close by!
Either way, it's such a fun experience and we do recommend doing a family camping trip if it's not something you've tried before. You can find lots of info right here on Roaming My Planet, and ways to make it fun– not stressful.
The main thing a lot of us think about when we talk about camping is the FOOD. Camping isn't complete without some extra special meals and desserts you don't enjoy every day.
Of course for the kids, this involves S'Mores. I decided to try some variations on S'Mores since it's one of those things we absolutely have to have on our camping trips and at church camp, but it can use some creativity, too. This ice cream cone idea was it!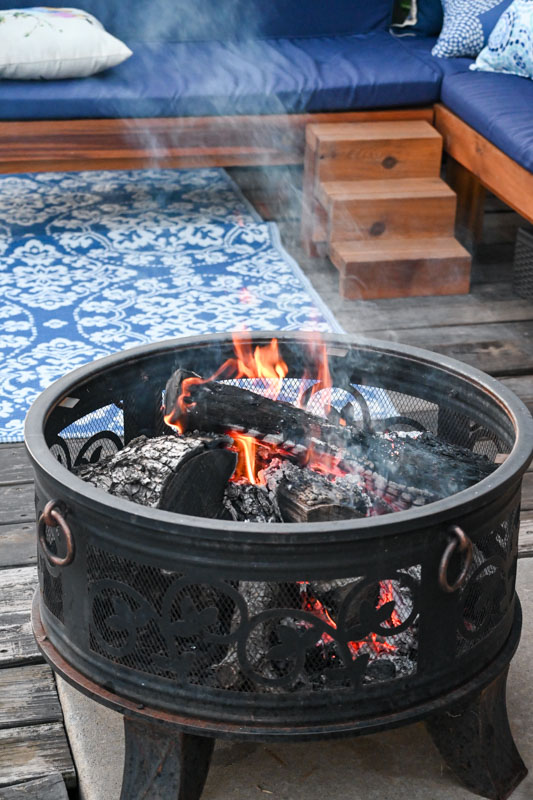 We aren't out on a camping trip right now, so we did a test run of this recipe right in our backyard with the fire pit. If you don't have a fire pit you can certainly do these in the oven on a cookie sheet.
Moms and Dads, let me tell you if you need a reset to your week, a sure way to do that is have everyone put down electronics and have a backyard camp out night!
No, you don't have to spend the night outside, but just get all the games out, get a fire going in the fire pit or chimana, and cook and have dessert outside for the evening. It's such a fun way to make some memories, especially if everyone is going a little stir crazy with the usual routine.
S'mores Campfire Cones: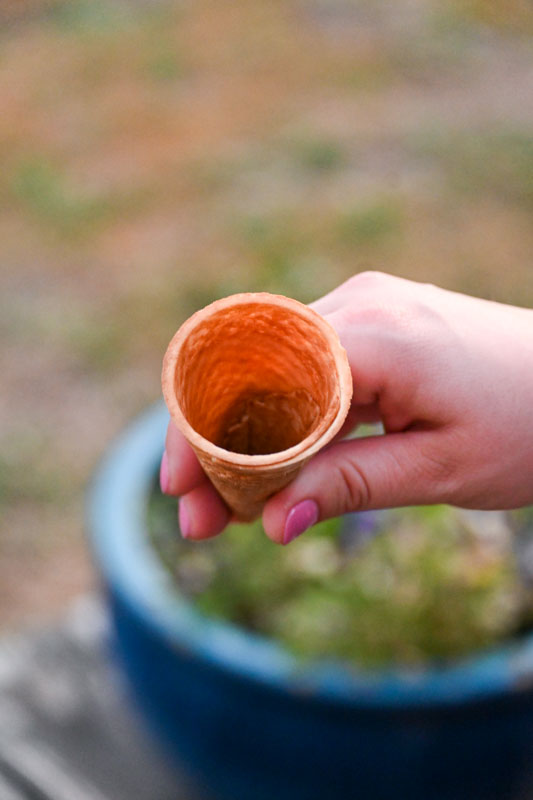 This recipe is actually a little easier than traditional S'mores! Start with an ice cream cone, any will do but we had these small sugar cones from the store. 
Add one row of a Hershey's Chocolate Bar. For adults or if you're doing a camp out with teens, you can actually use some larger waffle cones, you can fit a lot more goodies inside.
The photo above gives you an idea of how much dessert the small cone will fit.
Add a large Kraft Marshmallow to the cone. We stuffed it down a little, since they do tend to grow in the heat. After a few tries we actually found the Mini Marshmallows work best! But whatever you have is fine.
This part is important! You don't want to try this desert without aluminum foil, since a lot of your goodies might fall right out of the cone — especially if smaller kids are roasting their S'mores Cones.
Just start on one side and wrap into the foil.
This handy trick will help you keep everyone from making a mess- take your skewer or Marshmallow Roasting Stick and insert into the cone, wrapping the foil all the way around the stick as well.
This will make a "packet" perfect for the fire pit– no scorched marshmallows and no mess!
Hmm,,,,, PERFECTION. Make sure you let it cool for a minute before pulling off the foil so you don't burn your hands. Some other things we recommend trying is spreading a little peanut butter inside your corn or even using half of a Reeses peanut butter cup. Have fun and experiment with different candies and toppings.
Campfire Desserts – Roasting and Fire Safety
Roast about 5 minutes, or until heated. We had a pretty good fire going so we didn't need to heat them up very long.
Remember, adults should do this step for kids at all times, unless they are older and not going to burn themselves or others.
A few campfire safety tips we have when kids are present are:
Keep your eye on your S'mores- don't turn and talk to anyone while you have a hot object in hand
Smaller kids, have an adult help.
Use handles only! The littlest kids will often take the skewer in hand further down to retrieve their S'More.
Ask permission from an adult before you do anything around a fire.
Have an adult monitor the fire directly at all times if there are toddlers around in the group.
This was just us for the evening, so no smaller kids, but I like to include those just as a reminder if you haven't done this before! 🙂
Ready to Eat!
Finally, unwrap your foil with either an oven mitt or pair of tongs. We did let them cool a minute or so before attempting this.
You can hold the cone and enjoy all the S'more goodness inside without the mess! I actually love the different flavor of the ice cream cone vs. the traditional graham cracker.
I hope you enjoyed this Campfire desserts idea and can make it on your next camping trip– or right at home! Thanks for reading!
Recipe:
Easy Smore's Campfire Cones
Campfire Desserts are always a hit in the summer! Check out this fun and different recipe!

Ingredients
Sugar Cones
Chocolate Square
Mini Marshmallows
Tinfoil
Instructions
Add chocolate square and marshmallow into your cone.
Wrap in foil leaving the top open.
Place skewer into cone and close tightly.
Hold over fire for about 2 -3 minutes. Make sure you don'y leave it on long enough to burn the cone.
Sugar Ice Cream Cone
Marshmallow
Hershey's Chocolate Bar
Add your S'more ingredients to the cone, wrap in foil. Wrap the skewer right in to the foil to help keep it on the stick!
Roast as you would a traditional s'more, for 1-5 minutes.
Open Carefully, with oven mitts or tongs.
Enjoy!
See More Here:
Make sure you join our Roaming My Planet Facebook Page.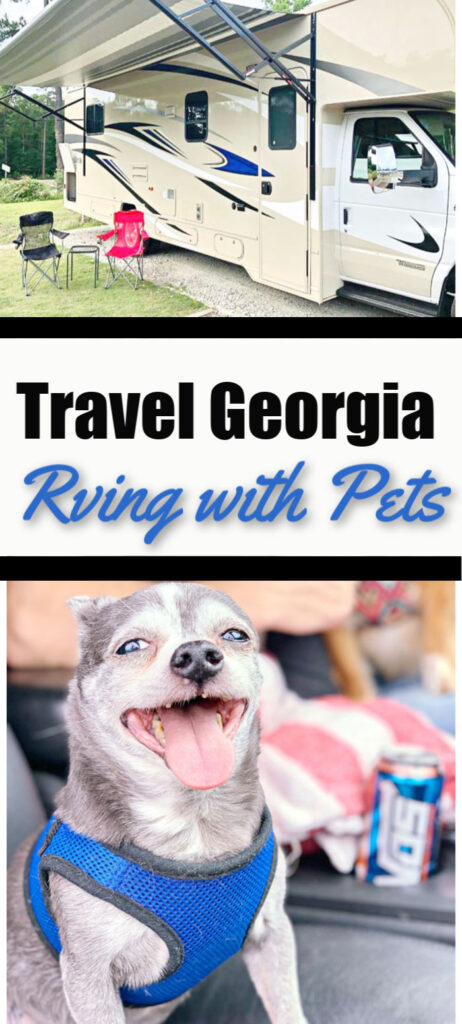 If you are thinking about RVing with Your Pets, Georgia is a very pet friendly state. Check out all of our tips below.

See 5 Reasons to Visit Woodstock Georgia