50 Camping Hacks You Wish You Knew
Looking for some camping tips before you hit the road? Check out these 50 camping hacks that could save you time and are just plain awesome.
Heading to the great outdoors soon? Check out my 50 Camping Hacks You Wish You Knew!
Taking the Family Camping
The thought of camping for some of you might sound scary, especially if you have younger kids. I assure you that camping can be enjoyable for the whole family as long as you are prepared and know what to do as well as a few help with some camping hacks. and camping tips.
There are also different kinds of camping. You can camp with running water and amenities or you can go Yogi Bear and rough it in the woods. Here are 50 Camping Hacks You Wish You Knew before you went camping.
Cooking Hacks
Make travel coffee bags out of filters and rubber band it.
Individual Frito and Dorito bags make great chili bowls and Walking Tacos!  I like the large multi-packs of chips since they can do double or triple duty for meals!
Wrap your meatloaf mix with the sides of an onion, wrap with foil and throw on the fire.
Crescent rolls do great wrapped over anything on a campfire.
]Wrap a belt around a tree and use hooks to hang up pots and pans.
Use a hollowed out orange peel to cook your cinnamon rolls on a campfire.
Pre-make your pancake mix and store it in an empty ketchup bottle for easy squeezing.
Try cooking Starbursts like

s'mores

. They are crunchy on the outside and gooey on the inside.
Sew two washcloths together and shoestrings sown in for a draw string for a mess kit if you are roughing it. It is easily washable and can be hung up with the mess kit in it to dry when needed.
Pre-make food and use your Food Saver to keep food fresh and easy for travel.
Bring a hanging shoe organizer to store all your cooking utensils.
Bake bread in a tin can and use for sandwiches.
Hollow out an orange and pour in your brownie mix and cover with tinfoil for campfire brownies.
Organization Hacks
Line your backpack with a trash bag for extra water protection.
Cheetos and Doritos are good for kindling if you can't find anything.
Use a collapsible laundry bin lined with a trash bag for trash. Find these at Dollar Tree!
You can wrap duct tape around a cigarette lighter or

bottle

of water to save space.
Use a bungee cord to hang your paper towels.
Slit open the ends of a tote bag for an easy firewood carrier.
Roll your kids outfits and secure with a rubber band and store in a Rubbermaid container. Clothes stay together and kids can dress themselves. Or, use these packing cubes for easy organization.
Camping Set-Up Hacks
Toilet paper rolls stuffed with dryer lint make good fire starters.
Fill a gallon jug with water and a 1/4 cup of salt to act as

instant cooler

.
Instant grits will keep ants away from your campsite.
Spray your shoes and socks with 1 part tea tree oil 2 parts water to detour ticks.
Cotton pads dipped in wax make an easy fire starter.
Fill a straw with spices and burn the ends with a lighter for easy storage. You can also store them in tick

tack

 containers.
Point a

lamphead

 directly into a jug of water for instant lantern.
Use foam floor tiles to make the floor of your tent softer.
Carry sand paper for an easy match starter.
Soak round cotton pads in wax and use as fire starters. (You can easily find these at the drug store, just linking so you know what they are. ) 😉
Store charcoal in and egg carton for an easy DIY fire starter.
Fill an empty coke can with olive oil and insert a piece of cloth for a makeshift oil lamp – adults only!!
Put a solar yard lamp in the hole of an upside down terracotta pot to make a campfire lamp.  If you have room, bring the kit to light the campsite!
Toiletry Hacks
Keep your toilet paper dry by storing in an empty CD case with spindle.
Filling a squeezable eye dropper w/lid with toothpaste is a great way to minimize weight.
Use a vegetable peeler to make single use soap pieces.
Bring clothespins! There are a ton of uses for these either camping in a cabin or roughing it.  Hang wet clothing, loofas and more. The larger clothespins are better.
First Aid and Trouble-Shooting Hacks
Purification Oil

is great for any rashes you might get.
You can use an acorn cap to loudly whistle for help.
Pure Lavender essential oil is great to put on burns.
Use an old pill bottle and fill with first aid kit items like band-aids etc.
Family Fun
Make a slit in the right hand bottom side of a pop tab to make a fish hook.
Always carry a pocket knife with you.
For fewer burrs , rub the laces of your hiking boots with paraffin before you go hiking.
Pre-make scavenger hunt bags for a fun activity.
Bring stencils, art sheets or activity sheets in case of a rainy day to keep kids busy.
If you have room, bring those board games! Kids can get restless even if the adults want to sit and relax in the evenings. Apples to Apples Jr. and Taboo are fun group games.
Keeping Bugs Away Hacks
Add sage to your campfire to help keep mosquitoes away.
Spray your shoes and socks with 1 part tea tree oil 2 parts water to deter ticks.
Safely remove a tick with a cotton ball and hand soap
Pin a Bounce dryer sheet to the back of your child's clothes to keep the mosquitoes away.
If you love these camping tips or have some of your own camping tips to share please let us know!
How I Earn Free Camping Gear:
Your're probably thinking yeah right, there is no way I can earn free camping gear. That's ok I was skeptic too, til my mom was like no this works! I mean who is going to tell mom she is wrong? So While you're looking at Oklahoma Waterfalls check this out too.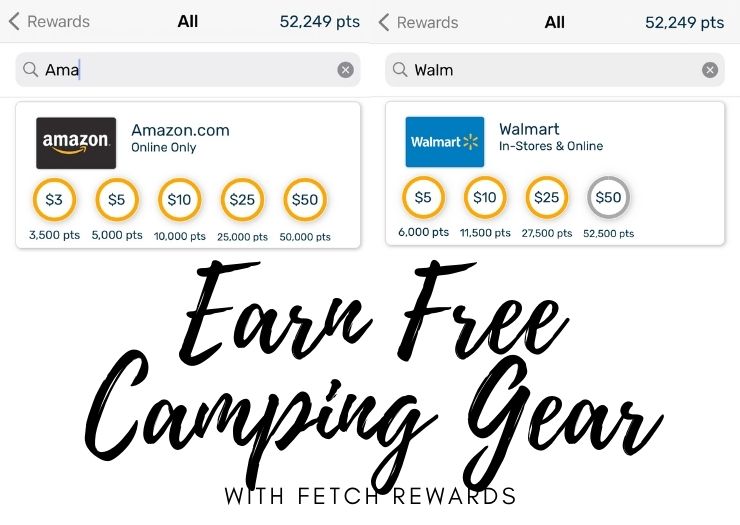 So basically all you need to do is download the Fetch Rewards app and enter the code: EF9PC and scan any grocery, hardware store, pet store or gas receipt within 7 days and you will get a bonus of 2,000 points. Grocery receipts can be up to 14 days old. You will get points for every receipt you scan and bonus points for certain brands. Then you can redeem those points for FREE gift cards like Amazon, Walmart, Cabelas and many more! As you can see I have enough points in my account right now to redeem for a FREE $50 gift card!
Some Cool Camping Gear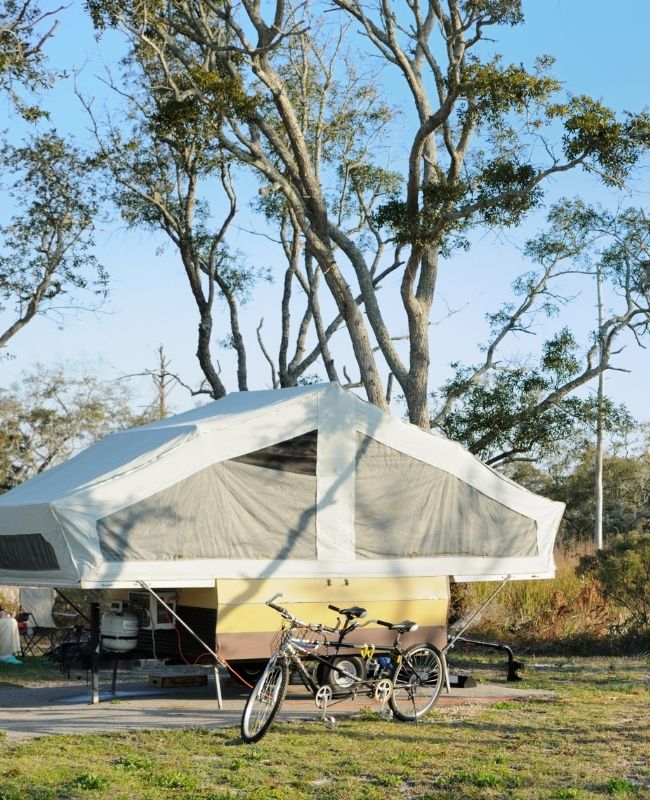 Are you looking for a pop up camper rental or even buying one? But aren't sure where to start? We were in that same situation not long ago. So we have put together some things you should consider when looking for your pop up camper.
Awesome Camping Articles You Should Check Out
FOLLOW US ON SOCIAL MEDIA
Don't forget to invite your friend's to our Facebook groups! We would also love to see your vacation pictures!