Homemade Cheese Stuffed Garlic Rolls
Looking for an easy but flavorful side dish idea? These garlic bread homemade rolls don't require any special appliances or baking skills! Take a look at this quick and easy recipe you can have ready in under 20 minutes.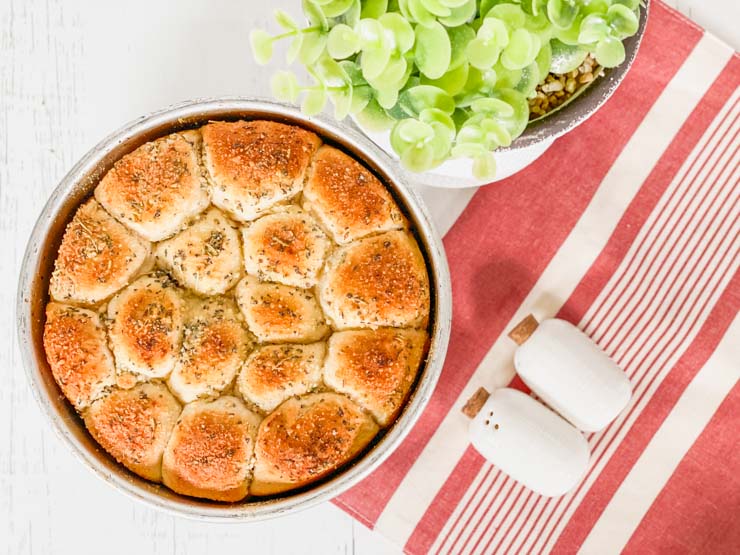 Cheese-Stuffed, Garlic Bread Homemade Rolls
I love short-cuts when I am working in the kitchen. Especially for those side dishes. All your energy is focused on the main dish- and then sometimes the sides are an afterthought. Garlic bread makes an easy side dish idea for Italian inspired main dishes, including pizza, soups, and simple proteins.
The easiest part about this recipe is that it starts with Grands Biscuits. You can use the Pillsbury brand Grands or one of the off brands such as Great Value (from Walmart) or Best Choice (available in many grocery stores). Since you're going to be adding a lot of flavor to these rolls, you won't notice any small differences in the taste or quality of the biscuits themselves. We add a nice handful of Mozzarella cheese to stuff each roll, so when you bite into one of these Garlic Bread Homemade Rolls, it almost seems like a stuffed crust pizza! It's SO good.
Just one hint– don't do what one of our team members did many years ago and accidentally purchase honey butter flavored biscuits! It's hard to read the packaging on some of those flavors, so to avoid a not-so-tasty mishap, go with the original (unflavored) biscuits or buttermilk. Sweetened biscuits don't go well with garlic and mozzarella! 🙂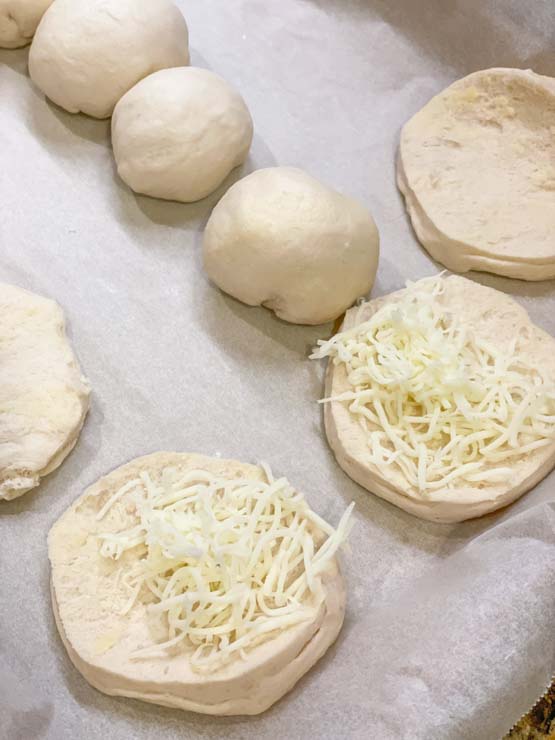 How to Make Garlic Bread Homemade Rolls – Using Grands Biscuits
Line up your large biscuits on a clean work surface. You can use parchment paper like I did here or you can use a reusable silicone baking mat (great for reducing waste), or large cutting board.
Give each biscuit a good squish with the palm of your hand to flatten it out nicely. No need to roll with a rolling pin. Then, add your mozzarella! This is my favorite part, guys. I used shredded cheese here, but if you prefer you can use the snacking cheese squares, sliced cheese sticks, or some slices off a block of cheese.
Whatever you have should work. You can also change up the flavors of cheese if you're not a fan of mozzarella. Other tasty options would be Colby-Jack, Pepper-Jack, or Italian blend.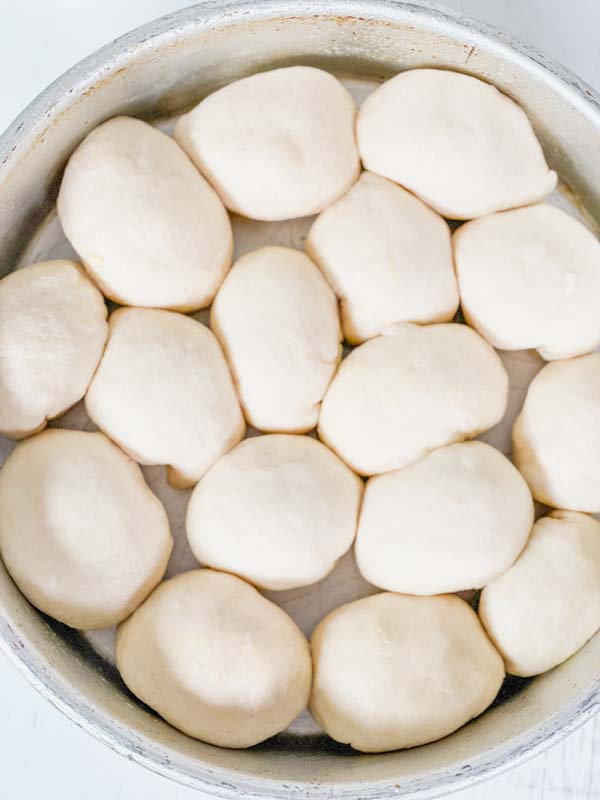 After the rolls are assembled and each stuffed, return them to your baking pan. I used a round metal cake pan for this recipe since I wanted the rolls to have that delicious "pull apart" texture. You could use a baking sheet but they won't be the same! These rolls should ideally be lined up evenly and very close, but not too close together in the baking dish. Alternately you can use a cast iron pan.
(If there is zero space in between, they may take a little longer to cook).
Cooking While Traveling:
Keep in mind you can also use a multi-cooker appliance to bake the rolls. If you have an electric pressure cooker or an air fryer with a "bake" setting, just set your time and cooking temp according to this recipe and bake. Your results may vary slightly but it's a great way to cook if you're on the road in a camper or staying in a vacation home.
My air fryer cooks quickly so I always check the food a few minutes before the cooking time is up.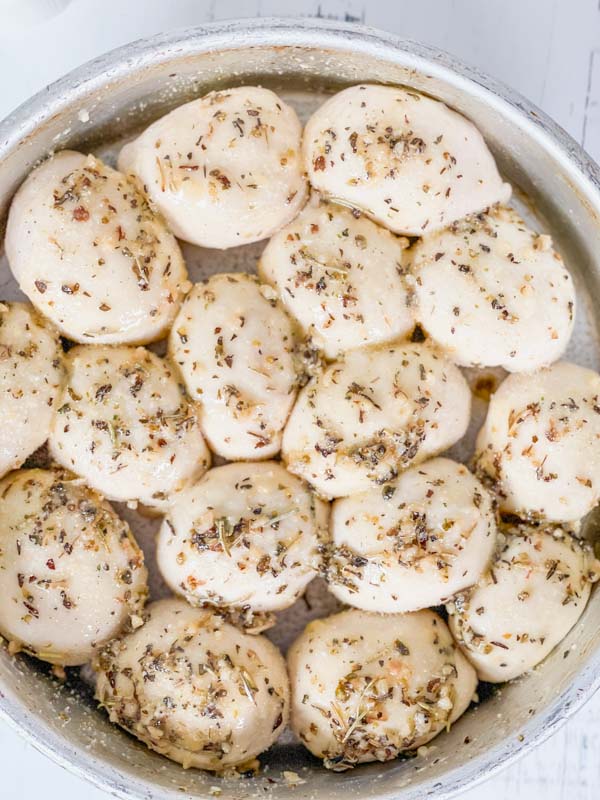 Brush your spice over the top using a pastry brush, or you can pour your butter over the tops of the rolls using a measuring cup and then just sprinkle the spices by hand. Make sure each roll gets a good coating of spice and parmesan!
Bake in the oven till the tops are nicely golden brown. Your family will hardly believe these started out as refrigerated canned biscuits!
Substitutions and More:
As far as substitutions go, you can also use refrigerated bread dough, uncooked and thawed rolls (like Sister Schubert's or Rhodes) or even make your own dough. If you do choose to substitute for the Grands, please keep in mind we have not tested any of those substitutes so your results and the cooking time may vary quite a bit! You also need to make sure you can easily stuff your dough with the cheese!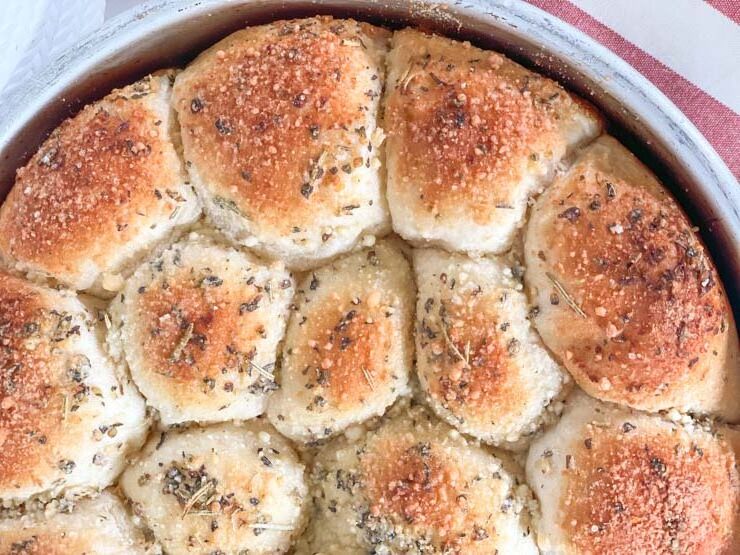 How to Serve:
You can add these Garlic Bread Homemade Rolls to pasta, or our Easy Grilled Pizza, Slow Cooker Tuscan Tortellini Soup, or even traditional dishes like our Dutch Oven Pot Roast! You should also try our Olive Garden Chicken Pasta.
Yield: 16
Homemade Cheese Stuffed Garlic Rolls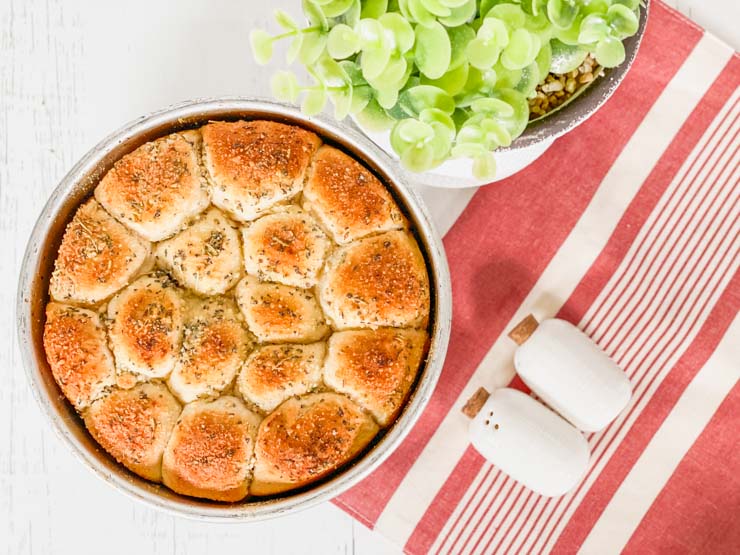 Take those canned, refrigerated biscuits to the next level with this Cheese Stuffed Garlic Rolls Recipe!
Ingredients
2 cans Grands biscuits cut in 1/2
1 tablespoon Italian Seasoning
About 1 cup Mozzarella Cheese
1/4 cup Grated Parmesan
2-4 Tablespoons Melted Butter
Instructions
Preheat oven to 375.
On a cutting board, cut the Grands biscuits in half. You can use 2 cans of the larger biscuits. Make sure they are original flavored or buttermilk.
Prepare a greased cake pan, baking pan, or cast iron pan.
Flatten each half of a biscuit. Fill center with shredded Mozzarella.
Close the biscuit dough up around the cheese and roll gently into a ball. Place inside the baking dish, touching other rolls lightly.
In a separate microwave safe bowl, add butter, garlic, Italian seasoning. Melt butter for around 30 seconds and then brush or rub over the tops of the rolls.
Sprinkle generously with Parmesan cheese
Bake at 375 for 10-13 minutes.
Notes
Campground alternative: You can bake these on over a campfire by using a cast iron pan. Follow recipe instructions and Cover with a lid. Set a few coals on top, and cook over the fire or on a medium heat grill until rolls are no longer doughy inside. About 20-25 minutes.
Allow pan to cool or remove with a spatula.
Nutrition Information
Yield
6
Serving Size
1
Amount Per Serving
Calories

202
Total Fat

15g
Saturated Fat

9g
Trans Fat

1g
Unsaturated Fat

5g
Cholesterol

39mg
Sodium

442mg
Carbohydrates

10g
Fiber

0g
Sugar

2g
Protein

7g
Garlic Bread/Homemade rolls recipe here: