Campfire Potato Nachos Recipe & Oven Recipe
Looking for a fun and unique recipe to make around the campfire? Then look no further than this delicious Campfire Potato Nachos Recipe! Made with crispy potatoes, gooey cheese, and all your favorite toppings, these nachos are sure to be a hit with everyone. So gather around the fire and get ready to enjoy some truly camping comfort food!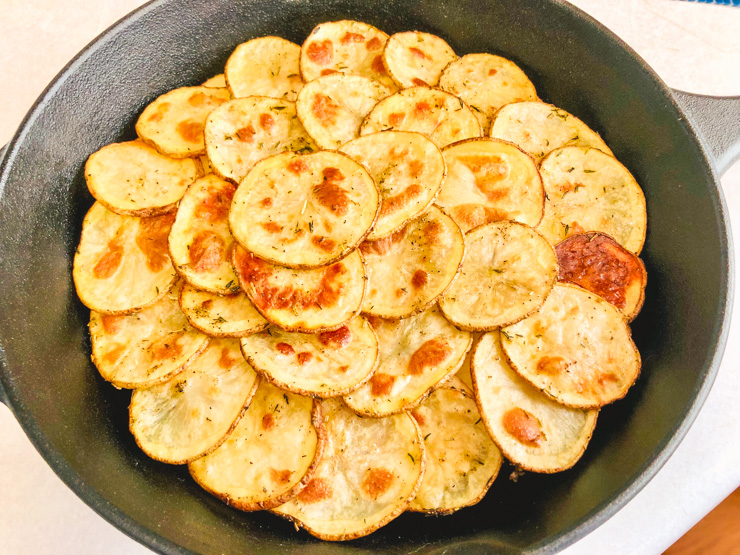 We were going to be camping at Alabaster Caverns over St Patrick's Day, so I wanted a fun recipe to make to celebrate. Irish nachos (also known as loaded baked potato nachos) seemed like the perfect option and it was completely different than traditional nachos! It's a great way to use leftover potatoes.
What Are Potato Nachos? If these sound confusing, they are not nacho chips with potatoes added! That would be a little odd. The nachos are potato slices themselves! They are so good and much more hearty than traditional nachos with cheese and meat!
I started by precooking some sliced potatoes in the oven. You could also do this over the campfire, but I find it much easier to do ahead of time and just bring with me. This camping trip was a short one from where we live. If you are on a longer camping trip, you can always cook the potatoes ahead in the Instant Pot or even an air fryer. Whatever appliance you have on hand. Once the potatoes were crispy, I loaded them up with all my favorite potato toppings: cheddar cheese, sour cream, black pepper, green onions, and crispy bacon.
These nachos were SO good! The potatoes were the perfect base for all the toppings, and the cheese was gooey and delicious. I will definitely be making these again, both at home and when we camp.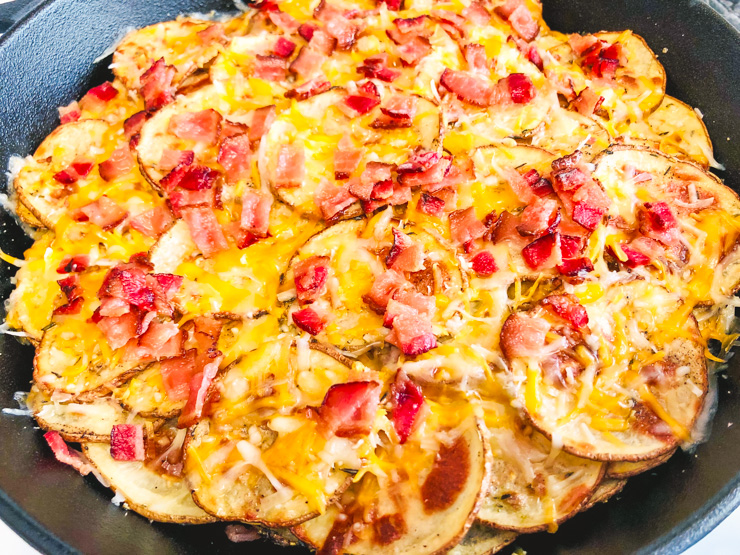 Campfire Directions
If you want to cook these Potato Nachos on a campfire, make sure your campfire is completely hot and the coals are thoroughly ready. Slice potatoes very thin, probably 1/8″ thickness at most! A food slicer or mandolin is great for prepping these.
Using a large sheet pan or cast iron pan, line up potato slices in a single layer. Lightly coat with olive oil, salt and pepper and cover with the baking sheet or sheet pan with foil. Cover well, to ensure all the heat remains under the foil. Cook 10 minutes and check. If they are browning and crispy, go ahead and flip the slices over. Repeat until potato slices are tender and crispy. It will take longer for these to cook over a campfire than in the oven or in an air fryer. Remember, the thinner the slices, the faster these will cook! Grease the pan with nonstick spray well so the potato slices and melted cheese do not overly stick to the pan.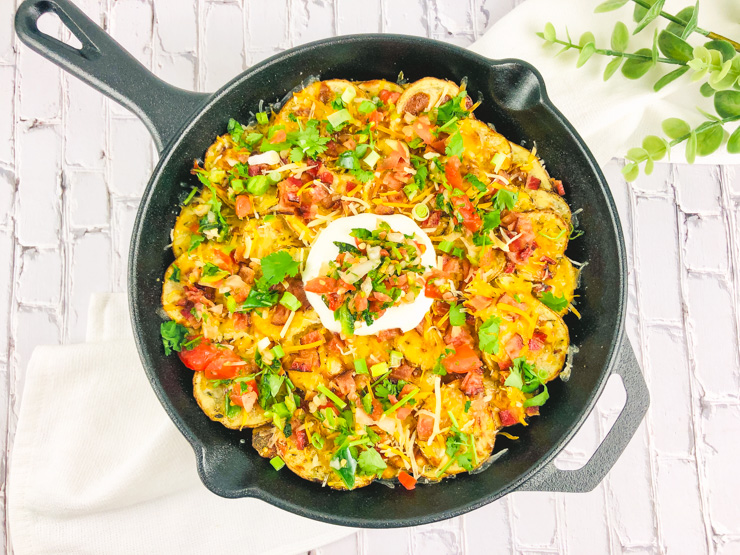 Oven Directions for Home:
Most of you may be saying right now, these look great, but I'm not out camping! No worries! If you're not camping, or don't have a cast iron skillet, you can easily make this Campfire Potato Nachos Recipe at home. Simply bake the potatoes in the oven at 450 degrees for about 20 minutes until crispy. Flip over and cook an additional 20 minutes. Then add your toppings and place in your cast iron pan, baking for an additional 5 minutes. So easy, and so delicious! If you don't have cast iron, a stoneware dish or even pie plate works just as well.
If you need healthy nachos and don't eat many russet potatoes or regular potatoes, you can also try this recipe with sweet potato slices. Use all the rest of the main ingredients, perhaps adding additional salt and pepper to make it a bit more savory. If you're in a hurry, this can also be made with frozen potato wedges from the store. Pre-cook and add your toppings for a hearty snack for after school. This one is great for older kids and teens since they seem to need an extra meal half way through the afternoon sometimes!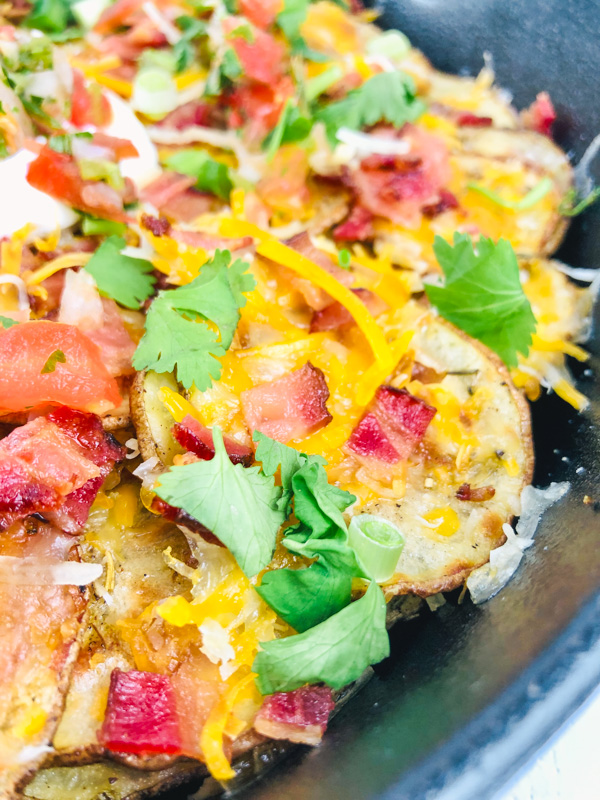 Make this Campfire Potato NachosRecipe Your Own
Make this recipe your own with your favorite nacho toppings. Some of our favorites include green onions, tomatoes, red onions, red pepper, black beans and black olives. You could also sprinkle on some garlic powder or or chili powder. Be creative, and have fun with it! You could even try making sweet potato nachos with sweet potato chips. You could also substitute sliced potatoes with French fries or tortilla chips if you want regular nachos.
Other ideas for creative potato nacho snacks:
Sea salt
Sour cream or plain unsweetened Greek Yogurt
Monterey Jack or Pepper Jack Cheese
Sprinkle cheese such as cotija
Corn and Chile powder, and lime
Any other taco meat you have pre-cooked such as shredded beef or pork
This Campfire Potato Nachos Recipe is the perfect appetizer for any occasion! Whether it's the big game or for St. Patrick's day. They're easy to make, and can be customized with your favorite toppings. So gather your friends and whole family around the campfire, and enjoy some delicious loaded potato nachos! This is one you'll want to put add to your recipe card. So how will you make this potato nachos recipe? Tell us in the comments.
Note: I do add affiliate links to my post in which I make a small commission from to help pay my bills and feed my family.
Yield: 2
Irish Potato Nachos (Campfire Potato Nachos)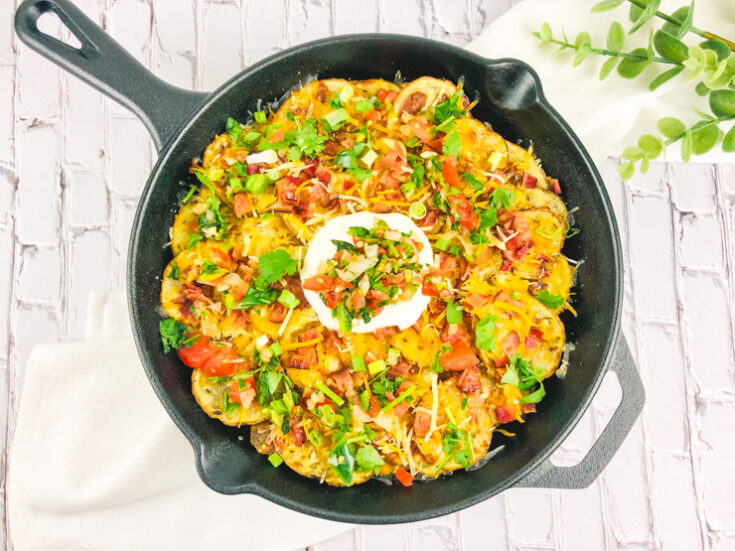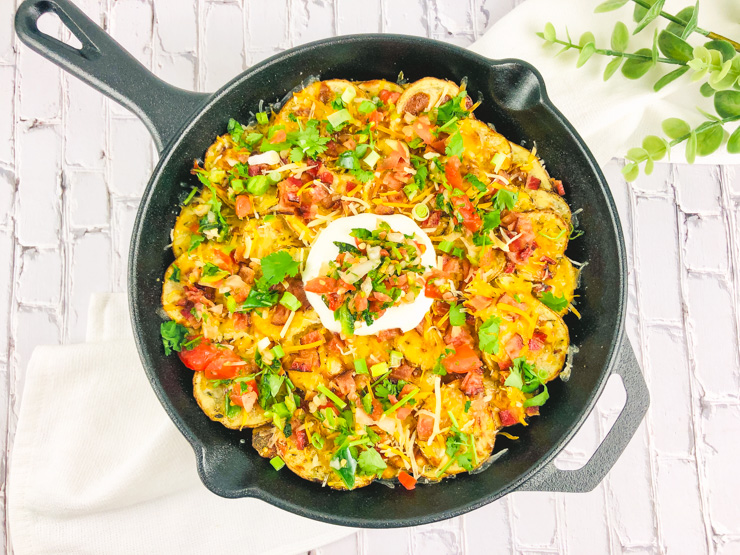 Try this recipe at the campfire or for an afternoon snack! The nachos are actually very thin potato slices, so it's a great way to use up extra potatoes!
Additional Time
5 minutes
Total Time
1 hour
5 minutes
Ingredients
1 ½ lbs russet potatoes, skin on, sliced ¼ inch thick at most.
2 tablespoons olive oil
½ teaspoon rosemary
½ teaspoon thyme
Salt and pepper to taste
1 cup shredded cheddar cheese
5 slices of bacon, cooked and chopped into bits
¼ cup sour cream
¼ cup Pico de Gallo
2 green onions, chopped
2-4 Tablespoons fresh cilantro, chopped
Instructions
Preheat oven to 450 degrees and spray baking sheet w/ nonstick spray.
Slice potatoes very thin. A food slicer or mandolin works well.
Toss sliced potatoes in olive oil, rosemary, thyme, salt & pepper to coat.
Place potatoes single layer on sheet and bake for 20 minutes then flip and bake an additional 20 minutes.
Place cooked potatoes in a cast iron skillet in a round, overlapping pattern
Sprinkle on bacon & cheese and cook for 3-4 minutes until cheese is melted
Garnish with sour cream, Pico de Gallo, green onion, and cilantro and any other ingredients you prefer.
Serve and enjoy!
Notes
Additional/Optional Toppings for more flavor:
Sea salt
Sour cream or plain unsweetened Greek Yogurt
Monterey Jack or Pepper Jack Cheese
Sprinkle cheese such as cotija
Corn and Chile powder, and lime
Any other taco meat you have pre-cooked such as shredded beef or pork
Nutrition Information
Yield
4
Serving Size
1
Amount Per Serving
Calories

440
Total Fat

24g
Saturated Fat

10g
Trans Fat

0g
Unsaturated Fat

13g
Cholesterol

51mg
Sodium

562mg
Carbohydrates

40g
Fiber

4g
Sugar

3g
Protein

16g
FOLLOW US ON SOCIAL MEDIA
Don't forget to invite your friend's to our Facebook groups! We would also love to see your vacation pictures!
See more campfire recipes here!
Take Our Camping & RVing Like a Boss Course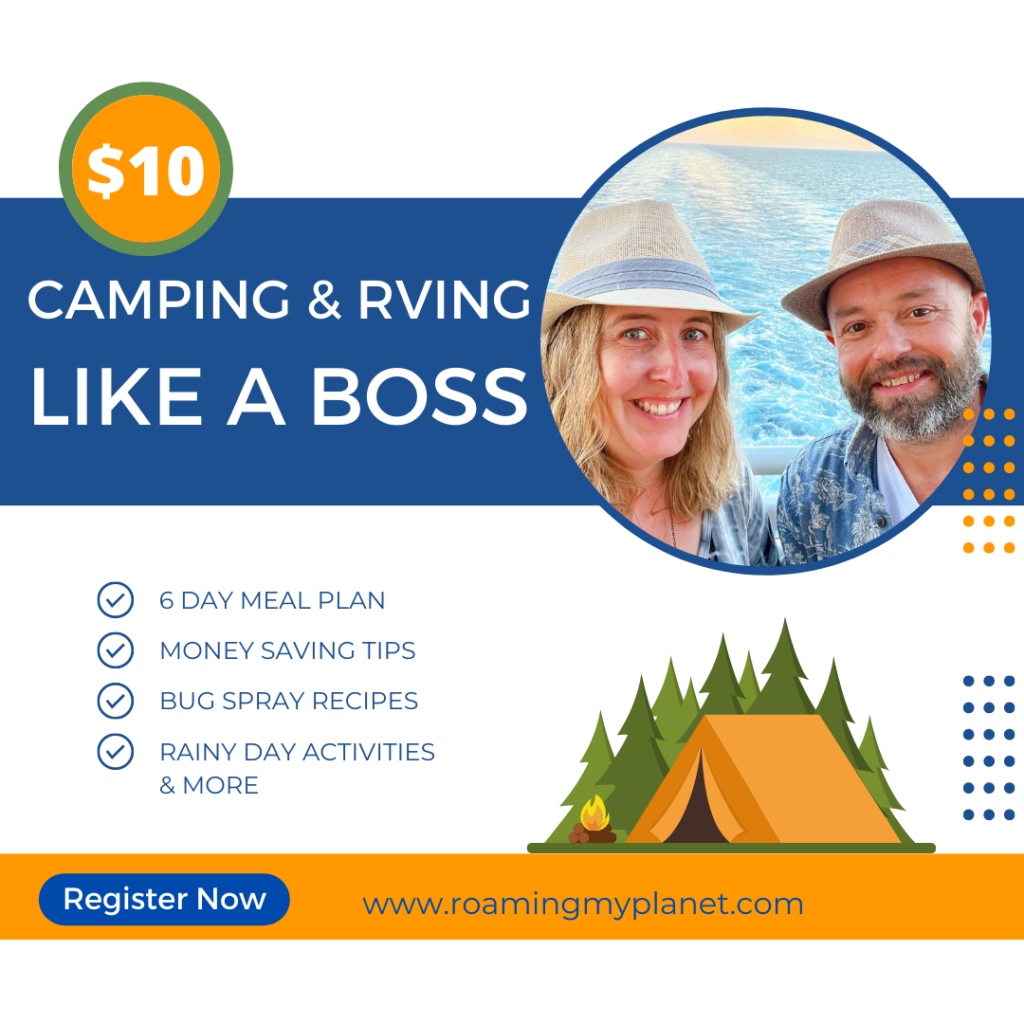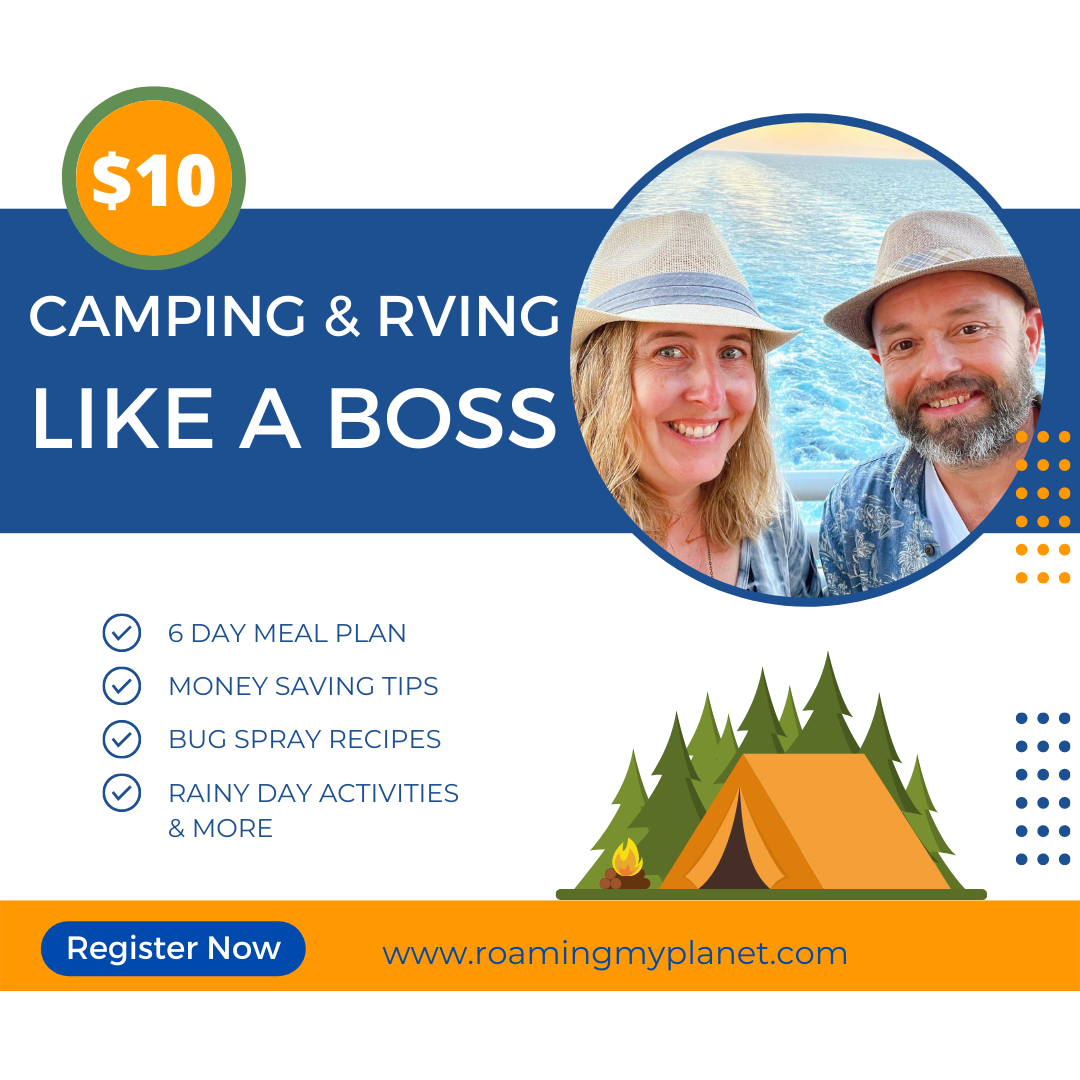 Looking to get the most out of your camping or RVing experience? Then this course is for you! Camping & Rving Like a Boss offers tips and tricks that will help you save time and money, so that you can enjoy your trip to the fullest. Join our Course.
My Favorite camping Supplies
Awesome Camping Articles You Should Check Out