Vegas for Couples: More than a Weekend Getaway
If you're looking for a fun and interesting vacation spot or a romantic getaway, look no further than Las Vegas. While the city is known for its casinos and gambling, there's actually a lot more to do in sin city than just gamble. In fact, there are plenty of activities and attractions perfect for couples. The bright lights of the strip of fabulous Las Vegas will have you memorized. If you're planning a Las Vegas trip, be sure to check out some of our Vegas for couples ideas to add to your Las Vegas itinerary.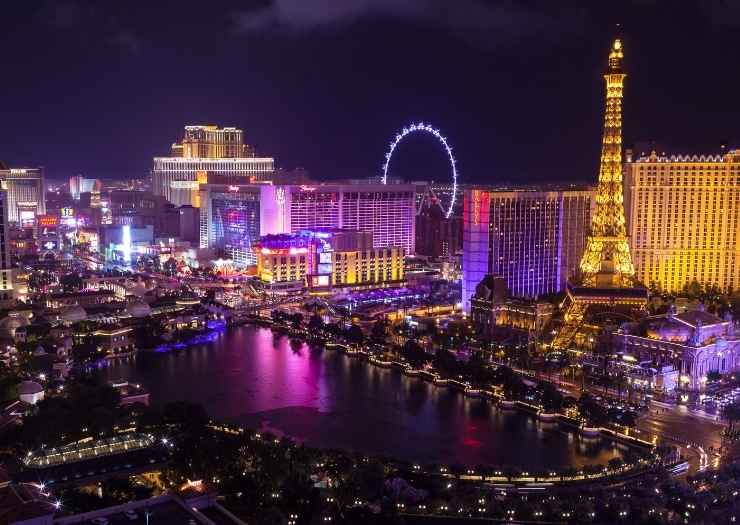 Outdoor Activities
Red Rock Canyon National Conservation Area –
There are plenty of great outdoor activities to enjoy in Vegas. For starters, you can visit the Red Rock Canyon National Conservation Area, which is just a short drive from the Las Vegas strip. There, you'll find stunning red rock formations and plenty of hiking and biking trails. Or if you are looking for something more adventurous, you can go mountain biking, rock climbing, or even caving! Exploring the outdoors is one of the best things you can do if your trip is in the spring or early fall.
Hoover Dam –
Another great option is to visit the Hoover Dam. This iconic landmark is a must-see for any visitor to Vegas. You can take a guided tour of the dam, or just wander around and take in the sights and sounds. You can visit any time during the warmer months. Be aware that the desert surrounding the dam becomes very hot (obviously) in the heat of the summer, so plan accordingly for your trip.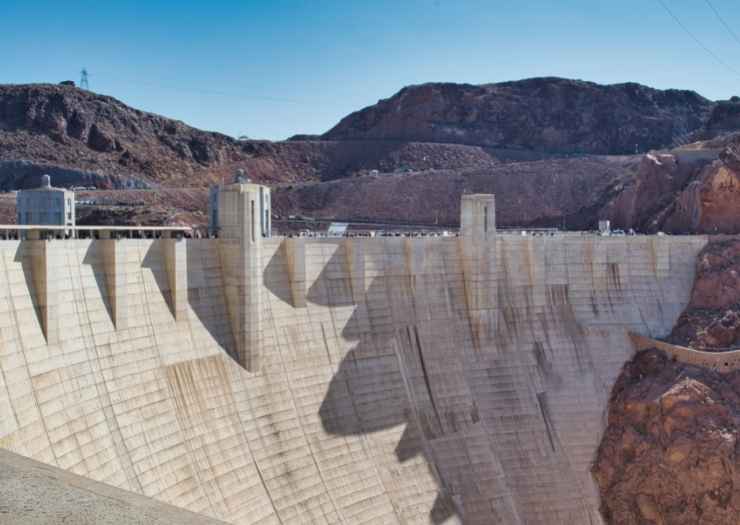 Lake Mead –
Another great option for outdoor activities is to visit Lake Mead. This massive man-made lake is a great place to go swimming, fishing, or just enjoy the beautiful views.
Grand Canyon –
The Grand Canyon is another great option for couples who want to enjoy the outdoors. You can take a scenic drive to the canyon, or even take a helicopter tour for an aerial view. Horseback riding is a great way to see the Grand Canyon. There are many companies that offer tours, and it is a popular activity for both locals and visitors. 
We believe visiting the Grand Canyon is one of the best ways to add some variety to your trip. Often with couples, one person will be more into the outdoors and the other will want to visit city attractions. If you're heading to Vegas and enjoying the city, seeing the Grand Canyon will balance out the trip and add some outdoor fun to your itinerary. Not sure about the Grand Canyon to add on to a trip? That's ok! There are more national parks on our list!
Death Valley National Park –
Are you looking for things to do in Death Valley National Park? This popular park in the Nevada desert is located just outside of Las Vegas and offers a variety of activities for visitors. Crossing the Mojave Desert from California into Nevada, visitors are greeted by a huge sign that reads "Welcome to Death Valley – Drive Carefully." And with good reason. The weather here has gotten as hot as 130 degrees Fahrenheit. The best time to head to Death Valley is during the months around the summer. Consider it if you need a destination where it's still cold much of the year. Death Valley is at a very low elevation, so while much of the western areas are still covered with snow, in the late spring, Death Valley will already be warming up. Keep in mind with all deserts, it can be actually quite chilly at night. Prepare accordingly, especially if you are on a road trip and taking a camper, tent or vehicle/tent combination to camp.
Zion National Park –
Zion National Park is a beautiful place to visit, and there are plenty of things to do when you're there. With its unique red rock formations and beautiful hiking trails to hiking in the canyons, Zion is a must-see for any nature lover. It's Utah's first national park, and ideal if you're wanting to stay in the northern states. If you're not familiar with Zion National Park, it offers easy trails as well as a shuttle service. There are three campgrounds, of which Watchman Campground is the only one to be open year around. These can be reserved for a romantic night for couples, a great experience if you are the outdoorsy type! Reserve your campsite on recreation.gov, and keep in mind they fill up almost every night for most of the year. Plan ahead for this awesome destination!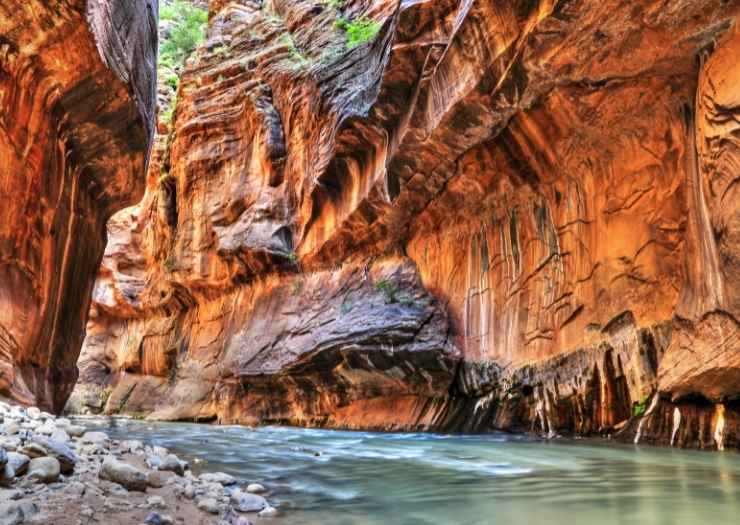 Romantic Things to Do in Las Vegas
Las Vegas is a city (the city of love ) that is known for its nonstop action and endless nightlife. However, there are also plenty of romantic things to do in Las Vegas if you know where to look. Whether you're just wanting a date night or a romantic experience that you will never forget. Las Vegas has something to offer everyone. Here are some of the best romantic things to do in Las Vegas.
Take a Gondola Ride at the Venetian –
What could be more romantic than taking a romantic gondola ride through the canals of Venice? At the Venetian, you can do just that! Hop aboard one of their authentic gondolas and enjoy a leisurely ride through the property while you spend some quality time together. The Gondola rides are available every day of the week and actually go until 11pm or 12 am. So if you're looking for one last thing to do before turning in, this is the perfect spot to unwind. You can book your trip at the Venetian Hotel. Each gondola seats 4 people, so you may be paired with another couple–especially if during peak hours. Remember to kiss under the bridge for good luck!
Couples Massage –
Enjoy a Couples Massage: A couples massage is the perfect way to relax and rejuvenate together. There are many spas in Las Vegas that offer this service, so you can find one that's convenient for you. Check out the Canyon Ranch Spa. If you are staying in a larger hotel, be sure to call your concierge. You may be able to book your spa session or massage right from your hotel room!
Helicopter Ride –
Take a Helicopter Ride over the Strip: If you want to get an amazing view of Las Vegas, there's no better way than by taking a romantic helicopter tour over the city. You'll see all the famous landmarks and casinos from a whole new perspective!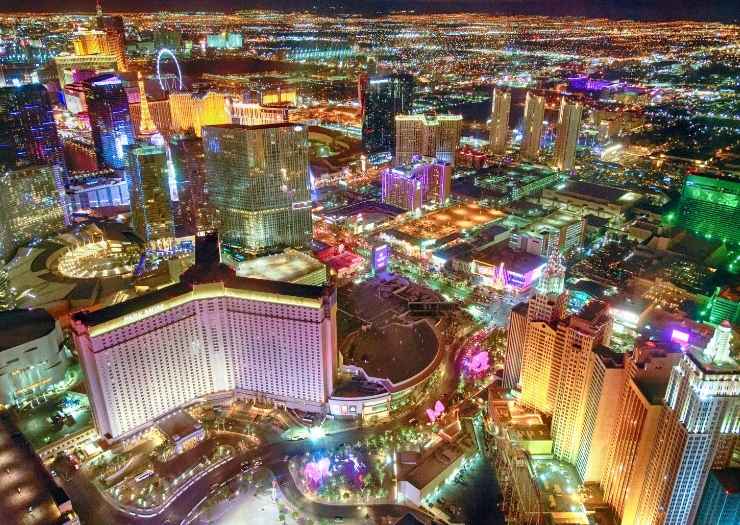 Vegas Balloon Rides –
If you're looking for a unique and romantic way to celebrate your love, consider taking a hot air balloon ride in Las Vegas. There's nothing quite like floating above the city skyline with the one you love. Plus, it's a great way to get a bird's eye view of all the sights Las Vegas has to offer.
Get Married –
Get Married in Las Vegas: If you're looking for a unique and memorable way to get married, why not do it in Las Vegas? There are plenty of chapels and wedding venues to choose from, so you can find one that's perfect for you. Even if you're already married, it can be so much fun to plan a vow renewal or just a fun photo session at one of the many chapels.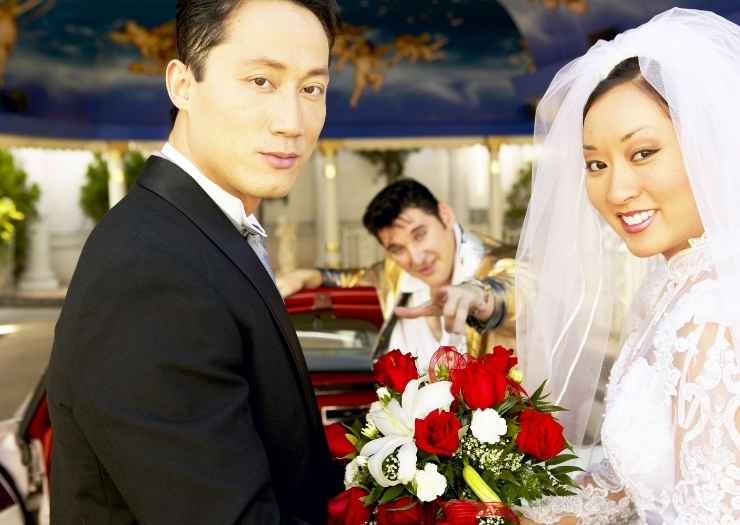 Pahrump Valley Winery –
Visitors to Las Vegas looking for a unique wine-tasting experience should head to Pahrump Valley Winery, located just outside of the city. This family-owned and operated winery offers tastings of its award-winning wines, along with tours of the vineyards and production facilities. Visitors can also purchase bottles of wine or other souvenirs in the on-site store. This is one you will want to book ahead of time, since wine tasting tours are popular and seating is limited to small groups at most wineries.
Eat Your Way Through Vegas
Of course, no trip to Vegas would be complete without trying some of the delicious food. There are plenty of great restaurants in Vegas to have a romantic meal that offer everything from fine dining to fast food. No matter what your budget or tastes, you're sure to find something to your liking. We've listed a few of the best restaurants below– be sure to call ahead and make reservations accordingly if it's a must-try on your list! If you can't get in to a trendy, romantic setting, don't fret. Just ask your hotel concierge for a few recommendations. We've always had the best advice! You can't go wrong with local recommendations.
Have Dinner at Eiffel Tower Restaurant –
If you want to enjoy some truly amazing views of Las Vegas with your date, then head to the Eiffel Tower Restaurant at Paris Las Vegas. Not only will you get to enjoy some delicious French food, you will be fall in love with the view of the Las Vegas Strip.
The Wicked Spoon at the Cosmopolitan –
This buffet offers up an amazing selection of dishes from all over the world, and is perfect for those who want to try a little bit of everything.
Bouchon at the Venetian – This wonderful restaurant is located inside the Venetian Resort Hotel Casino and offers an amazing array of French-inspired cuisine. From starters like onion soup and escargot to main courses such as roasted chicken and beef tenderloin, there is something on the menu for everyone at Bouchon. And don't forget dessert – the creme brulee is a must-try! 
Gordon Ramsay Hell's Kitchen at Caesar's Palace –
This unique and popular restaurant offers a culinary adventure straight from one of the most famous kitchens on television. With fiery dishes and challenging tasks, guests can feel like they are right in the heart of the action.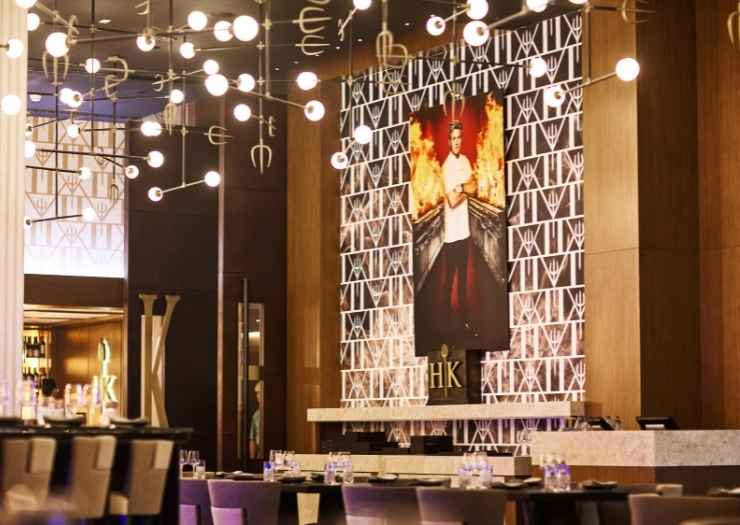 Las Vegas Attractions
Las Vegas is home to some of the most exciting and thrilling attractions in the world. From roller coasters to haunted houses, there's something for everyone. After all is been called the entertainment capital of the world .
Thrilling Rides –

Ride the New York, New York Roller Coaster: This heart-pounding coaster will have you racing through the streets of New York City. Be sure to hang on tight! Take a Spin on The High Roller: At 550 feet tall, The High Roller is the tallest observation wheel in the world. Take a ride and enjoy stunning 360-degree views of Las Vegas.
Fountains of Bellagio –
The world-famous fountains of Bellagio in Las Vegas are a must-see for any traveler. These spectacular fountains dance to music and light up the night sky, making them a truly romantic sight. The bellagio fountains put on a show every 30mins from 3pm -7pm Monday through Friday and every 15 mins from 7pm -midnight. On weekends and holidays, the fountains display their magic every 30 minutes from noon to 7:00 PM and every 15 minutes from 7:00 PM to midnight.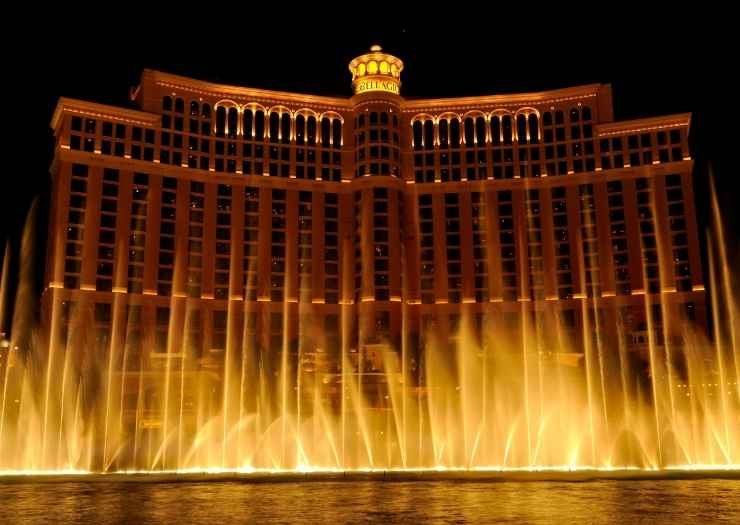 Madame Tussauds –
If you're looking for some fun things to do in Las Vegas, Madame Tussauds should definitely be on your list. This attraction is home to dozens of incredibly lifelike wax sculptures of famous people from all over the world. You can pose for photos with celebrities, take part in interactive exhibits, and even ride a simulated roller coaster. No matter what your age, there's something sure to entertain you at Madame Tussauds.
Neon Museum –
For those who have never been to the Neon Museum in Las Vegas, it can be a bit hard to understand what it is. In short, the Neon Museum is a must-see for anyone interested in the history of Las Vegas. Here, you'll find everything from old casinos and hotels to classic neon signs. Trust us, it's worth a visit!
The Mirage Volcano-
Watch as the volcano at The Mirage erupts every night. This free show is a must-see for any traveler to Las Vegas.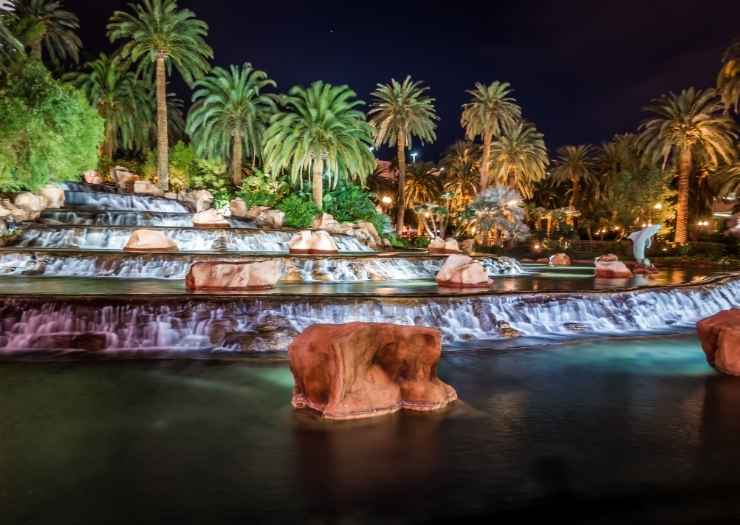 Fremont Street Experience –
One must-see attraction is the Fremont Street Experience. Located in the heart of downtown Las Vegas, this five-block pedestrian mall features a large LED canopy that displays stunning light shows. There are also plenty of restaurants, bars, and shops located along the street. 
The Beatles LOVE by Cirque du Soleil –
This show is a must-see for any fan of The Beatles. With acrobatics, dance, and multimedia effects, the show tells the story of the band's legacy through their most popular songs. It is an unforgettable experience for any music lover. There are other remarkable shows in Vegas but make sure to buy the Las Vegas show tickets beforehand to get them cheap and save time.
For Sports Lovers
Did you know know that Vegas has some AMAZING venues for many different sporting events? The Mandalay Bay Event Center is a 12,000 seat indoor arena at the Mandalay Bay Resort. When we were there they hosting a boxing match, Orlando Salido Vs Miguel Roman, there literally isn't a bad seat in the house! Not only do they host sporting events there, they also host concerts! Kid Rock, Macklemore and Sugarland are coming there to perform, just to name a few.
NHL Golden Knights
For those of you who know me, know that I LOVE hockey. Any chance I can go see a game… I'm there. So when I found out I would going to a Vegas Golden Knights game on this trip I was beyond excited! The T-Mobile Arena hosts the Golden Knights and the atmosphere during the game was GREAT! The T-Mobile arena has all the amenities you could ever want in an arena. From the suites, to the lounge area at the top of the arena, to regular seats, there is something for everyone. The T-Mobile arena also hosts UFC, boxing, concerts and much much more.
WNBA The Aces
WNBA!!! You read that right! The WNBA is coming to Vegas! The team will be called the Aces! The Aces, formally the San Antonio Stars, will begin play the 2018 season. "Selecting a new name is an important and symbolic step," said Laimbeer, a two-time WNBA Coach of the Year and four-time NBA All-Star. "Las Vegas has enthusiastically embraced us, and we're incredibly excited for this opportunity. We have a strong roster driven to succeed, which makes this name an ideal choice. 'Las Vegas Aces' is a nod to the excellence, confidence and competitive spirit of our new hometown." The Aces will play 17 home games at the Mandalay Bay Event Center.
Mandalay Bay Aquarium
When you think of Vegas you don't think aquariums. The Mandalay Bay Resort has an unbelievable aquarium. The Shark Reef Aquarium at Mandalay Bay has 14 exhibits with the largest being a 1.3 million gallon shipwreck! You can experience an almost 360 degree view when you walk through an acrylic tunnel. To be honest my favorite exhibit might have been the jellyfish exhibit. It's almost hypnotic to look at. With over 100 different species on display you are sure to find something you will love!
Cirque du Soleil
What do you get when you add Michael Jackson with Cirque du Soleil? You get a show that will blow you away! I literally didn't want it to end! The way they bring Michael's music to life is really unbelievable. Plus to top it off we were granted access backstage and given a quick lesson on how they do the wall walk with the trampoline! Let's just say that I won't be performing in a Cirque du Soleil show anytime soon.
Make sure to be on the lookout for my next post on the food in Vegas. You definitely don't want to miss that! Vegas has some AMAZING restaurants! Check out my other posts here.
More Travel Related Articles: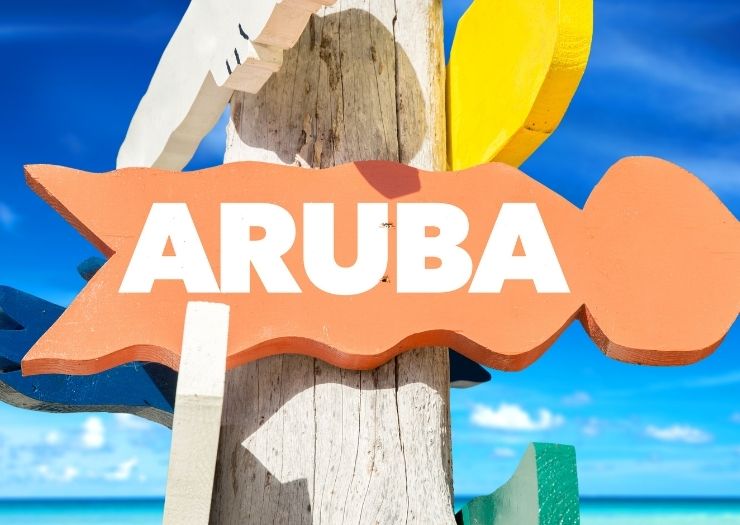 Holland America: Cruising The Rotterdam