Bacon Jam Recipe: Bacon Apple Onion Jam
If you are looking for a delicious bacon jam recipe then you have to try our Bacon Apple Onion Jam. This recipes was inspired by our trip to Yosemite National Park. We dined at 1850 Restaurant and Brewery where I ordered a grilled pork chop with a bacon apple jam on it. It was literally all I could think about, so I new I had to try and recreate it when I got home.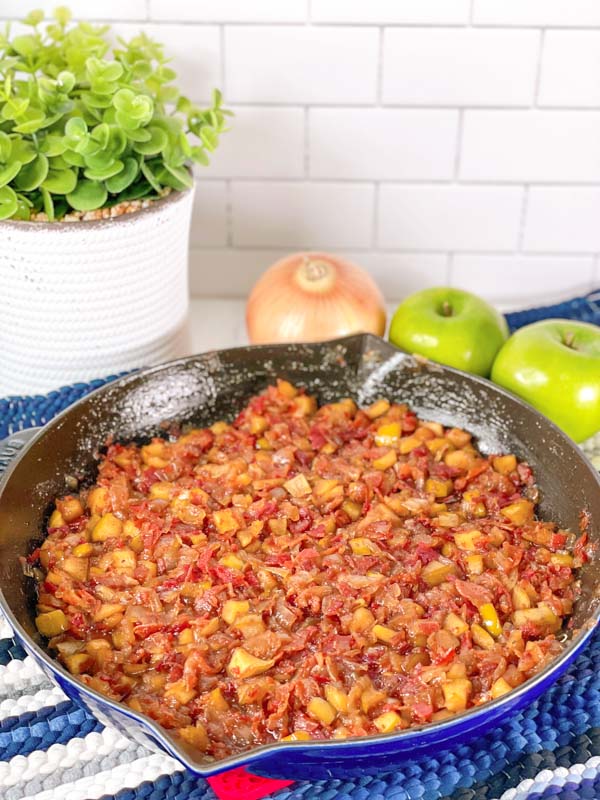 How to Enjoy Bacon Jam
Bacon Jam may not be something you've tried already– even if you're a serious bacon lover like we are. We typically add bacon to grilled meats for extra flavor. We also like to add bacon fat to recipes for proper grilling and cooking. But bacon jam? That was new to us!
Bacon Jam is great with meats that need a lot of flavoring and salt, such as pork. Pork loin and pork chops are amazing main dish cuts of meat- but they can be less than exciting without some added flavoring. This bacon jam will add enough salt and goodness to have the entire family raving. You can add it to pork prior to cooking or add it as a topping to grilled, broiled or even fried cuts of pork.
If you are grilling chicken, this Bacon Jam recipe can add tons of flavor. Just add some to the top when you are done grilling. Add to larger sized chicken drumsticks or grilled chicken breast. It's a great way to add flavor to your weeknight main dishes.
As an appetizer, you can add this to the top of a block of cream cheese for a great center piece for charcuterie or a cheese board. I just started adding savory pepper jelly to cream cheese and it's amazing! This bacon jam is exactly the same as far as texture. It's a fun savory spread to try!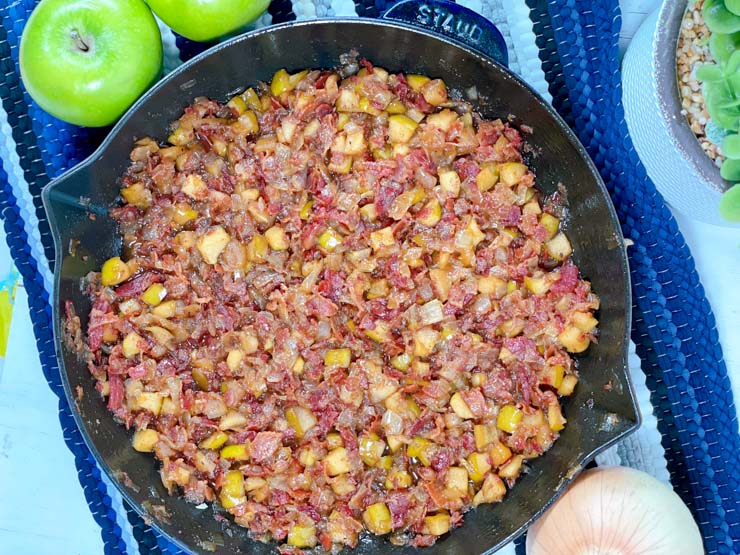 How to Make:
You will need a large skillet or dutch oven for this bacon jam recipe– a heavy pot is important. For best results ensure all ingredients are room temperature. On a cutting board , dice your onions and bacon separately into 1-inch pieces and set aside. It does not matter which type of bacon you use, so any store-bought bacon should work. I would not use an expensive or uncured cut unless that's what you specifically buy. It shouldn't matter in this jam recipe.
In a large skillet, let the bacon cook over low heat, stirring often. Save 1 to 2 tablespoons of rendered fat from the bacon and transfer bacon to a plate, set aside. Sauté your onions for a few minutes and stir often. You can add some water to the bottom of the pan to remove any stuck pieces of bacon and deglaze your pan. Add your apples and cook until those are soft, continuing to stir to keep them from becoming burned. The caramelized onions should be losing their shape and becoming sticky. Again, you can add 1-2 teaspoons of water to keep your mixture from sticking too much.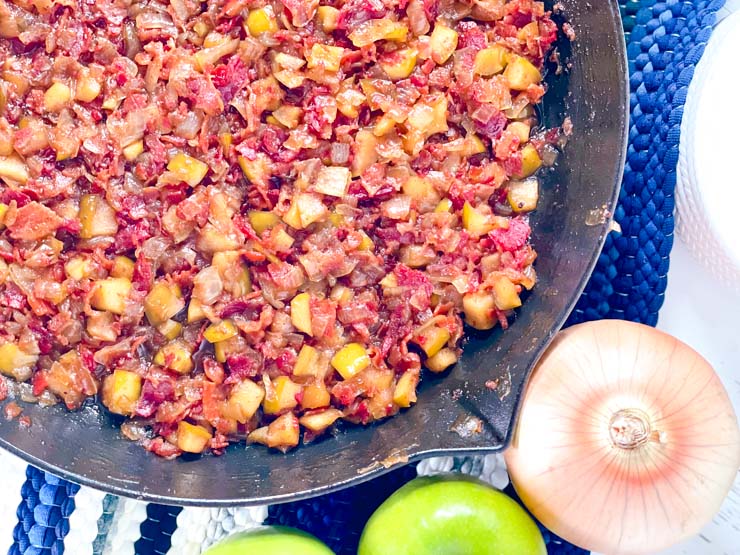 After your apples are soft, add all the other ingredients for your bacon onion jam to your heavy skillet and heat mixture to a boil. The mixture will be thick due to the maple syrup and brown sugar. This is ok! Finally, you will turn the medium heat down all the way to a low simmer. Stir occasionally with a wooden spoon –I prefer these as you can leave them right on the dish! You can add additional salt or black pepper if desired, but be sure to taste the jam first. The savory flavor of the bacon and onion will add to the rest of the jam!
You can put it in a food processor or using an immersion blender if you want a smoother consistency or very small pieces, but we like it more chunky. Some bacon jam recipes we saw online call for balsamic vinegar or apple cider vinegar. If you want to use either that's fine.
If you like peppery bacon you might try making a spicy variety of jam with peppered bacon, or adding more black pepper, cayenne pepper or even red pepper flakes.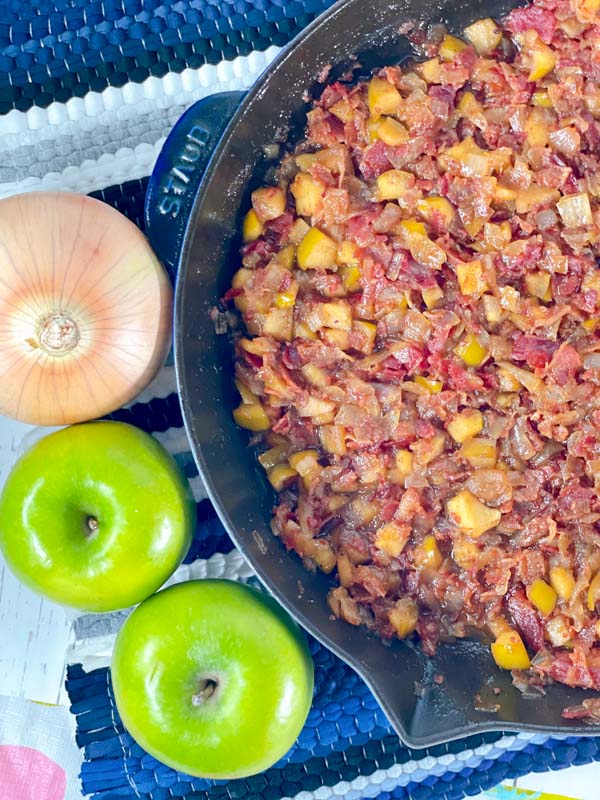 How to Serve:
You can serve this over meats, as mentioned above. For a breakfast for dinner option, it makes a great topping to a hot biscuit, waffle, or pigs in a blanket. Store in a mason jar or other airtight container and serve on your charcuterie board and flavorful cheeses such as blue cheese, smoked gruyere, and more! This homemade bacon jam may be a new must-have for your breakfast foods and snack trays if you have bacon lovers in the house. Jars of this with some ribbon would make a great gift for the holiday season or for making a gift basket.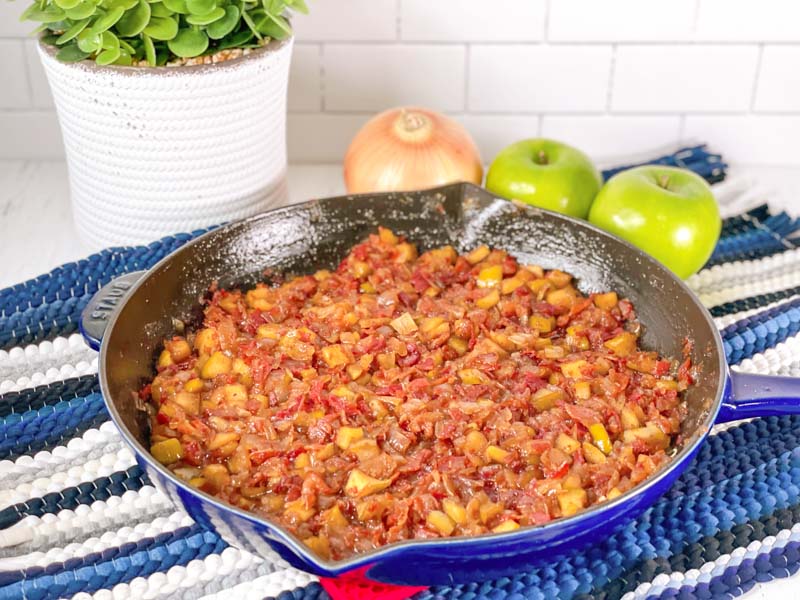 We just loved the salty bacon and jam-like consistency of this spread. I hope you can enjoy it too. If you are ready to try this easy bacon jam recipe print your recipe below, and be sure to stick around for more next level recipes we've come up with through our travels! 
JOIN OUR CAMPFIRE RECIPE GROUP!
Print Your Bacon Jam Recipe Here:
Yield: 8 servings
Bacon Jam Recipe: Bacon Apple Onion Jam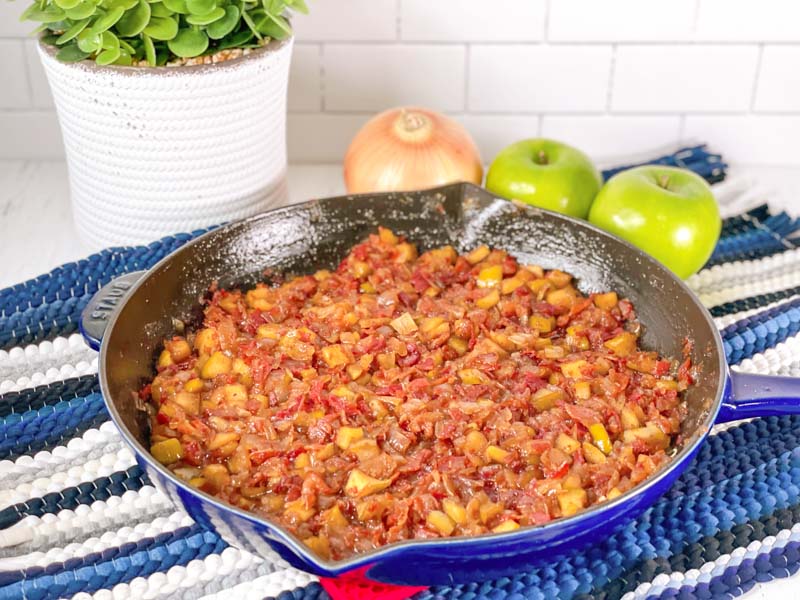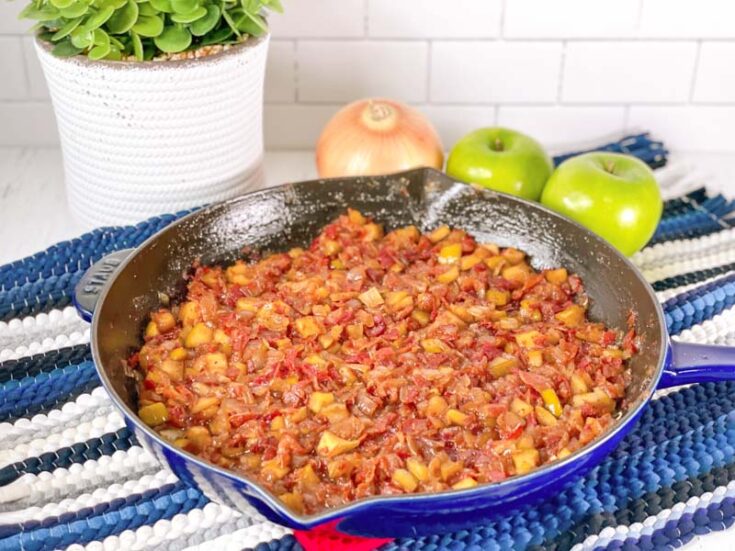 This recipe was inspired by our latest road trip to California and the small, casual eateries we found on the way. It goes with just about any main dish-- or even breakfast for dinner!
Ingredients
1 pound of bacon -cooked and crumbled
1 tablespoon of bacon grease
2 medium onions diced
2 Granny Smith apples diced
2/3 cup of apple cider vinegar
2 Tablespoons Worcester sauce
1/2 cup of brown sugar
1/4 cup real maple syrup
1/2 teaspoon cayenne pepper
2 Tablespoon balsamic vinegar
Instructions
1. In a large skillet cook bacon and set aside so it can cool. drain all but 1 Tbsp of bacon grease
2. Add onions and cook over medium-high heat until they are translucent.
3. Add Granny Smith apples and cook for about 7 or 8 minutes or until softish
4. Add all remaining ingredients including the crumbled bacon and heat to a boil
5. Turn down and simmer for about an hour. It will be caramelized and yummy
6. After it cools a little put in a food processor until it gets to your desired consistency or you can leave it chunky and call it rustic!
Nutrition Information
Yield
8
Serving Size
1
Amount Per Serving
Calories

386
Total Fat

22g
Saturated Fat

7g
Trans Fat

0g
Unsaturated Fat

13g
Cholesterol

58mg
Sodium

983mg
Carbohydrates

26g
Fiber

1g
Sugar

22g
Protein

20g
See more from Roaming My Planet Here:
Enjoy this recipe along with some of our other travel inspired recipes from Roaming My Planet: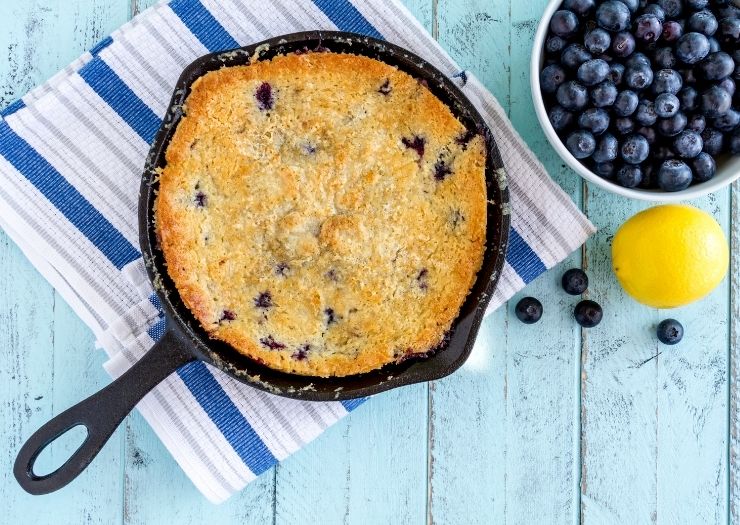 Awesome Camping Articles You Should Check Out