Holland America Pumpkin French Toast Recipe
One of the best parts about fall is all of the amazing seasonal food. From pumpkin spice lattes to Thanksgiving dinner, there are so many delicious things to enjoy. If you're looking for a unique and tasty breakfast option to make at home, look no further than this recipe for Holland America Line's signature Pumpkin French Toast. This dish is perfect for a cozy fall morning or an elegant brunch. Serve it with some fresh fruit, candied pecans, and a drizzle of maple syrup, and you'll be in for a real treat!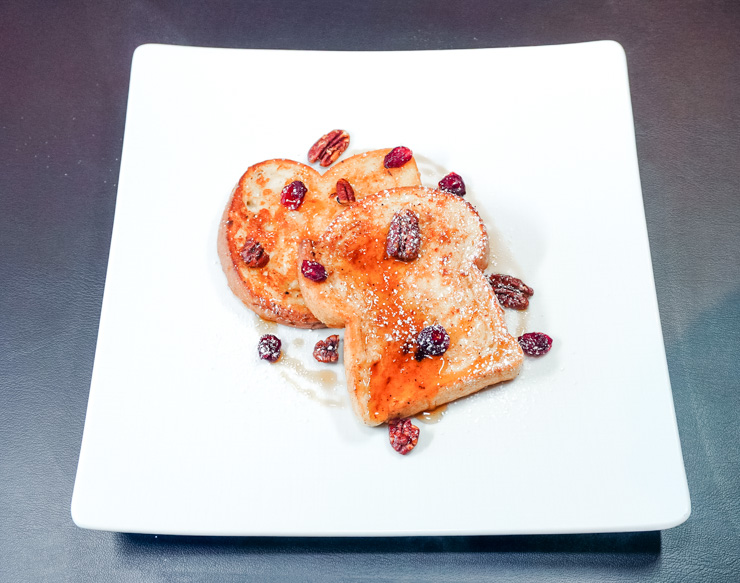 Thanksgiving Breakfast Ideas
We love a good travel inspired recipe– it brings back great memories of the meals enjoyed during our adventures, and of course brings up the conversation of where to next?! As soon as I saw this Holland America recipe, I knew I had to share. Their food is fabulous and of course the atmosphere on a cruise ship is fun and exciting. Great memories! This recipe is one of the recipes they will be serving on the cruise during Thanksgiving but now you can make it at home.
This simple French Toast recipe won't take all your oven space, time, or energy on Thanksgiving morning. On the busiest cooking day of the year, it's somewhat of a dilemma sometimes to figure out breakfast. Everyone in the family smells the scents of all the Thanksgiving sides– and of course they end up hovering in the kitchen! Not the most convenient thing sometimes! So, to keep everyone full but not overly stuffed, we choose to make a small breakfast that packs some energy, to give us a good start for a busy day. French Toast is just the thing!
What You Need for Pumpkin French Toast
If you are making a last minute trip to the store, now is the time to add Brioche Bread to the shopping list. Over the years I've followed many cooking hacks, advice, and chef recommendations. One I've seen over and over is to use Brioche Bread any time you are making French Toast. It's THE bread you want to soak up all those delicious ingredients you're going to add in there. Brioche has a sturdy composition, unlike store-bought white or wheat bread loaf. It has a mild flavor, so your other ingredients such as Maple Syrup or Cinnamon will really shine.
Now, if you are not planning on returning to the store right before Thanksgiving, that's OK. You can definitely make this Pumpkin French Toast with whatever bread you have on hand. However, its a must try just as the recipe is written!
For the full recipe of 20 slices, you will also need 8 eggs and pumpkin spice (you can make your own or use a good quality Pumpkin Pie Spice from the store). Additionally, granulated sugar, whole milk, and honey. This recipe requires a lot of whole milk, but with using Brioche Bread it will be soaked up generously by the bread. If using a regular store bought loaf, you can decrease the milk.
Holland America Pumpkin French Toast- Print Recipe Below
Thanks for reading our Pumpkin French Toast recommendation! Thank you, Holland America for sharing this delicious recipe. Even if you don't have time to fit this one in for Thanksgiving morning, you can enjoy it on Christmas Eve, Christmas Morning, or as a New Year's Day brunch!
Yield: 20 slices
Holland America Pumpkin French toast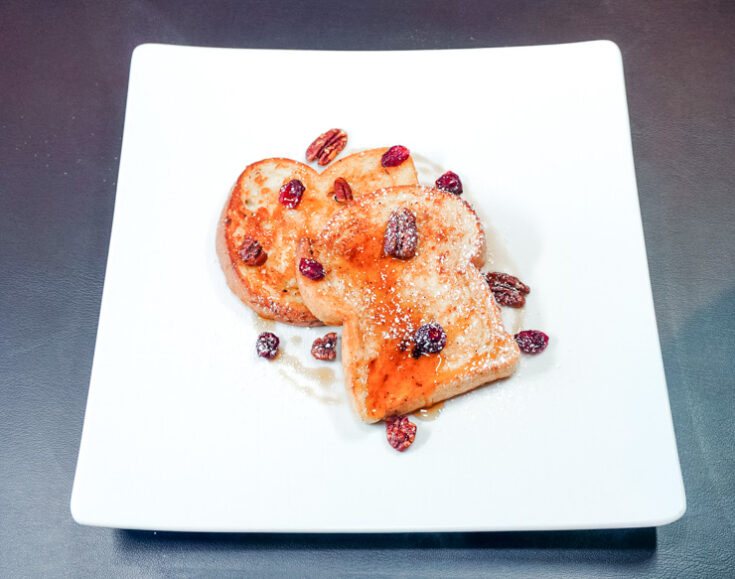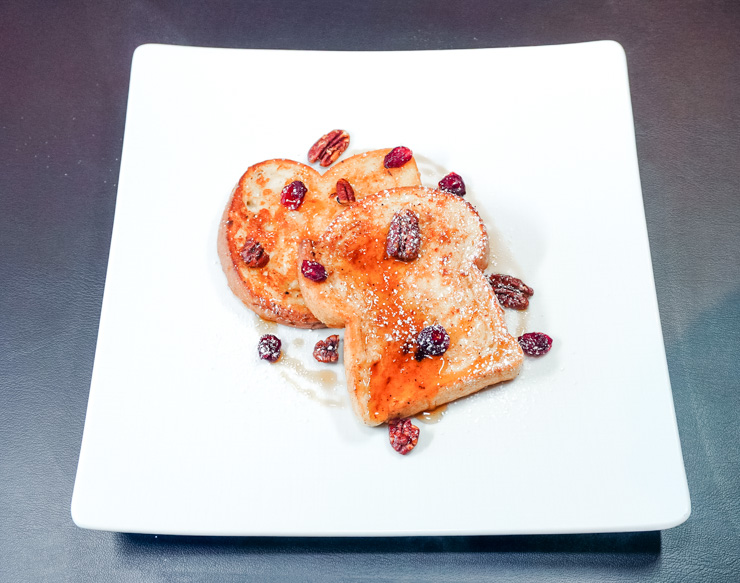 Holland America Pumpkin French Toast Recipe
Ingredients
20 Slices Brioche Bread
8 Eggs
3 2/3 Teaspoon Pumpkin Spice
2/3 Cup Granulated Sugar
4 1/2 cups Whole Milk
1/3 cup Honey
Garnish:
1 Tablespoon Powdered Sugar
1 1/3 cups unsalted Butter, Melted
2/3 Cup Maple Syrup, Warmed
1/2 cup Cinnamon Butter (whipped, prepared)
1/2 Cup Candied Pecans
3/4 Cup Dried Cranberries
Cinnamon Butter:
1/2 cup Unsalted Butter
1/8 teaspoon table salt
1/8 cup powdered sugar (confectioners sugar)
1 Tablespoon Honey
1/3 teaspoon Vanilla
1 1/2 teaspoons Cinnamon
Instructions
Heat grill.
Mix all ingredients for the Pumpkin Spice French Toast Mixture using wire whisk.
Dip the sliced bread in Pumpkin Spice French Toast Mixture.
Butter the grill and lay the sliced bread on the buttered grill.
Allow to cook and then turn over until cooked throughout.
Serve on a large white plate.
Dust the bread with powdered sugar and drizzle with maple syrup.
Garnish with candied pecans and cranberries.
In a separate bowl, beat all Cinnamon Butter ingredients together until smooth.
Serve with cinnamon butter on the side, either in a serving dish such as a ramikin or in a small amount per plate.
Nutrition Information
Yield
10
Serving Size
1
Amount Per Serving
Calories

1238
Total Fat

75g
Saturated Fat

43g
Trans Fat

1g
Unsaturated Fat

27g
Cholesterol

462mg
Sodium

798mg
Carbohydrates

124g
Fiber

4g
Sugar

69g
Protein

22g
Awesome Oceanside Vacations
Check out some of these awesome oceanside vacation ideas.
FOLLOW US ON SOCIAL MEDIA
Don't forget to invite your friend's to our Facebook groups! We would also love to see your vacation pictures!