Cast Iron Skillet Blueberry Cobbler
You can make Cast Iron Skillet Blueberry Cobbler at home in the kitchen or at the campground! See this easy recipe from scratch!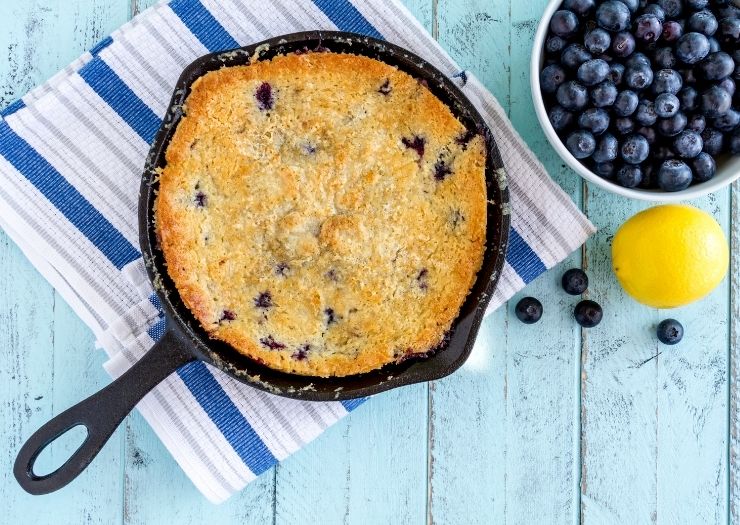 As I mentioned in another post, Cast Iron cookware is great for camping. It travels well since it's not breakable. And, if you're cooking over coals or a campfire it's basically the best type of cookware since it holds in heat and also distributes heat more evenly across the food. Something essential when cooking over uneven heat!
Although most cobblers are baked in the oven, you can use a Dutch Oven or any skillet with a lid to cook this at the campground. The reason you do need a lid is that you are going to actually cover the dish as it bakes, and (with campfire tongs) set several hot coals on top of the lid.
This creates even heating and works similar to how your oven would at home. So, you can have a freshly baked, from-scratch dessert when you're out camping!
Make for Dessert, and Save for Breakfast!
Blueberry Cobbler is a delicious dessert served with vanilla ice cream or whipped cream. The flavors of this particular cobbler are tart and sweet, so any leftovers will actually work for a breakfast too!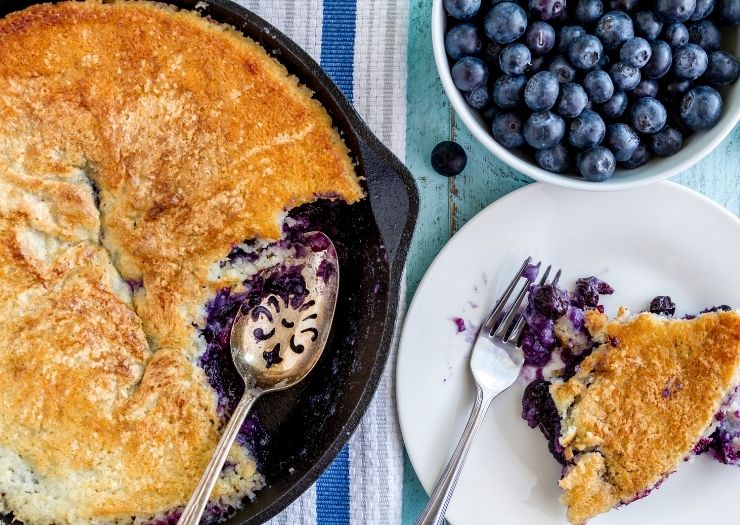 One thing about breakfast on the campground is that everyone is up early since the sun is out. And everyone is ready to eat right away! No one wants to wait an hour or two for the food to heat up. For this reason, I loved having the leftover blueberry cobbler ready to go when the coffee is done. Then, I have a few minutes to heat up some other breakfast foods on a camp cooker.
For dessert, this recipe is best started well before it's time to eat. Cooking over a campfire in cast iron is fun but it does take some planning.
We use the campfire cooking time to relax, enjoy a board game or just sit and visit. You can always bring a book and have some down time for yourself if the rest of the family is out exploring while you're on cooking duty! 🙂 Either way, I love cooking over a campfire or outdoor grill. It's such a great way to unplug and get away from our hectic, everyday schedule.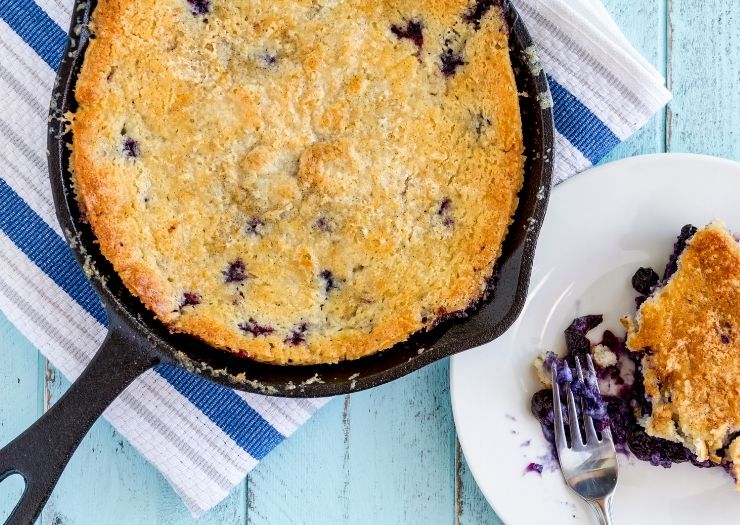 Cast Iron Skillet Blueberry Cobbler- Make it!
You will need your usual baking ingredients for the homemade crust. Butter, all purpose flour, baking powder, salt, cinnamon and sugar make up this crust recipe.
You will also need a medium lemon, which provides a great balance against the blueberries and sugar. You might notice a lot of blueberry recipes call for lemon! The flavors compliment each other very well.
This recipe also calls for vanilla extract — don't use the imitation if you can avoid it. Fresh blueberries make up the fruit layer of this cobbler.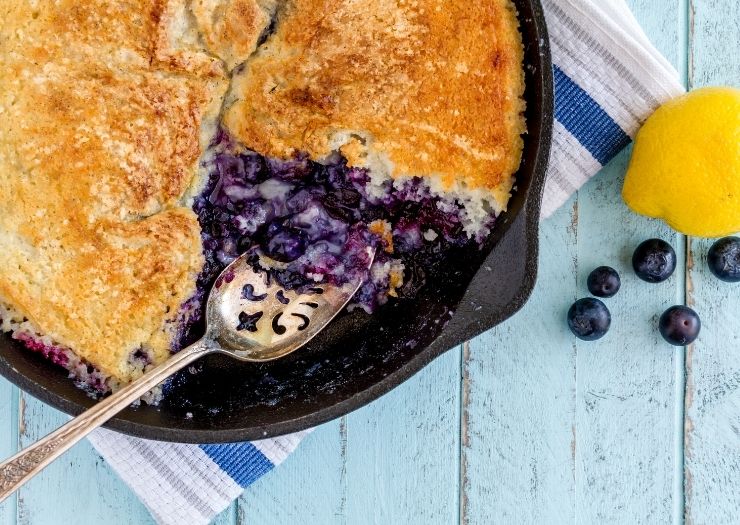 Keep in mind most cobblers don't freeze well. You can make it while dinner is cooking, or a few hours before you plan to eat it.
As I mentioned you can serve the leftovers for breakfast the next morning, but ideally this cobbler is to be served hot!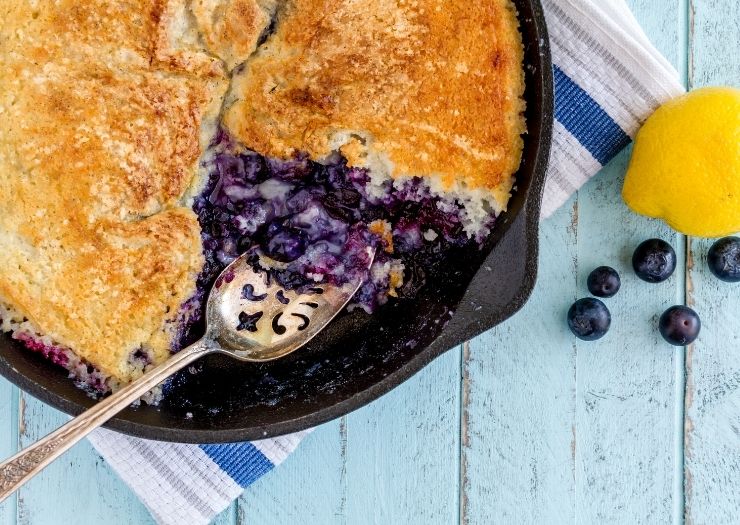 Thanks for reading! Print Your Easy Cast Iron Skillet Blueberry Cobbler Recipe here:
Yield: 6-8
Cast Iron Skillet Blueberry Cobbler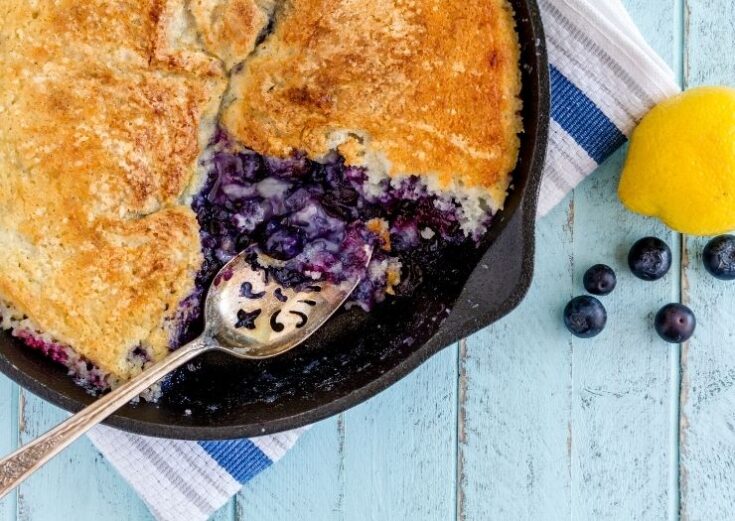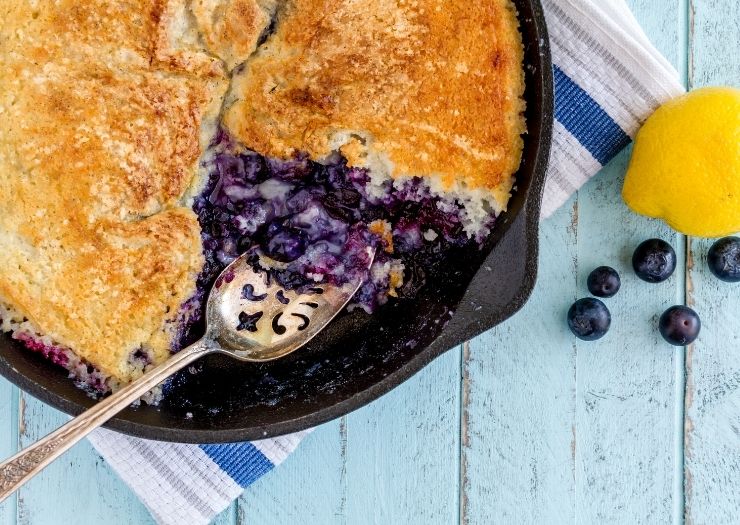 This cast iron skillet blueberry cobbler is perfect for cooking at the campfire or in the oven at home.
Additional Time
35 minutes
Total Time
1 hour
10 minutes
Ingredients
About 2 cups fresh blueberries, cleaned and patted dry
1 1/4 cups granulated sugar
1 stick unsalted butter
1 cup milk, either 2% or whole
1 cup self rising flour
zest from 1 medium lemon
1 tsp cinnamon (optional)
Instructions
1. Set up your campfire in a safe area or preheat grill. Coals should be red hot prior to cooking.

2. Set your cast iron skillet on a roasting rack over the campfire, or on the grill to preheat.

3. Add butter and melt, ensuring the bottom of the pan is fully coated.

4. Add blueberries and coat with about 1/2 cup of the sugar.

5. Zest lemon over blueberries and stir gently in skillet. Blueberries and sugar should be incorporated prior to adding your crust over the top.

6. In a small bowl, mix self rising flour, the remaining sugar, and milk. Add cinnamon if you want a little extra zing. (optional),

7. Blend your batter ingredients gently and pour over your hot blueberry mix. Do not stir!

8. Set the lid over the top of the skillet and with tongs, safely move a good amount of hot coals to the top of the lid. Ensure coals are evenly spaced around the top, to achieve heating on all sides of the skillet.

9. Maintain the campfire at a medium to hot (even) heat and cook for 1 hour. Rotate coals as needed to maintain heat above the skillet.

10. Check for done-ness of the crust in about 45 minutes. If it is still a bit doughy or soft, return the skillet lid with new coals on top for an additional 15 minutes.

11. Remove from heat after cooking is completed.

Serve hot or warm with whipped cream or vanilla ice cream!
Nutrition Information
Yield
6
Serving Size
1
Amount Per Serving
Calories

424
Total Fat

16g
Saturated Fat

10g
Trans Fat

0g
Unsaturated Fat

5g
Cholesterol

44mg
Sodium

273mg
Carbohydrates

68g
Fiber

2g
Sugar

47g
Protein

4g
Find Everything you need to make this recipe right here on Amazon!
My Favorite Camp Kitchen Accessories: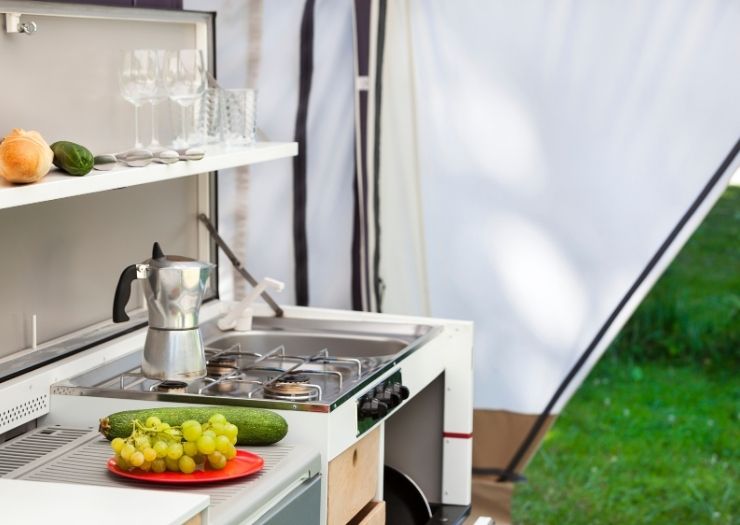 Check out some of my favorite camp kitchen accessories that we take camping.
FOLLOW US ON SOCIAL MEDIA
Don't forget to invite your friend's to our Facebook groups! We would also love to see your vacation pictures!