Things to Do in Sulphur OK
Situated in the scenic Arbuckle Mountains, Sulphur is a small town with a lot to offer. From hiking and fishing to shopping and dining, there's something for everyone in Sulphur. We spent just a few days here and didn't see nearly all we had on our list. It is a great location for us as it is less than a few hours from Oklahoma City and would be great for folks in the Dallas area as well. Here are just a few of the great things you can do during your visit in Sulphur Oklahoma.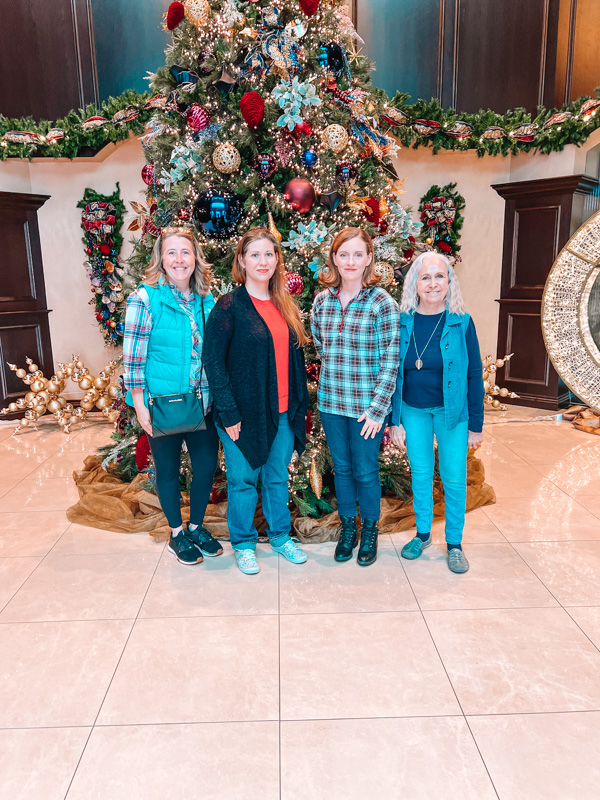 My team of writers work very hard and this year I decided to surprise them with a retreat to Sulphur, Oklahoma. I rented a small cabin in the area, we had our yearly meeting the first night and made homemade infused olive oil. The girls got to open their goodie bags and we spent some time just getting to chat with each other in person instead of a Facebook messenger window lol. Then we got a good night's rest as the next day was full of activities.
Take a Hike in the Chickasaw National Recreation Area
One of the best ways to experience the natural beauty of Sulphur is to hit the Chickasaw National Recreation Trail. This 7-mile trail in the national park features waterfalls, wildflowers, and rock formations—and it's perfect for hikers of all skill levels. 
You can visit Little Niagara and the nature center or simply explore the trails. We found some great things in the gift shop at the nature center and they have a junior ranger program. They have guided hikes as well. Inside the nature center you will find some great exhibits of animals, some living and some stuffed.
Right behind the Travertine nature center I went on a mini hike on the Prairie Loop trail. It is .6 miles long and gets just the slightest bit steep at the farthest point of the loop. I crossed a small stream on stepping stones, but not sure how treacherous it would be if the water level was higher.
I saw deer in several spots and wild turkey as well. We could not find any Bison at the lookout but we guess it was just the time of year or cold weather keeping them farther out. There are many picnic areas in the park no matter where you choose to explore you will find a space to stop for lunch.
Visit the Chickasaw Cultural Center
Just outside the Artesian hotel you will find the Cultural Center. The gardens and statues are enough to inspire awe and enjoy the beauty of the people. Visit The Chikasha Inchokka' (Chickasaw house) Traditional Village where you can explore different houses and areas that you would find in a village.
Inside the Chickasha Poya Exhibit Center you will find plenty of interactive exhibits to keep the whole family learning and engaged.
The visitors center will educate and entertain for sure. It is a great indoor stop if you are not traveling in the summer time and are looking for more indoor options. It is enjoyable in the summer and for special events as well.
Sample the fare at Sulphur's best restaurants
Sulphur is home to some of the best restaurants in the state! Be sure to try the chicken-fried steak at Sherry's diner, the brisket at Rib Crib BBQ, and the buffalo chicken pizza at Mazzio's Pizza. 
If you'd like to indulge we highly reccommend the Springs restaurant inside the Artesian. The entrees here were so delicious and not expensive at all. The portions were large enough we couldn't finish our plates. If you want something lighter we also enjoyed just sharing a few appetizers for dinner one of the nights and they were incredible.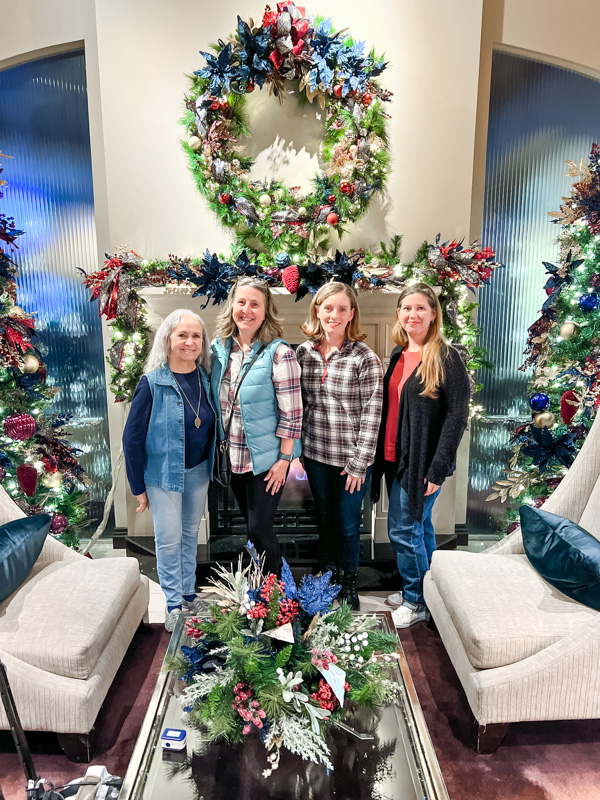 Visit the Gift Shops at the Artesian Hotel and Conference Center
The Artesian Hotel will not disappoint. They have the most gorgeous Christmas decorations and trees I have ever seen in a hotel. They have such a lovely facility but when the wreaths and trees are up with the fireplaces lit you cannot help but feel so cozy and festive. I think I may have to come back every year at the holidays to enjoy the Artesian. It is one of the best hotels in Oklahoma, if not the best. On site at the Artesian and so many great amenities like an indoor/ outdoor pool and hot tubs, but they also have some of the best shopping in town.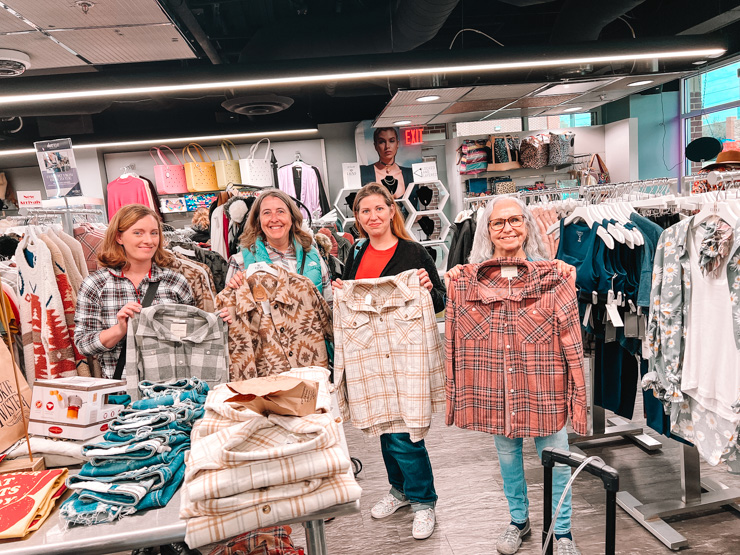 Luxe has amazing clothes and accessories. We each bought a top there and we could have bought more. So many great things for men and women in the shop from seasonal t-shirts to dresses and purses. This shop is a great stop when shopping for something trendy and chic on your Christmas list!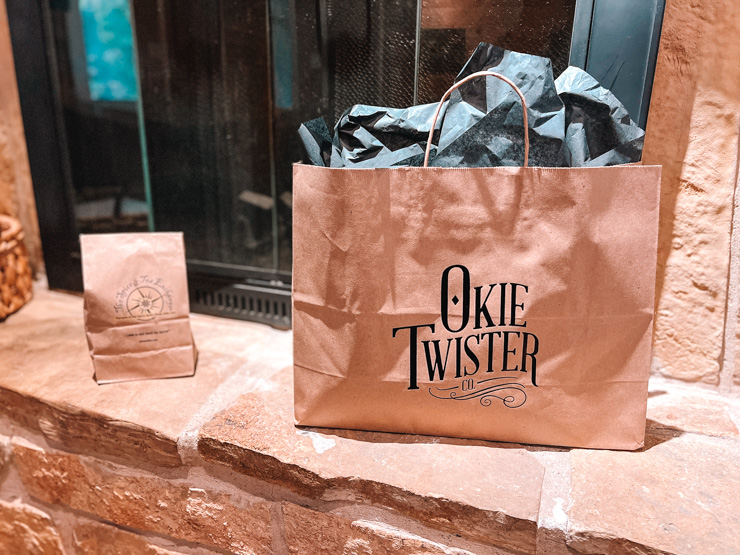 Okie Twister was our favorite shop at the Artesian. They have cute shirts and tumblers but also books, and blankets. They have a great selection of local jams, salsas and pickled jalapenos. They have so many Lodge cast iron items and accessories for the grill or smoker from brands like the Big Green Egg. They have great gifts for guys like gadgets and grooming essentials. They have jewelry and books as well. We did plenty of shopping for the whole family at this shop.
Shoenique has some great shoes and sock options, some things that were so unique and beautiful I have never seen anything like them.
The Spice and Tea Exchange was a great place to pick up some gifts as well. They have flavored salts and sugars as well as loose tea and all sorts of accessories and spoons. They have specialty olive oils and kits for making the most delicious candied pecans. We got a sample and they were amazing. We found some great gifts in this shop as well as a few things for ourselves as well.
Sweet Swirlz is a candy store here and they have so many options. Sugar free candies as well as regular in bulk bins. They also have some cute gift items like Ty beanie babies and novelty socks.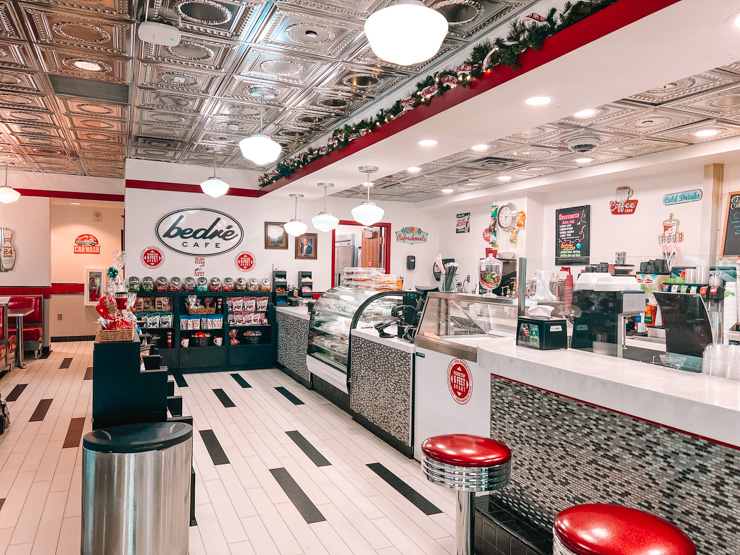 If you are looking for a great dessert or just a light lunch check out the Bedre Cafe. A small dessert and sandwich shop with large servings with great prices. A sundae is plenty to share with a friend as are some of their baked goods in the glass case.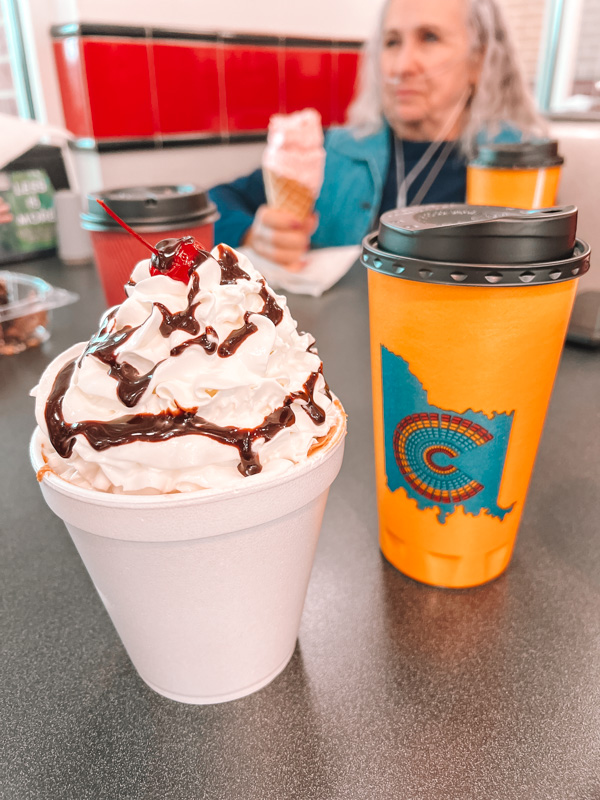 The peppermint ice cream was my favorite for the holiday season but the peanut butter sundae will be good any time of year.
Also inside the Artesian, our favorite part was a visit to Sole'Renity Spa, this is the only spa in Oklahoma to consistently be named one of America's top 100 spas, and we can see why. I have never felt more pampered and serene. Everyone here was so kind and inviting. The services and treatments here are amazing. We indulged in mani/pedis and enjoyed the saunas and steam rooms. The spa is one of the top things I would recommend.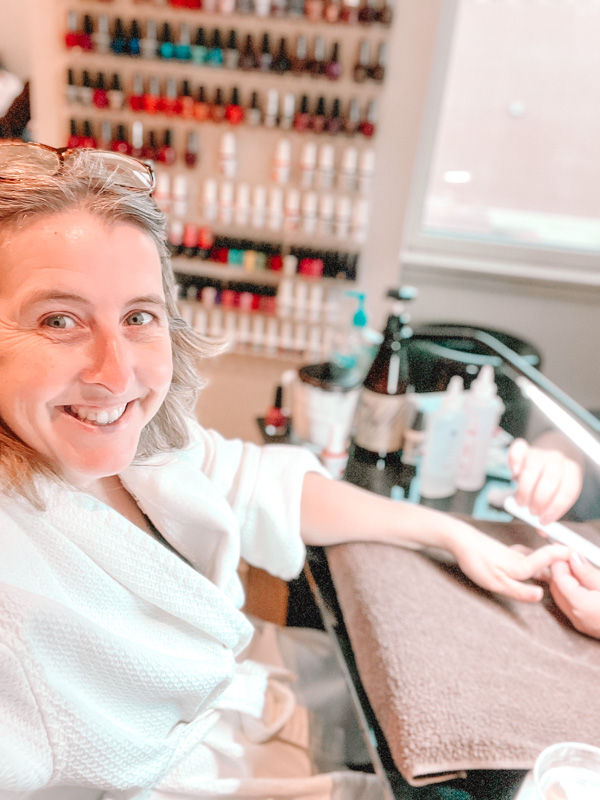 They also have amazing products available for purchase like makeup and skin care but also the coziest pajamas we just couldn't resist buying. They offer spa party packages that would be the perfect place for a girls trip in Sulphur Oklahoma and they even have the cutest kids spa downstairs. Visiting the spa would be a great day trip destination, but there is so much to see and do at The Artesian we can't imagine not planning an overnight stay in one of their fine guest rooms.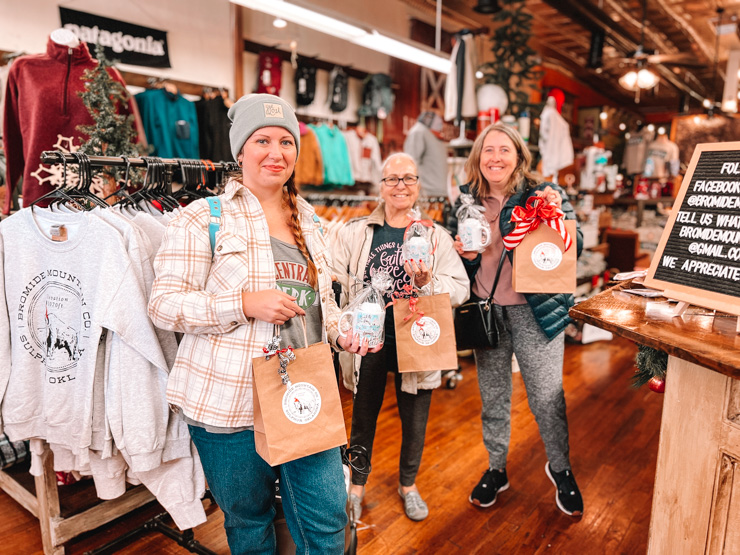 More Shopping closeby
If that wasn't enough shopping for you make sure you check out the Bromide Mountain Co. This is probably our favorite shop in town. They have cute shirts and sweatshirts for the whole family as well as hats, books, devotionals, mugs, lotions, candles and other great home decor options. We will have to stop here any time we are in the area.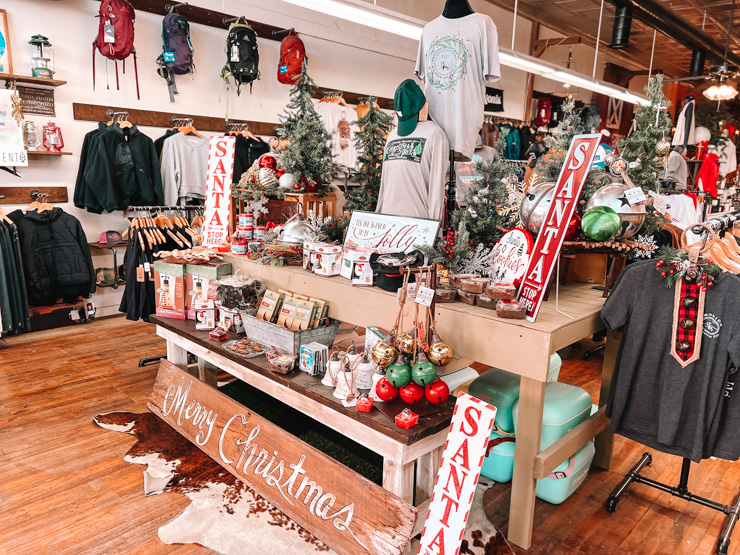 I could easily spend too much money in this shop. So many things we had to take photos of and try not to buy it all. They are the friendliest gals with the cutest merchandise! This was our absolute most favorite shop in the area.
Right by them you will find small little antique shops, restaurants and even the Mix Mercantile across the street. The Mix Mercantile also has cute shirts, sweaters, home decor and jewelry as well as fresh candies and fudge. We picked up some Christmas ornaments in this shop.
Catch a show at the Artesian Arts Festival
Each year, Sulphur plays host to the Artesian Arts Festival—a three-day event that features live music, theater performances, and art exhibits from local artists. It's the perfect way to experience Sulphur's vibrant arts scene! 
More things to do NEAR Sulphur:
If you are looking for a list of things to do on your next road trip we found some greatoptions nearby. We rented a cozy little cabin and could have just stayed and relaxed there but there is plenty to see and explore in the Arbuckle Mountain area. Outside of the City of Sulphur you will find lits of nature trails and parks in the Surrounding area like in Davis or Turner Falls.
Visit Bedré fine chocolate
This chocolate retail store is located in Davis. They have all sorts of chocolates and cadies as well as gifts and specialty merchandise. If you want to find a great Oklahoma souvenir shop make this one of your stops along the way.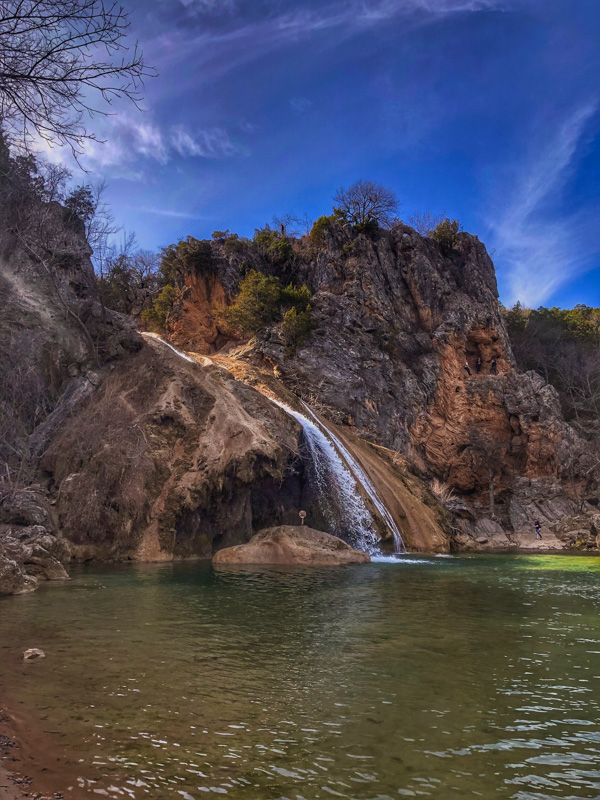 Visit Turner Falls Park
Outdoor recreational activities in the summer season are a must, and a visit to Turner Falls and visiting the historic structures here and exploring the natural trails is a must see. The beautifal falls can be seen from a zipline as well. Get out in nature and explore this area, it is unlike anything else in Oklahoma.
Conclusion: 
There's no doubt about it—Sulphur, Oklahoma is a hidden gem. If you're looking for a fun-filled weekend getaway, look no further than Sulphur! From hiking and fishing to shopping and dining, this small town has something for everyone. So what are you waiting for? Pack your bags and head to Sulphur for an unforgettable weekend getaway! Use the comment section to tell us your favorite things to do in Sulphur OK!
Earn Free Gifts Cards for Travel
You can also earn free gift cards by downloading rewards apps and using them. Your're probably thinking yeah right, there is no way I can earn free gift cards. That's ok I was skeptic too, til my mom was like no this works! I mean who is going to tell mom she is wrong?
Fetch Rewards – So basically all you need to do is download the Fetch Rewards app and enter the code: EF9PC and scan any grocery, hardware store, pet store or gas receipt within 7 days and you will get a bonus of 2,000 points. Grocery receipts can be up to 14 days old. You will get points for every receipt you scan and bonus points for certain brands. Then you can redeem those points for FREE gift cards like Amazon, Walmart, Cabelas and many more! As you can see I have enough points in my account right now to redeem for a FREE $50 gift card!
ShopKick App – Shopkick is an app you down load on your smart phone. Using the app you'll get points for scanning products in the store and points for just walking in the door.  You can also link your bankcard card and earn points for shopping at your favorite stores.
Once the app is downloaded onto your iPhone or Android phone, it recognizes when you go into participating stores, restaurants and more. That's how you get the walk-in points.  Just make sure the you open up Shopkick on your phone before entering the store. Stop right inside the door and wait for your app to confirm your location. Once it does a circle will pop up on your screen with your points on it. Use code: CONSUMERQUEEN when you sign up to get 500 bonus points when you walk into a store and earn at least 10 kicks within 7 days.
7-11 Rewards app – Planning a roadtrip? Download the 7-11 Rewards app. When you download the app it automatically gives you 800 points which you can redeem for FREE FOOD like Pizza, Coffee, snacks and more! BUT…… if you ENTER CODE: wg5oya it will give you 1,000 points. That 200 extra bonus points! Once you hit 1200 points you will unlock even more rewards.
They will also give you points for purchasing certain items in their store. For example for a limited time you get 200 points just for buying two taquitos. You will also earn 10 points for every dollar you spend on eligible items in store.
More Places to Visit in Oklahoma
FOLLOW US ON SOCIAL MEDIA
Don't forget to invite your friend's to our Facebook groups! We would also love to see your vacation pictures!