Visit the Arbuckle Mountains and Turner Falls Oklahoma
Nestled in the heart of Oklahoma, the Arbuckle Mountains are a nature lover's paradise. From hiking and camping to fishing and picnicking, there's something for everyone to enjoy. And, of course, let's not forget about Turner Falls (about an hour and a half from Oklahoma City)- one of the most popular tourist destinations in the state! Located near the town of Davis. It's one the oldest parks in Oklahoma and we always had the best time there as a kid. In this blog post, we'll give you a brief overview of what the Arbuckle Mountains have to offer. So whether you're a local looking for a weekend getaway or a traveler passing through, be sure to add this slice of heaven to your list.  Now let's take a look at what there is to do in the Arbuckle Mountains and Turner Falls Oklahoma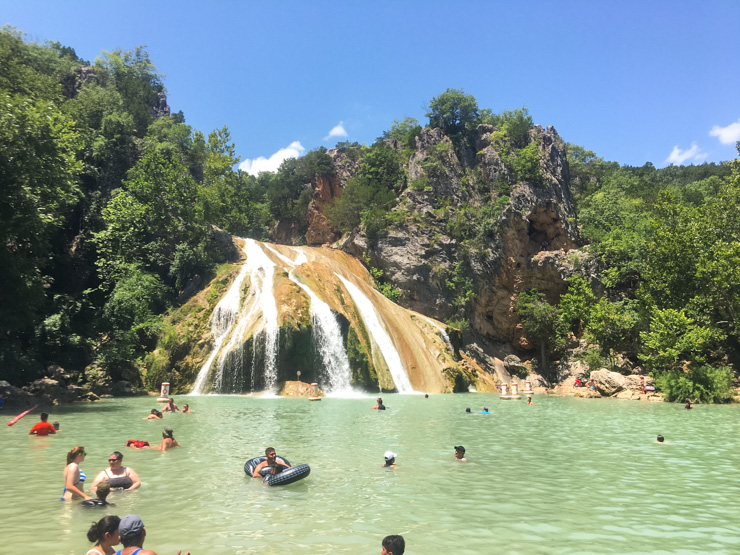 Hiking & Camping
The Arbuckle Mountains are home to some of the most beautiful hiking trails in Oklahoma. With miles of trails winding through forests and across streams, there's no shortage of ways to explore the outdoors. For those who love to camp, there are plenty of campsites available year-round with amenities like RV hookups or a picnic table . Whether you're pitching a tent or parking an RV, you're sure to find a spot that suits your needs. 
Fishing & Picnicking
No trip to the Arbuckle Mountains is complete without spending some time at Turner Falls Park – one of the most popular fishing spots with a good picnic area in Oklahoma. Named after Dr. Cornelius Nott Turner, who owned much of the land in the early 1900s, Turner Falls Park is home to a 77-foot waterfall that is simply breathtaking. Visitors can also enjoy sandy beaches and swimming in the natural pool at its base or wading in one of the many streams that flow through the park. Fishing is also allowed in certain areas, so don't forget to bring your tackle box! 
Turner Falls is a must-see.
 Turner Falls is one of the most popular attractions in the heart of the Arbuckle Mountains, and it's easy to see why. The 77-foot beautiful waterfall is absolutely breathtaking, and there's also a swimming area where you can cool off on hot days. Be sure to bring your camera so you can capture some memories of this stunning natural wonder. The natural swimming pool aka the blue hole is the perfect way to cool off in the summer months. The blue hole has a diving board and 2 slides that slide off the side of the mountain and into the water.Turner Falls is located on Honey Creek in the Arbuckle Mountains of south-central Oklahoma, United States, 6 miles (9.7 km) south of Davis. Overnight Camping at Turner Falls Park is charged by the vehicle plus admission for all guests.
No pets, glass bottles, or fireworks allowed.
Children under 13 must wear a Coast Guard certified life jacket to enter the water, so make sure to pack this when getting your gear ready.
How much is it to get into Turner Falls Oklahoma?
WEEKDAY RATES
ADULTS: $16.00
CHILDREN (6-12): $9.00 
CHILDREN (UNDER 5): FREE – DO NOT REQUIRE TICKETS
SENIORS (55+): $9.00
ACTIVE DUTY MILITARY (MUST SHOW ID): $9.00
WEEKEND & HOLIDAY RATES
ADULTS: $20.00
CHILDREN (6-12): $16.00 
CHILDREN (UNDER 5): FREE – DO NOT REQUIRE TICKETS
SENIORS (55+): $13.00
ACTIVE DUTY MILITARY (MUST SHOW ID): $13.00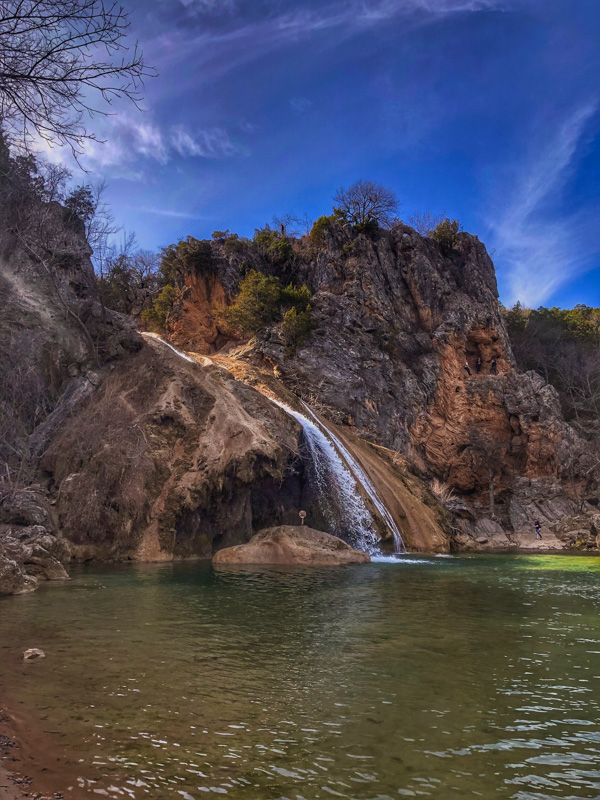 Can you see Turner Falls without entering the park?
Along the highway there is a Scenic Turnaround/outlook by the Zipline where you can usually get a good look at the natural falls without entering the gate and paying admission. This spot has beautiful views and is a great place for taking photos.
Why are there castles at Turner Falls OK?
In Turner Park you will find the Collings Castle. Dr. Ellsworth Collings of the University of Oklahoma built a summer home and headquarters of his ranch in the Turner Falls area. His home with built with architectural influence of Medieval Europe, there is a greater rock castle and a smaller castle at the property, there is also a chapel on the site as well. Many stones on the exterior are native to Oklahoma like the rose rock. This castle was built during the great depression. You can tour these buildings with your admission into the Turner Falls park.
How long is the Turner Falls Zipline?
The 777 Zip starts out 130 up above the Collings Castle where you can view the 77 ft waterfall and takes you on a line that is 777 feet long. You make the return trip back along those 777 feet. You can ride as a single rider or in pairs. The weight limit for single riders is 350 pounds and for double riders the total weight limit is 450 pounds.
How many caves are in Turner Falls?
There are 3 natural caves to explore in the Turner Falls park. They are accessible via the hiking trails. You will have to do some climbing over rocks to go exploring, so it is not recommended for small children or those with mobility issues. Also in the wet or winter weather you must be careful as the rocks get pretty slippery.
Be sure to check out the cabins available to rent in the Turner Falls park.
Chickasaw National Recreation Area
There are six campgrounds in the area that have over 400 campsites. But no cabins inside the park.
This area does not charge an entry fee but does have fees for campsites and using the boat ramps for launching into the Lake of the Arbuckles.
This area has so many great trails to explore you don't want to miss it. The Veterans Lake trail is one we really enjoy. It is paved so folks with wheelchairs, strollers or mobility scooters enjoy taking this path all the way around Veteran's Lake, it is about 2.8 miles. The Chickasaw National Recreation Area is a popular family destination with spaces for boating, swimming, playgrounds and picnic sites. With no admission fee it is a great day trip destination from Oklahoma City and the surrounding area. The natural beauty and wooded setting are a great place to relax. If a tiny picturesque waterfall sounds like something you would like to see you want to check out Little Niagara which flows from travertine creek. It's a great spot for swimming on very cold water on a hot day. They also have some freshwater springs in the area, you can check out Black Sulphur Springs to learn about the rich history of the area. Black Sulphur Springs and Flower Park 9a pedestrian park), are significant for their association with the former Platt National Park (a National Historic Landmark District), now part of Chickasaw National Recreation Area. The National Parks new landscapes model that came about as part of FDR's New Deal and this area was part of it. This area is such a perfect place for nature lovers and water sports.
There are so many things to do and see in this area near the City of Davis we definitely think you will be glad you make the trip down there to check it all out. You can plan a full day or even a few if you are looking to camp or find a cozy cabin. If you have kids or animal lovers in your travel group make plans to visit the Arbuckle Wilderness Park with their Drive-Through Safari. They also have a petting zoo. You can check them out online for the most up to date hours and pricing.
We hope this post helps you plan your next trip to Turner Falls or the Arbuckle Mountains. Both of these locations are beautiful and offer plenty of activities for visitors. Be sure to check out the links we provided for more information on each location. Check out some of our other Oklahoma Road Trips which includes beavers bend State Park, mountain fork river, lake murray state park and more. We hope you Visit the Arbuckle Mountains and Turner Falls Oklahoma soon! Thanks for reading!
FOLLOW US ON SOCIAL MEDIA
Don't forget to invite your friend's to our Facebook groups! We would also love to see your vacation pictures!