Your Complete Guide to Camping Robbers Cave
Camping is a popular way to enjoy the great outdoors, and there are plenty of fantastic camping destinations across the country. If you're looking for an exciting and affordable family vacation spot, consider checking out Robbers Cave State Park in Oklahoma. This park offers plenty of outdoor activities and unique attractions that will keep everyone entertained. Here's a complete guide to camping at Robbers Cave State Park.
If you are not familiar with Robbers Cave in Oklahoma then not only are you at the right place but your in for some fascinating old western tails as well.
Park Office: 4628 NW 1027th Wilburton, OK 74578 Phone: 918-465-2562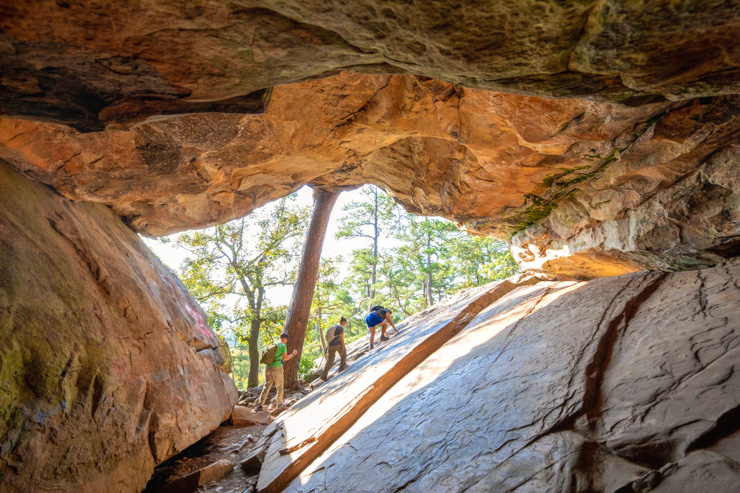 The History Behind Robbers Cave State Park:
Robbers Cave State Park in located in Latimer County, Oklahoma is best known for its unique geological features, but it also has a long and fascinating history. The area was first inhabited by Native Americans, who used the cave as a shelter from the elements. In the late 1800s, the site became a hideout for famous outlaws Frank and Jesse James. The brothers were reportedly drawn to the area by its many hidden caves and tunnels, which made it the perfect place to evade capture. After the James brothers moved on, the area became home to a number of other outlaws like Belle Starr, who used it as a base for their illicit activities. Today, Robbers Cave State Park is a popular tourist destination, offering visitors the chance to explore its caves and learn about its rich history.
It's been said that Jesse buried his stolen treasure somewhere in the area and people have been looking for it since.
Activities and What to Do:
Robbers Cave State Park in Oklahoma offers a variety of activities for visitors to enjoy. One popular option is to explore the cave systems that give the park its name. These caves are a great way to cool off on a hot day, and they offer a unique perspective on the geology of the area. Visitors can also hike or ride bikes through the many trails that wind through the park. For those who prefer to explore at a slower pace, the park also offers golf carts for rent. In addition, there are three lakes within the park ( Lake Carlton, Lake Wayne Wallace and Coon Creek Lake ) making it a great place to fish or relax by the water. They also offer paddle boating and kayaking. Whatever your interests, Robbers Cave State Park has something to offer.
Hiking at Mountain Trail has outstanding views of Lake Carlton and Lake Wallace and is 8 miles round trip. For a shorter hike, I recommend the Rough Canyon Trail, which is about a 2 mile loop trail and passes the picturesque Lost Lake. Make sure you have a map as the signs at the trail junctions are sometimes confusing.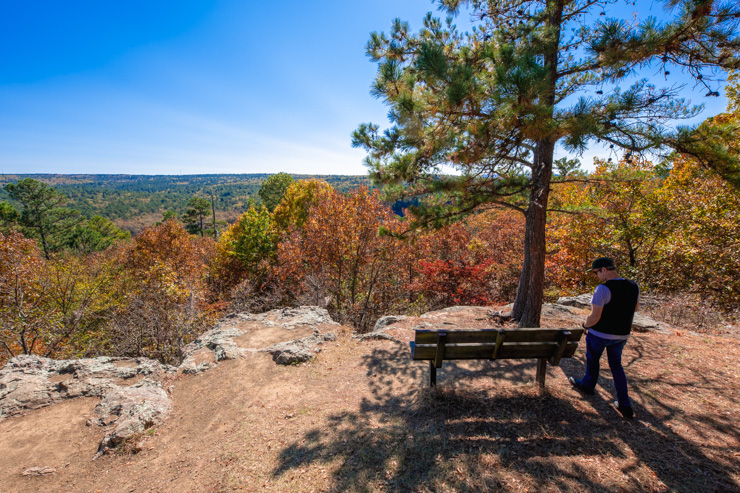 Robbers Cave Cabins:
If you want to take advantage of the lake hut near the main entrance, you will want to know what it includes and what it doesn't include. This lake hut is a pet-friendly and comes with a coffee maker, queen-sized bed, sleeper sofa, table with four chairs, full-sized refrigerator and microwave. There is no shower, but the lake hut does have a toilet and sink.
If you are looking for something a little less rugged, you might want to check out the Belle Starr View lodge and cabins. The Belle Starr Lodge offers 20 non smoking rooms that overlook the Coon Creek Lake. Each room has two double beds, satellite tv, mini fridge, microwave, and a coffee maker. Rooms can accommodate up to 4 people and there are no pets allowed. It has a pool which is open Thursday through Monday until Labor Day. Hours are from 1-7pm, with the pool closing on Tuesday and Wednesday.
Location: 2084 NW 146th Rd Wilburton, OK 74578
There are about 26 pet friendly cabins that sleep anywhere from 2-6 people on the grounds. Each cabin comes with cooking range, refrigerator, coffee pot, microwave, cooking utensils, dishes , pots and pans, linens and silverware. Each cabin has a fireplace with central heat and air a shower and satellite TV. Some people have stated that they arrived at there were no dishes or cooking utensils, so you may want to call before you book. If you have someone they may have physical limited abilities, I would recommend renting the ADA cabin as many people have stated that a lot of the cabins have uneven ground that could cause problems.
If you are looking for a romantic giveaway make sure you book cabin 101 which is known as the honeymoon suite and has the best view of the park.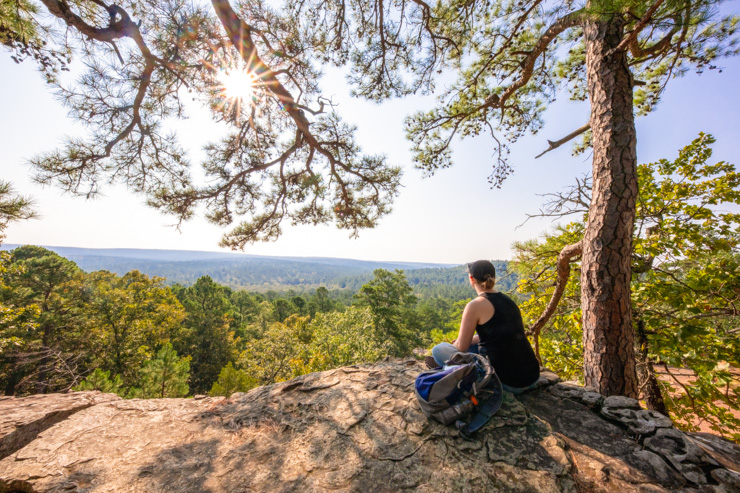 Robbers Cave Camping:
Located in the scenic Ouachita Mountains, Robbers Cave State Park offers 7 different campgrounds for visitors to choose from. Winter temperatures average 50 degrees, making it the perfect time to enjoy hiking and other outdoor activities. Summers can be hot, with temperatures reaching 93 degrees.
If you are looking to tent camp, use your pop up camper or RV, you can book your campsite online. Let's take a look at what robbers cave has to offer. Robbers Cave State Park is free to enter but overnight camping vary from $14 – $25 per night. Average cost is about $20 for a standard campsite.
Whispering Pines Campground
The Whispering Pines Campground is a great place to stay if you're visiting the park. It has 17 campsites. Sites 1-12 are modern, meaning they have full hookups of water, sewer and electric. Sites 13-17 only have water and electric hookups. If you need a pull through site that handicap accessible, you're going to want to book site #12. You'll find a comfort station and a picnic pavilion are all within easy walking distance. These campgrounds are located across from the park office and near the entrance of Coon Ridge Trail.
Old Circle Campground
Old Circle Campground offers 23 campsites with 6 of them being pull throughs. 8 of the sites have have full hookups of water, sewer and electric (30 and 50 amp) and 15 of them have only water and electric hookups. This campground has a centrally located comfort station and is not too far from Lake Carlton Nature Center and the Gift Shop.
Coon Creek Campground
Coon Creek Campground is located north of Coon Creek Lake on the east bank of Coon Creek. This is a back country campground that requires a permit. You'll need to take a 3/4 mile hike with significant elevation changes to get there so keep that in mind when packing.
Primitive Camping:
There are 4 primitive campsites, the Quarry Campground, Dogwood Campground, Deep Fork Campground and Younger's Bend Campground. There are no hook ups at any of these campgrounds and Quarry Campground is at least a one-mile hike from the Deep Fork Campground. Dogwood is farther down the loop and is a really nice spot located near the water and has an additional high top table but not close to a bathroom. Each spot does have a grill, picnic table and trash/lantern hanger.
Deep Fork Campground is located near the ATV area with over 250 acres of terrain. The ATV riding area is open from 8am until sunset each day and requires an entrance fee. There are no ATV rentals inside the park so you will need to bring your own.
Bathrooms are supposedly sanitized every day. But I have seen mixed reviews.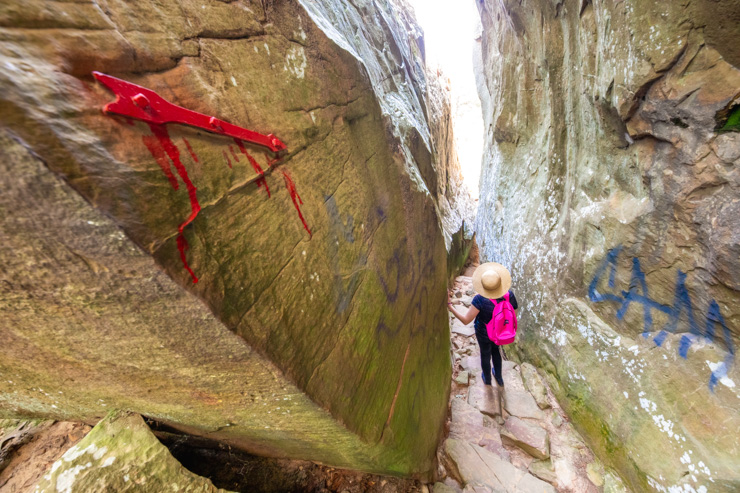 If you're looking for a great camping spot in Oklahoma, Robbers Cave State Park is definitely worth checking out. With plenty of activities and beautiful scenery to enjoy, it's the perfect place to spend some time outdoors with your family or friends. We hope this post gives you a better understanding of camping at Robbers Cave State Park and encourages you to visit soon!
How I Earn Free Camping Gear:
Your're probably thinking yeah right, there is no way I can earn free camping gear. That's ok I was skeptic too, til my mom was like no this works! I mean who is going to tell mom she is wrong? So While you're looking at Oklahoma Waterfalls check this out too.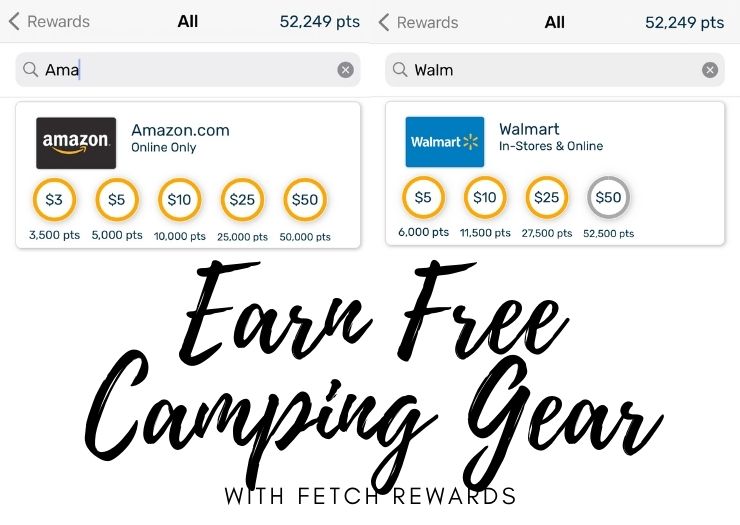 So basically all you need to do is download the Fetch Rewards app and enter the code: EF9PC and scan any grocery, hardware store, pet store or gas receipt within 7 days and you will get a bonus of 2,000 points. Grocery receipts can be up to 14 days old. You will get points for every receipt you scan and bonus points for certain brands. Then you can redeem those points for FREE gift cards like Amazon, Walmart, Cabelas and many more! As you can see I have enough points in my account right now to redeem for a FREE $50 gift card!
More Places to Visit in Oklahoma
FOLLOW US ON SOCIAL MEDIA
Don't forget to invite your friend's to our Facebook groups! We would also love to see your vacation pictures!
FOLLOW US ON SOCIAL MEDIA
Don't forget to invite your friend's to our Facebook groups! We would also love to see your vacation pictures!
Take Our Camping & RVing Like a Boss Course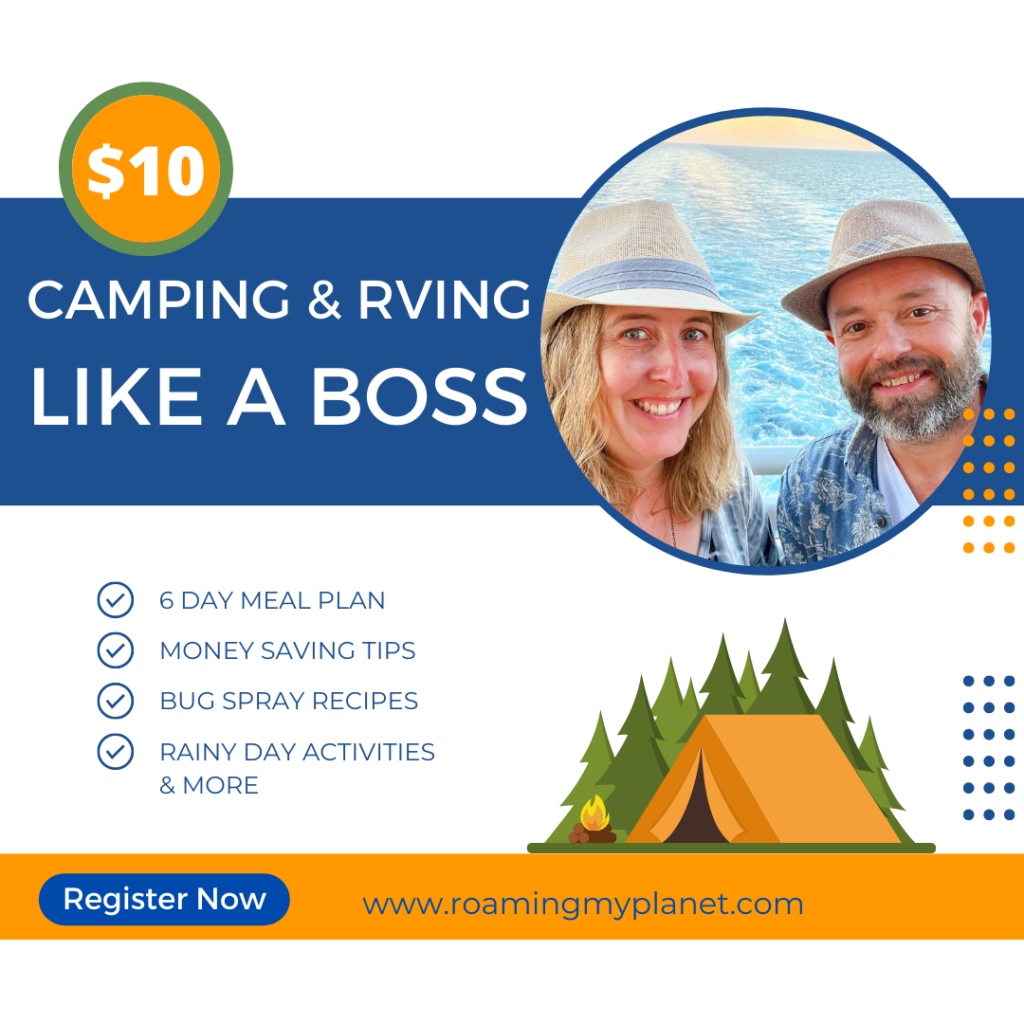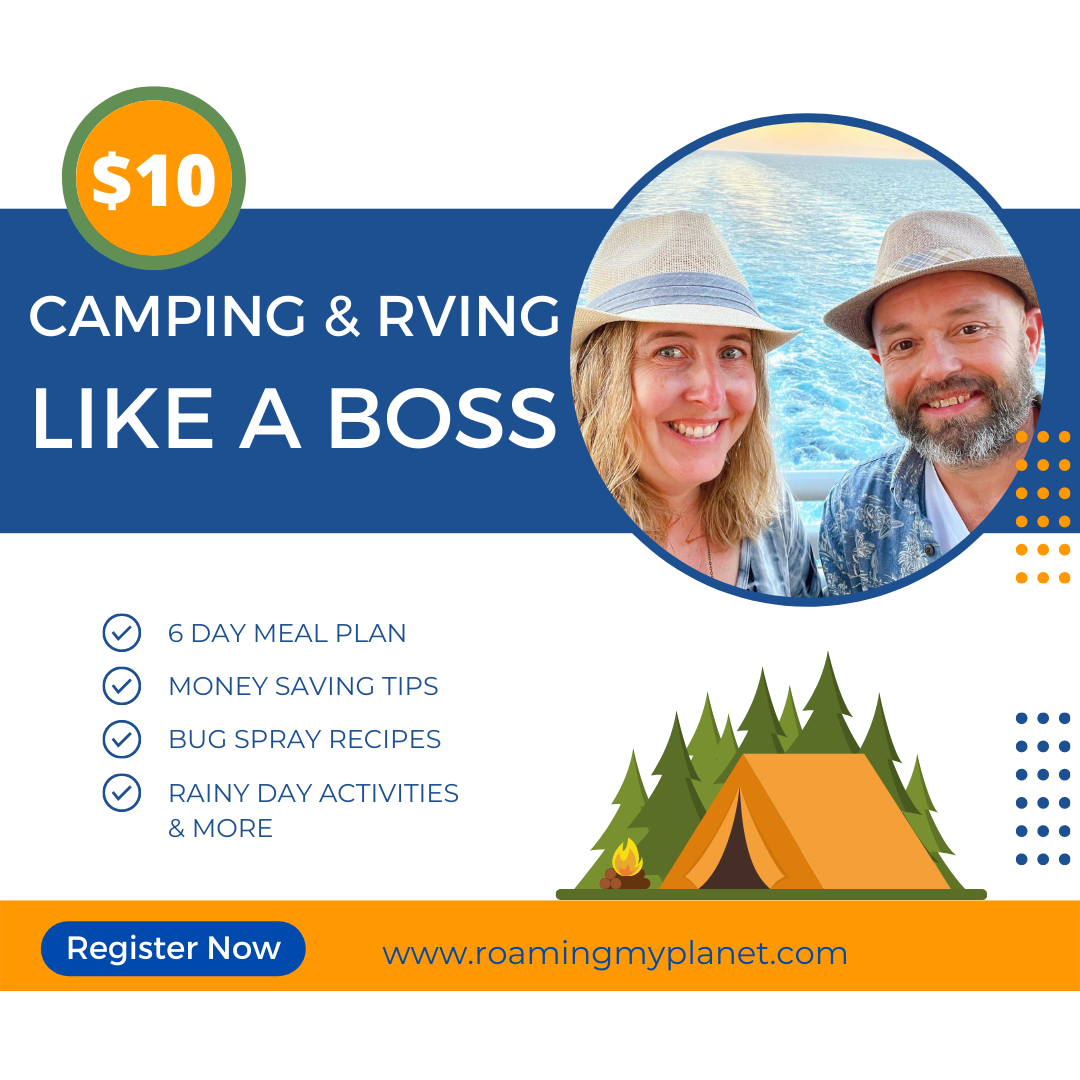 Looking to get the most out of your camping or RVing experience? Then this course is for you! Camping & Rving Like a Boss offers tips and tricks that will help you save time and money, so that you can enjoy your trip to the fullest. Join our Course.
My Favorite camping Supplies