Best Time to Visit California and 7 Places You Must See
California is a beautiful place to explore! It can be challenging deciding where you want visit in such an expansive state. The list of must see destinations is endless and diverse. There are vivid colors everywhere, from picturesque vineyards on top of towering mountains to sandy deserts! All of it is vast enough that they'll leave your head spinning. Seriously though–you could easily dedicate an entire lifetime exploring California without seeing every detail! Let's talk about the best time to travel to California and some of the best places to visit to have a great time.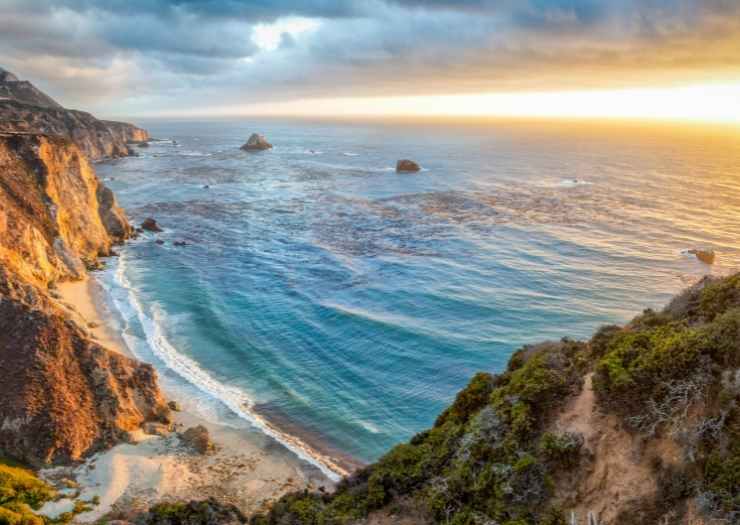 Best Time to Travel to California
California has more to offer than just stunning scenery and delicious wine. You can visit for much of the year, and take advantage of outdoor destinations or city attractions. If you prefer the luxury of a city based vacation with sight-seeing and shopping, head to Los Angeles. It has points of Interest list so long that it would take a lifetime to see them all! And don't forget about San Francisco across the Bay. It's a must see if you're on the California Coast!
If you're visiting in the summer months, consider Yosemite National Park which sits high up in the Sierra Nevada Mountains, or the Redwood National Park which is in far northern California – both places make for fantastic exploring if you have enough time on your hands. The Golden State stands high atop our list as one-of-a kind place that's worth exploring. The summer months June to August are some of the hottest summer days in the central part of the state. Places like Los Angeles have dry summers May through August, and the coast is overall more temperate. Driving down Highway 1 even for a few hours is a bucket list experience!
California has some of the most beautiful places in America, but it's hard to list them all. I've narrowed down my list to my top 7 picks that I haven't mentioned on the blog before.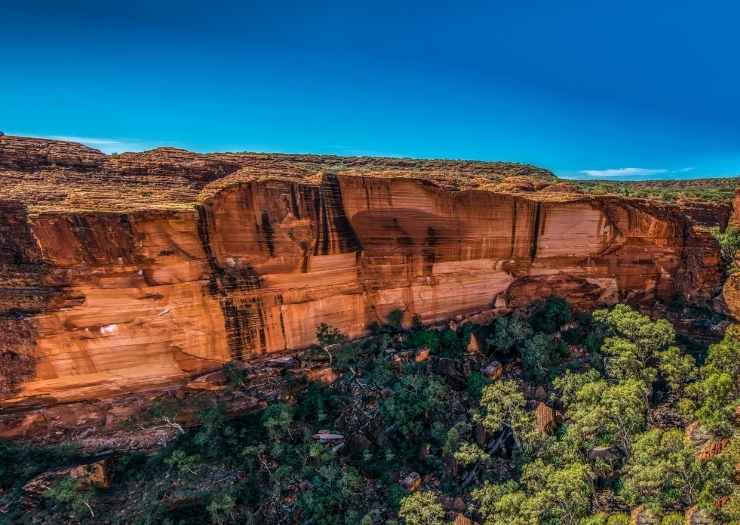 Sequoia and Kings Canyon National Park
It's easy to get lost in the immense beauty of Sequoia National Park, located in central California The park is home to some of the largest trees on earth called the sequoias, like General Sherman Tree- measuring 112 meters tall with a circumference over 33 feet at chest height! With snow-capped peaks surrounding you and miles upon miles worth natural canopies that line these giant sequoias it will be hard not take your fill before leaving this heavenly place forever. While the magic of seeing sequoias is reason enough to visit, there are other natural wonders in this park.
One such wonder is one of the highest mountain peaks on land across all continents – 1248 meters tall it towers above everything else! Another amazing sight for visitors will be from Mirror Lake up towards General Sherman Tree where you can see more than 100m down into its depths below along with many different parks animals . Another popular spot among tourists and locals alike has become lookout point near Hungry Valley which offers stunning views over Yosemite Valley as well as Kings Canyon National Park beyond that lies Nevada's renowned Hoover Dam—a must-see if only. If you love visiting National Parks then this is a must see along with Yosemite.
The nice thing about the Sequoia area is that it is in close proximity to Sacramento, and you can also reach it by car coming from the east. The Best time to travel to California to explore the Sequoias is during the late spring or early summer months. Winter brings the rainy season to much of California, and the roads may be closed in higher elevations due to snow. Do not attempt a winter vacation in the west coast forests unless you're highly skilled at hiking, traveling across snow, and know exactly where you are going. Some parks may have specific rules and recommendations for exploring during the winter.
McWay Falls
If you're looking for one of the most iconic sights in Big Sur, then look no further than Mcway Falls. This 80-foot cascade dropping down into a stretch of untouched beach is enchanting and can be found tucked away inside Julia Pfeiffer Burns State Park (though it does require some hiking). The waterfall's beauty rivals that seen at nearby sensational viewpoints like Split Rock Valley Overlook or Point Montara Lighthouse. This is a great place for hiking near beautiful waterfalls. Big Sur is a stretch along the California coast, south of San Jose and far north of Los Angeles.
If you have the opportunity, one of the best things California has to offer is the Cambria area on the coast. It boasts breathtaking sunsets all year, and is one of the most desirable destinations for couples! The sunny weather and mild winters also make it an option for the off season. With all of the beautiful beaches around Cambria, be aware that prices for hotels can be extremely high. Consider going on the off season, such as in the cooler months. If you are able to stay further north or south, take a day trip along the coast to visit this perfect place! And take your camera!!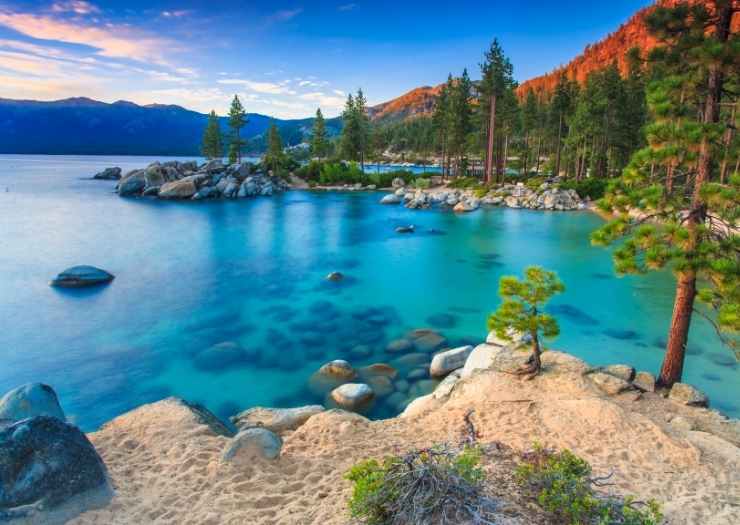 Lake Tahoe
Lake Tahoe is a winter wonderland in the winter months, with 14 different ski resorts to choose from where you can enjoy winter sports. If skiing or snowboarding isn't your jam, there's always other fun activities like skating and hiking in search of hidden gemstone lakes (the Emerald Lake hike will make you swoon!).
There are lots of resorts around Lake Tahoe, so those that do not ski or want to be outdoors can enjoy a lodge feel and cozy up with a cup of coffee or cocoa and a good book. Enjoy the scenery or casinos/restaurants if you prefer.
Summer months in Lake Tahoe can be a blast as well! Say hello to sunny days and beautiful scenery. The sun shines for hours in Lake Tahoe, bathing the hillsides and mountainside in golden light. The crystal-clear waters ranging from sapphire blues to emerald hues and soft sand will make you feel like your on an island. Be aware that no matter what the time of the year, Lake Tahoe is COLD. The water is warmest in the summer of course, during the hottest daytime temperatures.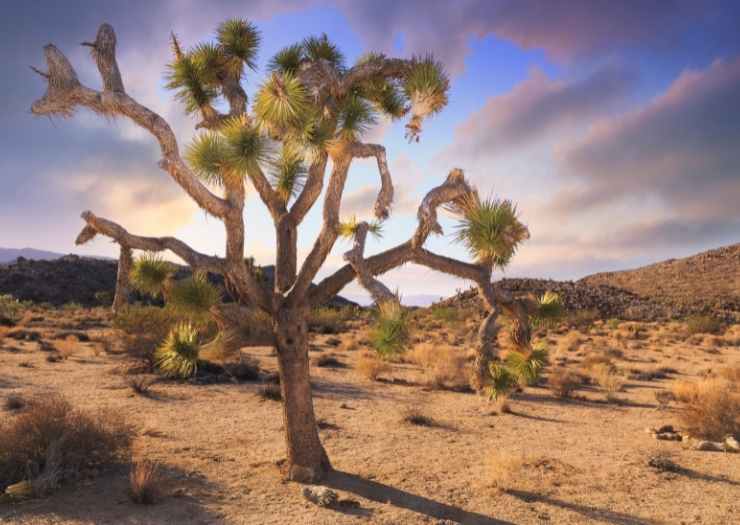 Joshua Tree National Park
Joshua Tree National Park in southern California is a mecca for adventurers with hiking, biking and rock climbing being just some of the many activities on offer. The park also offers stargazing which will allow you to spot your very own galaxy in its entirety! Make sure that once night falls you stay at least one extra day so as not miss out any stars or satellites passing overhead while trying capture those perfect shots under starlight.
If you are heading to the great outdoors, consider renting an AirBnb out where you can enjoy the wilderness at night. Clear skies and less city lighting will enable you to see so much more. Desert areas such as this are popular during events in the galaxy such as eclipses. Plan ahead to find a great destination with amenities you need!
There are two deserts here – Mojave Desert (to the south) meets Colorado River Valley transitional zone between Sonoran desert life zones towards Los Angeles basin's high altitude Mediterranean atmosphere interacting species typical wetter climates found along Pacific Coast rims such us cacti Heats/Cool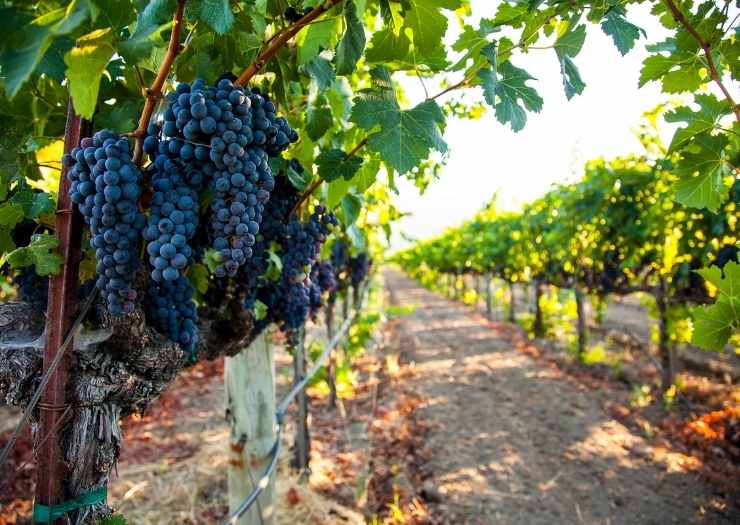 Napa Valley
Napa Valley is a wine lovers paradise, and it's home to Napa vineyards that have been honored with being named "King of California Wine Country." When you visit this picturesque area for vacation purposes make sure not only taste the delicious wines here but also take in all those quaint boutique resorts. This area is popular with summer crowds and motorcycle/biking groups. You can find major events on the web if you prefer, or just head out in the late summer for a super relaxing getaway. There are many shops located in small towns all throughout Napa Valley, so look for those along the highway.
Some travelers tips for Best Time to Travel to California in the Napa Valley area is that it's very seasonal– smaller shops may close down entirely for the winter months, and many have shorter hours. Consider booking your vacation before Labor Day so you can take advantage of eateries and shops.
It's popular for relaxing spas, offering sauna sessions alongside their impressive drink lists! You'll want an experience like no other after experiencing accommodations at one these top notch places – so book now ahead before they're gone. Check out the Napa Valley Wine Festival.
Finally, wine is definitely the star! Beringer is a great choice for newcomers; Inglenook will make any wine lover drool with its impressive list of wines that are available by-the glass or bottle.  Inglenook offers an inventive tasting plate that enhances their wine pairings – and their Estate Chef Alex Lovick oversees special events and private tastings that often incorporate ingredients from Inglenook's organically farmed culinary garden. Each have something unique about them but all provide guests plenty to explore when visiting, so try more than just grapes at these wonderful establishments!!! Even if you don't care for Napa Valley wines, they make good gifts for friends and coworkers to have on hand.
Again, you can travel down Highways 1 and 101 in this area to get even more out of your visit.
Channel Islands National Park
"The Channel Islands National Park is a must-see for any traveler looking to experience breathtaking natural beauty in its most unadulterated state. The wildlife you'll find on these islands couldn't be more different than what can usually be found elsewhere, leaving visitors with an amazing feeling of isolation and solitude."
The Channel Islands are a hidden gem in the Pacific Ocean that has been largely untouched by human activity. The islands boast beautiful landscapes and wildlife, all with stunning views to boot! To get to Channel Islands, you'll have take a boat or plane ride from either Anacapa Island in Santa Cruz or SCARBOROUGH ISLAND as well. The three other islands—San Nicolas near Los Angeles; Santa Rosa at San Francisco Bay (the location where they filmed Pirates of the Caribbean); and Hart Island off coast central California-are all reachable if not too difficult with some planning on your part! There are no accommodations on this island so this would be a day trip or you could bring some camping supplies if you want to stay overnight.
The Big Cities
Finally, no list about places to see and the best time of year to visit California would be complete without including some of the larger cities. You are likely to fly in to one of these cities if you're traveling by plane. Don't miss out on seeing some of the sights if you have a layover!
The Bay area around Los Angeles is surrounded by suburbs and also mountains. If you fly in, the first thing you may notice is the extreme busy highways and airport. If you're not accustomed to travel or dislike driving in heavier traffic, we would absolutely recommend rideshares or a shuttle. This is often the case in major cities and around major attractions. Both for your own safety and other drivers, be cautious of quick turn-offs, exits, and quickly moving traffic overall. While you're there, take a trip over to the Hollywood area to see the attractions.
Sacramento is a bit less hectic. If you're used to traveling around a large city, driving won't be an issue. There are gorgeous neighborhoods you can bicycle around in, during the warm weather. Many areas have designated bike lanes. The weather is great during the summer and you can enjoy the pool well into the evening. Sacramento makes a great "base" to stay if you're taking day trips along the coast to visit beaches or sightsee. Keep in mind, traffic and just the windy roads around the coast in general can extend driving time significantly.
The San Francisco area is by far my favorite larger city to travel to in California. The clouds over the bay have a unique and haunting look, and the hills and architecture add to the vibe. If you're staying around San Francisco, be sure to grab some sushi or teriyaki. Then, head over to the pier for shopping and sight-seeing. The city has a northern-California atmosphere, with many coffee shops and small businesses. Golden Gate park is a popular place to see families, those walking dogs or even taking pictures and getting engaged. You can walk across the Golden Gate Bridge from the park.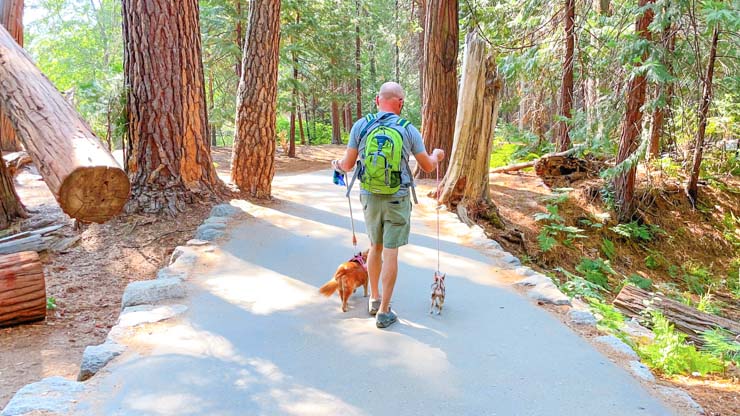 Thanks for reading!
We hope this post inspires you to see some sights in California! Schedule your vacation for the time of year that works best for you. Happy Traveling! Be sure to follow along at our Facebook group, RoamingMyPlanet Travel Fan Page! See the latest about getting back to cruising and more!
I hope this list of the best places in California has helped you come up with your perfect bucket list! It's definitely a popular tourist destination. There's so much more on the menu! Just a few are San Diego, Santa Monica, Palm Springs, Pismo Beach, and the pacific coast highway! Or, choose anywhere on California's central coast. These destinations are an excellent way to get a little taste for each landscape found across this beautiful state. If you have kids, don't forget to check places like Knott's berry farm or one of California's theme parks. Have you been here before? What other must-see areas do not make it into my top 10 favorite spots? Let me know by leaving comments below!
My Favorite Camp Kitchen Accessories: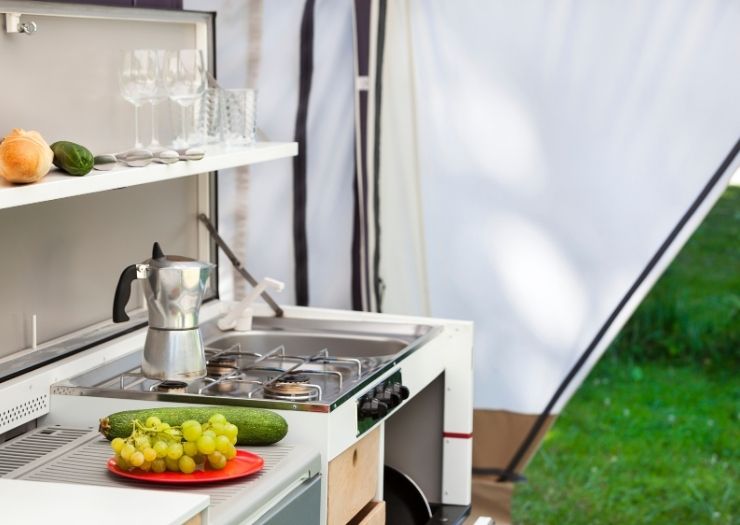 Check out some of my favorite camp kitchen accessories that we take camping.
Great Destinations for Couples
FOLLOW US ON SOCIAL MEDIA
Don't forget to invite your friend's to our Facebook groups! We would also love to see your vacation pictures!