Things to Do in Hochatown OK
We love to travel near and far, but with the current prices for gasoline and other expenses on the rise you may opt for near more than far. We decided to go exploring in our state. If you decide to go camping at Beavers Bend State Park, take the RV out, or find a nice little rental you will enjoy your stay in this area. You may also like to head on over there just for the day. Let us share with you some of our favorite things to do in Hochatown OK in the Broken Bow area of McCurtain County.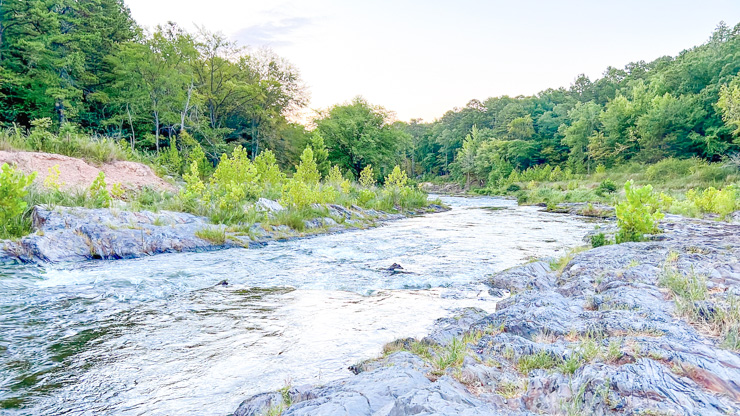 We love this area because there is much to do here. We do recommend staying closer to Hochatown just because it seems that everything is closer to that area. Check out Hotellook for discounts on places to stay!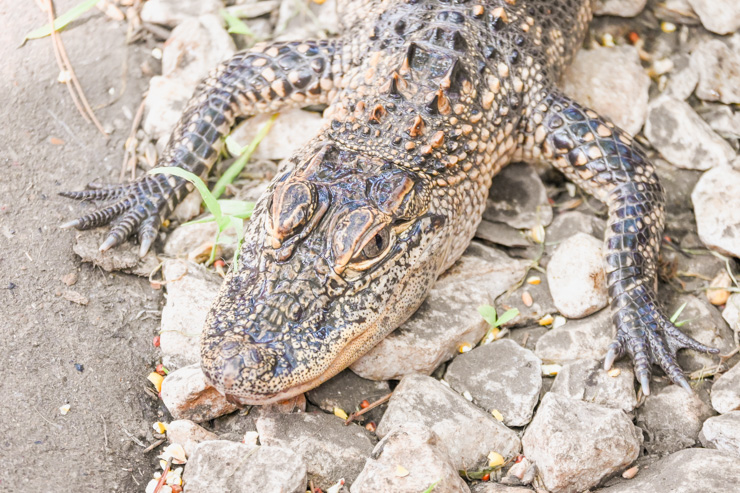 If you have animal lovers in your group you might want to head to Hochatown to the Rescue Center and Petting Zoo to see some of the cutest critters around! The Hochatown Petting zoo is located at 9177 US-259, Broken Bow, OK 74728 They have goats, cows, camels kangaroos, birds and some of the sweetest little baby animals. Again this is a rescue center, many of the animals were injured and could not take care of themselves. It's crazy how many injured animals they receive, and they could use your support.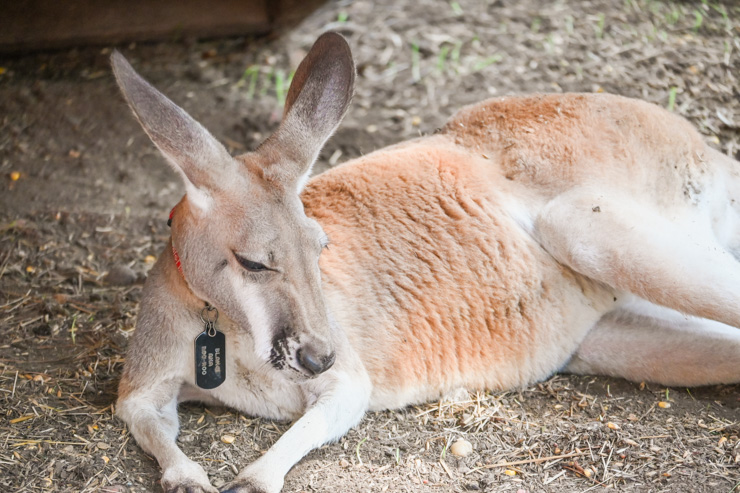 This is one of our favorite outdoor activities, your kids (and probably grown ups too) will have so much fun! The Hochatown rescue center has plenty of animals there for rehabilitation and it can be both fun and educational. Check out our Facebook and Instagram below for more animal photos.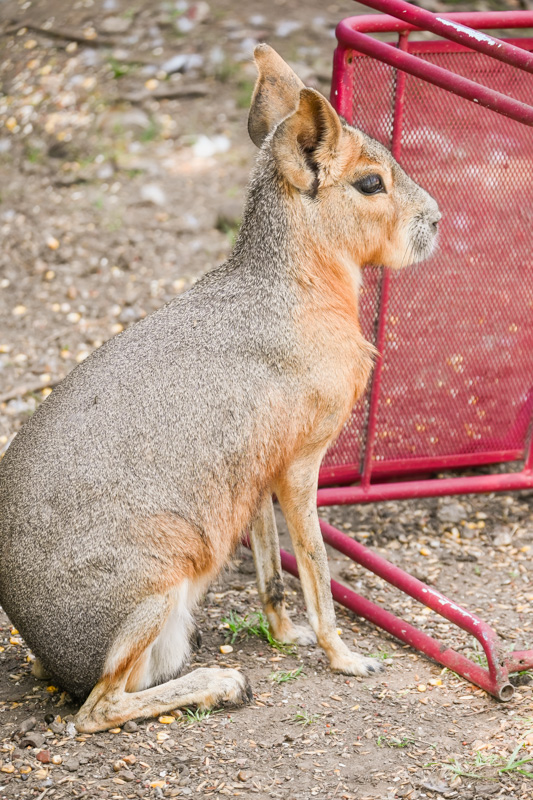 Another great option for the whole family is the One fun activity for the whole family is the Old West Town Miniature Golf, they have the cutest little buildings along the putting green including a General Store, Post Office and Stagecoach office. You will find them in the Secluded Acres area, but you better watch out for the bank robber! Stop here and we are sure you will have a good time.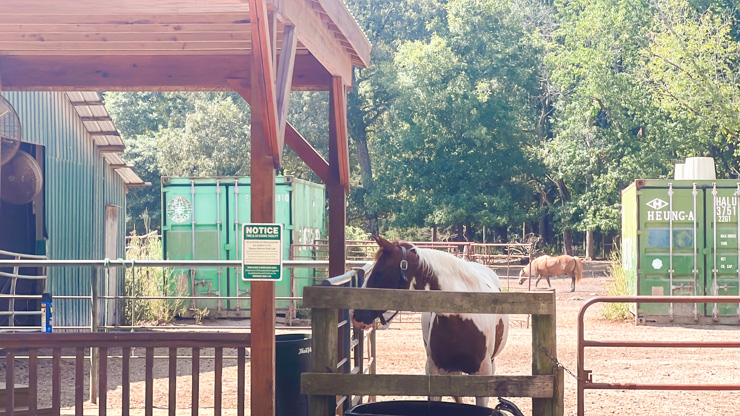 Beavers Bend really is a nature lover's dream destination. From horseback riding to boat rentals we know you can find something for everyone. We have a whole post on top places to eat in the area so we won't talk too much about food here but some of the restaurants in the area have live music providing a unique experience on the shores of Broken Bow Lake. If that sounds like fun and you want to chow down on some great seafood head over to Shuck Me Hochatown. They have waterfront dining, indoor and outdoor seating and an outdoor stage for live music. Check their Facebook page for the most up to date schedule of performers.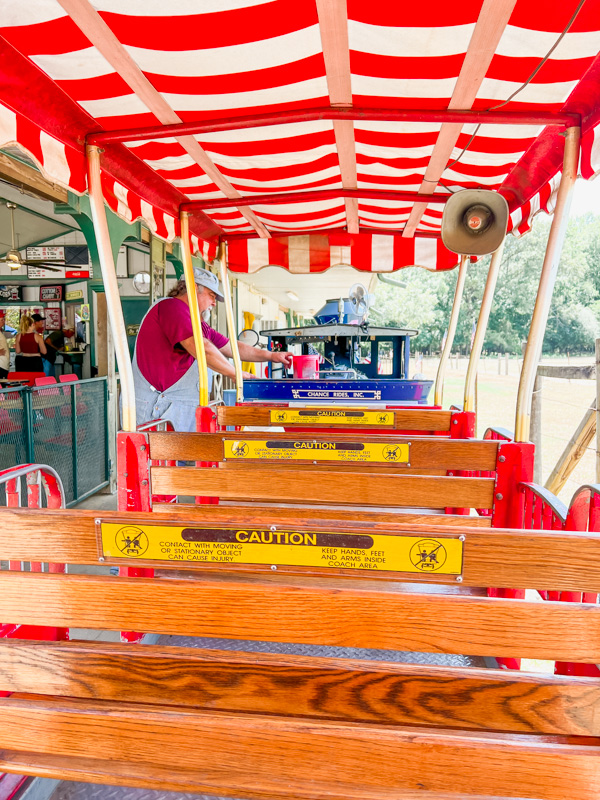 Fun for the entire family is all over the Hochatown area. If you are looking for Horseback rides, or train rides check out Beavers Bend Depot and Trail Rides. They have guided trail rides on horseback as well as pony rides. Right now the single rider price for the guided trail is $40, those ages 5 and up can ride solo, or for those littles 4 and under they can ride with a parent, double riders are $50 and the pony rides are $8. If you'd rather sit back and relax like we did take a train ride!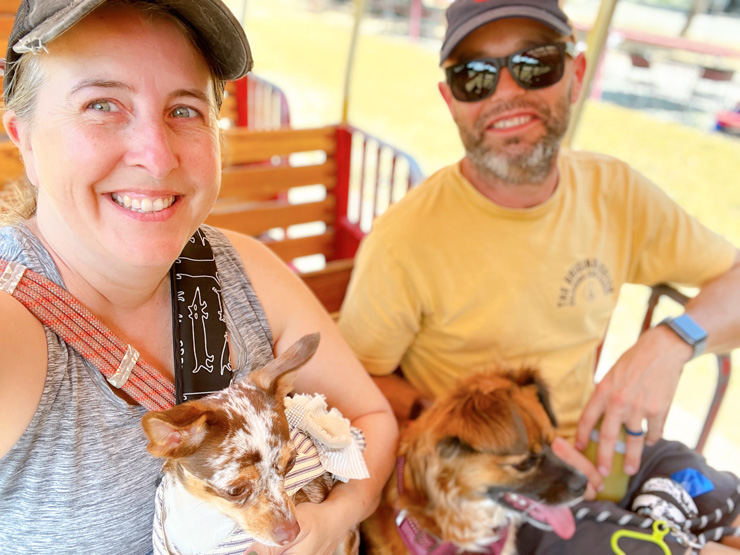 After you are done riding and looking at the beautiful scenery head over to their snack bar for pizza, fries, hot pretzels, hot dogs, popcorn, ice cream, cotton candy and so much more. They have plenty of drinks to cool you off. The train is dog friendly and they give all the kids a pink ticket. That pink ticket gets them in a drawing for a free cotton candy at the end of the ride. We also wanted to mention there are a lot of deer to be seen on the train ride so go early when it's not hot and bring you camera. This is one of the many hidden gems we found Near Beavers Bend Resort Park. Ohhhh and make sure you bring your dad jokes top stump Loco Joe your train conductor!
If you are looking for outdoor adventures on the lake with some fishing or water sports you will not be disappointed. There are so many options from fly fishing, brown trout, smallmouth bass as well as jet skis, kayaks, canoes and float trips. First let's talk about the Mountain Fork Outfitters Trout Fishing Guide.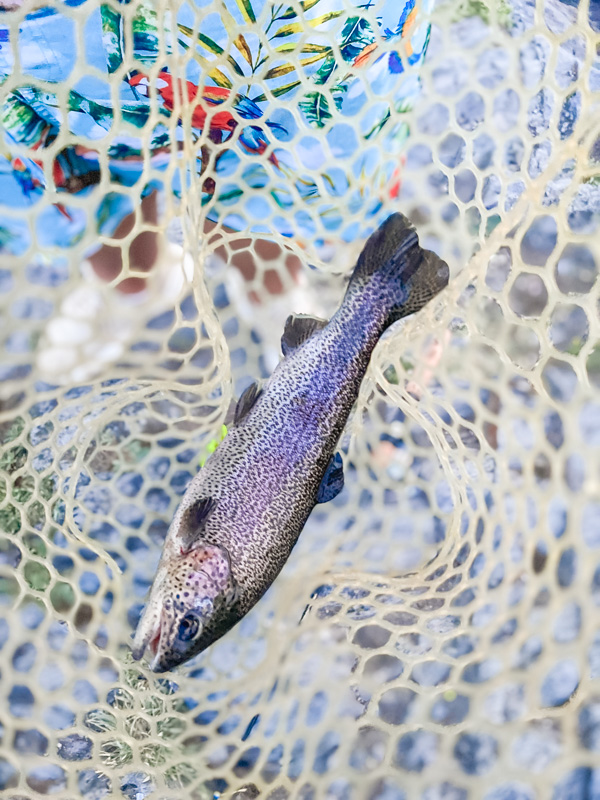 We had such a good time, caught so many fish and learned a great deal about conservation and preservation. I caught 50 rainbow trout! We caught 160 fish between the 3 of us. It was amazing, we are not big fish eaters (and there are too many great restaurants nearby) so we just did catch and release. Farley (pictured above) did a great job teaching us the tricks to catching trout and I think made a HUGE difference on the amount of fish we caught. I also loved that he cared about the fish. He talked about how the oils from our hands can harm the trout and made sure that only he took them off the hook in a way that would make sure there was as less handling of the fish as possible! We cannot recommend this enough for those who love to fish or would like to learn how to fish. This guy isn't here to fish he is here to CATCH!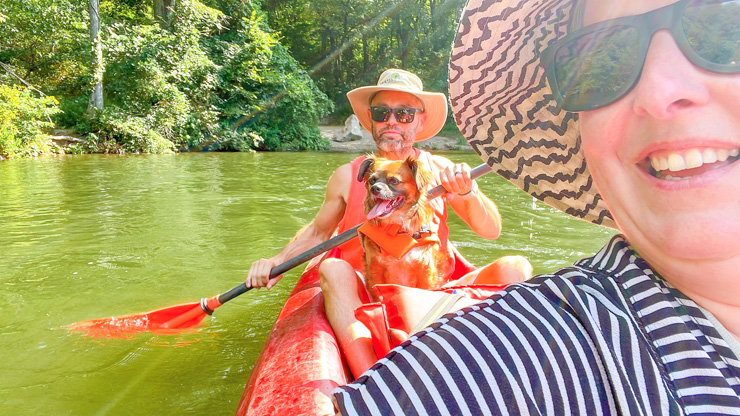 Southeast Oklahoma is such a beautiful place you can't go wrong when choosing one of these fun things to do in Hochatown OK or Broken Bow OK. We spent a beautiful morning kayaking in Beavers Bend State Park! Here is the best part, it was about $23 to rent a double kayak at Beavers Bend River Floats!!! We had so much fun! Even the dogs enjoyed it.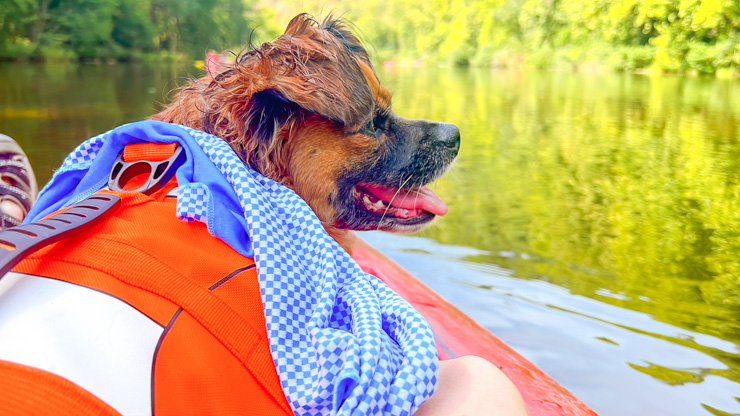 They are open March through October. The float trip is 2.5 miles down the river and can be done in an hour or take your time and stay a while longer just floating along. Their canoes can hold 2 adults and 2 small children and kayaks are available in one or 2 person sizes. Single kayaks are $12, while the canoes and 2 man kayaks are $23. No reservations required, find them at 467 Beavers Bend Rd, Broken Bow, OK 74728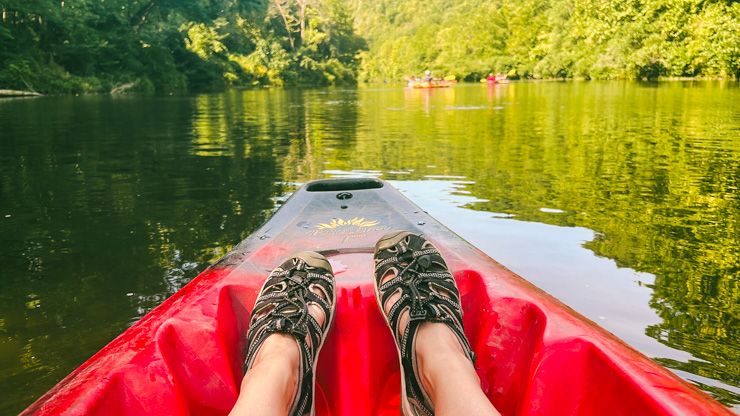 If you like to rent a larger water vessel head on over to the Beavers Bend Marina. They have boat rentals, slip rentals, jet ski rentals and plenty of places to eat. Many of the restaurants on the water have easy access for boats and free slips as well. Hochatown is great for a weekend getaway, summer vacation or spring break.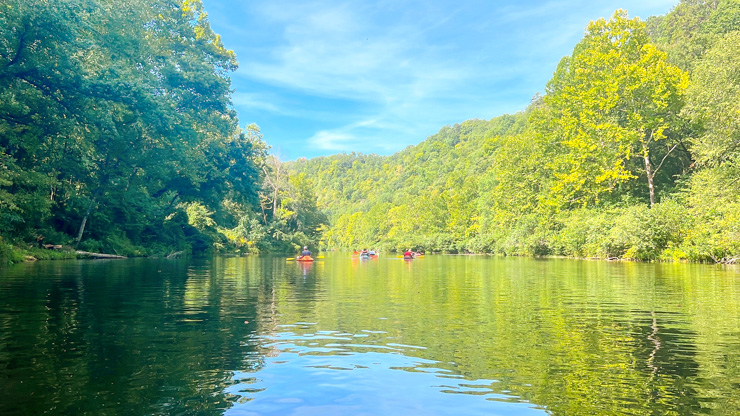 The Beavers Bend area is great for bird watching, it is a great place to spot bald eagles, deer and plenty of other critters in their natural environment. There are museums and nature centers but if you want a real adrenaline rush without water skiing check out the zip lines at Rugaru. Their tours take you through the treetops on a tour that is about 2 hours long. (check their website for weight requirements for safety) it is about $79 per person right now, but if you've ever wanted to fly this is going to be a great way to feel like you are flying. there are also plenty of spaces to get in the water and swim. Check out some of the small beaches up by the dam area.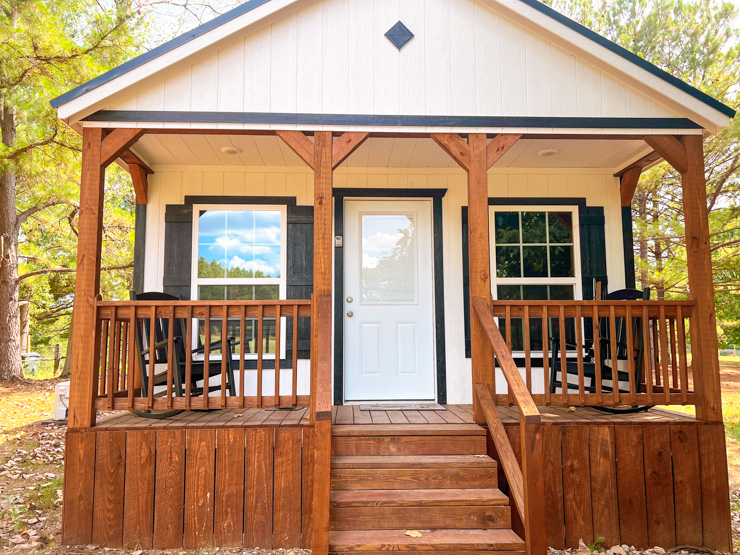 If you head to Beavers Bend we are sure you will find plenty of things to do in Hochatown OK. We got to stay in a cute tiny home but there are plenty of cabins, tent camping and RV spots in this area. We really loved Heidi's Shire. It was the perfect amount of space for us.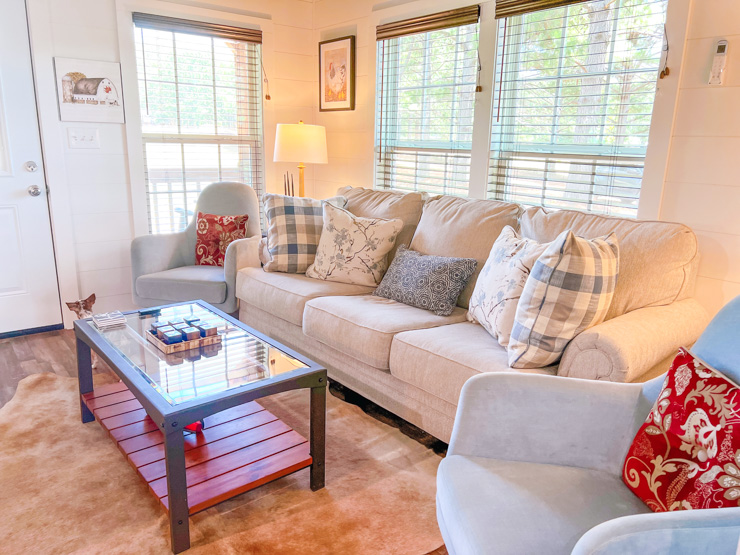 We love that it was pet friendly. Tilly and Chloe loved it here and there was plenty of room to let them roam and play outside as well. They do have two small dogs that roam the property, so if that bothers you just let Heidi know and she will keep the put up, however they are super friendly.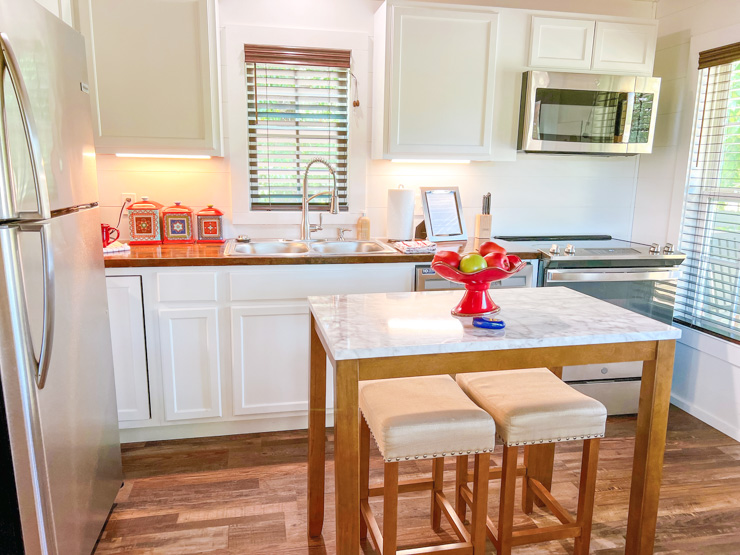 This tiny home is on land with the Heidi's home behind you at the back fence and another home in front of you quite a ways away. There is enough space to have a since of being on your own. Did I mention the stars in the sky? Oh my the sky puts on quite a show out here. You can sent on the front porch and enjoy.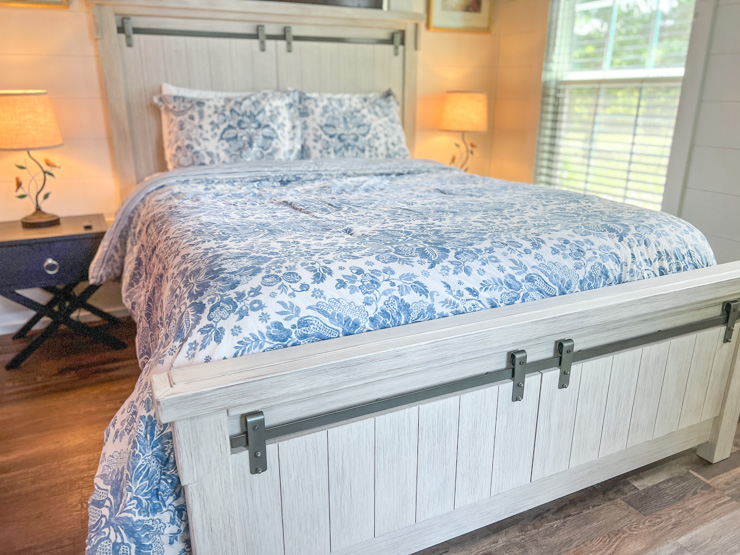 These are just a small sampling of things to do in Hochatown OK. We plan on heading back in the fall to some of the things that we missed and we will definitely be adding to this post! If you're a business owner who would like to work with us in the fall, don't hesitate to reach out! Check out some of these and tell us what your favorite things to do in Hochatown OK are!
FOLLOW US ON SOCIAL MEDIA
Don't forget to invite your friend's to our Facebook groups! We would also love to see your vacation pictures!