The Best Sunrise and Sunset Spots in Banff
Banff is Canada's first national park. Established in 1885, it covers over 2,500 square miles along the eastern slopes of the Canadian Rockies. As befits an area of glaciers, forests and mountains, it welcomes millions of visitors each year. Whatever time of day and wherever you are, Banff is a gorgeous place. Full of jutting mountains, clear lakes, and dense alpine forests, it's regularly toasted as one of the most beautiful locations in the world. let's check out the best sunrise and sunset spots in Banff.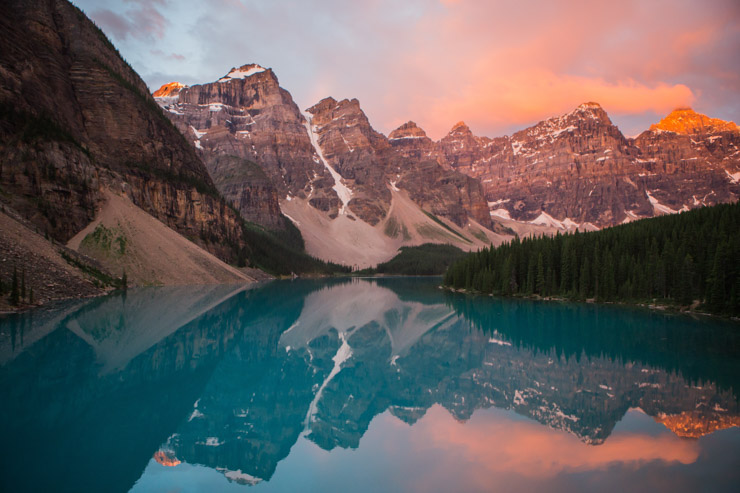 There's something undeniably special about enjoying the sunrise here on a new day and enjoying the sunset at the end of a fantastic day of sightseeing, hiking, and exploring. Sunrise and sunset also offer excellent photo-taking opportunities as the light is warmest and softest. 
If you're taking a trip to Banff this year, here are the best sunrise and sunset spots you must check out.
Sunrise at Moraine Lake
While Lake Louise is often considered the must-see lake in Banff, Moraine Lake is a hot up-and-coming contender for the crown, earning it a Travelers' Choice badge from Trip Advisor in 2022. Views from the Rock pile — a 10-minute hike from the Moraine Lake car park — are breathtaking. At sunrise, the lake is at its stillest, the color is unreal, and the crowds are thinnest.
A note here that the road to Moraine Lake is closed to private vehicles. Fortunately, there are shuttle services that leave early enough to get there for sunrise. Just make sure you book your tickets in good time!
Sunrise at Tunnel Mountain
Often considered the most popular hike in Banff, Tunnel Mountain — also known as Sleeping Buffalo — is easy, even for novice walkers. It's under a two-hour there-and-back trip.
Even though this is the smallest summit in Banff, don't let that deter you. The views from the top are incredible, with lookouts over the town of Banff and surrounding mountains, including Sulphur Mountain, Pilot Mountain, and Mount Cory.
A top tip: You'll know you're close to the best viewpoint when you reach two bright red, quintessentially Canadian Adirondack chairs!
Sunrise at Two Jack Lake
Named after two beloved area men named Jack, Two Jack Lake — an offshoot of Lake Minnewanka — is a close drive from the town of Banff. Seeing the sunrise here from the lake's pebble beach is a peaceful way to start your day (unlike Minnewanka, motorized vehicles aren't permitted). At Two Jack Lake, you'll see one of the best views of Mount Rundle dappled in the morning sun.
Now that we've covered the start of your day consider ending it with an equally breathtaking sunset if you have the energy. Here are a few equally great spots in Banff to take in the evening sun.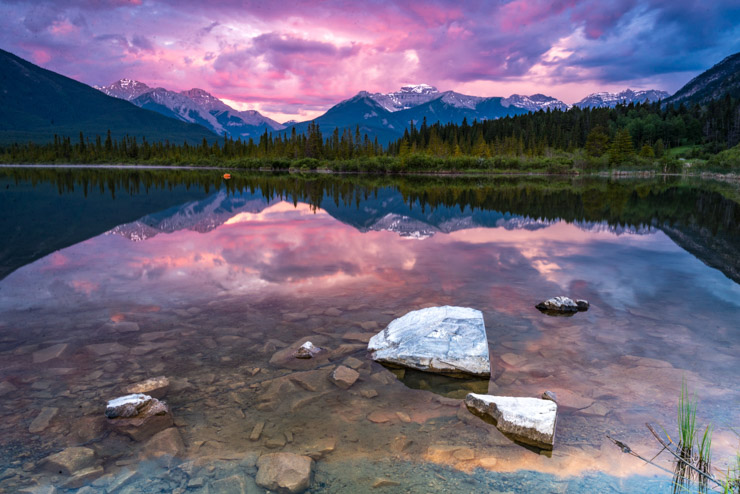 Sunset at Vermilion Lakes
The three Vermilion Lakes are a popular spot with locals. Located at the foot of Mount Norquay, they provide excellent, unobstructed views of the impressive Mount Rundle reflecting in the lake with Sulphur Mountain in the background. If you arrive with enough time to spare, you might get one of the coveted spots on the lake's dock.
This is one of the quieter spots in the area, which means you might spot some of Banff's famous wildlife. Watch for bald eagles, elk, deer, and muskrats. Why not bring a blanket and a thermos of hot tea and settle in for the sunset and wildlife watching?
Sunset at Norquay Lookout
The Norquay Lookout — also known as the Green Spot — is an alpine vantage point halfway up the road to the Mount Norquay ski resort. 
There's generally plenty of room to pull up your car on the roadside and grab a seat on the large area of grassy banking. From this viewpoint, visitors can take in Mount Rundle, Bow Valley, and the town of Banff as they bask in the evening sun.
Sunset at Sulphur Mountain
Catching the Banff Gondola to the top of Sulphur Mountain is a fabulous way to spend your evening. The gondola takes under 10 minutes to reach the top, and there are numerous lookout points when you get there — giving you different views from various angles.
This is such a perfect spot for sunset views that Banff Gondola organizes a Sunset Festival on their terrace every evening, seven days a week, until early September. Live music plays and craft drinks are served. The best part? The gondola terrace has glass railings that allow unimpeded views of Banff town, Bow Valley (and river), Spray River and Lake Minnewanka.
The Takeaway
First, keep an eye on the sunrise and sunset times to avoid disappointment, and keep in mind that despite the summer months, it can get cold in Banff — especially if you're standing or sitting for some time in the early morning and evening. Layers are a great idea — wear thick socks, bring a light jacket, and don't forget your beanie (or as the Canadians say, toque!).
If you plan to spend some time, bring a blanket or two so you can enjoy the moment in absolute comfort.
Wherever you go for your sunrise or sunset experience — whether it's by a lake, on an alpine slope or to the top of a summit — you're sure to enjoy the quiet calm that an early start or evening outdoors offers. We hope you enjoy these sunset spots in Banff.
More International Travel Posts:
FOLLOW US ON SOCIAL MEDIA
Don't forget to invite your friend's to our Facebook groups! We would also love to see your vacation pictures!