Great Salt Plains State Park: Your Complete Guide
Oklahoma is full of beautiful state parks, but one of our favorites is Great Salt Plains State Park. If you're not familiar with it, we've put together a complete guide to help you make the most of your visit. This park offers something for everyone, from miles of beautiful hiking trails to opportunities for fishing, bird watching, and more. Whether you're looking for things to do, places to eat, or just some general information, we've got you covered! So pack up the family and head on over to Great Salt Plains State Park for an adventure you'll never forget!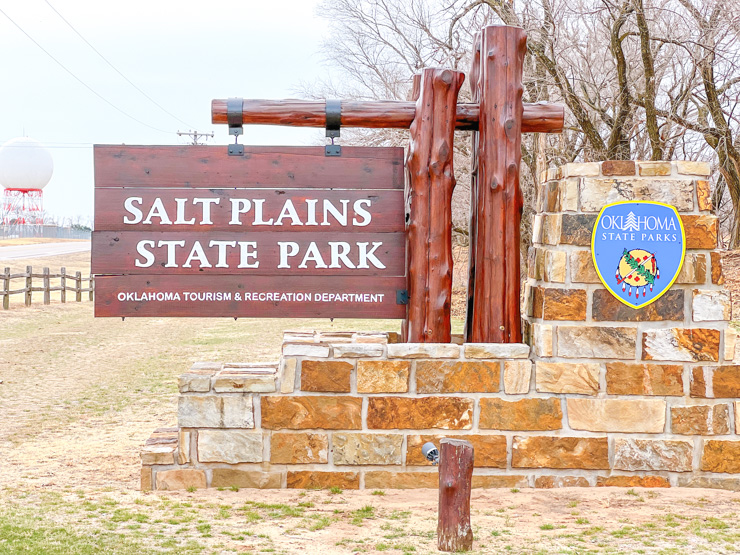 Is the Great Salt Plains Free?
There is no admission fee for Great Salt Plains State Park. There is however a parking fee. If you plan on parking and enjoying the state park you will need to buy a parking pass. You can either pay for your parking in advance or you can pay with your on smartphone at the park. There are plenty of signs explaining how to pay. Here is a link for more parking info. JOIN OUR OKLAHOMA FACEBOOK GROUP!
A parking pass in included in your completed reservation for a RV or tent campsite.
Here are the parking fees.
Bus Pass:
Please note you do not have to pay for parking at the crystal digging areas!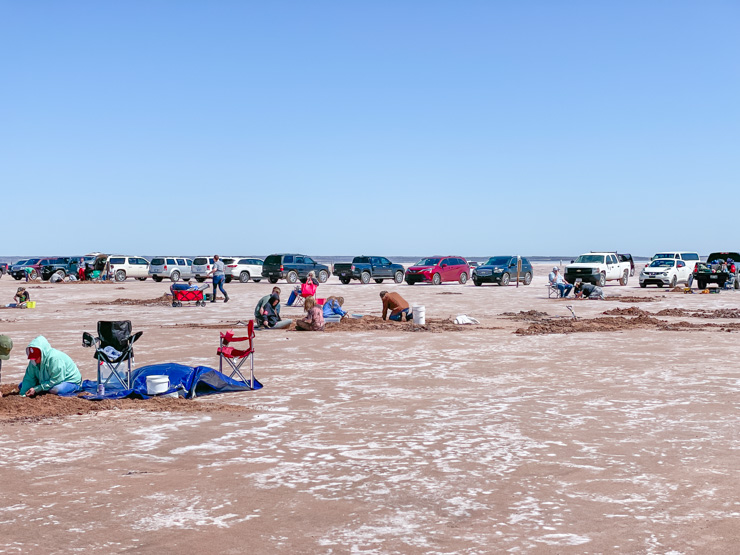 Best time to Visit Great Salt Plains
Great Salt Plains State Park is open year round for hiking, biking, fishing, camping, and horse trail riding. If you are wanting to dig for crystals then you need to plan your visit between April 1st and Oct 15th. You can also go canoeing, rafting, kayaking year round at the park. Weather permitting of course.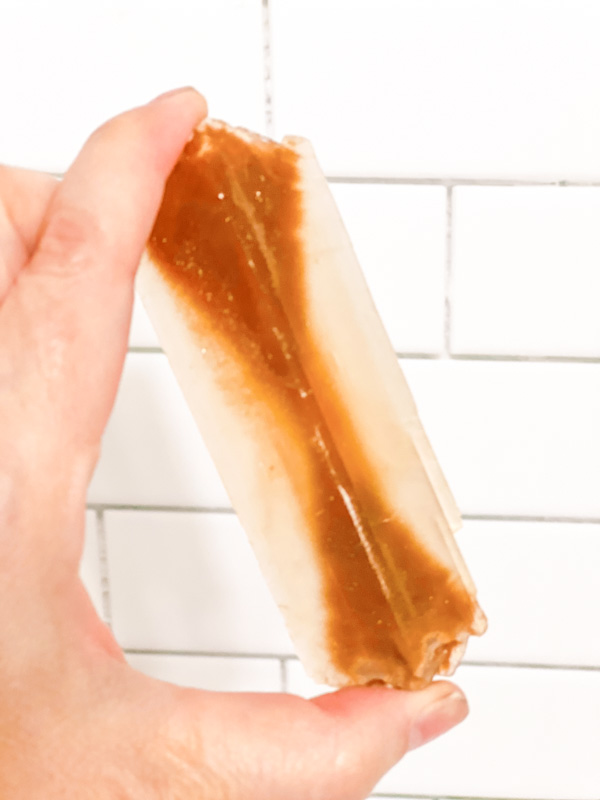 What Kind of Crystals are at the Great Salt Plains State Park & Wildlife Refuge
The stunning landscape of Oklahoma Salt Plains State Park is a dry, flat area that was once covered by an ocean. The Great Salt Lake in this state park has half as much salt content compared to the ocean. The selenite crystals found here in the actual refuge are unique to Oklahoma. The hourglass-shaped selenite crystal can only be found here. You can dig for crystals in the Great Salt Plains Wildlife Refuge located near the state park.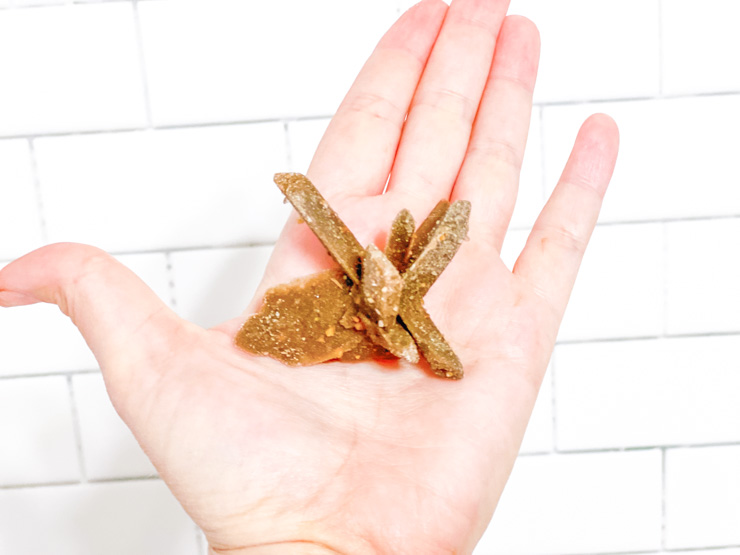 You may find single Crystals or small or even large crystal clusters if you are lucky. We had an amazing time digging, matter of fact we didn't want to leave but we needed to get home to feed our dogs.
Above is a picture of all the ones we found. If we would have had more time we could have found a ton more because we found as my husband would call it "the honey hole". We just kept pulling crystals out of the ground. We saw a family with kids that had arrived late so we flagged them down and told them they needed to take our spot.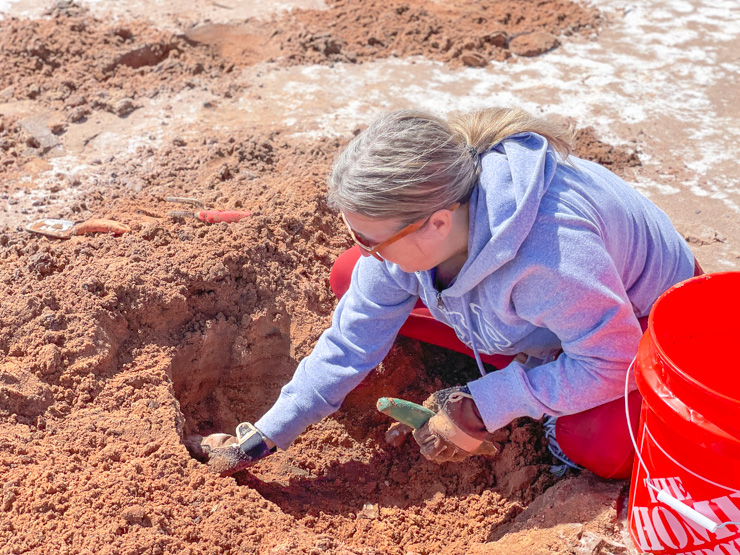 Pro Tip: Once you dig a section with your shovel stop. Then take your small hand shovels and dig just under the surface and pull up. Wear gloves and feel around because you can feel the larger ones sticking up so you will want to dig around them in case they are attached to a cluster or to make sure they stay intact. If you dig down and you hear a crunch, you know there are crystals there.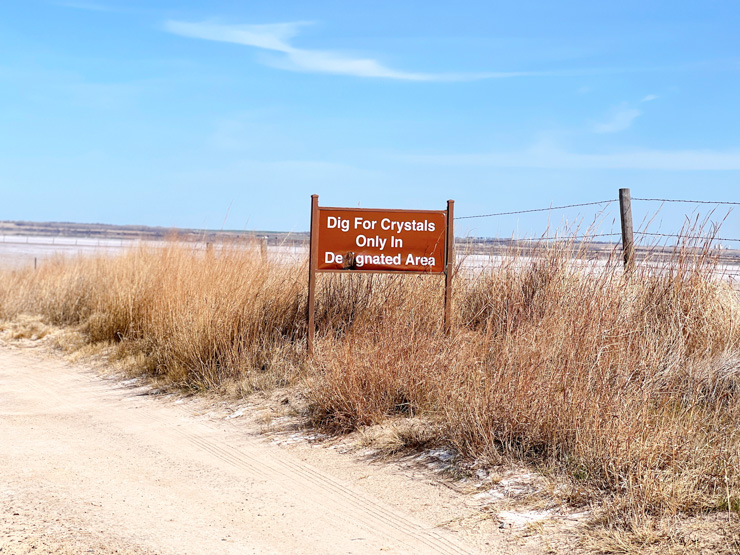 Where Can You Dig for Crystals In Oklahoma
The crystal dig area is southwest of the lake in the Salt Plains National Wildlife Refuge. Access roads to the dig area are available six miles west of Jet or three miles south of Cherokee. The crystal digging area is open from April 1 to October 15 from sunrise to sunset. While you are digging for your crystals you should keep you eyes open for the over 300 species of protected birds that live in the refuge. Here are some maps of the area to help you navigate. Make sure you are only digging in the designated areas, there are park rangers that drive through and check. The address to the digging site is also: 66003 Garvin Road, Cherokee, OK 73728.
There is a restroom available inside the gate. After leaving the dig area, remember to also rinse the salt off your car.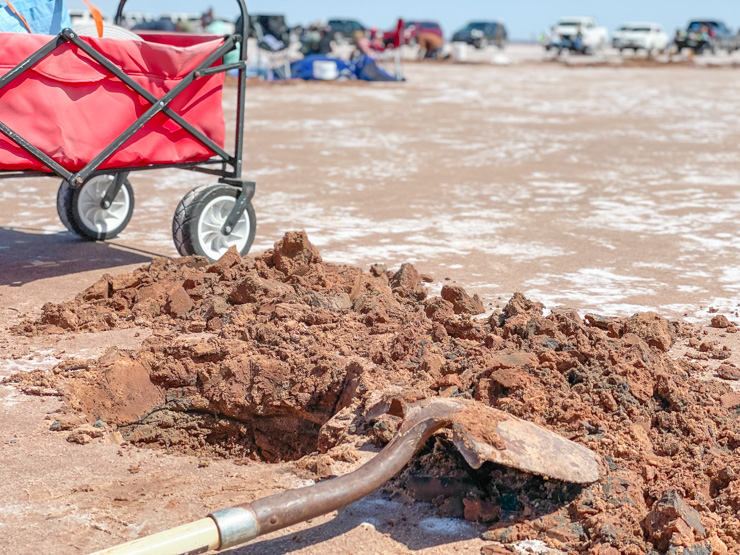 What Should I bring to the Great Salt Plains
If you plan on digging for crystals you should bring some protection from the sun. Sunscreen, hat, and appropriate clothing. The sun reflects off the white surface so sunglasses would be a good idea as well. You should also bring a shovel as you will want to dig a hole that is a couple of feet deep to look for the crystals. Of course make sure you have enough drinking water and you can even bring water to wash your crystals off with. A change of clothes is also a good idea. You might be a little dirty after all that crystal hunting!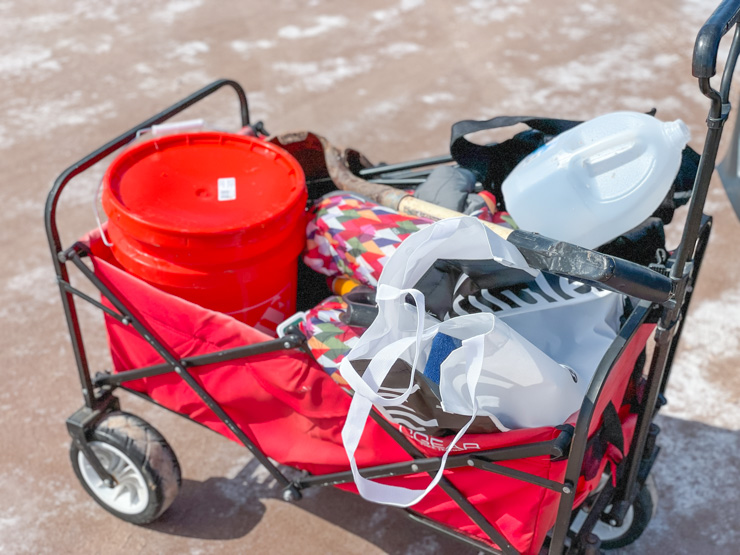 A few things you should bring
Bucket- to put your crystals into and wash them. We got ours from Home Depot.
Blanket and chairs- If you want to sit on something other than the ground. We actually brought a lunch and ate on our blanket.
Water- for you to drink and some to wash your crystals.
Shovel- a spade type shovel and small garden tools work great
A wagon– helps you get all your supplies to your dig spot
Protection from the sun- hat, sunscreen, etc…
Change of clothes- you will get dirty!
I also brought wipes and hand sanitizer.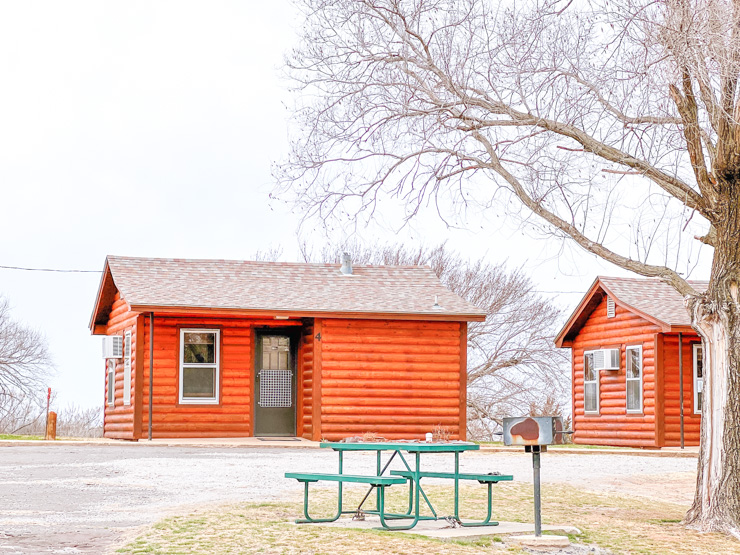 Camping at Great Salt Plains State Park
This state park near the dam has cabins, RV sites and tent sites available if you want to camp in the park. Every cabin has a bed, refrigerator, and stove. The state park also has 64 RV sites and 95 tent sites. There are comfort stations with showers located near the camping sites and throughout the park. Click here for cabin reservations.
Five day cancellation required on all reservations.
The first night stay will be charged to your credit card to confirm your reservations.
2 Night Minimum required on weekends, 3 Night Minimum required on Holiday weekends in peak season.
You can book camping sites online here.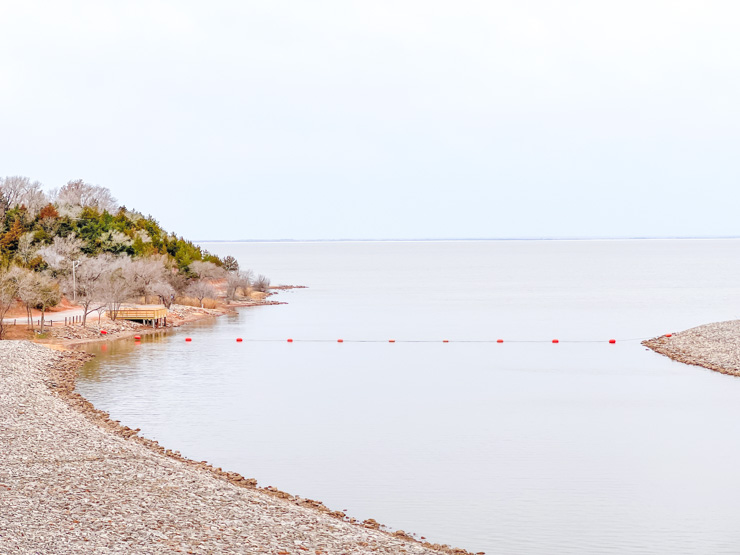 Great Salt Plains Lake
Great Salt Plains Lake is a shallow, salty lake that covers 8690 surface acres with 41 miles of shoreline. So watercraft isn't really recommended. you'll find fishing opportunities for catfish; saugeyes (a type often found near shorelines); sandbass – which resembles white bass but have darker backsides. It's been said that many people come to swim in it's salty waters because of healing properties.
When we were here we actually saw a deer leap into the water and swim across the other side never breaking a stride. It was very cool to see.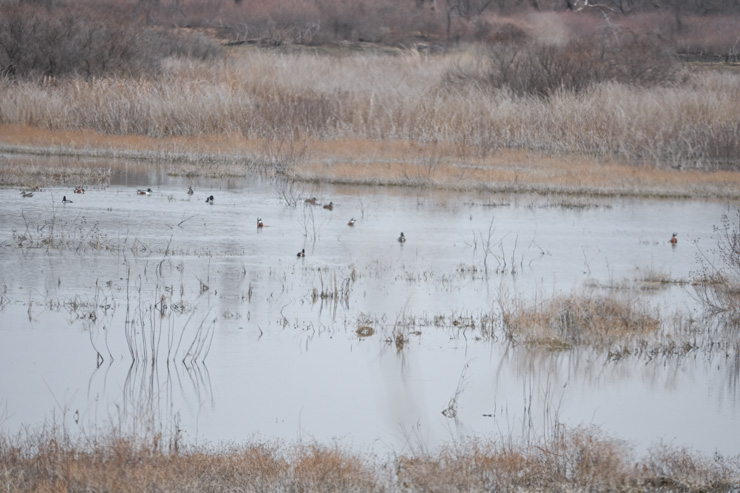 Great Salt Plains Wildlife Refuge
Oklahoma is home to a lot of beautiful landscapes and sites, but one of the lesser known gems in the state is the Great Salt Plains Wildlife Refuge. This refuge is over 11,000 acres large and is a great place for nature enthusiasts and birdwatchers alike. The refuge is especially well-known for its vast populations of shorebirds such as ibis, great egret and blue heron. If you're looking for an amazing outdoor getaway that's close to home, make sure to check out the Great Salt Plains Wildlife Refuge! We didn't get any great photos this time because it looked like a fire had just come though the area.
Keep and eye out for Bonham Pond while your at the wildlife reserve. This is a special pond stocked with fish that only kids are allowed to fish in.
What else is there to do at Great Salt Plains State Park
Biking
Canoeing/Rafting/Kayaking
Fishing- catfish, saugeye, sand bass, and hybrid striper can be found here
Hiking
Horseback Riding and Equestrian Trails
Swimming
Watchable Wildlife
More travel related articles:
Alabaster Caverns State Park: Your Complete Guide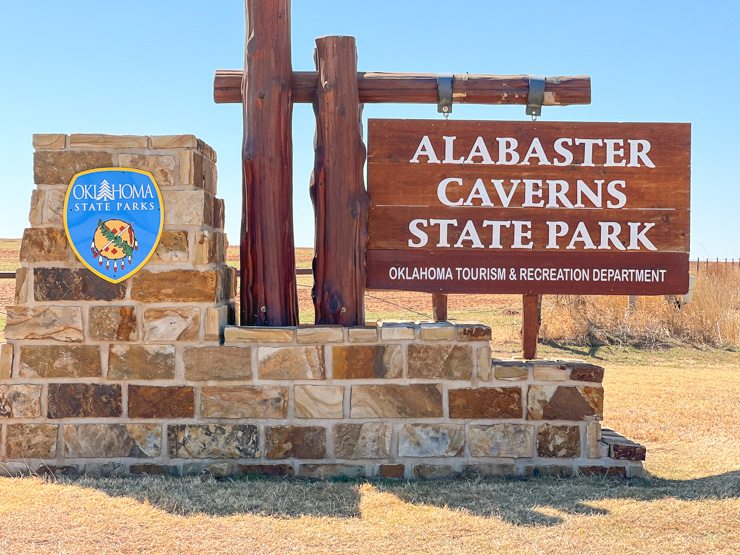 9 Best RV Campgrounds in Oklahoma
More Places to Visit in Oklahoma
FOLLOW US ON SOCIAL MEDIA
Don't forget to invite your friend's to our Facebook groups! We would also love to see your vacation pictures!