Family Fun at Riversport OKC
Disclosure: This post was hosted by Riversport OKC, however any opinions expressed are my own.
We recently got the opportunity to check out Riversport OKC, in downtown Oklahoma City. If you're a fan of being outdoors, or finding things to do that involve a lot of excitement and adventure, Riversport OKC is probably for you! Take a look at our experience this summer.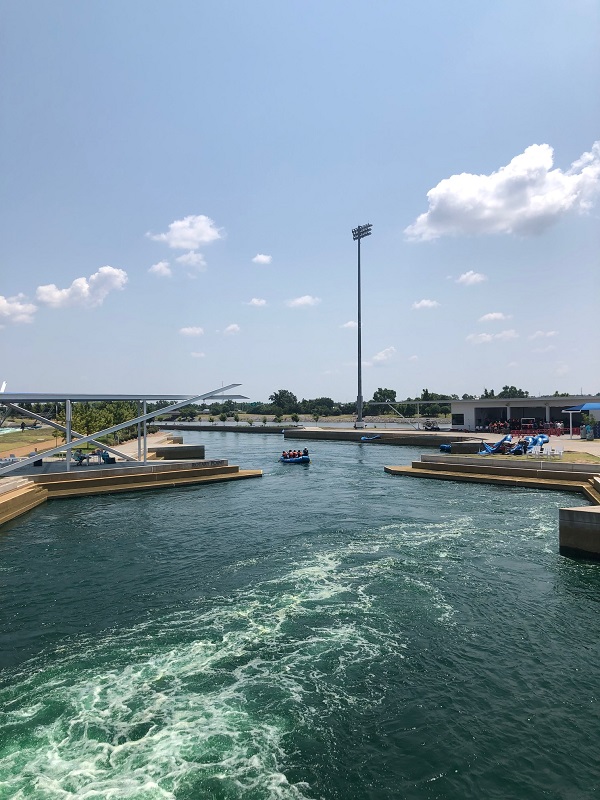 Things to Do:
We had day passes to Riversport OKC, which offer a large selection of activities. For our family (two adults and two children over the age of eight), we enjoyed the rapids rafting and the Sky Trail. Also included in our day-pass was admission to the Sky Zip, a zipline that goes all the way across the Oklahoma River! It's way up there, but it's a great zipline to try for your first time if you're thinking about doing longer ones on vacation, etc.
The Sky Trail was probably our favorite thing. It has four levels, and the first level is actually pretty challenging compared to the upper levels! We had light winds the day we went, so winds weren't really a factor. I did watch the weather prior to heading over, since the park can close attractions for high winds and inclement weather. We have had a lot of that this year, but thankfully none the day we went!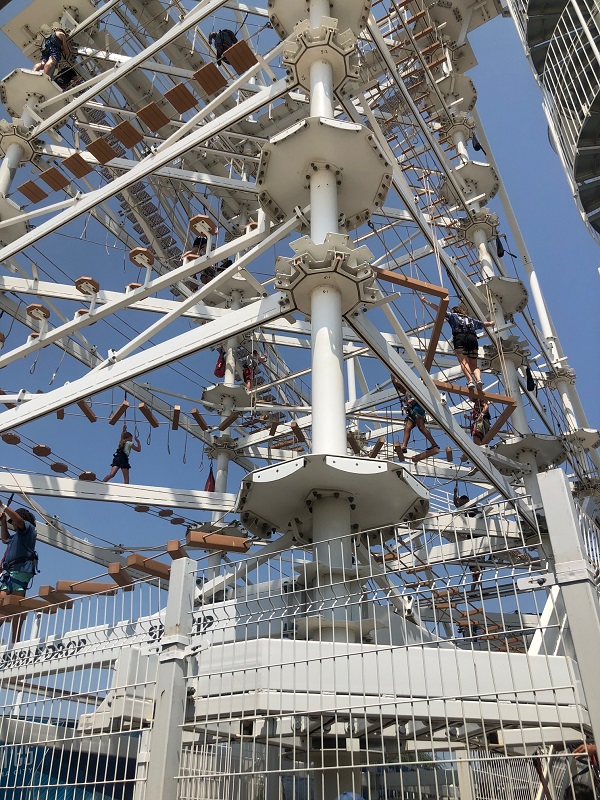 If you walk over to the central building at Riversport OKC, there is one indoor activity next to the restaurant. You can try out your skills at the indoor skiing, complete with instructions for beginners. There are two trainers set up with virtual skiing to allow kids to learn the general movements needed to stay upright on the slope. The instructor also gives a short intro before the skiers get started.
I would recommend the indoor skiing for older kids who haven't been skiing before, or anyone who wants the experience of having skis on and testing their balance on a slope! My husband and I have both been skiing before so we skipped this one.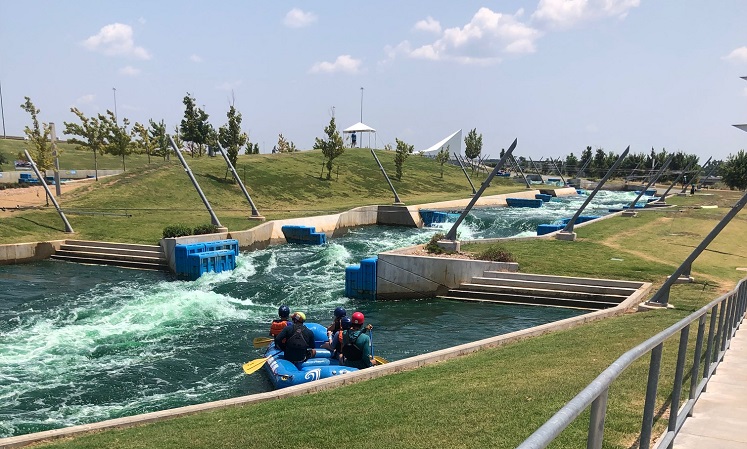 White Water Rafting and Surfing at Riversport OKC
I would say the biggest things that Riversport OKC has to offer are the white water rafting and Surf OKC. The rafting is offered at three different difficulty levels (family, intermediate, and extreme). Keep in mind extreme and intermediate have age limits, so family is the one you will want to reserve for younger kids.
The rafting looks amazing and we can't wait to try it out. Unfortunately it does book out quite a ways, so keep this in mind if you plan to try it out. One family we talked to had actually booked their rafting time a few months back. So it does involve some planning, especially if you plan to raft on a weekend date.
The Surfing does not require a reservation, and you can go as many times as you like on your Riversport OKC Day Pass! If you choose the Riversport+ Pass, they offer a separate line (fast pass) to the surfing. Every time you take a turn you get two tries on either a surf board or boogie board. Most kids chose the boogie board. We saw a couple surfers who were able to surf for a few minutes. It's great on a hot summer day!
For anyone interested in trying out the Surf OKC, we recommend going early and on a weekday if possible to get the most out of your pass. Lines do get very long in the afternoon. I would also highly recommend a rash guard and swim shorts or board shorts for this activity.
Different Passes for Different River Sports and Interests
There are several different passes to pick from, so you need to do your homework before you purchase a pass to see which one fits your needs.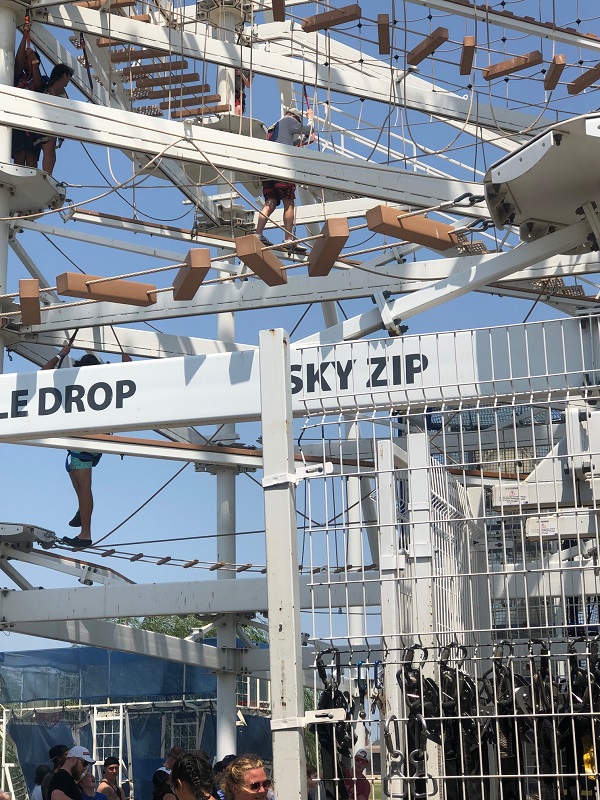 One thing that we didn't realize prior to heading to the park was that it's not your traditional "theme park". Meaning, you aren't locked in to any certain area. It's all come and go, and you can choose one adventure or more. When you arrive, take a look at your brochure for the full list of included activities with your pass. The brochure also has a map and lists which things need to be reserved.
You can actually pick one or two attractions and just buy a ticket for those. Or, you can purchase a pass for everything they have to offer. It's actually very customized. So, if you're wanting to strictly kayak or go white water rafting, you can just reserve those. If you want to grab the flat water kayak or stand up paddle boat, you can do that and then relax next to the water.
It's also a great way to just get outside and walk around if you aren't interested in purchasing a ticket, but certain people in your party are. For example, parents or grandparents who would love to sit and watch the kids on the Sky Trail or kids' Riversport adventures –but don't actually need a ticket. It's all outdoors so you only need your wristband to participate in the adventures.
Thanks For Reading!
I would recommend Riversport OKC to anyone who loves to get into the water and experience kayaking or white water rafting without having to travel outside the state. Be sure to book your reservations first, and enjoy! ~Rebekah J., ConsumerQueen/RoamingMyPlanet Team
See more things to do in Oklahoma Here!
More Places to Visit in Oklahoma
FOLLOW US ON SOCIAL MEDIA
Don't forget to invite your friend's to our Facebook groups! We would also love to see your vacation pictures!