Cody Wyoming – Your Complete Guide
Cody Wyoming is an amazing destination for anyone looking to get away from it all. The town of Cody is a quaint little mountain community that provides visitors with incredible scenery and plenty of outdoor activities, such as hiking, biking and fishing. Cody offers both winter sports enthusiasts and summertime vacationers the chance to enjoy the world-famous Yellowstone National Park close by.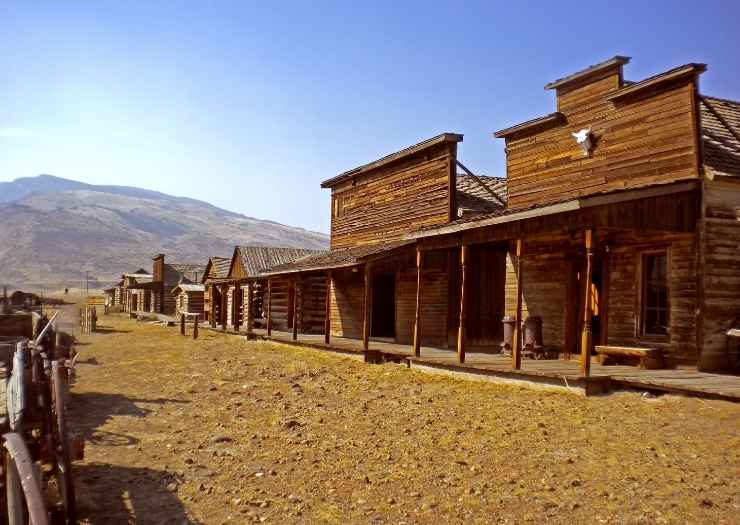 Cody Wyoming Weather
When you visit Cody there is a good chance you can leave the umbrellas at home. They only average about 10 inches of rain a year! Now in the summer time the temperature hovers around 80 degrees. In the winter the temperatures average below 44 degrees. Of course this doesn't factor in the wind. The wind can make a cool night a little chilly.
Cody Wyoming Hotels:
There are many places to stay in Cody Wyoming. Though some are better than others when it comes to value for money or comfort. Here we will give you a complete guide on where you can stay. We will also share restaurants that offer authentic Western fare!
A great nearby hotel is the Irma Hotel. The Irma Hotel is a historic hotel that has been in Cody for over 100 years. Buffalo Bill opened the Irma Hotel in 1902. The Irma has hosted Indian chiefs, cowboys and even princes and other royalty during the grand opening celebration on November 18th of that year. Colonel Cody even named the Irma after his youngest daughter who had been born on February 9th 1886.
When Cody stayed in the hotel, his personality and fame kept it packed. He was known for being a pioneer of the Wild West Show tours. His two suites at The Irma Hotel which have been restored and are available to guests today. All other rooms in this landmark building were also named after pioneers such as Jakie Schwoob; an early retailer, or Caroline Lockhart; a newspaperwoman and novelist.
Camping in Cody
If you are wanting to camp in Yellowstone but you find that the park is completely booked. The Ponderosa Campground in Cody is really nice option to stay at. They even offer chuckwagon dinners. There are plenty of places to eat within walking distance too! We stayed there on our trip and we were impressed with the campground. The bathrooms were big and clean and the grounds were well maintained! They also have washer/dryers there so you stay looking fresh!
Cody Wyoming Restaurants
If you're visiting Cody, then it's worth your time to try some of the authentic Western fare like The Grill Restaurant or one of the local favorite spots in Cody, Sagebrush Steakhouse! If you want something more eclectic you should try the pizza at Ruggio Pizza located right downtown.
The Mountain View Restaurant and Saloon offers great food, atmosphere as well as nightly entertainment with their talented staff of musicians. The restaurant claims it serves "the best hamburgers in town" so if you're looking for something light yet filling this may be perfect spot to try!
Another good restaurant option would be the Stable Inn Steakhouse. They offer all-you-can eat beef ribs every day from 11am onwards which are delicious, but they also have a variety of menu options to choose from.
What to do in Cody:
Cody's most popular attractions are Yellowstone National Park and Devil's Tower but there are a lot of things to do here besides just the national parks.
Cody Buffalo Bill Museum –
Cody's Buffalo Bill Center of the West showcases the life and legacy of William Frederick "Buffalo Bill" Cody. Including his time as an Indian scout and soldier, buffalo hunter, showman, sharpshooter and more. It includes numerous exhibits on these subjects as well as other artifacts from the 1800s-1900s Western era. It is actually 5 museums in 1! They also have The Plains Indian Museum, Cody Firearms Museum, Draper National History Museum, and the Whitney Western Art Museum.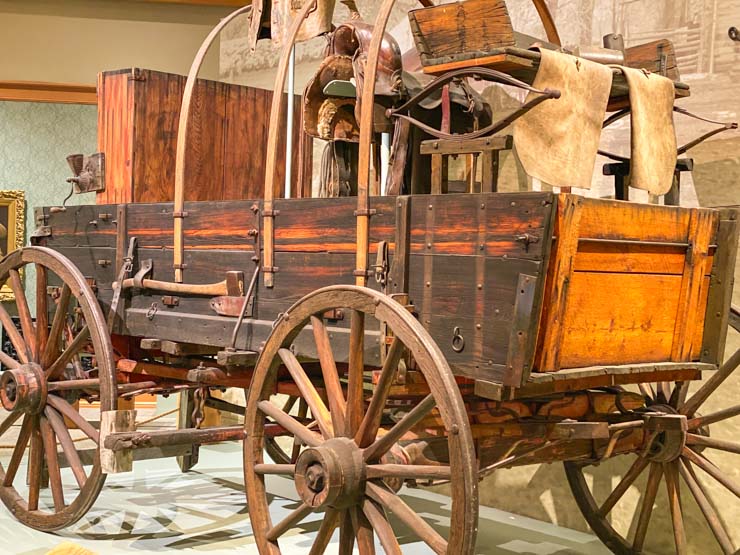 The Buffalo Bill Center of the West also offers exclusive tours for the Buffalo Bill Museum and the Cody Firearms Museum. They also have other activities on the grounds so make sure to check their website when planning your trip!

Cody Nite Rodeo –
A trip to Cody, Wyoming is a journey for many people. There are a wide variety of venues that provide entertainment and food for visitors. The Cody Nite Rodeo is a perfect way to enjoy some of Cody's western flair. You can purchase tickets ahead of time at www.codynightrodeo.com or you can get them there. Showtime begins around 8:00 pm and people actually start lining up at 7:00 pm to get seats.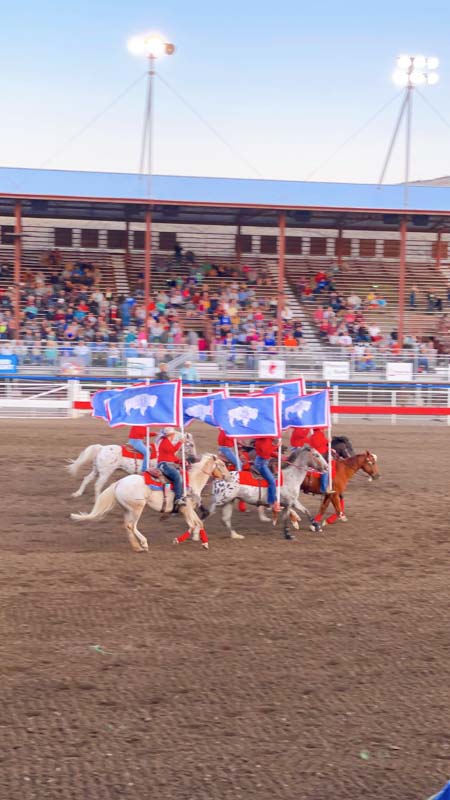 Once inside we recommend walking all the way to the other side of the arena. The seats have backs and you will get a great view of all the cowboy and cowgirls coming out of the gate. Cody Nite Rodeo is kind of like a training rodeo and it's a great experience for young up and comers. The night we were there a few of the cowboys and cowgirls were former World Champs! So you never know who you might see. Don't forget your cowboy hat and boots though – this is one event that will have you feeling like an honorary local right away.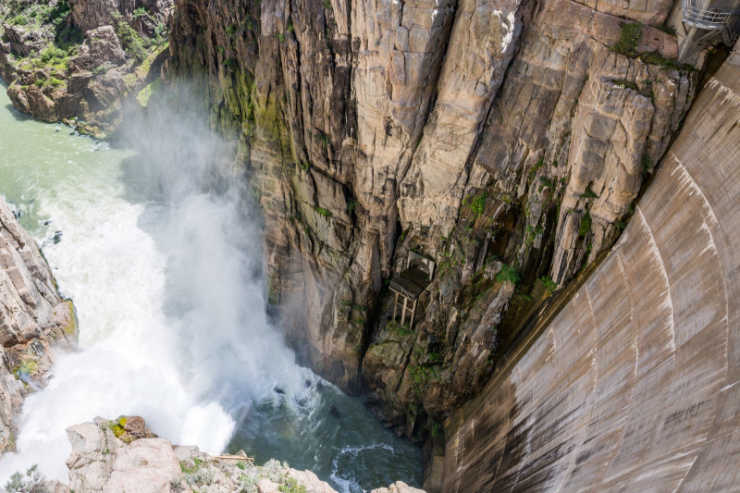 Buffalo Bill Dam & Visitor Center –
Have you been to the Buffalo Bill Dam? If not, be sure and stop by! The Buffalo Bill Dam is a hydroelectric dam that was constructed in 1918. This dam has led to the creation of one of the most beautiful lakes, Lake Francis Case. The lake itself is an excellent place for fishing or just sitting down and enjoying nature's beauty. There are plenty of trails around this area, so if you're looking for something more active than sitting on a boat or lounging in sun chairs on the beach. Then take up hiking with your family or friends!
Best Time to Visit Cody:
Cody Wyoming offers a number of activities year-round so there really isn't a "best" time to visit although summer months are more temperate than winter months. Cody sees an average high temperature of 88 degrees Fahrenheit during their hottest month, July while January has an average low temperature at 21 degrees Fahrenheit which makes it tough if you're planning on visiting Cody as your vacation destination!
Important Traveler Tips for Yellowstone:
Be sure to map out your route on paper prior to heading out on a day trip. This will ensure you are able to find your destination and your way back to the campground. Cell batteries can drain faster away from home, and cell service can be spotty depending on your carrier. We had T-Mobile and we didn't have much service except for at our campground. Take snacks and water and of course an emergency car kit with an air compressor. An extra battery pack for your cell is always a good idea if you will use a lot of battery life taking pictures of scenery– and you will! You should also know that
Cody is a little bit farther from the main part of the park. The drive from Cody to the Yellowstone entrance was about an hour. So you could plan to stay a few days in Cody to explore and then a few days in Bozeman which is a great spot. We did love the scenic drive from Cody to Yellowstone and we did see some bears on that loop. We did find the Cody was a lot less crowded than Jackson Hole and we really enjoyed that aspect!
Awesome Camping Articles You Should Check Out
FOLLOW US ON SOCIAL MEDIA
Don't forget to invite your friend's to our Facebook groups! We would also love to see your vacation pictures!