Kings Crossing Station (London) – All You Need to Know
Welcome to King's Cross Station in London – one of the world's busiest and most iconic railway stations! For over 160 years, this station has been a hub for millions of travelers from around the globe. Whether you're visiting for business or pleasure, it's worth learning all about what Kings Cross station has to offer. So let's take a closer look at 'All You Need to Know' about this bustling transit point.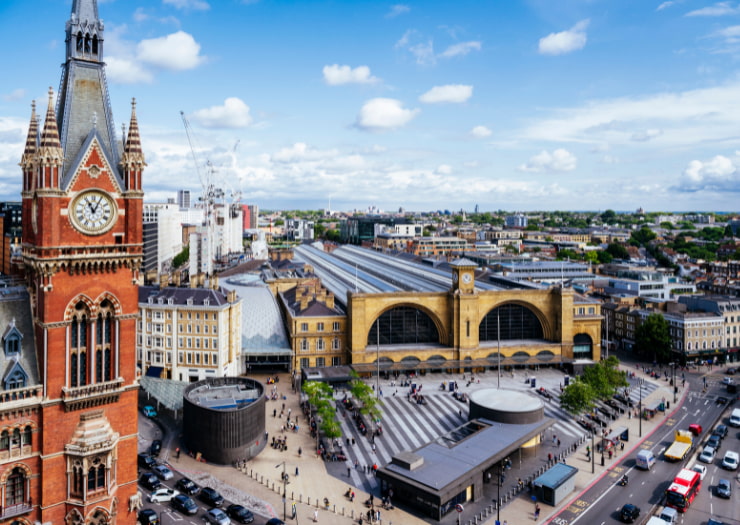 From its platforms teeming with commuters to its shops and cafes, there is certainly no lack of activity in King's Cross Station. It serves as an essential stopover on many rail lines throughout England, Scotland, and Wales, connecting passengers to some of Britain's biggest cities like Edinburgh, Manchester, and Birmingham. This Victorian-era building also houses two terminal points for the Eurostar train service that runs between London and Paris and Brussels via the Channel Tunnel – making it a global destination for travelers everywhere.
In addition to its impressive infrastructure, King's Cross offers plenty of amenities to make your journey more enjoyable. The station boasts dozens of retail outlets ranging from clothes stores to bookshops; plus several restaurants where you can grab a quick bite before hopping aboard your train. Even self-service ticket machines are available if you need assistance navigating the timetables or purchasing tickets quickly. With so much on offer, it's easy to see why this vibrant station continues to be such a popular spot among locals and tourists alike.
History of Kings Cross Station
King's Cross Station is one of the busiest stations in London. Built-in 1852, it has been a key part of the city for over 160 years. It serves as a major transport hub with links to trains, buses, and underground services. As well as being an important area for commuters, King's Cross Station also holds great historical significance.
The Great Northern Railway Company (GNR) built the station on land owned by the Duke of Bedford in 1852. Initially, just a single platform building; two more were added three years later when GNR became part of a larger network known as the 'Great Central.' During World War II, much of the station was destroyed in bombing raids but quickly rebuilt after that. Since then, major renovations have taken place throughout its history, most recently between 2012 and 2018, which saw significant improvements to both platforms and buildings.
Today, King's Cross Station is still a busy transport hub with millions passing through each year heading north or south from London. Its iconic design makes it easily recognizable around the world – not least because of JK Rowling's use of it in 'Harry Potter'! So whether you're looking to travel or explore this historic landmark, there is something for everyone at King's Cross Station.
Arriving & Departing At King's Cross
Traveling to and from King's Cross Station in London is easy. It serves as a major hub for many trains, buses, and taxis — making it one of the most convenient transportation stations in the city. Whether you're arriving or departing, several options are available that make getting around a breeze. You'll also want to use one of the many luggage storage options in London to stow away your suitcases safely.
When traveling by train, King's Cross offers direct connections to other cities across England, such as Edinburgh, Manchester, and Leeds. Passengers can also take advantage of direct links to Gatwick Airport via the Thameslink service. For those who prefer public transport, there are multiple bus routes running through the station as well as plentiful black cabs waiting outside. Finally, travelers can access an abundance of parking spaces nearby if they choose to drive themselves.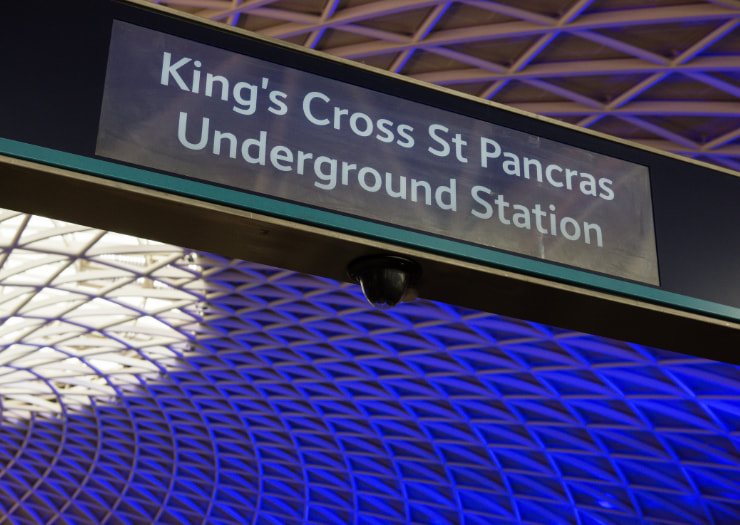 King's Cross Amenities
When arriving and departing Kings Cross station, travelers need to know what amenities are available. From food and refreshments to banking services and free Wi-Fi access, travelers have various options for making their stay comfortable.
The station has plenty of shops offering travel essentials such as books and souvenirs. Several restaurants also serve hot meals – perfect for those with long layovers or waiting on delayed trains. Banking facilities include ATMs from multiple banks and currency exchange kiosks if you want to get some local cash handy. Plus, there's complimentary Wi-Fi throughout the building so passengers can stay connected while they wait.
Accommodation Nearby
If you're looking for accommodation near King's Cross station in London, plenty of options are available. From hotels to guesthouses and AirBnBs, you can find something that suits your budget and needs.
For those on a tight budget, there are a number of hostels close to the station. Most offer good quality rooms at affordable prices and communal areas where you can have a meal or just sit down and relax. For more luxurious stays, there are also several high-end hotel chains as well as independents nearby. These provide all the amenities you could expect from a top-class hotel, including en suite bathrooms, 24-hour room service, and other creature comforts such as flat-screen TVs and internet access.
Transport Connections
Regarding transport connections, King's Cross Station in London is hard to beat. It's well-connected by many public and private transportation options, making travel around the city easy and convenient. The station has six underground lines along with two main line railway stations that can take you all over Greater London and beyond.
There are also numerous bus routes servicing the area and several taxi ranks where visitors can grab a cab when needed. A local rental car service is also available for those who want more freedom while exploring the city. For air travelers, London Stansted Airport is just an hour away from King's Cross Station and Heathrow Airport is only 45 minutes away via train or car.
Shopping At Kings Cross Station
Shopping at King's Cross Station is a great way to stock up on all the essentials or find something special. With plenty of high street chains, independent retailers, and an array of eateries, there's something for everyone.
The station has two shopping centers – St Pancras International Retail Arcade and Granary Square Shopping Centre – offering everything from fashion and accessories to books, music, and more.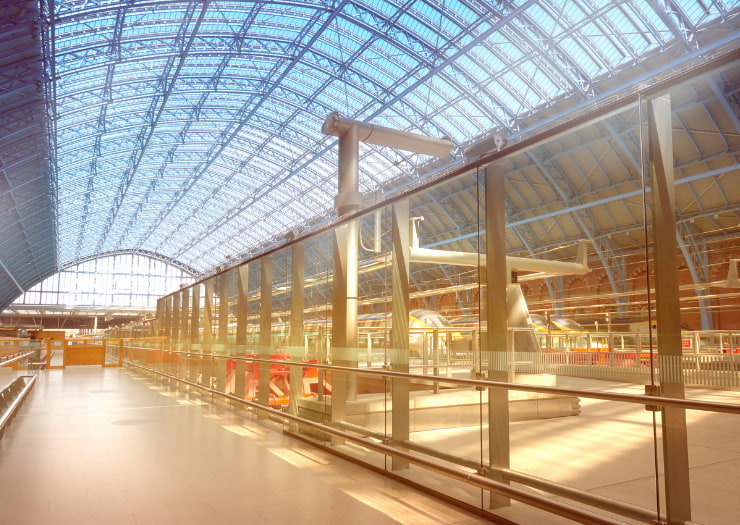 Eating & Drinking At King's Cross
Eating and drinking at King's Cross is a great way to enjoy London. Its convenient location has become one of the city's premiere destinations for foodies. From casual cafes to upscale restaurants, there are plenty of options to choose from in the area. So whether you're looking for quick bites or something more substantial, you won't have any trouble finding what you need here.
If you're after something a little different, why not check out some of the fantastic international eateries that can be found nearby? There's an abundance of Chinese, Indian, Middle Eastern, and other ethnic cuisines all within easy reach – perfect for broadening your culinary horizons! And if you just want somewhere to grab a drink with friends, then take advantage of the lively bars and pubs located around the station.
Art Installations At Kings Cross Station
King's Cross Station is a popular London landmark and boasts an impressive array of art installations. From intricate sculptures to vibrant murals, these works offer visitors the chance to enjoy some creative beauty while waiting for their train.
The largest installation at King's Cross is 'Fabrication' – a stunning set of over one hundred metal birds, created by renowned sculptor John Adie. This eye-catching piece has become something of a symbol for the station itself, its vitality and energy reflecting that of the city around it. Then there's 'Chimera', designed by artist Julian Wild and made up of hundreds of stainless steel plates, which stand near Platform 9¾ – adding a touch of extra magic to the Harry Potter experience!
If you're looking for something more subtle, take time out to appreciate 'On Reflection' – a beautiful mirrored wall in between platforms nine and ten. It's not just about admiring the work though; this interactive piece encourages passersby to engage with it on many levels: by moving away from it they can watch as reflections shift and change shape before their eyes.
Local Events & Activities
When it comes to local events and activities, King's Cross Station has plenty of exciting options. From art exhibitions to live music performances, this area is full of culture. The station also plays host to a variety of outdoor festivals throughout the summer months. Whether you're looking for something educational or just want to have some fun with friends, there are lots of options at King's Cross Station.
If you're interested in learning more about the history and heritage of London, then take part in one of the many guided tours available around King's Cross Station. The guides provide interesting facts and stories that will give visitors an insight into what makes this place so special. There are also plenty of opportunities to explore nature, from canal walks along Regent's Canal to nearby parks like Granary Square and Camden Market Gardens. Whatever kind of experience you're after, there's sure to be something for everyone near King's Cross Station!
Final Thoughts
King's Cross Station is a great place to visit if you're in London. With its long and fascinating history, there's always something new to discover when you arrive. Whether you're just passing through or staying for a while, it has everything you need – from transport connections to accommodation options nearby.
Great Destinations for Couples
FOLLOW US ON SOCIAL MEDIA
Don't forget to invite your friend's to our Facebook groups! We would also love to see your vacation pictures!