JURASSIC QUEST: NATION'S BIGGEST DINOSAUR EXPERIENCE
Disclosure: Jurassic Quest hosted team members for the purposes of this post; any opinions expressed are our own. – Roaming My Planet Team.
Jurassic Quest Dinosaur Experience is Heading to Oklahoma!
We are excited to spread the word on Jurassic Quest, coming soon to central Oklahoma! If you have a Dino fan in the family, scroll below to find out more about this big event!
It's so exciting to share new events coming to central Oklahoma, after so many event cancellations over the past year. If you have had the Jurassic Quest Dinosaur Experience on your list, good news! It's back from March 11-20.
Sellouts expected, buy in advance to guarantee your timeslot. Purchase online and save 15% off with discount code SAVE15 (restrictions apply.) This limited time offer goes extinct at midnight on 3/6! Tickets are flying fast, get yours today!
This is just in time for spring break for many schools, and it's scheduled over the weekend so parents or grandparents can join in the fun. If you are located in central Oklahoma and are trying to think of fun ideas that don't involve travel- check this one out!!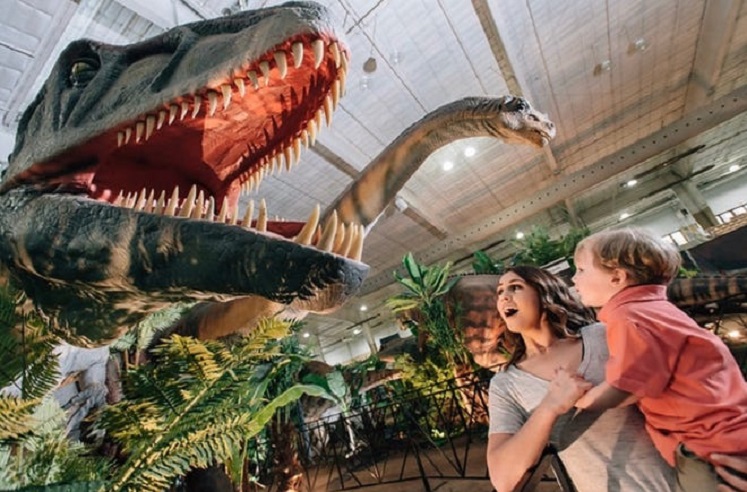 What Is Jurassic Quest?
Jurassic Quest is a dinosaur experience complete with over 80 life-size animatronic dinosaurs! The Dinos have been created with attention to every detail, including size. Paleontologists have helped collaborate to make the dinosaurs' appearance look as realistic as possible. It's a walk through experience featuring different dinosaur time periods with lots of detail.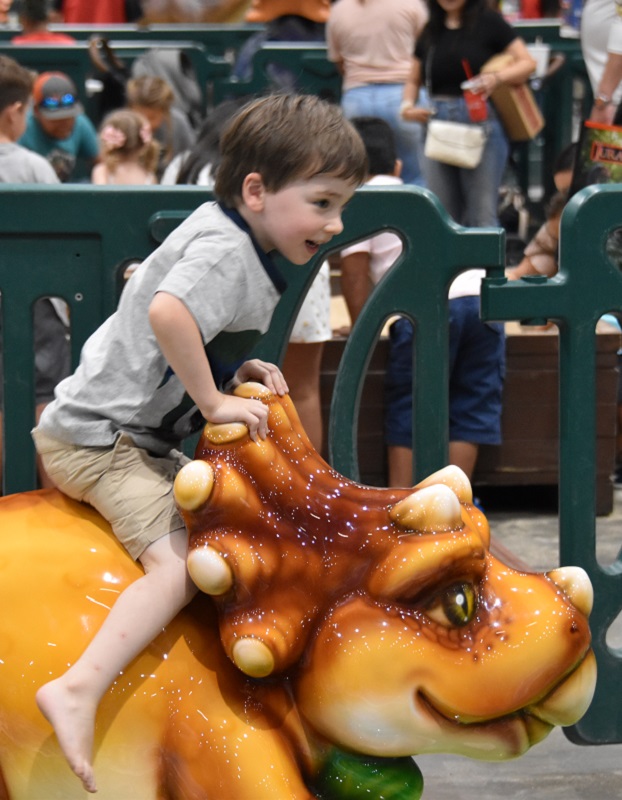 What's Included with a Jurassic Quest Ticket?
The event is indoors. You can order your tickets online or purchase them at the event (availability may vary).
Aside from the Dinos, the event offers:
Bounce houses for kids (and some designated for smaller children only) — our event had 3 and one toddler bounce house.
Dinosaur Rides — These were ideal for children under age 5 I would say. They move slowly.
Fossil Digs — This was a popular activity located in the center of the ride area.
Meet a baby dino
Up close walking dinosaurs to meet — this is a time related event so was not going on while we were there.
An ancient oceans exhibit to view.
With a standard ticket, you and your family can view the exhibit portion, join in arts and crafts, interact with the baby Dino, and meet the "walking" dinosaurs around the event. (Edit- we have to add this may be time-related as there were none while we were there).
For a standard ticket you don't have access to rides, so this would be better for kids who are along but are older and not interested in the rides, or anyone with accessibility needs who do not plan to participate in the rides/bounce houses.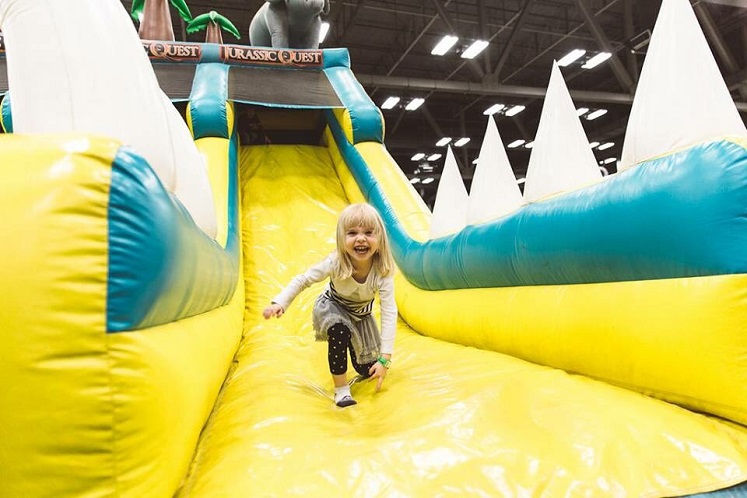 Rides and More:
I was really interested in finding out more about the rides. One important thing to note is the bounce houses are part of the paid activities. You can get an unlimited ride ticket, or if you want to add one bounce house or ride, you can pay per individual activity for $6 each.
If you have a child ages 2-about 5, who is really into dinosaurs and the rides, bounce houses and activities are a must-do, your best value is the full activity ticket. There is no admission cost for 2 and under. They can join in the activities for under age 2 at the individual activity rate ($6 each). Please note that the rides are slow-moving and designed for younger children.
What to Bring and How Long to Spend at Jurassic Quest:
Be sure to bring socks for everyone wanting to jump on inflatables. Usually with any venue, small kids snacks and water bottles are permitted unless posted at the event. The event was a fairly quick walk through and took us about 1 hour, since we only had one who wanted to do rides. Of course if you have a larger group or are going during popular hours, be sure to allow around 2 or more hours to get the most out of your ticket!
At our event I wanted to add that the floor was dirt to add to the experience, so personally I would avoid wearing shoes like sandals or white tennis shoes.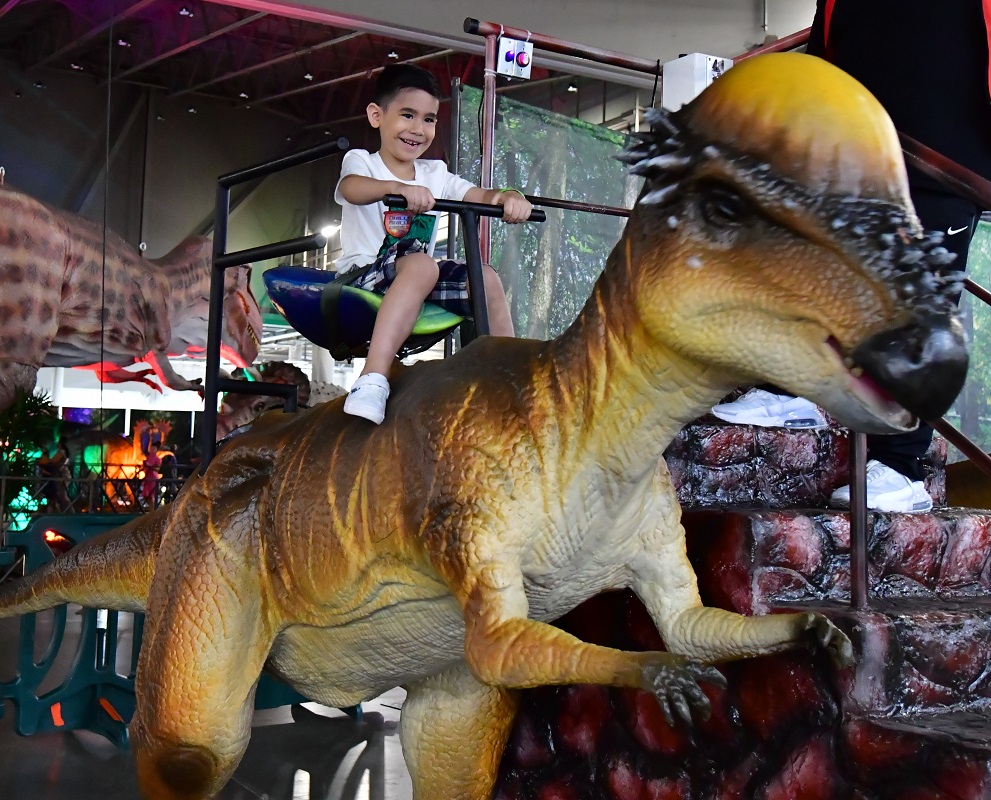 What's Offered and Pricing
I've been excited to check out Jurassic Quest for quite a while now. It definitely has the wow factor if your kids are ages 5 and under and are interested in science, dinosaurs, and history.
We would say the pricing is comparable to any other all-day activity such as an amusement park, water park, or trampoline park. Tickets start at $19 and go to $33-$36 for all rides included.
After heading over to Jurassic Quest I would say it's definitely designed for families with very young children. We all know longer road trips with smaller kids can be difficult or not even an option. I would say Jurassic Quest is a great option if you're not traveling out of town this year. If you have budgeted for a staycation idea for the family, or something special to do around school fall break, it would be something to check out.
Thanks for reading!
~Rebekah, Roaming My Planet Team
Planning a family vacation? See more of our travel tips, advice, and inspiration here!