Oahu Day Trips – 7 Must See Places
The Hawaiian Island of Oahu is a fantastic destination if you're thinking of going to Hawaii! It's a very diverse place. You can check out world's most beautiful beaches explore Honolulu and more. Oahu is a popular destination, along with the Big Island. You will experience a variety of climates in just a few days, and one of the best things is that there's something for everyone. There really isn't any shortage of things to do. Oahu is one of the best places since it offers up a variety of scenic spots and things to do! Check out our Oahu Itinerary ideas and how to get started planning your Oahu Day Trips below. You definitely want to add Oahu to your Hawaii Itinerary.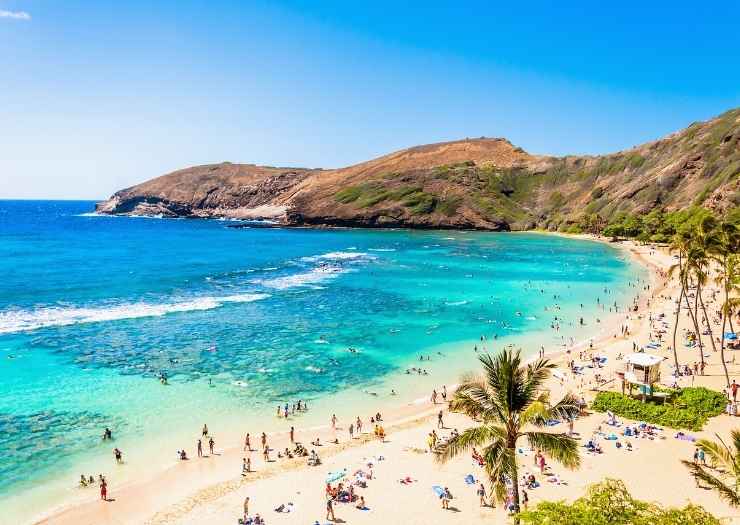 Oahu Island Escapes:
The island of Oahu has so much to offer that creating an itinerary can become a pretty overwhelming task if you only have a few days in the island. We challenge you to flip the idea completely around and do the opposite! Start with a blank slate and decide to add a few main goals to do each day. Like planning some Oahu Day Trips. Planning a full day of activities back to back –and then trying to fit in trips to see a sunset beach or marine life can be exhausting. The overall vibe you will get from the island and of course locals is to relax and take it easy. This perspective is a great way to start planning your trip. It will be anything but boring, we promise!
If it's your first time visiting and you don't have any personal experience on the islands, the best way to go is to craft a calendar that mixes a bit of everything the island has to offer. You will want to make sure these go-to destinations are in your itenerary (Plane itenerary and weather permitting, of course). Check out our must see list to start building your dream vacation on the beautiful Island of Oahu!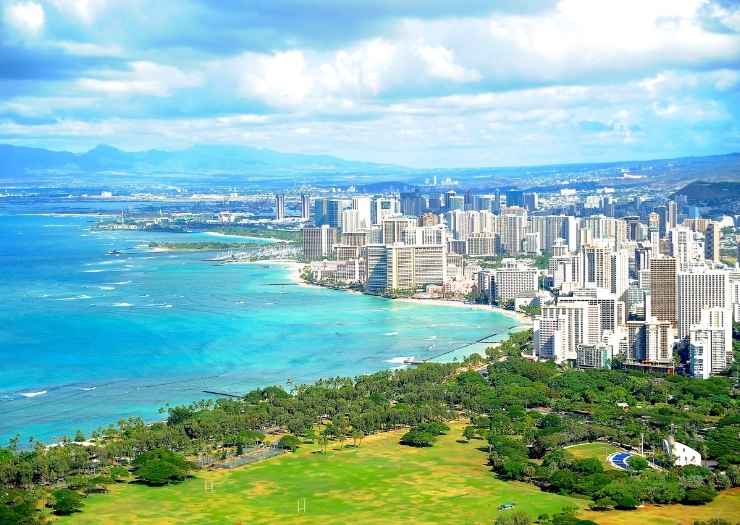 Honolulu
Honolulu is the capital of Hawaii and is a must-visit if only for a day. Thats why we had to add it to our Oahu Day Trips must do's. Chances are you will fly into Honolulu if you are heading to Oahu. The nice thing is that you don't need an official –and expensive– Oahu tour to find cool places around the capital. Check out a couple beautiful beaches and take a drive to see the great Waikiki Hotels. Don't forget to head through to downtown Honolulu for some picturesque to get to experience the state's cosmopolitan side.
Located on the island of Oahu, Honolulu is the capital city that offers a wide array of food, culture, entertainment and shopping! The city of Honolulu also makes a fun scenic drive after a full day of walking or hiking, so keep this in mind for a relaxing evening activity! There's no better way to spend the summer months than planning and heading off to a Hawaii vacation!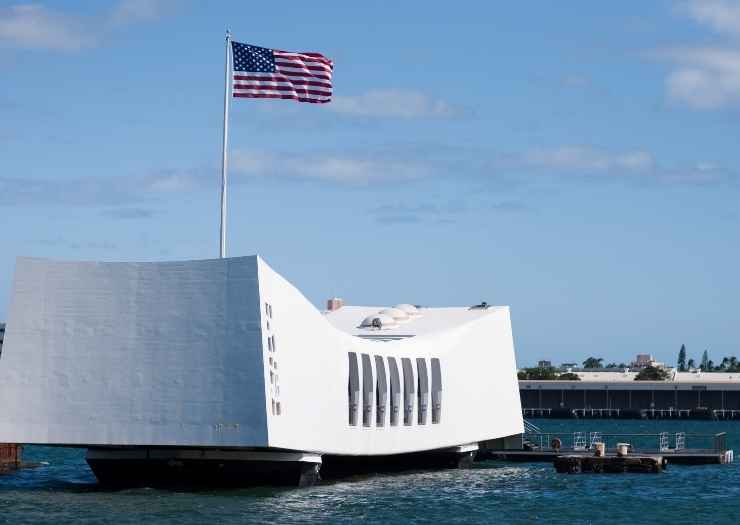 Pearl Harbor
Pearl Harbor is Hawaii's most iconic historical destinations, and whether you're a history buff or not, plan to spend time to visiting this national historical landmark. It's is an ideal way to learn more about the attack on Pearl Harbor, one of the most crucial events in World War II and the history of the United States. The site provides popular sites including the USS Arizona Memorial, Battleship Missouri ("Mighty Mo") and more. You can find more information at the Pearl Harbor Visitor Center. Keep in mind, small groups are ideal and you may have time entry and masks required. This is one of the great historic sites to see, so don't miss this if you're staying on Oahu! A good tip for including any museums in your Oahu Day Trips is to work around their operating hours– some fellow travelers used this method for seeing Washington DC and got SO much more into the week than if they hadn't looked at museum hours first!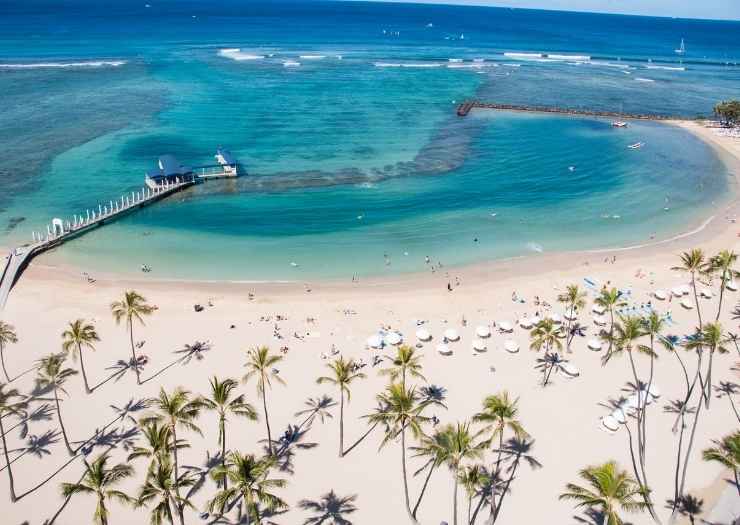 Waikiki Beach
Waikiki is arguably one of the world's best beaches! It's a huge hit with tourists and locals alike, and is one of the most popular beach destinations. Yes it can be crowded. This long stretch of beautiful beach receives 5 million visitors per year! However, don't let that scare you off. Even if you're the type to want vast, empty spaces, it's a must see.
Even if crowded bustling spots are not exactly your thing, dropping by for at least a couple of hours at some point during your trip is worth it. On Friday evenings, you can enjoy a Luau at one of the resorts, or fireworks that can be seen from much of the beach! It's a magical experience! Be sure to check out local deals for savings on Luau tickets, and keep in mind if you don't mind listening to a travel sales pitch you can actually score tickets to attractions for free.
For security reasons, it's important to know that there are some areas of Waikiki that you will want to keep valuables hidden and secured. You can have one person– who isn't getting in the water– keep all essential valuables. Theft and other small crime does happen, and you will notice quickly that some areas seem more safe than others. Do not leave valuables on the beach unattended. Although Waikiki is one of the most popular sites, traveler safety is important to keep in mind. Stay in groups and keep to well traveled areas, especially after dark.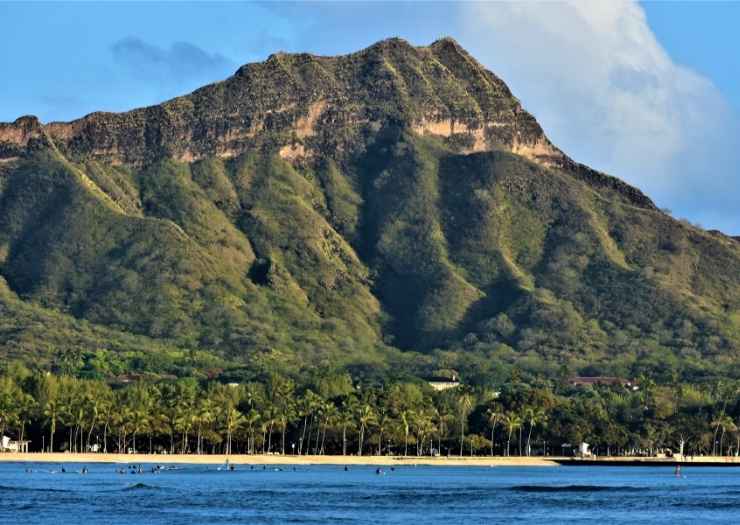 Diamond Head State Monument
Diamond Head monument is a great natural site you can see when planning your Oahu Day Trips. If you love hiking, you can climb from the center of the volcano's crater all the way up to the summit for great views of the Pacific Ocean! While the hike is short at just under two miles, the rapid altitude will make it challenging. Be prepared with water and proper gear and footwear.
Diamond Head Crater is well worth the effort as the views from the top are amazing. Be sure to bring your camera and selfie stick for awesome photos– in a safe place of course. Diamond Head is the "mountain" that appears in most Honolulu photographs.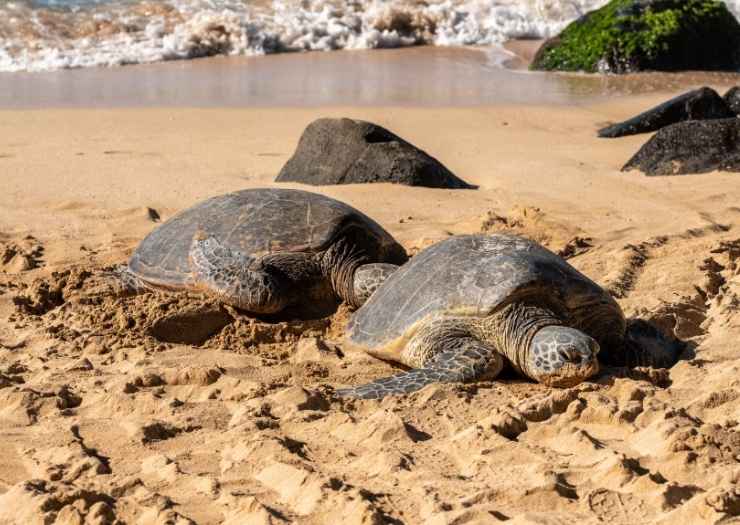 Laniakea Beach and North Shore:
Plan an entire day dedicated to travel to the north side! This part of the island is a great way to not feel overwhelmed by the crowds in Honolulu. You can opt in to a full-day tour, but these can run around $100 per person– and more if food or beverages are included. Planning a north shore of Oahu day takes some consideration, so plan this day trip as a stand-alone activity and make a north shore list of everything you want to do!
If you're staying in Honolulu, you will have a "road trip" feel to heading over to Oahu's north shore. It will take 30-45 minutes to drive, more if you're with a group. Relax and enjoy the scenery on the way!
Laniakea Beach should definitely be on your north shore to-do list! This is known as Turtle Beach. It's a stunning beach and a must when visiting in Oahu's north side. Famous Hawaiian Green Sea Turtles have visited this beach more than any other! There's nothing like swimming and wading in the water near these majestic and old creatures.
There's more to see than turtles at Laniakea Beach! You can find Chun's Reef about 100 yards from there, just past the rocky path along the coast. This is a beautiful and less crowded area that you might find you want to spend a little more time enjoying! Chuns Reef is not meant for swimming. The coral reef is covered in sea urchins and high surf makes the water dangerous for swimmers. However, if you want to see undeveloped beach, this is a great one to put on your list!
For hikers and those able to walk longer distances, Manoa Falls is on our list for sure! Be safe– ground can be uneven and slippery– but this is a fantastic place to get memorable photos of your trip. Day tours often have this destination on their itinerary, so the area can be popular with tourists depending on the time. Definitely put this down as part of your Oahu Day Trips plan.
The trail that leads to the waterfalls is an experience in itself, so no matter how eager you are to reach them, make sure to take the time to enjoy the surroundings as you hike along. It's a botanical garden feel, all completely natural!
If you love waterfalls, Waimea Falls is another one to add to your list. It's located on the northeast side of the island, so it's a great thing to add if you're planning on heading up to the North Shore. Keep in mind, travel is slower on the island than you may be used to at home. Take your time and stop at all the scenic spots. Having an overall appreciation for the viewing sandy beach areas and the greenery on the main islands will keep your Oahu itinerary relaxing and fun!
What's one last thing on our north shore list? Stop in and see the Dole Plantation! This is a great stop on your way to or from the north shore, since it's located in the north/central part of the island. See times and tour reservations on the Dole Plantation website.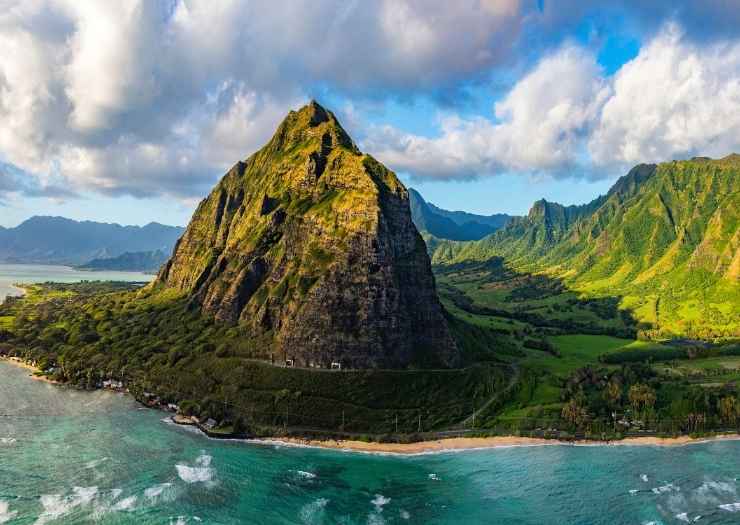 Kualoa Ranch and Jurassic Park Film Site:
Calling all movie buffs! We got something special for your Oahu Day Trips itinerary. The film site of the Jurassic Park movies is located on the eastern side of Oahu and you can tour the Kualoa Ranch to see the amazing scenery up close and in real life! You can choose a zip line, Jurassic Tour, or head out for some horseback riding with family or friends. This ranch has a lot to offer, so add it to your itinerary and keep in mind this may take up most of a single day! The drive two and from the ranch may also take some time, so add travel time to your plans.
Even if you're not a fan of the Jurassic Park movies, the activities the ranch offers are some of the top things you can enjoy on Oahu!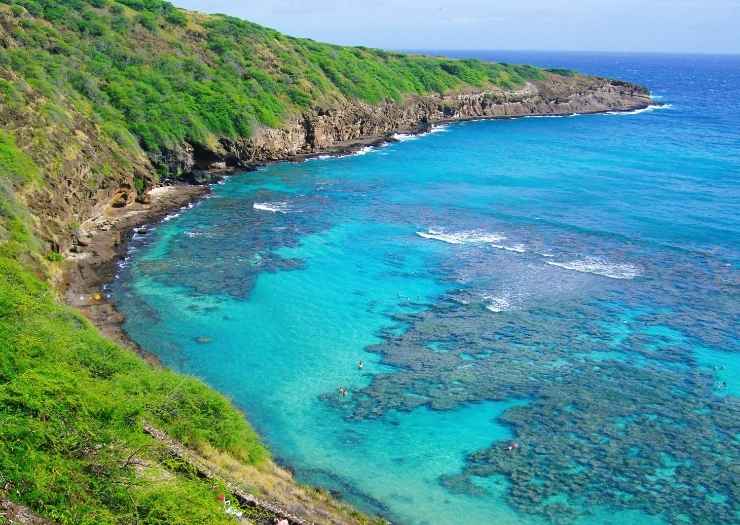 Hanauma Bay
Looking for Oahu Day Trips ideas with more of a quiet location in the middle of nature? Hanauma Bay should be on your list! Hanauma Bay is a short 30-minute drive from Honolulu. Spending a lazy day in the water is perfection in this U-shaped small bay area. The tropical fish make this bay a show stopper!
Hanauma Bay is one of the popular snorkeling spots, so add this destination to your list if you plan to snorkel at least one day. Snorkeling is the a favorite thing to here, with hundreds of marine species swimming right under its waves. The stars of the show are green sea turtles and fish! There is a $25 entry fee to enter the state park, and it's currently closed Mondays and Tuesdays (this may vary, so please adjust your itinerary accordingly).
Not into snorkeling? Choose to take a fun hike! Head over to the Koko Bay Trail This is a volcanic crater that definitely deserves a spot in your itinerary. Bring your best shoes and camera to enjoy one of the beautiful places around this island!
Have you ever been to the island of Oahu in Hawaii? Which spots do you consider are must-sees every traveler should visit in order to get the most out of their visit? Leave us a comment for your must-do and must-see things for Oahu! Remember, there's not a way to go wrong when spending time on the Hawaiian islands. Take it easy and enjoy your stay!
Being Travel Savvy:
Hawaii is a very popular tourist destination, so you can choose from a countless amount of popular tours! Use your judgement and decide for yourself if you really need a tour, or you would like to explore popular attractions on your own. On that note, be aware that there are travel "scams" and what you may be ordering and booking online may look different from what's actually offered. Beware of fake sites and poor reviews (or no reviews). Vet the tour on an independent website such as Trip Advisor, Google Reviews, Yahoo or Yelp.
If you like the idea of tours but don't want to spend a lot or use an entire day up on one, you can opt in to a smaller specific tour such as Pearl Harbor tours, Dole Pineapple Plantation tour, and more.
Personally, we love doing our own thing and having some gaps in the itinerary to be spontaneous. However, it may be a better fit for you to do a guided tour.
If you have accessibility concerns or don't want to be alone or with just one or two fellow travelers, staying in group settings with carefully planned activities may be the way to go! In either circumstance, don't get caught up in what you "should" do or how you should plan your trip. I love Trip Advisor to look up specific traveler information advice, such as safe streets, recommended restaurants for a delicious lunch, and so on. Side note– aren't those little hole-in-the-wall places the best to eat at?? I will take a local guide recommendation anytime over places to eat!! We hope you enjoyed these Oahu Day Trips ideas.
Thanks for reading, and happy trip planning!
Great Destinations for Couples
FOLLOW US ON SOCIAL MEDIA
Don't forget to invite your friend's to our Facebook groups! We would also love to see your vacation pictures!