Cruising on the Carnival Sunshine
Disclosure: Carnival provided us with our cruise.  As always the thoughts and opinions are my own.
We love to travel and one of our favorite ways to travel is cruising.  We love the variety of food to choose from, the entertainment, of course we love all the places you can relax and last but not least we love seeing different parts of the world.   Cruising on the Carnival Sunshine provided all these things and more! Book Your Cruise.
Our Carnival Cruise Line experience began at the airport.  After you collect your luggage you head over to the bus.  Once you give your luggage to the bus driver the next time you see it is in your cabin.  Once we arrived at the port our check in was extremely fast.  It took us less 20 minutes to get checked in and to get to our cabin.  Your luggage will not be in your cabin when you get on the ship so I recommend having a carry-on with your swimsuit and a change of clothes.  That way you can enjoy the pools or in case you just want to get out of your clothes you have been traveling in.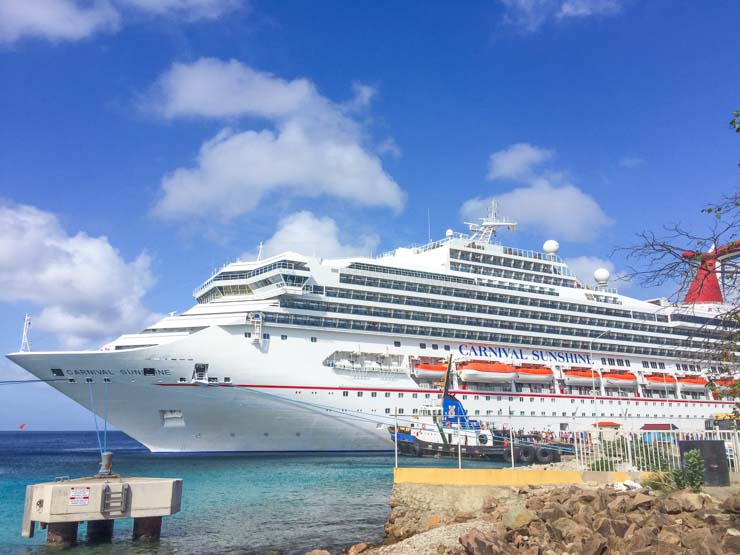 The sun never shines as bright on a carnival ship. The warm light kisses you awake, and it's easy to get lost in the endless sea of blue skies from up here at deck level!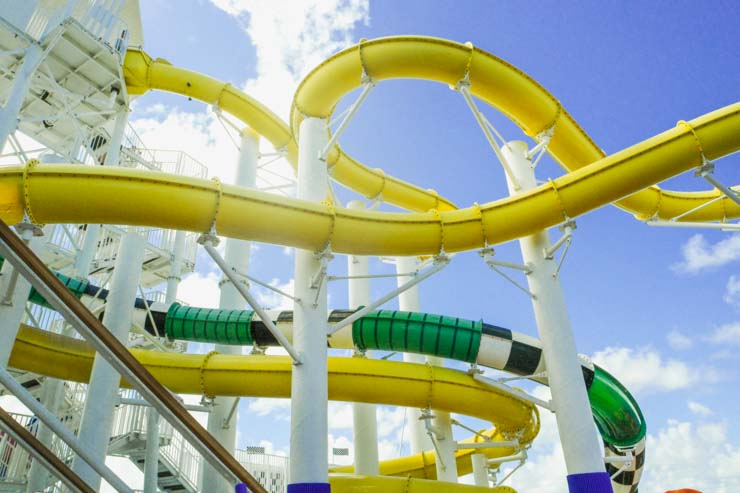 But there are even more fun things for those with an adventurous spirit below-ground: visit WaterWorks™ their onboard waterpark where kids can enjoy the slick Speedway Splash slide and more.
On the Carnival Sunshine you don't have to worry about being stuck on a ship and having to eat the same thing for days on end.  If you want to add variety you can eat at Guy's Burger Joint or grab a taco or burrito at the Blue Iguana Cantina.  They also have specialty restaurants that are anywhere from $5-$35 per person extra.  Whatever you decide you won't be disappointed!  The food at every restaurant was amazing.  
DR SUESS BREAKFAST:
Explore the deliciously whimsical world of Dr. Seuss with this breakfast that's part meal, and all fun! The Cat in the Hat is coming to life at your table as brightly colored patterns decorate it for you'll find "Green Eggs & Ham" on our menu – or if porridge isn't quite what we're craving then try gravity-defying stacks of pancakes instead; there are also other choices like French toast (with fruit), Moose Juice 'n' Goose Juices…and more!
So dig into an adventure today because who knows when tomorrow will come?
ENJOY THE FUN:
With the variety of activities that is available on the Carnival Sunshine you will never get bored.  They have a comedy club, a pool, Jacuzzis, mini-golf, arcade, billiards, basketball, shuffleboard, a running track, video games, EA Sports Lounge (where you can watch live games), a water park, sky course and Camp Carnival for the kids!  Not to mention karaoke, a piano bar, night club, bingo and a Dive-in Movie every night poolside. Above is a picture of the Men Who Blog Mini Golf Tournament.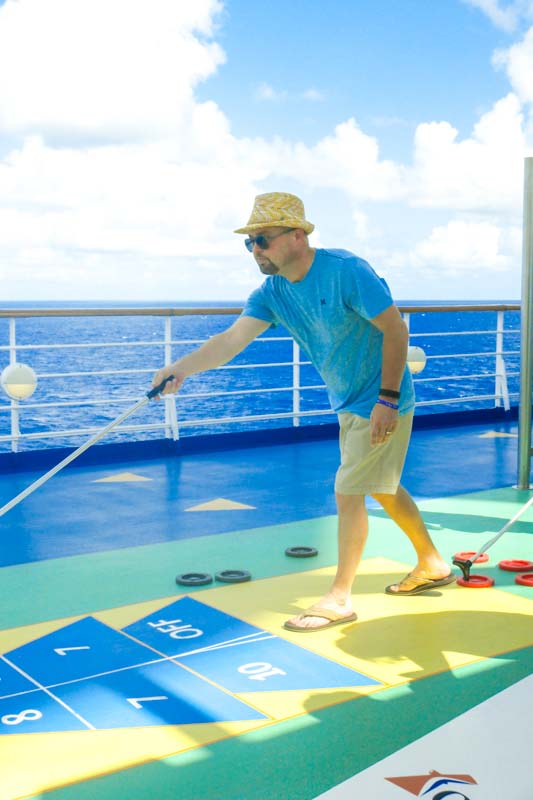 Hasbro has launched The Game Show aboard Carnival, which is perfect for families! This live game show will put you right in the middle of your favorite Hasbro games. Six main events are to be featured: sorry sliders where guests must shuffle themselves quickly and successfully without dropping any balls; Simon flash where two teams battle it out with each team wearing giant light up color boxes that make them glow when they match certain sequences on stage; yahtzee bowling because who doesn't love a good old-fashioned rolled pin ball competition? Plus many more. I was chosen out of the audience to test out my skills and I had a blast.
Theatergoers can enjoy four themed nights featuring different types of entertainment and activities like Latin Nights with salsa dancing as well as Motor City for Motown and Epic Rock music lovers.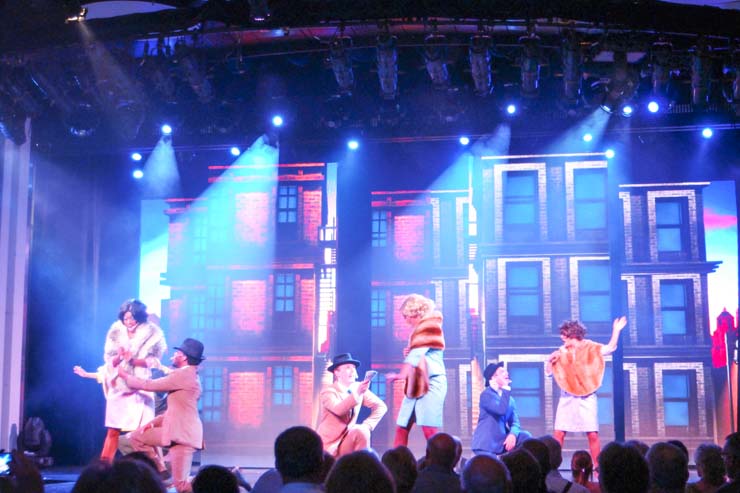 Carnival has some of the best entertainment and I promise you will never be bored on this ship.
On our cruise we stopped at 3 different ports; Aruba, Bonaire and Grand Turk.  Unfortunately Aruba wasn't our favorite port.  We chose to go on a beach excursion.  The weather was starting to get bad and the seas were rough.  What we didn't know was that the ferry only ran once and we were stuck on the island until it was time to go.  Also on this particular excursion they didn't tell us that food would only be available during a certain time so we didn't get to eat. Had we known this we probably would have picked another excursion to do.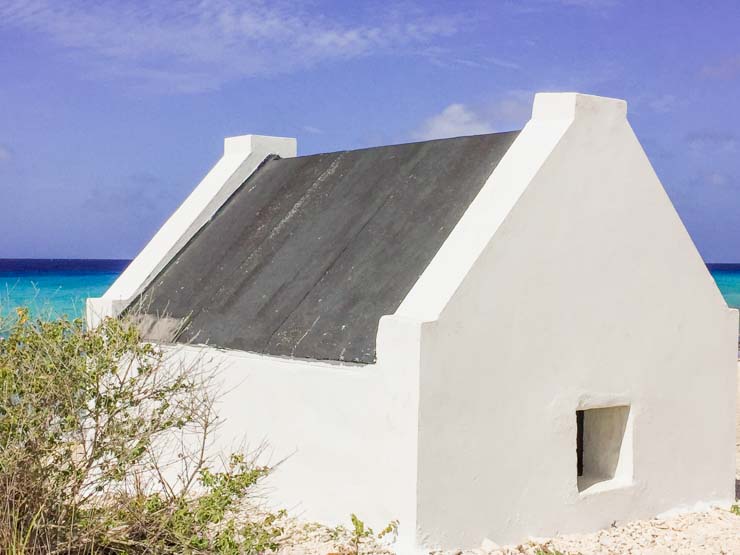 I think our favorite port by far was Bonaire.  Carnival offers a ton of excursions like snorkeling or renting a land rover to explore the island.
We almost always so an excursion but this time we decided to rent a car with James Hills from Mantripping.com and his wife Heather.  It is such a small island that we literally drove AROUND the island in 3 hours.  
Bonaire, a small island nation in the Southern Caribbean just off of South America is home to some incredible wildlife and has been continuously settled since 1499. Once part Netherlands Antilles but now an independent country it still maintains its Dutch roots with influences from Spanish settlers as well. The annual average temperature on BONAIRE reaches 81 degrees Fahrenheit making this destination perfect for those looking cool waters during their trip! There's plenty more than diving though; snorkeling provides you access into what can only be seen by boats or planes because reefs don't allow any closer approach then three nautical miles out without damaging coral reef systems that provide food webservices throughout entire oceans worldwide – another reason why seeing them up close matters so much here.
Bonaire is also where flamingos nest.  So seeing these beautiful birds in their natural habitat was AMAZING.  Because you only have a limited amount of time on the island we didn't get to do anything else.  The next time we come back we will definitely go snorkeling.  The water is amazingly clear and the fish we could see from the dock were beautiful.
On Grand Turk we decided to do a beach day.  We rented a cabana and relaxed by the beach.  The atmosphere around the beach was electric.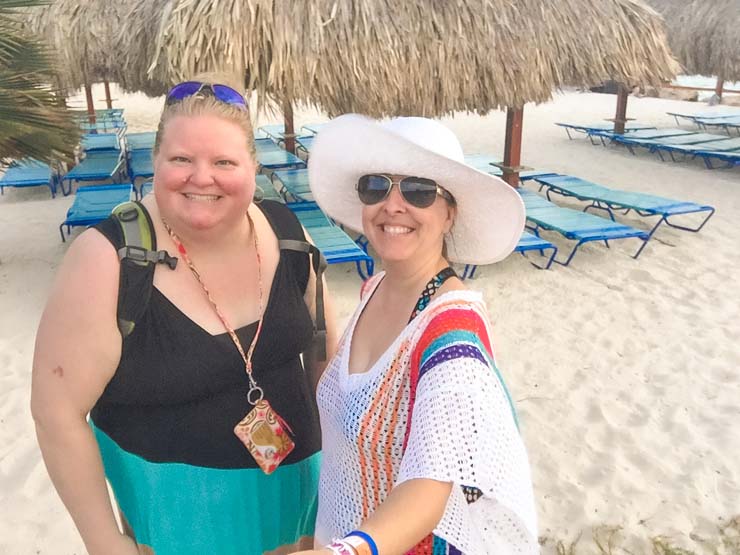 You won't be able to resist the call of beautiful Grand Turk. This little island is packed with scenic punch and historic charm, making it feel like you've stumbled into an enchanted oasis in disguise! As soon as your feet touch sand on this tropical paradise (or water if things get too deep), take a walk down one street or another – there's something new around every corner waiting for discovery: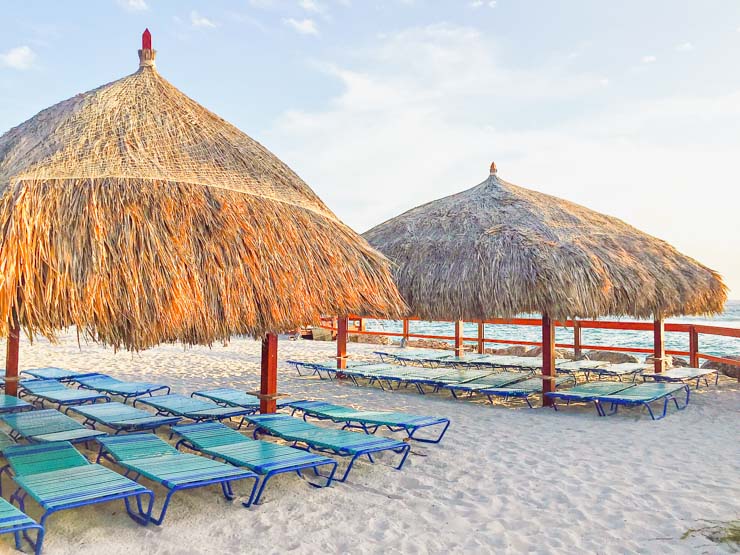 Grand Turk is a divers paradise, with some of the best diving in world. Year-round opportunities to spot sea turtles here! Your sure to spot lots of wildlife!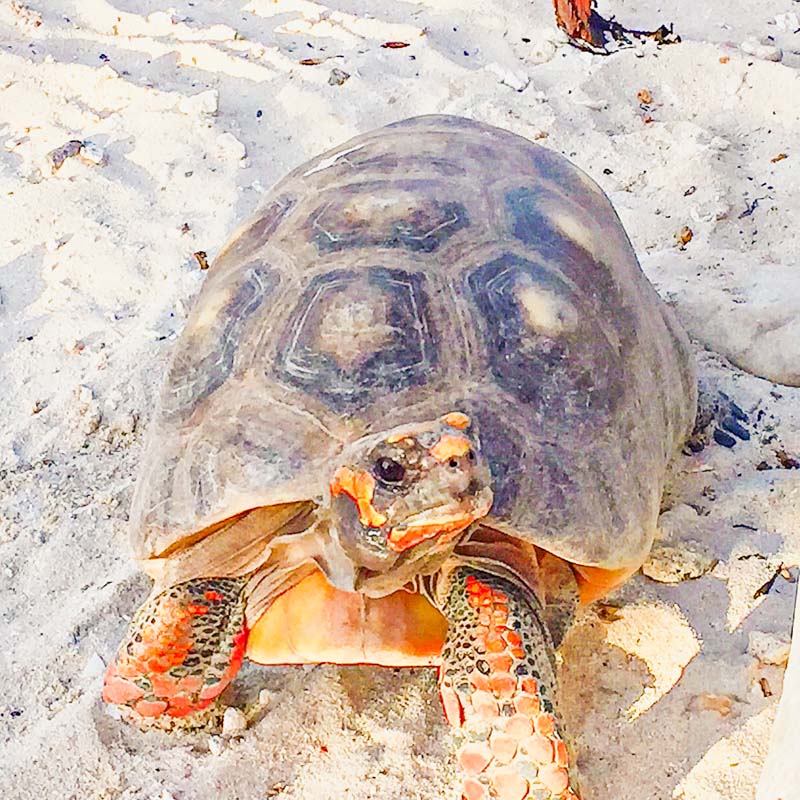 They had a DJ playing music and interacting with the crowd that kept the energy up.  It did rain when we were there but it only lasted about 20 minutes and then it back to sunny skies! Her you can also grab a bite to eat at Margaritaville.
Our cruise experience was overall positive.  The one thing about Carnival that stuck with me was the service.  All our interactions with the staff were awesome.  They answered any questions we had and made sure that we were always happy.  I swear our cabin steward stood at the end of the hall and every time we left our room, they came and cleaned it!  The service was amazing.  That service is what will bring us back. Book Your Cruise Today!
Awesome Oceanside Vacations
Check out some of these awesome oceanside vacation ideas.
Using a Cruise Planner
When you are ready to book your next cruise, we encourage you to contact Heather at Flow Voyages. She's been a friend for more than a decade and we've sailed with her multiple times since then. Heather is an expert at all things cruise related and does a great job of taking the stress out of planning, finding great deals, and always watches for price drops so that you can focus on planning the important things like what you will be doing once on board! There is no charge to you for her services and her prices are usually the same or better than what you'll find on the cruise line's website.
She can be reached by phone: 630-779-9302 or email: [email protected]
FOLLOW US ON SOCIAL MEDIA
Don't forget to invite your friend's to our Facebook groups! We would also love to see your vacation pictures!