Branson Mo Roller Coasters: The Fast and The Furious
Are you looking for an adrenaline-pumping activity while visiting Branson, Missouri? If so, you're in luck! Branson is home to some of the best roller coasters in the Midwest. They have mountain coasters and an outdoor attraction to please everyone. If you travel to an amusement park you expect to find a thrill ride or two. Do you already have a favorite Branson attraction? Branson, MO roller coasters can easily become a favorite for your family when going on your next trip to Branson Missouri. Do you already have a favorite Branson coaster or amusement ride? Check out this list for some you need to try out on your next Branson vacation. You can always call or check online for age restrictions and height requirements and weight limits.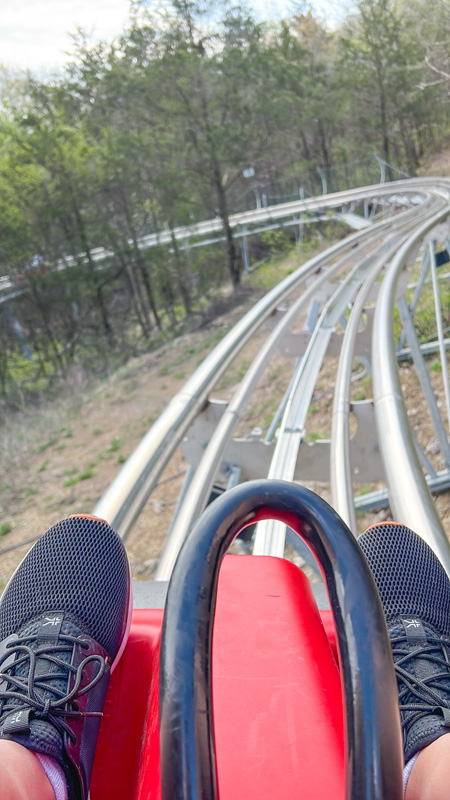 Copperhead Mountain Coaster at Shepherd of the Hills 
If you're looking for an adrenaline-pumping mountain coaster ride, look no further than the Copperhead Mountain Coaster at in Branson MO. Inside the Shepherd's Adventure park you will find this mountain coaster is perfect for thrill seekers of all ages, and features over a mile of twists, turns, and scenic views. The best part? You can control your own speed, so you can go as fast or as slow as you like. Copperhead Mountain Coaster Tickets are available online or at the park office. So what are you waiting for? Come experience the thrill of the Copperhead Mountain Coaster today! This park also has a zipline canopy tour and the Extreme Zip Rider. Add the Copperhead coaster to your list of must try rides.
Runaway Mountain Coaster
Branson Mountain Adventure welcomes thrill-seekers from all over to experience the first and only alpine coaster in Branson, MO. The Runaway Mountain Coaster zips riders through the Ozark Mountains at speeds up to 25 miles per hour. The track is over a mile long and features twists, turns, and drops that will leave riders screaming for more. Part of the thrill comes from the coaster using natures topography for the great path, but this is not one of your traditional roller coasters. You have a cart driver and passengers and prices vary. In addition to the adrenaline-pumping coaster, Branson Mountain Adventure offers a variety of other attractions, including a ropes course, a zip line, gem mine and a rock climbing wall. With so much to do, Branson Mountain Adventure is the perfect place for a day of family fun. Check their website for height requirements.
Roller Coasters at Silver Dollar City
We love Silver Dollar City for their live shows and festivals. They have something for the whole family. Are you a fan of roller coasters? If so, you'll definitely want to check out Silver Dollar City in Branson, Missouri. This theme park is home to some of the best roller coasters in the country, and is a great way to see and do a lot with just one trip to a ticket window! Here's a look at four of the most popular rides at Silver Dollar City.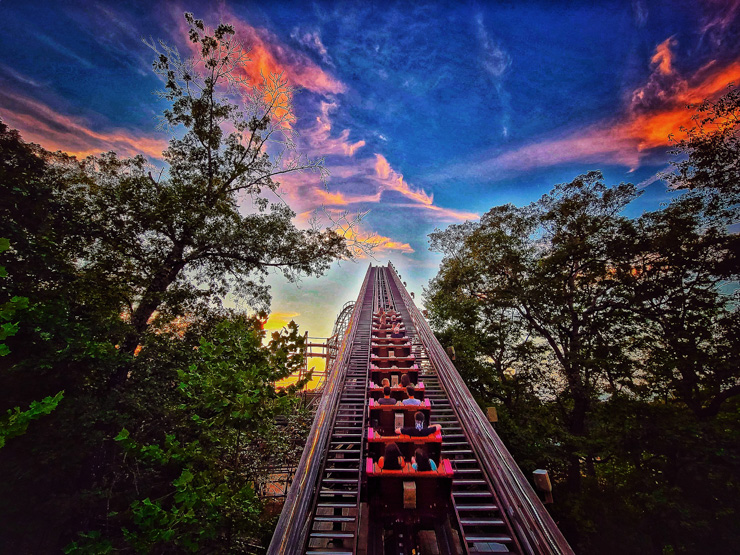 The Outlaw Run 
Outlaw Run is one of the most unique roller coasters in the world. Why? Because it features the world's second-highest drop and the world's only double barrel roll on a wood coaster! This coaster reaches speeds of up to 68 miles per hour and will have you screaming with delight from start to finish. The weather can shut this one down, so please note: this ride will not begin operating for the day unless temperature reaches 37 degrees and will not be in operation if temperatures fall to 34 degrees or less. There is a test seat is available at the front of the ride entrance so you may determine if you meet the seating requirements.
 Thunderation 
 Thunderation is a classic wooden coaster that has been thrilling riders since 1993. It features a 100-foot drop and reaches speeds of up to 55 miles per hour. Thunderation is an 81-foot tall, high-speed coaster with a scenic view of the Ozarks! The train begins its journey propelled by gravity until cars reach the coaster's only lift. The lift carries passengers 121 feet into the air before dropping them 81 feet at speeds up to 48 mph. The runaway mine train takes a spiraling drop and races through an underground tunnel before returning to the loading station. You're sure to love this classic coaster!
 Powder Keg 
Powder Keg is a steel roller coaster that propels riders forward and backward at speeds up to 50 miles per hour. You'll experience weightlessness as you shoot up a reverse incline and whiz through underground tunnels. PowderKeg salutes the miners who worked in the great Marvel Cave, which is located below the theme park. In the late 1880s, tons of nitrogen-rich bat guano were hauled out of the cave, and transported to powder mills across the country for the production of valuable black powder. PowderKeg begins in one of these powder mills, amid barrels of nitro that rock, tip and explode, blasting riders into the wilderness! This is one of our favorite rides.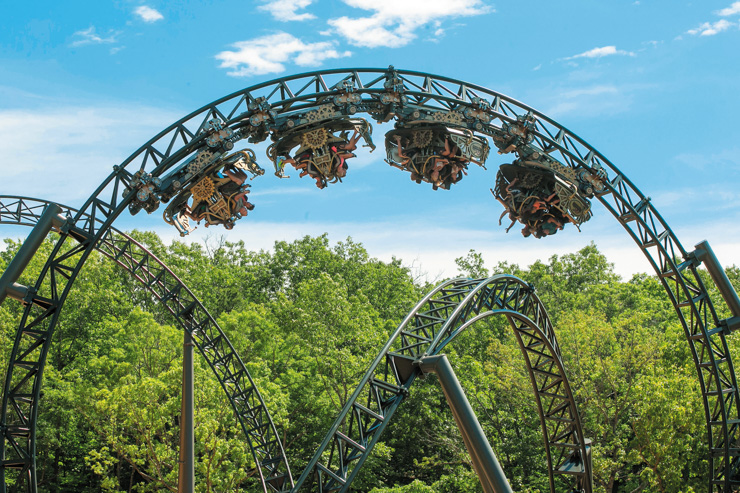 Time Traveler
Time Traveler is the world's fastest spinning wooden coaster and the tallest complete-circuit spinning coaster in North America! You'll reach speeds of up to 50 miles per hour as you spin around twists and turns – sometimes even backwards! It features three inversions — the most ever on a spinning coaster, including a 95-foot tall vertical loop — and two launches that send riders to unprecedented speeds. A Revolutionary Coaster Ahead of Our Time, Time Traveler defies the laws of gravity, and breaks speed barriers. Out of all of the Branson, MO roller coasters this one is by far my favorite.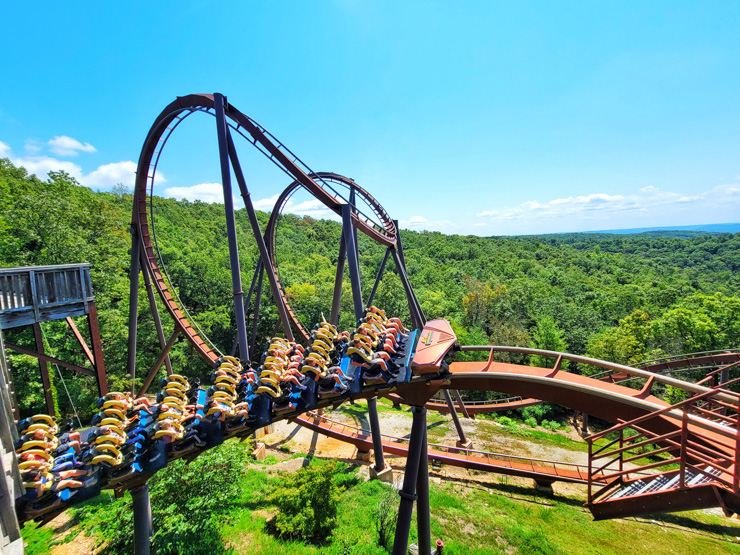 Wildfire 
Ready to feel the heat? Then hop aboard Wildfire, Silver Dollar City's fastest coaster! This steel coaster reaches speeds of up to 70 miles per hour and features 7 loops, 2 corkscrews, and 1 inline roll – all while taking you 200 feet off the ground! The car on this one is really unique for a roller coaster attraction. This ride will not be operating in temperatures of 40 degrees or below, so make sure to check current weather conditions.
Silver Dollar City has great snacks and attractions in Branson. If you are closer to Kansas City check out Worlds of Fun or if you are closer to St. Louis you can check out Six Flags St. Louis, these all have great roller coasters and attractions.
No matter what kind of roller coaster experience you're looking for, you'll be sure to find it in Branson, Missouri. The entire family is sure to have a great time, and the roller coasters will make sure the adrenaline junkies are not disappointed. From fast and thrilling rides to more tame options, there's something for everyone. So, strap in and get ready for an adventure!
FOLLOW US ON SOCIAL MEDIA
Don't forget to invite your friend's to our Facebook groups! We would also love to see your vacation pictures!