Charter Fishing in Crystal River, Florida
One of the things we were really excited about on our trip to Crystal River, Florida was our charter fishing trip. We love fishing and have done several different kinds of charters. Some have been a long ways offshore. Some have been a lot closer. The one thing they have in common is that they were all deep sea fishing charters. Those are fun don't get me wrong. But most of the time you just drop your line in the water and it falls down to the bottom.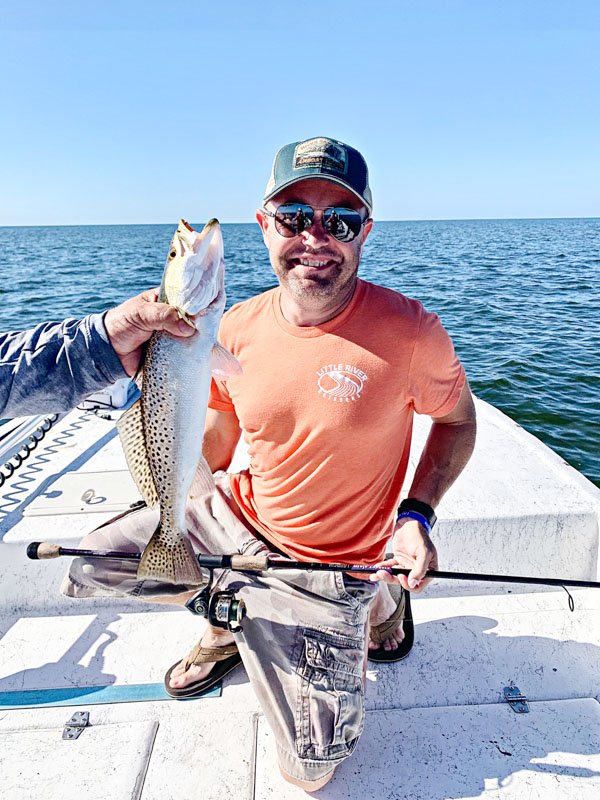 Fishing in the Flats
We have gone fishing in the Gulf several times. But we have never fished in the flats. We have always gone out in the deeper waters of the Gulf of Mexico. So that was my expectations when I learned we were going fishing. I couldn't have been more wrong.
Charter fishing (Crystal River Fishing) on the Flats in the Gulf of Mexico is active fishing. You cast out your line and reel it in and repeat! You feel like you are actually fishing, not just waiting for a fish to take your bait! Our Captain, Captain Don, actually caught a nice sea trout on his 1st cast! He was showing us the proper technique and BAM!!! FISH ON!
Most people like to fish for sea trout or red fish when they go fishing on the Flats. When we went out with Captain Don of Flats Chance Charter, we also caught a blowfish, shark, lizard fish, and a ladyfish. All of these fish were fun to catch! They can really put up a fight! I had a pesky blow fish that kept eating my bait before I could set the hook. I finally caught him though!
Speaking of Captain Don… We had an amazing trip with Captain Don. Besides being great with the fishing, he was a great tour guide as well. When we were on the short trip to and from the flats, Captain Don pointed out all the wildlife we were seeing. There were so many different varieties of birds out there! Migratory birds were making their way south when we were out there. We even saw a Bald Eagle on our way back to the dock!
Next time we are in Crystal River we will definitely be grabbing another charter fishing boat. But next time we will do a longer trip that includes Captain Don cooking our catch for lunch. I know I could have stayed out there all day! Captain Don has several different fishing excursions to choose from so finding one that fits your schedule and needs shouldn't be a problem! We will have a video of our Crystal River Fishing trip soon to share with you.
The lighter side…
So we are fishing and everything is going good. We are all catching fish, the weather is beautiful, and then…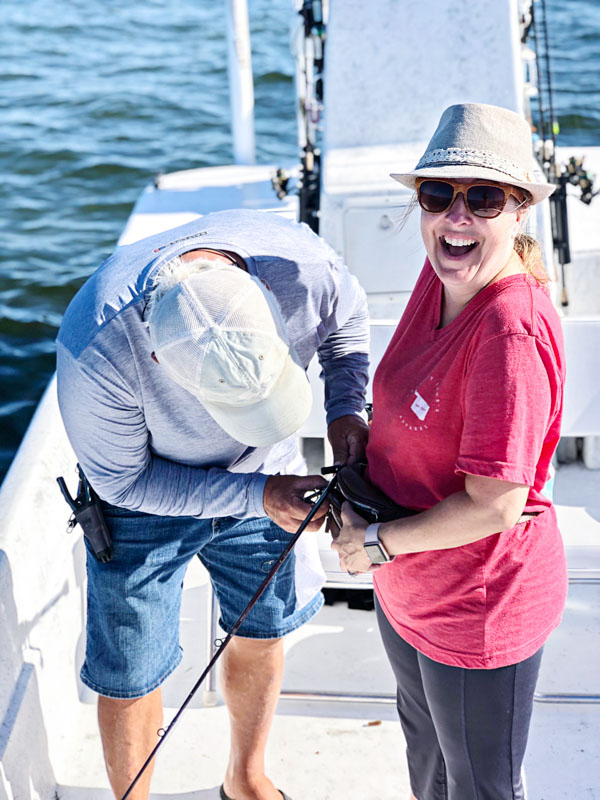 I look over and it looks like my wife has hooked her fanny pack! Upon closer inspection, she somehow managed to get one of the eyes of the fishing pole she was using attached to the zipper on the fanny pack!
Captain Don, who has been fishing his whole life, had never seen anything like it! It was truly a moment we will never forget. I bet he won't forget it either! Yes, my wife caught the elusive "Fanny pack Fish" lol! I guess i can't tease her too much since she did catch more fish than me.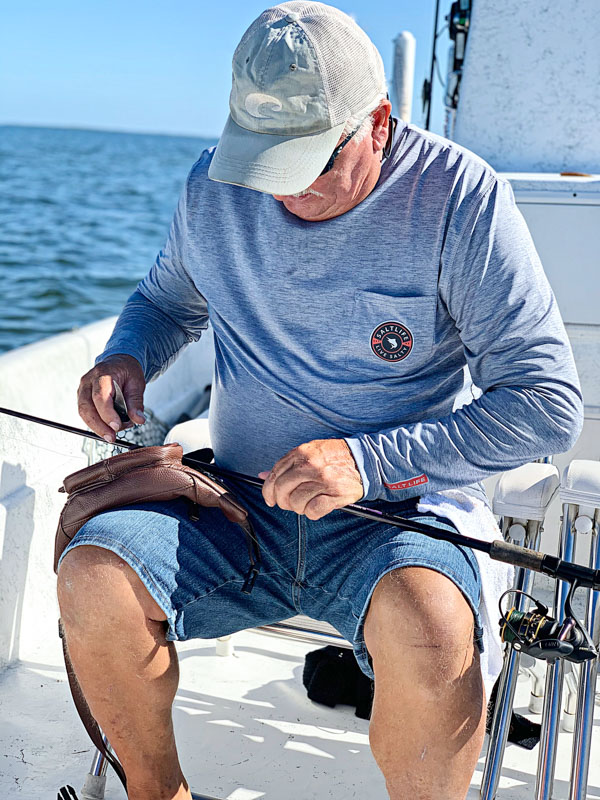 After we were done fishing, Captain Don cleaned our fish for us so that we could take it to a local restaurant. If you have the time I really recommend doing a full day trip where he will clean and cook the fish for you!
This post may contain affiliate links. Click to read our Disclosure Policy . Click to read our Privacy Policy
Check out some of other articles:
Swimming with the Manatees in Crystal River, Florida
Awesome Oceanside Vacations
Check out some of these awesome oceanside vacation ideas.
FOLLOW US ON SOCIAL MEDIA
Don't forget to invite your friend's to our Facebook groups! We would also love to see your vacation pictures!