Yosemite Itinerary – Staying in Madera County
Yosemite National Park is one of the most beautiful places in United States, with towering trees and breathtaking views. This article will give you some tips on what to do when visiting Yosemite, including some of the best places to visit. In our last article we mentioned the best Yosemite campground which included beautiful views of El Capitan, Bridalveil Falls, Tuolumne Meadows, Upper Yosemite Falls, Yosemite Village and more. Today we want to add Madera County as part of your Yosemite itinerary.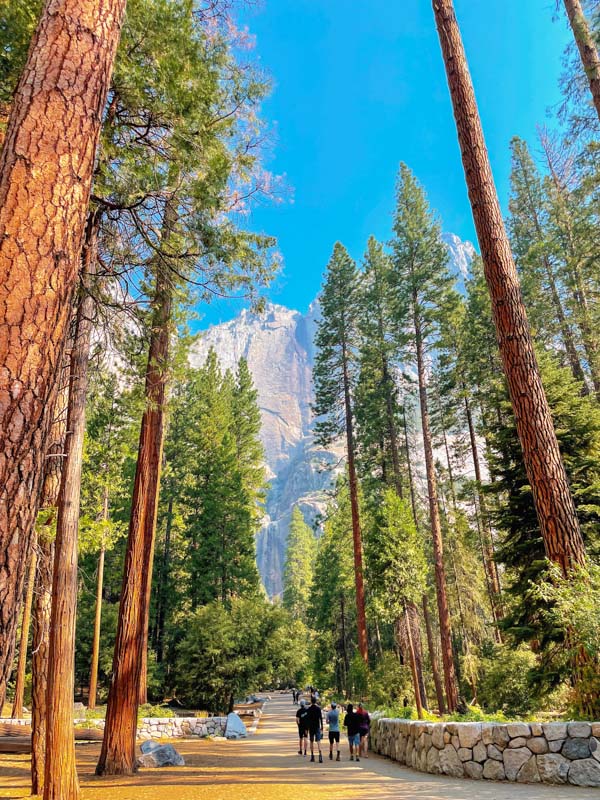 If you aren't planning a road trip and want to fly in. Then the closest airport is Fresno-Yosemite International Airport . It's your best bet if you don't want to drive. For your first day I would plan on just getting settled in and touring around the main area. This way you know where everything is and maybe plan for a picnic at glacier point at sunset. Glacier Point is just a short walk from their parking area. It's an easy hike with views of half dome that will amaze you!
Yosemite RV Resort: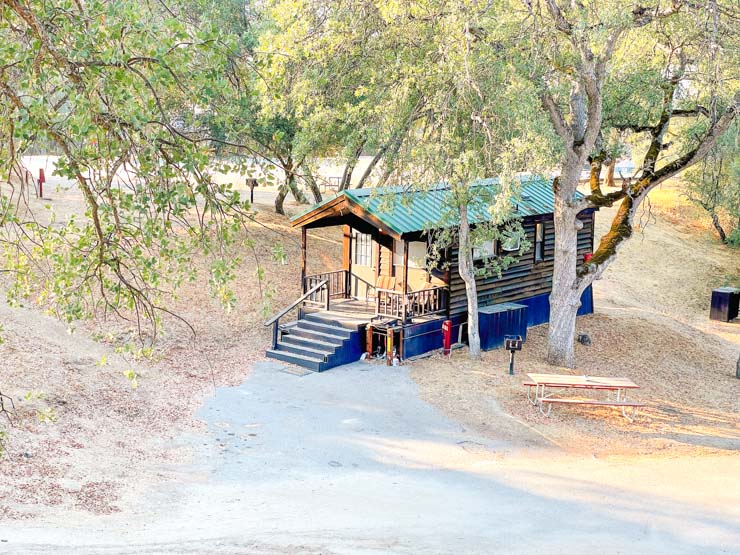 Of course the first order of business is to find a place to stay while visiting Yosemite National Park. We decided to take our pop up camper on this road trip and Yosemite RV Resort was the perfect place for us to stay. It is just a short drive into town so everything is close. They have three selections of RV sites, back-in, pull-thru, and executive pull-thru. Each RV site has water, 30/50 amp service, picnic tables, and a fire ring. Of course burn bans may effect your ability to use the fire ring. They also have a pool, very nice shower facilities, laundry facilities and wifi is complementary to guests. Plus they have a nice big dog park they can run and play in!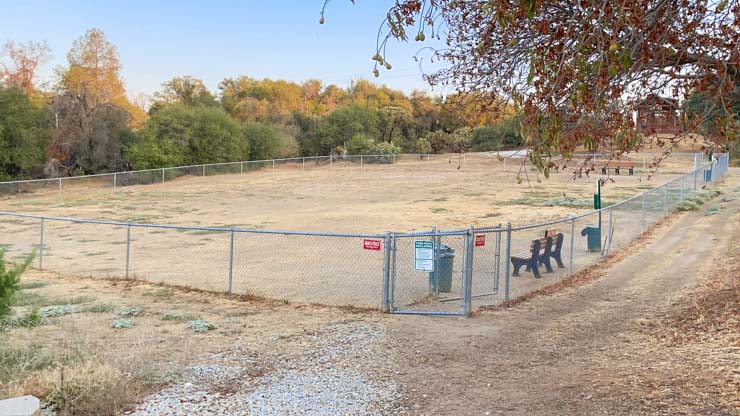 If you don't have an RV or a tent but want the camping experience, they have Yurts and cabins that you can rent as well. The yurts can sleep 5+ and are climate controlled. There isn't a kitchen or bathroom but they are near a bath house. You also have use of a grill and picnic tables.
Is Madera County Dog Friendly?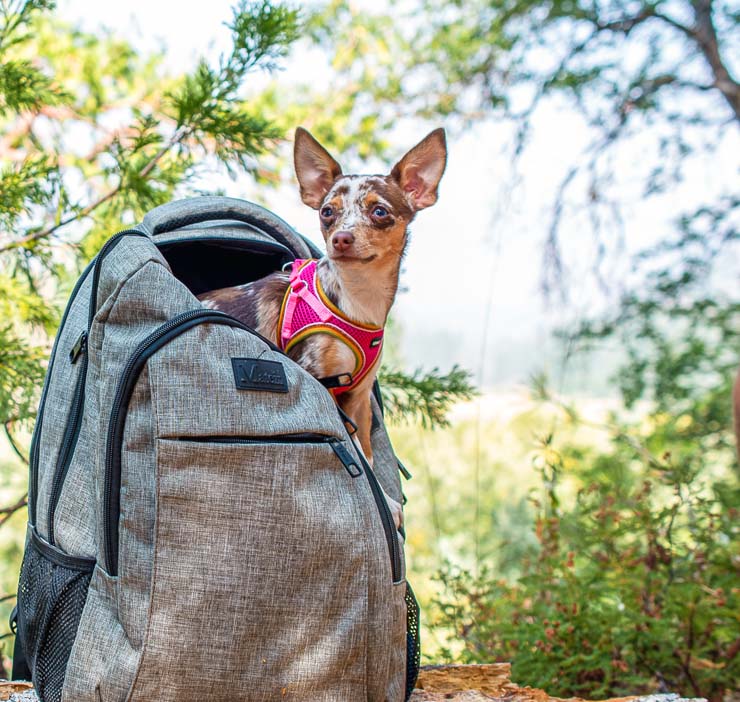 We love traveling with our dogs so finding a dog friendly destination is important to us. Madera County is super dog friendly. We had no problems finding plenty of things to do to fill our day itinerary! Plenty of restaurants had outdoor patios that we were able to take our dogs to. We were also able to find plenty of activities that the dogs could enjoy too. Just make sure to keep your pet on their leash. Dogs are allowed in Yosemite National Park but must stay on developed trails and must be on a leash. A park ranger told us something very easy to remember… "Paws on pavement". Of course there are a few exceptions to this rule but when in doubt refer to it. If your bringing your dogs you will need to know how to work them into your Yosemite itinerary which is pretty easy here.
Miller's Landing –
Miller's Landing is one of those beautiful places you will never want to leave. Miller's Landing is about a 30 minute scenic drive from Yosemite RV Resort. After breakfast we went out on Bass Lake in a kayak. For us this was the best way to enjoy the lake. But if you aren't into kayaking they also have other watercraft for rent. They have a wide variety so you are sure to find something to fit your needs.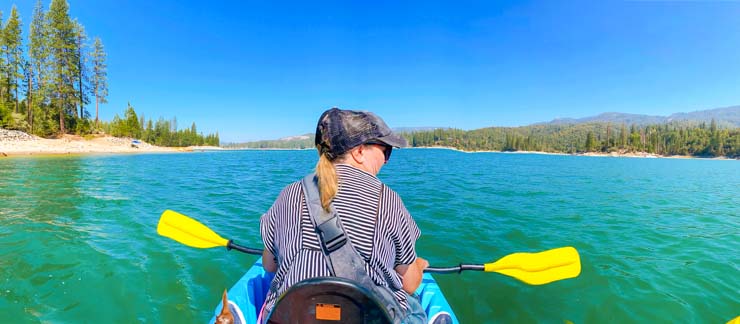 We stopped along the beach a couple of times to let the dogs play in the water. They absolutely loved it! We even got the dogs doggy life jackets! The life jackets also double as a harness so you don't have switch from one to the other.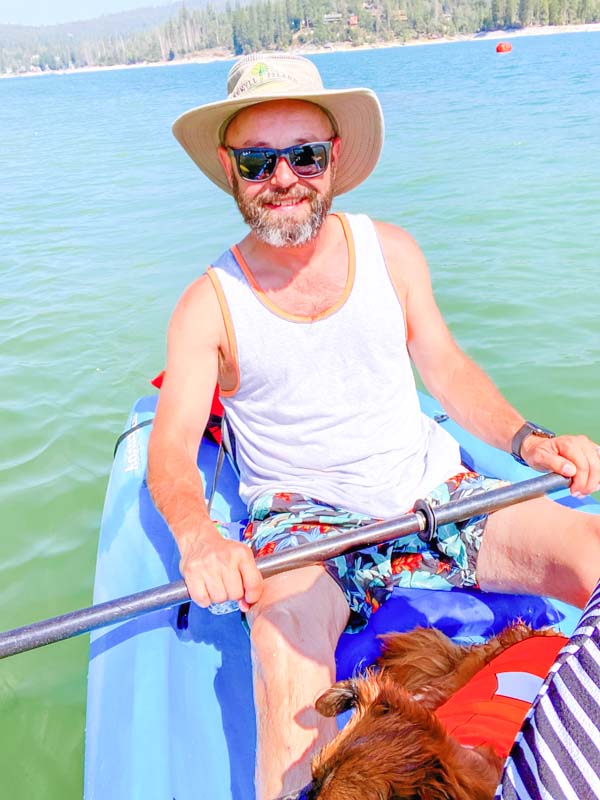 Make sure to check out Miller's Landing grill We had the best views overlooking Bass Lake while we ate lunch. Of course the dogs were welcome on the patio while we ate! They also have rooms available if you want to stay on close to the lake. Did we mention they also have a dog friendly menu?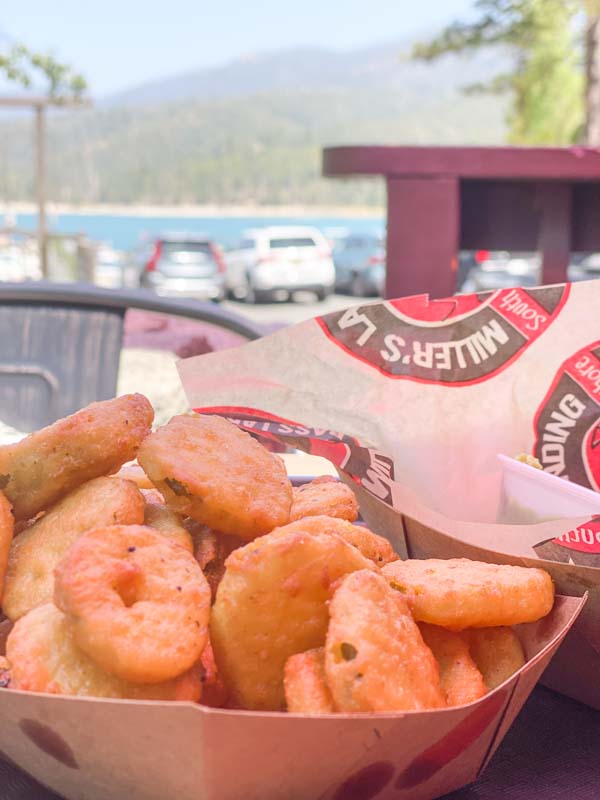 Yosemite Axe Throwing –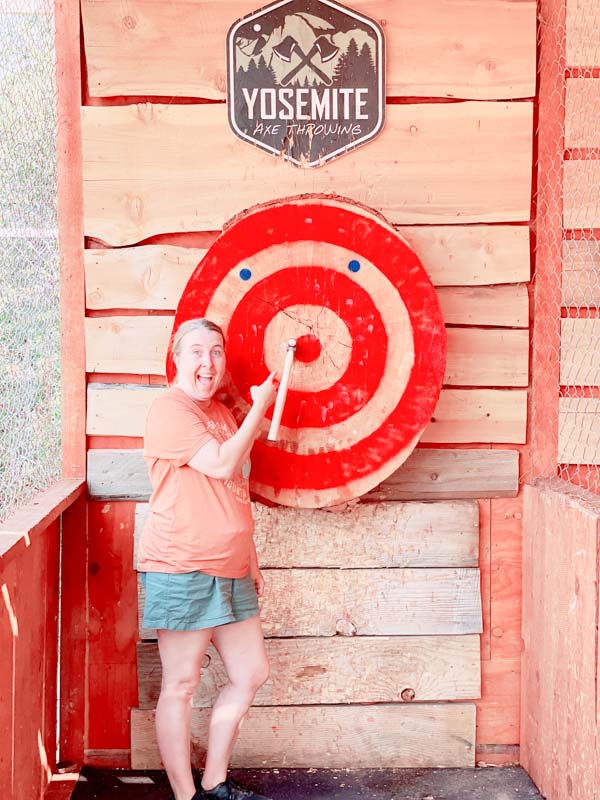 Throw axes in a safe, fun environment with friends and family. The staff will teach you how to throw the axes and make sure you are comfortable before they leave. Once you get the hang of things you can have a little competition by playing some fun axe throwing games! It truly is for everyone. The axes are easy to throw and extremely addictive! One of the best things about Yosemite Axe Throwing in Madera County is the targets are actual disks of pine. So you get the true sound of an axe hitting a real tree. It just adds to the experience. We had so much fun that we now look for axe throwing opportunities when we travel!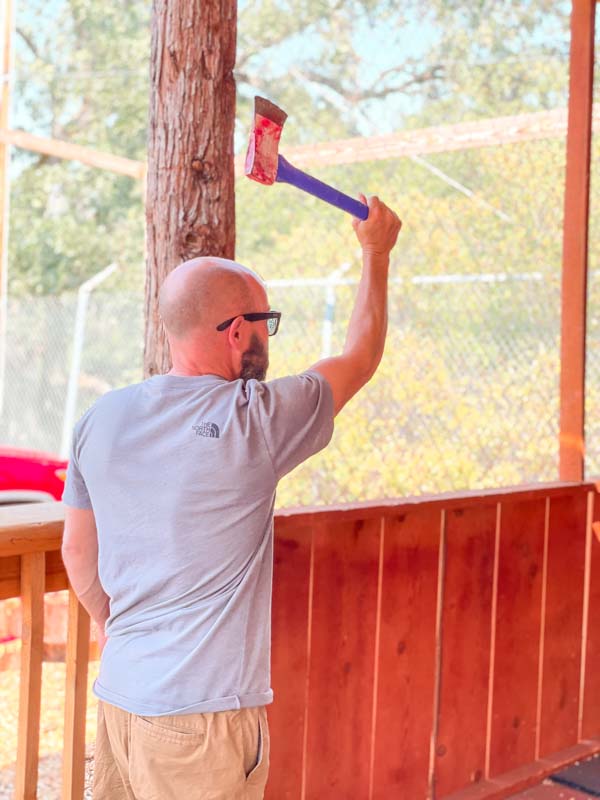 Hiking in Madera
We love to hike and found a great hiking trail by the Wawna Hotel. The historic Wawona Hotel (formerly Big Trees Lodge) was first established in 1856 and has an enduring legacy of providing luxury, hospitality to all who stay at this original Californian mountain resort hotel. Located just 45 minutes from Yosemite National Park's valley floor. You'll find that it is ideally situated near many sites/activities such as Mariposa Grove–home to the famous Grizzly Giant & California Tunnel Tree; Badger Pass Ski Area during winter months where guests can enjoy great snow conditions year-round!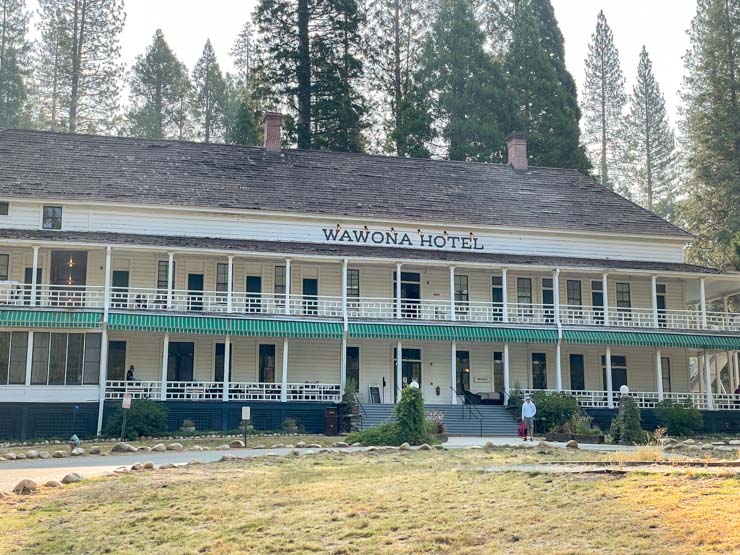 Before we started our hike on the Wawona Meadow Loop we found this cool covered bridge! It's near the Pioneer History center that is on the property. It's like looking back in time.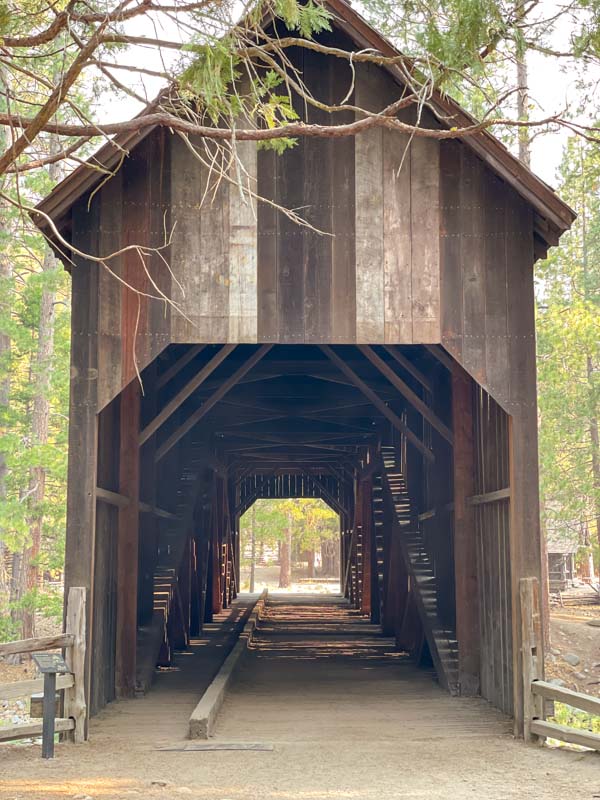 The Pioneer Yosemite History Center is a must-see for history lovers! This site consists of buildings from different eras in yosemite's long and colorful story. Originally constructed all over the park, they were moved to Wawona in the 1950's and 1960's." The area does not represent an entire town – instead every building stands alone representing some particular chapter that has been integral to this incredible tale.
Hiking on the Wawona Meadow Loop trail, we were treated to views like this! It was an easy hike to walk. The hard part is not stopping every 10 steps to take pictures!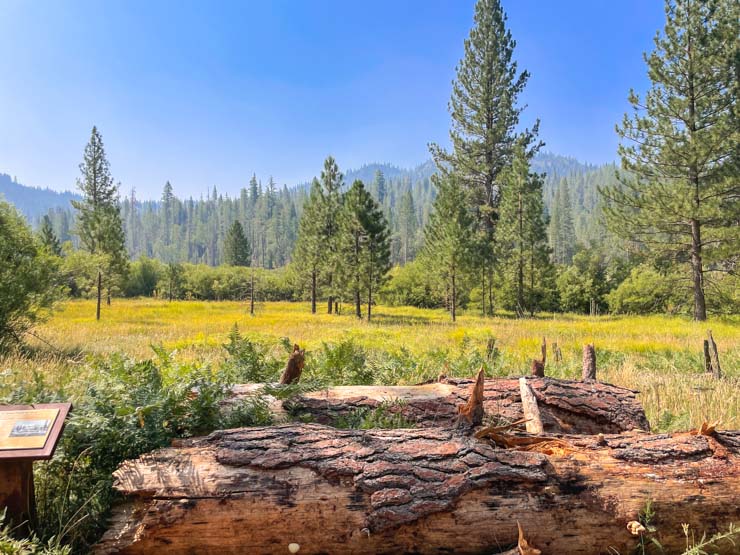 Yosemite Mountain Sugar Pine Railroad –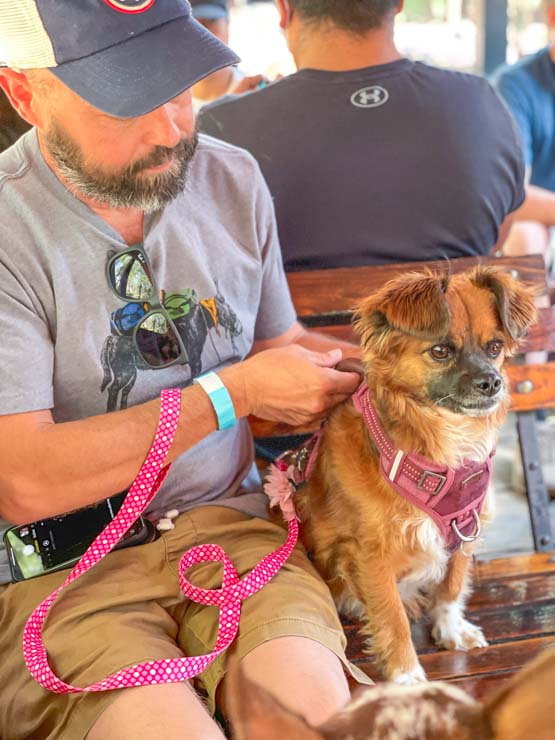 The Yosemite Mountain Sugar Pine Railroad is not just any old train ride. It's a historic 3 ft narrow gauge railroad with two operating steam engine locomotives. It takes visitors through the Sierra National Forest near Fish Camp and into Yosemite National Park. You will get some spectacular views as the train winds through the Sierra National Forest. The train ride is about an hour round trip. You can have lunch before or after your ride. They have a concession stand with food and drinks for everyone. You'll want to get their early to check out the gift shop and mine for gold. They even offer free post cards for you to fill out and they will send back home. This is a must do for your Yosemite itinerary. Plus they are dog friendly! Chloe and Tilly had a great time riding the train.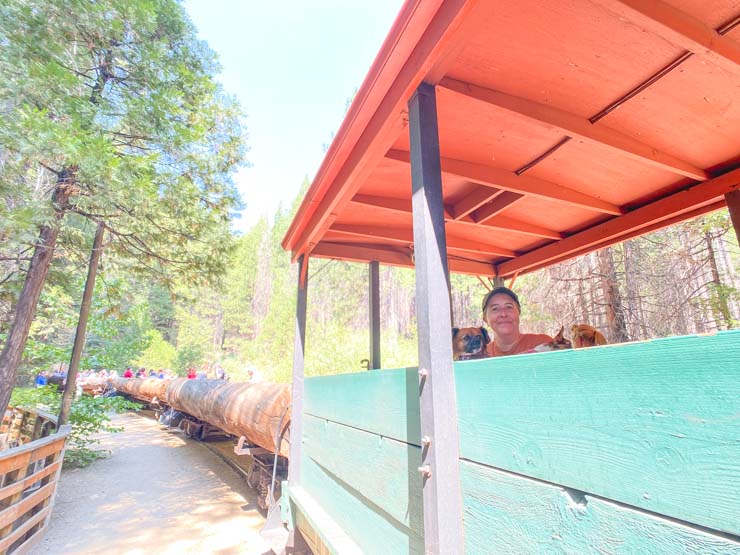 Coarsegold Historic Village –
Take a trip to the Old West! Join Corasegold twice a year for their World Famous Peddlers Fairs. These events offer you an opportunity to find that perfect piece of furniture, or vintage collectible. Plus you can enjoy other fun activities like horse-riding lessons, food vendors with delicious recipes, and art shows by local artists who live in the area. Coarsegold in Madera County is a small town with lots to offer. The Historic Village has been around since 1879 so it a lot of history for you to enjoy. Coarsegold is located on Highway 41 and just 7 miles South of Oakhurst. It's right on the way from the valley to the South Gate of Yosemite National Park .
Restaurants in Madera:
If you're looking for a great place to eat while traveling in Madera County, California, look no further! This section will give you all the information you need to make a decision. We've compiled a list of some of the best restaurants in the area for your Yosemite itinerary, so you can be sure to find something that fits your taste.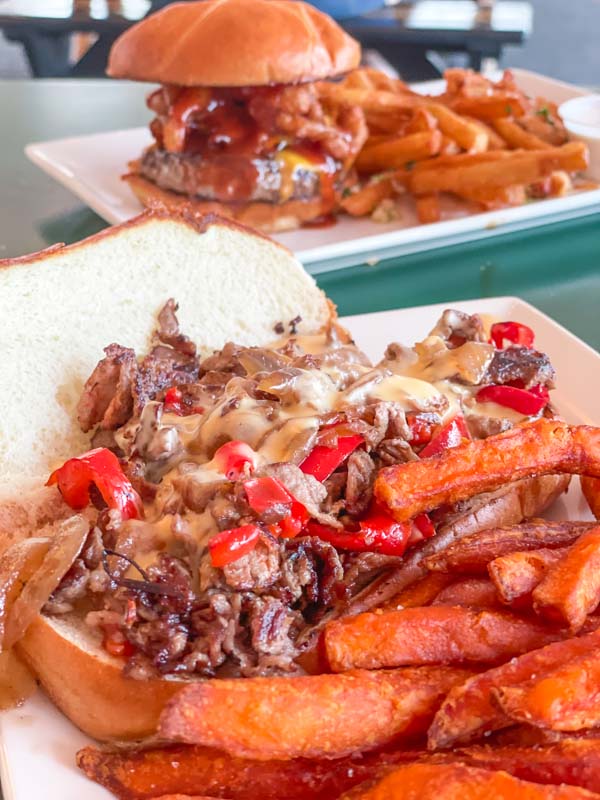 South Gate Brewing-
The South Gate Brewing Company is located in the Sierra Nevada foothills, just outside of Yosemite National Park. It's the perfect place to catch a bite after a strenuous hike. They offer pub fare and craft beers. They have an outdoor patio so we were able to take our dogs with us! You can enjoy the view of Deadwood Mountain in their dining room. South Gate Brewing is also a working brewery! So don't miss out on their craft beers while you are there. You'll have a great time enjoying the views and everything else they have to offer.
Forks Resort –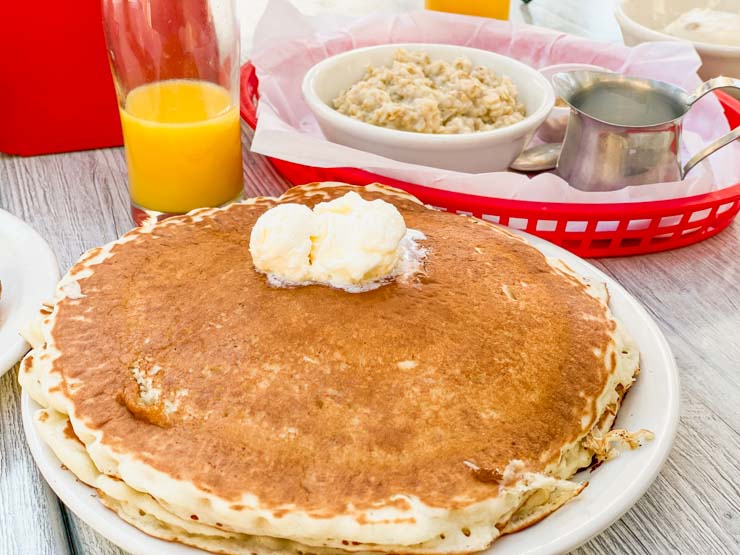 Forks Resort should be your first stop for a hearty breakfast before you start off your drive into Yosemite for your day Yosemite itinerary. We stopped in for breakfast and let me tell you., you better come hungry because the portions are big and the food is delicious. They are also dog friendly. They have an outdoor patio for you and your dog to enjoy! They offer cabin and boat rental as well as a General Store. The General Store is well-stocked with familiar brands of groceries, souvenirs, sporting goods, fishing tackle, propane, gasoline, ice, boat and mooring rentals.
Glow Juicery –
Glow Juicery has freshly made veggie and fruit based juices, green juice cleanses, smoothies, and other healthy food options. Its's a great stop for an afternoon pick me up. I had the strawberry smoothie and it was AMAZING! You also have to try their peanut butter, honey, and banana toast! It's so good!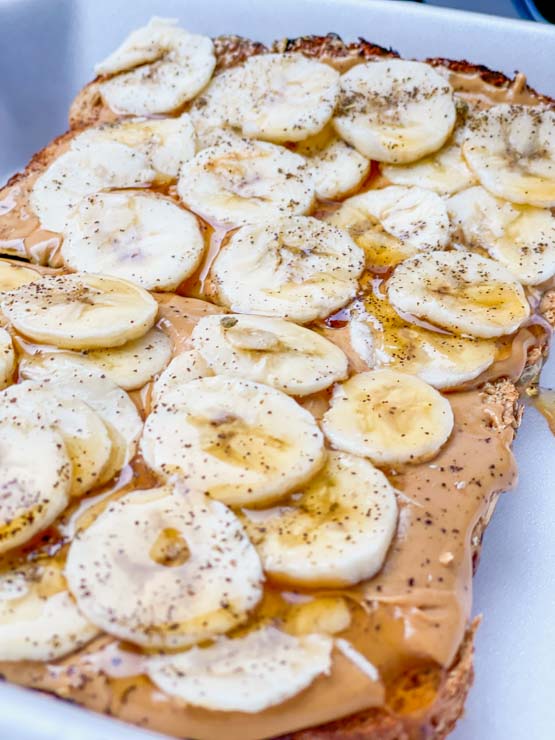 Idle Hour Winery and Kitchen –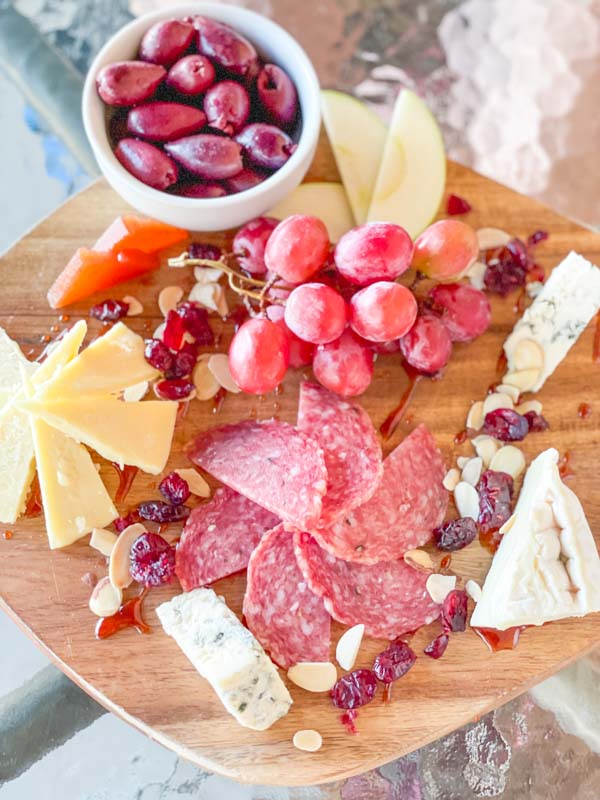 The Idle Hour Winery is In the heart of Oakhurst. It's a winery with Mediterranean cuisine and locally sourced seasonal ingredients. They are now open to public for dining or just drinks. The winery focuses on single vineyard designated wines. Enjoy Pinot Noirs from select Santa Lucia Highlands and San Benito County Vineyards, Madera County Viognier and Syrah and Clarksburg Tempranillo, Petit Verdot, Petite Sirah and Cabernet Franc. I had the Cabernet Franc with our charcuterie board and it was amazing!
Wild Fig Kitchen –
When you're looking for a fresh, original interpretation of your favorite breakfast or lunch dish. Look no further than Wild Fig Kitchen. Since opening its doors the restaurant has quickly gained popularity with locals and visitors alike. Thanks to chef Marc Neff's creative twist on traditional favorites.
Getting around is easy with the free Oakhurst Trolley! Running from 11 am to 10 pm Fridays & Saturdays, and 11 am to 9 pm on Sundays. It's a great way to see the town.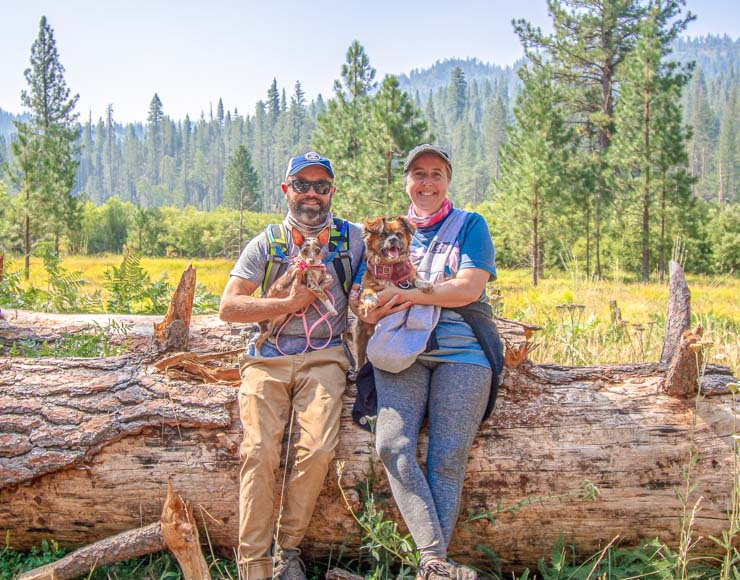 Yosemite is a place that everyone should visit at least once in their life. There are so many breathtaking views and natural wonders to be seen, it's hard to narrow down your favorite spot! We hope we've helped make your visit to Yosemite a little easier and more enjoyable and plan your Yosemite itinerary. If there's anything else we can help with, please let us know! 🙂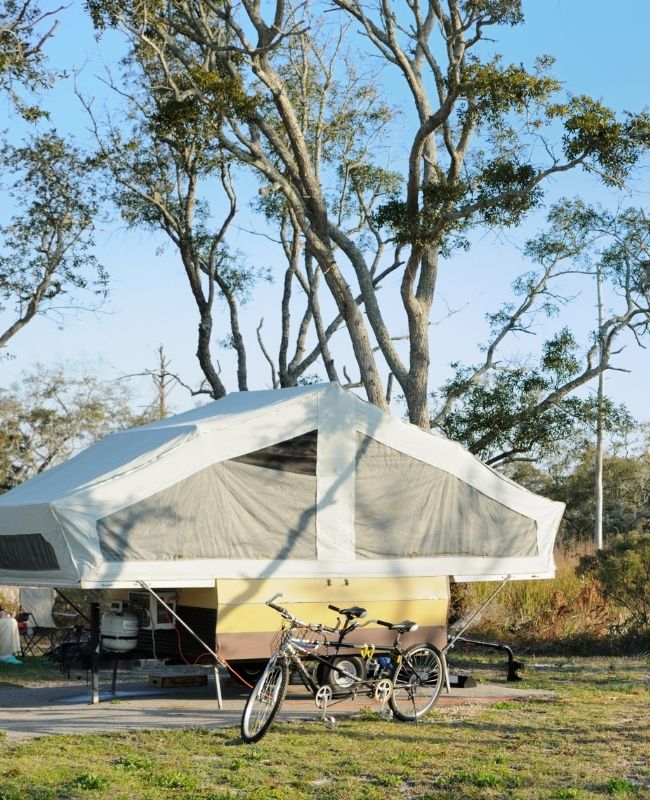 Are you looking for a pop up camper rental or even buying one? But aren't sure where to start? We were in that same situation not long ago. So we have put together some things you should consider when looking for your pop up camper.
Awesome Camping Articles You Should Check Out
FOLLOW US ON SOCIAL MEDIA
Don't forget to invite your friend's to our Facebook groups! We would also love to see your vacation pictures!