Branson Couples Vacation Ideas for the Winter Months
Disclaimer: This Branson Couples Vacation Ideas for the Winter Months trip was hosted by Branson CVB, our thoughts and opinions are our own.
Living United Couples Retreat –
We started planning this trip when we decided to go to the Living United Couples Retreat. This retreat has a been a must do for us. This is the 4th year that we've gone and it seems to get better every year. We really enjoy hearing how to improve, work on and maintain our marriage. Join Our Facebook page and Facebook group!
It is very refreshing to be able to hang out and fellowship with couples that are striving to do the same thing in their relationship that you are trying to do in yours. Plus the free candy doesn't hurt lol!
The Living United Marriage Retreat is held in the Hilton Convention Center in Branson Landing. Branson Landing has something for everyone. There are plenty of shops and restaurants to keep everyone happy!
Branson Couples Vacation Ideas: Where to Stay
Welk Resorts –
The marriage retreat started on Friday so we decided to make a week of it.  We headed over to Branson the Monday before the marriage retreat so we could spend time in Branson. Welk Resorts has a beautiful hotel in Branson. When we arrived we were surprised to see how much they had to offer even though it was technically their off season.
They also have daily activities for the family. While we were there they had candle making, movie night at the pool, pool volleyball, XBOX tournaments and much much more! Not to mention the Mini-Golf course they have on the property!
Welk Resorts has an indoor and outdoor pool. The indoor pool has a water slide for the kids to enjoy! They also have a rec room where they have a TV with game systems, board games or you can just find a quiet corner and read or relax.
Titanic Museum –
I'm a huge history guy and the Titanic Museum is AMAZING. They do an amazing job of telling the story of the Titanic. As you walk through the museum you get a see artifacts that help tell the personal stories of the passengers and crew. We were lucky enough to get to see their new exhibit, the Titanic Life Jackets. When you look at them you can almost feel the emotions of what it might have been like have to put on them on. Then you see the cut straps and you know that the person wearing that life jacket didn't survive.
Another thing that is pretty impressive in the museum is the the stair case. They have gone to great lengths to replicate the Grand Staircase that was on the Titanic. It is truly amazing. They also have an exhibit that shows you what the Captain and crew would have seen on the fateful night. It really gives you a new perspective on what went on that night.
Top of the Rock Cave – 
We loved our 1st trip to the Top of the Rock so much that we just had to take Chuck and Rachael to see it on this trip as well. This is one to put on your must see list. Hop aboard an electric cart for an exhilarating two-and-a-half mile nature trail journey, which overlooks Table Rock Lake.
The Top of the Rock has amazing views at every turn. I'm glad I had plenty of room on my camera for all the pics I took!
You will be surrounded by the breathtaking beauty of the Ozarks with natural rock formations and waterfalls. It's the perfect place to grab your significant other and snuggle up. Not to mention Top of the Rock Lost Canyon Cave which is a jaw dropping four stories. So hold them close!
I think I could literally spend all day looking out over the trees. The views never get old. After you have taken in the natural beauty you can head inside and check out the Ancient Ozarks Natural History Museum. The newly expanded Ancient Ozarks Natural History Museum has tons of exhibits that will show you prehistoric creatures and astounding collections of Native American artifacts and artwork as well as expansive galleries showcasing the American West and Civil War.
The next time we come up here I'm going to make sure I pack my golf clubs! Top of the Rock has a beautiful par 3 golf course that I'm dying to try!
We have lots more pictures on our Travel Instagram Handle.
Branson Couples Vacation Ideas: Entertainment
Fun Mountain – 
Fun Mountain is just what it says it is… A Mountain of Fun! When you walk in the mood is set by this cool looking slide. You know it's going to be a fun night if the slide looks like that! Don't worry they have adult fun activities too. They have an underwater themed bowling alley, a golf simulator, plenty of pool tables and much much more!
When you go to places like Fun Mountain it always seems like the food is an after thought. Not to worry though, at Fun Mountain they put just as much thought and effort into their food as they do with the fun. We had the Philly Steak Sandwich, a Hamburger with homemade potato chips and couple of appetizers. Let me tell you… THEY WERE AMAZING! I would make a trip to Fun Mountain just to eat!
Now on to more important things… Of course I had to beat my wife at Air Hockey! We had to play several games before she gave up and went to play some Ski-Ball. I had to let her win a couple of Ski-Ball games so it didn't totally ruin her night.  LOL
The Hughes Music Show –
We have seem a few shows in Branson but nothing like the Hughes Music Show! This is 1 HUGE family! There are over 50 cast members and most of them (if not all) are family! The whole cast is crazy talented and they perform all genres of music. From pop to rock, country to gospel and gospel to hip hop. They do it all well!
Grand Jubilee Show –
The Grand Jubilee Show is a must see. New South is performing at the Grand Jubilee along with Jackie Brown and the awesome band, Rhinestone Mafia. Mike Patrick and Jaime Haage keep things moving in between the different acts with some comedy that had everyone in the theater rolling! This show has everything and it's performers have won a ton of awards and it shows!
Branson Couples Vacation Ideas: Good Eats –
Another one of our favorite things to do is eat! Branson has some pretty amazing places to go to get your fix for just about anything.
Dana's BBQ –
Dana's BBQ place was recommended to us by the Munson's. It did not disappoint us. This is a great place to get some real BBQ. You can just taste the love that they use to cook it. The portions are so big that we should have shared a meal but no one really wanted to share their BBQ…lol
Cantina Laredo-
This is one of my favorite chain restaurants to go to for Mexican Food. The Cantina Laredo in Branson is located in the Branson Landing area. The make some amazing Mexican food with a modern twist.
Black Oak Grill –
Black Oak Grill is located in the Branson Landing area. They have a pretty big selection of food to choose from. From BBQ Mac-n-Cheese, to Chicken Parm everything we had at the Black Oak Grill was AMAZING! There is sure to be something for everyone here. Make sure to save some room for dessert! You won't be sorry! I almost made the mistake not saving room for my cheesecake…
Vintage Paris Coffee –
When I think of little coffee shops in Paris… I think of places like this, Vintage Paris Coffee. It's a small little coffee shop that has a ton of personality. There are table and chairs where you can enjoy a book or one of the board games that they have around or you can settle in on the couch and just relax while drinking some great tasting tea. They have a wide variety of drinks to please just about anyone that comes through their door.
Branson is the perfect place to plan your next couples vacation!
You should also check our Dog Friendly Vacations in Branson Post for our Barkcations series.
See More Here: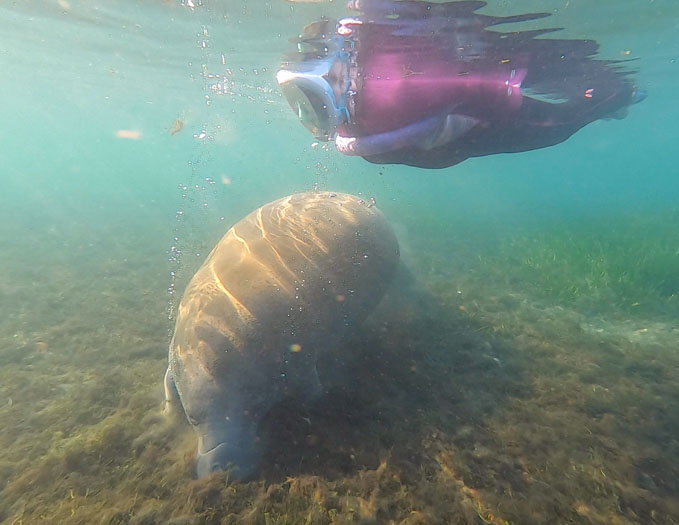 This is one I would do again and again: Swimming with Crystal River Manatees!