Broken Bow Oklahoma Things To Do: What You Need to Know
If you head to Broken Bow Oklahoma things to do are in ready supply and offer a great variety. From live music to horseback riding you can find the best things for your family. We want to cover places to stop in the Broken Bow or the Hochatown area. You can find the perfect place if you plan a day trip or even a longer camping trip in the Beavers Bend State Park. Here are our favorite things to do in Broken Bow.
But first things first. We know there is a big debate between Hochatown and Broken Bow and for the sake of Google searches and people looking for things to do in Broken Bow, we want to make sure people get down to that area. You can read our post on Hochatown as well. I promise we didn't leave you folks out. Hochatown and Broken Bow are so close together that many of the places in our post overlap.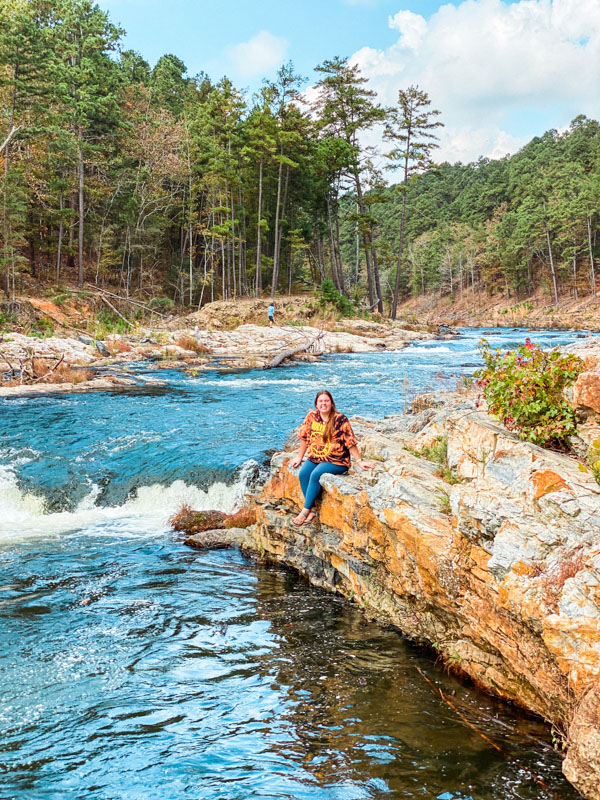 BROKEN BOW STATE PARK
For starters there are so many thing to do just in the State Park you could spend all of your time there. There are plenty of places to explore along the shores of Broken Bow Lake, along with kayaking, canoeing or fishing on the lake. With 180 miles of shoreline you can find just the right space for all of your water sports and outdoor adventures. You can enjoy a river float trip or even learn something new at the Nature Center. The park has tent sites, RV sites, cabins for rent and even a lodge.
One fun activity for the whole family is the Old West Town Miniature Golf, they have the cutest little buildings along the putting green including a General Store, Post Office and Stagecoach office. You will find them in the Secluded Acres area, but you better watch out for the bank robber! Stop here and we are sure you will have a good time.
If you need to escape the outdoor weather or just enjoy a good treasure hunt check out Janet's Treasure Chest for some shopping. They have some new decor pieces as well as antiques and collectibles. They have a kids section with camping essentials and souvenir items. They are the headquarters for lodging at Beavers Bend.
One of our favorite things is photography and family photos. You do not want to miss Uncle Charlie's Old Time Photo Studio. Dress up in some of the best costumes you've ever seen and capture a fun and unique experience.
If you spend time in the sun hiking or water skiing you are going to work up an appetite. We will have 2 other posts all about restaurants you can read about soon from burgers to fine dining, so I won't touch too much on restaurants or places to eat but I do want to mention the Whip Poor Will Cabins and Original Fudge Factory. I'm really not sure there are words to properly express the joy we experience when we get some good chocolate treats. They have fudge like we have never seen before, Jalapeno peanut brittle? You will have a lot of fun checking out all of the goodies in this shop. It is a great way to escape the summer heat and get a little treat.
12667 Highway 259 North Broken Bow, OK 74728
Another little shop you can visit between meals is Okie Girls Coffee Shop and Ice Cream, they have treats and a little gift shop area with mugs and t-shirts. These make great souvenirs for yourself or to take to a friend. They are at 121 N Lukfata Trail Rd. In Broken Bow.
There are plenty of museums in the Broken Bow area as well.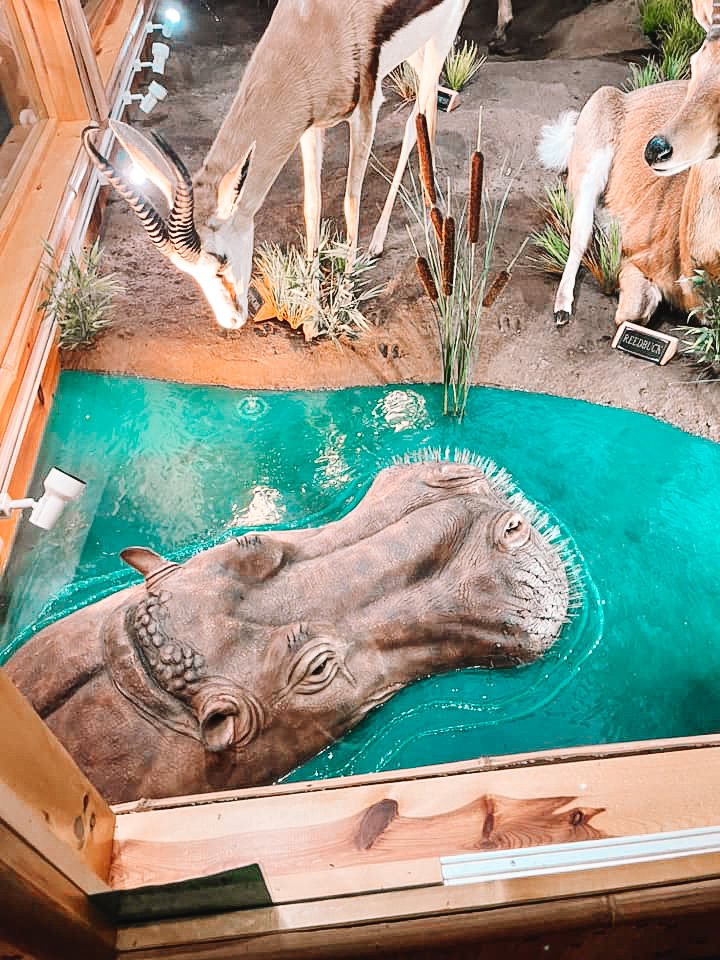 First there is the Beavers Bend Wildlife museum located at the entrance to Beavers Bend Resort Park (6594 N US Hwy 259 in Broken Bow). This is a great place for nature lovers in your group. Their exhibits bring scenes of nature indoors in a close up way with taxidermy pieces. They offer tours: the General Tour Includes information and fun facts about the animals such as their natural range and feeding habits and then they also offer a Religious Tour which Explains ways we can see God's wisdom in creation.
You can also checkout the Indian Memorial Museum 402 E 2nd Street in Broken Bow and it is open Thursday through Monday 9:00 am. To 5:00 p.m. Admission is free 580-584-6531. This museum is home to a private collection of unique artifacts from all over the country, we love a free museum!
If you have some dino aficionados in your group head on over to the Museum of the Red River. We also recommend this museum if you have architecture fans in your group, this building looks so cool! It also has the most complete dinosaur skeleton that was found. They found it in McCurtain County and it is on display here. They have many free events open to the public, as well as other classes and summer camps. Check their website for the latest schedule. This museum is a little farther out, in Idabel but a great stop for your trip. 812 E Lincoln Rd, Idabel, OK 74745
Broken Bow Oklahoma things to do may change with the season so check availability online before planning your trip. If you are feeling adventurous you might want to check out some of the white water options available at the Lower Mountain Fork River past the Broken Bow Lake dam. There are so many great options for canoe, kayak and boat rentals but you can also check out a float trip to experience level 1 & 2 rapids. For information on all the rentals check out Wild Goose Canoe and Ambush Adventures Kayak and Canoe Rentals at 6770 US-70, Broken Bow, OK 74728 or Beavers Bend White Water Canoe & Kayak Rentals at 513 S Park Dr, Broken Bow, OK 74728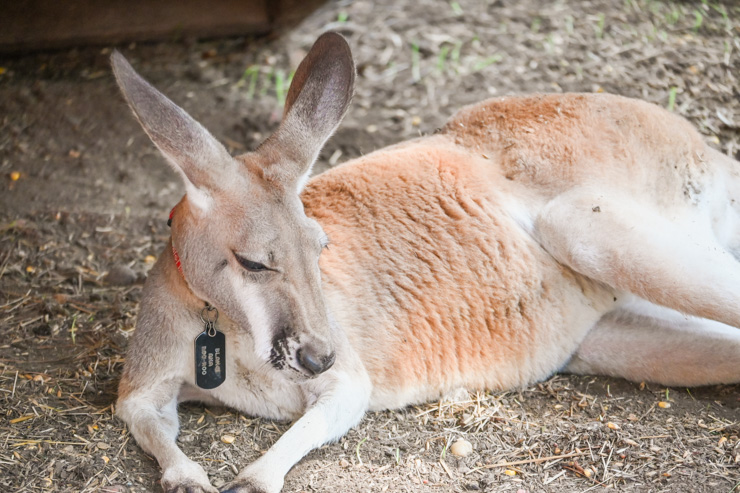 If you have animal lovers in your group you might want to head to Hochatown to the Rescue Center and Petting Zoo to see some of the cutest critters around! They are located at 9177 US-259, Broken Bow, OK 74728 They have goats, cows, camels kangaroos, birds and some of the sweetest little baby animals. This is one of our favorite outdoor activities, your kids (and probably grown ups too) will have so much fun!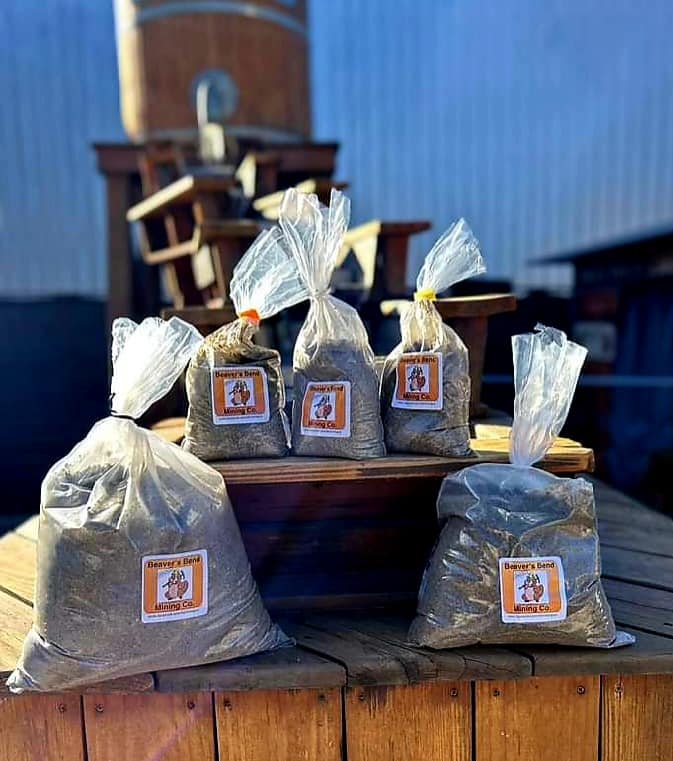 Another fun activity for the whole family is a trip to Beavers Bend Mining company where you can mine for gemstones, get a hand wax dipping or even enjoy some fossil digging activities. Check them out at 9177 US-259, Broken Bow, OK 74728 We love Broken Bow Oklahoma things to do all day long!
Another easy way to cool off in the summer is to get in the car and crank up the AC, enjoy the beautiful scenery and take a scenic drive. There are so many different trails and areas at the lake you can simply enjoy the journey on the way to your destinations. Be sure to leave extra time in your travel schedule so you are free to stop and take breathtaking photos along the way. The area of Broken Bow, Hochatown and Beavers Bend is such a beautiful place. If you don't need the AC consider checking out this area on horseback! Make a reservation at Riverman Trail Rides at 1735 Pine View Road, Broken Bow, OK 74728   (405) 833-6671 they have horseback rides, wagon rides and some fishing activities (catch and release smallmouth bass)
No matter what season it is or what your favorite activities are we are sure you can find some amazing Broken Bow Oklahoma things to do.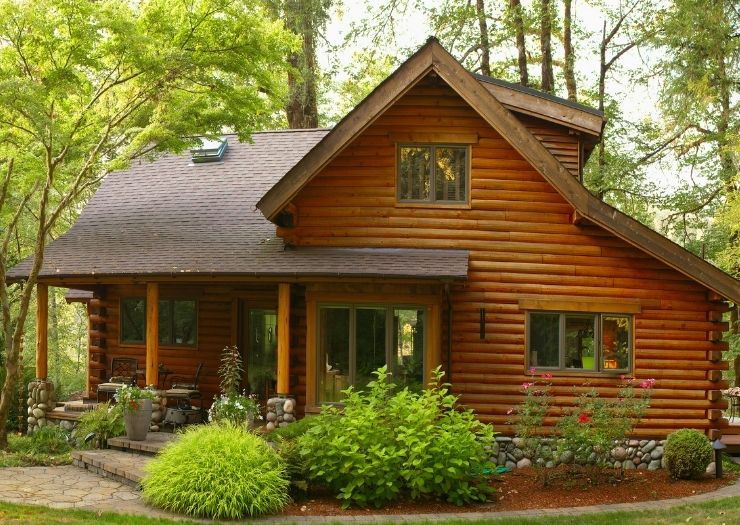 BROKEN BOW CABINS RENTALS:
If you're looking for a more rustic, picturesque getaway experience, renting a cabin in Broken Bow Oklahoma is the perfect choice! Bordered by the banks of Forest and Beavers Bend State Parks, this small town offers stunning views and cozy cabins perfect for a weekend or longer stay. Whether you're looking for a quiet retreat or an action-packed adventure, these cabins provide something for everyone. With diverse activities such as paddle boarding, kayaking, fishing and horse riding – plus an array of other outdoor pursuits to explore in the areas nearby – there's no shortage of things to do while staying in Broken Bow. With plenty of rental options available too – ranging from charmingly rustic to luxury lodges – you'll be able to find the perfect cabin for your needs. Try booking a cabin on VRBO.
More Places to Visit in Oklahoma
FOLLOW US ON SOCIAL MEDIA
Awesome Camping Articles You Should Check Out