Holland America: Cruising The Rotterdam
Disclosure: Holland America provided this cruise so that we could write about our experiences.
We spent 10 days on the Holland America Rotterdam. Let me tell you, this ship is amazing! The decor is elegant but still has a modern feel. The ship feels very welcoming as soon as you step on board. The food, entertainment, and service all have the same attention to detail that you expect when you sail with Holland America Line.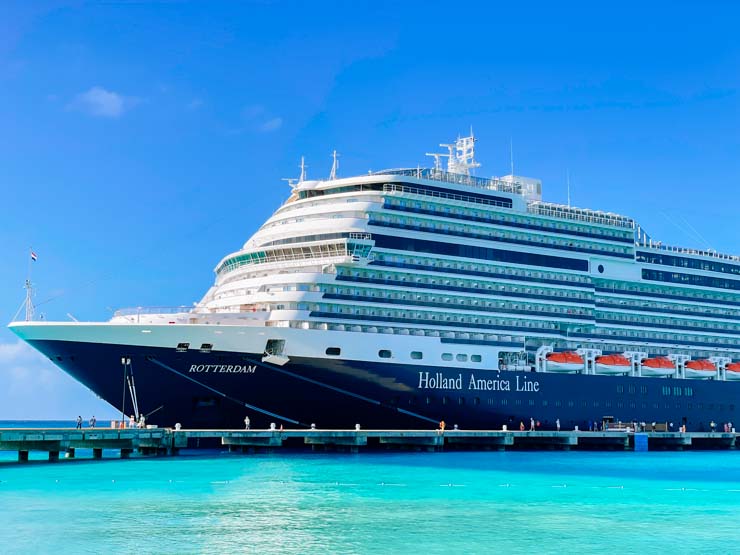 Rotterdam will spend from November through April on its inaugural Caribbean Season, with all sailings roundtrip from Fort Lauderdale. The cruises range from six to 11 days and span the entire region on southern, eastern, western and tropical itineraries. Guests looking for a longer getaway can embark on a Collectors' Voyage — combined back-to-back itineraries that offer an in-depth exploration covering more than one area.
Every Caribbean cruise includes a call at Half Moon Cay, Holland America Line's award-winning private Bahamian island. This quaint sanctuary has evolved into a tropical playground for cruise guests. It features the white-sand beaches; two-story villas and private cabanas; delicious dining venues like Lobster Shack; a children's waterpark; and a variety of fun-filled tours for nature lovers, adventurous travelers and explorers.
EMBARKING & DISEMBARKING
In order to cruise Holland America, everyone is required to show their vaccination card. Everyone also had to tested before boarding. The embarking procedures went very smooth for us. We had a 1:30 arrival time and we were in our room by 2:15. At the time of our cruise, masks were required in the terminal. Holland America also asked all guests to wear their masks indoors unless eating or drinking.
Disembarking was also super easy. Two days before we were scheduled to arrive home, they have baggage tags available at Guest Services. We just chose the time we wanted from the times available and that was it. On the day we disembarked they call out the groups at the scheduled time and that was it. We chose 8:30 as our time and we literally walked off the ship without having to wait in a line. The first line we came to was the line for customs. We were off the ship and cleared by customs by 9:00. I'm sure experiences will vary but we followed their procedures and the time spent waiting in lines was minimal.
HOLLAND AMERICA LINE NAVIGATOR
The Holland America Line Navigator App is your go to tool for booking your dining, excursions and more. I used their app to check times for entertainment too. It even works when you are off the ship and not connected to wifi but you may not have access to all the features. Though you are able to check show times, pull up your excursion tickets and view the ships itinerary. You will also be able to check your on board account statement. Make sure you download the app for free before you board the ship. It's available for both iPhone and android users.
OUR CABIN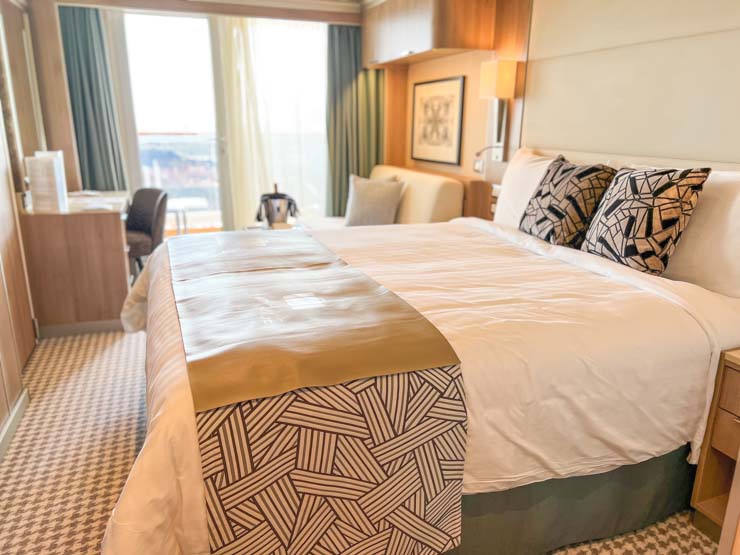 Our 1st impressions of our cabin was it felt more like a hotel room than a cabin on a cruise ship. The bed has the feel of a normal mattress. As we all know a bad night's sleep can ruin a trip. Well when you're on a cruise who wants that!
Also there is a lot of storage space in the cabin. Your suitcases fit neatly under the bed and out of the way. This may seem like a small detail but our last cruise they did not. It wasn't very fun walking around them the entire cruise. Sometimes it's the small things. There is also plenty of closet space and drawers for your clothes. A safe is also provided for you in the room to put your valuables in.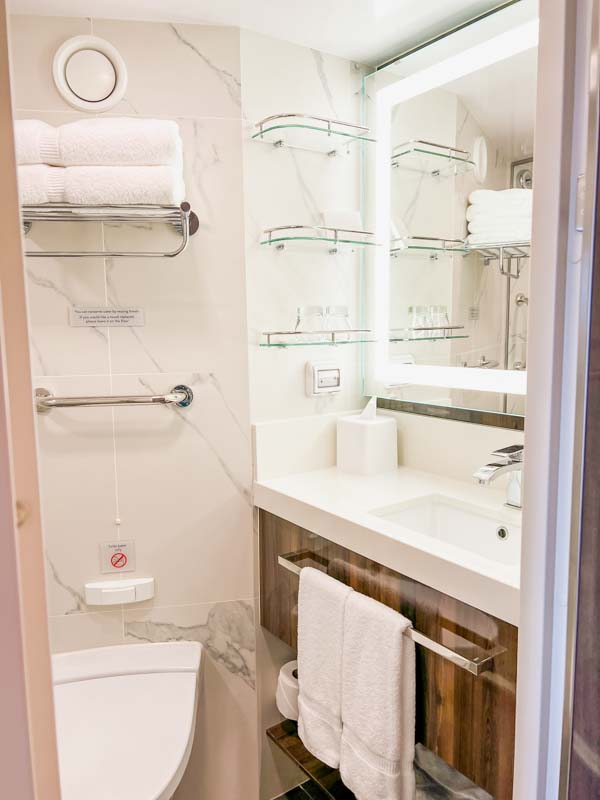 The bathrooms on most cruise ships are small. The bathrooms on Rotterdam are arranged in a way that makes it seem bigger than it is. Holland America also provides shampoo, conditioner, and body wash in your shower. We actually love the shampoo they provide. One less thing for us to pack!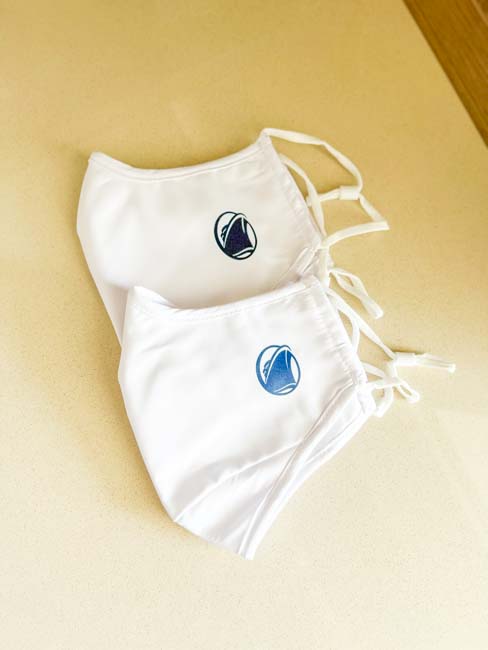 They did offer us some really cute masks to wear on board. they were super comfortable and we felt felt very safe cruising during this time.
FINE DINING OPTIONS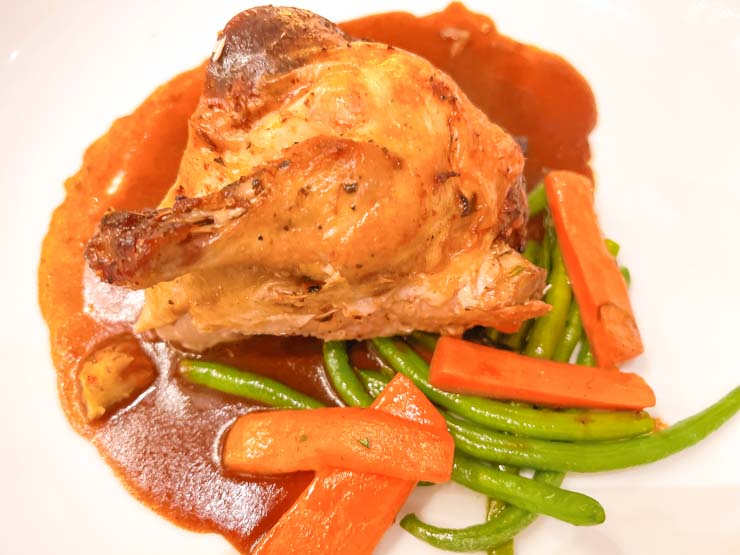 The Dining Room
The Dining Room is the place to go for variety of meals. You can have an elegant breakfast, leisurely lunch or unforgettable multi-course dinner. There is also an extensive wine collection selected by James Suckling. * Included with your Cruise *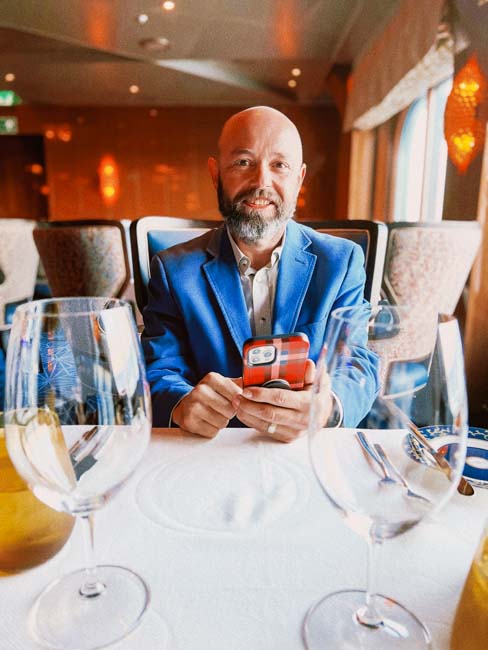 Pinnacle Grill
We love our steak and the Pinnacle Grill did not disappoint. The decor is elegant and makes you feel like you are in an old school steakhouse but then you look out the window and see the ocean! They have a nice selection of meats that are included with the price of your meal.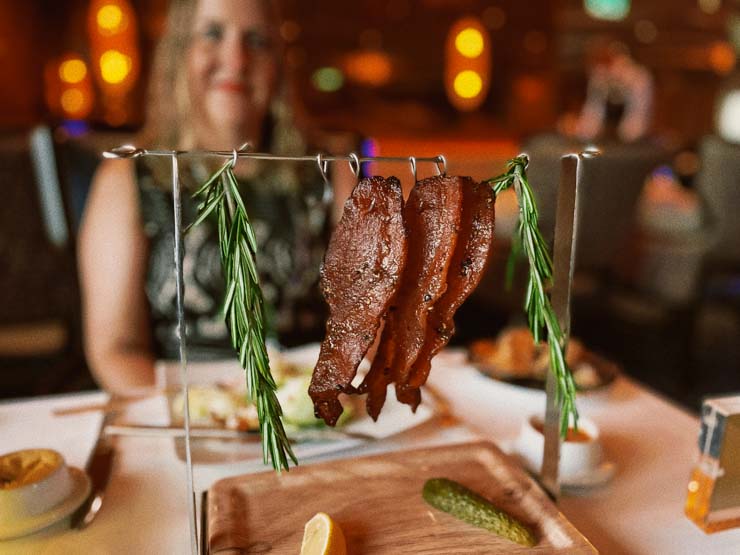 You will definitely want to try the candied bacon. It is AMAZING! Plus the presentation is cool! The Pinnacle Grill offers prime steak, seafood and wine. *Additional Cost*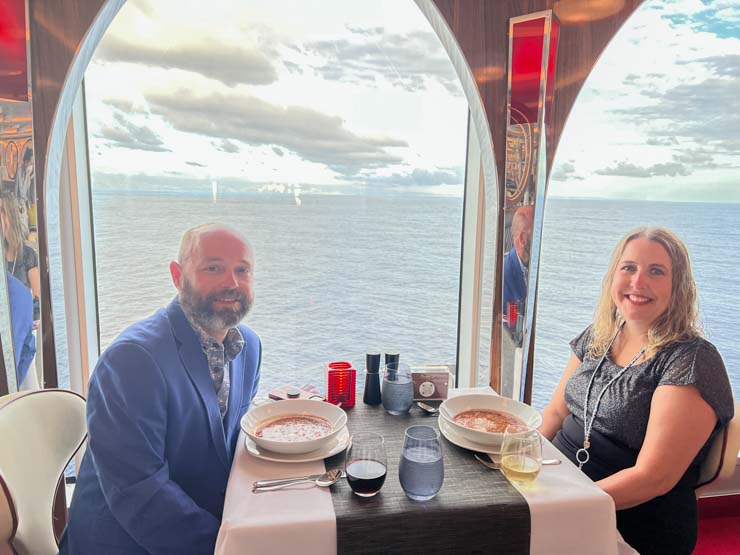 Canaletto
Enjoy authentic Italian cuisine at the Canaletto. Enjoy amazing classics like braised chicken cacciatore al forno, branzino ai ferri or garlic shrimp ravioli. They have classics like Lasagna Bolognese, Grilled Lamb Chops, and much much more.
We fell in love with their Minestrone Soup! I could have made a meal out of it alone! They also have nightly specials so make sure to check those out so you won't miss your favorite.*Additional Cost*
Tamarind
Here you can explore southeast Asia, China and Japan cuisine. Their menu celebrates the four classical elements of water, wood and fire. They offer a variety of dishes that range from exotic fare such as wok seared lobsters to barramundi (Asian sea bass) in banana leaf and sushi, accompanied by chilled or heated sake. *Additional Cost*
Nami Sushi
Nami Sushi is the perfect place to enjoy a delicious sushi roll from world-renowned sushi master, Andy Matsuda. With an expertly crafted menu and inviting atmosphere, this is great place to enjoy some sushi.*Additional Cost*
CASUAL DINING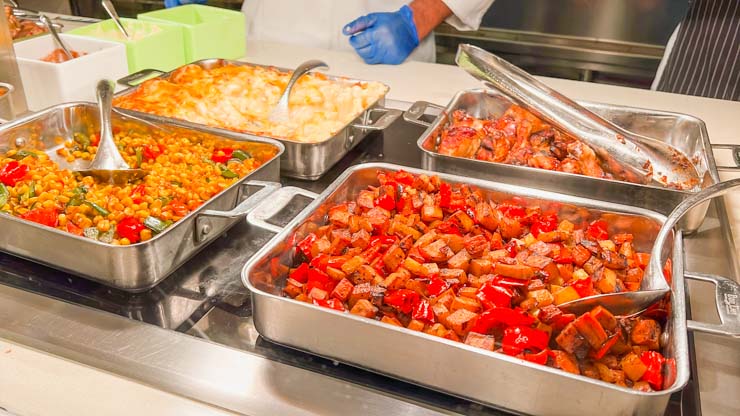 Lido Market
Casual modern market that offers a wide variety of food for breakfast, lunch, dinner and a late night snack. There is something for everyone here. If you are wanting a quick grab and go snack or want a made to order meal, this is the place to go. It is served buffet style but the staff prepares your plate for you. *Included with your Cruise *
Dive-In
A casual poolside grill that offers burgers and Nathans gourmet hot dogs. Don't forget about their chicken sandwich! It was my favorite thing they had. *Included with your Cruise *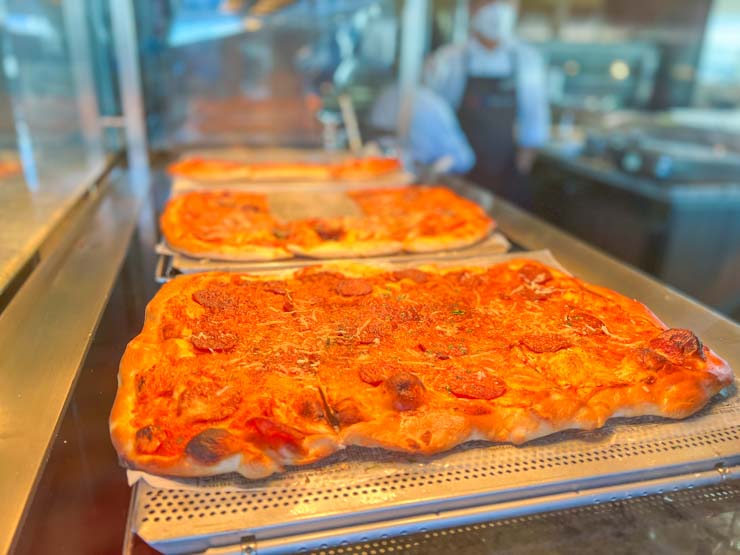 New York Pizza
Offers fresh salad and authentic thin crust personal pizzas. This is a great place to get a breakfast sandwich. I had a ham, egg, and cheese sandwich on an everything bagel. This is also the place to go when they are showing movies or sports on the big screen. You can get you some nachos, pretzels, and other snack food. So good! *Included with your Cruise *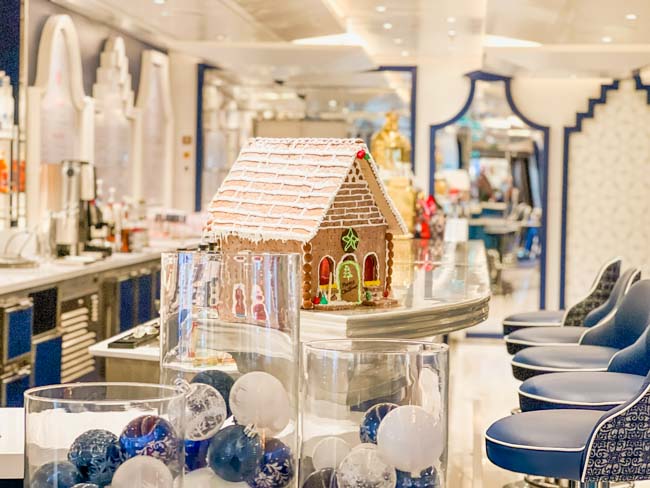 Grand Dutch Café
The Grand Dutch Cafe is located just off the atrium area. They offer coffee, cold beer and other Dutch specialty beverages such as Genever and Advoccaat. Try their made-to-order Dutch specialties from open-faced herring sandwiches to apple and bacon pancakes. *Additional Cost*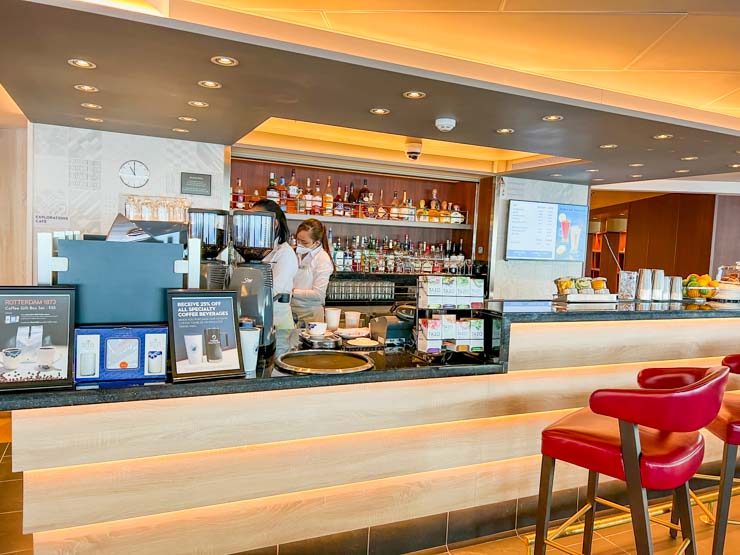 Explorations Cafe
Enjoy a fresh cup of coffee while curling up with a good book. They also have a wide array of audio and video programming, or simply read the morning paper.  There is also a game room with board games that are free to use next to the Cafe. *Additional Cost*
Gelato
These frozen spoonfuls of heaven will transport you to Italy with yummy flavors such as amarena cherries and sicilian pistachios. *Additional Cost*
24hr in Room Dining
Enjoy 24hr room service on board. One morning we even scheduled breakfast to be delivered to our room. Nothing like enjoying your breakfast on the balcony! *Included with your Cruise *
Club Orange
Enjoy premium in room breakfast, expanded dinner menus and priority dining with the Club Orange amenities program.*Additional Cost*
Complimentary stateroom upgrade
Exclusive dining options and premium in-room breakfast
Skip the line with Club Orange priority access
Dedicated Concierge Hotline
Special event for Club Orange guests
ENTERTAINMENT
Holland America has some amazing entertainment on board which means there is plenty to do. Wether it's working out in the fitness center, taking some me time at Greenhouse Spa & Salon, watching movies in on the Lido deck, playing board games or checking out one of their many entertainment venues, you will never find yourself bored.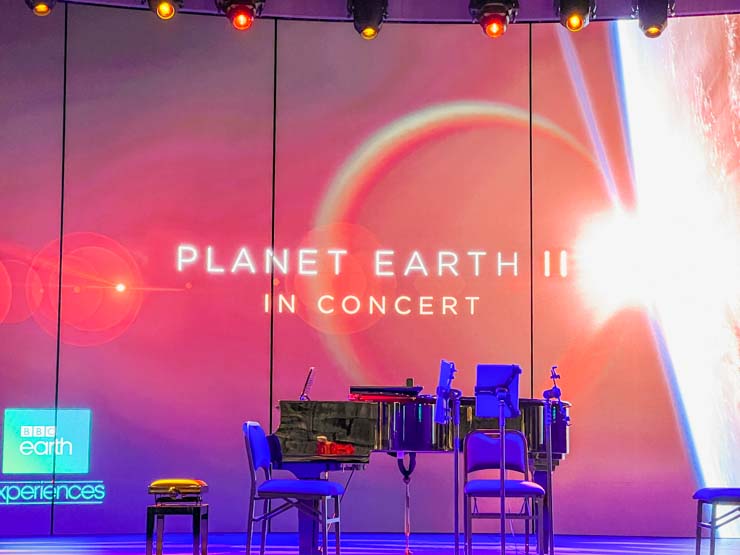 BBC Earth
Holland America has partnered with BBC Earth to bring you unforgettable new ways to experience the world's natural wonders.  They offer 3 different experiences: Planet Earth II in Concert, Alaska in Concert and Blue Planet II in Concert.
World Stage
Here you will be able to watch music and entertainment shows like you have never seen before with a two-story 270 degree wrap around LED screen. It makes you feel like you are a part of the show! Plus watching the entertainers interact with the screen during the show is amazing.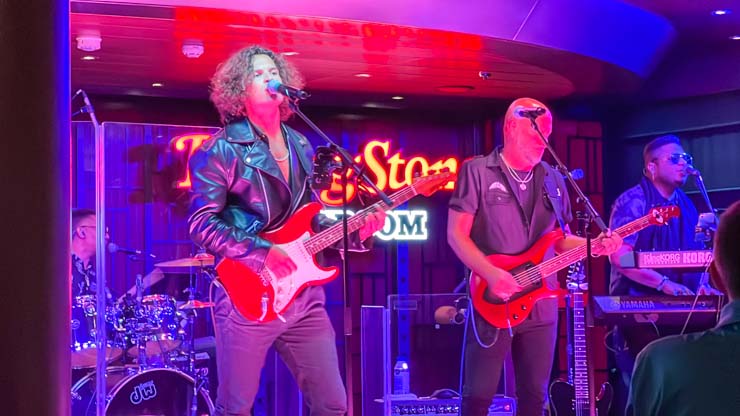 Rolling Stones Rock Room
If you love live music then the Holland America Rolling Stone Rock Room is your place to go. It's a unique and one-of-a-kind experience that brings rock and roll history to life. They play a different set list every show so there is something new every take they take the stage.
We absolutely fell in love with the band. Not only were they very talented musicians but they went that extra mile when it came to interacting with guests. Something we learned was that these guys are on the ship away from their families for months at a time. When you are on a ship for that long you start to miss the comforts of home. We found out one of the things they really missed most was snacks. They love Pringles and Reeses. Since we were traveling during the holidays we decided that we would send them a little care package from Amazon. * Included with your Cruise *
If you happen to be sailing with these guys and you want to send them a little package as well you can send it to the following. You can actually use this address for any staff member on board just replace the first line with name of the person it needs to go to.
Entertainment Office -Rock Room Band Members
M S ROTTERDAM 4100 NW 142ND STUNIT 105
OPA LOCKA, FL 33054-3895
United States
Phone number: ‪3059244254‬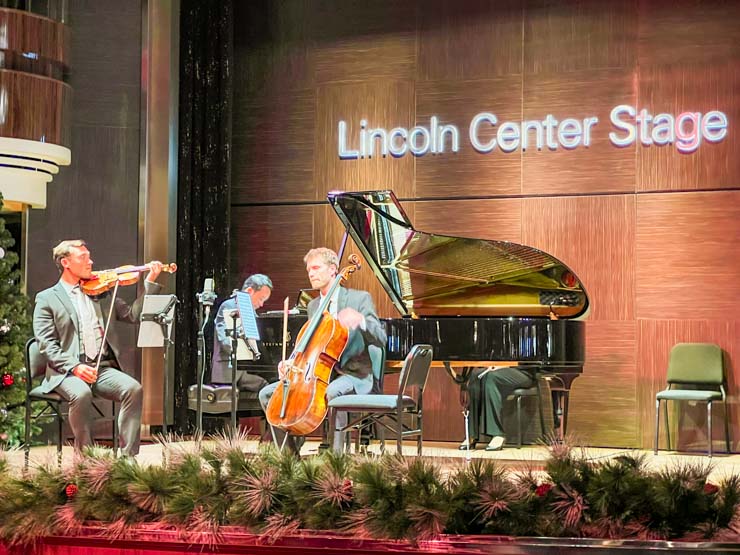 Lincoln Center Stage
Lincoln Center Stage is your venue if you love the performing arts. Here Holland America Lincoln Center Stage showcases outstanding musicians performing multiple programs of chamber music from classical to contemporary. * Included with your Cruise *
BB King's Blues Club
From Beale Street, B.B King's All Stars have come to sea with a wide repertoire of hits that you'll be sure to enjoy! With two vocalists backed by rhythm and horn sections, groove all night long as they take us back in time. From funky and fast tunes with a soulful twist you can dance the night away or try a special specialty cocktail like Lucille – named after his guitar. * Included with your Cruise *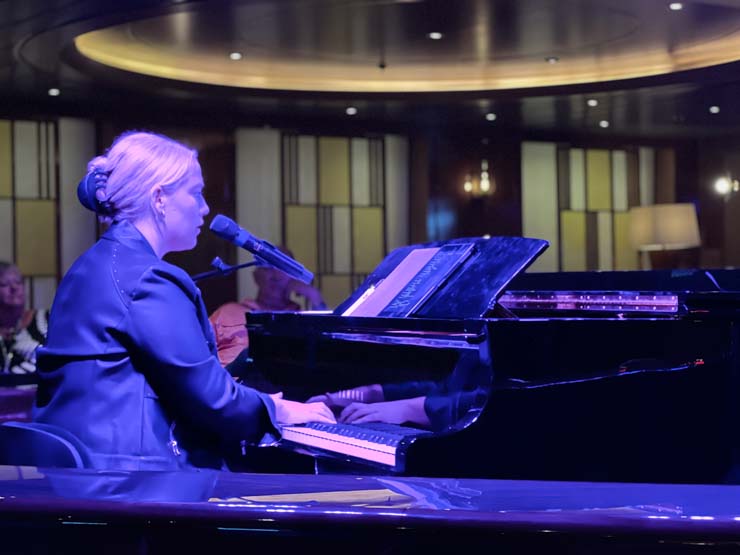 Billboard on Board
If you love to hit the piano bar when you cruise then Holland America has got you covered. Their pianists will you have you tapping your toes with hits from the billboard charts. They have themed nights but they also do all request shows too. They were seriously talented and it seemed they could sing and play anything!
GREENHOUSE SPA
The Greenhouse Spa & Salon® offers a haven for your senses during long days at sea. Along with world-renowned spa treatments, it features healing touch therapies that soothe not just the skin but also body aches and pains from all over – including head to toe massages done by experienced hands trained in modern styles of massage therapy found anywhere else on land or afloat!
This is the first time that I did three spa treatments on board a cruise ship. I woke up with some neck pain and ended up doing two massages and then ended my cruise with a mani pedi. The staff was amazing and the services I received was top notch. This was also my first 10 day cruise and I feel that having a longer cruise with more days at sea allowed me to really explore the ship, relax and focus on some me time.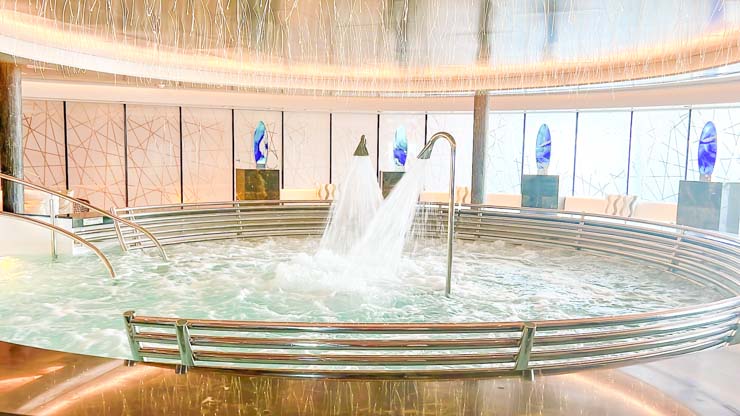 Purchase the spa retreat which gives you access to the hydrotherapy pool and thermal suite. You can purchase a day spa or a pass for the entire length of your cruise.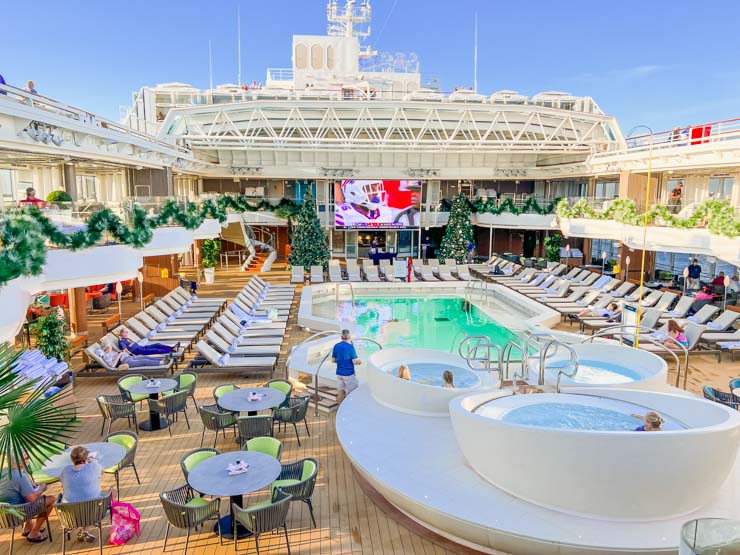 THE LIDO DECK
The Lido deck on the Holland America Rotterdam became my hangout on sea days. I love to head up there when I first get up. Just grab a cup coffee from Explorations Cafe and then grab a breakfast sandwich and relax. We sailed during the NFL season and they had games playing on the big screen on the Lido deck. It's a great way to watch the game!
This was also the first Lido deck I have been on that has a retractable roof! That's right no more movie night rainouts! It was also great at night and in the morning when it was closed. They would open it up as the day went on and they would even close it if we sailed into any weather. So we never had to cancel any Lido deck plans!
Now there is a smaller pool area at the back of the ship (aft). For most of our cruise it was 18 and over area. There is also a nice sun deck back there as well.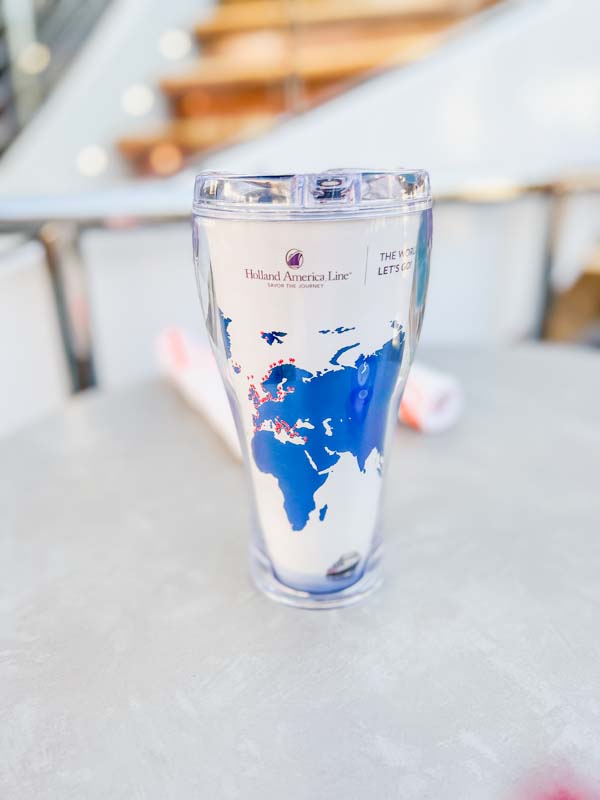 STAYING ACTIVE
The Rotterdam also has a nice sport court area. So you are wanting to work up a sweat or just playing a game of horse this is the place to be. You can play basketball or they have a pickleball net that you can use! There is also a walking/jogging track on 12 just above the Lido deck.
DRINK PACKAGE:
The Holland America soda package is $8 per day (+18% gratuity). This package includes unlimited fountain soda. On the Rotterdam there was also one Coca-Cola Freestyle Machine on deck 9 which I loved because I could get my Cherry Coke Zero.
INTERNET OPTIONS ON ROTTERDAM:
If your wanting to stay in touch with family, share your cruise on social media or need to access email for work etc, Holland America has a couple of internet options available. They offer satellite powered wireless internet fleetwide. You will be able to find ia coffee house style internet cafe's on each ship with computers.
Three Options for wireless Internet:
Social Voyage Plan – Connect to social media accounts and applications. Cost: $14.99 a day or $69.99 for a 7-Night cruise.
Surf Voyage Plan – Access email, sports, news and other popular websites. Cost: $24.99 a day or $99.99 for a 7-Night cruise.
Premium Voyage Plan – Use it for audio/video calls, streaming, email and popular websites. This is the plan we recommend.
Stay tuned as we will also be sharing articles about the different ports we went to.
Find Holland America Line on Twitter, Facebook and the Holland America Blog.  Access all social media outlets via the home page at hollandamerica.com. If you plan on cruising the Konignsdam check this out this post before you do..
Using a Cruise Planner
When you are ready to book your next cruise, we encourage you to contact Heather at Flow Voyages. She's been a friend for more than a decade and we've sailed with her multiple times since then. Heather is an expert at all things cruise related and does a great job of taking the stress out of planning, finding great deals, and always watches for price drops so that you can focus on planning the important things like what you will be doing once on board! There is no charge to you for her services and her prices are usually the same or better than what you'll find on the cruise line's website.
She can be reached by phone: 630-779-9302 or email: [email protected]
FOLLOW US ON SOCIAL MEDIA
Don't forget to invite your friend's to our Facebook groups! We would also love to see your vacation pictures!
Best Campgrounds for Yosemite National Park