Dutch Oven Chicken Squash Casserole Easy Campfire Recipe
This Chicken Squash Casserole Easy Campfire Dinner Recipe is made with shelf-stable items so no refrigeration is needed!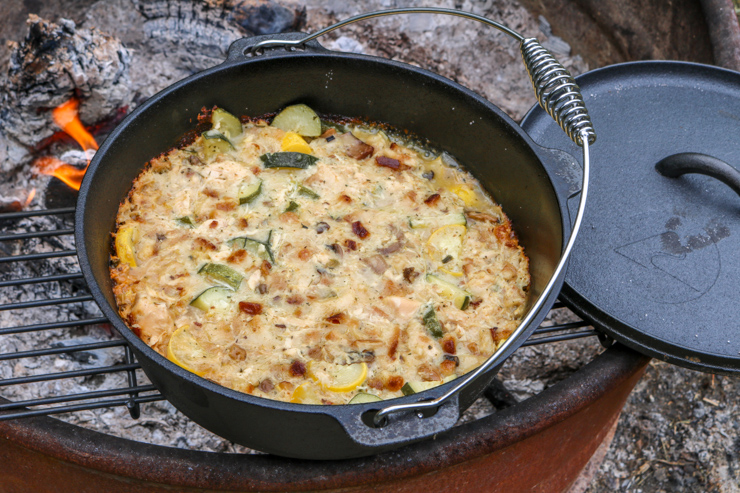 Chicken Squash Casserole Easy Campfire Recipe
If you love camping but prefer eating a hot, filling dinner, rather than sandwiches and hot dogs, this recipe is for you! I love that this Chicken Squash Casserole Easy Campfire recipe cooks in ONE pot!
Since this cooks in one Dutch Oven, fewer dishes means an easier cleanup. This is ideal at the campground.
This dish calls for canned chicken but that is purely for convienence and so no refrigeration is required. I know many of us don't care for canned meats, or need to limit canned products for nutritional reasons.
You can also make this recipe with fresh boneless skinless chicken.
If using fresh, use 2-3 breasts cut into small chunks. You will also need to add about another 3/4 cup of water to replace the liquid from the canned chicken.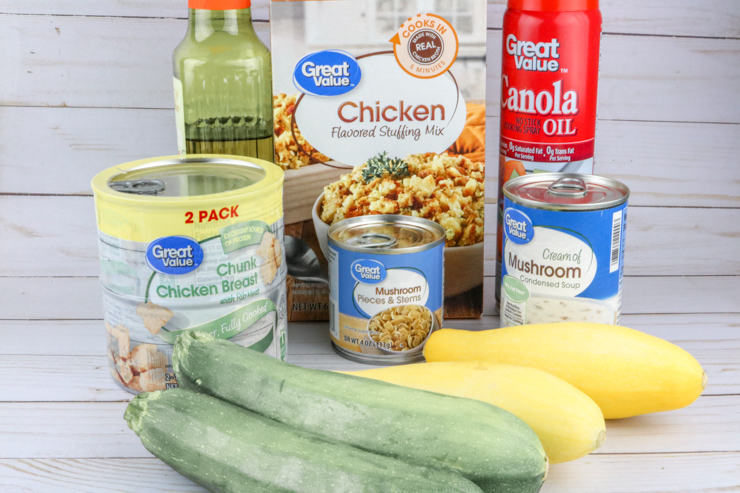 To make your Squash Casserole Easy Campfire Dinner, you will slice your squash — and if needed, your chicken– into small chunks. You can slice them into medallions as long as they aren't too thin.
The chicken and the squash should be close to uniform in size so that they cook at about the same rate.
Mix everything in a bowl and empty right into your dutch oven. You can also mix it right there in the pan if you prefer!
The one thing necessary for this recipe is a Dutch Oven with a lid. You can also use a large cast iron skillet as long as there is a fitting lid. You don't want to use foil or anything set on top, since a lot of the heat will escape and the casserole will cook slower– resulting in a mushy and slower cooking meal. Not good!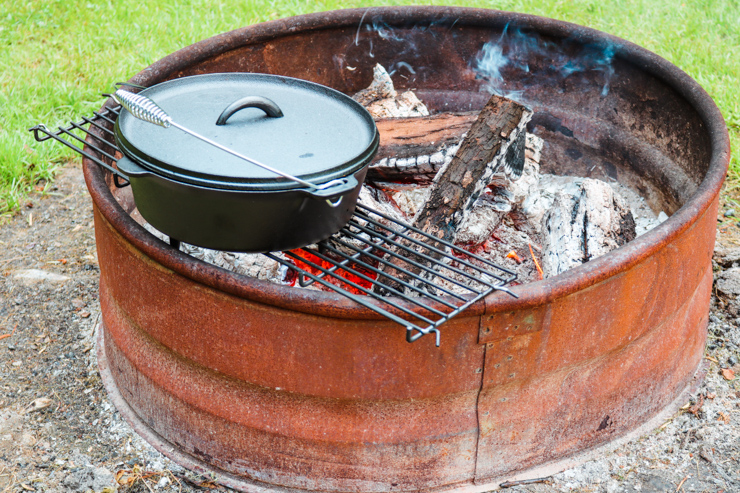 Heat the campfire and coals up fully before you put the Dutch oven over the fire. You will need a hot campfire, and extra hot coals are always great as you can set them on top of the lid with a pair of grilling tongs.
This will further heat up the Dutch oven and encourage even heating!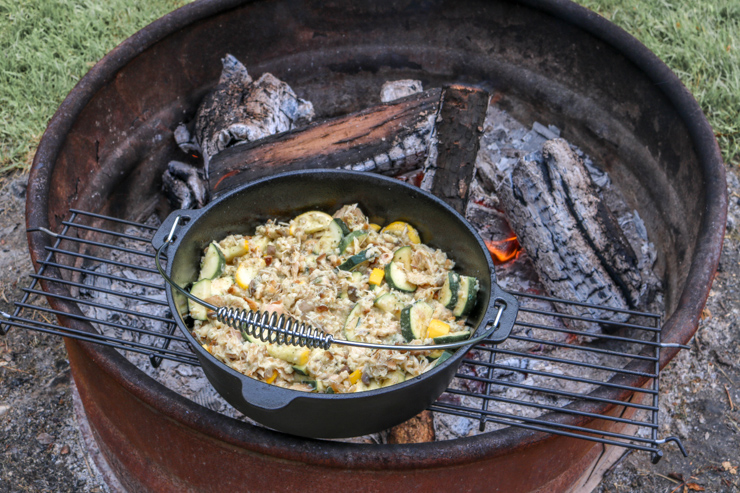 You're ready to eat! You can serve this dish right out of the Dutch Oven if you're wanting to save on dishes.
If you're using canned chicken, there's no reason to check the internal temperature or worry about doneness. If using fresh chicken, you can check the temp with a food thermometer or just make sure chicken is fully cooked by cutting a few of the larger chunks. Juices should run clear and no pink spots remain.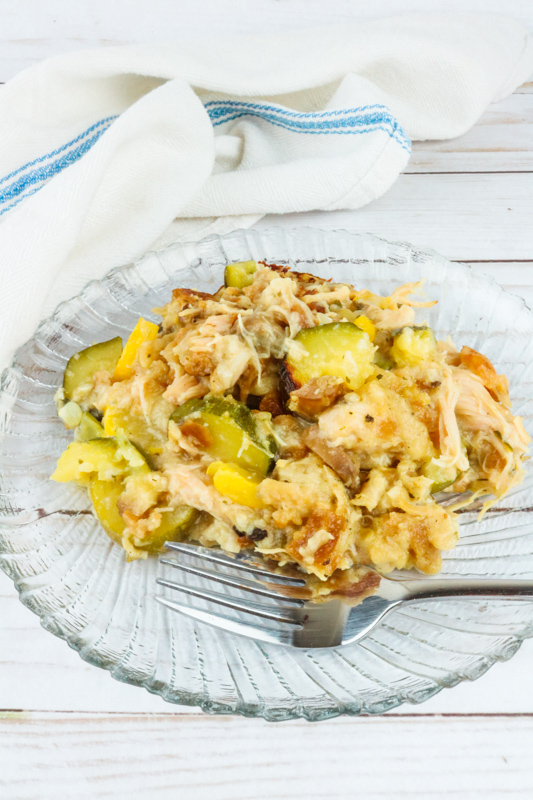 This dish has a veggie and a protein all in one, so you don't even need a side dish! I would serve this by itself or with some garlic bread you can easily toast on the campfire.
The best part about it is that it's a one pot meal and you can save your energy for visiting around the campfire and of course cooking up some s'mores or heating up a cobbler afterwards! Enjoy!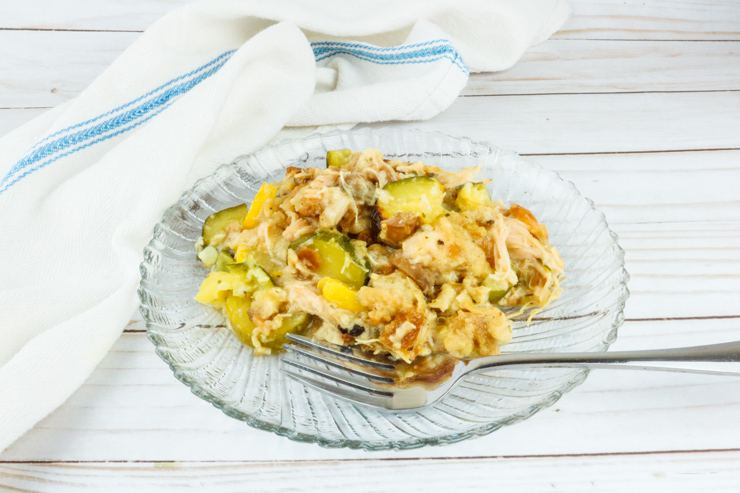 Print Your Recipe Below
Yield: 5
Dutch Oven Chicken and Squash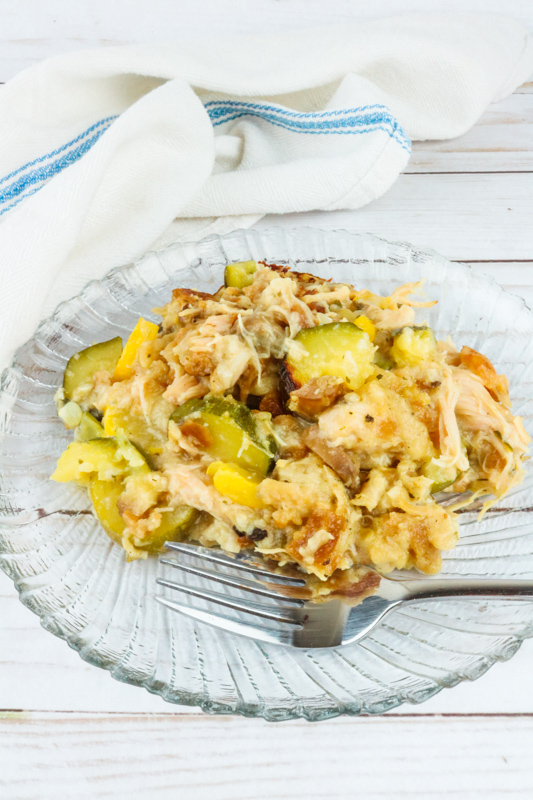 This Dutch Oven Chicken and Squash is absolutely delicious.
Total Time
1 hour
10 minutes
Ingredients
1 Box Chicken Flavored Stuffing Mix
1 10.5 oz Can Cream Of Mushroom Soup
2 12.5 oz Cans Chunk Chicken
1/2 Cup Water
2 Tbsp Oil (used avocado oil)
2 Fresh Zucchini
2 Fresh Yellow Squash
1 4 oz Can Sliced Mushrooms
No-Stick Cooking Spray
Instructions
Start fire about 30 minutes to an hour before cooking so that it has time to burn down a little and
have hot coals.
Step 1: Dump soup, oil, water, mushrooms (with liquid), and both cans of chicken (with liquid)
into a large mixing bowl and mix well.
Step 2: Cut squash and zucchini into small chunks.
Step 3: Add squash and zucchini to the soup mixture and mix well.
Step 4: Add dry stuffing mix to the bowl and mix well.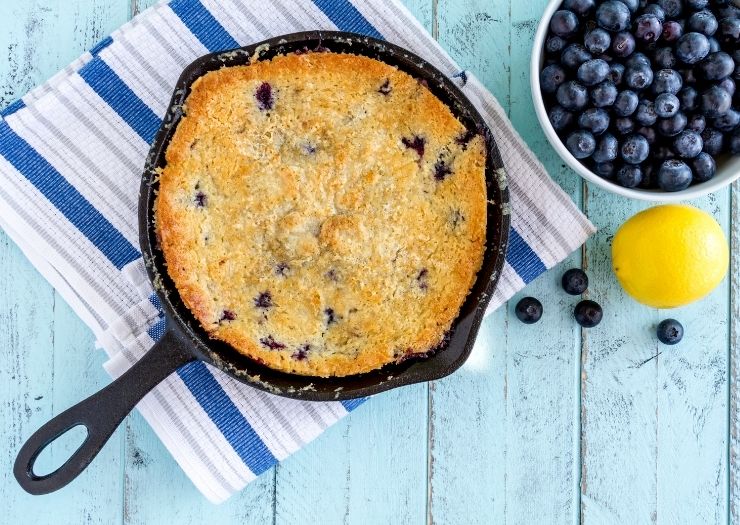 This Cast Iron Skillet Blueberry Cobbler is a great finish to a hot meal at the campsite!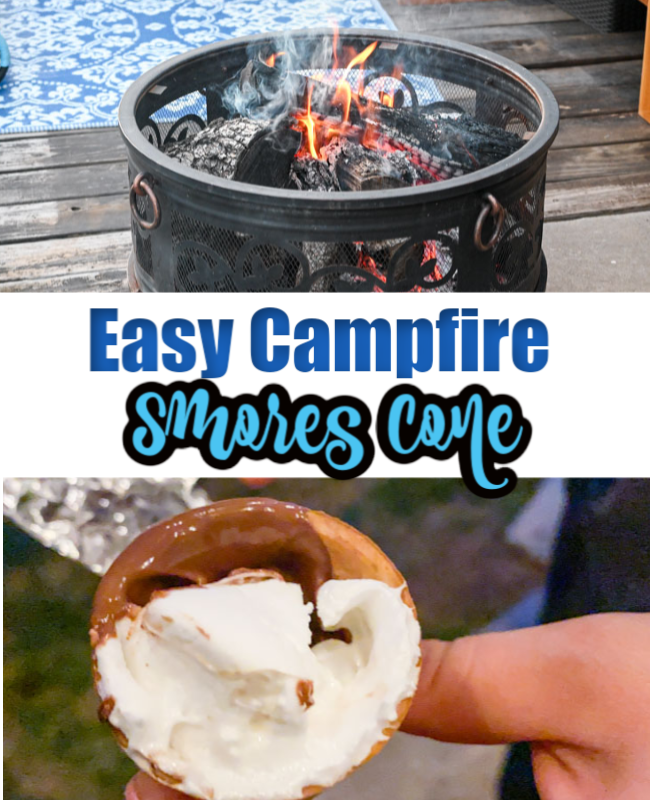 Needing dessert inspiration? Check out these Easy Campfire Smores Cones!
Awesome Camping Articles You Should Check Out
FOLLOW US ON SOCIAL MEDIA
Don't forget to invite your friend's to our Facebook groups! We would also love to see your vacation pictures!