Join KOA Rewards to Get Exclusive Discounts
If you love camping and you love staying at KOA campgrounds , make sure you are signed up for KOA rewards to get special discounts and exclusive member only perks.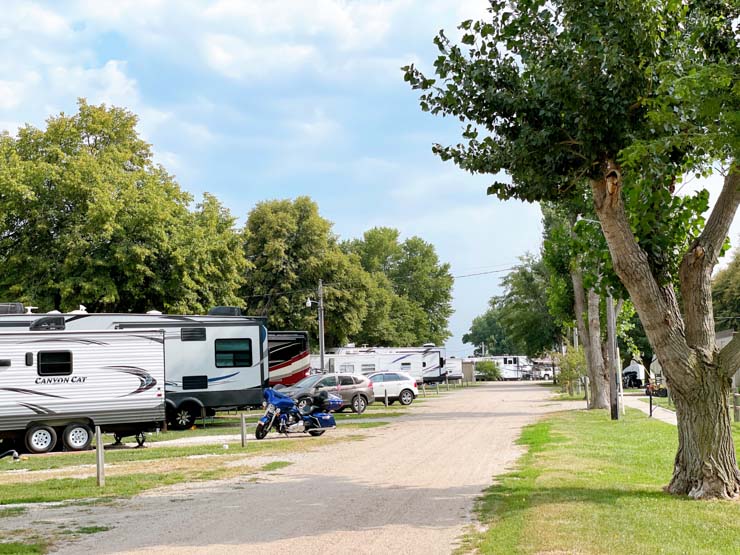 We recently started staying at KOA campgrounds after buying our pop up camper. They are always clean and you can find one in just about every state. Plus many of the campgrounds have some fun amenities like pools, playgrounds, laundry service, showers and much more.
KOA campgrounds are great for people who love to RV, pop up camp or even tent campers. Many KOA's also have cabins available as well. After booking our 2nd stay , we realized they had a rewards program that we could sign up for. The KOA rewards program can really enhance your camping experience with special discounts and exclusive member only perks.
You can sign up via the website or download the KOA app. The rewards program is $33 a year and we saved over $5 on our first one night stay.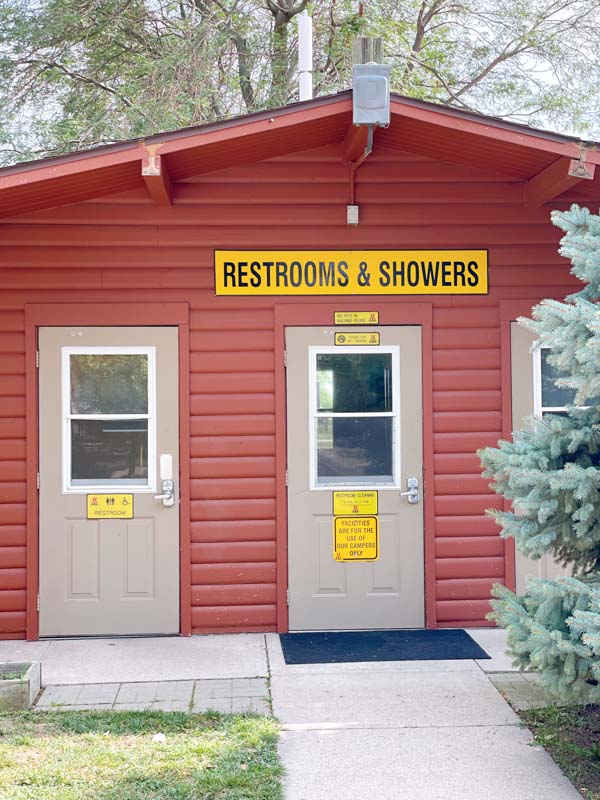 What's Included with KOA Rewards:
Here is some info from the KOA Rewards site that I you might be interested in. Keep in mind this rewards program is not free. So, if you're looking on ways to save for a campsite maybe once or twice, it probably isn't for you. If you love camping and have plans to travel more or own your own camper, this rewards program will pay for itself.
Daily registration rate discount: You love the comfortable lodging, fun amenities and convenient campground locations that KOA provides — and KOA loves sharing them with you! Receive 10% off* of the daily registration rate all year long at more than 500 KOA locations throughout North America. Contact the knowledgeable staff at a specific KOA location for more information about the daily registration discount.
Rewards points: As a KOA Rewards camper, you can earn rewards points that accumulate, and then redeem them for dollars off your daily registration rate!
Free night of camping: Enjoy a free night** at participating KOA Campgrounds during KOA Rewards Weekend. Learn more about upcoming KOA Rewards Weekends and see the list of all participating campgrounds for more information.
Special discounts from Goodyear Tires, KOA Health + by Careington International Corporation, Allstate RV Roadhelp, RV Loan Center by Essex Credit and Dish TV.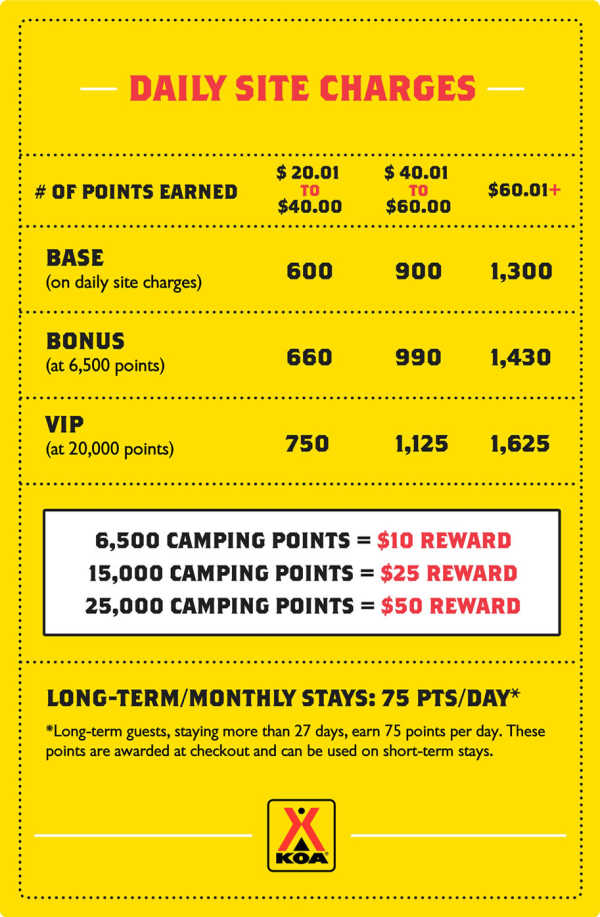 Are any of you long-term campers? The KOA Rewards program is a great way to see some money back on your campsite expenses.
How to Use Your KOA Rewards
How do you apply your KOA Rewards points to your daily camping registration rate? Simply ask a KOA front desk person to apply your reward to your stay. Make sure you tell them before they run your card.
At 6,500 camping reward points, receive $10 off
When you met 15,000 camping reward points, receive $25 off
At 25,000 camping reward points, receive $50 off
Your camping reward points are applied to the first night of your stay. Points cannot be applied when making a reservation or be applied toward your deposit. Let the front desk know upon check-in that you want to use your reward points. You can use all or some of your reward points — the choice is yours! Reward points can also be redeemed alongside your 10% registration discount.*
One other nice thing about KOA Rewards is that they don't expire. It's always frustrating to log into a rewards app and then find out most of my points have "rolled off". Ugh! With camping, chances are you mainly camp during the spring, summer and fall months primarily. So, these rewards don't expire as long as you're actively enrolled in the KOA Rewards program.
Fine Print:
As with any program that has a yearly fee, I always encourage readers to be smart shoppers. Know if it's something that will save them money personally. Just because it helps with my expenses– doesn't mean it's for everyone. I hope this info has been helpful for you. We were surprised to hear about it and have been camping a while! Thanks for reading~ and happy camping! 🙂