Camping Gear List For Family: What You Need to Bring Camping
Are you planning a camping trip with your family? If so, you'll need to make sure you have all the right gear. This can be tricky especially if you're new to camping. But don't worry – we've got you covered with our Camping Gear List For Family.
In this blog post, we'll share a comprehensive list of all the camping gear you'll need for a successful trip whether you are tent camping, RVing, or pop-up camping. We will also share some of our favorite products. So whether you're a seasoned camper or just getting started, this camping gear list for family will help ensure you have everything you need for a fun and memorable trip. Think of this as your family camping checklist. Let's get started!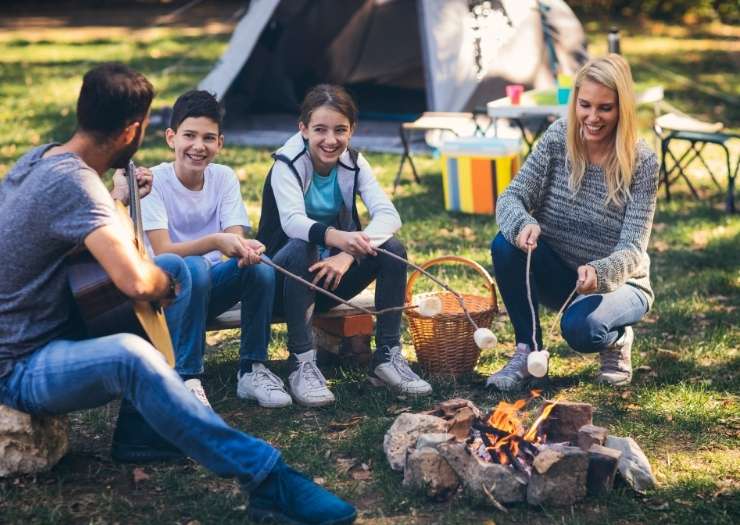 In this article, I may use affiliate links from which I make a small commission. We have also received a few items from brands to test out and help us out with a true review.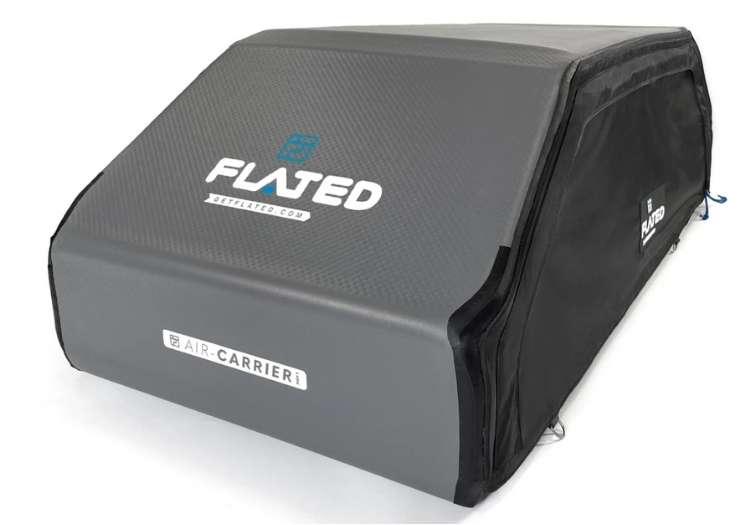 For The Vehicle
Sometimes bringing the family means you're bringing more stuff to fit your family's needs. If you are looking for a way to add more storage to the car then check out the Flated Air Carrier. The Air-Carrier™ is the ideal way to maximize your gear storage and make your travel excursions hassle-free. The quick, simple process to inflate and attaching allows you more time to enjoy the open road. Offering up to 23 cubic feet of added rooftop real estate, your vehicle is well prepared for a beach day or a full-fledged summer road trip. You can stash the Air-Carrier™ just about anywhere, including in your trunk. What's more, the Air-Carrier™ is light enough to be a one-person job, maxing at 23lbs empty and inflated. Don't have racks on your ride? We've got you covered. Our integrated strap rack system allows the Air-Carrier™ to be used on nearly any vehicle.
Camp Essentials
A good Tent, a Sleeping Bag, and a Camp Stove. These are the essentials for camping, right? While these items are necessary for a successful camping trip, there are other products that can make your time in the great outdoors more comfortable and enjoyable. Check out the list of our favorite camp essentials for family trips.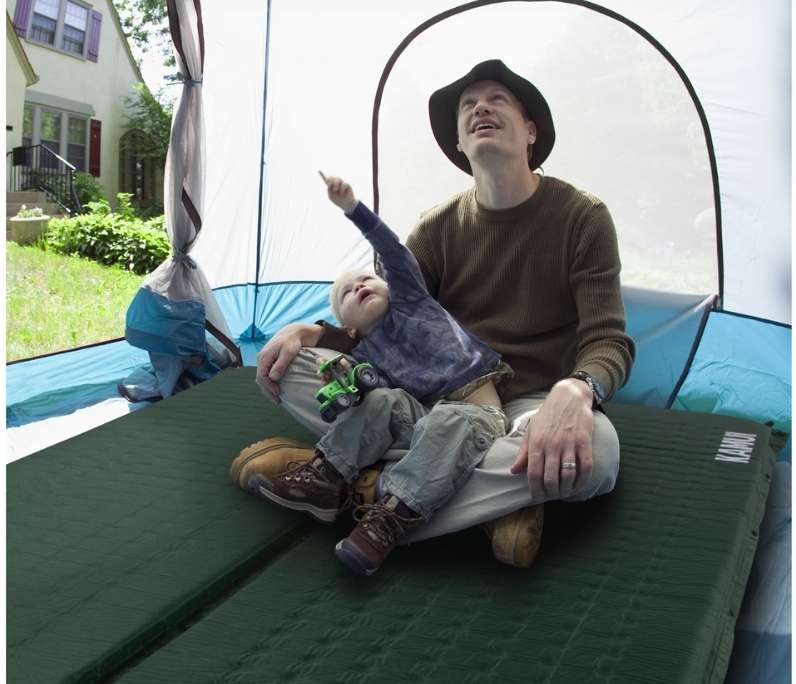 Kamui Self-Inflating Sleeping Pad
Sleeping on the ground is never as comfortable as sleeping in a bed, but if you're camping in a tent, using an inflatable sleeping pad can make it a lot more bearable. Sleeping pads provide insulation and cushioning, which can make all the difference when you're trying to get a good night's sleep outdoors. There are a variety of different sleeping pads available on the market but we really like the self-inflating sleeping pad by Kamui. The weight-to-thickness ratio (3.5lb-2 inch) makes this sleeping pad suitable for car and family camping. You may connect multiple air pads horizontally and vertically (meaning they stack up). You can connect self-inflating sleeping pads horizontally to provide more comfort for a family, couples, and group camping stay. The 2-inch (5.08 cm) thick high rebound foam provides superior back support and insulates against the cold ground. Its estimated R-value is 5.7 which allows you to feel more comfortable rather than using a sleeping bag solely.
First Aid Kit
Camping is a great way to enjoy the outdoors and spend time with family and friends. It's also a great opportunity to teach your children about nature and how to be self-sufficient. Camping is also a great way to get outside and enjoy fresh air, but it's important to be prepared for unexpected emergencies. That's why you need a first aid kit when camping. A first aid kit can help you treat common injuries and emergencies, such as cuts, burns, and snake bites.
Family Tent
If you're a family that likes to spend time outdoors, then you know that a good family tent is a must-have. Not all tents are created equal, though, so it's important to make sure you pack a good one. A cheap tent is likely to fall apart during your trip, which can ruin your whole outdoor experience. So before you go camping or hiking this summer, make sure you invest in a quality family tent. There are plenty of great options out there, so don't settle for anything less. Your loved ones will thank you!
If you have multiple family members camping, here are key features to look for in a tent and some basic hacks:
Multiple "rooms"- having more than one space within the tent can provide much-needed privacy.
Quality material- look for thicker tents that are able to withstand rain and falling objects (such as sticks or acorns).
Extra space! Most tents are described as 2-person, 8-person, and so on. Make sure you are over estimating space rather than underestimating!
Tent assembly tools- while some tools come with your tent, bring along regular household tools for quick assembly, especially if you're on your own with smaller kids and need to get the tent set up quickly.
Do a dry run- set up your tent at least once before the big camping trip!
Bring additional mats- tent floors can be rough and little ones can trip and fall. Bring a foldable rug or large mat, extra blankets, or something to line the floor.
Bring battery-operated fans – tents can get stuffy even in nice weather– especially for smaller children who must nap during the day. A portable, battery-operated fan can create noise, airflow, and cooling!
Bug Spray
No camping gear list for the family would be complete without bug spray. Those pesky mosquitos always try to spoil the fun. Kinfield Golden Hour Deet-Free Repellent is a clean bug spray that repels mosquitos with a unique strain of Indonesian citronella without the scent of the citronella! Infused with the anti-oxidant Vanillin, moisturizing Lauric Acid that won't dry out your skin, rejuvenating Clove Bud and uplifting Lemongrass plus the scents of Citrus and Vanilla, this bug repellent is Paraben, Phthalate & Sulfate Free, Cruelty-Free & Vegan. $22
But if you get bit, don't worry we have a solution for that too! Bug Bite Thing: As seen on Shark Tank, Bug Bite Thing is Amazon's #1 selling product for insect bite relief with over 45,000 reviews. "The easy-to-use tool solely uses suction to effectively extract insect saliva/venom from under the skin to alleviate the itching, stinging, and swelling caused by insect bites and stings. The award-winning product is chemical-free, reusable, and suitable for all ages"- Amazon.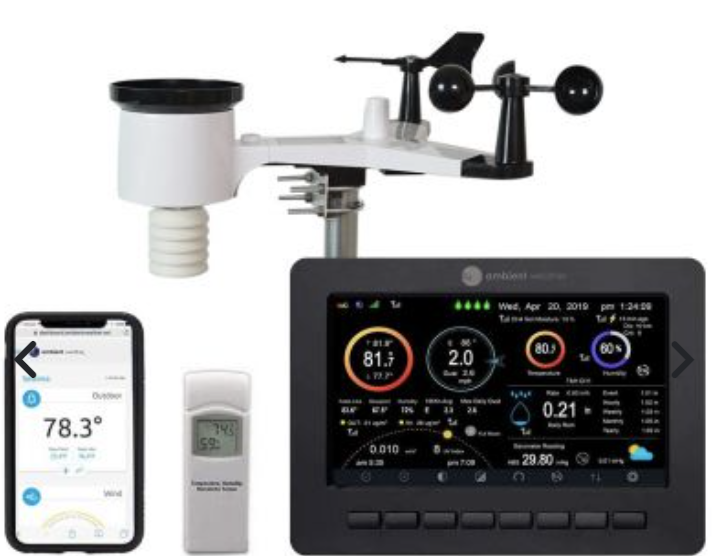 Weather Awareness
Keep an eye on the weather conditions at your RV site with the Ambient Weather WS-2000 Smart Weather Station. This personal weather station monitors local conditions in real-time, giving you accurate weather updates that you can rely on. Set alerts on the console for parameters such as high wind speeds, rain, drops in barometric pressure, etc. 
Hopefully, storms won't happen during your camping trip, but if they do, it's important to conserve cell battery life. Along with the weather station, important items are extra batteries, a cellphone battery backup, and emergency lanterns.
The WS-2000 Smart Weather Station is easy to set up and use and works with our lightweight RV Mount and adapter for quick, hassle-free installation and easy storage. The bright LCD screen also makes it easy to view conditions at a glance.  
Add optional sensors to monitor refrigerator and freezer temps, leaks under sinks, monitor air quality for sensitive campers, and when you have a wifi connection available you can also connect the station to the Ambient Weather Network to join an interactive weather community. On our platform, you can share photos of the weather on your trips and adventures or be the first to share severe weather conditions and help other RVers. With the Ambient Weather Network, you can also customize an online dashboard and set email or text alerts for all parameters. Best of all, it's free 
Whether it's your first family camping trip or you are an experienced camper this camping gear list for family is helpful to go over right before you leave just to make sure you have everything you need for the type of camping experience you're looking for.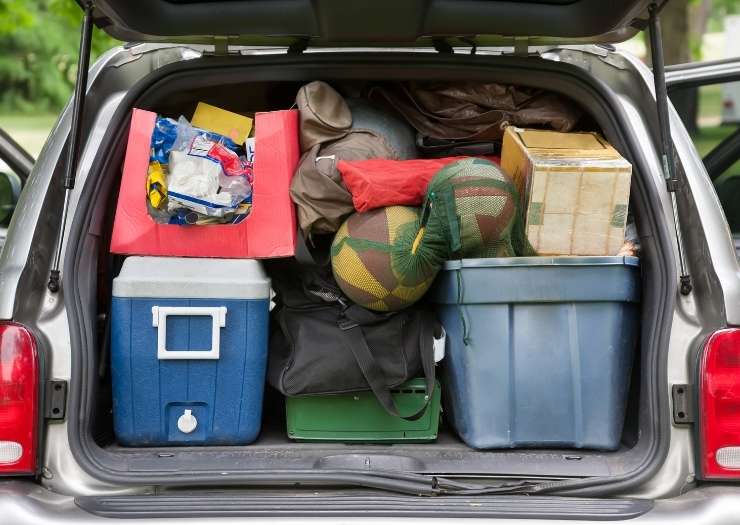 List of family camping essentials
When it comes to using our camper we have to be super careful about how heavy we pack ours. We found these Kind laundry sheets were so simple to use and they are lightweight. Kind Laundry Brings To You A Revolutionary Eco-Friendly Laundry Detergent Sheet. 20x Lighter Than Liquid Detergent With The Same Cleaning Power. Eco-Friendly Packaging. Eco-Friendly. No More Mess. Kind To The Environment. Strong Cleaning Power.
I don't know about you but my legs are constantly cold and if your mom who is running around trying to keep track of a toddler it can be hard to keep a blanket on. Give the cold a time out with Mozy  – the perfect gift for the whole family!   Now you keep everyone on your list happy outdoors.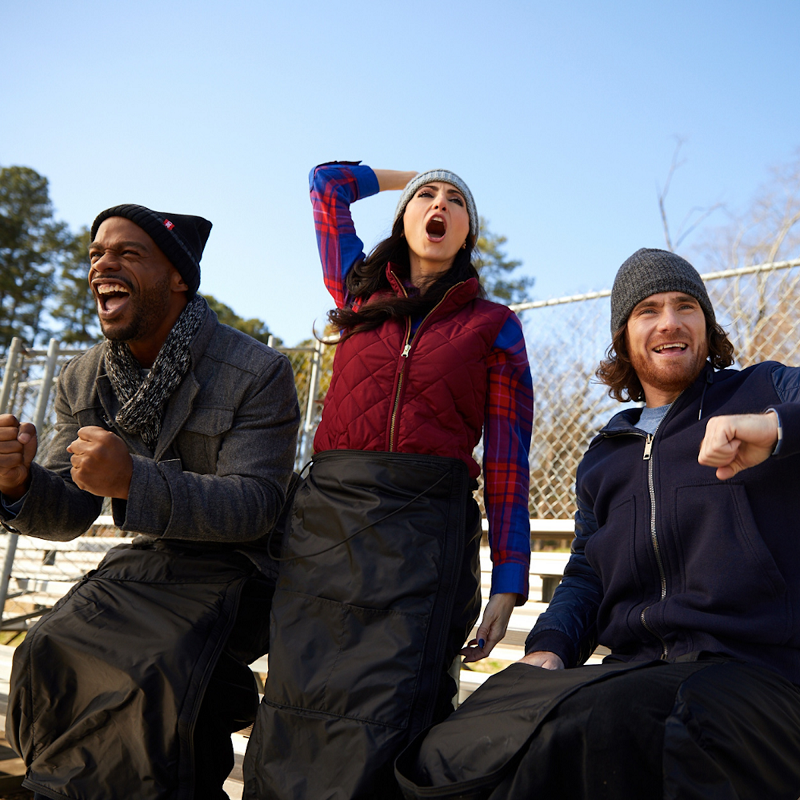 Other essentials include:
Toilet paper
Paper towels
Duct Tape
Rain Jackets
Bug Spray
Sunscreen
First aid kit
Cooking Essentials
One of the best things about camping is being able to cook outdoors over a campfire. There's something special about cooking over an open fire that just can't be replicated indoors. Of course, in order to do this, you need to have the right equipment. Here are a few of our favorite cooking essentials for camping so that you can make the most of your next outdoor adventure!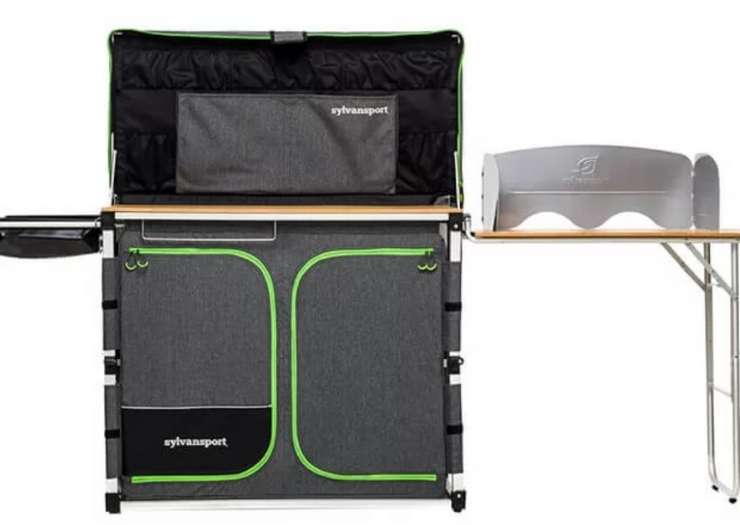 Having a camp kitchen is super important to us. My husband loves to cook and he loves to experiment with new camping recipes when we are traveling. The Dine O Max camp kitchen system turns any campsite into a gourmet kitchen. Two massive double bamboo work surfaces offer space to prep & cook to the limit. Protected storage shelves underneath hold all the camp chef's secret gadgets & ingredients. And the attached carrying case is multi-purpose – contains & protects when closed, huge windscreen & small item organizer when setting up. On our first camping trip, we didn't have one, and prepping our meals was a challenge.
Camping Stove
If you're planning on camping this summer, don't forget to pack a good camping stove! It'll make cooking outdoors a lot easier and more enjoyable. There are all sorts of different camping stoves available, so do your research before you buy one to make sure you get the best one for your needs. Some National Parks and State Parks have bans on open fires. So it's a good idea to call ahead of your next trip and check the regulations for the campground. Stay up to date by using the Facebook page and app (if they have it) for your destination. This will keep you from packing extra gear that won't be able to use.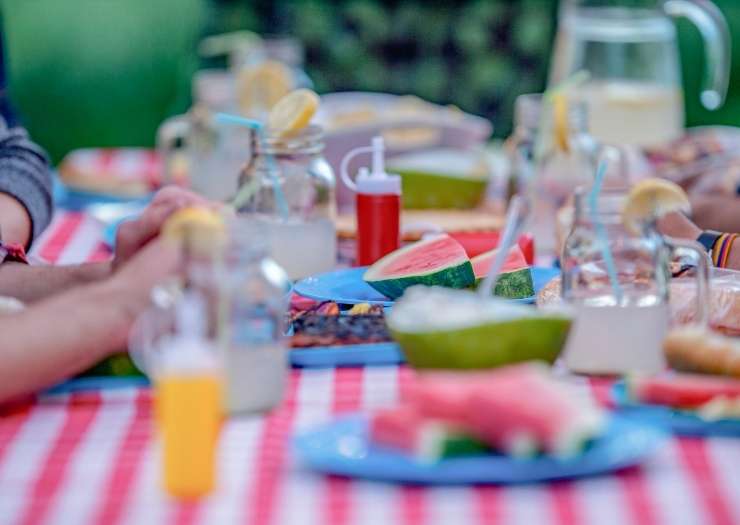 Dishes/Drinkware/Table Supplies
We have stocked our camper with quite a few stainless steel tumblers. It's our favorite thing to drink out of while camping. We don't have a plastic water bottle to throw away. This stainless steel tumbler from Greens Steel was a really nice addition to our collection this year. The best part is with a double-insulated wall and copper lining, this thermos will keep your hot drinks hot and your cold drinks cold for up to 12 hours. Their 20oz Army Green Reusable Double Insulated Coffee Tumbler even comes with multiple eco-friendly stainless steel straws and a coffee splash-proof lid, as well as a small cleaning brush for easy maintenance. If your stainless steel coffee tumbler is properly cleaned and maintained it will easily last you for years to come.
Coffee lovers enjoy the perfect flavor of pour-over coffee but are frustrated that most pour over drippers only make a single cup. Finally, there's theBIG JOE Extra-Large Pour Over Coffee Maker with a flat-bottomdesign to brew larger quantities of pour over coffee (up to 2.2 Liters / 75 ounces) quickly & easily! Fits most any insulated cups or carafes. BIG JOE is perfect for Home, Brunches, Work, Travel, Camping, RVing as a Coffee Lover Gift & More.
If you have a picnic table I love to bring a vinyl tablecloth to cover my table so that I can keep everything nice and clean. A vinyl tablecloth is easy to clean and we use clips to keep our tablecloth secure from the wind. You could also use this really cool picnic table and bench seat cover set. We love this one because it's great for younger kids to set out and you don't have to worry about scraping the bottom of your legs.
Also, don't forget to make a meal plan for the length of your trip. This will help you spend more time with your family and less worrying about cooking for the day.
Additional Items You Might Need:
Paper plates or dishes
Camping stove
Plastic silverware or Regular silverware
Dish soap
Aluminum Foil
Foil dishware for hot or messy foods- we love foil pie pans!
Ziploc Bags- bring more than you think you may need
Utensils- Grill tongs/utensils, S'mores sticks, 2-3 serving utensils such as spoons or forks
Preferred cleaning supplies: either a dish sponge, rags, or quick-dry dish towels.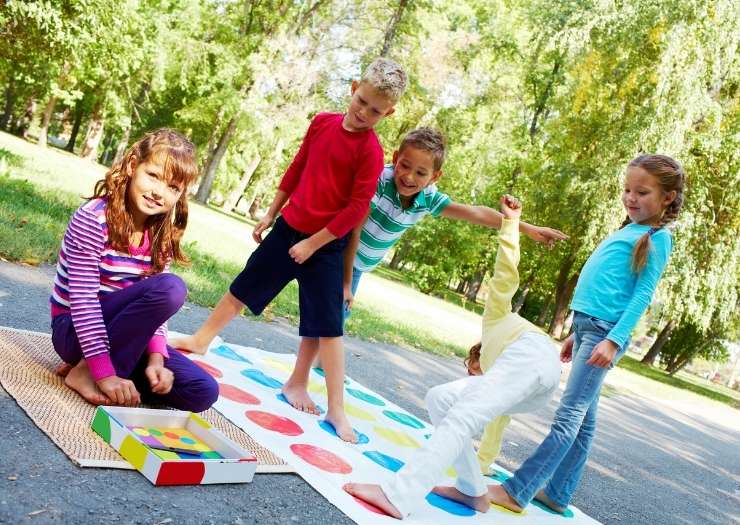 Outdoor Games
Looking for some fun outdoor games your whole family can play on your next camping trip? We've got a great list of our favorite games that are sure to get everyone up and moving. I would not leave the house without some games on your Camping Gear List For Family. These will come in handy to keep the kids close to camp while you may be cooking or setting up your campsite.
Here are a few of our favorites:
Cornhole
Horseshoes
frisbee
geocaching
Lawn Yahtzee
Super-sized Jenga
dominos
card games
So round up the troops and head outside for some good old-fashioned fun!
Families that Glamp
If you're like most people, when you think of camping, you probably think of roughing it in the great outdoors. Sleeping on the ground in a sleeping bag, eating hot dogs and s'mores over a campfire, and spending your days hiking and exploring. But what if you could have all the fun of camping without giving up any of the creature comforts?
Glamping is the new way to camp, and it's perfect for families who want to enjoy the outdoors without sacrificing any of the luxuries they're used to. To glamp with your family, all you need is a few comfort items. This is a great option if you have small kids or babies were roughing it might not be as easy. We are not going to give a complete list (we'll save that for a whole other post) but here are a few we think are great to add to your camping gear list for family.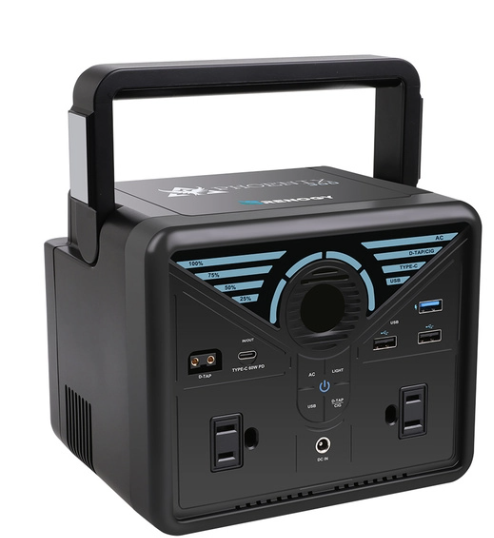 The PHOENIX 300 Power Station is one of the most reliable, versatile, and portable emergency power supplies for your home and outdoor camping. It pairs with the Voyager Solar Suitcase to make a powerful combination.
Renogy Phoenix 337Wh powerful portable generator empowering your off-grid adventure, 2* pure sine wave 110V AC outlets deliver stable 200W power for charging anything from laptops, tablets, and smartphones to handheld video game consoles, drones, cameras, mini-fridges, lights, speakers, TVs, CPAP. This definitely a must-have on your Camping Gear List For Family.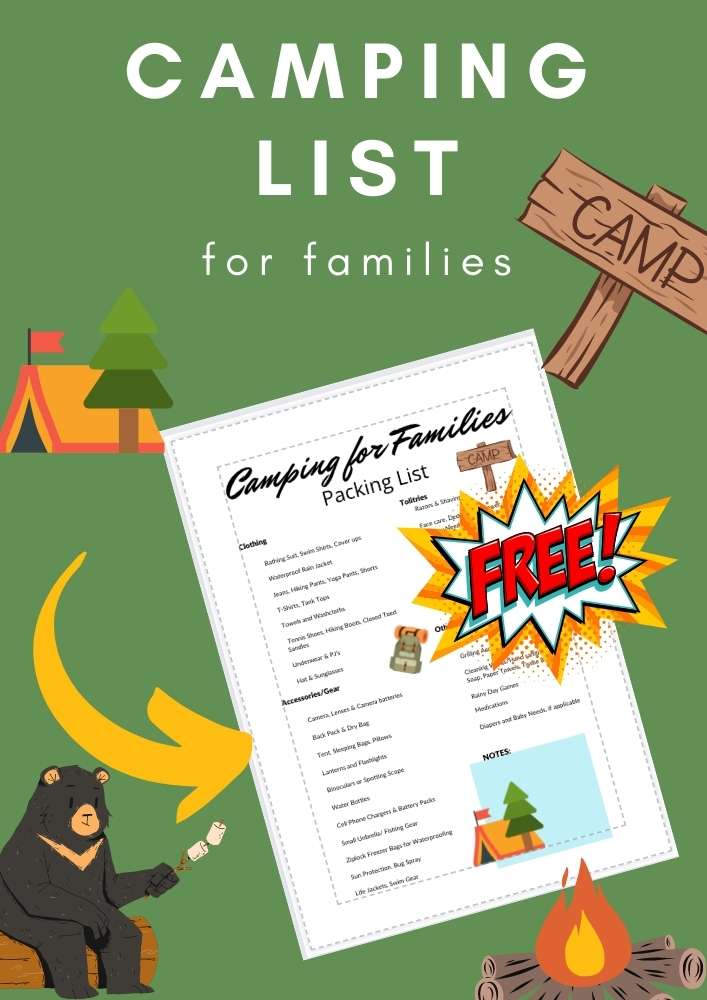 Printable Master Packing List
Do you love camping but find that you're always forgetting something? Never fear, we've created a master family camping packing list for camping that will make sure you have everything you need! We want to make sure your family has an amazing camping holiday and that you have everything for your family's camping needs. Download our camping gear list for family and print it out so you can check off each item as you pack. This way, you'll be sure to have all the important items you need for a fun and hassle-free trip. Of course, the first thing you should do is check the weather forecast. Weather conditions may require you to pack extra blankets if you camp in cooler temperatures. Download it here.
Take Our Camping & RVing Like a Boss Course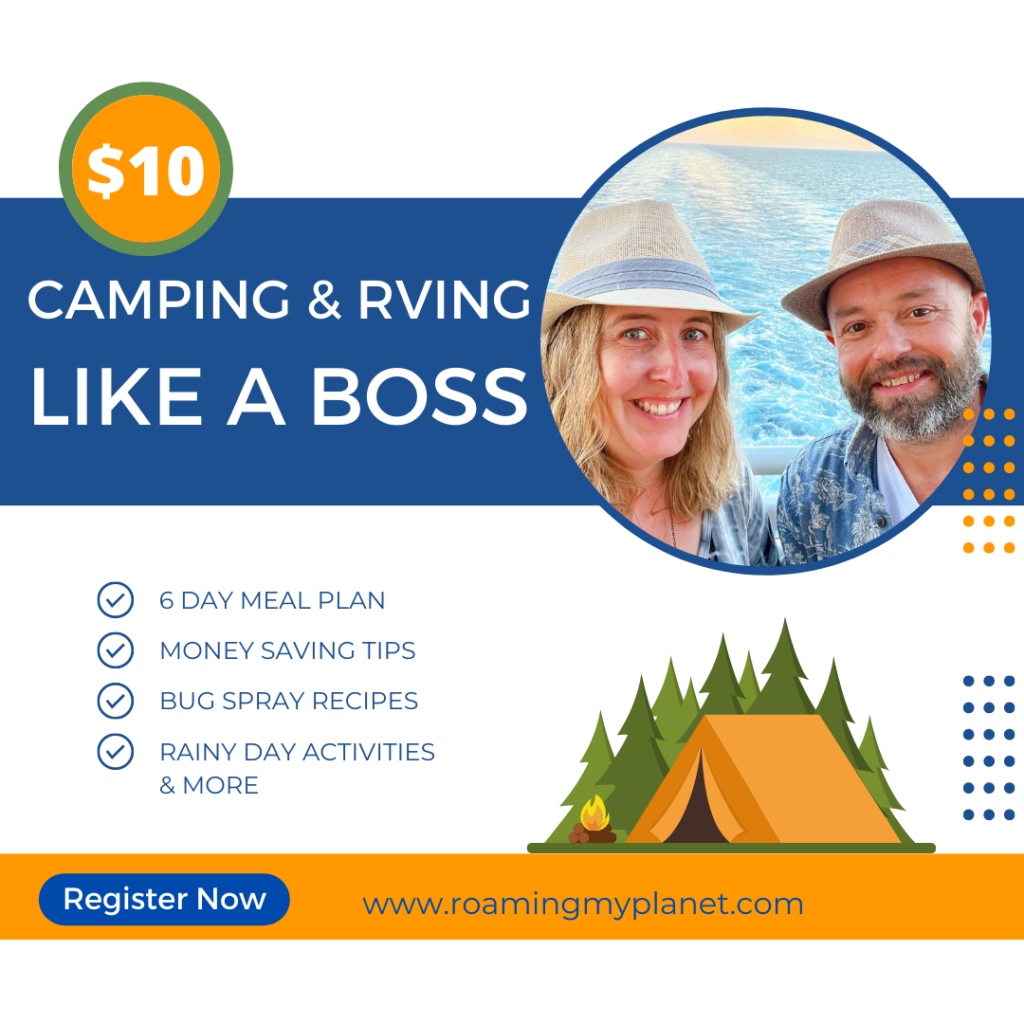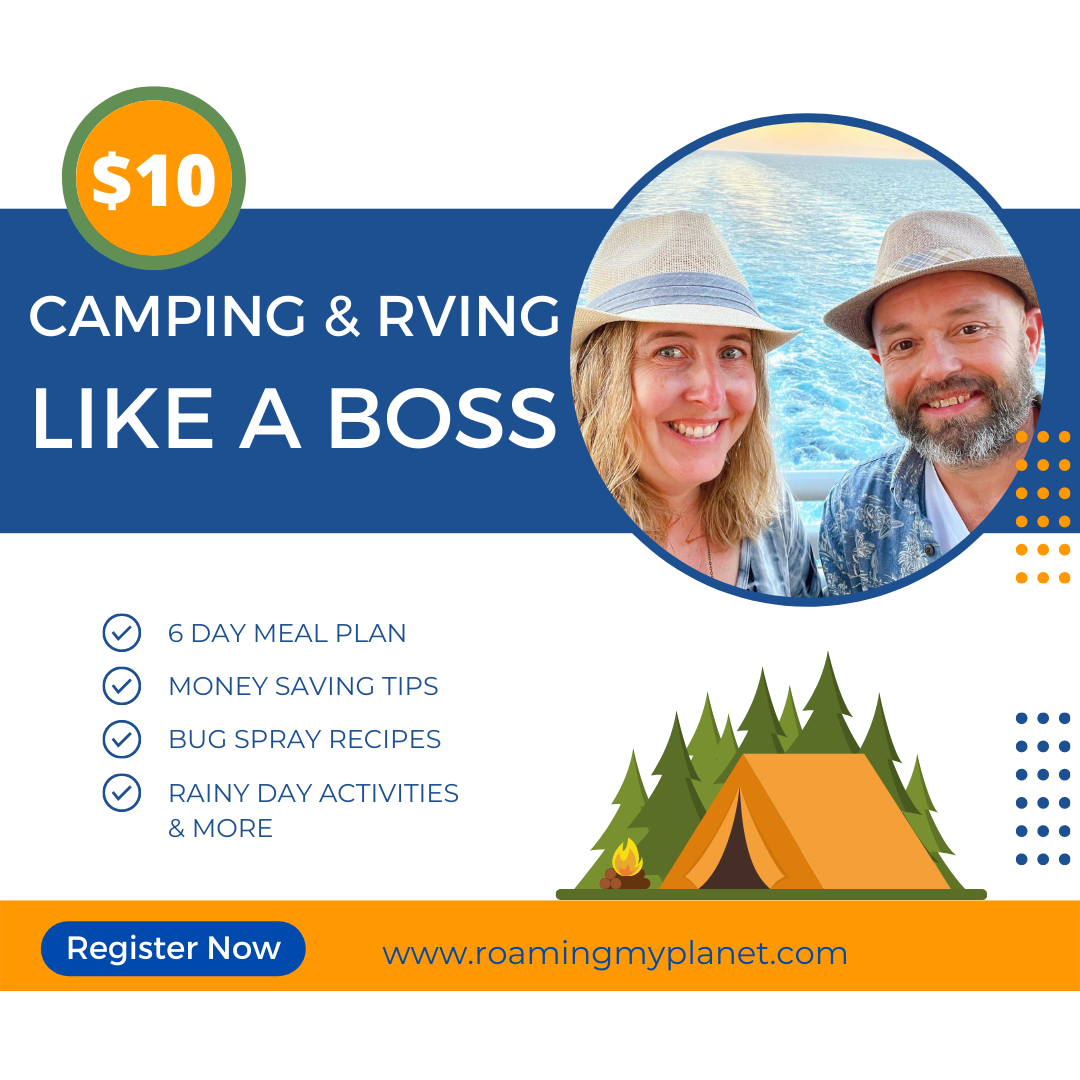 Looking to get the most out of your camping or RVing experience? Then this course is for you! Camping & Rving Like a Boss offers tips and tricks that will help you save time and money, so that you can enjoy your trip to the fullest. Join our Course.
My Favorite camping Supplies
FOLLOW US ON SOCIAL MEDIA
Don't forget to invite your friend's to our Facebook groups! We would also love to see your vacation pictures!