Camping Pancake Recipe: How to Make the Perfect Pancakes While Camping!
If you're an adult who loves to camp, you'll love this delicious camping pancake recipe on a chilly morning! It's easy to make and perfect for a weekend breakfast or brunch. Best of all, you can customize it with your favorite toppings. You don't need a gourmet breakfast So pack your sleeping bag and gather your ingredients and get ready to cook up some pancakes in the great outdoors on the first morning of camping!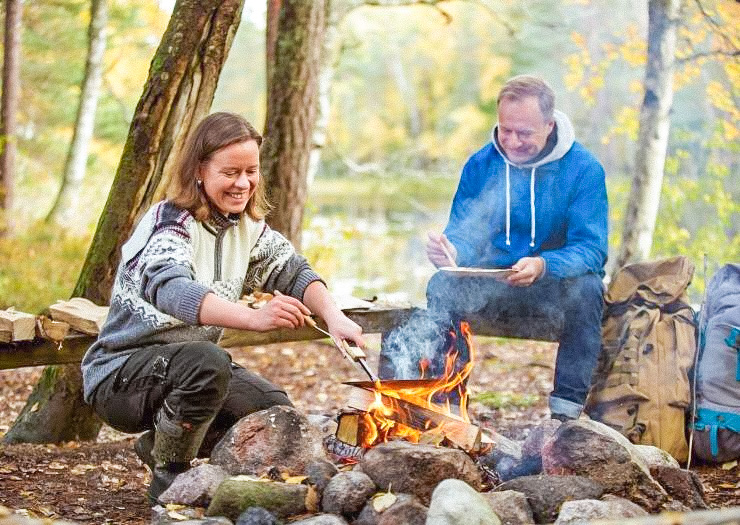 Can you pre make pancake batter or Waffle Mix?
You can premix your dry ingredients (dry mix) and premix your wet ingredients in a large bowl. For camping you can pack egg beater, or even crack eggs into a an airtight container such as a water bottle or an empty coffee creamer bottle. Another great tip for camping is to use a squeeze bottle for your batter (or wet mixture). You can purchase simple ones at the dollar stores or even save and wash a ketchup bottle. If you are using a dry pancake mix or your own pancake mix (like our Homemade-Bisquick ) you can add it to the bottle in the measurement you need and keep your wet ingredients in another bottle in the correct amounts. Combine the two, shake and squeeze out what you need into your cast iron skillet. If you want some variety in your pancake flavors use our Muffin mix pancake instructions and you will keep the mix in it's pouch and measure out your wet ingredients.
Don't forget, you are here to camp not stress about food, you can also bring a pre-made pancake mix like kodiak cakes and store in a sealed mason jar or zip-tight bags. We like to make ours completely ahead of time and store in the pancake pen.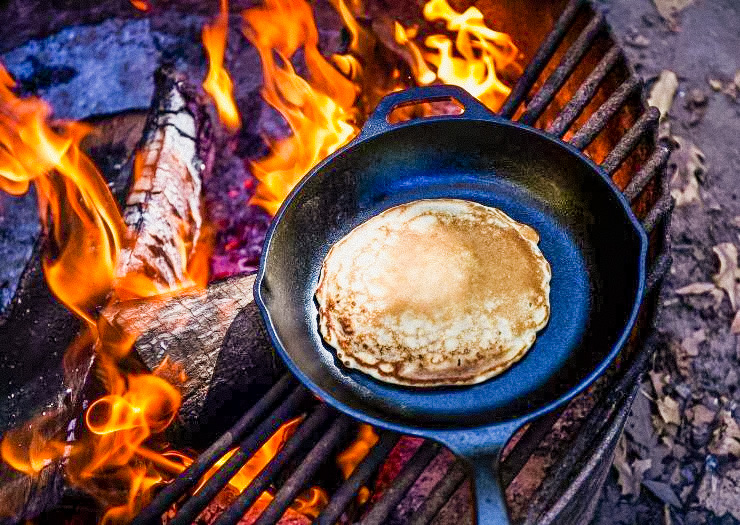 How Do You Keep pancakes warm when camping?
Ok, when you have a cast-iron skillet on the campfire or a regular skillet on a camp stove or in the RV you can only do so many pancakes at a time. A large griddle is ideal for a large batch so everyone can eat at the same time. But if you are using a regular sized skillet though and you want to keep some warm while you cook more, use a pie tin or cookie sheet, and stack your pancakes close together, cover with aluminum foil and keep them close to the fire.
Can you freeze camping pancake batter?
Yes you can make your batter at home, and freeze it in a ziploc bag. Make sure all of your ingredients are combined well, then pour batter into the bag. Lay it flat and squeeze all the excess air from the bag. If you store it flat in the freezer it will save space in your ice chest when you pack for your camping trip. If it doesn't thaw all the way in the ice chest you can place the bag in some warm water to get it all the way thawed. If it is in a bag all you need to do to pour the batter into your pan is use a kitchen knife or scissors to cut a corner off the bag and use it like you are piping icing. If you put your batter in the freezer you can store it up to 4 weeks.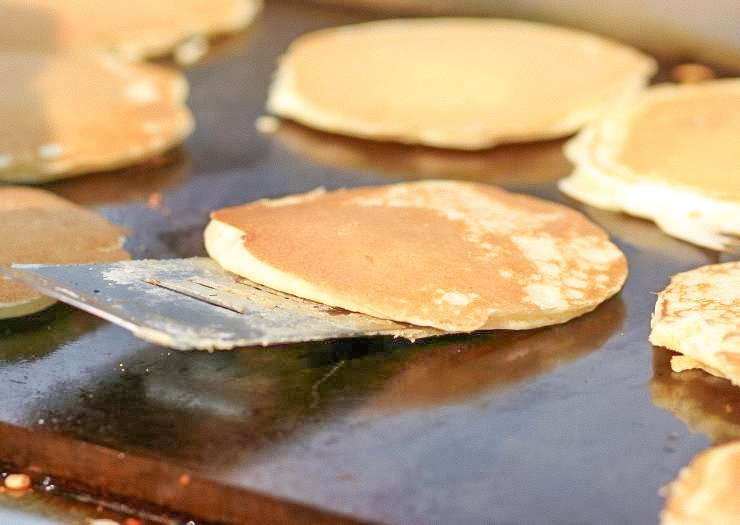 What makes a pancake more fluffy?
Baking powder is the key to fluffy pancakes. It makes the bubbles, the bubbles make it fluff up. If you freeze your camping pancake mix it may alter the ability of the baking powder to react. I've read mixed reviews on storing things like dry cake mixes in the freezer, but I honestly have not tried to freeze pancake batter to compare or if it will compromise the fluffier pancake. For me, I really like that fresh batter and if you do all the right steps to prep it won't take you any time at all to make a fresh batter. This is just my personal preference when it comes to freezing. If you want to try it that way let us know how it goes. Do the pancakes still get fluffy?
Should I use oil or butter for pancakes?
I love how coconut oil cooks in a frying pan to fry pancakes. It's much healthier than using vegetable oil.You can also use a little oil spray if you like, but that doesn't mean you can't slather some butter on top after you take them out of the pan or off of the griddle. The butter flavor is what I like with the maple syrup or chocolate chips when they start to melt. A cast iron pan and coconut oil can help you get crispy edges and make sure you have a consistent temperature for your cooking surface, use medium heat and try not let it get too hot. If you are using a camp fire or hot coals it can be more difficult to regulate, but keep in mind that a hot pan may burn the outside of your batch of pancakes while undercooking the center. For the best pancakes you want a medium to medium high heat, for better temperature control use a camp stove if you have one, this is the best way to get a golden brown pancake that is not raw in the middle.
It is also important that your batter have the right consistency. If you end up with a thin batter you may need less water. I would suggest that you use less wet ingredients if you are making your wet ingredients and dry ingredients ahead of time. You can always add more water. It is simpler than trying to add more dry ingredients.
Can you make pancakes ahead and reheat them?
Yes, if you are camping you will want to reheat them in a skillet.
Heat your cast iron skillet on low heat. You want them to slowly heat through without burning the outsides.
Add some coconut oil or melted butter to your pan. 
Add a light layer of coconut oil some melted butter onto the pancakes and set them in the skillet.
You want to turn them over every 10-15 seconds so they warm evenly. You will continue turning them until they are warmed through. This process will take a few minutes for each one, do not get in a hurry.
We hope this easy recipe helps you make the perfect pancake recipe on your next camping trip. If you're looking for a tried and true pancake recipe that will work in any situation, we recommend giving this one a try. Our tips for making pancakes over open flames will ensure that your flapjacks come out just right, whether you're using a camp stove or cooking them over the fire. And don't forget to top them with fresh berries – they add sweetness and tartness that takes these pancakes to the next level!
Camping pancake recipe You should really try the muffin mix method. It's a great substitute. How to Make your Muffin Mix Pancakes at the Campground:
Muffin Mix Pancakes start with a typical small pouch of muffin mix from the store. You can choose any flavor you want, but this recipe will work best with the non-fruit muffin mixes. Martha White and Pillsbury single muffin pouches (around 7-8 oz size) will work. If you have another brand you like, such as Jiffy or Betty Crocker, you can try those, too! Avoid the mixes with dehydrated fruit as they will not soften in the pancake like they do when baking them into muffins in the oven.
For Muffin Mix Pancakes, just add about 2/3 cup of milk ( or almond milk) and 1 egg. to the dry pouch of muffin mix. Add the milk slowly, since you may not use an entire 2/3 cup.
When you start planning meals for your next adventure and you want to have pancakes for breakfast consider options like our muffin mix flavors, fresh fruit like fresh strawberries and bananas or peanut butter for toppings. As always look for ways to make this perfect camping breakfast suit your family. Try using whole wheat flour or almond flour for your pancake mix. Click here for more camping recipes.
Camping Pancake Recipe
Yield: 12
Camping Pancake Recipe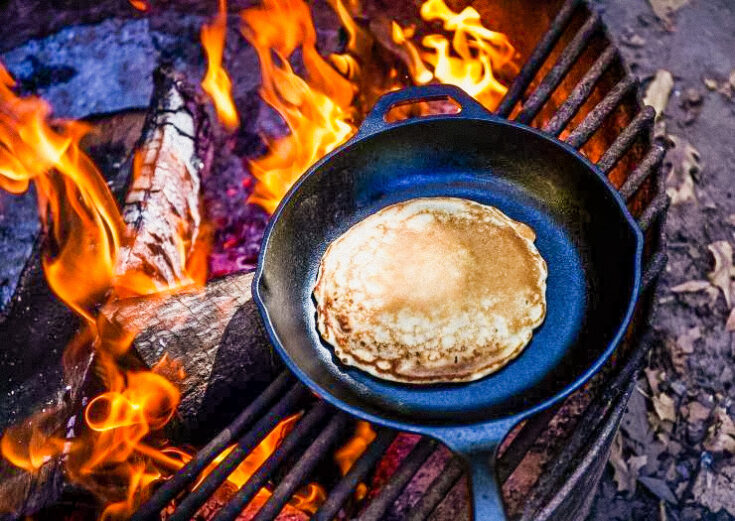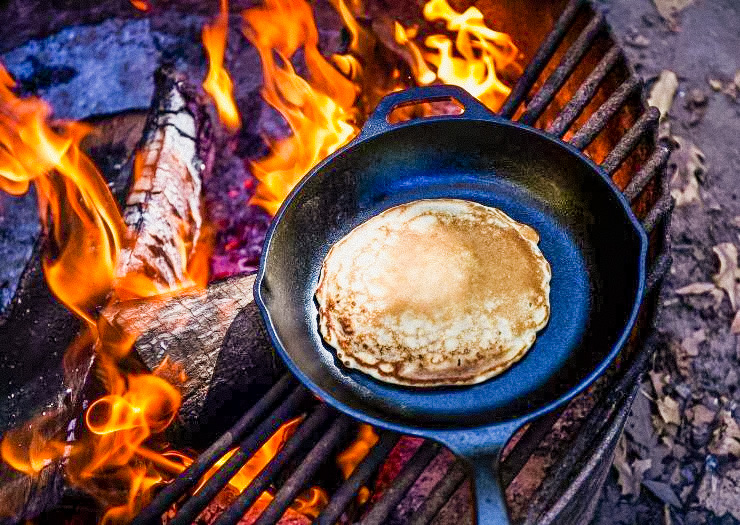 The best make ahead pancakes for camping.
Ingredients
DRY INGREDIENTS:
1 cup of all-purpose flour
1/4 cup of sugar
4 tsp. of baking powder
1/4 cup of dry milk powder
1/4 tsp. of salt
WET INGREDIENTS:
1 cup of water
1 large egg
1 tsp. of vanilla extract
Instructions
In a large mixing bowl, mix the dry ingredients

Pour mixture in to a zip-tight bag and use a sharpie or marker to write the wet ingredients you need to add onto the bag.

When you're ready to cook, melt a dab of butter on your cast iron skillet or griddle.

Next, whisk the wet ingredients together and add to the dry and squish baggie to mix well.

You can, transfer to a container for pouring or just snip a corner out of the zip tight bag for pouring.

Next, pour a small amount (about 1/4 cup) on your warm skillet to form a pancake and cook until air bubbles form and the bottom is golden brown.

Flip and cook through (cook time is about 3-4 mins)

Serve with butter and maple syrup and add fresh berries if you like.
Notes
If you want a thicker batter, just add 3/4 cup of water instead of a full cup. You can store dry ingredients up to 3 months.