These Pie Iron Pizza pockets are super easy to make on the campfire. Since these are individual pizza pockets, everyone can add their own pizza topping to make their pie iron pizza pocket unique! So if you are looking for recipes for pie irons, keep scrolling to the bottom!
When we got these Pie Irons I wasn't sure if we would use them. Boy was I wrong! We have cooked breakfast, lunch, dinner, and dessert with them! It's fun coming up with new recipes for pie iron!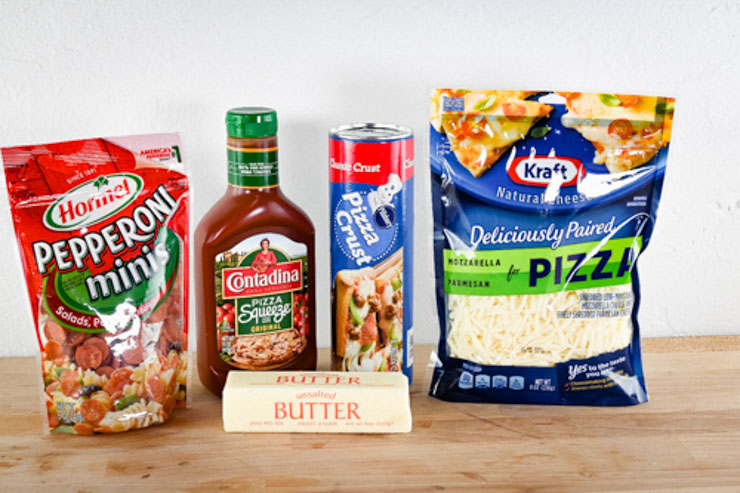 Simple camping recipes are the way to go. The whole point of camping is relaxing and well, if you can have delicious food that is simple to make. Then that's a win win to me. So when we started thinking about recipes for pie irons, we new this one would be perfect. this Everything for this recipe uses pre-packaged ingredients with minimal slicing and dicing.
We've seen lots of variations of this recipe with bread but we decided to try this with refrigerated pizza dough. Boy am I glad we did! We loved the crispiness and flakiness of the pizza crust! If you can't find refrigerated pizza crust you could also try refrigerated pie dough. You basically just need to cut out a square to the size of your pie iron but before you do make sure you baste your pie iron down with a silicone basting brush.
Make it your own
Now it's time to add the base for your pie iron pizza pockets. We used the squeezable pizza sauce and our homemade Italian seasoning but you could get creative and use our homemade Alfredo or our homemade pesto sauce as well. How about taco sauce for a taco pizza or BBQ sauce for a BBQ pizza?
Next you will want to add your favorite toppings. We used the mini pepperoni and mozzarella cheese but you could add just about any topping you like. I also like adding a little garlic on mine.
Bell Peppers
Mushrooms
Sausage
Hamburger Meat
Shredded Chicken
Pineapple
Onions
Black Olives
Your heat source
Make sure you have some coals in your fire. The fire needs to be hot enough to cook the crust. If you are cooking this over a grill that's fine too. Just make sure your grate is close to the heat source.
Time to eat!
When it's done just pop it out and enjoy! But be careful because the inside of this delicious pocket may be HOT!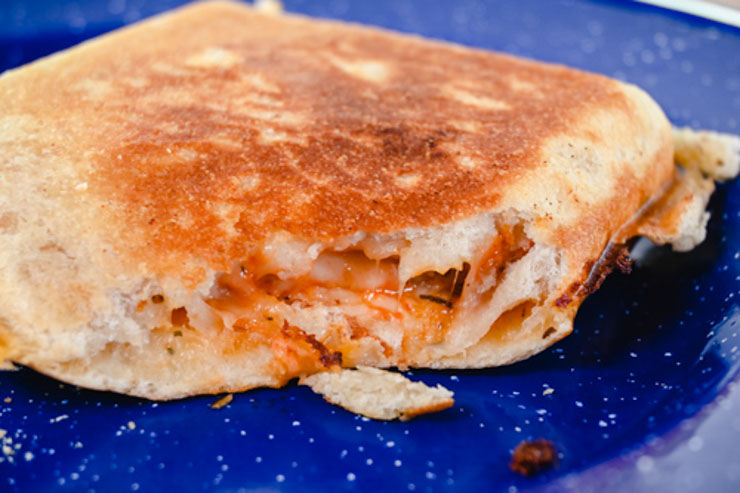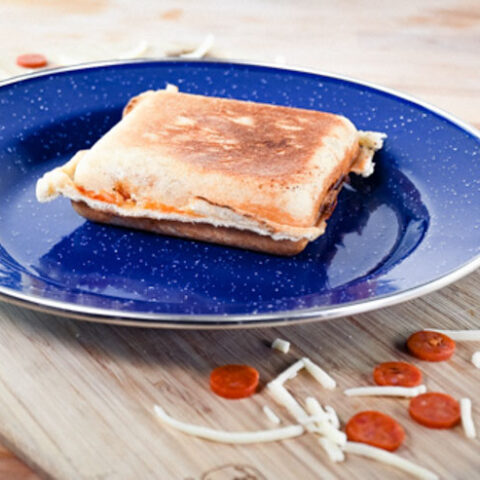 Pie Iron Pizza
These Pie Iron Pizza pockets are super easy to make on the campfire
Ingredients
1 tbls of butter
1  refrigerated pizza crust (The one in the whomp-em can... you know like the canned biscuits?)
1/2 cup of your favorite pizza sauce (We like to use the one in the squeeze bottle)
1 tbls Italian seasoning (more or less depending on personal preference)
Pepperoni slices (or any other ingredients you want for your filling) 
about a cup of shredded mozzarella cheese (divided into 4, 1/4 cups)
Instructions
Preheat your pie iron in on the fire or grill for about 5 minutes. You don't want it screaming hot but you need to preheat it so the crust won't stick when you are done.
Roll out pie crust and cut into 8 squares. You will want make sure they are just a little bigger than the pie irons.
On the cutting board lay 4 of your pie dough squares down
Add some sauce to them
Next add your pepperonis or other fillings
Time for the cheese
Now it's time to top them off with the remaining pie dough.
Make sure the edges are sealed. You can just pinch the edges together with your fingers.
Now take your preheated pie (carefully) and rub butter on each side.
Place your pizza pocket in the pie iron and close it up
Put your pie iron over the heat source for about 3 minutes a side. (make sure to move it around the fire so it will cook evenly)
Now it's time to pop that pizza out and enjoy!
Notes
The pizza dough is a lot easier to work with when it's cold. The warmer it gets, the stickier it gets.
Homemade Pizza Dough
Total Time:
1 hour
15 minutes
You can also make your own pizza dough for this recipe.
Ingredients
2 3/4 cup all -purpose flour
1 packet of rapid rise yeast
1 cup of warm water
2 tsp salt
2 tbsp olive oil
Instructions
In a medium mixing bowl mix your flour, salt and yeast together.
Add your oil and water and mix well till your dough is formed. (If your dough seems to wet you can always add a little more flour.)
Knead into a ball , cover and let rise for 20 minutes.
Nutrition Information:
Yield:

4
Serving Size:

1
Amount Per Serving:
Calories:

378
Total Fat:

8g
Saturated Fat:

1g
Trans Fat:

0g
Unsaturated Fat:

6g
Cholesterol:

0mg
Sodium:

1168mg
Carbohydrates:

66g
Fiber:

3g
Sugar:

0g
Protein:

10g
This data was provided and calculated by Nutritionix on 2/1/2021 Please check your nutritional facts as well.
Check out our other camping inspired recipes!
I wanted to come up with a recipe with foil packets on our latest camping trip. I ended up making these Campfire Orange Cinnamon Rolls for breakfast! If you love cinnamon rolls like we do, you need to try this one for yourself!
Smoked Campfire Queso Fresco is a summer dish you can take on the road! See this camping-friendly recipe! Campfire Queso.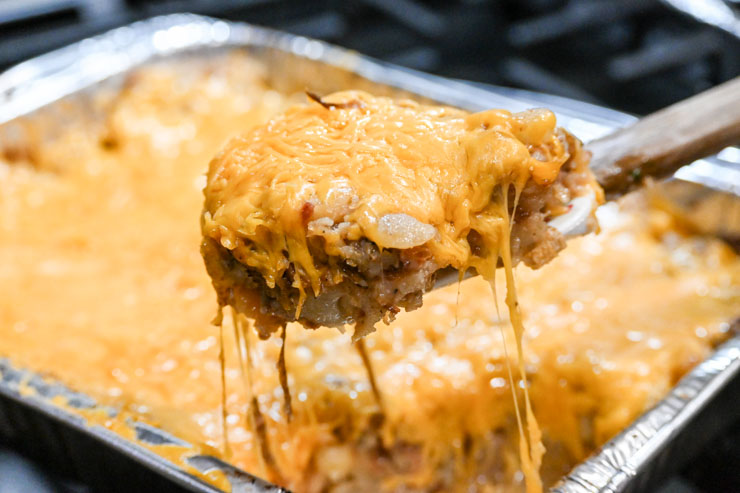 Have you ever had a side dish that you could eat as the entree? These Campfire Potatoes do it for me.
Make sure you join our Roaming My Planet Facebook Page.
Must Have Camping Items:
How I Earn Free Camping Gear:
Your're probably thinking yeah right, there is no way I can earn free camping gear. That's ok I was skeptic too, til my mom was like no this works! I mean who is going to tell mom she is wrong?
So basically all you need to do is download the Fetch Rewards app and enter the code: EF9PC and scan any grocery, hardware store, pet store or gas receipt within 7 days and you will get a bonus of 2,000 points. Grocery receipts can be up to 14 days old. You will get points for every receipt you scan and bonus points for certain brands. Then you can redeem those points for FREE gift cards like Amazon, Walmart, Cabelas and many more! As you can see I have enough points in my account right now to redeem for a FREE $50 gift card!