HOT Cabela's Fishing Table Markdowns!
As you know hubby and I bought a pop up camper and the stove and sink were already gutted out. We were ok with that because we found from several pop up groups that you don't really need them if you get a fishing table. We have been looking for a good fishing table and I am so glad we waited . While looking for fishing tables near me we found that Cabela's has an amazing deal on one that we just bought.
UPDATE: My order was cancelled BOO!!! I really hate when brands don't keep track of their inventory online. This is the 2nd order to be cancelled in 3 days from 2 different websites that said they had items in stock. Scroll down for a list of other tables available!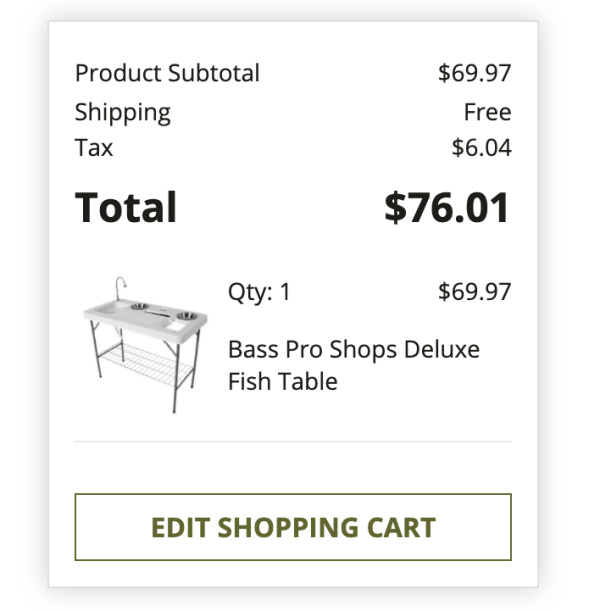 Right now you can get the Bass Pro Shops Deluxe Fish Table at Cabela's normally $119.99 for only $69.99! That is a steal! While searching for fishing tables near me, I did see that all of my local Cabela's were out of stock so I had one shipped to my address for free. I ended up only paying $76.01 which is way cheaper than what i would have paid on Amazon. BUY IT NOW.
There were several shipping options available. I chose the Free Express Shipping! Which is great because I won't even have to leave my house. JOIN OUR TRAVEL GROUP FOR MORE DEALS LIKE THIS!
What I Loved about this table!
It has storage on the bottom!
Comes complete with 2 prep bowls, cutting board, 6″ fillet knife and sheath, and a metal odor bar for your hands.
It has great reviews
It folds up for easy storage
If you find that this one is sold out , here are a few more I can suggest!
MORE GREAT CAMPING ARTICLES: