Holland America Cinnamon Bread Pudding Recipe
Are you a fan of bread pudding recipes? Bread pudding is also known as cinnamon raisin bread pudding or cinnamon roll bread pudding. You won't want to stop eating once you've tried this Cinnamon Bread Pudding Recipe! We found this dish when we sailed with Holland America Line and knew we had to get this recipe. This is the perfect dish any time of year, but if it's cold outside right now just imagine cozying up under a blanket by the fire enjoying warm bread pudding. Classic recipes like this are sometimes served on Christmas morning but I love making this in ramekins for my husband and I for a weekend dessert.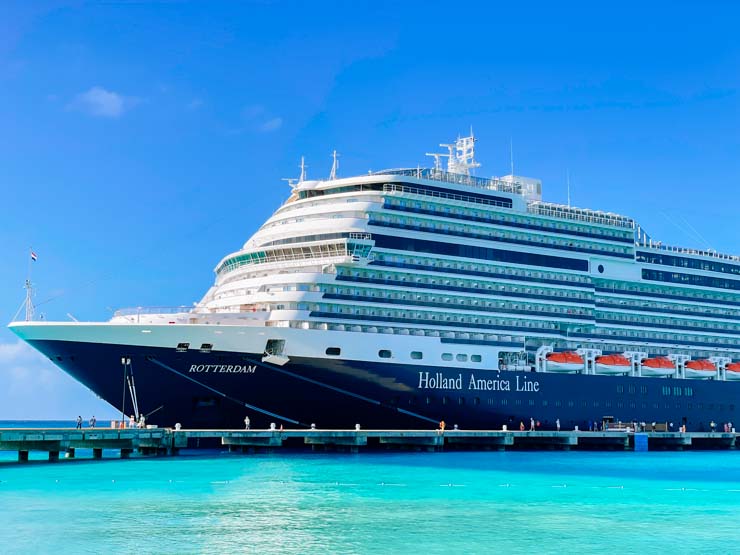 You will just need something to bake this wonderful Cinnamon Bread Pudding Recipe in. There are several different ways to present the dish. You can cook this bread pudding in ramekins, a 9×13 inch glass baking dish, or you can even use silicone cupcake molds. You can make it fancy for a special occasion or keep it rustic for a family dessert. No matter the presentation, this easy recipe will be a hit. This recipe calls for 4 large eggs not egg yolks like some recipes do. You'll also use heavy whipping cream instead of whole milk or low-fat milk and granulated sugar instead of brown sugar.
Before we get started:
Before you start working on the bread mixture, you need to butter the cooking dish we are going to use. If you don't have extra butter on hand you can use non stick cooking spray. After you have your buttered your dish set it on a baking sheet. This will make it easier to handle when you are getting it out of the oven. You could use a cooking spray, but using butter is my favorite way to prepare the dish. Speaking of the oven, you will want to pre-heat the oven to 325 degrees.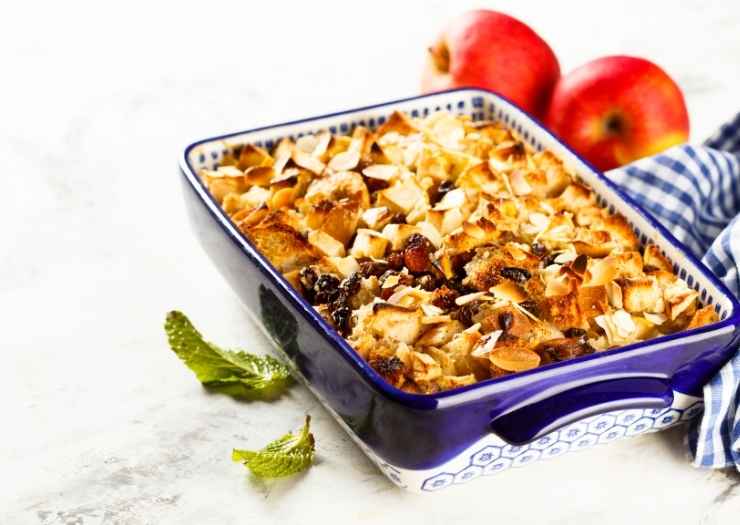 Bread and Berries
First thing you want to do is cut your bread slices into 1/2-inch to 1-inch cubes. You can use brioche, croissants, white bread or even french bread. You can use a different bread if you would like but these breads make the best bread pudding in my opinion. When you are done toss those bread cubes in a large bowl (or medium bowl) and then add your blueberries, raisins, or cranberries to the bowl with the bread. Gently stir until evenly mixed. After everything is mixed, fill whatever you are cooking the bread pudding in with the bread and berry mixture.
Cream Mixture
In a large mixing bowl, whisk the eggs and add heavy cream, butter, 1/2 cup sugar, and either vanilla bean or pure vanilla extract. Add 1⁄2 teaspoon ground cinnamon, 1⁄4 teaspoon salt, and a 1⁄4 teaspoon ground nutmeg (optional)
The next step is just pouring the egg mixture over bread and berries that are in your baking dish. You should have some left over. Allow the bread pudding mixture to set for an hour. When the hour is up, fill the baking dish with the remaining egg mixture. Now you can cook it in the oven for about 45 minutes at 325 degrees or until set.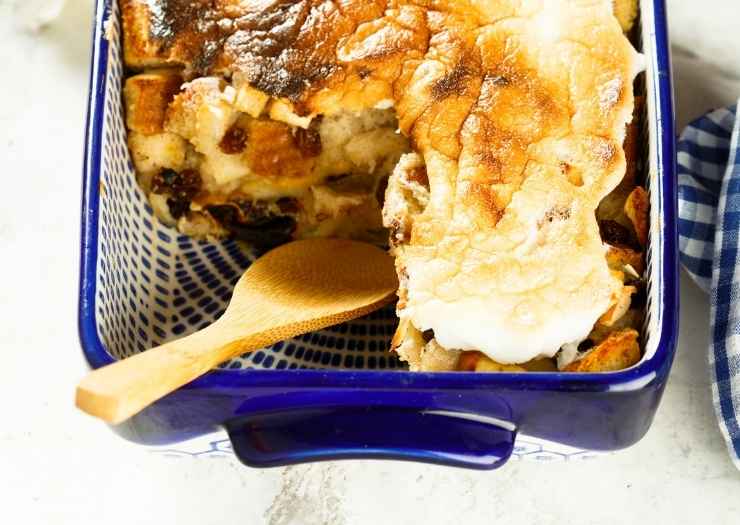 Topping
You can top this bread pudding with just about anything but a great way to do this is with this berry compote. This simple recipe can be stored in the refrigerator for up to two weeks in an airtight container.
Start by taking your washed berries and adding them with sugar, lemon juice & lemon zest in a small saucepan. Heat over medium to medium-high heat until bubbly. When it starts to bubble just remove from heat and let cool.
Enjoy
The perfect way to for me to enjoy this sweet dessert is curled up with a nice hot cup of coffee. This is a great recipe to make for that special someone. So a special thanks to to Holland America Line for sharing this Cinnamon Bread Pudding Recipe with us. This was one of our favorite desserts on the Rotterdam!
Yield: 12
Cinnamon Bread Pudding Recipe
Ingredients
4 cups heavy cream
2 tablespoons melted butter for custard
1⁄2 cup granulated sugar
1⁄2 vanilla bean or 1 teaspoon vanilla extract
4 whole eggs
8 ounces brioche, croissants or white bread, cubed
1 cup blue berries or 1⁄2 cup raisins or cranberries
1⁄4 teaspoon salt
1⁄2 teaspoon cinnamon1⁄4 teaspoon nutmeg (optional)
Instructions
Cube bread in 1⁄2 inch cubes

Butter silicone mold, ramekin or 9×13 pan

Place on a baking sheet4. Mix bread with blueberries

Fill each individuals mold or pan

Whisk eggs together and add cream, butter, sugar and vanilla bean

Add spices

Fill each mold with cream mixture (You will have some left over)

Allow bread to sit for an hour

Fill each mold with remaining cream mixture

Bake in a 325 degree oven for 45 minutes until set
Nutrition Information
Yield
12
Serving Size
1
Amount Per Serving
Calories

485
Total Fat

37g
Saturated Fat

23g
Trans Fat

1g
Unsaturated Fat

12g
Cholesterol

191mg
Sodium

227mg
Carbohydrates

33g
Fiber

1g
Sugar

19g
Protein

7g
Ingredients
2 ounces marionberries
2 ounces blueberries
2 ounces raspberries
2 ounces wild strawberries 4 ounces sugar
lemon juice & zest 1/8 teaspoons salt
Instructions
Wash berries and combine with sugar, lemon juice & lemon zest in a 4-quart sauce pan.

Warm the berries over medium heat until bubbly.

Remove from heat and cool. Store in an airtight container for up to two weeks.