Things to Do at Silver Dollar City
Silver Dollar City is a popular tourist destination for families in Branson Missouri, especially those with young children. The amusement park offers a variety of rides, shows and attractions that are sure to keep everyone entertained. In addition to the amusement park, Silver Dollar City also features shopping and dining options, as well as a host of special events throughout the year. If you're looking for some fun outdoor activities to enjoy with your family, Silver Dollar City is definitely worth checking out. Now let's talk about things to do at Silver Dollar City. Website.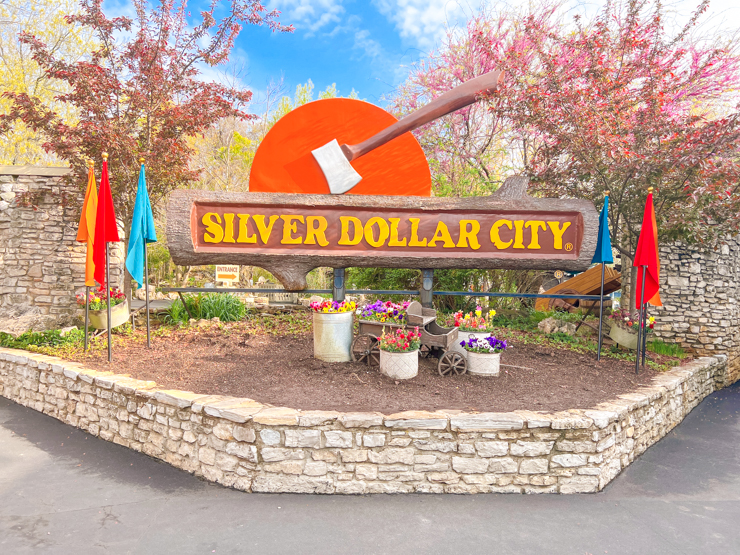 Ticket Prices
Silver Dollar City is one of the most popular amusement parks in Missouri. Families flock to the park each year for good times and memories that will last a lifetime. If you are planning on going to Silver Dollar City this year, it's important to know what the ticket prices are before you go. That way, you can budget accordingly and make sure that you get the most out of your experience at the park. Click here to tickets for Silver Dollar City and White Water.
Download the Mobile App
The first thing you need to do is download the Silver Dollar City App. It has a GPS enabled map that you can use to navigate around the park. You can check show times, ride wait times, purchase tickets, and receive exclusive offers on shopping and food. It also has a place that you can schedule out all the things you want to do the day of your visit.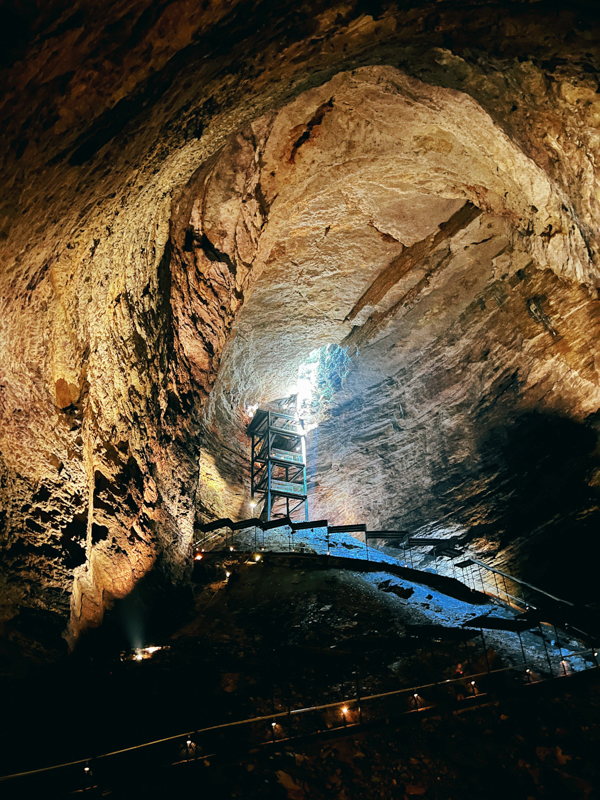 Marvel Cave
Silver Dollar City is home to Marvel Cave. Marble Cave (the original name for the cave) which was opened as an Ozarks tourist attraction by Canadian entrepreneur William Henry Lynch back when it first opened over 100 years ago. Marvel Cave is a wet limestone cave with formations that are still alive and growing. To begin, you will travel 300 feet below the surface of Earth to enter its most impressive room: The Cathedral Room! They have actually had 5 hot air balloons in the air at the same time in the Cathedral Room!
The tour will last about one hour and is not recommended for those with heart or lung conditions, weak ankles, knee issues, or back problems. This is due to the number of stairs and tight spaces. At the end of your cave tour, you will board a cable car which will take you up a half-mile climb back to the surface.
Roller Coasters
Fire In the Hole- Get ready for an Ozark adventure like no other at Fire-in the Hole. This signature Silver Dollar City indoor roller coaster is the perfect way to get your adrenaline pumping while riding through dark tunnels and across high speeds with thrilling surprises around every corner! The Baldknobbers have set the town ablaze, but your only escape is on this fiery bridge where danger awaits you.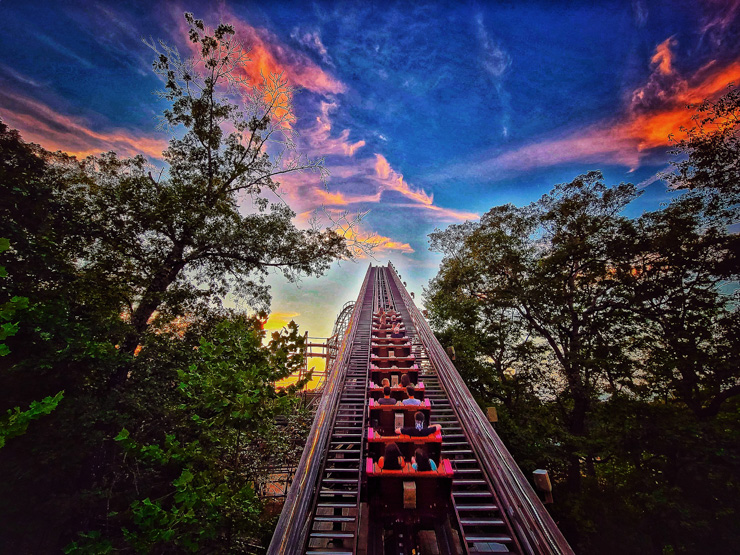 Outlaw Run- Outlaw Run features the world's first and only double barrel roll on a wooden roller coaster. That's 720 degrees! It is also the only wood roller coaster to twist upside down three times. Outlaw Run reaches a top speed of 68 mph. Making it one of the fastest wood roller coasters in the world. This ride is so much fun you won't want to stop riding!
Powder Keg- Powder Keg launches you from 0 to 53 mph in just 2.8 seconds! With a top speed of 64 mph and a 110- foot drop your trip through the trees on 3500 feet of track will be breathtaking!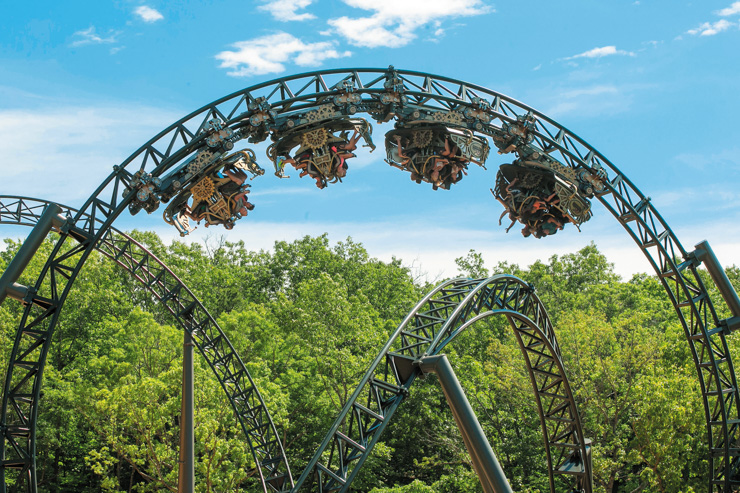 Time Traveler- You are about to embark on the ride of your life. The $26 million, record-breaking roller coaster Time Traveler features three inversions — more than any other spinning coaster has ever had! It also has a 95-foot tall vertical loop and two launches that send riders to unprecedented speeds. This roller coaster is like none I have ever ridden. Each car has four seats. Two facing forward and two facing backward. I sat in the forward-facing seat and was launched sideways down a hill right off the bat, the emotions I felt were nothing I had experienced before. You are literally spinning as you ride this beast.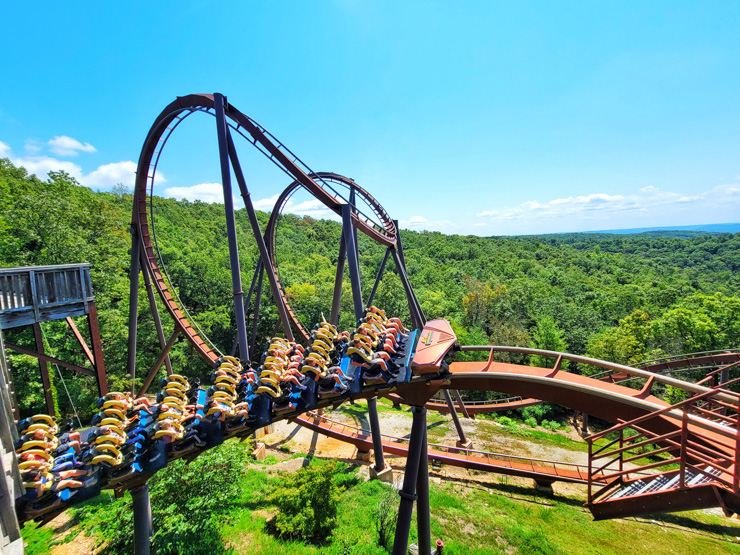 WildFire- This multi-loop, cobra rolling coaster is a must ride. If reaching speeds up to 66 and a 15 story drop isn't enough for you then how about this. Five inversions including a full loop, cobra roll, corkscrew and high-speed spiral will make this roller coaster an instant favorite.
Water Rides
Mystic River Falls- Join the Family River Expedition and explore Ozark waterways like never before! For a journey that will take you to great depths, embark on an epic rafting adventure with Silver Dollar City. Board an 8-person raft and prepare to get soaking wet. But don't worry you can dry off in a human dryer afterwards for only $5. This way you aren't wet the entire day!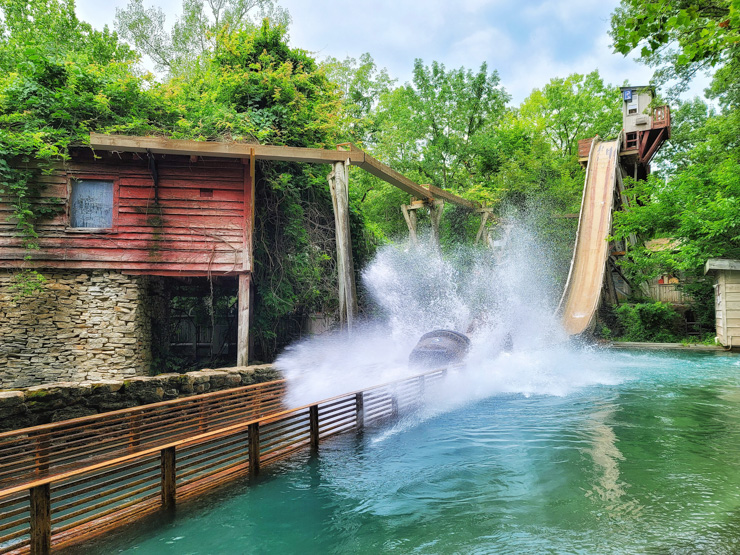 American Plunge- The thrilling and wild Ozarks Flume will BLOW YOU AWAY with its huge drops! You climb more than five stories into the sky before splashing down in a pool of water at speeds reaching 35 miles per hour! Min Height: 48′. Note: Guests at least 36″ may ride with a supervising companion.
The Flooded Mine- The county prison mine is flooding, and some of the prisoners are trying to escape! But you can help the warden as you climb an ore cart that carries you down flooded mine shafts with mine explosions. You'll be armed with a pistol to aim at targets and if you hit the bullseye, you'll hear bells ring and whistles blow. You'll have a blast in the arcade-style shoot-out.
Tom & Huck's Riverblast- Are you ready for the biggest water fight ever? Join in the fun of those legendary pranksters Tom Sawyer and Huck Finn. Super soakers are whizzing everywhere as passengers and spectators alike are armed with water guns for an all-out water war along a 567-foot river channel. Are you up for the challenge?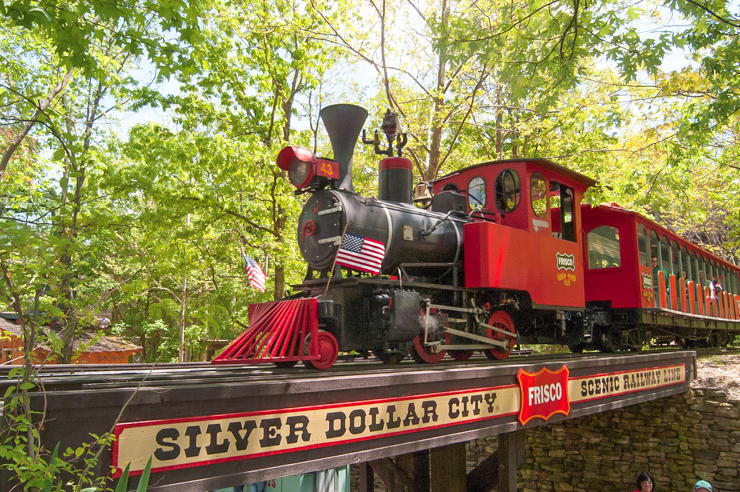 Other Popular Attractions
Take a leisurely 20-minute ride on the Frisco Silver Dollar Line Steam Train through the beautiful Ozark countryside surrounding Silver Dollar City. But hold onto your hats and wallets because there may be train robbers who humorously attempt a stick-up. The first train ride departs 30-minutes after park opening and the last train is 30 minutes before park closing. The minimum height is 48″.
Click here for a full list of attractions.
Live Shows
While there are plenty of rides and attractions to keep you busy, the park also offers a variety of live shows and street performers to enjoy. Best of all they are included in your park admission. Here's a look at some of the highlights.
Eric Hanes (The One Man Band)- Eric Haines is a one-man band that will have you in stitches with his banjo and bass drum! This award-winning comedian has been entertaining audiences for years, don't miss him at Street Fest this April.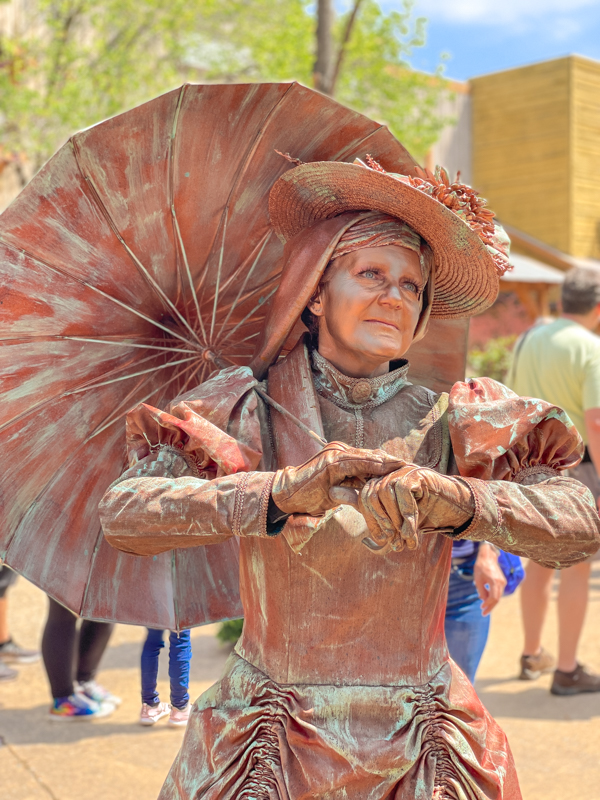 Living Garden- See living topiaries and bronze statues along with the elegant Lady of the Garden in a display of graceful movement and whimsical costuming.
Craftsmanship
What makes Silver Dollar City well…Silver Dollar City? They have craftsman throughout the park demonstrating their skills. Not only does Silver Dollar City specialize in family entertainment you they offer educational opportunities. Plus you can buy the goods that the demonstrating craftsman are making.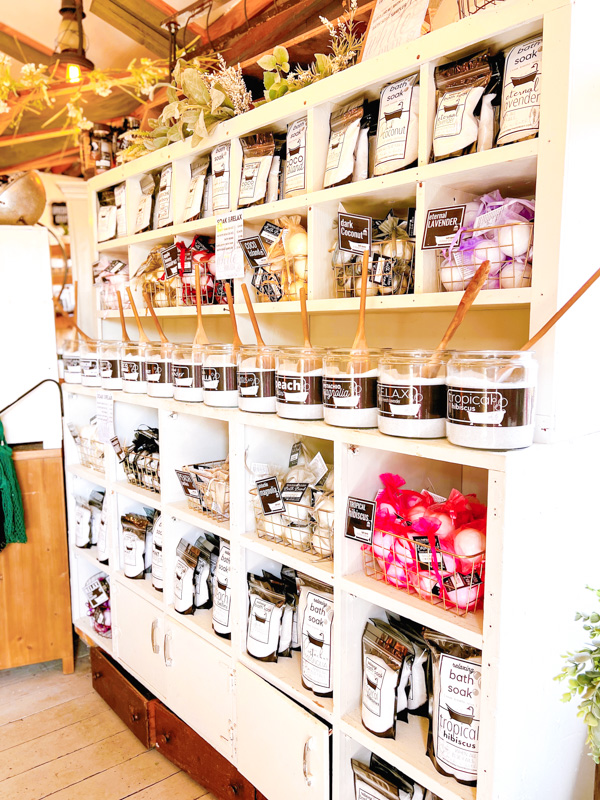 White River Bath and Body – Made right here in the Ozarks from all-natural ingredients, lead skincare artist Meloney Kleeman has compounded a wide variety of scents in her ever popular lines of bath bombs, scrubs and salts.  She had so many wonderful things that it was hard to choose from. We ended buying some bath salts because they smelled absolutely amazing and made with all-natural ingredients.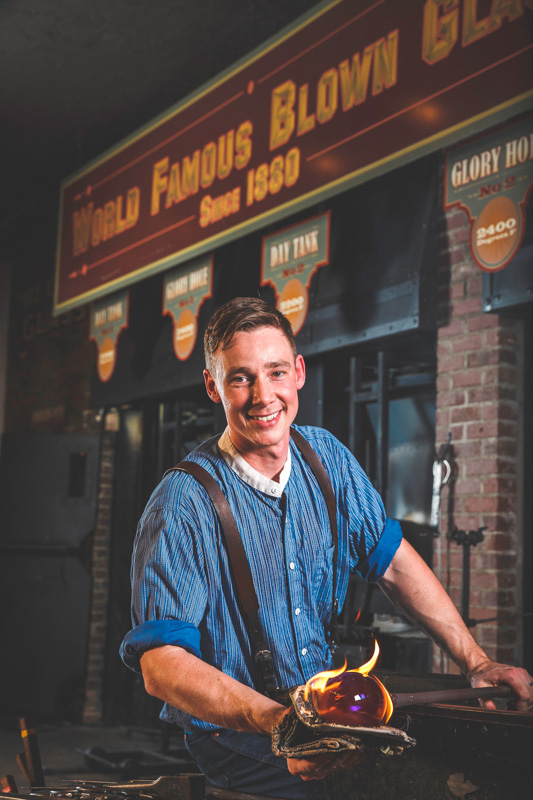 Hazel's Blown Glass- On of our first stops when we get to park is the Glass Blowing. Resident craftsmen give demonstrations on the art of glass blowing. They show you how the make the various items that for sale in the attached gift shop. The best thing about the glass items for sale there is that they are all handmade and unique. No two items are exactly the same.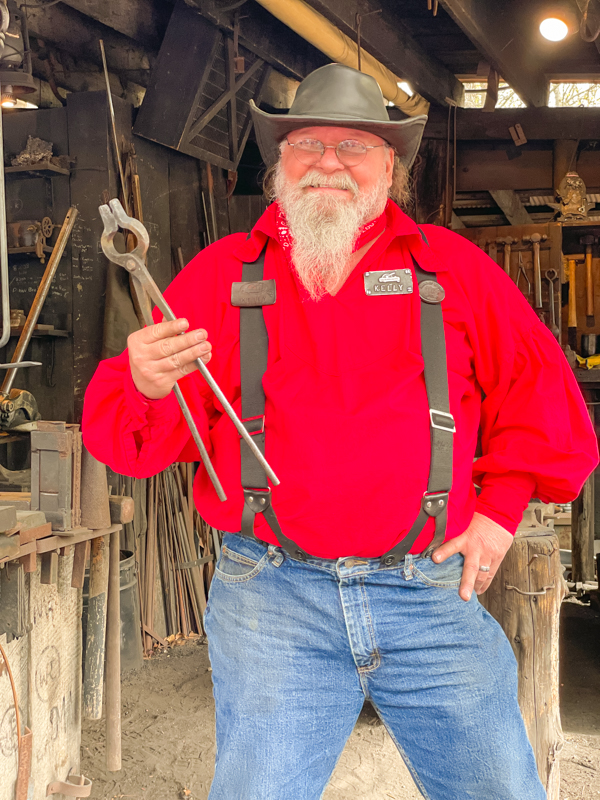 Blacksmith- Silver Dollar City is home of American craftsmanship and that craftsmanship is on full display at the Blacksmith Shop. Just a short distance from the town square is the Blacksmith shop. Young kids will love watching the blacksmith make all different kinds of metal items. These demonstrations are the best deal in the the entire park because they are free! Blacksmith Kelly Tiede will keep the entire family entertained the entire time he is demonstrating his craft.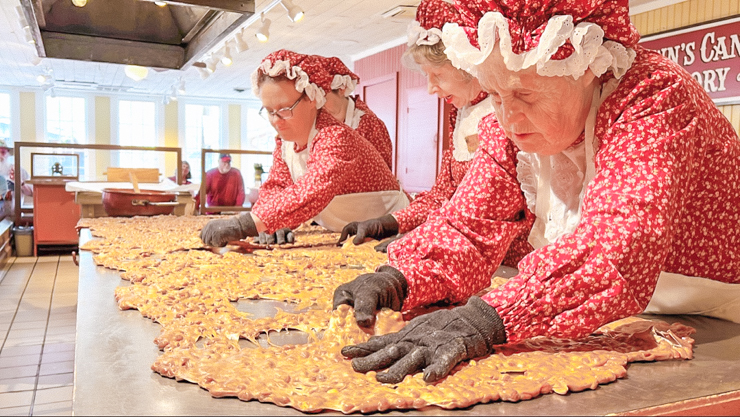 Brown's Candy- Just a short walk down Main Street and you will find Brown's Candy. They make the candy right in front of you! You might even see June there!
Hillcreek Pottery- Another fun thing to do is see how pottery is made. The Jeff Walker leads the craftsman at Hillcreek Pottery and they make all the pottery sold in the store. You will find a lot pieces that are meant to be used not just as decoration as Jeff's style tends to be more functional. So don't be afraid to use the pieces you buy! We bought a Toad Abode there and absolutely love it!
You may also like: Carrie's Candle's, Duplicating Lathe Craftsman, Granny's Lye Soap, Heartland Home Furnishing, Mountain Leather Craftsman, Mountain Outfitters Craftsman, Phoebe Snapp Taffy, and Sullivan's Mill. There is something for the whole family. Of course there is no extra charge to watch these craftsman. Your admission ticket covers it all.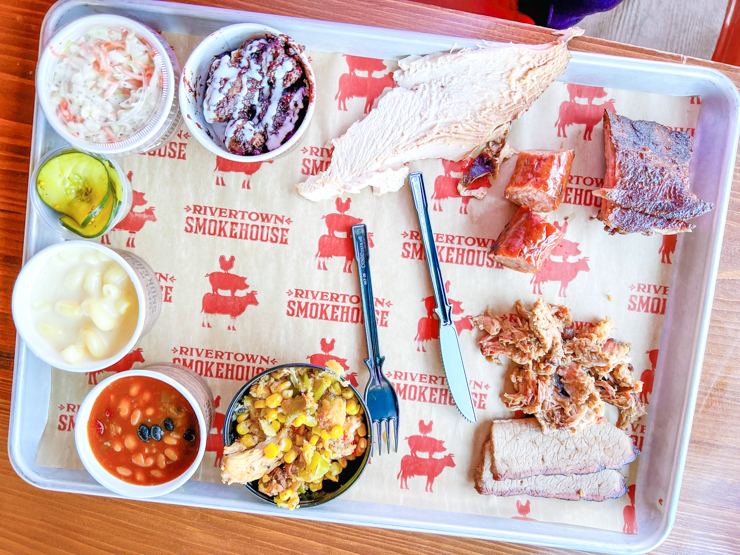 Eating Your way through Silver Dollar City –
Silver Dollar City is definitely not short on food. You'll find funnel cakes, ice cream, BBQ, and more. We plan on doing a whole blog post on just the food you can find at Silver Dollar City so make sure you follow us on Facebook or subscribe to our newsletter so you don't miss out.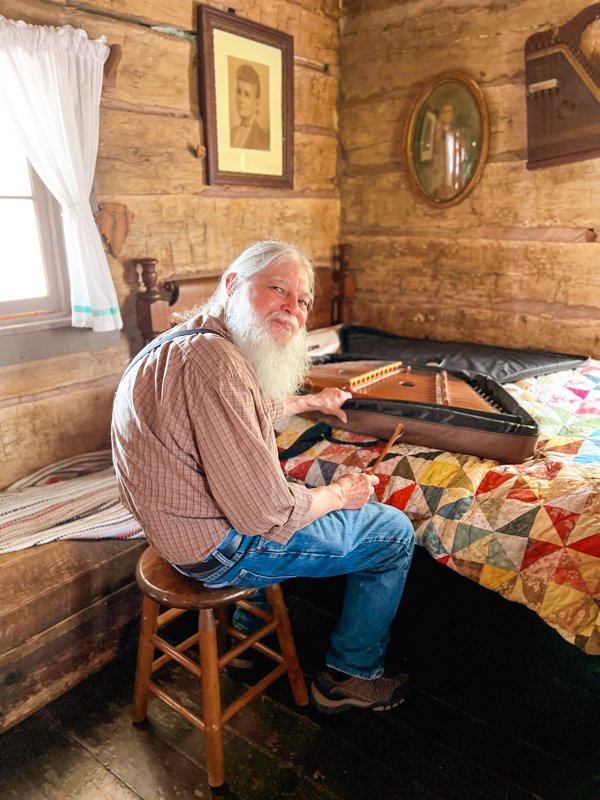 Learning about the Pioneer Days
Take a trip back into the 1800's. Oak Trail School invites everyone to pick a desk, sit down and learn about school back in the old days. all classes were held in one room, and most children only went to school until 2nd or 3rd grade before they began working to provide food and clothing for their family. This is just one of the many educational sites that Silver Dollar City offers.
The History of Silver Dollar City
Silver Dollar City literally started out as a hole in the ground. The Herschend family had a booming business giving tours of the Marvel Cave in the 1950's. About 50,000 people a year showed up to see the cave. The problem was sometimes people would have to wait to get a tour or there may be people that didn't want to be adventurous after all. These people needed to be entertained so they would stick around. So on May 1st 1960 Main Street of Silver Dollar was opened. People were now coming not only for the cave but to see all the craftsman work and buy their goods. Attendance was said to have doubled and Silver Dollar City was getting noticed.
Speaking of getting noticed. There wasn't enough money to advertise so they had to creative. They decided to give back change in silver dollars. Real silver dollars! The thought was guests would go back home and tell everyone about their trip to Marvel Cave. It worked! Main Street became Silver Dollar City and the rest is history!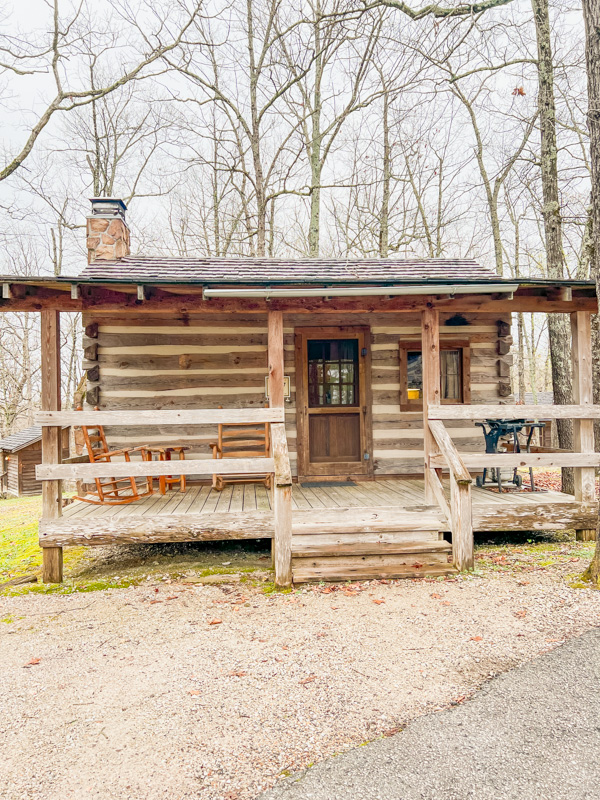 Silver Dollar City Campgrounds
The Silver Dollar City Campground has everything you need to enjoy your time in Branson, including campsites and RV sites convenient for both leisurely relaxation or quick getaways. They also offer an air conditioned lounge with free Wi-Fi so that guests can disconnect from technology while they relax! We stayed in one of their hand-crafted rustic log cabins which was absolutely beautiful.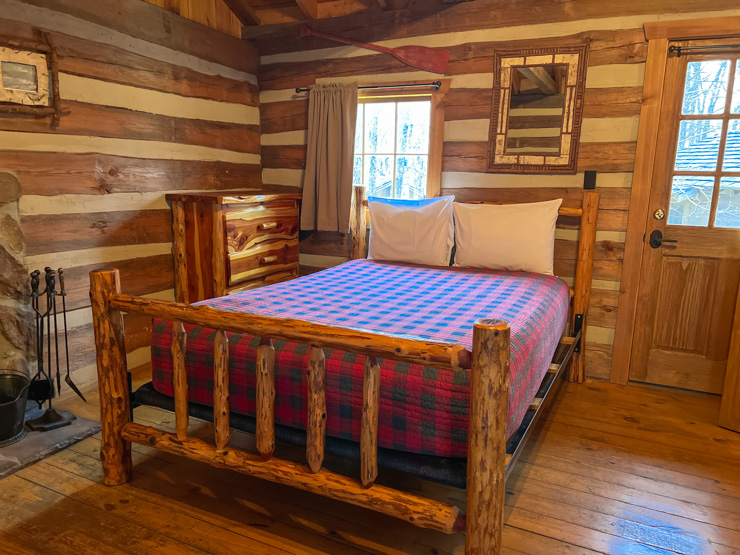 We had a queen bed, twin bed, table, mini kitchen with fridge and microwave, bathroom with shower and a warm cozy fireplace that we used every night. It also offered cable tv. Please note that internet at the cabins doesn't work well so you will need to use the wifi lounge or your phones wifi.
Check out our other travel related articles: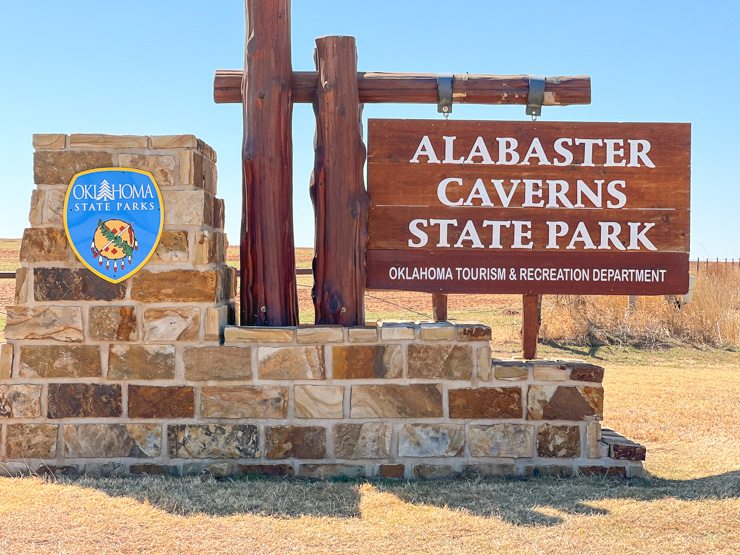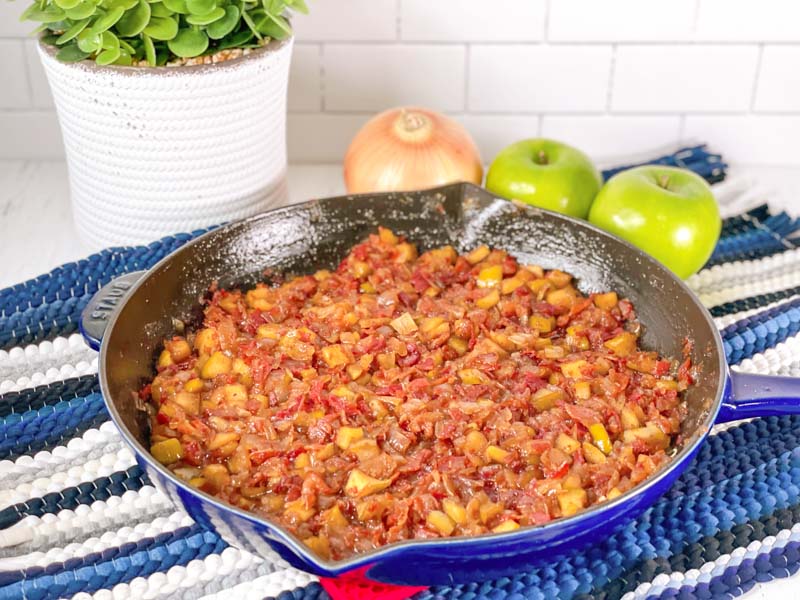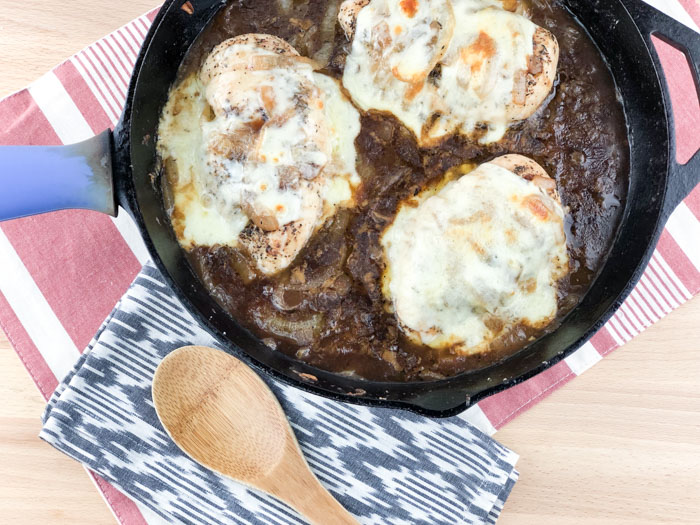 Family Destinations & Articles You Should Check Out
FOLLOW US ON SOCIAL MEDIA
Don't forget to invite your friend's to our Facebook groups! We would also love to see your vacation pictures!