Alabaster Caverns State Park: Your Complete Guide
Alabaster Caverns State Park in Freedom, Oklahoma is a must-see destination for any traveler visiting Oklahoma. It's one of the largest gypsum caves in the world and people come all over to see the bats. Alabaster Caverns is six miles south of Freedom on State Highway 50, and one-half mile east on State Highway 50A. If you are planning a trip to Alabaster Caverns State Park, we are going to go everything you need to know about planning your trip.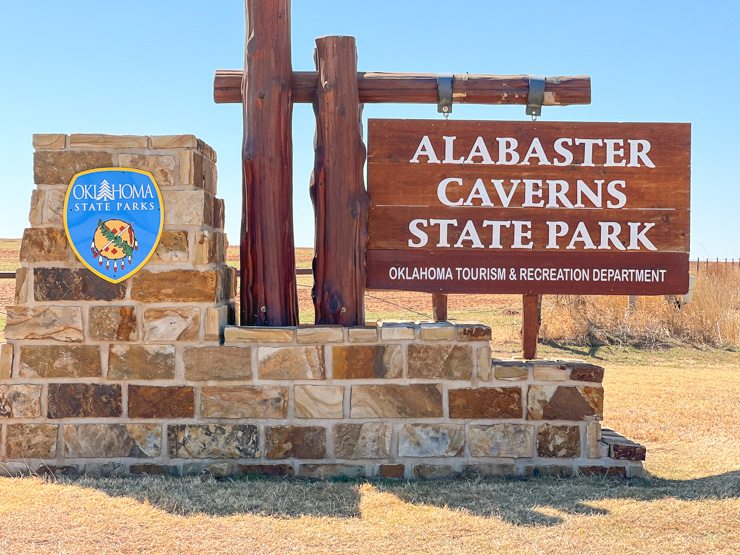 Coordinates: 36.6980° N, 99.1484° W
On your way into Alabaster Caverns you will drive through the town of Mooreland. We recommend stopping at the Jiffy Trip where you can order a whole pizza to go and taking it with you. You're going to be busy setting up camp and this way you won't have to worry about dinner that night. They also offer other gas station food such as taquitos, chicken, burritos, Jalapeno poppers and more.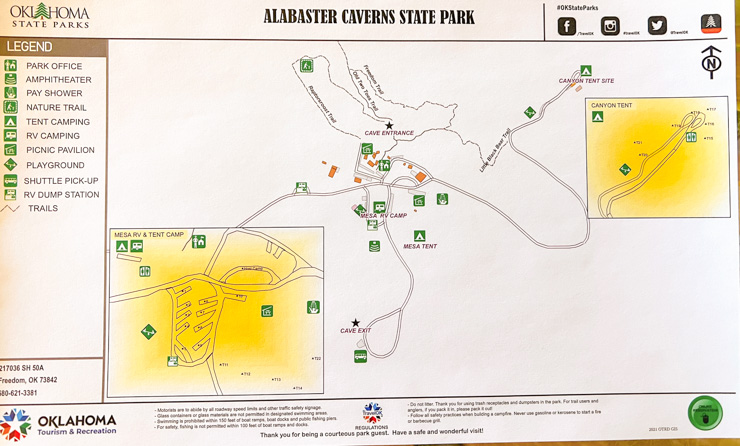 How Much Does It Cost to Get Into Alabaster Caverns
If you are wondering how much it costs to go into the cave it varies by age. Admissions prices are: 
13 to 61 years old: $10;
6 to 12 years old: $7
0 to 5 years old: Free but a ticket is required to enter;
62 and over: $8;
Active-duty military with ID: $8
But prices can change so check with the park office before you go.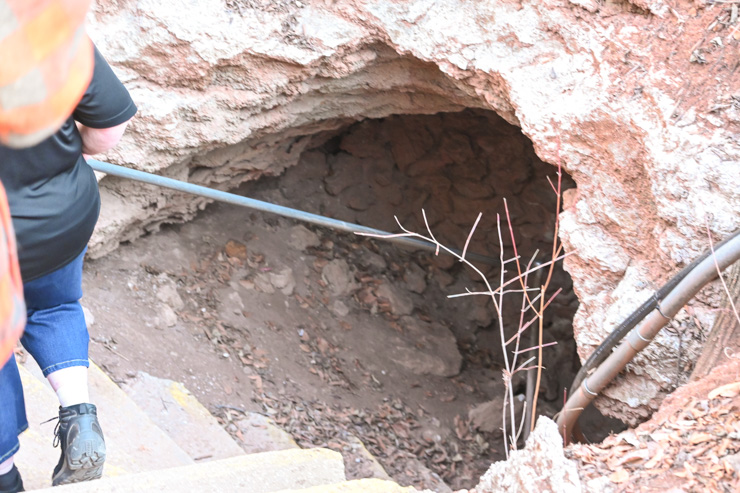 How Long is the Alabaster Caverns Tour
There are daily cave tours that leave promptly on the hour from 9am-4pm. The cave tour itself is about 45minutes long. If you are planning to do a group tour, then you will want to call and make a reservation for that. If you will be coming in on a busy weekend you may want to reserve your tour in advance as they only allow 40 people in during each tour.
Pro Tip: We heard the 9am tour is what the park employees prefer. This is what we did and we only had one other family with us. We noticed as the day got later large groups started to come in. We could see them from our campsite.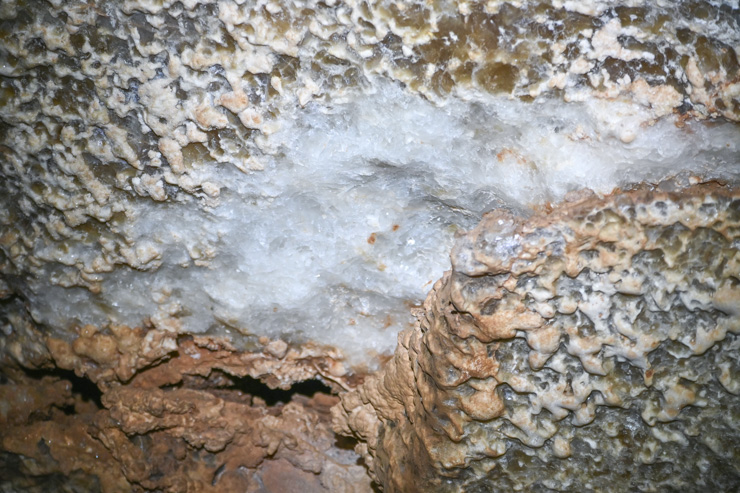 What Should I Wear to Alabaster Caverns
The caves hover between 55 to 60 degrees during the hottest months and it's pretty cool temperatures inside so I recommend dressing in layers with comfortable walking shoes. There are some slick spots in the cave so make sure you wear shoes with a little bit of grip. You will need to walk down stairs to get into the cave.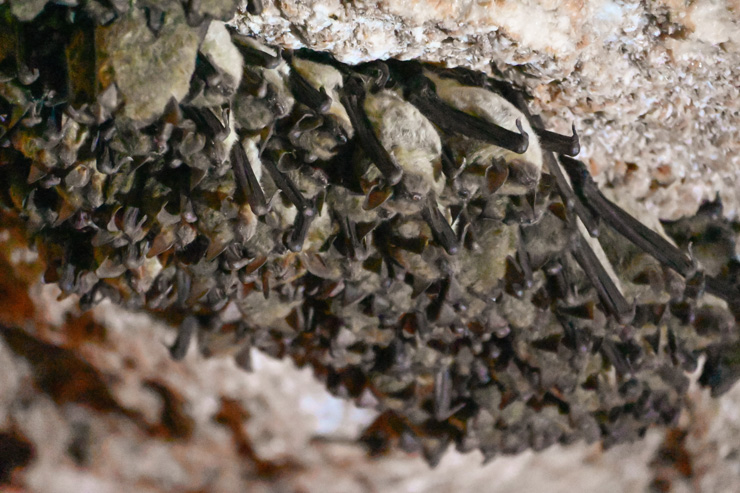 Best Time to Visit Alabaster Caverns State Park
If you want to see the bats in the cave then fall and winter is a great time to visit because they are in hibernation at that time. The colder it gets, the better chance you have at seeing them. By February, you could see as many as 20,000 bats in the main cavern. the most common bat you will see here is the Myotis. They have wingspans of 11 inches and prefer to eat beetles and moths. But you may also see the Eastern Pipistrelle, Western Big Bearded Bat, Western Big Brown Bat and the Mexican Free-Tailed Bat. We went in March and we did see quite a few bats in clusters and even a few flying around.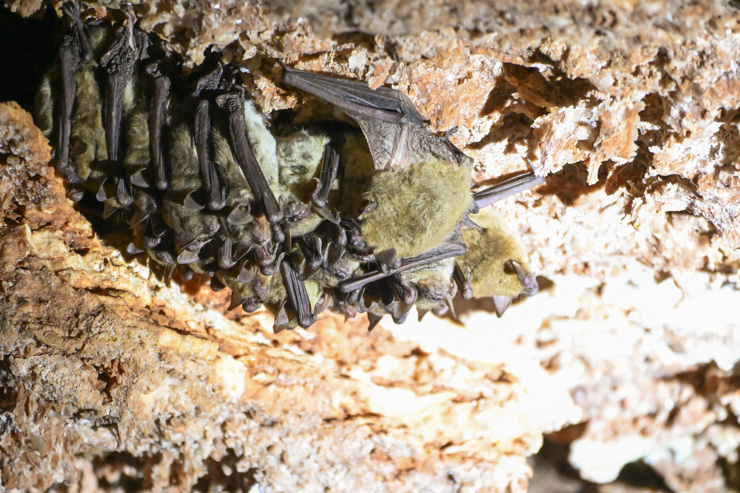 Starting in May the bats will make their way out of the cave, raise their young and then back into the cave in August. If you want to see a spectacular view of the bats in flight you can sign up for a special tour that leaves every Friday and Saturday in July and August at the Selman Bat Cave Wildlife Management Area. You'll be able to see 1 million bats emerge from the cave at dusk.
Pro Tip: Mosquitos are bad in July and by September there are none.
What is there to do at Alabaster Caverns
Besides the 45 minute cave tour to see the bats, you can try your hand at some wild caving, also known as spelunking in one of the four caves if you are brave enough. Wild Caving is only permitted between 8 am -3pm. The caves range in length from 550 feet to 1600 feet. Permits are required for this and may be obtained at the park office for around $8. Please note that no permits will be issued between October 1st through march 31st due to protection of the bats that hibernate there. There are plenty of hiking trails, picnic areas, covered shelters and a volleyball court. There is also a gift shop located in the park office.
Pro Tip: Check with the park office about camping overnight in owl cave.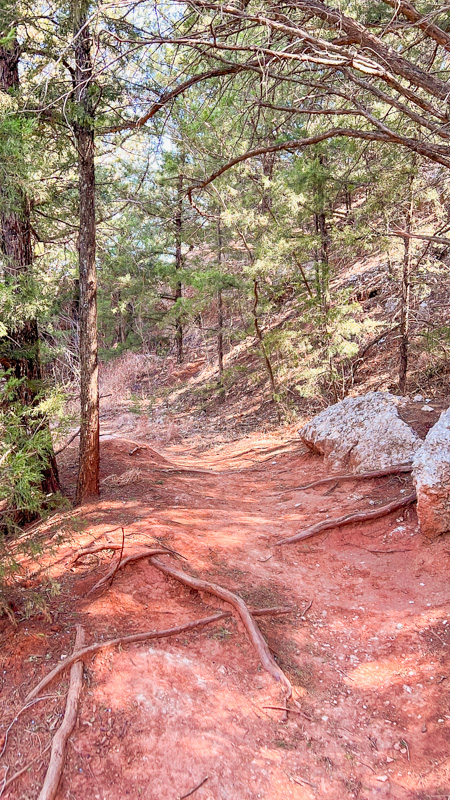 The Alabaster Caverns State Park Trail System is a great way to get some fresh air and enjoy the outdoors. There are four easy-to moderate trails. Visitors can choose between two 1/2-mile trails, a 2/3-mile trail and a 3/4-mile trail.
The easy to moderate trail, Raptor's Roost Trail, is 2/3 mile long and will take you around the southern rim of Cedar Canyon. This means that it's perfect for those who aren't very familiar with hiking or camping in general, but want an experience where they can enjoy nature without any challenging elements involved! It begins near the cave entrance. It's apart of the Park RX America program that encourages heart health through regular exercise.
The Little Black Bear Trail is a 1/2-mile loop through the Park that takes visitors on an easy to moderate hike down into Cedar Canyon. Along this trail are several stops including Owl Cave, one of the parks natural caves! Also a 1/2-mile in length is the Freedom Trail. This a moderate trail that requires some uphill walking and runs from the Little Black Bear Trail along Cedar Creek to the bottom of Cedar Canyon. This is also known as the purple trail. We hiked the purple trail which supposedly led to a waterfall but we never saw it. The trail kind of dead end to a stream that you couldn't cross. I would also note that this hike is a little strenuous , so if you have any trouble going up and down some steep areas you need to be aware of this.
Old Two-Toes Trail is a 3/4-mile long trail that is a more strenuous uphill walking trail that runs near the Cavern entrance, through Cedar Canyon and over to an area where the Natural Bridge once stood.
Camping at Alabaster Caves State Park
Mesa Campground is a great place to spend the night when you are visiting Alabaster Caverns. There are restrooms and showers available with limited hot water. I say this because my husband took a shower early in the morning and there was hot water but by 10 am when I went to take a shower, I got a chilly surprise lol. They do not offer paper towels for drying so bring a hand towel with you to dry your hands. I bought a pair of these pillow slides to wear in the shower and I love them. the restrooms and overall park are really clean!
The park office is close by. Campsites 1 thru 9 are on a tree-lined loop with level, concrete pads and asphalt approaches. Site 10 is on the outside of the loop, completely surrounded by trees, with an asphalt pad and approach. There is a playground near sites 1-9 with a rock climbing wall, a slide and swings for the kids to play on.
We stayed in campsite 8. All campsites are pretty close together but 8 and 9 are a little further from the playground if you want to avoid some of the playground noise. There is a Walmart in Woodward about 30 minutes away as well as several restaurants and fast food places. We frequented the Dairy queen several times for a treat. There is also a movie theater in Woodward.
If you need fire wood , try calling Potters Firewood Service: 580-732-0199 (Mandy). However check with the park first as there was a burn band while we were there.
PRO TIP: Don't forget if you are on permanent disability you can get 50% off at Oklahoma State Parks with proof of disability.
If camping isn't your thing you can check out Cedar Canyon Lodge. For reservations call (580) 621-3258.  There is also Stable Lodge nearby.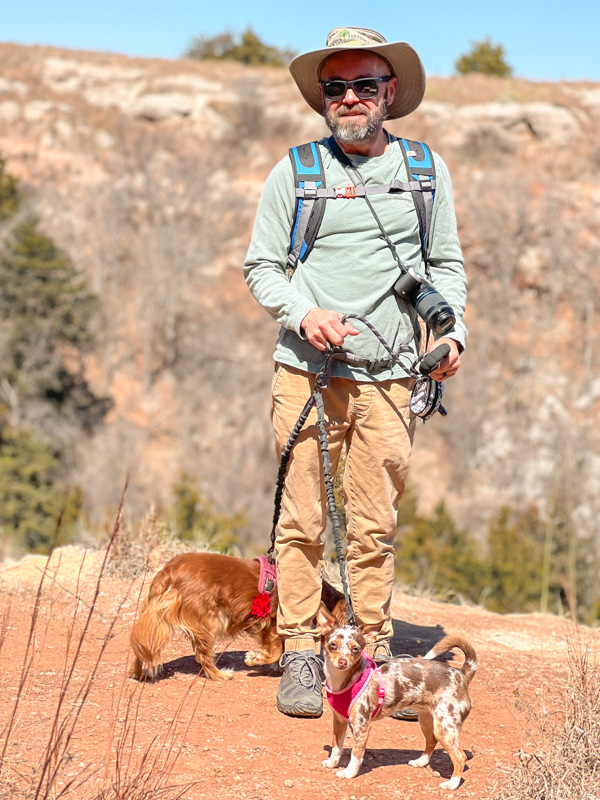 Are Dogs Allowed at Alabaster Caverns
Dogs are allowed in the state park but they must be on a leash. They are however not allowed to go into the caverns but there is a kennel in the back of the office that your dog can stay in while you tour the cave. There is no charge for your dogs to stay in the kennel while you are on the tour. Make sure you bring a blanket or a dog bed to put in the kennel with them and some of their toys.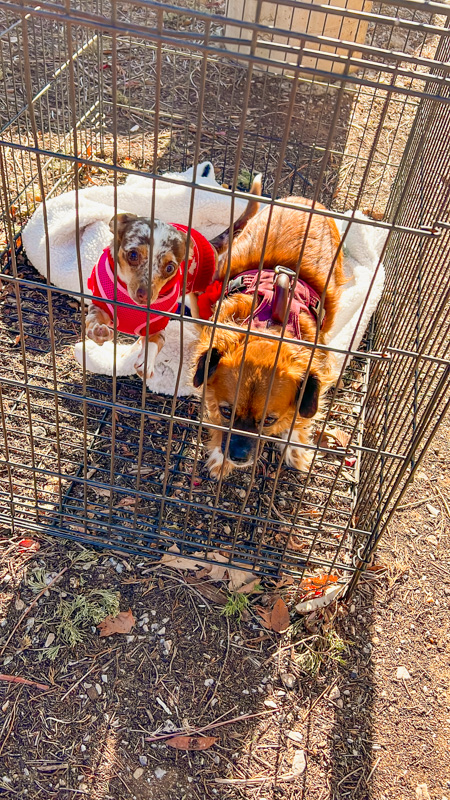 We bought this tangle free dog tie out for our trip and it's a lifesaver if you have multiple dogs.
What to do Near Alabaster Caverns
If you are planning on a longer stay like we did, be sure and check out Boiling Springs State Park, Gloss Mountain, Little Sahara and Great Salt Planes all within an hour of Alabaster State Park. It can be very windy in this area so keep that in mind when packing.
It's also a really short drive to Freedom, Oklahoma. Some people like to describe it as an old western town with good photo opps. The small mercantile there does have a place to eat and there is also a grocery/hardware store. While you're there make sure you also check out the museum.
Woodward has a small water park, crystal beach (park/playground/train rides) and the Pioneer & plains Indian Museum. Also, Shattuck has an outdoor windmill museum and Ft. Supply lake are close to Woodward.
Alva, Oklahoma is only 30-35 miles from Alabaster Caverns as well. The city is known for its many murals in the downtown square, has many stores and an awesome pharmacy with an old time ice cream/soda fountain in the back of the store. Alva also has a movie theater, bowling alley, walmart and a few nice restaurants along with Subway, Sonic &McDonald's for your quick fix. The Cherokee Strip museum and The Menagerie (a fun family oriented petting zoo that also offers laser tag and other family friendly games and toys along with a hay maze in the fall) are a few more things to do in Alva, Ok!
Alabaster Caverns State Park is a beautiful place to camp, and we hope we have inspired you to explore more of the sooner state. If you're looking for other great places to camp in Oklahoma, be sure to check out our list of the best camping in Oklahoma State Parks or other Travel Oklahoma posts. And if you have any questions about camping at Alabaster Caverns or anywhere else in Oklahoma, don't hesitate to contact us. We're happy to help!
More Places to Visit in Oklahoma
FOLLOW US ON SOCIAL MEDIA
Don't forget to invite your friend's to our Facebook groups! We would also love to see your vacation pictures!