Awesome Beaches in Kissimmee Florida
You might be planning a holiday to Florida and thinking of somewhere different to visit. Kissimmee Florida should be top of your list. While Kissimmee City does not sit directly on the coastline, it is located on the shores of Lake Tohopekaliga, which is in Osceola County, Central Florida. The closest international airport is Orlando International Airport. One of the highlights is the beaches in Kissimmee Florida.
Even though Orlando does tend to overshadow Kissimmee, it has plenty to offer, and there are lovely lake beaches and coastal beaches nearby. The child-friendly holiday destination has invested heavily in entertainment to ensure tourists have a fantastic time. With great outdoor activities, ideal weather, white beaches, and a wide range of natural adventures, Kissimmee will ensure that you spend quality time with your family. 
The beaches in Kissimmee Florida will offer the escape you have been looking for.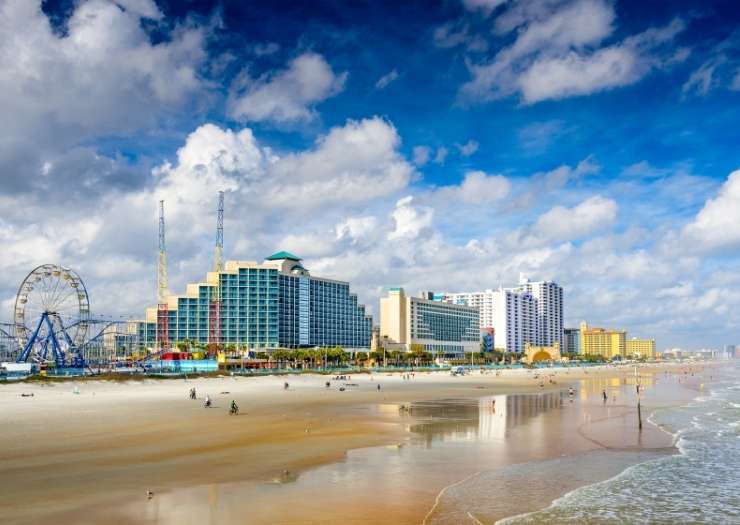 Daytona Beach
Daytona Beach is among the most popular beaches near Kissimmee Florida. This beach is well known for its international speedway and beautiful sandy beaches. If you are going on a Florida vacation with your family, Daytona Beach is the ideal place to go. Daytona Beach is 78-miles from Kissimmee and not far from Orlando, giving your family numerous adventure options. 
With the many beachfront parks, pavilions, splash parks, restrooms, boardwalks, and a playground, you can plan a day trip to Daytona Beach and return to your hotel after a day of seaside fun.
Fun Things To Do In Daytona Beach
Visit The Well-Known Marine Science Center
The Marine Science Center is a fantastic rescue facility located close to Daytona Beach. Learn how seabirds and sea turtles get rescued. This outstanding facility has different learning opportunities for all age groups. 
Climb The Tallest Lighthouse In Florida
America. While at Daytona Beach, you will have easy access to the Ponce Inlet Lighthouse. Explore the top of this lighthouse and view the Halifax River and the beautiful Atlantic Ocean. Before leaving the lighthouse, ensure you have checked the Ayres Davies Lens Building. This famous building is the home of the biggest historic Fresnel lenses in the international community. 
Discover Lighthouse Point Park
After exploring the Ponce Inlet Lighthouse, visit Point Park a few meters away. This area has been preserved over the years so that tourists can get the best coastal experience. Have the time of your life on the beach, go for a picnic, hike, or enjoy fishing on the park's trails. Explore wild Florida and forget about all your worries. The fresh air and fantastic views will make you want to come back. Florida isn't just packed with stunning beaches! If you want to explore more of this beautiful state be sure to check out some of the amazing National Parks they have on offer.
Enjoy Your Lunch Or Dinner At The Prestigious Off The Hook At Inlet Harbor
Everyone loves good food! Off the Hook is on the Halifax River, and it has the tastiest fresh seafood meals. Sit back, relax and enjoy watching dolphins, turtles, manatees, and other beautiful animals. Perfect spot to watch the sunset, and the live music is impressive too. 
Shop At The Riverfront Shops
No vacation is complete without some shopping. Daytona Beach has several shops between the speedway at Halifax River and the beach. These shops ensure that tourists enjoy their shopping in a waterfront setting.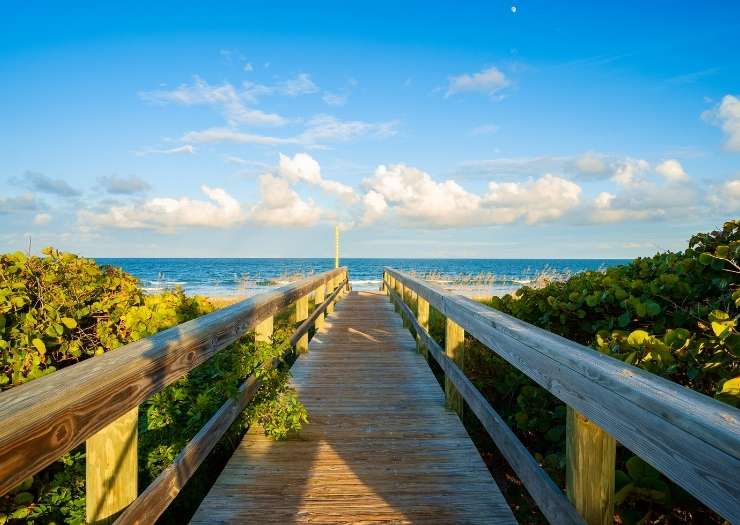 Cocoa Beach
When exploring the beaches in Kissimmee Florida be sure to visit the Cocoa Beach area. Many people love this beach because of its laidback lifestyle, surf, plenty of sand, and incredible natural landscape. Cocoa Beach is 65-miles from Kissimmee, so it's ideal for a day trip. 
It's an excellent location for tourists wanting to get away from the busy cities. This beach is a beautiful spot to spend your time when in Florida. 
Exciting Things To Do At Cocoa Beach
Regardless of your age and preferences, you will find something to enjoy in Cocoa Beach. The natural attractions and beach activities are designed to suit families and solo travelers. 
Spend Some Time On The Shores
The Lori Wilson Park is in the heart of the Cocoa Beach area. With the scenic coastline, lush dunes, and nature trails, this seaside park is ideal for beachside picnics. In a big city like Florida, free things are not always easy to find, so make sure you take advantage of the free parking and stroll along miles of Atlantic shoreline. 
Ride A Wave
If you're looking for great surf breaks, the Cocoa Beach area certainly has some fun breaks suitable for all levels, making it the perfect place for surfing. Home to legend Kelly Slater – 11-time World Champion, and The Ron Jon Surf Shop, which is the biggest surf shop in the world, this is one of the beaches in Kissimmee Florida tourists should visit. 
Discover The Cocoa Beach Pier
The well-known Cocoa Beach Pier stretches over the Atlantic Ocean, ensuring you have great views of the beach, restaurants, shops, and beautiful boutiques in the region. 
Enjoy Your Meals Outside
There are many places to eat in the Cocoa Beach area. The Fat Kahuna Beach Side Grille goes all out for its guests. With an outdoor setting offering beautiful ocean views. The background music, well-stocked bar, and full-screen television ensure that everyone has the best experience.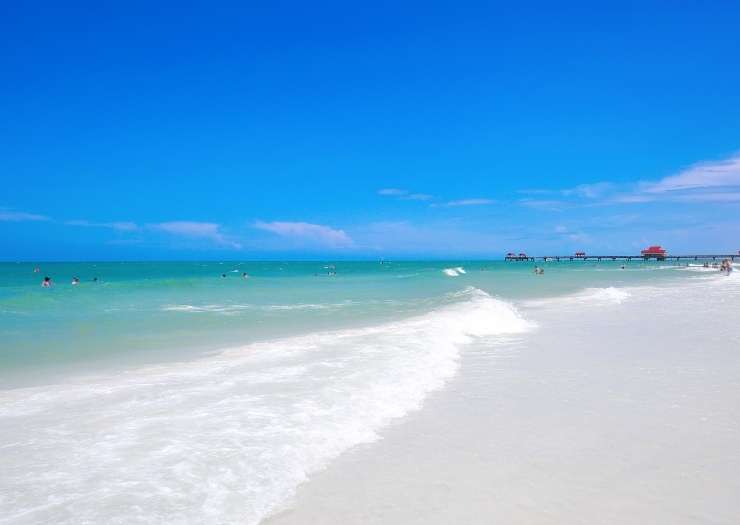 Clearwater Beach
Clearwater Beach is 101-miles from Kissimmee, in the Gulf of Mexico, but a great place worth the visit.
Fun Things To Do At Clearwater Beaches
Known for its beautiful crystal clear ocean, white sand beaches, multiple family-friendly attractions, water sports, and natural beauty, your next vacation will be unforgettable. 
Pier 60
Although Clearwater Beach has numerous attractions, Pier 60 is the main one, drawing visitors from all over the world because of its fantastic sunset views. Pier 60 overlooks the famous Gulf of Mexico, making it perfect for an end-of-the-day celebration and watching the sunset. It's a popular spot for fishing, and children will have access to a beautiful playground. If you want to escape the hot sun, there are several shaded pavilions.
Honeymoon Island State Park
The famous Honeymoon Island State Park acquired its name after becoming the holiday destination for Life magazine contest winners. This destination is ideal for newlyweds because of its pristine white beaches. Although visitors are allowed all year round, it is advisable to avoid visiting in late summer due to the increase in mosquitoes. 
Make sure you pack enough snacks while here because there is nowhere to buy food inside the park. 
Clearwater Marine Aquarium
Kissimmee revolves around marine life, vacations, and nature preservation. The Clearwater Marine Aquarium is dedicated to rehabilitating and rescuing marine life. The aquarium has several qualified professionals and volunteers who care for injured or endangered species until these animals are later released into their original habitats. You and your children can learn everything about the rescued animals.
New Smyrna Beach, Florida
New Smyrna Beach is one of the best beaches, located on the Florida Atlantic Coast. Just 58-miles from Kissimmee, this charming location has a great surfing hub to give you the experience you desire.  With plenty of activities to enjoy, you can visit the coastal Smyrna Dunes Park and explore its historic features or go to the Ponce Inlet. The Mary S Harrell Black Heritage Museum shows the history and religion of the communities based in Florida by visiting the New Smyrna Museum. Some of the attractions in this location need to be booked early. 
Canaveral National Seashore
Visit the famous Canaveral National Seashore. This sanctuary has saved many endangered species like sea turtles that frequent the beach to lay eggs.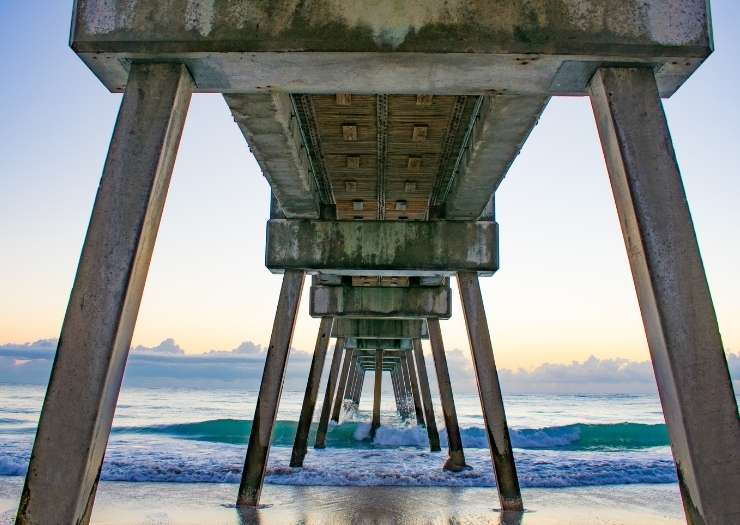 Vero Beach
Vero Beach is a must for everyone in search of an exciting vacation. Located 88-miles from Kissimmee, along the Florida Atlantic Coast, this destination is ideal for water sports, golf, and fishing. Be prepared to enjoy fun museum visits, peaceful beaches, great hotels, and nature tours. 
After a fantastic time touring the region, find time to shop at the largest shopping malls. The downtown malls have items for all budgets.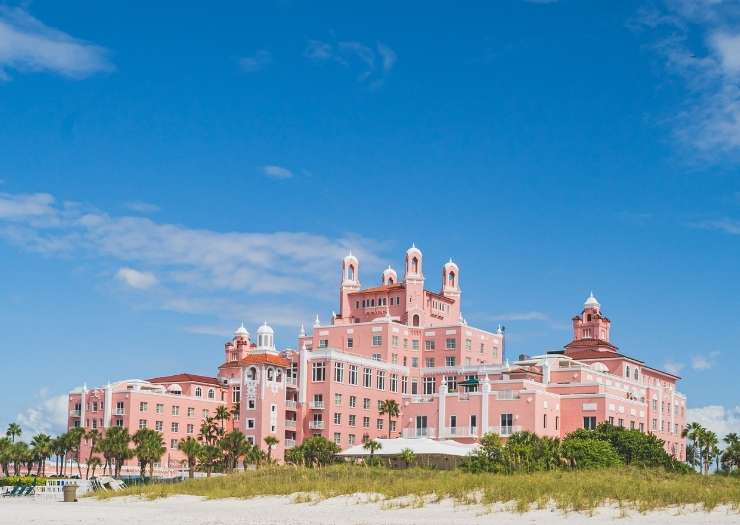 St. Pete Beach
St Pete Beach is 103-miles from Kissimmee. It's a coastal resort city in Pinellas County and home to some award-winning sandy white beaches. 
One of the most prestigious and historical landmarks, Don CeSar Resort, is found on these shores. Soak up the sun on the soft white sand or swim in the emerald green waters. St. Pete Beach is ideal for individuals or families who need a laid-back vacation.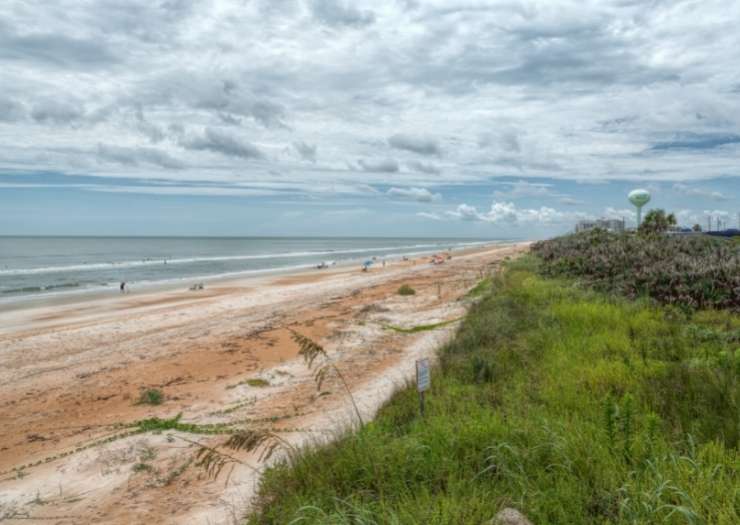 Flagler Beach
Flagler Beach is located 98-miles from Kissimmee, between St Augustine and Daytona Beach. Perfect for anyone who loves beachside shops, fishing, nature parks, open-air waterfront restaurants, and modern hotels. The salty style and friendly communities in this region will make your stay feel amazing. Once you're done shopping, had a surf, enjoy a laid-back afternoon at one of the restaurants. 
Other things to do in or Near Kissimmee
Lake Buena Vista
When we talk about Disney theme parks in Florida, Orlando immediately comes to mind. However, they're actually in Lake Buena Vista and a short 12-mile drive from Kissimmee, so quick and easy to get to. The entertainment features in Lake Buena Vista are not just inside the Disney Gates.
Everything in Lake Buena Vista, from amusement parks to playing golf to shopping and dining, gives every tourist an amazing and unique experience. In the evening, guests can enjoy music, shows, comedy, dance, and other fun activities at the restaurants.
Disney World
Walt Disney World Resort is an absolute must, whether you're on vacation as a solo traveler, a couple, or a family. With its many hotels, restaurants, and entertainment districts for guests to explore and have a good time. Don't forget to let your childhood dreams come true by visiting the Magic Kingdom.
Universal Studios
When tourists want an authentic movie studio and the thrill of a theme park, they visit Universal Studios. Each year this popular attraction draws in millions of tourists from all over the world.  Enjoy the thrilling rides and attractions, studio tours, shows, entertainment, shopping, dining, and other family-friendly activities. 
Kennedy Space Center
Your Florida tour is not complete until you've explored the Kennedy Space Center visitor complex. This fantastic attraction is close to Orlando, and it has numerous exhibitions for everyone in the family. This is your chance to get up close with astronauts, shuttles, and everything NASA.
 What to Pack for Your Beaches In Kissimmee Florida Vacation
 When planning a vacation anywhere in the world, there is so much to think about. 
Where is my family going to stay? 
What activities can we do? 
Will the food be okay for my young children? 
While preparing for your trip, take your time to learn about the destination you've chosen to visit, the hotels, the food available, and the charges. 
When visiting the beaches in Kissimmee Florida, ensure you have the following items in your travel bag, regardless of the time of the year.
Sunglasses, Sun Hats, and Good Sunscreen
Florida is known as the Sunshine State. Arrive prepared with a pair of sunglasses to protect your eyes. Pack your sunscreen for your skin protection too. A sun hat will ensure that you enjoy all the adventurous activities on the beach. Most of the activities in Kissimmee are outdoors, so be ready for the sunny weather. There are palm trees all over that will offer you some shade while you're out and about enjoying your vacation. 
Swimsuit
Swimming is one of the best activities when the weather is hot. There are several water parks in and around the city of Kissimmee, so pack your favorite swimsuit because you'll need it! 
Lightweight Jacket
Although Florida is famous for its heat, the temperatures change significantly during the night. Make sure you have a lightweight jacket to give you some warmth. 
Comfortable Shoes And Good Backpack
Always have comfortable walking shoes and a decent backpack while traveling. This bag will be necessary for you to carry essential items like snacks, a rain jacket, a portable fan, and a water bottle. 
Camera
On your beaches in Kissimmee Florida vacation, you will want to capture all the memories you are making and document them. Post your pictures on Facebook and Instagram to inspire friends and family to visit these beautiful beaches in the future. 
Conclusion 
Kissimmee is the perfect destination for families. This city has endless sunshine, fun activities, and in close proximity to several theme parks. Your visit would be incomplete without exploring the beaches in Kissimmee Florida. Deciding on which might be the best beaches for you might be difficult because each has several unique attributes suited for different tourists. Daytona Beach, Clearwater Beach, and Cocoa Beach have been shown to be the most visited. Start planning your trip to the most popular beaches in the city of Kissimmee, Florida, today for a memorable beach experience. 
FOLLOW US ON SOCIAL MEDIA
Don't forget to invite your friend's to our Facebook groups! We would also love to see your vacation pictures!