Traveling Tips for Visiting LEGOLAND Florida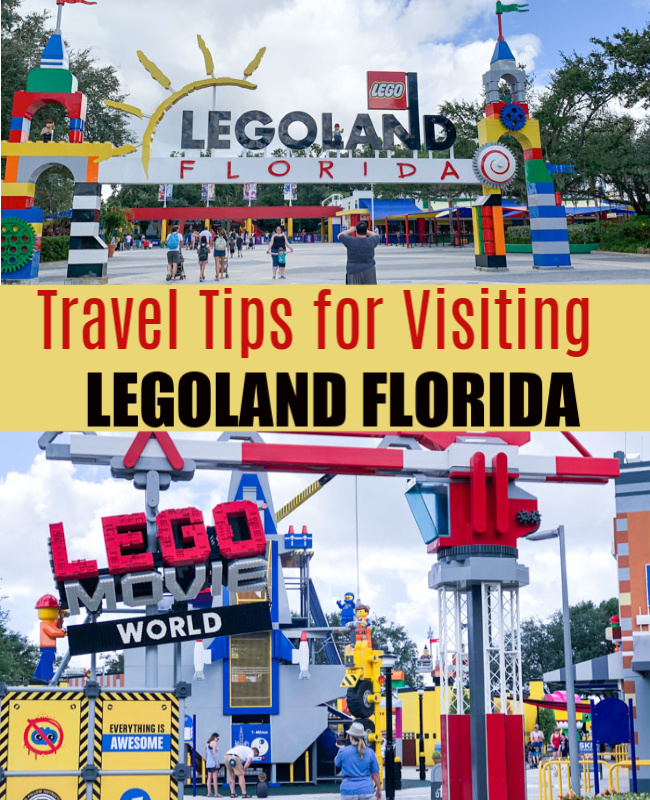 I have been a HUGE LEGO fan since I was a kid. I'm 46 now and I don't think my love for LEGO's has faded any. If anything it has grown. So when our kids were little I wanted to be able to take them to LEGOLAND FLORIDA RESORT. Well with life being life, we never made it, but I never gave up the dream. Well 20 years later I finally made it! I can promise you it won't be another 20 years until I go back!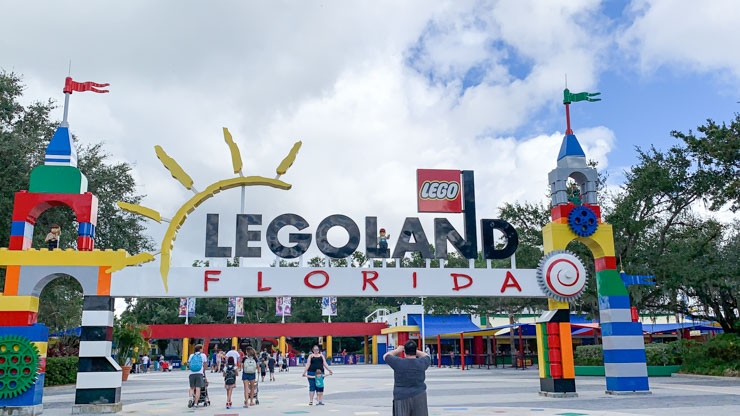 1st thing… Why LEGO? Why LEGOLAND Florida?
My love for LEGO's started at a young age. I am an only child and LEGO's were a great way for me occupy myself and my mind. I was inspired by what I could build. Plus when I didn't have the pieces I needed, it forced me to get creative in my solutions. It forces you to think outside the box sometimes… which is a good thing.
Now LEGOLAND is geared more for the younger kids. They have a lot of rides for kids under 5. This does not mean that an older child or adult will not have a good time. It just means that younger children will be able to enjoy the park too! It is a smaller park compared to Disney. So you won't feel like you have to rush around to see everything.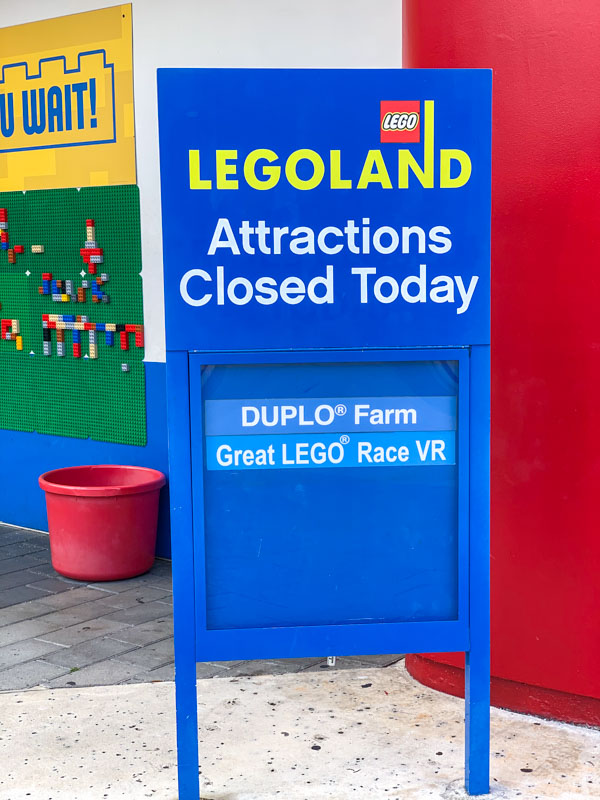 Heading inside
I know this may seem like a little thing, but I think it's awesome. They have a sign BEFORE you get in, letting you know what attractions are closed. Every attraction needs maintenance to keep it safe. There is nothing worse than getting your ticket, finding a map of the park, heading to the attraction and it being closed. This sign will save you and your family a lot of headaches.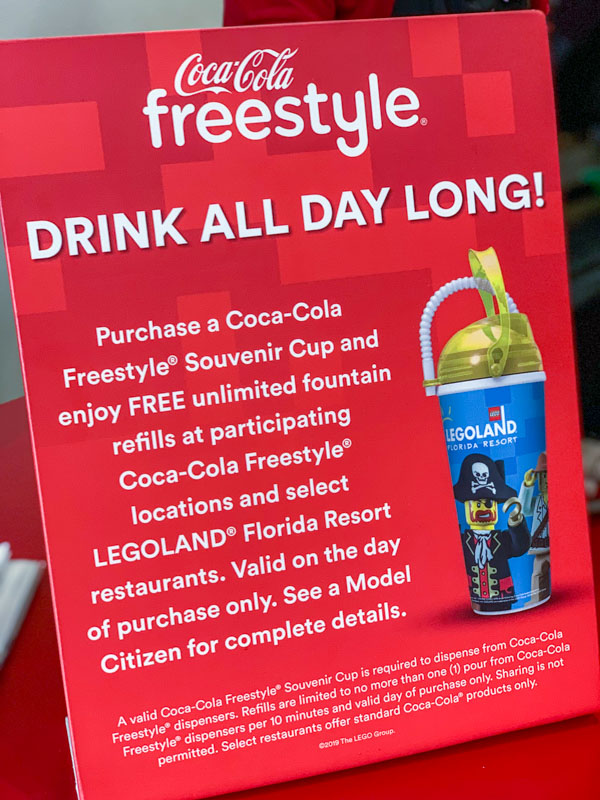 Once inside
One of the 1st things we noticed when we walked in was this sign. When you are walking around in the Florida weather, the heat can sneak up on you. I don't think you realize how much you spend on refreshments until it's too late. We always try to take advantage of these offers whenever we see them. You would be surprised at how much more enjoyable the park is when you are properly hydrated! Did someone say FREE UNLIMITED REFILLS?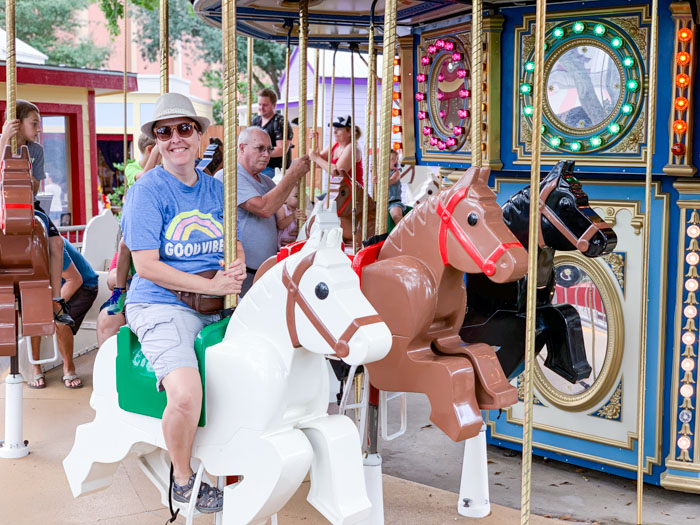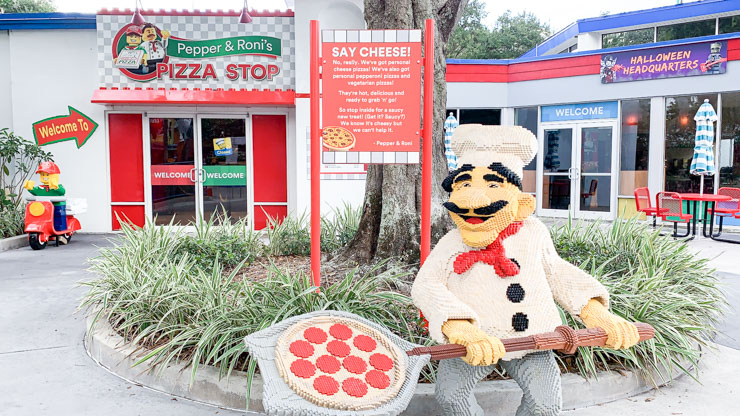 The Food
LEGOLAND has 15 different food places to choose from. Pizza, tacos, burgers, sandwiches, desserts, and much much more. Even the pickiest eater should be able to find something they like!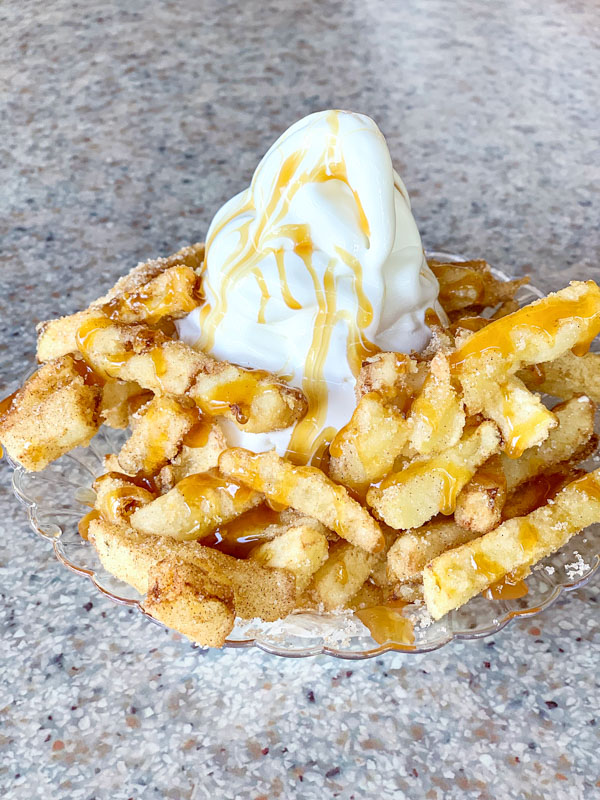 The one thing you have to try is the Apple Fries. OH MY GOSH they are sooo good! They are basically apples cut like fries and fried. Sprinkled with a little cinnamon and served with a scoop of ice cream….YUM!!!
You can also bring your own food to the park to enjoy. They have picnic tables in different areas of the park where you can sit down and enjoy your food. As you can see this area is nicely shaded. This is an added bonus in the Florida sun.
Themed Lands
There are 14 different themed lands and 1 water park at LEGOLAND FLorida.
The Beginning
Fun Town
The LEGO Movie World
MiniLand
Duplo Valley
LEGO Kingdoms
Land of Adventure
LEGO City
Imagination Zone
LEGO Technic
Pirate's Cove
Cypress Gardens
Heartlake City
LEGO Ninjago World
My Favorite LEGOLAND land is Miniland. As you can see it is anything but mini! Inside of Miniland there are different themed areas. The Star Wars area was one of my favorite.
I think I could have spent a full day just looking at all the detail that they put into all the models. As you can see, if you look at the destroyed engine you can see inside the ship.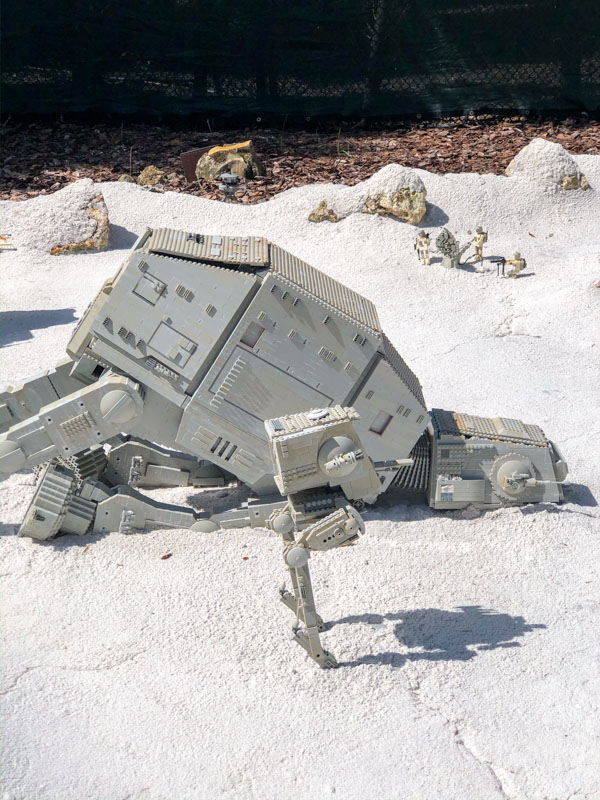 They had whole battle scenes set up in the Star Wars area. This Battle of Hoth scene is complete with a fallen AT-AT. This is just a small portion of the whole battle scene they have.
Daytona International Speedway
Another memorable Miniland area is the 1/20 scale Daytona International Speedway. You would not believe the amount of detail is in this model. There are campers and RV's in infield, palm trees and even a portapotty!
I very easily could have made this whole post about Miniland. I was in awe and inspired to go home and build! So a stop by the gift shop was definitely on the list of things to do!
LEGO sets
As you can imagine they have a pretty big selection of LEGO sets. They have big sets, small sets, hard to find sets, and Duplos for little kids. There is literally something for everyone here. Again I'm in awe at the lifesize LEGO models that are all around the park.
Final thoughts
As we were leaving the park I had to go back and take 1 last pic. This model of the Millennium Falcon has so much detail. You can look at as many times as you want and you will still find details you missed.
While the rides are focused more on younger kids, there are still plenty of things for older kids to do. There is nice mix of attractions in each area. I'm 46 years old and I wanted to stay longer! The one thing I want to do next time is the water park. I think it would make a nice break from hot Florida days.
Airports close by
Orlando International Airport is about an hour from LEGOLAND
Tampa International Airport is about and hour and 30 minutes away
Sanford Airport is about an hour and 45 minutes away
Discount Tickets
Undercover Tourist has pretty good deals on tickets for LEGOLAND Florida. So make sure you check them out before you head out there.
Check out our other Florida travel ideas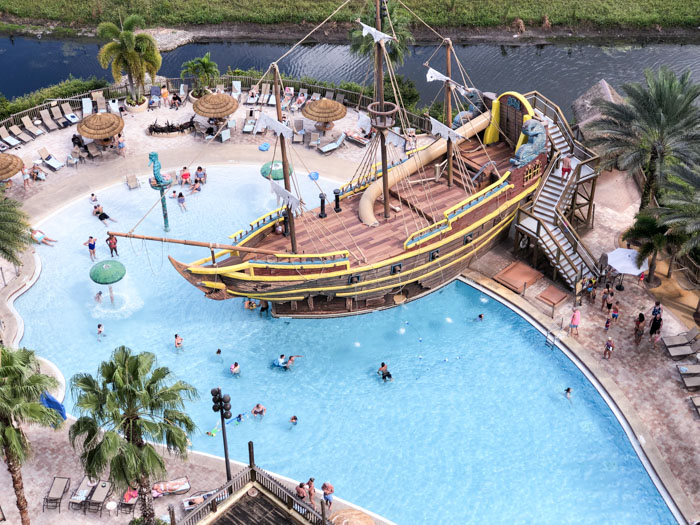 Lake Buena Vista Resort Village and Spa
FOLLOW US ON SOCIAL MEDIA
Don't forget to invite your friend's to our Facebook groups! We would also love to see your vacation pictures!