Ports of Call: Grand Turk Travel Guide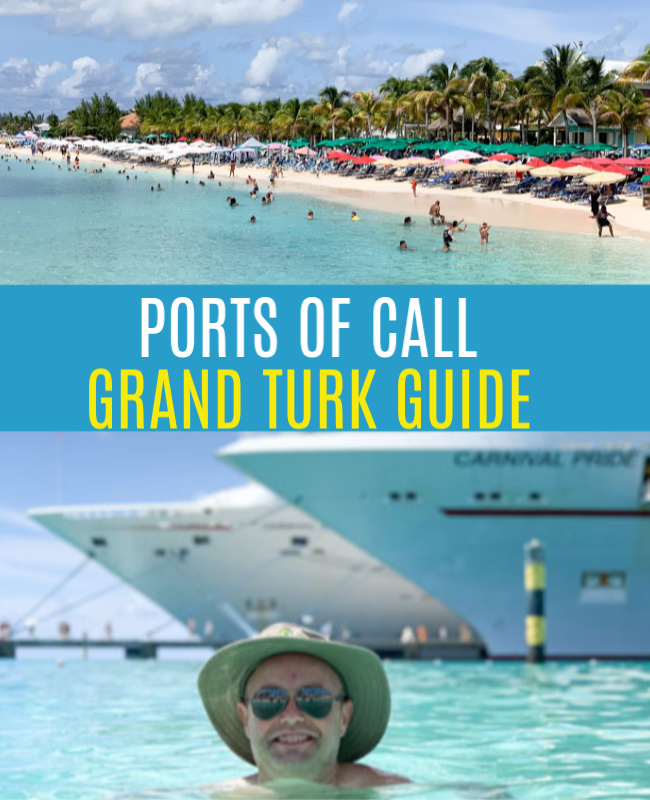 You've booked your cruise and one of your ports of call is Grand Turk. You are now probably trying to decide wether to book an excursion or not. Our Grand Turk Travel Guide has got some tips to help you decide what to do.
Grab tips here- https://www.cruisehive.com/22-things-to-do-in-grand-turk-during-a-cruise-vacation/23225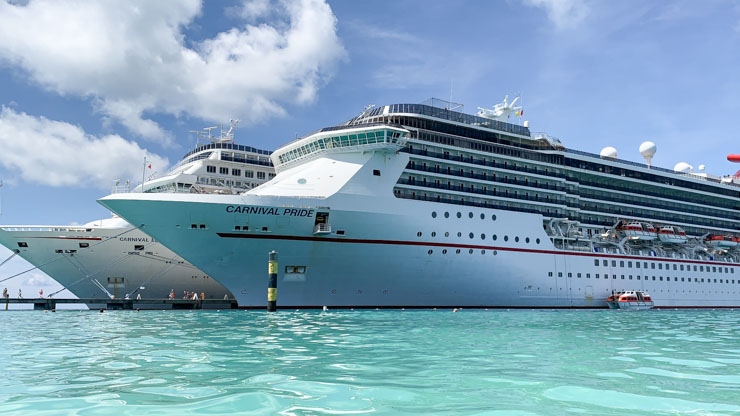 If you are a beach person then Grand Turk is for you. We love to snorkel and you can do that within 10 minutes of getting off the ship. After a short walk down the peer and through the shops you arrive at a beautiful beach which is known as SunRay beach or Cruise Center beach as some people call it. Did you know it's also the capital island of Turks and Caicos?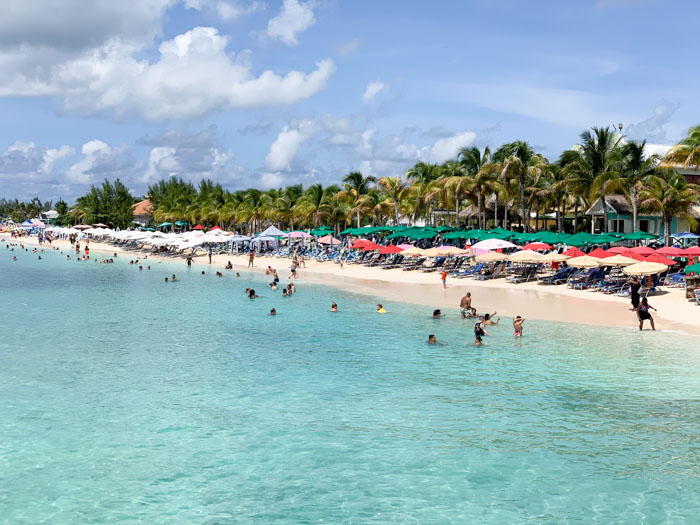 I know from this picture it doesn't look like a great snorkeling place. But wait, it gradually gets deeper then, all of sudden there is a drop off in the water. It was here that we swam along the cliff and saw all kinds of beautiful fish. We saw a puffer fish and all kinds of other colorful tropical fish! We recommend that you pack your own snorkel and mask but it's worth it! We've linked to our favorite full face snorkel mask below. It will change the way you snorkel.
If you don't want to pack your snorkel, you can rent snorkel equipment from the Cruise Center beach rental shack. I do want to mention that there are better places to snorkel if you walk further down the beach south of the pier where you will see darker parts of the ocean near Boaby Rock Point.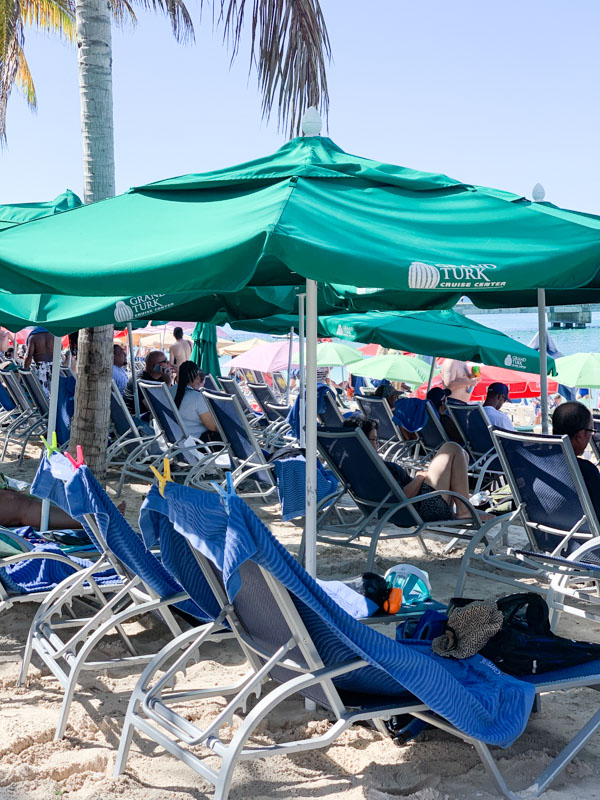 When you walk in from the peer there is a little sign off to the side that is very easy to miss. It tells you that ALL blue chairs and green umbrellas are free to use. This is important as there are people on the beach that have their own chairs and umbrellas and want you to rent from them.
We didn't have a problem finding an open free one so it's worth looking around before you rent one from someone else. Just make sure you get off the ship early to grab yourself a free one.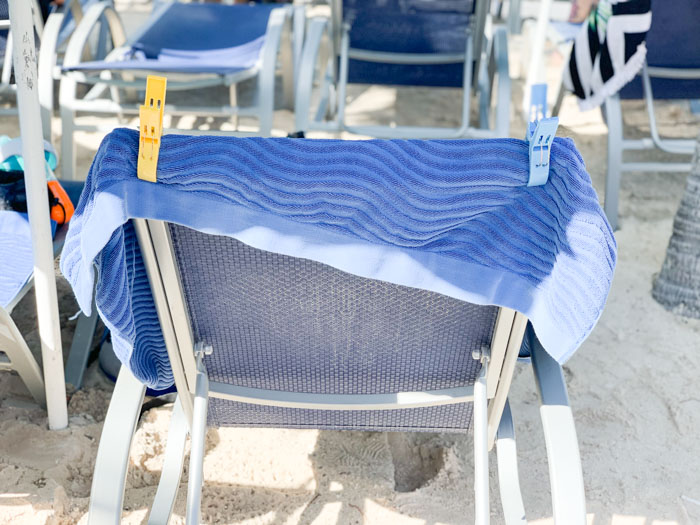 One of my must haves for every beach outing I have are these colorful beach chair clips that help keep your towel from blowing off your beach chair. They come in an 8 pack and in assorted colors.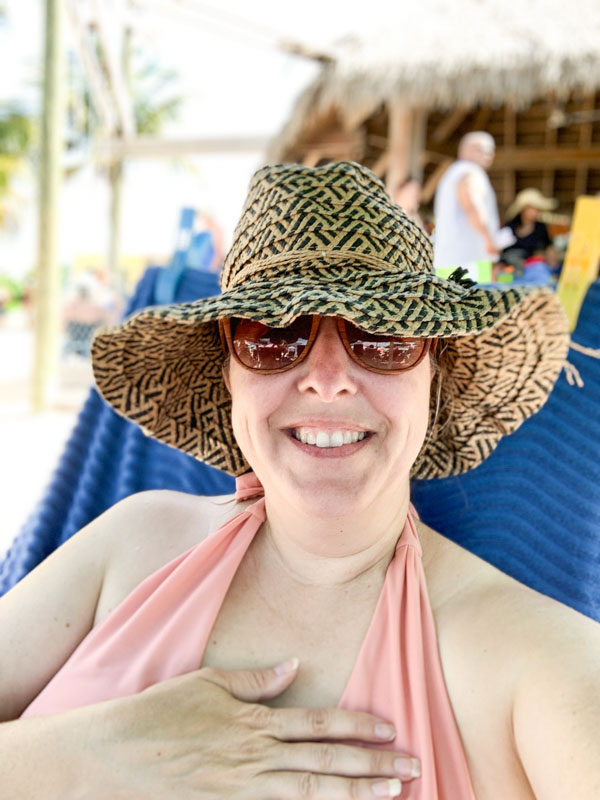 If you are looking to escape the crowds and want to grab a bite to eat then head on down to Jack's Shack. It's at the end of the Cruise Center Beach (the beach next to where the cruise ships dock). They are known for their Jerk Chicken so make sure to check it out. Also they accept credit cards ( not all places on the island do).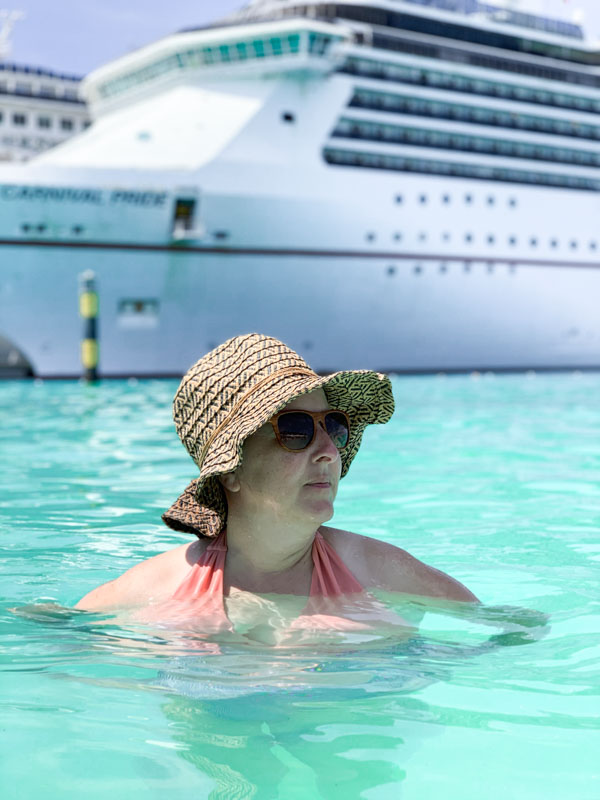 If you really aren't a beach person but still want to have fun in the sun. You need to head on over to Jimmy Buffet's Margaritaville. They have a large pool that you can hang out in and they even have cabanas you can rent. Of course they serve drinks and food so you don't have to leave to go eat!
You can also purchase an excursion from your cruise ship and they will take you to some other amazing locations and provide you with all the equipment you need. You may even want to check out governors beach which offers sparkling waters and white sand. It's usually not crowded.
There are a few more beaches you can check out as well. Cockburn Town Beach which has a historical backdrop and great restauraunts. Pillory Beach is great for snorkeling and home to Bohio Dive Resort which is the largest resort on Grand Turk. East Side Beach and White Sands Beach are great for beach combing and English point is kinda secluded if you want quiet.
Grand Turk is also home to wild donkey's and horses so you may see them roaming around if you decide to take a taxi off site. Some things you may want to visit off site are, Her Majesty's Prison, Turks and Caicos National Museum, Cockburn Tower, and Grand Turk Lighthouse.
If you love stingray's then Gibbs Cay is the place to go for that. You can actually book an excursion on your ship to swim with these majestic creatures. In the winter you can see western Atlantic humpback whales. They migrate here to mate and give birth.
There are also many boat tours and island tours you can book on your cruise ship. Something I recommend doing though is to go to your cruise website and read the reviews that people have written about each excursion. This will give you an idea on wether you should book it or not. Check out our post on the Western Caribbean as well.